Kids of all ages will love visiting the Cambridge Butterfly Conservatory to see thousands of butterflies in the tropical garden.
My 11 year-old daughter and I recently had an opportunity to visit the Cambridge Butterfly Conservatory located just west of Toronto. As it's impossible not to be enchanted by butterflies, this tropical paradise is a lovely family outing for all ages.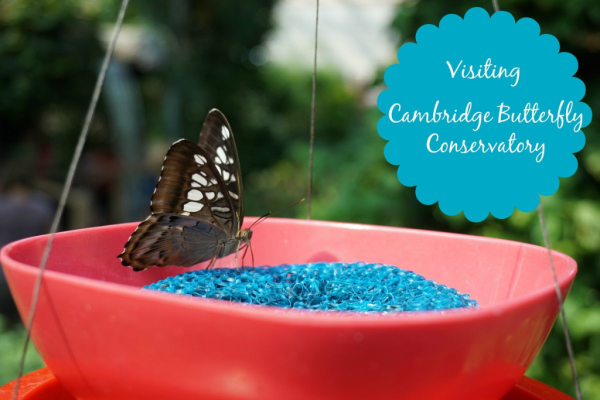 The Cambridge Butterfly Conservatory, which first opened in 2001, is a 25,000 square foot facility with a 10,800 square foot tropical garden that is home to thousands of free-flying butterflies and moths from around the world. The humidity level in the garden is maintained at a very high level and temperatures range from 24-28 degrees celsius (75-82 F) so it's wise to dress in layers even if you're visiting during the winter season.
Permanent and Temporary Exhibits
The Conservatory has several temporary and permanent exhibits located in the space outside the tropical garden. The permanent exhibits include: Live Insect Terrariums; Moths Magnified; and the Honey Bee Observation Hive. We had a quick look at the insects but Emma thought they were a bit creepy and preferred to head into the garden to see the beautiful butterflies. One look at the tarantula and I agreed!
Tropical Garden Paradise
At any given time there are at least 2,000 butterflies and moths making their home in the tropical garden. Most of the butterflies and moths that are found here come from butterfly farms in either Costa Rica or the Philippines and are shipped to the conservatory as chrysalides or cocoons. In addition to the thousands of butterflies, there are also a number of birds that can be seen and heard in the gardens.
We had a great time observing the small birds at feeders and listening to them chirping and singing as they flitted around above our heads. It was also amusing to see several quail scurrying to and fro along the paths and into the bushes. The garden is also home to many tropical plants and flowers as well as a variety of insects and there is a waterfall which makes a lovely backdrop for photos.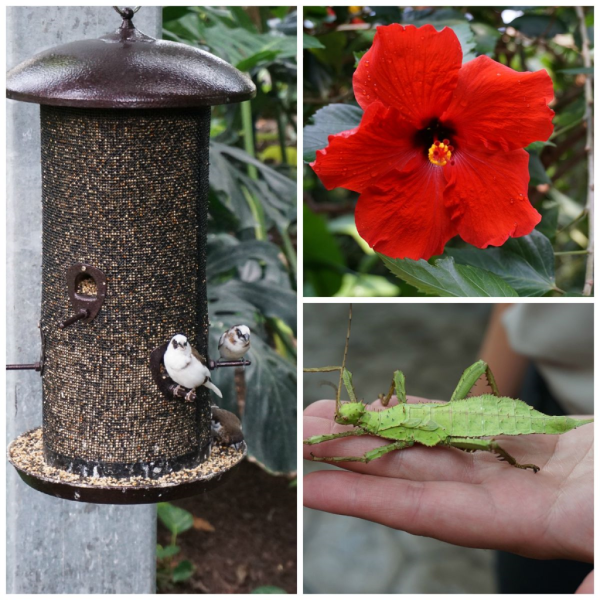 At the Emergence Window, visitors can watch as the butterflies emerge from their chrysalides, dry their wings and then fly off into the garden. We were very fortunate to see an Atlas Moth, the largest moth in the world, emerging from its cocoon when we were visiting (that's it in the lower left-hand corner of this next photo). 
The butterflies are the star attraction though and we spent most of our time wandering the garden pathways hoping that our favourites would stay still long enough to capture them in a photo. We had to wait very patiently but eventually I was even able to get a Blue Morpho with its wings spread. These are a few of my favourite butterfly photos.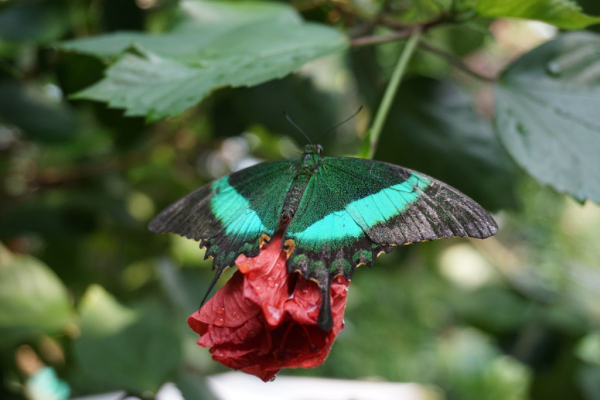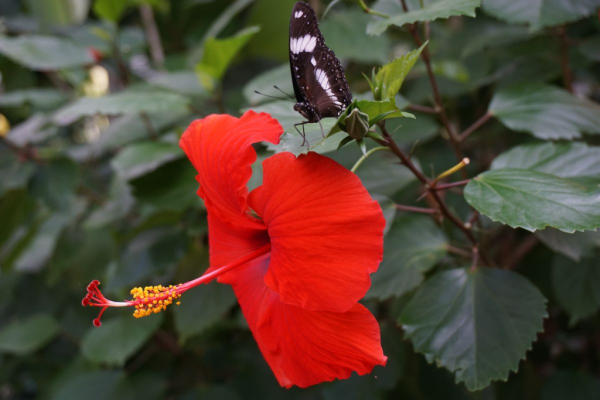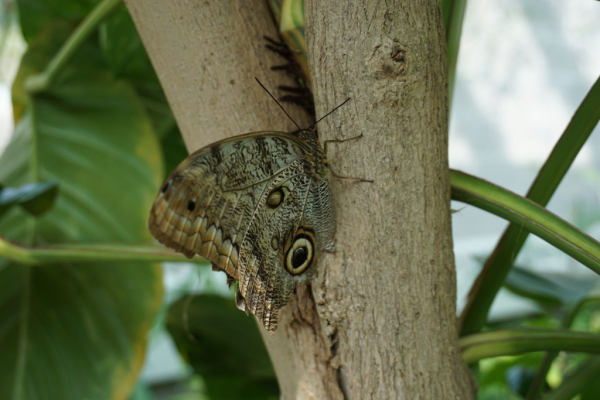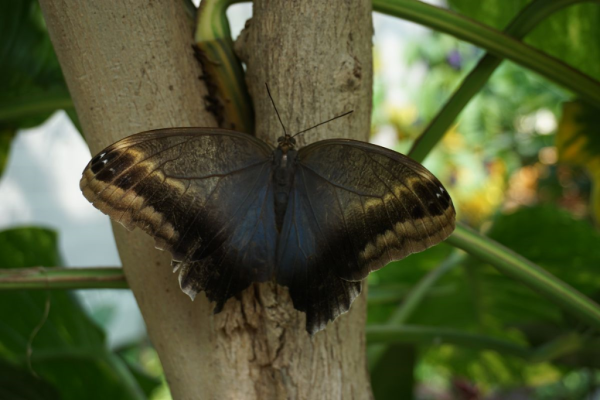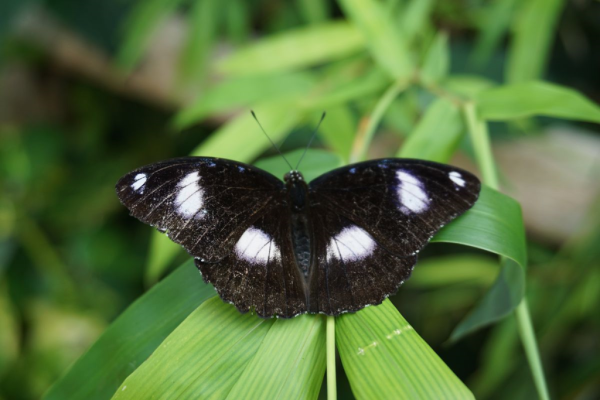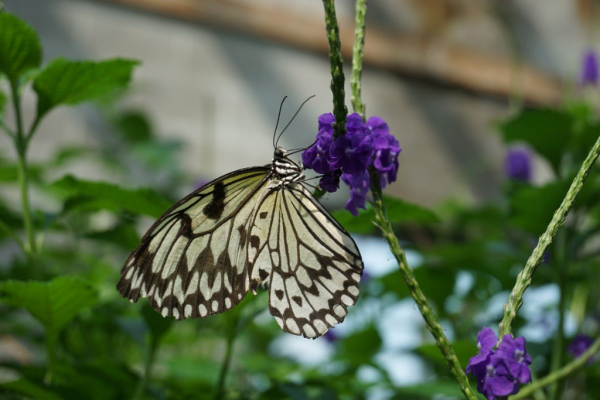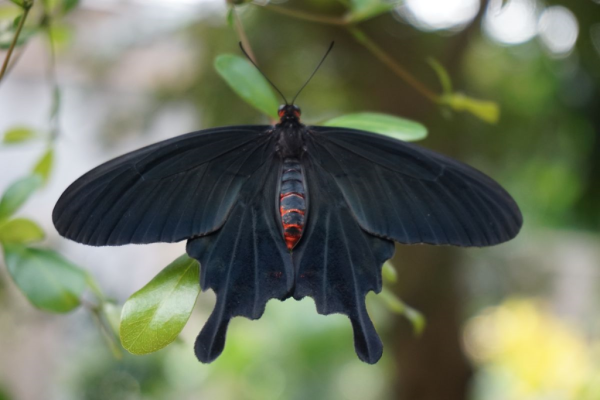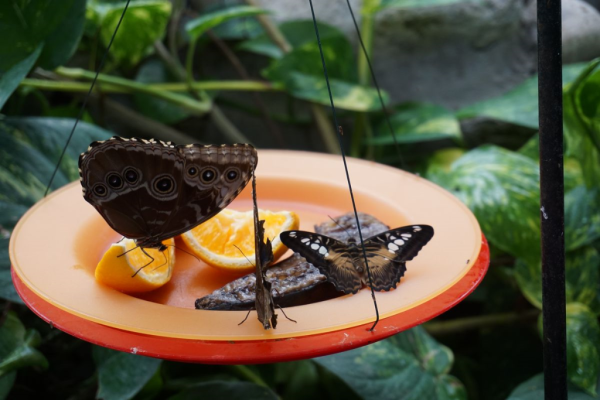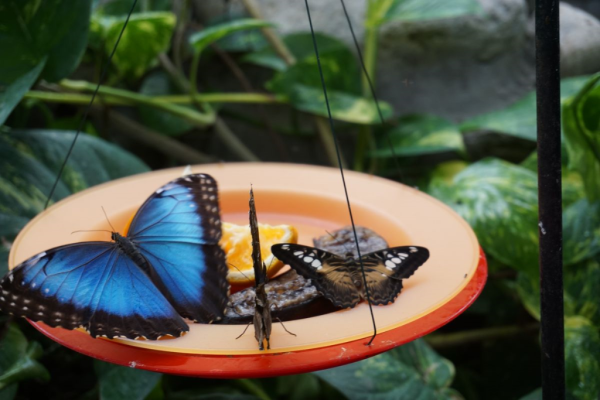 The Cambridge Butterfly Conservatory is located within an hour's drive of Toronto making it an easy day trip for most anyone in the Greater Toronto Area or Southern Ontario. The Waterloo Region also has a number of other family-friendly attractions though so an even better idea would be planning to spend a night or two in order to experience everything the region has to offer.
What You Need To Know
The Cambridge Butterfly Conservatory is located at 2500 Kossuth Road in Cambridge. Telephone number is: (519) 653-1234.
The Conservatory is open 7 days a week in spring and summer (March 1st – October 15th) 10:00am – 5:00pm. Closed Mondays the rest of the year and closed over the Christmas holidays – check the website for details.
Children aged 2 and under are free. General admission prices can be found on the website.
Paradise Garden Cafe open 5 days a week – Wednesday through Sunday 10:00-4:30.
Available Children's programs include: birthday parties; school group programs; summer programs; programs for guides and scouts; and programs for homeschoolers.
Strollers are permitted and the facility is entirely wheelchair accessible.
Parking is free. It is not possible to get to the conservatory via public transit.
I was provided with complimentary media passes for admission to the conservatory. All opinions expressed are my own.