2014 Halloween events for families in the Greater Toronto Area – scary and not-so-scary.
Long gone are the days when Halloween was a low-key holiday. Now we pull out the spooky decorations and enjoy the holiday all month long. Leading up to October 31st, there are many celebratory events in Toronto and the GTA that will get everyone into a spooky frame of mind – some that are scary and some not-so-scary that are perfect for little ones. 
For an updated list of Halloween events in Toronto and the GTA click here.
Here are 14 fun (and scary) Halloween-themed events for families in the Toronto area. 
Howling Hootenanny at Black Creek Pioneer Village takes place on the last two weekends of the month. On October 18, 19, 25, and 26 between the hours of 11:00am and 4:30pm, kids are welcome to wear costumes and trick-or-treat throughout the village. Special activities include free pumpkin decorating, a Haunted Maze (a bit scary) and the Scarecrow Mini Maze (fun for the little ones), an apple sling shot activity, airbrush tattoos, mainstage entertainment, and a Creepy Creatures show.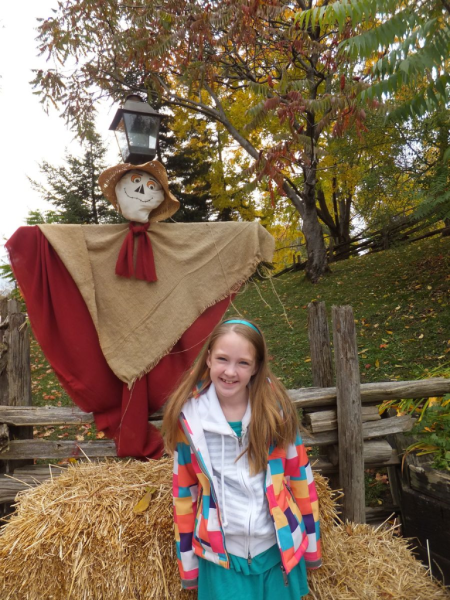 Camp Spooky at Canada's Wonderland, Saturdays and Sundays in October plus November 1st, is a fun, not-so-scary, daytime event for younger kids. Kids can enjoy Planet Snoopy and Kidzville rides as well as Halloween-themed activities, mazes and Charlie Brown's Trick-or-Treat Show. It's also another great opportunity to dress up and participate in the Costume Parade followed by some trick-or-treating in Camp Snoopy.
Halloween Haunt, on the other hand, is most definitely scary and not intended for children under the age of 13. This is a special ticketed event which takes place from 7pm – midnight on select nights in October and is best described as terrifying. On the agenda are horrifying mazes, scare zones, over 700 roaming monsters, Zombies 4D, and Fright Lane as well as the standard thrill rides and roller coasters. For teens and adults who want to have the daylights scared out of them, Halloween Haunt is the place to be.
On October 18, 19, 25, and 26 from 11:00-3:00 pm, visitors are welcome to come to the Toronto Zoo dressed up in Halloween costumes for the annual Boo at the Zoo celebration. Kids can participate in the Critters and Costumes Parade, meet My Little Pony and visit the Play Doh Centre to make a Halloween creation. The Jelly Belly team will also be handing out jelly beans to families at the exit. Best of all, up to two kids in costumes (age 12 and under) get free admission when accompanied by an adult.
Families with older children might enjoy attending Fort York After Dark: Lantern Tours for a historical perspective. Visitors take a guided night-time tour of the grounds to hear spooky stories about incidents that took place at the Fort especially during the bloody Battle of York during the War of 1812. The tour also includes a visit to two military cemeteries. Pre-registration is required for the tours that take place on October 17, 18, 24, and 25 between 7:30 and 9:30pm. Tours are not recommended for children under the age of 8.
Pumpkin Farms
Many of the pumpkin farms in the Greater Toronto Area also have Halloween-themed activities that are perfect for younger kids. One of our favourites is Springridge Farm in Milton, west of Toronto, where the annual Harvest Festival runs from late September through to the weekend before Halloween. Families can enjoy wagon rides, the Fun Farm Yard, a giant corn trail, the spooky Boo Barn and pick out the best pumpkin to carve into a scary Jack-o-Lantern.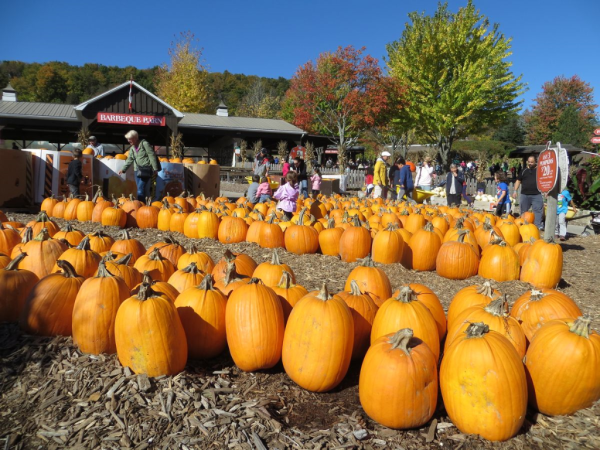 The Haunted High Park event for families takes place on October 25th from 6:30-7:30pm and 8:00-9:00pm at Colborne Lodge. Participants visit Colborne Lodge at night to hear legends and ghost stories about the property and enjoy some period refreshments. This event is intended for families but is not recommended for children under 8 years of age. There are also separate events for adults only which are held on October 24, 30, and 31st.
Legoland Discovery Centre Toronto
Legoland Discovery Centre Toronto celebrates Halloween all month long with their Brick or Treat event. From October 4th to the 31st, the centre is decorated for the holiday and special activities are available throughout the day. There's spooky entertainment, the Boo Crew Costume Contest, a Spooky Challenge in the LEGO Master Builder Academy, Monster Mash Scavenger Hunt, a LEGO Pumpkin Trail and much more, all included in the price of admission.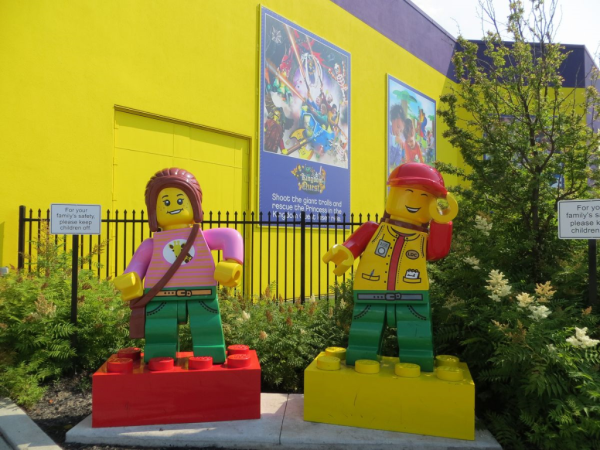 Once again this year, the Toronto Botanical Garden is hosting a family Halloween event. Registration is required for Halloween Howl which will take place on Sunday October 26th from 1-3pm. Participants, who must be accompanied by a parent, are invited to wear a costume and enjoy an afternoon of spooky scavenger hunts and creepy critters. 
Halloween is the perfect time for one of Toronto's spookiest activities. If your idea of fun is listening to spine-tingling tales then Haunted Walks Inc. has a walking tour for you. The company which specializes in historical walking tours that explore the city's darker side has special Halloween season tours that run from October 10th through November 1st. These 90 minute night-time tours are best for families with older school-aged kids and teens. There are two different tours to choose from, one starts in the Distillery Historic District at 8pm and the second outside the Hockey Hall of Fame on Yonge Street at 9pm.
Kortright Centre for Conservation
Creepy Kortright takes place at the Kortright Centre for Conservation in Kleinburg north of Toronto on October 24 and 25th from 6-9pm. Advance tickets are required for this event that is intended for kids aged 12 and under who must be accompanied by an adult. Kids may wear costumes and enjoy spooky Halloween activities such as a haunted maze, a frightening forest walk, scary stories around a campfire, live owls and more.
At the Royal Botanical Gardens in Burlington, The Great Pumpkin Trail is open to visitors on the evenings of October 23rd and 24th. Visitors will enjoy a walk along the garden and woodland trails as hundreds of jack-o-lanterns light the way. The evenings also feature live entertainment, face-painting, and pumpkin-themed activities.
York-Durham Heritage Railway
Families with kids that love trains won't want to miss the Family Halloween Train rides offered by York-Durham Heritage Railway. Tickets are available online for the theme train which operates from Uxbridge and Stouffville stations on October 18, 19, 25 and 26th. The train is specially-decorated for Halloween and the ride features ghosts, ghouls and other entertainment as well as Halloween-themed activities. All children up to the age of 12 dressed in costumes ride for free and receive a loot bag at the end of the train ride. 
In my own town of Oakville, the annual Tiny Tots on Parade event is one of the most popular for families with pre-schoolers. On October 31st, starting at 10:00 am, children in costume gather in Towne Square for a morning of trick-or-treating at downtown businesses. Tots and their parents or caregivers will also have an opportunity to meet firefighters, police officers and other fun characters.
9th Annual Trek or Treat Night Trail Run – Oakville
Another fun and original Halloween activity for families is the Trek or Treat 5K Run/Walk & Creepy Mile held in Oakville 0n Friday October 17th beginning at 7pm. (There's also a race in Collingwood on Saturday October 18th.) This isn't your typical race. Runners and walkers wear costumes and there are Halloween displays along the course as well as candy stations, face painting, hot chocolate, free professional family photos, and a post-race pizza party! Participants are also invited to bring a donation of non-perishable food items which will go to the Oakville Fareshare Food Bank. Online registration is available until the day before, however, the Oakville event sold out a week prior to the race last year so it's best to register early to avoid disappointment.
Does your family have a favourite Halloween event or activity? Let me know in the comments below and have a Happy (and Spooky) Halloween!!
Related Articles
Celebrating Halloween at Disneyland
Halloween Fun at LEGOLAND California
Fall Fun for Families at Springridge Farm
Howling Hootenanny at Black Creek Pioneer Village (Travel Mamas)
A Haunted Walking Tour of Toronto
The Royal Botanical Gardens on a Summer's Day