Halloween events taking place in Toronto and the Greater Toronto Area – updated for Halloween 2019.
I can remember when Halloween was a low-key holiday but those days are long gone. Now we pull out the spooky decorations and enjoy the holiday all month long. Leading up to October 31st, there are many celebratory events in Toronto and the GTA that will get everyone into a spooky frame of mind – some that are scary and some not-so-scary that are perfect for little ones.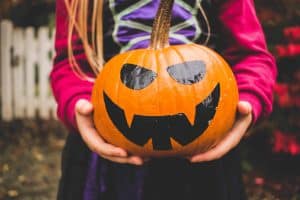 UPDATED FOR HALLOWEEN 2019 
Here are 21 fun (and scary) Halloween-themed events for families in the Toronto area. 
1. Howling Hootenanny at Black Creek Pioneer Village takes place on the last two weekends of the month. On October 19, 20, 26 and 27th between the hours of 11:00am and 4:30pm, kids are welcome to wear costumes and trick-or-treat throughout the village. Special activities include pumpkin bowling, a Haunted Maze, an apple sling shot activity, face painting,  spooky stories and amazing shows. 
2. Camp Spooky at Canada's Wonderland, on weekends beginning September 28th, is a fun, not-so-scary, daytime event for younger kids. Kids can enjoy Planet Snoopy and Kidzville rides as well as Halloween-themed activities including Spirit Manor (inhabited by friendly characters), the Enchanted Garden Maze, the Cornstalkers Maze, Sally Brown's Creepy Crafts activity, a Silent Disco, Camp Spooky shows and more. It's also another great opportunity to dress up and participate in some trick-or-treating.
3. Halloween Haunt, on the other hand, is most definitely scary and not intended for children under the age of 13. This is a special ticketed event which takes place after dark on select nights September 27 – October 27, 2019 and is best described as terrifying. On the agenda are horrifying haunted mazes, scare zones, and live shows as well as the standard thrill rides and roller coasters. For teens and adults who want to have the daylights scared out of them, Halloween Haunt is the place to be.
Halloween Spooktacular at the Bata Shoe Museum
4. This Halloween the Bata Shoe Museum is hosting a spooktacular weekend of family fun on October 26 and 27th. Kids in costume get in free and can decorate Halloween cookies, make crafts and play games in the galleries. Recommended for ages 3-12.
5. On October 19, 20, 26, and 27, visitors are welcome to come to the Toronto Zoo dressed up in Halloween costumes for the annual Boo at the Zoo celebration. For Boo at the Zoo weekends kids in costume (ages 12 and under) get FREE admission when accompanied by an adult paying regular admission. Valid for up to two children per regular priced adult. New for 2019 is the BOOmobile (extra fee) – a scary, merry and legendary, just-for-fun adventure where you will hear some spooky facts about animals and learn about the ghosts that haunt the Toronto Zoo.
6. The zoo also has a Bump in the Night program available for both members and non-members to learn about nocturnal creatures. The program will take place on Saturday October 19th and Saturday October 26th from 6:30 – 8:00 pm. The program is recommended for ages 5 and up and pre-registration is necessary. The cost of Bump in the Night is $15 for individual members and $20 for individual non-members. Children must be accompanied by an adult.
Visit a Pumpkin Farm
7. Many of the pumpkin farms in the Greater Toronto Area also have Halloween-themed activities that are perfect for younger kids. One of our favourites is Springridge Farm in Milton, west of Toronto, where the annual Harvest Festival runs from late September through to the weekend before Halloween. Families can enjoy wagon rides, the Fun Farm Yard, a giant corn trail, the spooky Boo Barn and pick out the best pumpkin to carve into a scary Jack-o-Lantern.
8. Halloween is the perfect time for one of Toronto's spookiest activities. If your idea of fun is listening to spine-tingling tales then Haunted Walks has a walking tour for you. The company which specializes in historical walking tours that explore the city's darker side has several tours which will get you in a spooky Halloween mood.
These 90 minute night-time tours are best for families with older school-aged kids and teens. Tours include The Original Haunted Walk of Toronto which departs from the Hockey Hall of Fame on Yonge Street, Ghosts and Spirits of the Distillery which takes place in the historic Distillery District, The Haunted Walk Experience at Black Creek Pioneer Village, Campus Secrets and Sceptres at the University of Toronto and more. 
9. If you have teens that like to be scared at Halloween then you might want to check out Legends of Horror at Casa Loma on select dates September 27 – October 31, 2019. Legends of Horror is an immersive theatrical interpretation of classic horror movies on a 2 kilometre walk through Casa Loma commencing in the gardens and winding through the castle. Children 13 and under must be accompanied by an adult and parental discretion is advised. This is a separately ticketed event not included with general admission to Casa Loma.
10. Creepy Kortright takes place at the Kortright Centre for Conservation in Kleinburg north of Toronto October 18, 19, 25 and 26, 2019, 6:30 – 8:30 pm. Advance tickets are required for this event that is intended for kids aged 10 and under who must be accompanied by an adult. Kids may wear costumes and enjoy spooky Halloween activities such as a haunted house, a frightening forest walk, scary stories around a campfire, an encounter with  live owls and more. 
11. During Mountsberg's Spooktacular Halloween the Play Barn is magically transformed into a spooky haunted barn for kids to explore. The event also features fall wagon rides, live snake presentations, Bird of Prey Presentations – featuring Vultures and Owls, Pumpkin Passport to Discovery, hay play area, face painting and food trucks.  Spooktacular Halloween is free with regular admission fees and everyone who comes in costume receives a free treat. In 2019, the event takes place October 12, 13, 19, 20, 26 and 27th.
12. Fright Night at Mountsberg is spookier that the daytime Spooktacular but is still family-friendly. The event which takes place Saturday October 19, 2019  6pm-9pm includes a hair-raising walk through the haunted barn, spine-chilling special guests, a shudder-inducing encounter with snakes and owls, a spooky woodland wagon ride, trick or treating around the park and an opportunity to roast a s'more over the open fire. 
13. During the Halloween Spooktacular at Halton County Radial Railway, visitors can walk through the haunted car barn and travel in old, creaky streetcars along the mainline while enjoying scary snacks and hot apple cider. Costumes are encouraged and reservations are not required for this event which takes place on October 19th and 26th, 2019 from 6:30 – 10:00pm.
14. Legoland Discovery Centre Toronto celebrates Halloween all month long with their Brick or Treat event. During the month of October, the centre is decorated for the holiday and special activities are available throughout the day every Saturday and Sunday in October plus Halloween day (October 4th -31st, 2019). All Brick or Treat activities are included in the regular price of admission. Activities include LEGO Hidden Side, a new  spooktacular LEGO play experience, a scavenger hunt, MINILAND taken over by ghosts and more.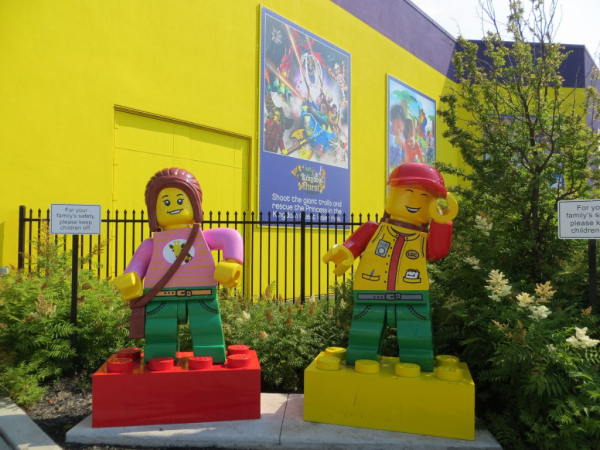 15. At the Royal Botanical Gardens in Burlington, The Great Pumpkin Trail is open to visitors on the evenings of Thursday October 24 and Friday October 25, 2019. Visitors will enjoy a walk along the garden and woodland trails in Hendrie Park as hundreds of jack-o-lanterns light the way. The evenings also feature live entertainment, face-painting, and pumpkin-themed activities. The event is time-ticketed and pre-purchased tickets are required. 
16. Todmorden Mills Heritage Site on Pottery Road in Toronto will be hosting two Halloween themed events this season. On Saturday October 19th and Sunday October 20th there will be Halloween Workshops for families – Halloween Mask-Making Workshop for Families on Saturday and and on Sunday Halloween Lantern-Making Workshop for Families. Suitable for children age 6 and up. Children must be accompanied by an adult. Reservations/Advance Tickets are required and may be purchased online.
17. This year you will also be able to celebrate Halloween traditions of the past when Todmorden Mills holds a Retro 1940s Halloween Party on October 19, 20, 26, and 27th from 12:00 pm – 4:00 pm. Come in costume, decorate an owl cupcake or a ghost-shaped cookie, try your hand at traditional scary Halloween games, and thrill to spooky tales. Tour the historic homes decorated for the season, sample fall treats made from 1940s recipes, make a vintage take-home craft and take a spooky selfie in front of the specially decorated exteriors.
18. Hear chilling tales on a lantern tour of Fort York and its historic surroundings learning about the haunted lighthouse, the bloody Battle of York and other eerie history as you explore nearby military cemeteries. This event is not recommended for children under 8 yrs. Tours will take place October 28, 29, 30 and 31, 2019 beginning at 7:30 pm. Reservations/Advance tickets are required and may be purchased online.
19. Families with kids that love trains won't want to miss the Family Halloween Train rides offered by York-Durham Heritage Railway. Tickets are available online for the theme train which operates from Uxbridge station on Saturday October 19th and Sunday October 20th, 2019. The train is specially-decorated for Halloween and the ride features ghosts, ghouls and other entertainment as well as Halloween-themed activities. All children up to the age of 12 dressed in costumes ride for $3.99 (maximum 2 children per adult). Tickets may be purchased online in advance and this popular train ride sells out quickly so be sure to book early to avoid disappointment.
20. In my own town of Oakville, the annual Tiny Tots on Parade event is one of the most popular for families with pre-schoolers. On October 31st, starting at 10:00 am until noon, children in costume gather in Downtown Oakville's Centennial Square for a morning of trick-or-treating at downtown businesses. 
21. If you're looking for something a bit different then consider Evergreen Brick Works 9th Annual Dia de Muertos (Day of the Dead) celebration. This celebration of Latin American culture and food includes a Mexican market, crafts, face painting, live music, and traditional dancing. The free event takes place at Evergreen Brick Works in Toronto on October 27th, 2019 from 10am – 3pm and is a great way to learn about the cultural significance of this day. 
Does your family have a favourite Halloween event or activity? Let me know in the comments below and have a Happy (and Spooky) Halloween!!
This post may contain affiliate links which help support this site at no additional cost to you. We are a participant in the Amazon Services LLC Associates Program, an affiliate advertising program designed to provide a means for us to earn fees by linking to Amazon.com and affiliated sites.