Halloween events taking place in Toronto and the Greater Toronto Area – updated for Halloween 2020. 
I can remember when Halloween was a low-key holiday but those days are long gone. Now we pull out the spooky decorations and enjoy the holiday all month long. Leading up to October 31st, there are many celebratory events in Toronto and the GTA that will get everyone into a spooky frame of mind – some that are scary and some not-so-scary that are perfect for little ones.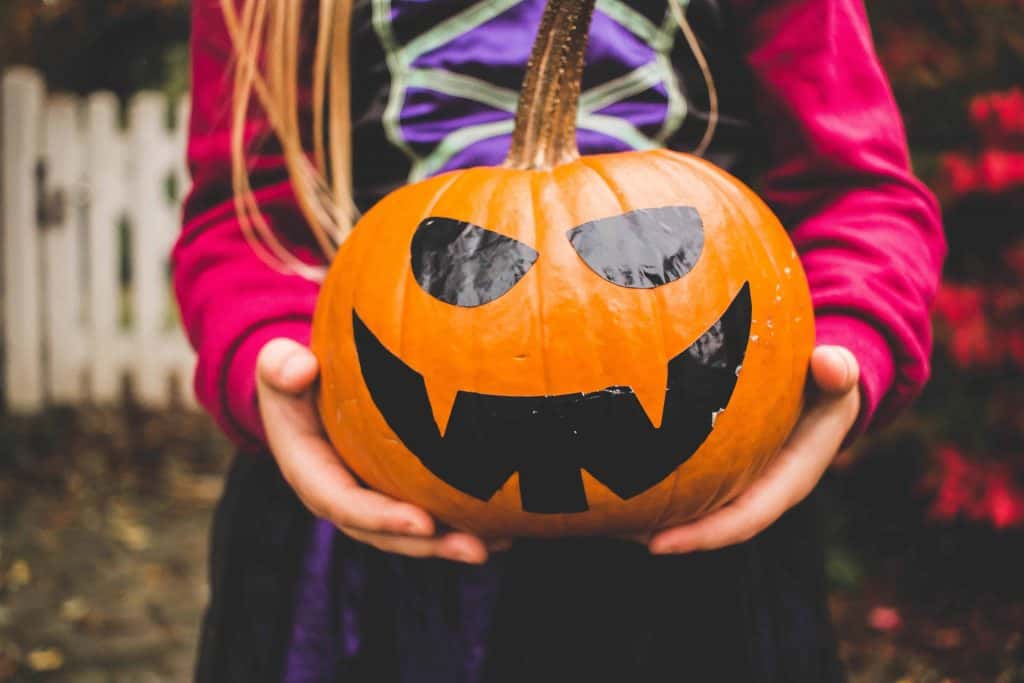 UPDATED FOR HALLOWEEN 2020 – Halloween Season in 2020 is very different from past years. Many events and activities have been cancelled or modified when possible to continue but with new safety protocols in place. In updating this article, I have noted whether an event will be taking place and any changes that have been made. I have left the descriptions of the cancelled events in the article, however, in hopes that they will return in 2021 and can be updated at that time.
Here are 21 fun (and scary) Halloween-themed events for families in the Toronto area. 
Black Creek Pioneer Village Halloween
1. Halloween is still happening at Black Creek Pioneer Village but it's going to look a little different in 2020.  Halloween Fun at the Village will take place on weekends October 17-18th, October 24-25th and October 31st and tickets must be purchased in advance for small group tours that are designed to minimize contact and maintain physical distance.
The tours will depart from the Visitor Centre between 10 am – 2 pm and will include some seriously spooky sights as you take part in a physically-distanced séance, a grim fairy tale puppet show, and a Halloween Hunt for tasty treats along the way.
Each tour will last approximately 100 minutes and the cost is $18 + HST for children age 2+ and $22 + HST for adults. Masks are required inside the Visitor Centre and Heritage Buildings. Please check the Black Creek Pioneer Village website for all health and safety protocols at the village.
Halloween at Canada's Wonderland
Canada's Wonderland remains temporarily closed and there will be no Halloween activities in 2020.
2. Camp Spooky at Canada's Wonderland, on weekends beginning September 28th, is a fun, not-so-scary, daytime event for younger kids. Kids can enjoy Planet Snoopy and Kidzville rides as well as Halloween-themed activities including Spirit Manor (inhabited by friendly characters), the Enchanted Garden Maze, the Cornstalkers Maze, Sally Brown's Creepy Crafts activity, a Silent Disco, Camp Spooky shows and more. It's also another great opportunity to dress up and participate in some trick-or-treating.
3. Halloween Haunt, on the other hand, is most definitely scary and not intended for children under the age of 13. This is a special ticketed event which takes place after dark on select nights September 27 – October 27, 2019 and is best described as terrifying. On the agenda are horrifying haunted mazes, scare zones, and live shows as well as the standard thrill rides and roller coasters. For teens and adults who want to have the daylights scared out of them, Halloween Haunt is the place to be.
Halloween Spooktacular at the Bata Shoe Museum
There are no Halloween activities scheduled at the museum in 2020.
4. This Halloween the Bata Shoe Museum is hosting a spooktacular weekend of family fun on October 26 and 27th. Kids in costume get in free and can decorate Halloween cookies, make crafts and play games in the galleries. Recommended for ages 3-12.
Halloween at the Toronto Zoo
5. The Boo at the Zoo annual Halloween celebration at the Toronto Zoo will look a little different this year but there will still be plenty of spook-tacular holiday fun!
On Friday and Saturday evenings until October 31st, visitors can enjoy the new family-friendly drive-thru Boo-Mobile from the comfort of their own car. While listening to Halloween-themed commentary, families will enjoy the zoo's festive decor, learn about the ghosts that haunt the zoo and learn about how the animal kingdom has contributed to Halloween traditions.
The Drive-Thru Boo-Mobile lasts approximately 30 minutes and is appropriate for all ages. Price per car is $25 Members and $30 Non-Members. Book tickets online in advance.
6. While visiting the zoo from Thanksgiving weekend through October 31, 2020, families will also enjoy the Hay-lloween Town exhibit which includes fall-themed decor and photo ops. Free with zoo admission.
Please note that pre-booked time slots are required for both members and guests to walk through the zoo. Tickets are only available online and will not be sold on site. Face coverings are mandatory while indoors and at certain outdoor animal viewing areas.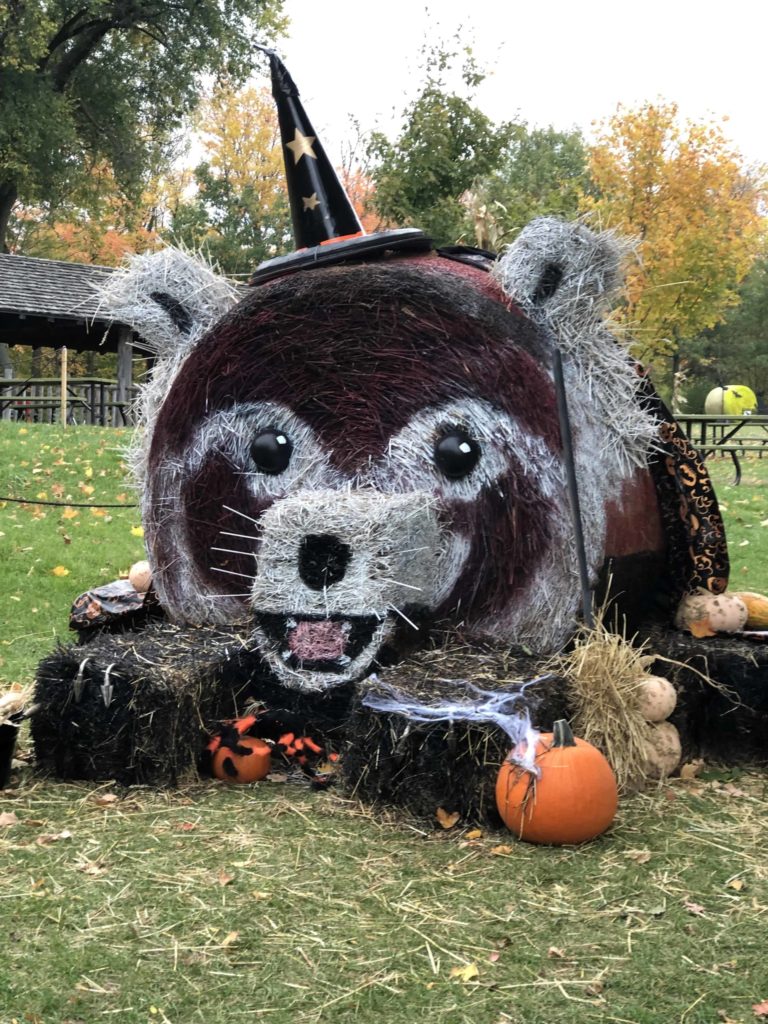 Visit a Pumpkin Farm
Be sure to check the website of your favourite farm before visiting Fall 2020 as many have cancelled or limited their fall activities for families. Those that are still offering activities may require tickets to be purchased for a time slot in advance.
7. Many of the pumpkin farms in the Greater Toronto Area also have Halloween-themed activities that are perfect for younger kids. One of our favourites is Springridge Farm in Milton, west of Toronto, where the annual Harvest Festival runs from late September through to the weekend before Halloween. Families can enjoy wagon rides, the Fun Farm Yard, a giant corn trail, the spooky Boo Barn and pick out the best pumpkin to carve into a scary Jack-o-Lantern.
Fall 2020 – the Springridge Farm Harvest Festival is cancelled and the Fun Farm Yard is closed, however, the bakery and Barn Market are open. Pumpkins, apples etc. can still be purchased.
The Haunted Walk of Toronto
8. Halloween is the perfect time for one of Toronto's spookiest activities. If your idea of fun is listening to spine-tingling tales then The Haunted Walk has a walking tour for you. The company which specializes in historical walking tours that explore the city's darker side has several tours which will get you in a spooky Halloween mood. These 75 minute night-time tours are best for families with older school-aged kids and teens.
The Haunted Walk of Toronto is offering premium small group Bubble Ghost Tours in 2020. Bring up to 12 participants on these limited-time, socially-distanced versions of our Spirits of the Distillery District Ghost Tour and Campus Secrets & Spectres. These tours are a safe and fun way to enjoy some fresh air and hear some great Toronto ghost stories. Tickets are $30 + HST per person.
Halloween Fun at Casa Loma
In consultation with public health officials, the decision was made to cancel Legends of Horror in 2020.
9. If you have teens that like to be scared at Halloween then you might want to check out Legends of Horror at Casa Loma on select dates September 27 – October 31, 2019. Legends of Horror is an immersive theatrical interpretation of classic horror movies on a 2 kilometre walk through Casa Loma commencing in the gardens and winding through the castle. Children 13 and under must be accompanied by an adult and parental discretion is advised. This is a separately ticketed event not included with general admission to Casa Loma.
Halloween at the Kortright Centre for Conservation
10. Creepy Kortright takes place at the Kortright Centre for Conservation in Kleinburg north of Toronto October 24 – 30, 2020, 6:30 – 8:30 pm. Advance tickets are required for this event that is intended for kids aged 10 and under who must be accompanied by an adult. Kids can enjoy spooky Halloween activities such as a haunted house, a frightening forest walk, a bonfire, scary stories and live owls.
This is an outdoor event that allows for physical distancing and safety measures to be followed. 
Halloween Spooktacular at Halton's Mountsberg Conservation Area
Mountsberg's Evening Halloween Spooktacular is happening in 2020 but with significant changes. The event will take place October 23rd, 24th, 25th, 30th, and 31st and activities will include wandering the haunted barn or walking down a lantern-lit path to meet snakes and owls as well as a wagon ride and an outdoor fire. Children (and parents!) should wear their Halloween costumes to receive Halloween goodies.
Recommended for children age 5 and up. Only a Family Pass will be available for a group of up to 10 people at a cost of $200 + HST. Masks will be required in indoor spaces.
11. During Mountsberg's Spooktacular Halloween the Play Barn is magically transformed into a spooky haunted barn for kids to explore. The event also features fall wagon rides, live snake presentations, Bird of Prey Presentations – featuring Vultures and Owls, Pumpkin Passport to Discovery, hay play area, face painting and food trucks.  Spooktacular Halloween is free with regular admission fees and everyone who comes in costume receives a free treat. In 2019, the event takes place October 12, 13, 19, 20, 26 and 27th.
12. Fright Night at Mountsberg is spookier that the daytime Spooktacular but is still family-friendly. The event which takes place Saturday October 19, 2019  6pm-9pm includes a hair-raising walk through the haunted barn, spine-chilling special guests, a shudder-inducing encounter with snakes and owls, a spooky woodland wagon ride, trick or treating around the park and an opportunity to roast a s'more over the open fire. 
Halton County Radial Railway Halloween Trains
The Halton County Radial Railway is closed until further notice.
13. During the Halloween Spooktacular at Halton County Radial Railway, visitors can walk through the haunted car barn and travel in old, creaky streetcars along the mainline while enjoying scary snacks and hot apple cider. Costumes are encouraged and reservations are not required for this event which takes place on October 19th and 26th, 2019 from 6:30 – 10:00pm.
Brick or Treat at Legoland Discovery Centre Toronto
Capacity is limited in 2020 – book NOW to guarantee entry! Annual Passholders must also reserve their time slots online. Due to local health regulations, all guests age 6 and over are required to wear face coverings inside the attraction.
14. Legoland Discovery Centre Toronto celebrates Halloween all month long with their Brick or Treat event. During the month of October, the centre is decorated for the holiday and special activities are available throughout the day Saturdays and Sundays in October plus Halloween day (October 15th – 31st, 2020). All Brick or Treat activities are included in the regular price of admission.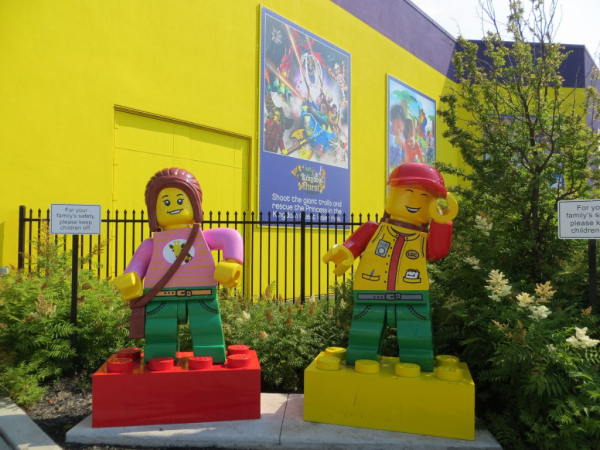 The Great Pumpkin Trail at the Royal Botanical Gardens
15. At the Royal Botanical Gardens in Burlington, The Great Pumpkin Trail is open to visitors on the evenings of October 22, 23 and 24, 2020. Visitors will enjoy a walk along the garden and woodland trails in Hendrie Park as hundreds of jack-o-lanterns light the way.
In 2020 the event will become a 1 hour, linear experience that will allow groups of guests to move through the event in the same direction. Along the 1.5 km route which will include pathways in Hendrie Park and the South Bridle Trail you will safely encounter roaming entertainment and special guests. Entry time selected during ticket purchase. Maximum of 50 people per time-slot. The experience is approximately 1 hour long.
Halloween at Todmorden Mills
In accordance with Toronto Public Health recommendations, Toronto History Museums are suspending all indoor tours and events until Nov 6, 2020. Only outdoor walking tours are available at this time. 
16. Todmorden Mills Heritage Site on Pottery Road in Toronto will be hosting two Halloween themed events this season. On Saturday October 19th and Sunday October 20th, 2019 there will be Halloween Workshops for families – Halloween Mask-Making Workshop for Families on Saturday and and on Sunday Halloween Lantern-Making Workshop for Families. Suitable for children age 6 and up. Children must be accompanied by an adult. Reservations/Advance Tickets are required and may be purchased online.
17. This year you will also be able to celebrate Halloween traditions of the past when Todmorden Mills holds a Retro 1940s Halloween Party on October 19, 20, 26, and 27th, 2019 from 12:00 pm – 4:00 pm. Come in costume, decorate an owl cupcake or a ghost-shaped cookie, try your hand at traditional scary Halloween games, and thrill to spooky tales. Tour the historic homes decorated for the season, sample fall treats made from 1940s recipes, make a vintage take-home craft and take a spooky selfie in front of the specially decorated exteriors.
Fort York After Dark Lantern Tours
In accordance with Toronto Public Health recommendations, Toronto History Museums are suspending all indoor tours and events until Nov 6, 2020. Only outdoor walking tours are available at this time. Fort York is currently only open Wednesday – Sunday 11-5 pm on a pre-booked tour only basis.
18. Hear chilling tales on a lantern tour of Fort York and its historic surroundings learning about the haunted lighthouse, the bloody Battle of York and other eerie history as you explore nearby military cemeteries. This event is not recommended for children under 8 yrs. Tours will take place October 28, 29, 30 and 31, 2019 beginning at 7:30 pm. Reservations/Advance tickets are required and may be purchased online.
Halloween Train Rides at York-Durham Heritage Railway
The Family Halloween Train ride is not available in 2020.
19. Families with kids that love trains won't want to miss the Family Halloween Trainrides offered by York-Durham Heritage Railway. Tickets are available online for the theme train which operates from Uxbridge station on Saturday October 19th and Sunday October 20th, 2019.
The train is specially-decorated for Halloween and the ride features ghosts, ghouls and other entertainment as well as Halloween-themed activities. All children up to the age of 12 dressed in costumes ride for $3.99 (maximum 2 children per adult). Tickets may be purchased online in advance and this popular train ride sells out quickly so be sure to book early to avoid disappointment.
Oakville Tiny Tots on Parade
The Tiny Tots Parade is cancelled in 2020. Instead head downtown for a Pumpkin Pop-Up Experience on Saturday, October 31. Stroll the new, extra wide sidewalks (costumes encouraged!) to see all of the creative pumpkins merchants will be putting on display, and stop by Towne Square to drop off a non-perishable food item for Kerr Street Mission.
20. In my own town of Oakville, the annual Tiny Tots on Parade event is one of the most popular for families with pre-schoolers. On October 31st, starting at 10:00 am until noon, children in costume gather in Downtown Oakville's Centennial Square for a morning of trick-or-treating at downtown businesses. 
The Day of the Dead at Evergreen Brick Works
The Day of the Dead celebration will not take place in person in 2020, however, there will be a virtual event – details TBA.
21. If you're looking for something a bit different then consider Evergreen Brick Works 9th Annual Dia de Muertos (Day of the Dead) celebration. This celebration of Latin American culture and food includes a Mexican market, crafts, face painting, live music, and traditional dancing. The free event takes place at Evergreen Brick Works in Toronto on October 27th, 2019 from 10am – 3pm and is a great way to learn about the cultural significance of this day. 
Halloween Night of Lights
22. Halloween Night of Lights is a drive-through event in Vaughan featuring more than 700,000 lights animated and synchronized to your favourite Halloween tunes. Select nights from October 1 – November 1, 2020. 
Pumpkins After Dark
23. In 2020, Pumpkins After Dark is a 2.5 km drive-through loop at Country Heritage Park in Milton where you will see over 150 pumpkin sculptures from the comfort of your car. Tickets must be pre-purchased online for a specific time slot. Thursdays – Sundays from mid-September until November 1st. Some additional Wednesday dates added.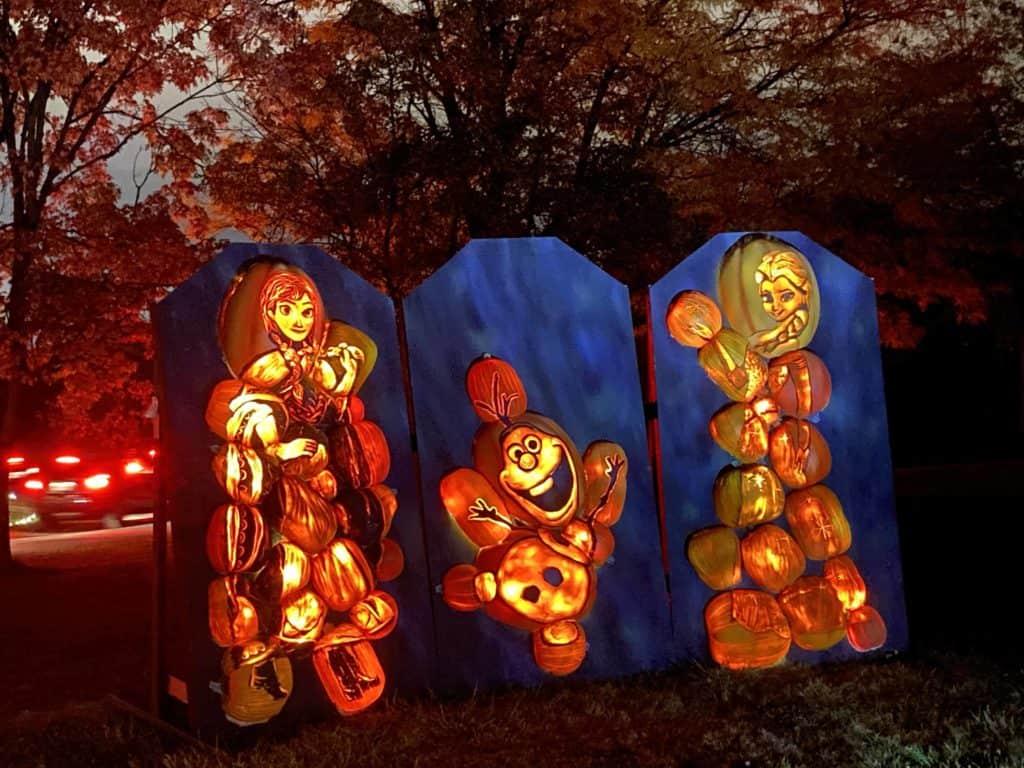 Does your family have a favourite Halloween event or activity? Let me know in the comments below and have a Happy (and Spooky) Halloween!!
This post may contain affiliate links. If you click an affiliate link and make a purchase then we receive a small commission at no additional cost to you.
Pin This For Later