Top 10 things to do in Barcelona, Spain with children.
Today I welcome guest poster Melissa Lawrence from CloudMom.com to share a family trip she took to Barcelona. Barcelona has been on the top of my travel wish list for quite some time so reading Melissa's post has provided me with some great suggestions for planning our own visit to the city.
Although some things didn't go according to plan – like when all grocery shops were closed on the day we arrived in Barcelona in honor of a national holiday – overall, we had a magical time and fell in love with this romantic city on the Mediterranean, it's people, architecture and art.
Here are my top 10 things to do in Barcelona with children!
Read 25 Tips for International Travel with Kids
1. Barcelona Tour Buses
Barcelona's buses, which include audio guides, took us around the city and stopped conveniently near our apartment! My children loved them since they could sit atop the bus, the wind in their faces, watching the city from up-high, and playing around with their own personal video recorders.
I highly recommend these buses as THE way to get around with kids! You can also buy two-day weekend passes, which allow you to visit even more sites. These buses are also economical as you'll spend far less than if you take taxis or purchase multiple subway tickets.
2. El Barca
My boys favorite stop along our bus tour (and I confess, we visited twice) was the stadium and museum for the FC Barcelona – Barcelona's renowned professional soccer club. My boys loved seeing the huge stadium and hundreds of trophies, balls, shoes and other soccer memorabilia. Our visit to the Barca really got us in the mood for the World Cup and made all that carpooling to soccer practice back home so worth it!
3. Gaudi's Sagrada Familia
While my husband Marc was visiting, we planned a morning trip to the awe-inspiring Sagrada Familia, Gaudi's famous cathedral that is still under construction. We had a great view from the top of our tour bus, but the inside was even more spectacular, with high vaulted ceilings and beautiful stained glass windows. It was actually surprisingly modern looking inside.
I was amazed to learn that Gaudi worked on the cathedral until his death in 1926, and since then, different architects have continued the work after his original idea. It's said to be completed in the first third of the 21st century…another trip in the making, perhaps? (As long as my children plan it this time, ha!) If you do visit, make sure to get tickets in advance on the Internet to avoid the lines! And definitely get the audio guides.
4. Foundation Miró
Opened in 1975, Miró's vision for the space was to create a new building that would encourage particularly younger artists to experiment with contemporary art. I loved the layout of the museum…it had a very relaxing quality and there was plenty of beautiful natural light. My kids enjoyed the artwork, and they each had their own audio guide. One of my boys came up to me afterwards and said he had learned so much – something every mom loves to hear!
5. Montjuïc
From Miró, we traveled by the Funicular Railway to one of Barcelona's most famous attractions – Montjuïc! The top of the hill is only 570 feet above sea level, but you'll get the best views of the harbor, to the southwest of the city centre. Seeing the Mediterranean from up there was absolutely breathtaking! I've also heard that hiking the hill isn't so bad, for the adventurous parents out there!
6. Parc Güell
Another Gaudi creation and a public park with tons of gardens and architectural wonders. Comfy sneakers are a must! My kids LOVED killing time playing soccer at the children's playground. We enjoyed the beautiful ceramic designs and flowers of the park. It really feels like you're stepping into a magical dreamland. Colorful, unique, and beautiful. Again, this is a site for which you should buy tickets in advance on the internet since visits are scheduled and you can't just pop over and visit spontaneously.
7. CosmoCaixa
Perhaps our favorite stomping ground was the CosmoCaixa, Barcelona's Science Museum! It was definitely the most fun museum we visited.  Instead of looking, CosmoCaixa is about hands-on learning. Physical, technical, chemical, and mathematical experiments can be explored on every floor!
The four hours flew by as we tasted the waters of the world's seas, explored their jungle greenhouse, saw the inner-workings of the escalator, and had fun with physics! The building itself is spectacular and modern. Lots of fun opportunities for kids to interact with science and learn!
8. Picasso Museum
No trip to Barcelona would be complete without the Picasso museum. His first major works, included in the museum, were completed at ages 15 and 16! My boys kept asking me "Wait, he was how old??" Maybe this will get them more interested in art? One can always hope, right? There are over 4,000 works of art, so be prepared to be on your feet a while, but the audio guides were super helpful and kept my kids quiet and content!
9. Casa Milà (La Pedrera)
Constructed between 1906-1012 as a luxury apartment building, Gaudi's historic house, La Pedrera, on the Avenida Diagonal boasts a rich cultural center set within the context of actual living spaces that one can visit. It's fun to imagine a day in the life of an early 20th century Barcelona family.  The still-functional parking garage excited my kids the most!
10. Casa Batlló
If you're a mother of 1+ children like I am, it's tough to connect with your eldest on a one-on-one basis. My oldest, Hedley, hasn't been an only child for 9 years, so I really wanted to fit in some special alone time with him! After hiring a sitter, Hedley and I headed off for some quality time. We explored another one of Gaudi's creations, the Casa Battló, and ate at a wonderful local restaurant. Gaudi never disappoints. Redesigned in 1904, this beautiful historic house uses natural light and ceramic tile so creatively. The attention to detail is astounding. All in all, a great day as a mom to reconnect on another level with my eldest son and to take in the sights!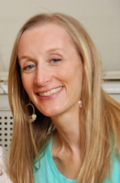 Melissa Lawrence, Founder of CloudMom.com, lives in New York City with her husband and 5 young children. With more than a few parenting tricks up her sleeve, Melissa posts how-to videos and blogs for moms just like you!
Follow Melissa's latest activity at CloudMom.com, Facebook, Twitter, YouTube, and Instagram