A review of the LEGOLAND California Hotel.
If you are planning to take your kids to LEGOLAND California then you should consider booking a stay at the LEGOLAND Hotel. From the moment you arrive at the front entrance it will be obvious that this is a hotel like no hotel your family has ever stayed at before. Staying here is a fun way to extend the theme park experience that your kids will never forget. For LEGO fans, it truly is "the ultimate sleepover"!
Please check the LEGOLAND California website for information on travel restrictions, safety precautions and availability of activities and amenities at the resort in 2020.
This post may contain affiliate links. If you click an affiliate link and make a purchase then we receive a small commission at no additional cost to you.
Fun is the name of the game at the LEGOLAND Hotel which has been completely designed with kids in mind. Everything is LEGO-themed here including the building itself which looks like it has been constructed from brightly coloured LEGO bricks. From the moment of check-in, your kids will feel completely at home as it's obvious that this is a place where they are meant to play and enjoy themselves.
The pit of LEGOs in the centre of the lobby, the giant pirate ship in the background, the LEGO sculptures scattered around and the mural with thousands of mini LEGO figures behind the check-in counter all convey the message that this hotel stay is all about the kids.
Even riding the elevator to your room is a treat as a disco party begins as soon as the doors slide closed complete with dance music and flashing lights. Unfortunately, it's a short-lived party as there are only three floors in the hotel so you might be tempted to ride the elevator up and down a few times to prolong the fun!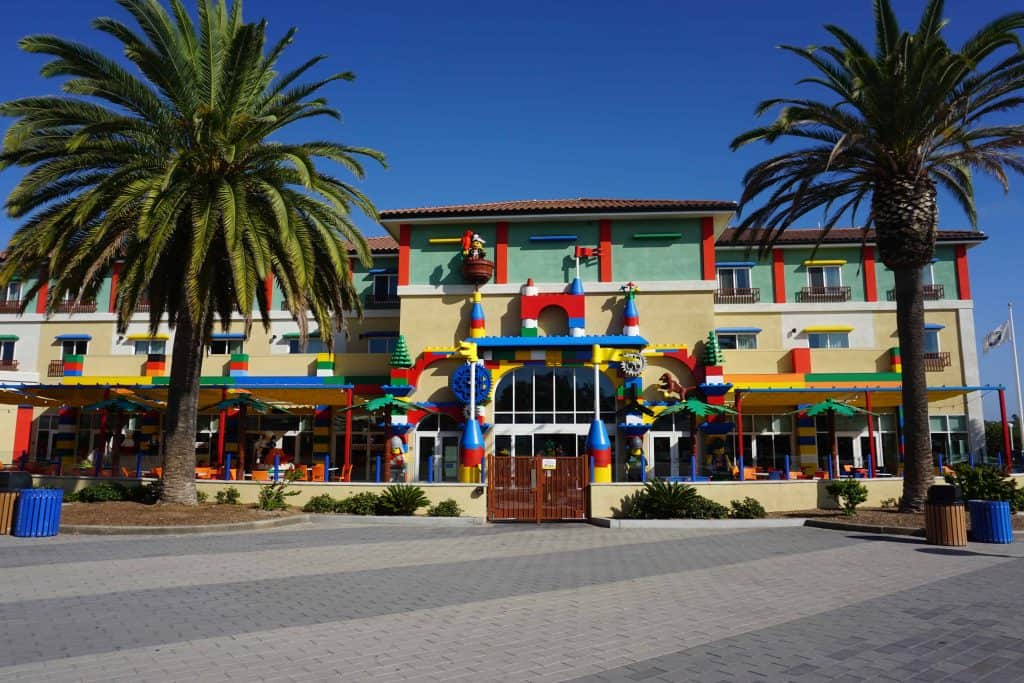 Choose Your Theme
All of the spacious guest rooms at the LEGOLAND Hotel are themed with each floor of the hotel having a different theme. At the time of my stay the themes were Pirate, Kingdom and Adventure, however, new LEGO Friends and Ninjago themed rooms have since been added.
My room was on the Adventure floor and I loved how the theme began the moment I stepped from the elevator. I was by myself for this trip but was still thoroughly delighted by all of the little LEGO details so I can easily imagine how excited kids would be to explore such a cool hotel room. In fact, as I walked down the hallway in the afternoon I overheard squeals of delight from a family that had just checked in and were seeing their room for the first time. There was little doubt that they had just discovered the best hotel room ever!
Each room has two distinct sides – an adult side and a kids' side. The hotel has both standard Themed rooms and Premium rooms available but the Premium rooms are only distinctive on the adult side. Every kid that stays at the LEGOLAND Hotel has the same in-room experience regardless of which category of room they are staying in. Both sides of the room are decorated with LEGO wallpaper, themed bedding, and LEGO sculptures which make you feel that you have stepped into a LEGO adventure in ancient Egypt.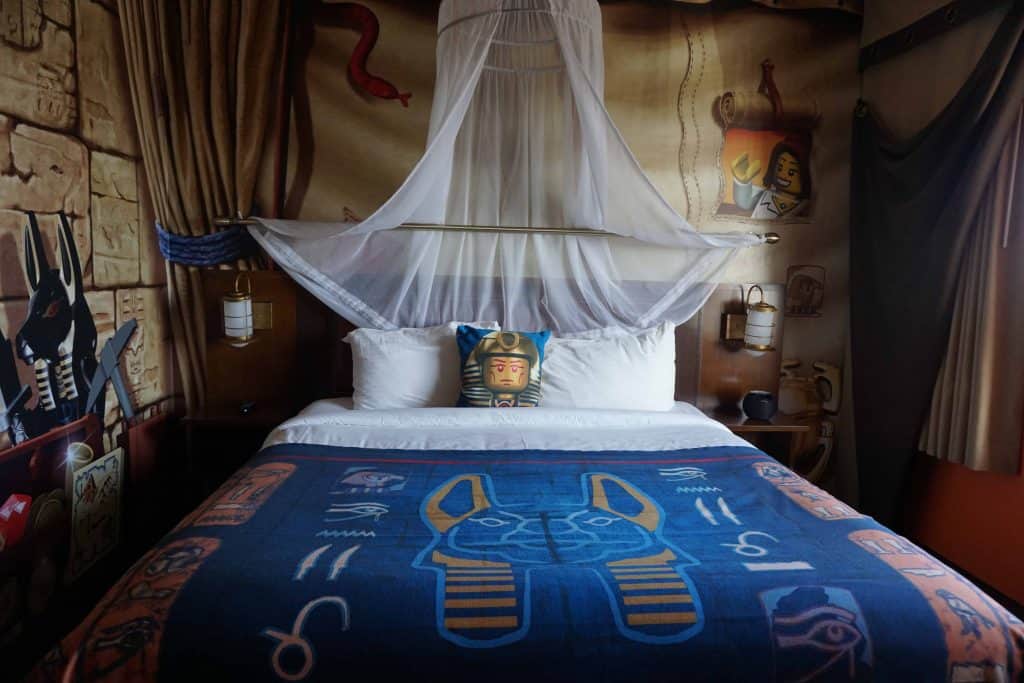 The kids' side of the room is a LEGO fun zone that can sleep up to three children featuring a set of bunk beds with themed bedding as well as a pull-out trundle bed and an entertainment unit. Don't be surprised if your kids want to redecorate their bedrooms after returning home!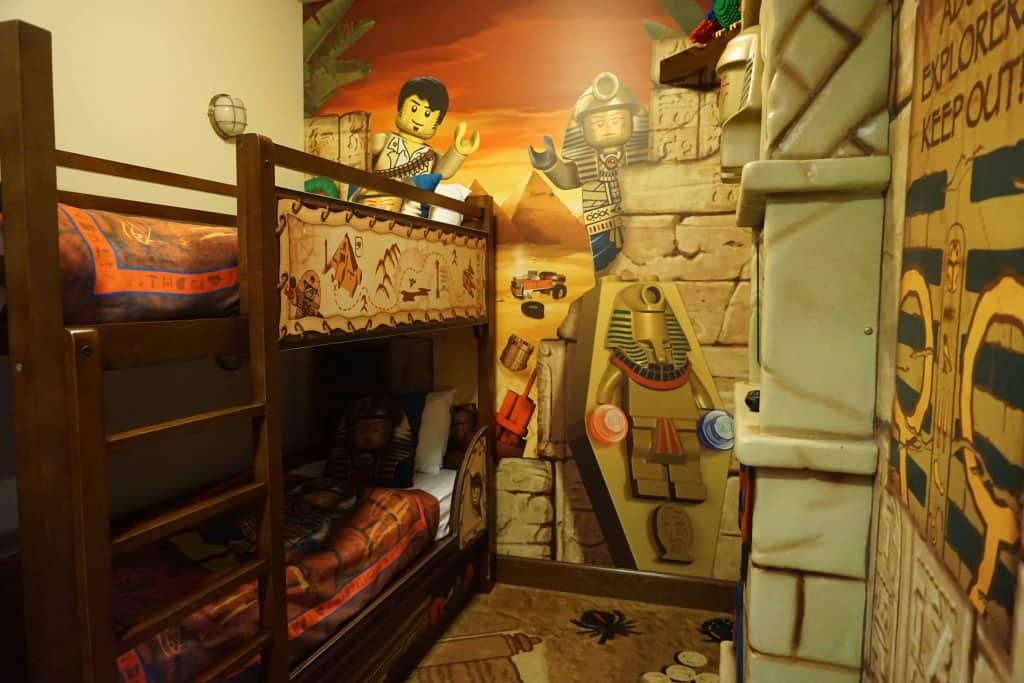 Parents will appreciate the many little touches in the room. Each room has a safe, coffee maker and a mini-fridge with coffee, tea, juice, and water all included in the room rate. There are two televisions – one on each side of the room – with complimentary family-friendly on-demand tv and WIFI is complimentary as well.
In the bathroom the toilet has a built-in potty seat and there is a step stool as well which makes life easier for smaller guests and their parents. A bucket of LEGO bricks is provided for guests to build their own masterpieces and each room also has a treasure chest.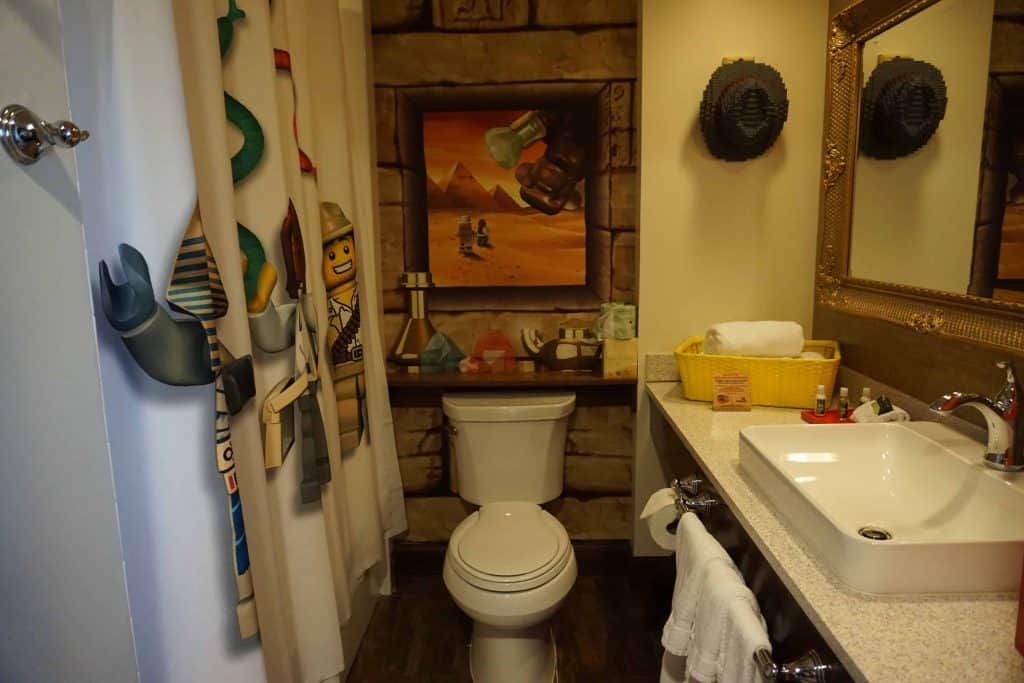 Children are provided with a scavenger hunt when they check in and will obtain a secret code once they have completed it that will allow them to open the treasure chest in their room and get a prize.
Each room also has a number of decorative LEGO sculptures that have been built by the resort's Master Builders. The sculptures are artwork and not toys so be sure the kids don't touch them – there's a fee for any damage.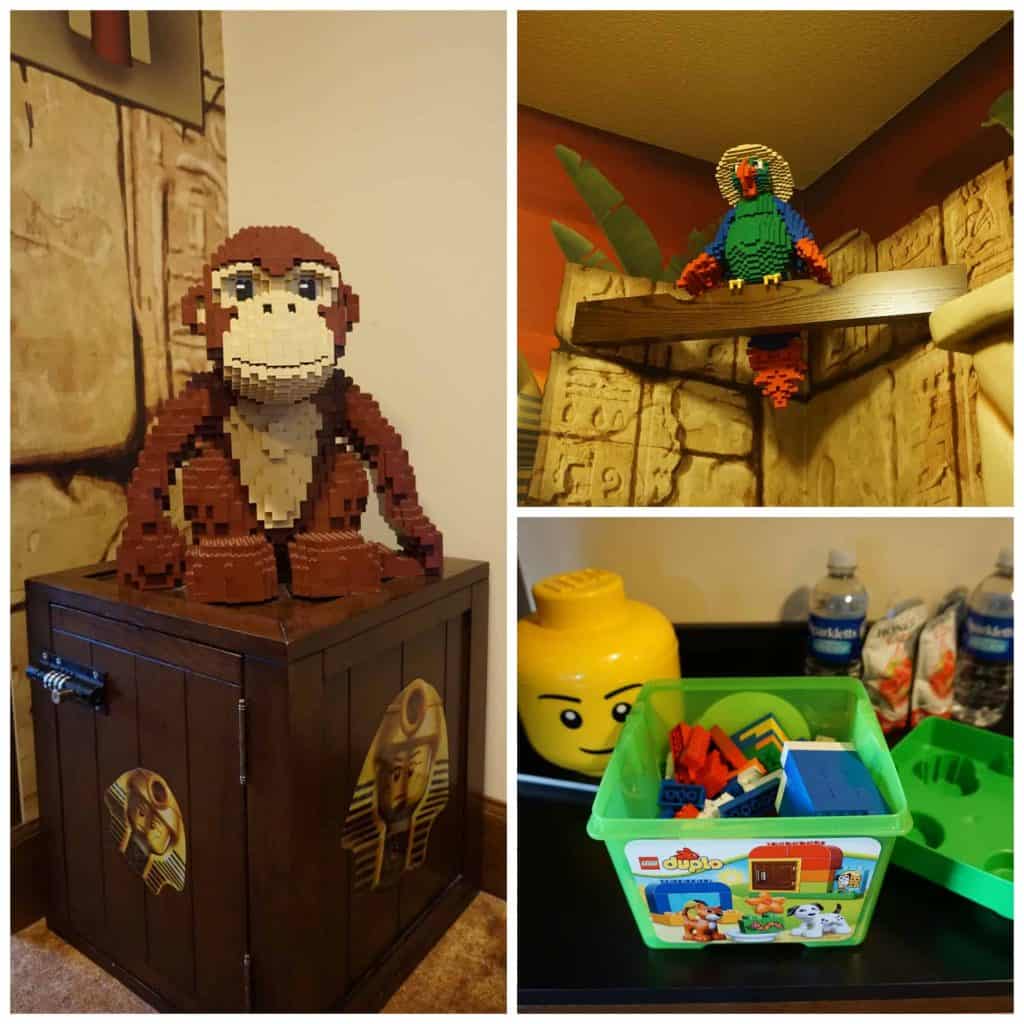 Dining at LEGOLAND California Hotel
Bricks Family Restaurant is the main restaurant at the LEGOLAND Hotel and is open daily for breakfast and dinner. A stay at the hotel includes a free buffet breakfast at Bricks which means that everyone in the hotel will be eating there so try to arrive early or the lines will be long.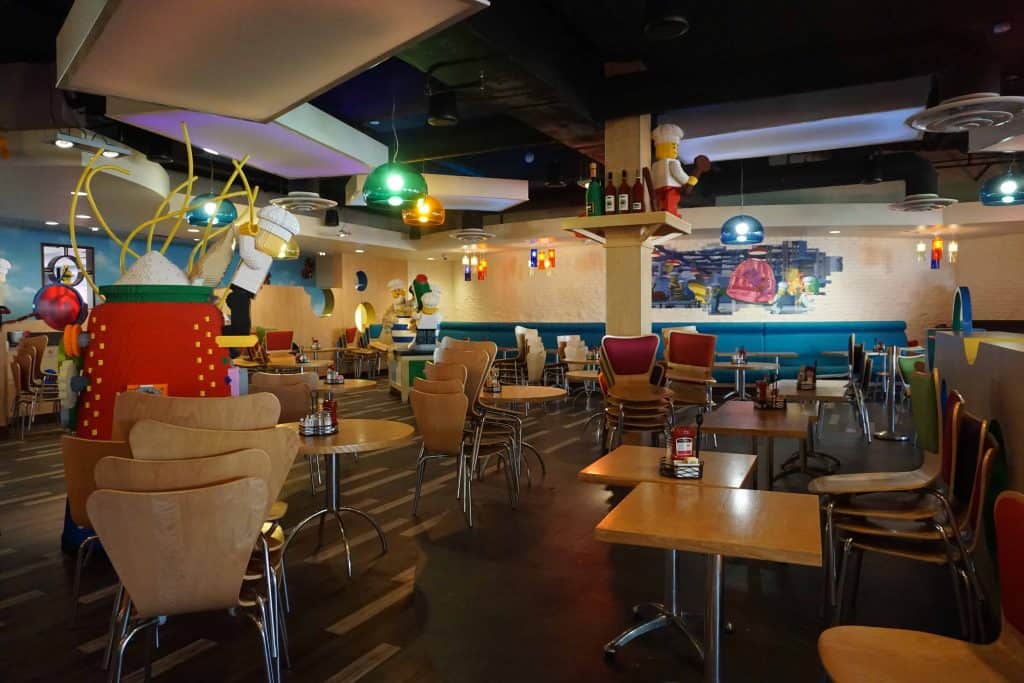 Bricks serves cafeteria-style buffet options with a nice added touch of separate stations with choices for the kids served at kid's level. The restaurant can also accommodate dietary requirements with advance notice.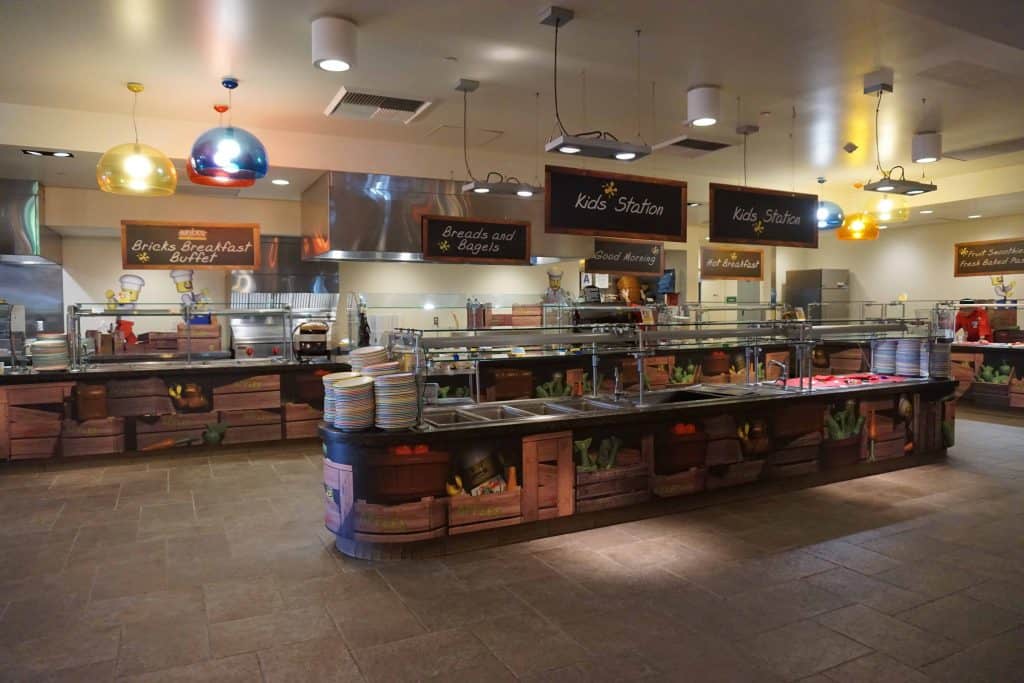 Other dining options at the hotel include the Skyline Café which offers an à la carte service of light snacks and beverages in a quieter setting that features an incredible LEGO skyline scene designed by the resort's Master Builders.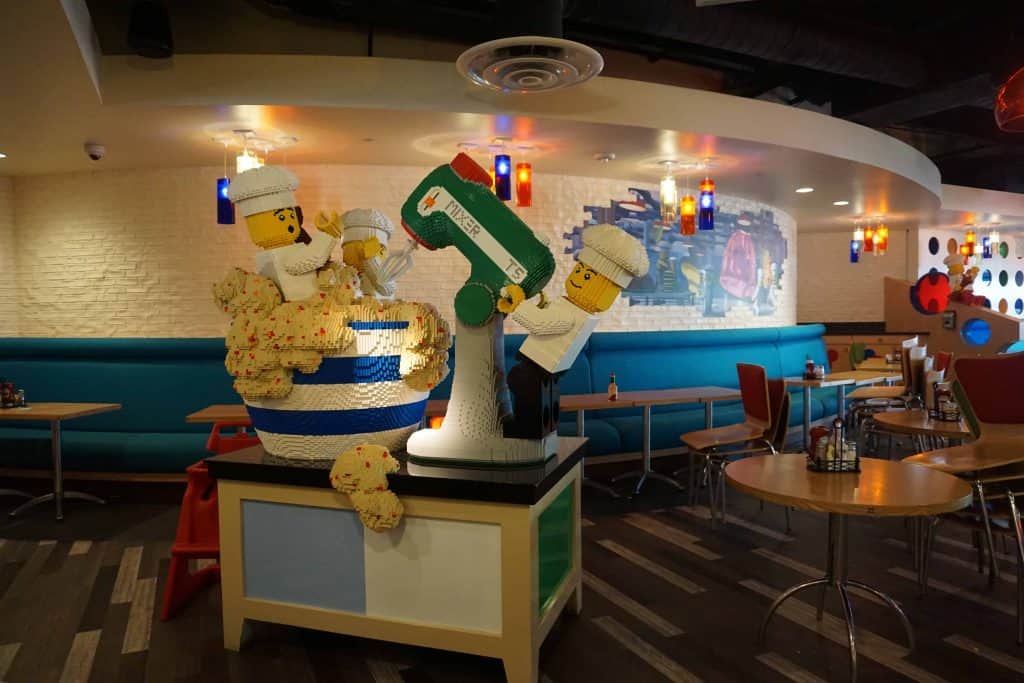 Mini's Lounge offers snacks and beverages to go and there is also room service available which offers a more limited version of the Skyline menu. Mini's Lounge conveniently overlooks the lobby play area so parents can relax at a table and still be able to supervise children who are playing.
The Skyline Café also has a patio bar overlooking the pool which serves wine and cocktails in the afternoon and evenings.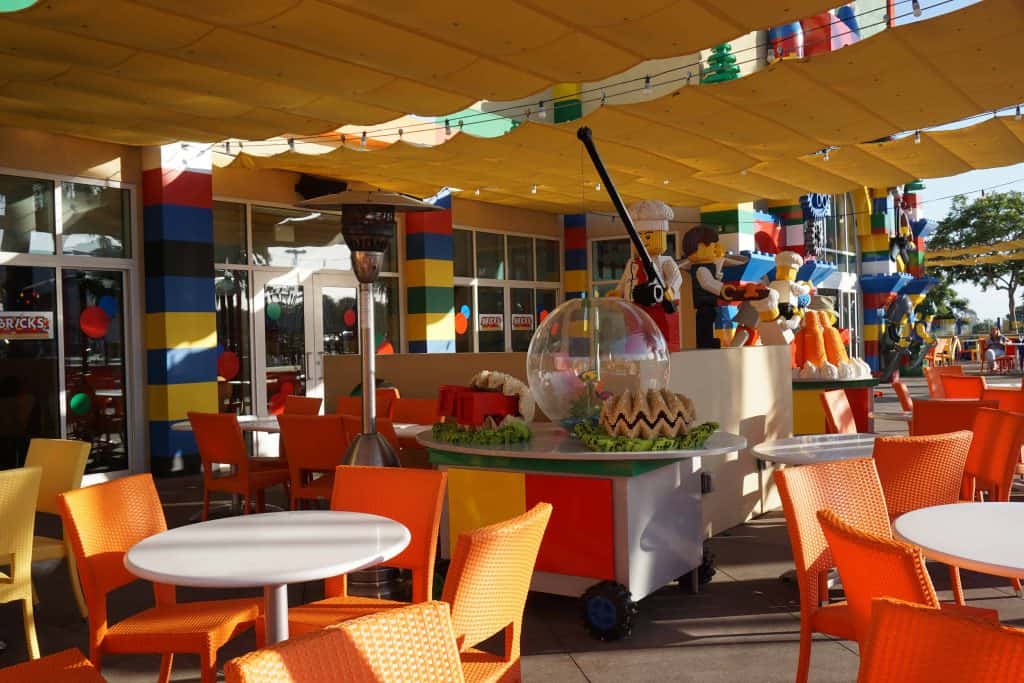 LEGOLAND California Resort Activities
There is almost as much fun to be had around the LEGOLAND Hotel as there is in the theme park. Kids love the indoor play area in the lobby with its huge castle and pirate ship and the giant pit of LEGOs where they can take part in the daily model-building competition. Evening entertainment (starting at 6pm) includes character meet and greets, pajama parties, magic shows, games and so much more.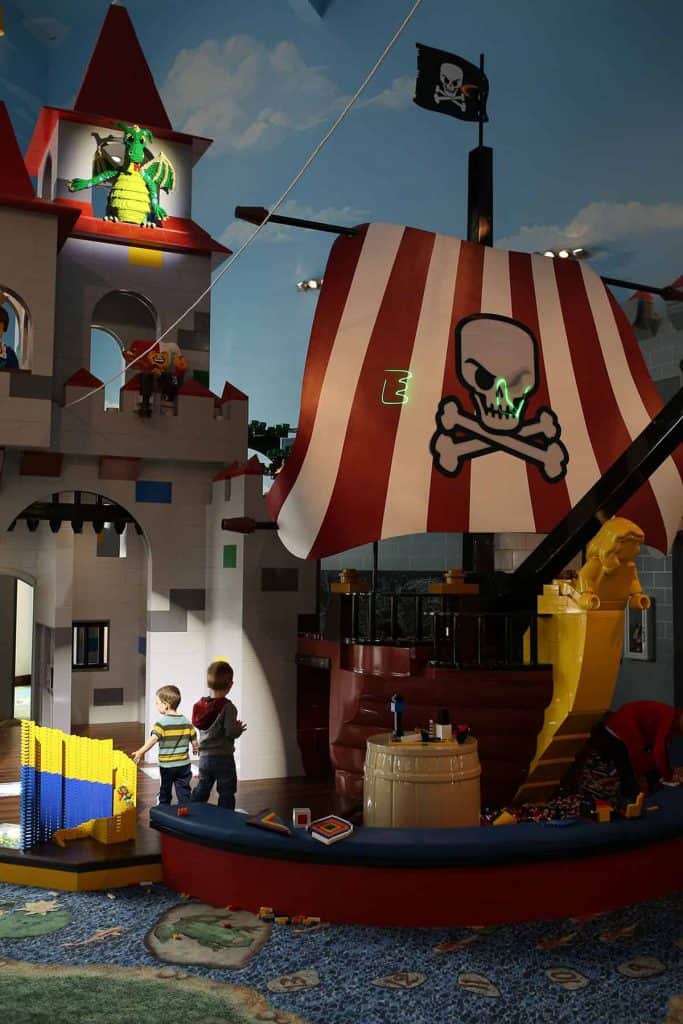 Pick up an entertainment guide from the Concierge when you arrive to avoid missing out on any of the scheduled fun. The hotel's evening activities take place primarily on weekends when school is in session but every day throughout school holidays.
The best place to head after a long, hot day in the park is the zero-entry heated outdoor pool which even has soft LEGO bricks to play with. The pool has a lifeguard on duty and there are life jackets available, cabanas are available for rental, food and beverage service is available pool-side and swim-in movies are screened seasonally.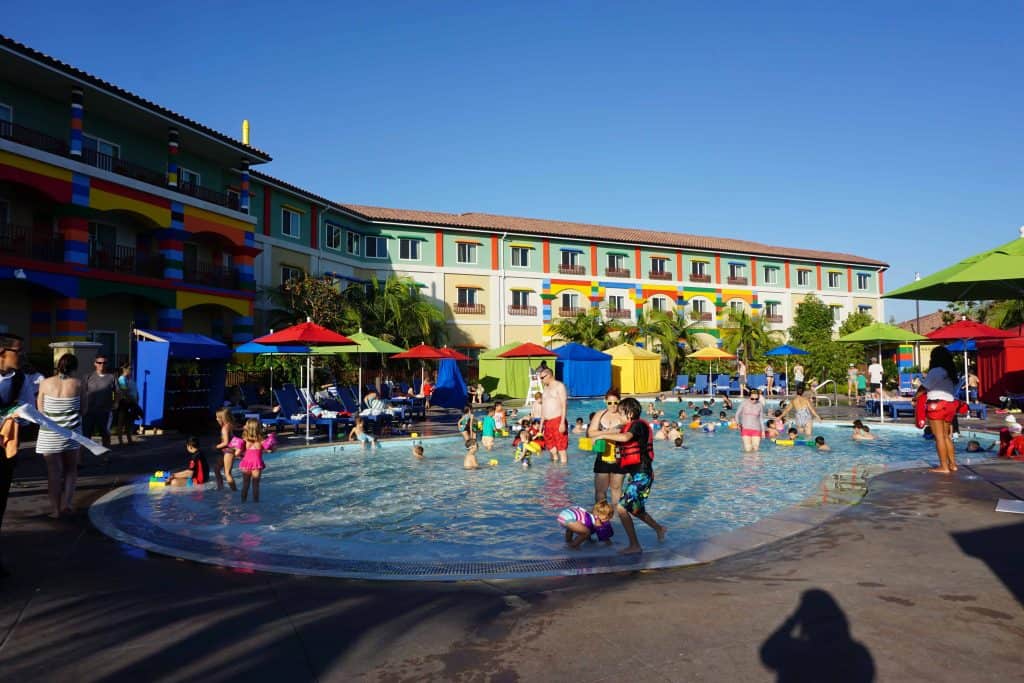 Perks for LEGOLAND California Hotel Guests
Guests of the hotel enjoy exclusive early access to select rides and attractions before the park opens to the public. Early entry time varies seasonally but is up to one hour prior to park opening. This is a great incentive as you can cover a lot of ground when there are no crowds.
The hotel also has special programming at certain times of the year such as on Brick-or-Treat Party Nights which take place on select Friday and Saturday nights in October. The hotel throws an exclusive Halloween party which includes a costume parade for the kids, candy giveaways, a magic show and costumed character appearances.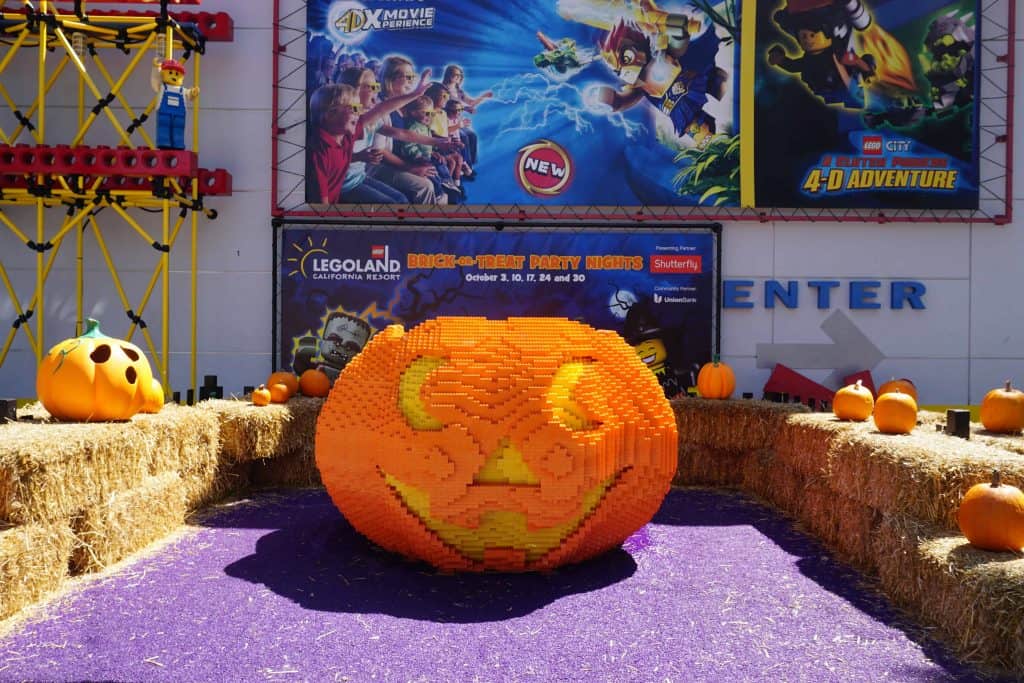 One of the biggest selling points for LEGOLAND Hotel is the convenient location outside the park's main entrance. There's no commuting at the end of a long day in the park – just walk on over and the fun continues. The hotel is an extension of the park so it isn't the place to stay if you are looking for a quiet, relaxing break. It is the place to stay if you want to plan a vacation that's all about the kids though. It's loud and it's fun and your kids will think it's the best place that they have ever stayed!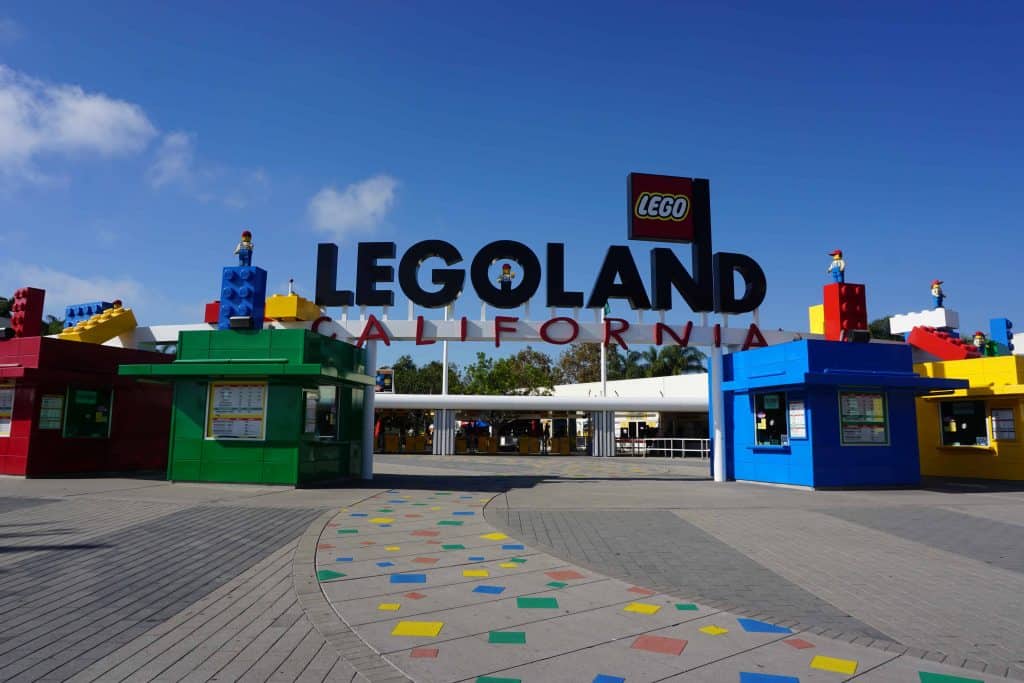 What You Need To Know About LEGOLAND California Resort
LEGOLAND California Resort is located in Carlsbad, California – 30 minutes north of San Diego and 1 hour south of Anaheim. Directions are available on the website.
Themed Rooms and Premium Themed Rooms sleep 5 guests. Suites can sleep up to 7 people which is ideal for large families.
The hotel charges a $30 plus tax nightly Resort Fee. Fee includes: Resort fee includes luggage service, one set of in-room beverages (water, juice) per night, standard wireless internet access, children's entertainment, Hotel pool towels, and local and domestic long-distance phone calls. Taxes and fees subject to change without notice.
Annual Pass Members receive 15% of bookings – restrictions may apply.
Bookings can be made online at www.LEGOLANDhotel.com or by phone at 888-690-5346
Bricks Breakfast Buffet is included in all reservations. Dinner packages are available. Reservations are recommended.
Pack 'N Plays are available on a first-come, first served basis.
Pets are not allowed. Service animals must be on a leash at all times.
Pool hours are 9am – 9pm (subject to weather and seasons). Children under the age of 14 must be accompanied by a responsible adult at least 18 years of age to use the pool.
The LEGOLAND experience is best suited to children aged 2-12.
LEGOLAND California Resort includes: LEGOLAND California, an interactive, hands-on theme park featuring more than 60 rides, shows and attractions; LEGOLAND Hotel; LEGOLAND Castle Hotel; Sea Life Aquarium; and LEGOLAND Water Park.
Check the website for days and hours of operation. The theme park, aquarium and hotel are open year-round, however, the water park is open seasonally. The park is also closed on some Tuesdays and Wednesdays September – February.
Walk-up ticket pricing is available but you will save time and money by purchasing tickets online ahead of time. There may be promotional deals available on the LEGOLAND website as well.
Strollers, lockers, wheelchairs and electric convenience vehicles can all be rented at the park.
The park is smoke-free (including e-cigarettes).
I visited Southern California as a guest of CityPASS and LEGOLAND California. My opinions are, as always, my own.
You Might Also Like
Pin This For Later