The best things to do in Tallahassee, Florida with kids as well as recommendations for family-friendly dining and accommodation.

There aren't many destinations that surprise me the way that Tallahassee did. I had some preconceptions about what a Florida city would be like and they were pretty much all proved wrong when I recently had an opportunity to spend a few days in the state capital.
Tallahassee is a college town with a highly educated population and that has resulted in the development of a vibrant, liveable city that values culture, good food, family and spending time outdoors.
The city is located in the Florida Panhandle relatively close to Alabama so even the geography of the region was different from what I expected with streets lined with moss-draped trees instead of palm trees.
Tallahassee might not be the first place that comes to mind when planning a family vacation in Florida but I discovered that the city has a lot to offer and is easier on the travel budget than many other areas of the state. Spending 2-3 days here en route to Orlando or combining a city break in Tallahassee with a beach vacation elsewhere in the state are both great choices for families.
Here are 10 things to do with kids on a visit to Tallahassee that everyone in the family will enjoy.
Tallahassee Museum
If you happen to have kids that balk at visiting a museum then the Tallahassee Museum is going to be a pleasant surprise.
The museum, a family-oriented institution set on 52 acres of land surrounded by National Forest, is dedicated to teaching visitors about Northern Florida's natural environment and cultural heritage. To that end, the museum offers programming for everyone from preschoolers to senior citizens and, unlike many museums, most of it is interactive.
Kids and adults looking for a challenge will love the Tree to Tree Adventures course where they can ascend into the canopy of trees to test themselves on obstacles and zip lines. There are two separate courses for older kids and adults (one 20 feet above the ground and one that goes up to 60 feet above the ground and soars over the museum's cypress wetlands) and also a small course for younger children.
The museum also has a living history component with restored historic buildings where visitors can learn more about the state's history from costumed interpreters and hands-on demonstrations. Visitors can also stroll elevated boardwalks to observe some of the wildlife native to Florida in a natural setting including bears, alligators and a Florida panther.
Mission San Luis
Mission San Luis, a National Historic Landmark, is a living history museum where visitors can explore Florida's Hispanic and Native American roots and experience life as it was in the 17th century.
San Luis was one of over 100 mission settlements established in Spanish Florida between the 1560s and 1690s but is the only reconstructed Spanish mission in Florida that is open to the public. The Spaniards were the first European immigrants in the area and established the mission at the request of the Apalachee Indians.
San Luis was the western capital of the Florida missions and was the largest and most important of the missions. Residents of the mission evacuated two days before English forces reached the site in 1704.
Visitors are transported back to a community where Apalachee Indians and newcomers from Spain lived together circa 1703. Historic interpreters in period costume inform visitors about life at the mission as they tour historic buildings such as the Council House, the fort, and the Franciscan church.
There are also hands-on learning opportunities and demonstrations in activities such as blacksmithing as well as a scavenger hunt that is ideal for keeping younger kids engaged in the experience.
Lofty Pursuits
Tallahassee's Lofty Pursuits is that rare shop that simply defies description. Ostensibly it's an ice cream parlour, and the ice cream is delicious, but there is much more to do here than just savour the ice cream.
Owner Gregory Cohen has established an old-fashioned soda fountain that sells ice cream (200 flavours in rotation), shakes, malts, freezes, floats, sodas, egg creams, and all sorts of fountain creations.
On our visit, we sampled root beer floats, freezes, sundaes and cherry phosphate. All were delicious but my favourite was the Sandy Sundae (homemade butter caramel, crushed shortbread cookies and a pinch of salt) which was originally created as a fundraiser for Hurricane Sandy relief.
Lofty Pursuits also makes artisanal folded hard candy using a process that is over 100 years old. The candy is made in the store and customers can watch as a mixture is heated and then twisted, pulled and rolled as it cools to form the hard candy.
Lofty Pursuits, however, is also a toy shop stocking a large selection of creative toys. Visitors of all ages enjoy poking around the store and examining unique displays such as the YoYo Museum (Cohen is a former YoYo champion), vintage toys, a 1920s rotary telephone with unique recordings (dial 007 for James Bond etc.), a Haiku vending machine (poetry for a quarter) and original greeting cards that you definitely won't find anywhere else. This eclectic shop is a must for any family visiting Tallahassee.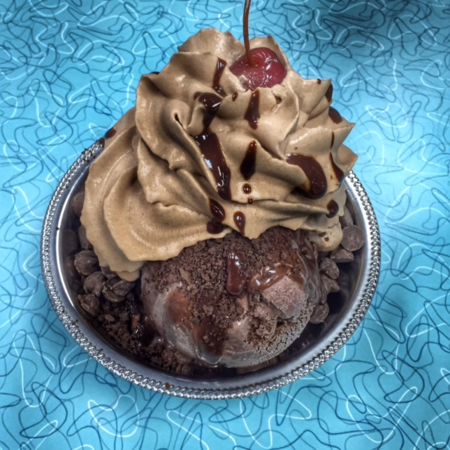 Cascades Park
Cascades Park, a 24 acre urban park in the heart of downtown Tallahassee, is as much fun for families visiting as those that reside in the city. The park has trails for walking, running, or cycling, the Discovery playscape for kids and the interactive Imagination Fountain that is ideal for splashing on a hot day and at night transforms into a water show with lights and music. There's also an amphitheater which is a great venue for live entertainment and there's a summer concert series that is family-friendly and free.
There's also an educational element to visiting Cascades Park as there are informational plaques outlining the history of Tallahassee and other interesting features including the Korean War Memorial, Prime Meridian Plaza and the Smokey Hollow commemoration which remembers the middle-class African American community that resided here from the post-Civil War period until the neighbourhood was eliminated by urban renewal in the 1960s.
Proof Brewing Company
At first glance you might not think that a brewery was the best place to take your kids but at Proof Brewing Co. in the Railroad Square Art Park neighbourhood, parents can enjoy a cold beer in a kid-friendly environment.
The owners, inspired by family-friendly Colorado breweries, built an outdoor seating area which is completely fenced in and has a turf play area and a bocce ball court so kids can happily run around and play while their parents sip a beer.
The concept has been a huge hit as the place is packed with families on weekends. Although there is no food for sale, patrons are welcome to bring in food from nearby food trucks to enjoy with their beverages.
Once a quarter, Proof Brewing holds a free Family Fun Day with bouncy castles and family-friendly music and they have even started to offer birthday parties. On any given day, Proof has 15-20 beers on tap and at least one cider so there is something available to suit every palate.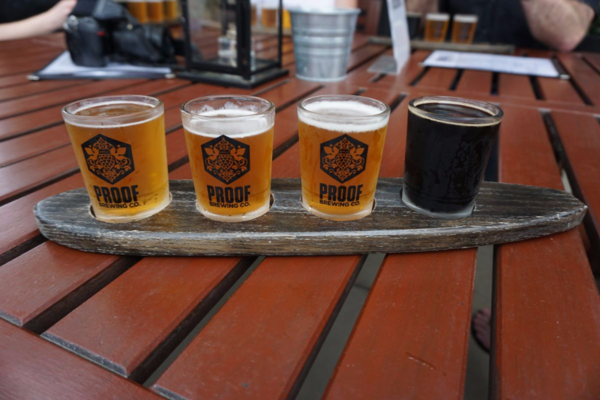 Challenger Learning Center
The Challenger Learning Center in downtown Tallahassee is part of the Challenger Center for Space Science Education international network which was created in the aftermath of the Challenger accident to engage students, strengthen knowledge and inspire a lifelong interest in STEM (Science, Technology, Engineering and Math).
The center provides hands-on opportunities to school groups to learn about science and technology using a state-of-the-art Space Mission Simulator with a Mission Control Room designed after NASA Johnson Space Center and an orbiting space station modeled after the laboratory on the International Space Station.
Most of the programming at the center is only available to groups, however, shows in the center's IMAX 3D theatre and in the 50-foot Downtown Digital Dome Planetarium are always open to the public.
There are also themed programs available on the 2nd and 4th Saturday of the month as part of SCIturdays at the Challenger Learning Center but advance registration is required.
If you are going to be in Tallahassee then check the website's event listings as there is bound to be a show that your family would love to see.
Gulf Specimen Marine Lab
The Gulf Specimen Marine Lab, in Panacea about 30 minutes outside Tallahassee, was started by writer and environmentalist Jack Rudloe in the 1960s to supply marine life to schools and research laboratories.
Due to public interest in the lab's work, an interactive center was opened to provide visitors an opportunity to connect with sea creatures and consequently develop an appreciation for the diversity of life in the sea and a desire to protect it.
Kids love the lab's touch tanks where they are able to pick up and touch many animals including starfish, sand dollars, hermit crabs and more. The exhibits are always changing as they are dependent on what has been brought in from the ocean but at any given time there are 100-200 species present.
Volunteer staff members (many of whom are from Florida State University) educate visitors on the sea creatures that they are seeing and provide information about protecting the Florida ecosystem.
There were quite a few kids visiting the lab when we were there and they were all very interested in what they were being told and asking all sorts of great questions. We also had an opportunity to see both nurse sharks and stingrays being fed which was a big hit with the kids as well as the adults.
The lab has also been involved with sea turtle research and conservation since 1964 and is the regional sea turtle rehabilitation center treating and releasing 5 to 20 endangered Kemp's Ridley sea turtles and protected Loggerhead sea turtles per year.
Wakulla Springs State Park
For an up-close look at nature in Northern Florida, take the family to Edward Ball Wakulla Springs State Park just a short drive south of Tallahassee. The park is a 6,000 acre wildlife sanctuary and home to the 120 foot deep Wakulla Springs which is one of the largest and deepest freshwater springs in the world.
There is a swimming area and a 22 foot diving platform which are popular during the summer months as the water stays around 69 degrees Fahrenheit year round. It doesn't seem to bother anyone that they are swimming in the same waters as the nearby gators although it would definitely give me pause.
The most popular of the many activities available in the park is the River Boat Tour along the Wakulla River which lasts a little less than an hour and is narrated by a park ranger. Visitors are taken on an incredible 2 mile loop down the river where they will have an opportunity to see birds, turtles and alligators up close in their natural habitat as the boat glides among the cypress trees. We were fortunate to also see manatees on our cruise and I was beside myself with excitement!
Kids might be interested to learn that Wakulla Springs was a filming location for Tarzan and The Creature of the Black Lagoon. Kayaking on the Wakulla River is also a popular activity but I'm not sure that I would be brave enough to kayak in waters that are home to alligators either.
The dining room at the Wakulla Springs Lodge has a beautiful view overlooking the spring and offers southern specialties including their famous fried chicken which is always on the menu and delicious fried green tomatoes.
Read more about my Day Trip from Tallahassee to Wakulla Springs
Florida Historic Capitol Museum
Tallahassee was chosen as the territorial capital of Florida in 1824 and became the state capital when Florida joined the Union in 1845. The Old Capitol building that was completed in 1845 underwent several expansions but was eventually outgrown and a new Capitol Complex was built in the late 1970s. Fortunately, the Old Capitol building was refurbished and became the Florida Historic Capitol Museum.
The historic building was restored to its 1902 appearance and, as a museum, offers visitors a glimpse into the political history of the state of Florida. The museum has two floors of restored areas and exhibits where visitors can see the Rotunda, the Governor's Private Office, a Cabinet Meeting Room and the Supreme Court Chamber as well as exhibits on civil rights, immigration to Florida, and voting.
Guided tours are offered and there are also family-friendly scavenger hunts available for inside the Capitol and outdoors on the grounds.