A one night stay at family-friendly Dromoland Castle in County Clare, Ireland.
Staying in an Irish castle was a priority when planning spring break in Ireland with our 12 year-old. She has always been a bit of a princess (she's my daughter!) so we knew she would be delighted by the mere thought of sleeping in a real castle.
Having previously stayed at Ashford Castle and Waterford Castle, my husband and I preferred to experience a different castle and it had to be within driving distance of Killarney due to our pland for spending St. Patrick's Day in Ireland. Dromoland Castle was exactly what we were looking for!
Last updated: April 14, 2023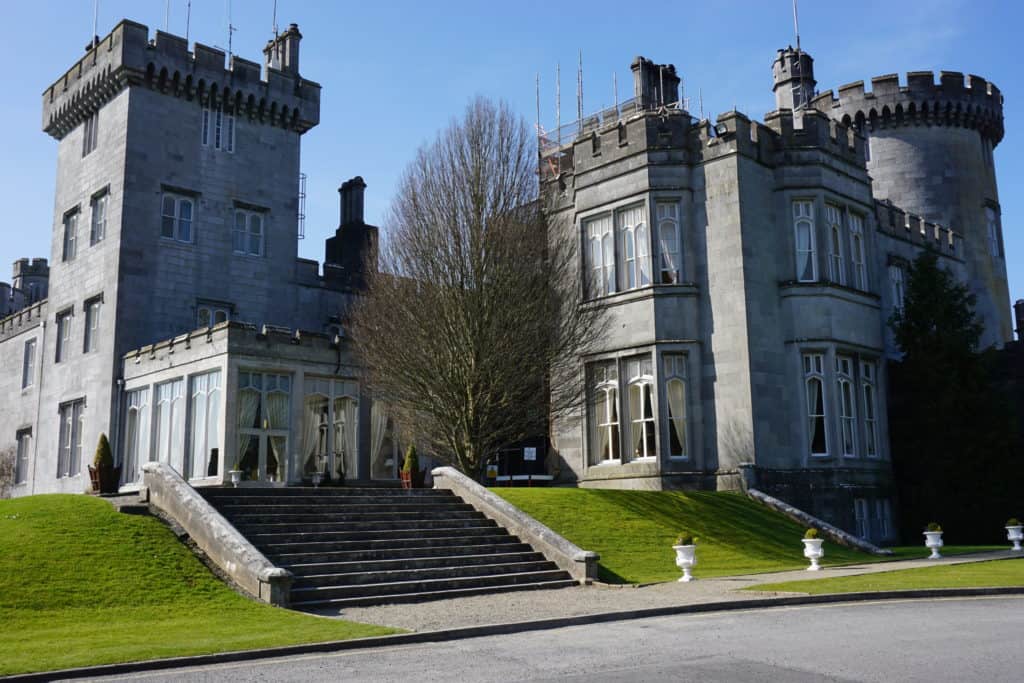 We are a participant in the Amazon Services LLC Associates Program, an affiliate advertising program designed to provide a means for us to earn fees by linking to Amazon.com and affiliated sites. As an Amazon affiliate I earn from qualifying purchases.
This post may contain affiliate links. If you click an affiliate link and make a purchase then we receive a small commission at no additional cost to you.
Dromoland Castle Hotel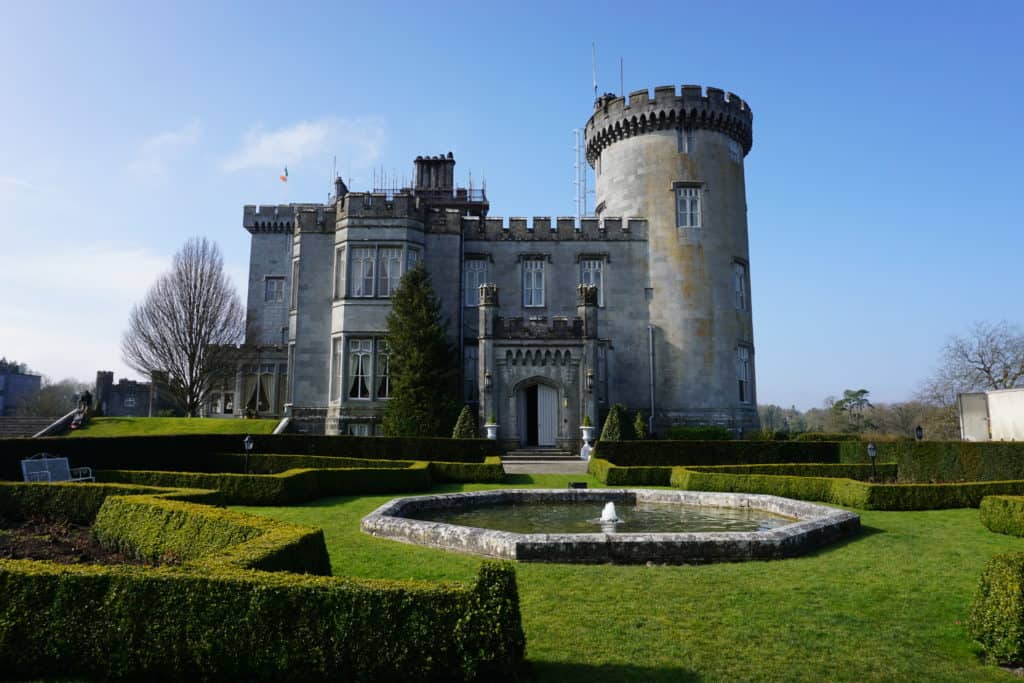 Dromoland Castle

After spending the first two days of our holiday in Wicklow, we departed from the Powerscourt Hotel after breakfast on day three and arrived at Dromoland Castle late morning. Turning off the main road, we drove through the gates of the Dromoland estate and headed up the long driveway toward the castle.

Read: 4 Family-Friendly Luxury Hotels in Ireland

My princess in the back seat was as excited as I had hoped she would be as the castle came into view in the distance and I think she was having a hard time believing that she would actually be spending the night. As we pulled up in front of the regal entrance, we were greeted by friendly staff who helped us with our bags and provided directions to the car park.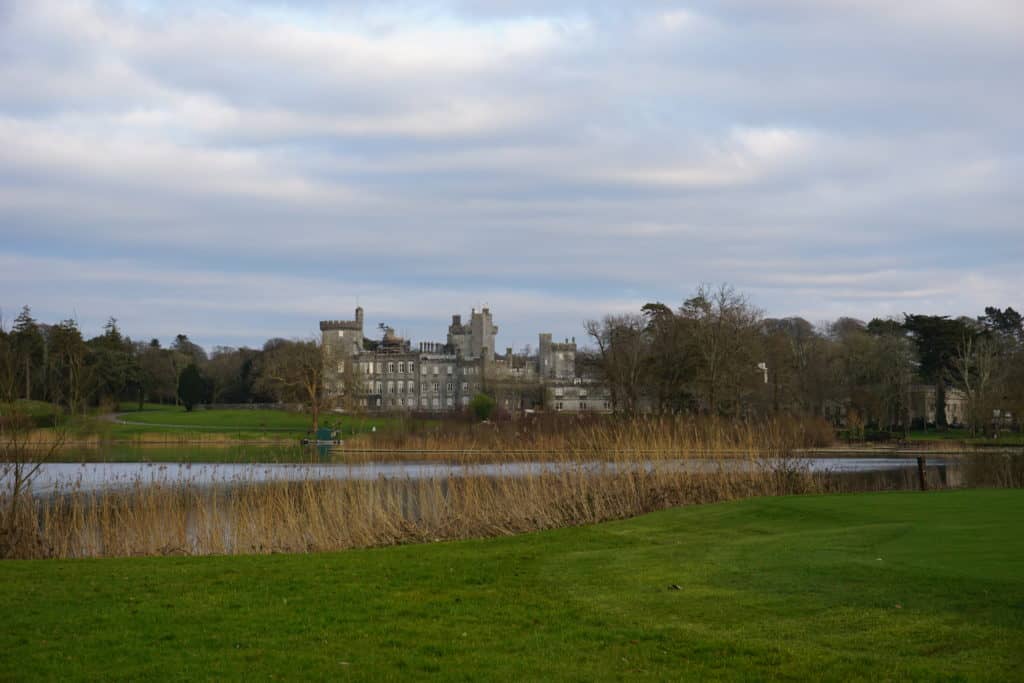 We were able to check in but our room wasn't ready yet due to the early hour. We were planning a drive to the Cliffs of Moher but opted to pause first to enjoy a cup of tea, a look around the castle's public rooms, and a stroll around the grounds outside the castle.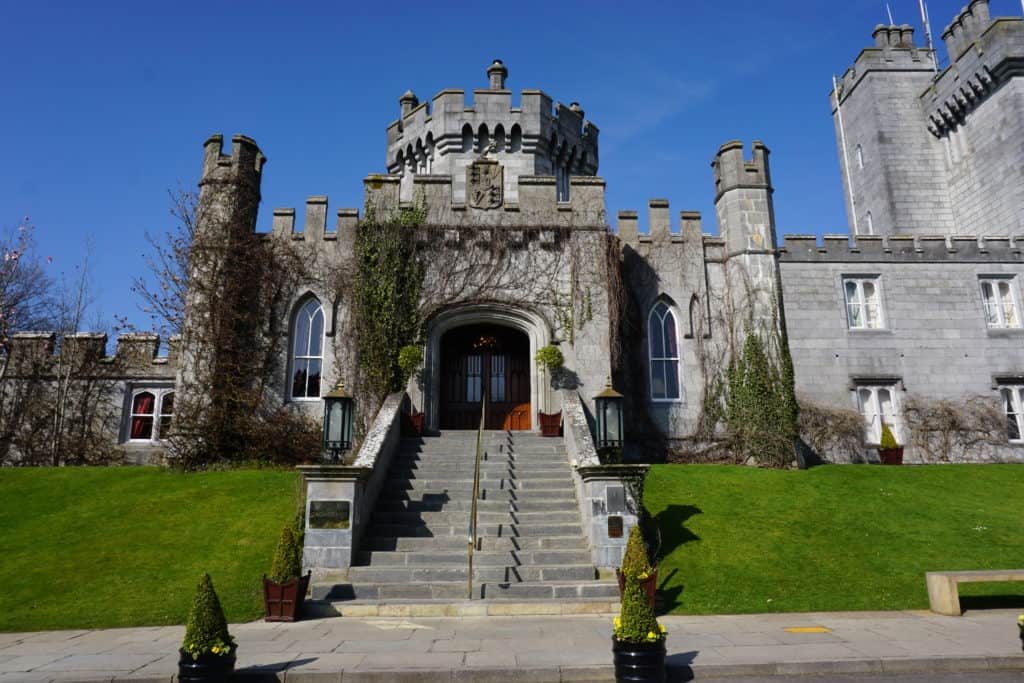 Dromoland is everything that one would expect from a castle hotel and more – modern and luxurious yet traditional at the same time with antique furnishings, a grand staircase, and ancestral portraits hanging on the walls. We particularly liked the suits of armour decked out in Dromoland tartan that were the first things we saw when we entered the castle.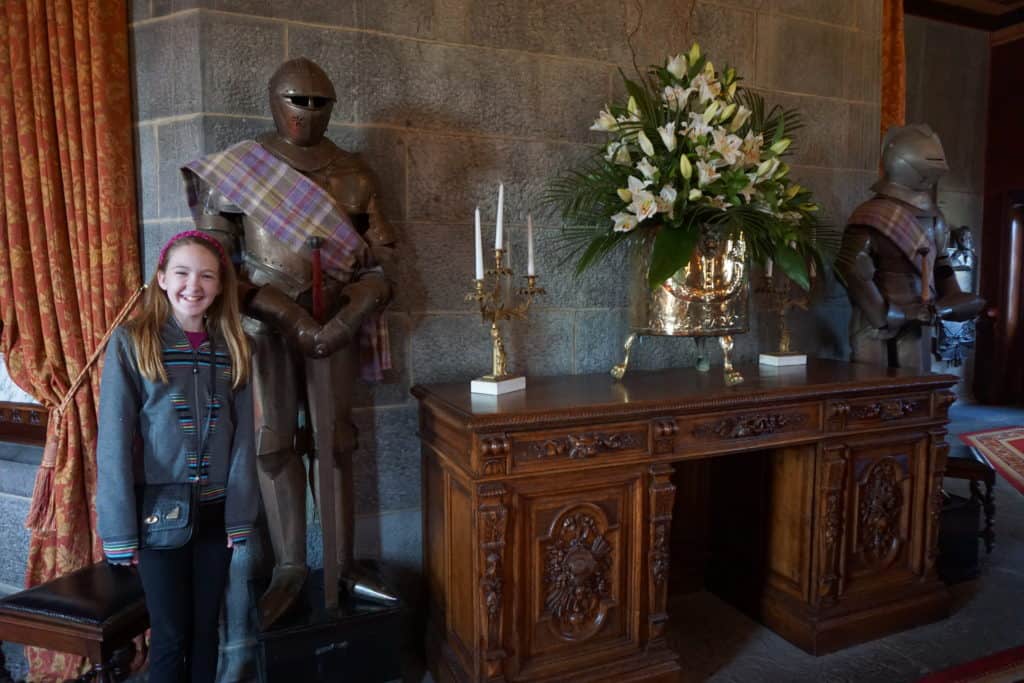 Emma was suitably impressed as we walked through Dromoland's grand hallways and public rooms. There were plenty of oohs and aahs and she soon discovered that even the powder rooms in a castle are incredibly pretty.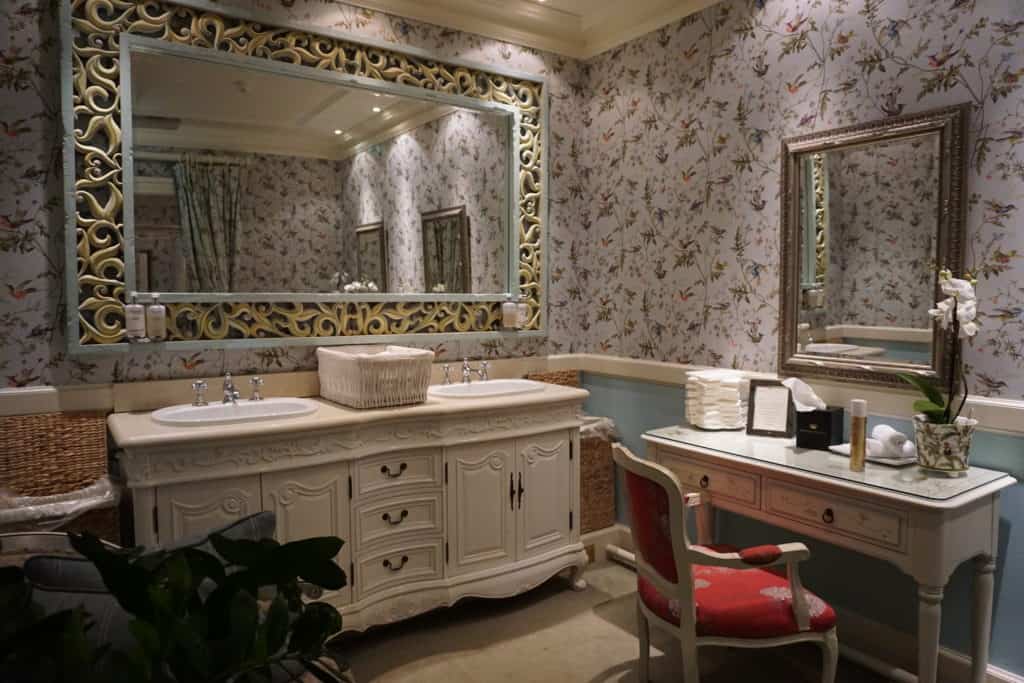 We settled into the cozy Drawing Room for a refreshing cup of tea (Emma's first served with lots of milk and sugar) before heading out on a drive to the Cliffs of Moher. Castle staff had suggested that we drive through The Burren as well but we spent so much time at the cliffs that we had to hurry back to be on time for our 7pm dinner reservation instead.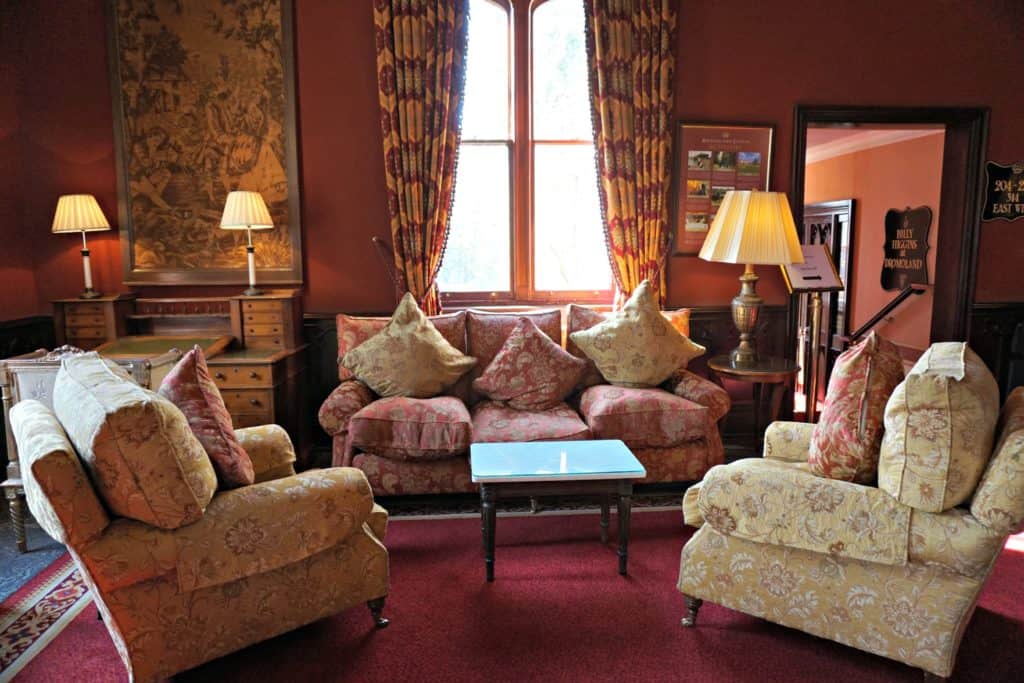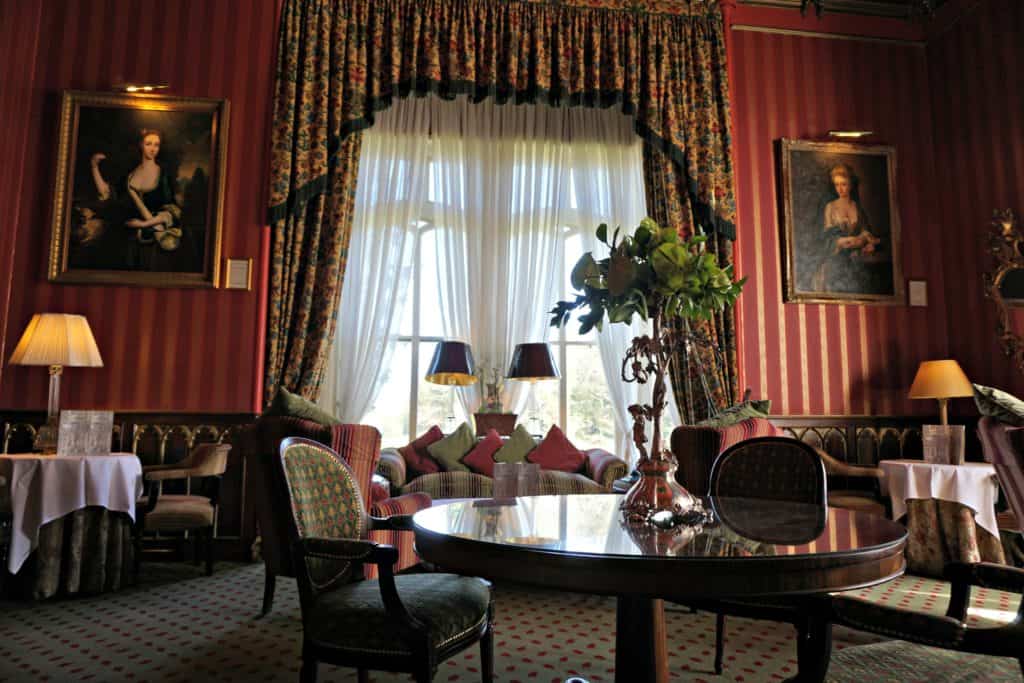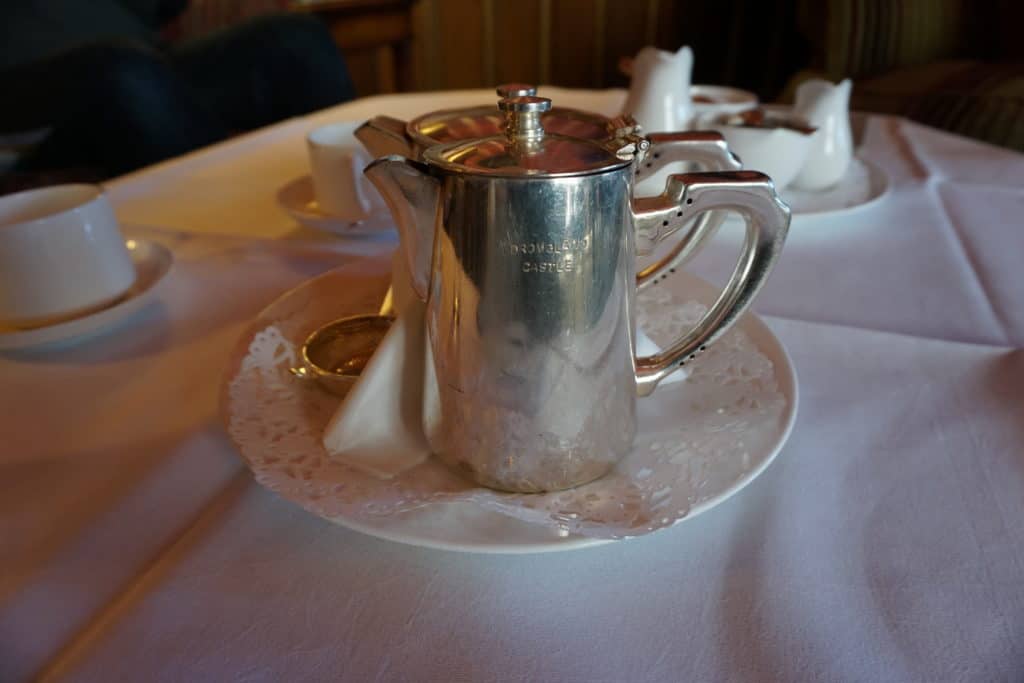 Accommodations at Dromoland Castle
Upon returning from the Cliffs of Moher, we were able to access our room which was in the main castle building. We had booked a Deluxe room but I think we must have been upgraded to a stateroom. Our spacious accommodations had two beds, a separate sitting area with a sofa and two wingback chairs, an office desk and chair and a dining table and chairs in the alcove of a large window overlooking a formal garden and fountain.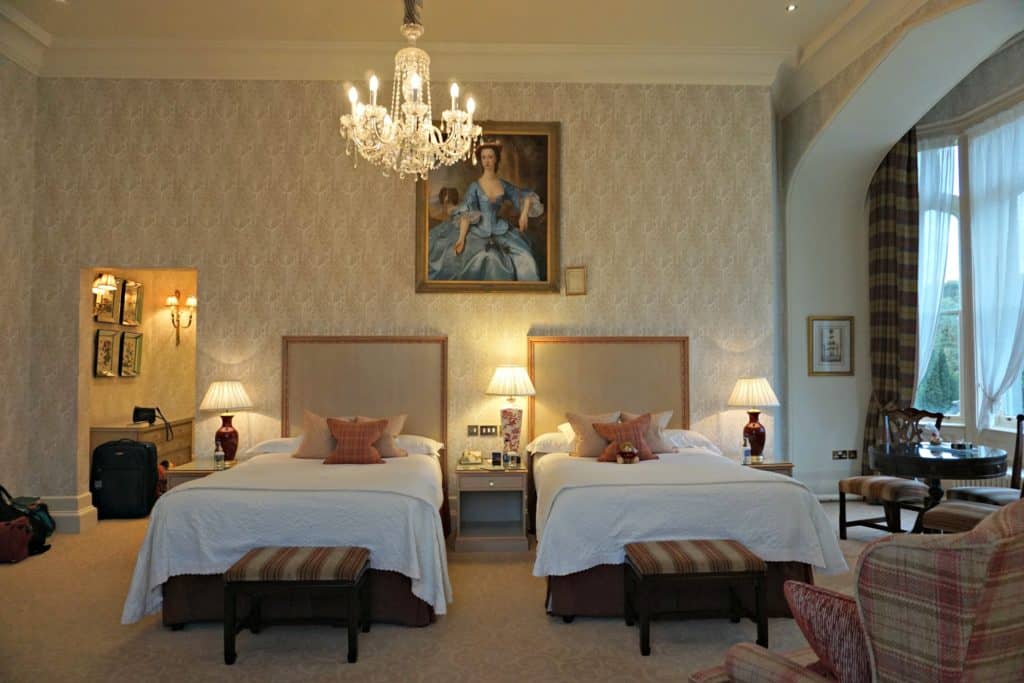 One look at our room, beautifully decorated in pinks, green and cream, and I immediately regretted that we had only booked a one night stay. It would have been wonderful to enjoy all the loveliness for more than one night!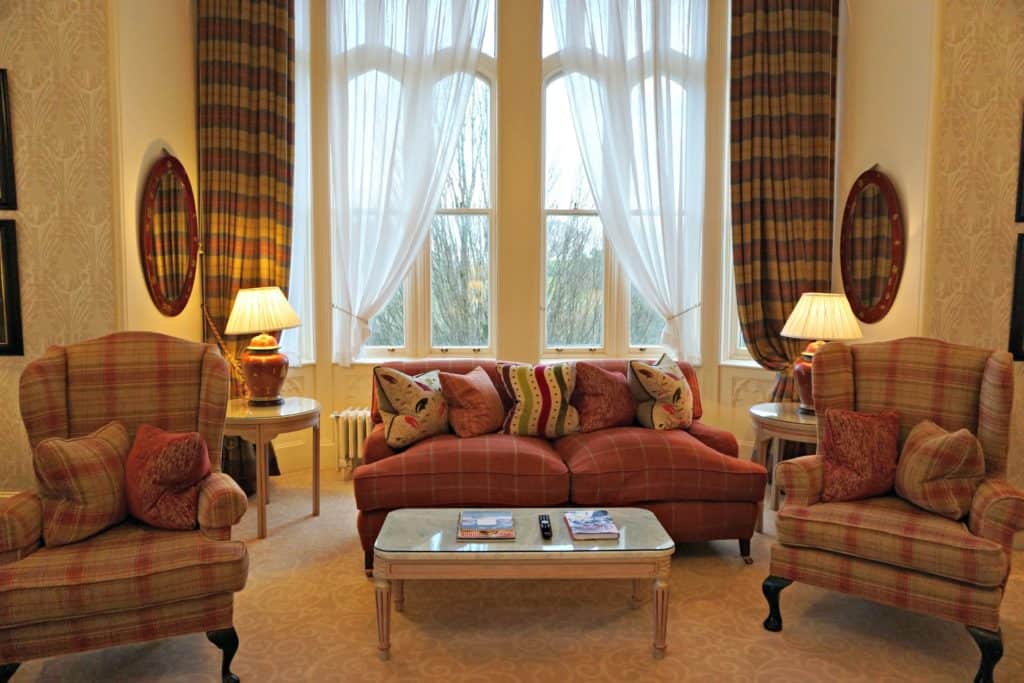 Thoughtful little touches make all the difference to families no matter the ages of the children and our 12 year-old (not-so-little anymore) daughter was delighted to find a Dromoland Castle teddy bear waiting on her bed. Everything in our room was perfectly elegant and the delicious chocolates that came with turn-down service were the icing on the cake.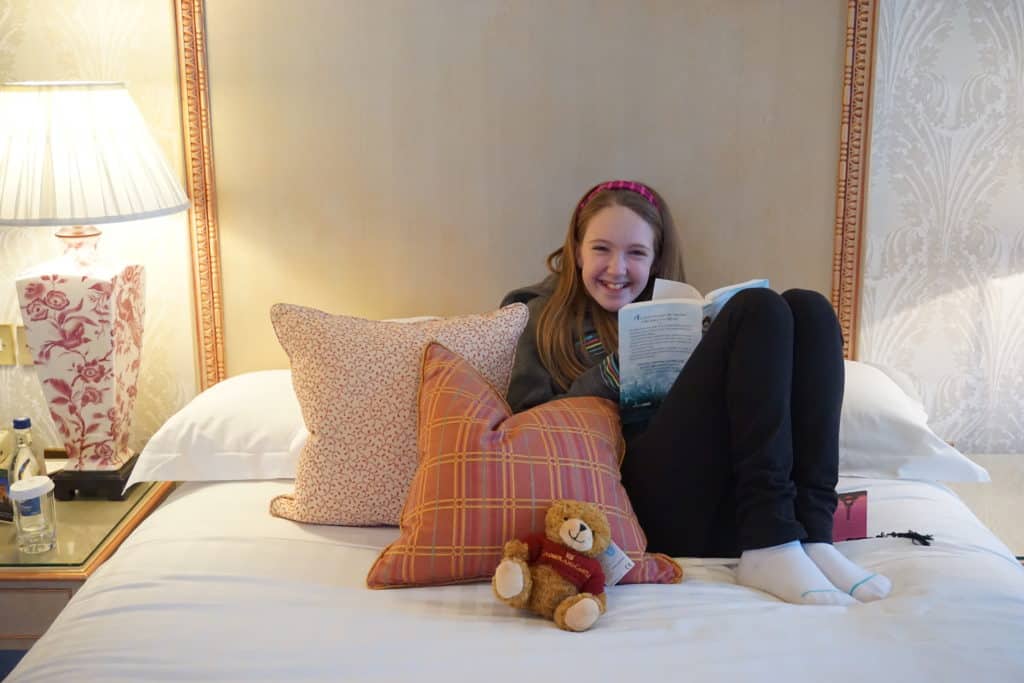 The bathroom in our room was quite spacious as well with a separate tub, a walk-in shower, and a double sink vanity. There was also a towel warmer, lovely bath amenities and robes and slippers for all three of us as a child-sized set had been left for Emma as well.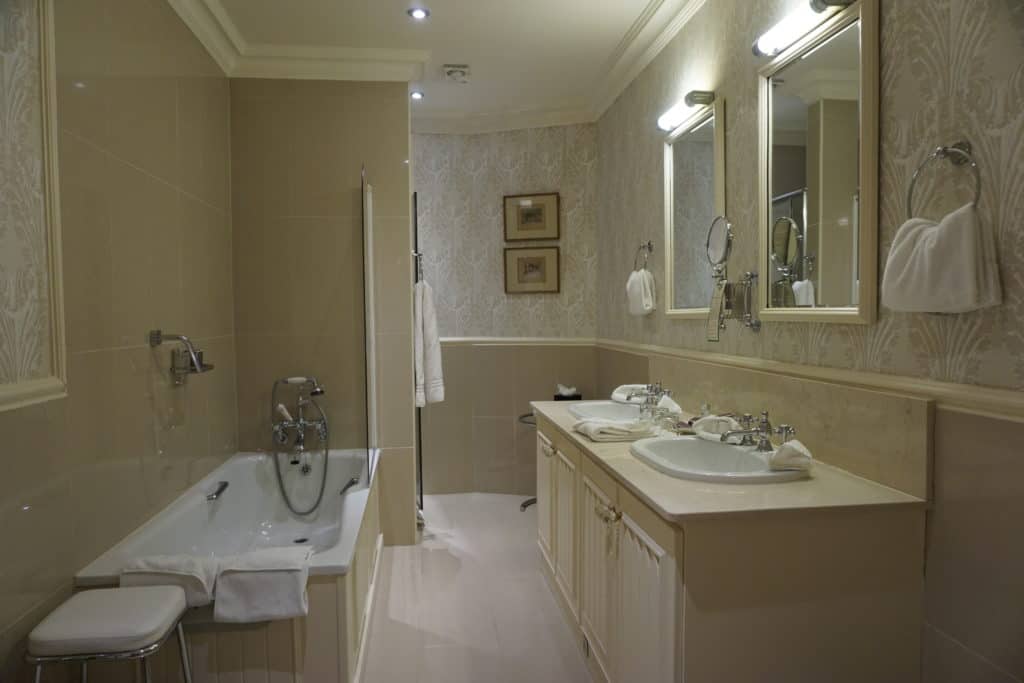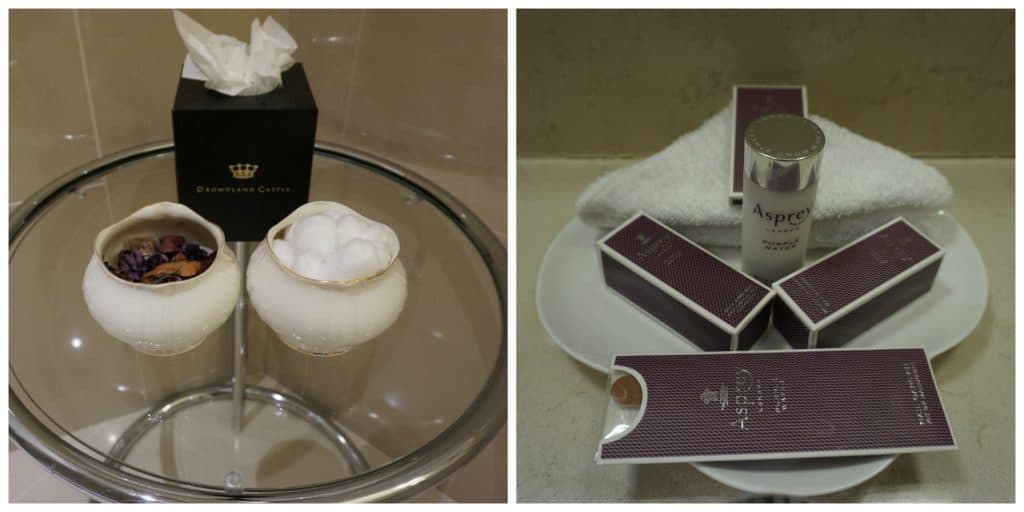 Dining at Dromoland Castle
There are casual dining options available at the castle but we decided that having the full castle experience meant dressing up our one night at Dromoland to enjoy a fancy fine dining experience at the award-winning Earl of Thomond Restaurant. The elegant room positively sparkled with Waterford crystal chandeliers overhead and candles on the tables but didn't feel at all stuffy despite the elaborate decor.

The service was friendly and I noticed that children were made to feel quite welcome. At 12 years of age, Emma is hardly a child any more but there were families with younger children dining in the restaurant as well. There was even a Children's Menu available with wonderful choices such as Smoked Salmon Salad (which Emma loved) as a starter.

The innovative menu uses fresh local ingredients and we enjoyed each delicious course of our leisurely dining experience, especially the decadent desserts. A tasty and filling Irish breakfast was served in the Earl of Thomond the next morning as well.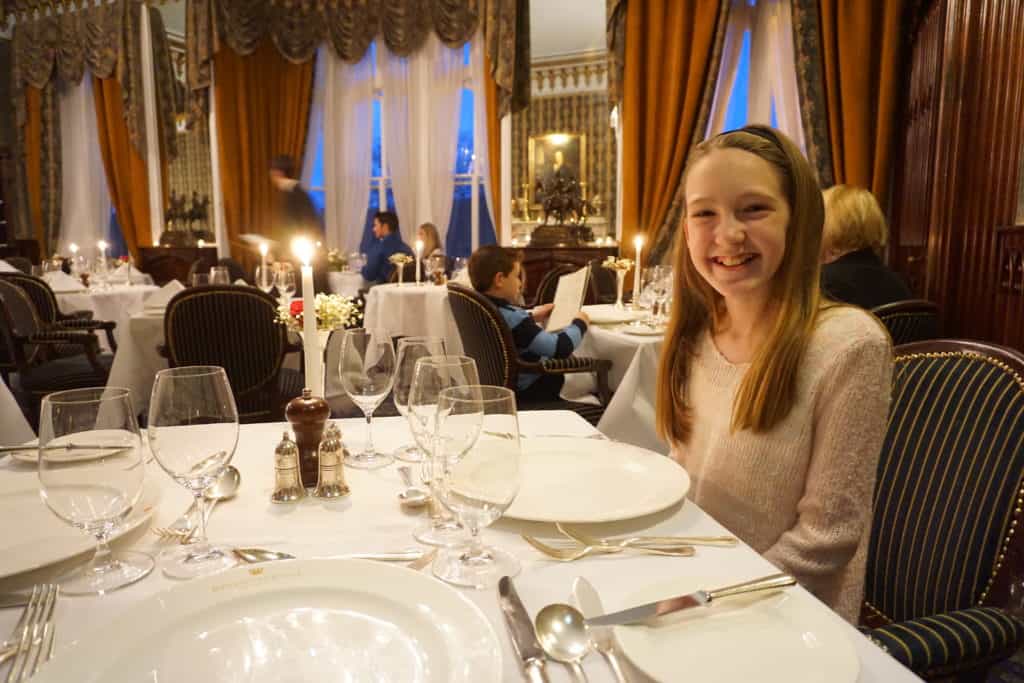 Activities at Dromoland Castle
Dromoland Castle has many family-friendly activities available but as we were only staying the one night we weren't able to take advantage of most of them. We were able to enjoy a walk around the castle grounds on the day we arrived and again the following morning before departing for Killarney.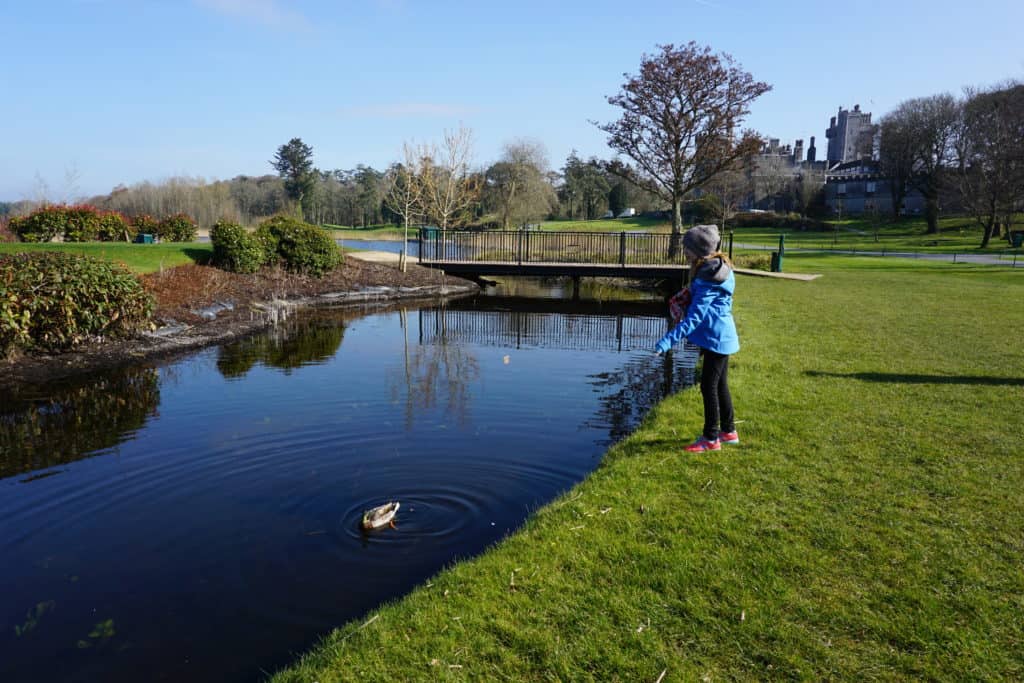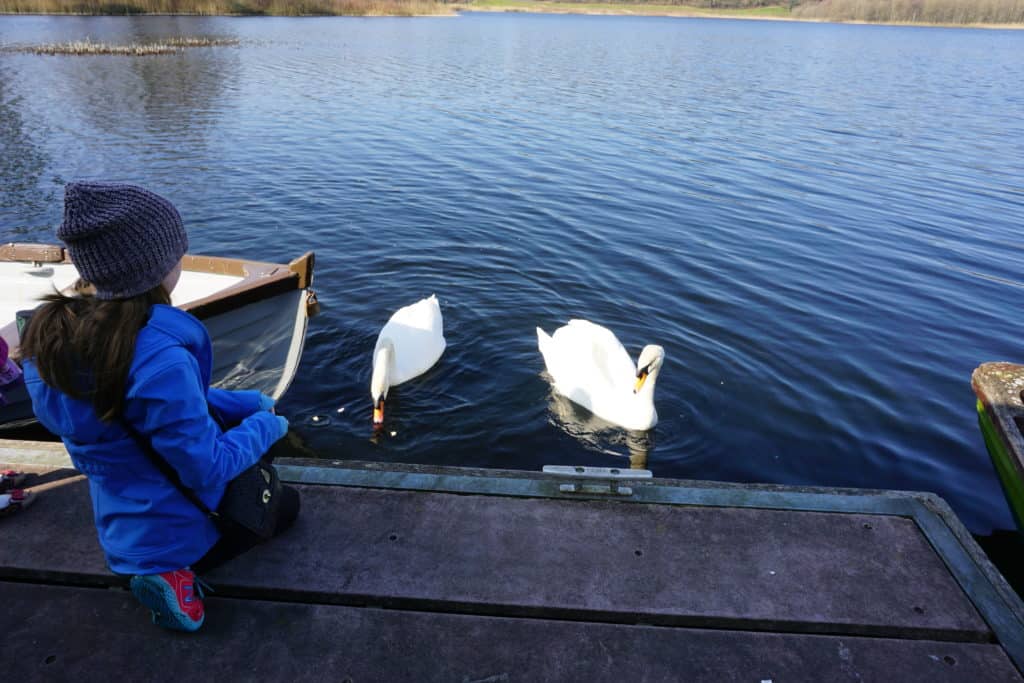 There are also walking and hiking trails on the estate that are ideal for families, formal gardens and a lovely walled garden (reminding me of The Secret Garden) that can be explored as well. Ask at the Front Desk if you would like to feed the ducks and swans down by the lake and you will be provided with a large packet of bread that will keep the kids entertained for some time.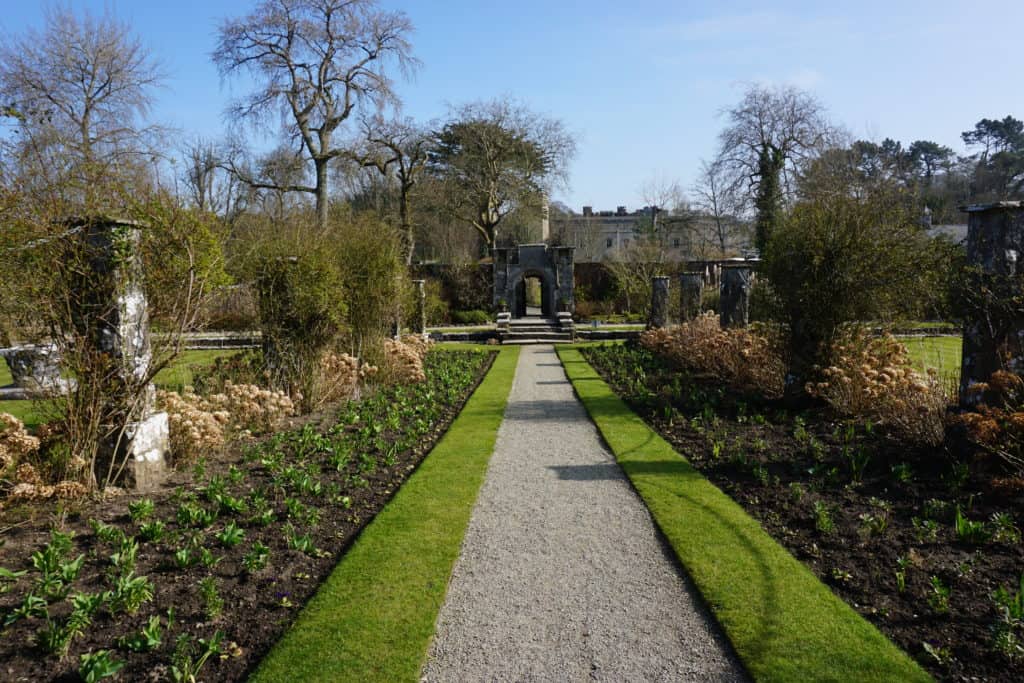 We had hoped to book the pony and trap ride which takes guests on a tour of the beautiful grounds of the estate but didn't think to inquire about it until we returned from the Cliffs of Moher only to discover that it wasn't operating the following day. In hindsight, we should have booked ahead or inquired about booking as soon as we arrived at the castle.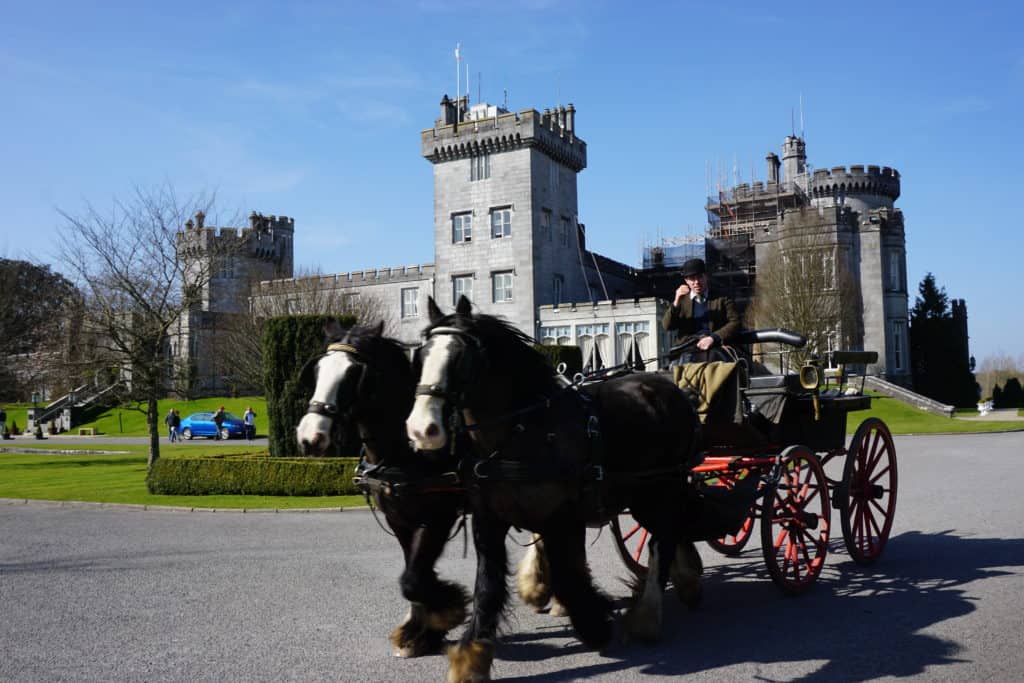 Additional activities that families can enjoy together include tennis, archery, swimming, golf, clay pigeon shooting, and falconry. There are also golf karts and children's bicycles available. There's also a spa if mom or dad need a little pampering. If I were able to do it over then I would have tried to arrange to spend two nights at Dromoland so that we would have had more time to enjoy everything that the castle has to offer.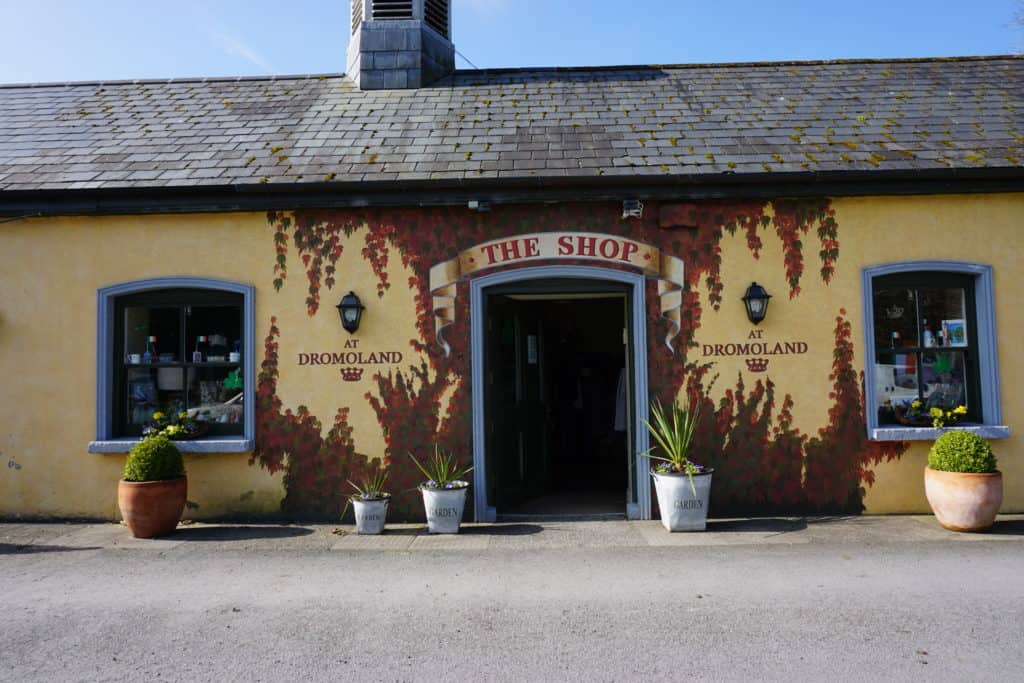 The castle also makes a great home base for exploring this region of Ireland. The Cliffs of Moher, The Burren, and Bunratty Castle are all relatively close as are the cities of Limerick and Galway.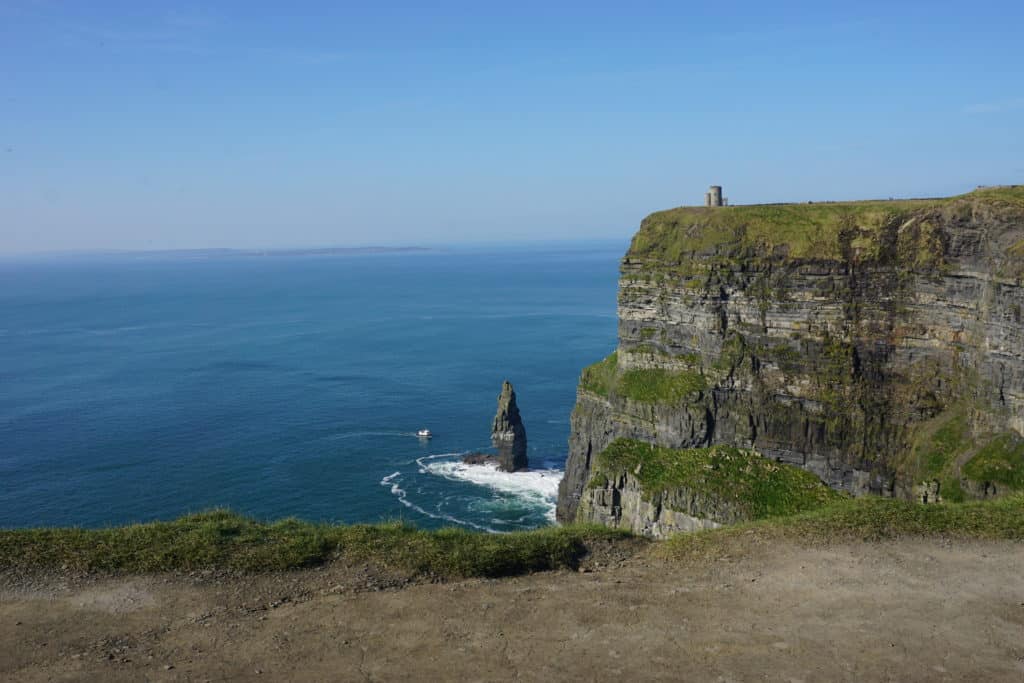 Parents planning a trip to Ireland shouldn't hesitate to book a stay at family-friendly Dromoland Castle. Although it is a luxury hotel, kids are warmly welcomed and the hotel staff go out of their way to create an environment where families can relax and enjoy their holiday. We thoroughly enjoyed our time in Ireland but our night at the enchanting Dromoland Castle was a highlight that Emma will never forget.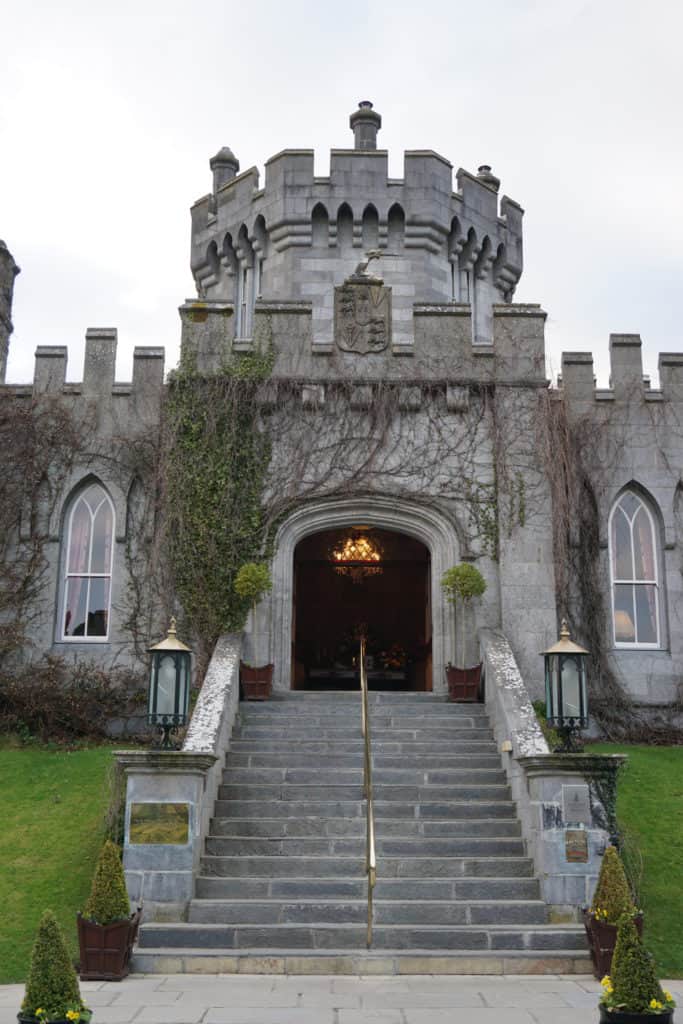 What You Need To Know
The castle is located 8 miles from Shannon Airport in Clare just outside Newmarket-on-Fergus.
Accommodations at the castle include guest rooms, deluxe rooms, staterooms and suites.
Dining options include fine dining at the award-winning Earl of Thomond Restaurant, casual dining in the Gallery and In Room Dining. A traditional afternoon tea is also served daily in the castle between the hours of 1pm and 3:30pm. It is recommended that reservations at the Earl of Thomond be made prior to arrival at the castle.
Complimentary WIFI in rooms and in public areas.
The Shop at Dromoland carries a range of Dromoland products, food items, pottery and crystal as well as Dromoland logo golf attire and accessories.
Dromoland Golf Course is widely considered to be one of the finest 18 hole courses in Ireland. There are a number of golf lesson packages available.
Leisure facilities located in the Golf & Country Club (including the indoor swimming pool) are open to all guests including children.
The castle offers a Kids Club during mid-term school breaks and at specific times during Easter and Christmas holidays.
I received a media rate at Dromoland Castle. My opinions are, as always, my own. This article may contain affiliate links which help support this site at no additional cost to you.

Pin This For Later