Ireland is a beautiful country with so much to do that you could easily fill two weeks or more but a short visit is better than none at all! On our most recent 8 day trip to Ireland we tried to pick the best things to see and do in order to introduce our younger daughter to the best of Ireland on her first visit. We did a circle arriving and departing from Dublin Airport with overnight stays in County Wicklow, County Clare, Killarney and Dublin.
In designing our itinerary we had to consider several factors and constraints. We were travelling to Europe during spring break and wanted to spend St. Patrick's Day in Ireland but not in Dublin and we wanted to spend a night in a castle hotel. Easter was also early that year and our older daughter was at home so we needed to return to Canada in time for the holiday. Ideally we would have preferred to have more time but we came up with this intinerary that worked for the time we had available.
Read: 12 Fun Things To Do in Ireland with Teens and Tweens
We are a participant in the Amazon Services LLC Associates Program, an affiliate advertising program designed to provide a means for us to earn fees by linking to Amazon.com and affiliated sites. As an Amazon affiliate I earn from qualifying purchases.
This post may contain affiliate links. If you click an affiliate link and make a purchase then we receive a small commission at no additional cost to you.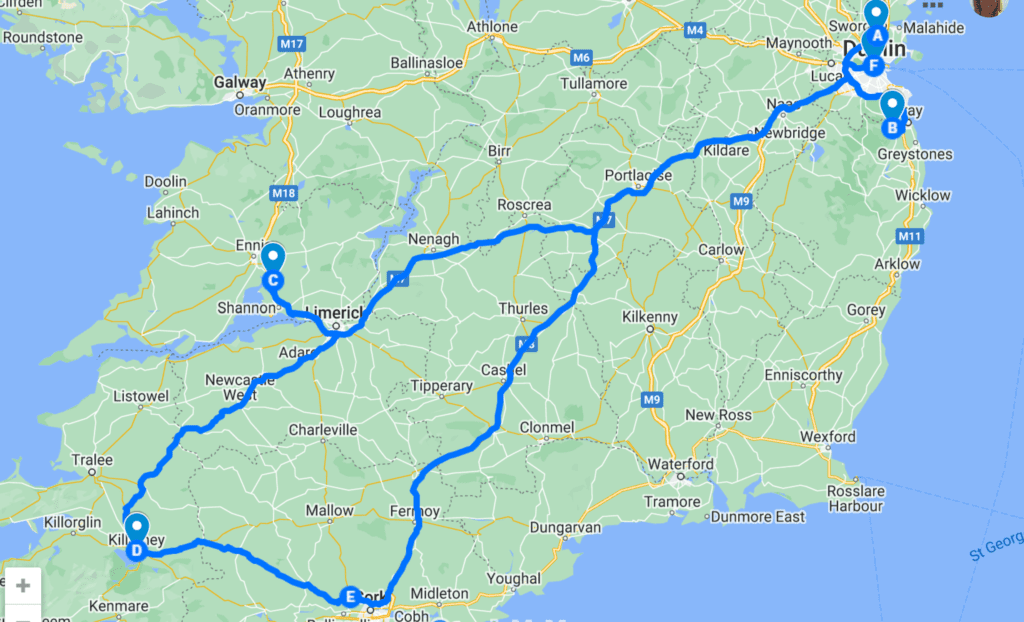 Day 1: Arrival in Ireland – Drive to County Wicklow
We arrived in Dublin after an overnight flight from Toronto, picked up our rental car at the airport and drove to Enniskerry (a distance of about 50 km) where we were staying for two nights at Powerscourt Hotel Resort & Spa located on the grand Powerscourt Estate near Great Sugar Loaf Mountain in County Wicklow.
We arrived at the resort by late morning and our room wasn't yet ready so we dropped our bags, explored the grounds of the resort a bit and then headed to Powerscourt Gardens to spend some time outdoors and fight off jet lag.
After spending the afternoon at the gardens, we returned to the hotel where we enjoyed a lovely dinner and an early night so that we would be rested and ready to explore County Wicklow the following day.
Read 4 Family-Friendly Luxury Hotels in Ireland
Powerscourt Gardens
The magnificent 47 acre Powerscourt Gardens are considered to be one of the finest gardens in Europe and were voted the third best gardens in the world. The gardens are indeed beautiful and a lovely place to explore for a couple of hours. The formal gardens include The Italian Garden, The Japanese Gardens and The Walled Gardens and there's also an ornamental lake, terraces and statues, Pepperpot Tower and more – all set against the backdrop of Sugarloaf Mountain.
We spent about 2.5 or 3 hours at the gardens including having a bite to eat on the outdoor terrace of the Avoca Café and doing a bit of shopping at the boutique shops in Powerscourt House.
The gardens were quite lovely during our March visit but I can imagine they must be quite stunning when all of the flowers are in bloom!
Powerscourt Gardens is open year-round 7 days a week. Closed December 25 and December 26. Opens at 9:30 am. Closing timing varies by time of year. 2023 Admission Fees: Adult – 12.50 Euros; Seniors – 9.50 Euros; Student – 9 Euros; Child (under 16) – 5 Euros; Child (under 5) – free; Family (2 adults, 3 children) – 28 Euros.
Read: Visiting Powerscourt Estate in County Wicklow, Ireland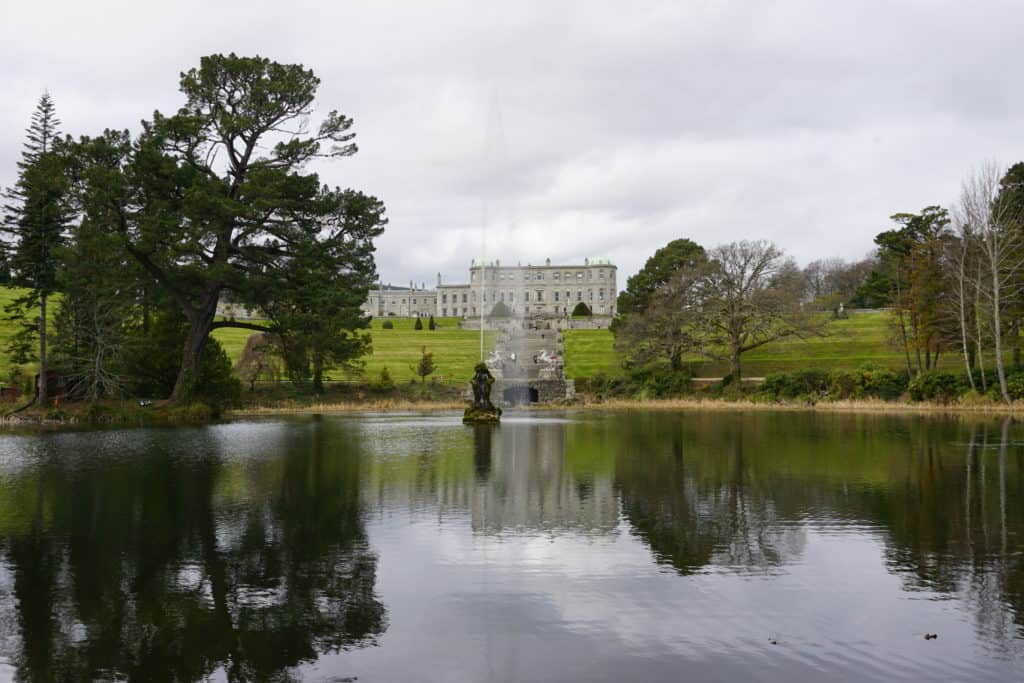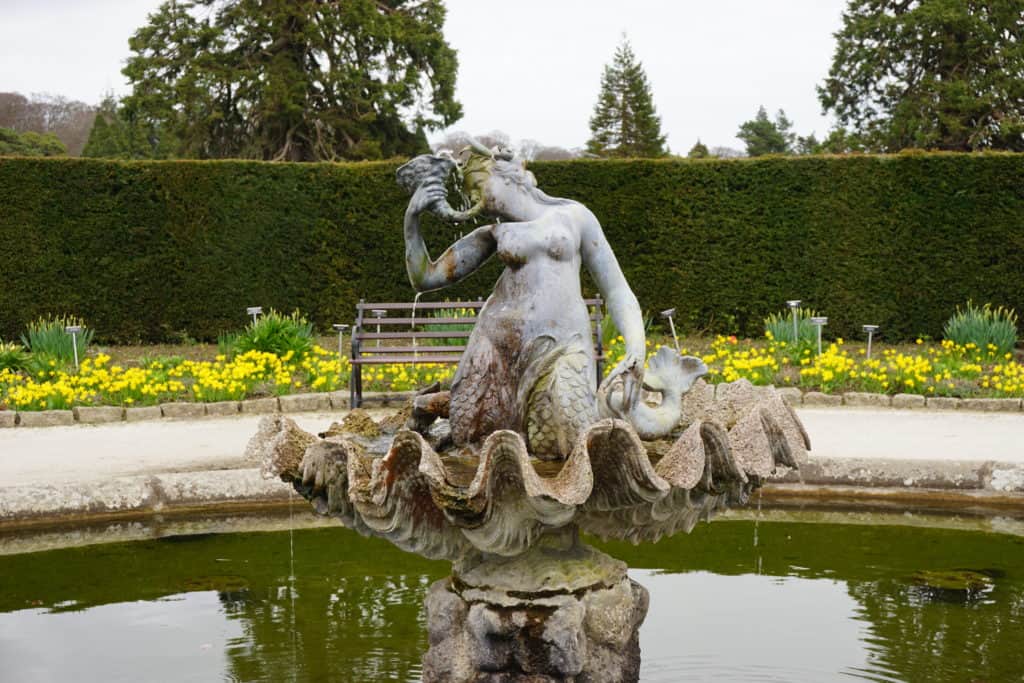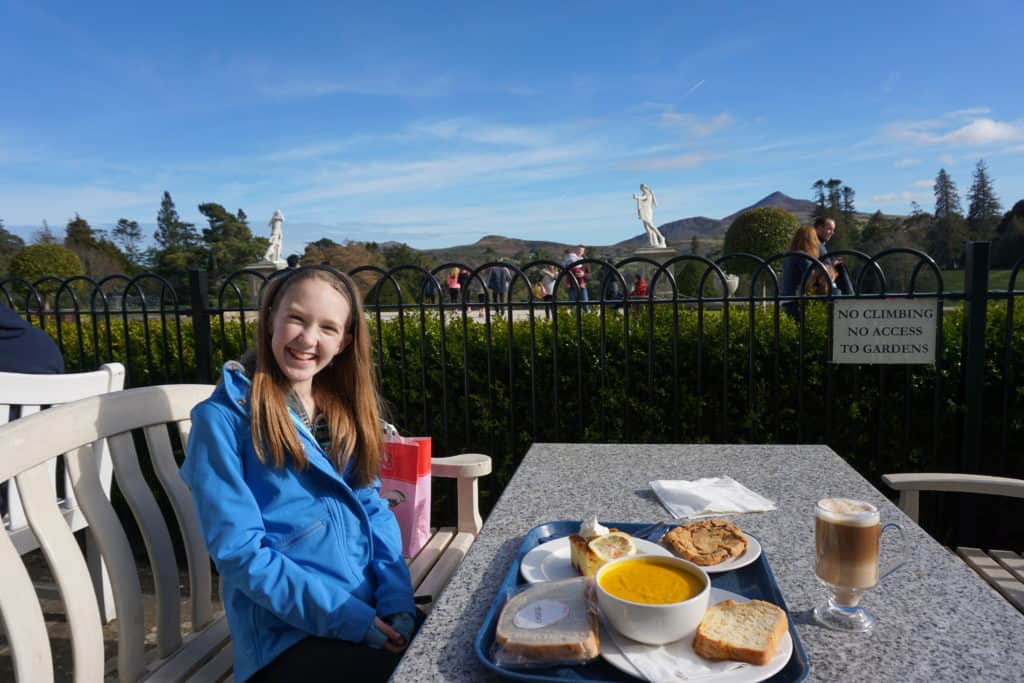 Day 2: Exploring County Wicklow
Our first stop on day 2 of our Ireland trip was a quick visit to Powerscourt Waterfall on the estate. At 121 metres (398 feet) high, Powerscourt Waterfall is Ireland's highest waterfall. The waterfalls are found in a lovely spot in the foothills of the Wicklow Mountains approximately 6 kilometres from Powerscourt Gardens. We were lucky that we arrived just a few minutes ahead of a busload of school kids so were able to get photos without dozens of people in them!
Parking and picnic tables available with a playground and walking trails to explore.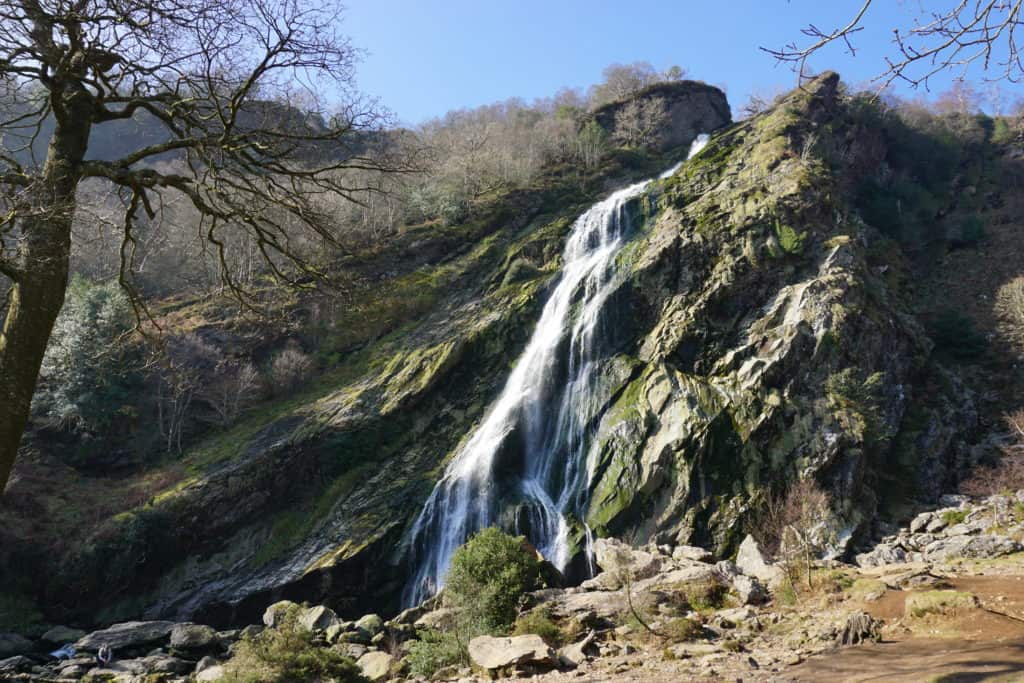 Glendalough – Monastic City
The Monastic City in Glendalough in Wicklow Mountains National Park is a monastic settlement founded by St. Kevin in the 6th century and is one of Ireland's most popular destinations.
The ruins of the settlement can be found throughout Glendalough Valley, however, the main site is the Monastic City where most of the surviving buildings are from the 10th – 12th centuries. Highlights include Glendalough Cathedral, the Round Tower, St. Kevin's Church and St. Kevin's Cross. We explored the site and then headed out on one of the National Park's walking trails.
There is no fee for visiting the site. The Visitor Centre is open daily throughout the year but hours vary by season. The monastic site and walking trails are open even when the Visitor Centre is closed. Paid parking on site.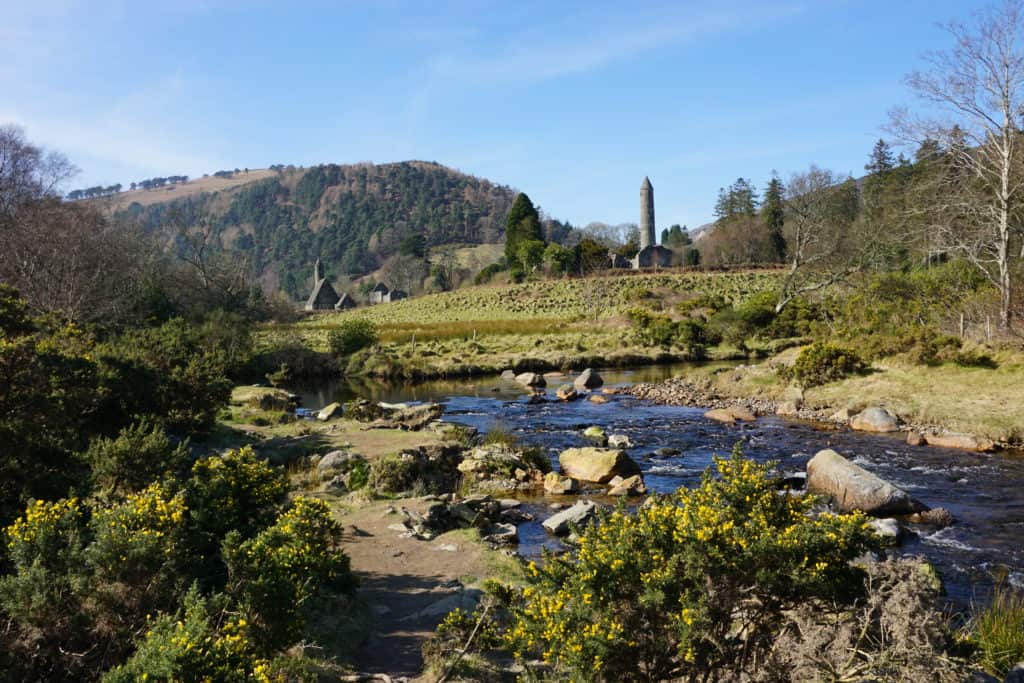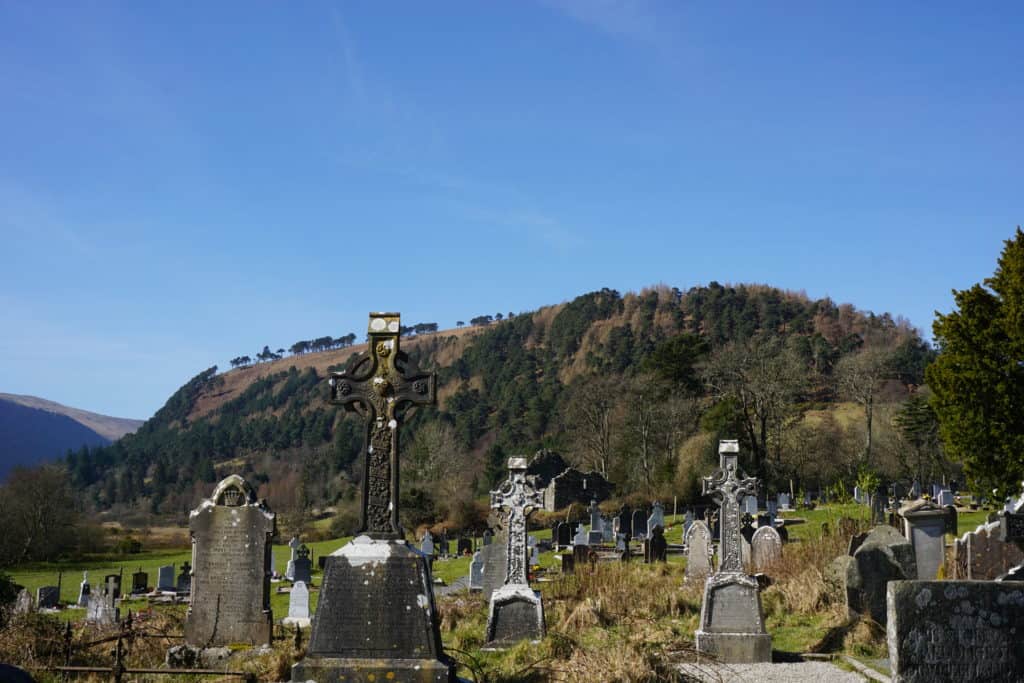 Wicklow Mountains National Park
Wicklow Mountains National Park, located in County Wicklow south of Dublin, is the largest of Ireland's six national parks stretching across almost 23,000 hectares – land that includes blanket bog, heath, woodlands, lakes & exposed rocky habitats. (The other national parks in Ireland are Glenveagh, Killarney, Wild Nephin, Connemara and Burren.)
The park is popular for hiking and hill walking (9 waymarked trails from short walks to long hikes to choose from) as well as cycling, fishing and watersports, camping, climbing and bouldering. There is an Education Centre in the park and a variety of scheduled events primarily in the summer months including guided walks, family activities, lectures, star gazing with the Irish Astronomical Society and more (upcoming events are posted on their Instagram and Facebook pages). The national park is also home to the Glendalough monastic site.
When we finished exploring the monastic site we walked to one of the park's most popular spots – beautiful Upper Lake which was a distance of approximately 2 km. The lake which is located in a mountain valley is breathtaking – photos really can't do it justice! As we were visiting in March, there were very few people around and it was quite peaceful.
Entry to the National Park is free although there may be parking fees. A walking trails map can be downloaded from the park's website or picked up free of charge at the National Park Information Office near the Upper Lake. The National Park is open day and night all year round, however, the Information Office is only open at certain times generally 10 am – 5:30 pm March to October; 9:30 am – 4:30 pm November to March.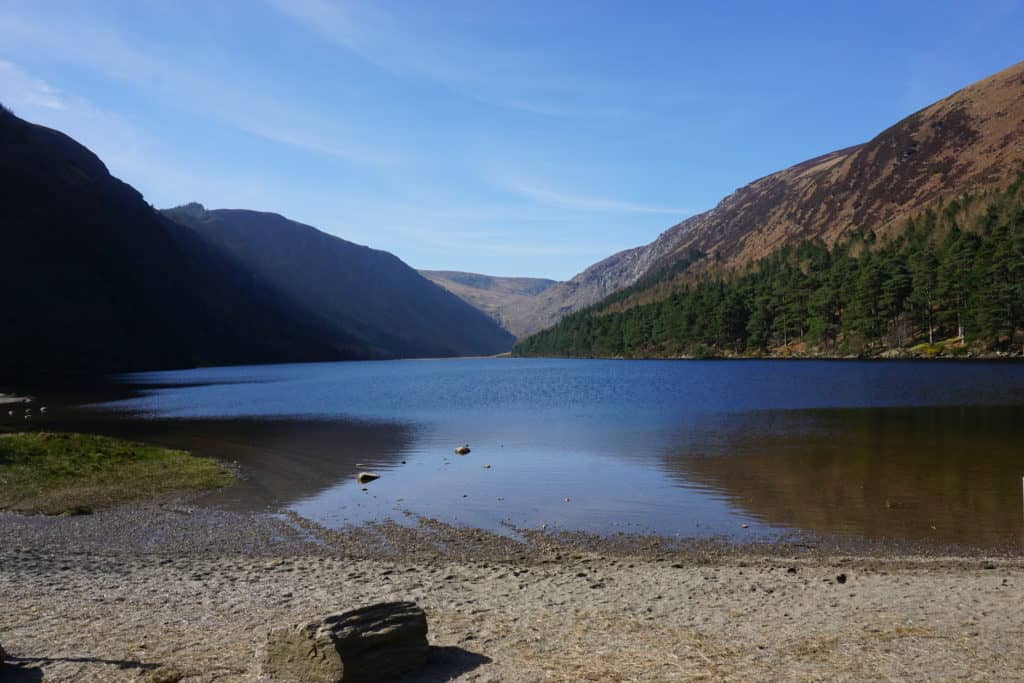 Exploring County Wexford and County Wicklow
After leaving Wicklow National Park, we spent the rest of the afternoon exploring the small villages in neighbouring counties Wicklow and Wexford where my husband's ancestors had lived prior to emigration to Canada.
My husband did some research before our trip to Ireland and discovered that his great-great-great grandparents had been married at a small church in Inch, County Wexford that had been built in 1831. They were married there in 1843 – just 4 years before they emigrated to Canada during the Great Famine. It was really cool to be able to visit the site with one of our daughters and make that connection to the past.
(This past summer we were able to visit the Grosse-Ile, Quebec National Historic Site where they arrived to Canada which was quite interesting as well.)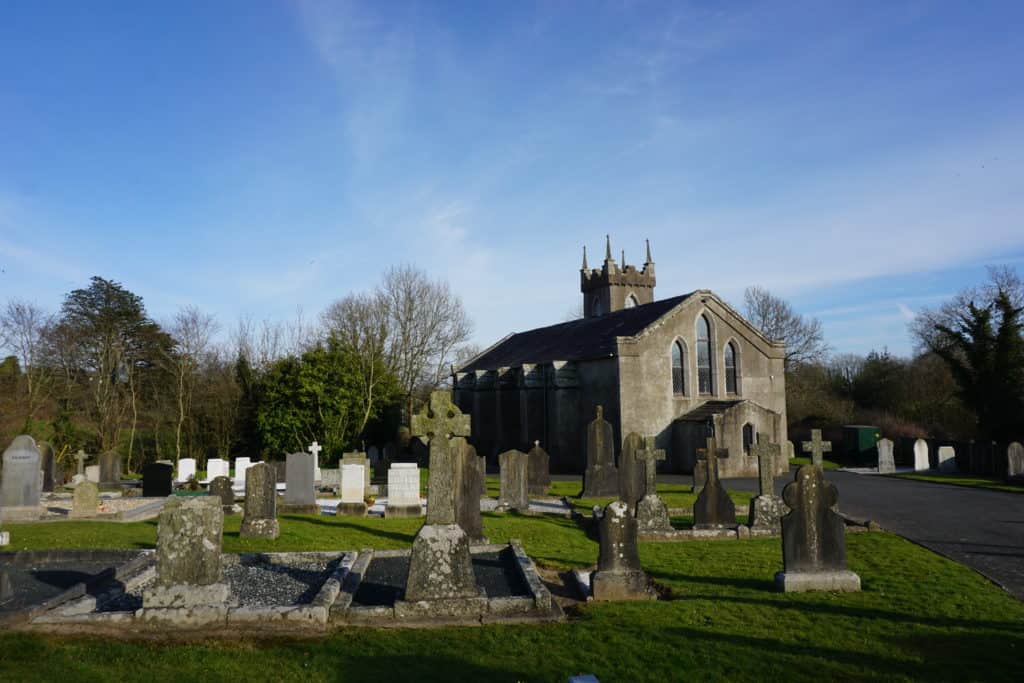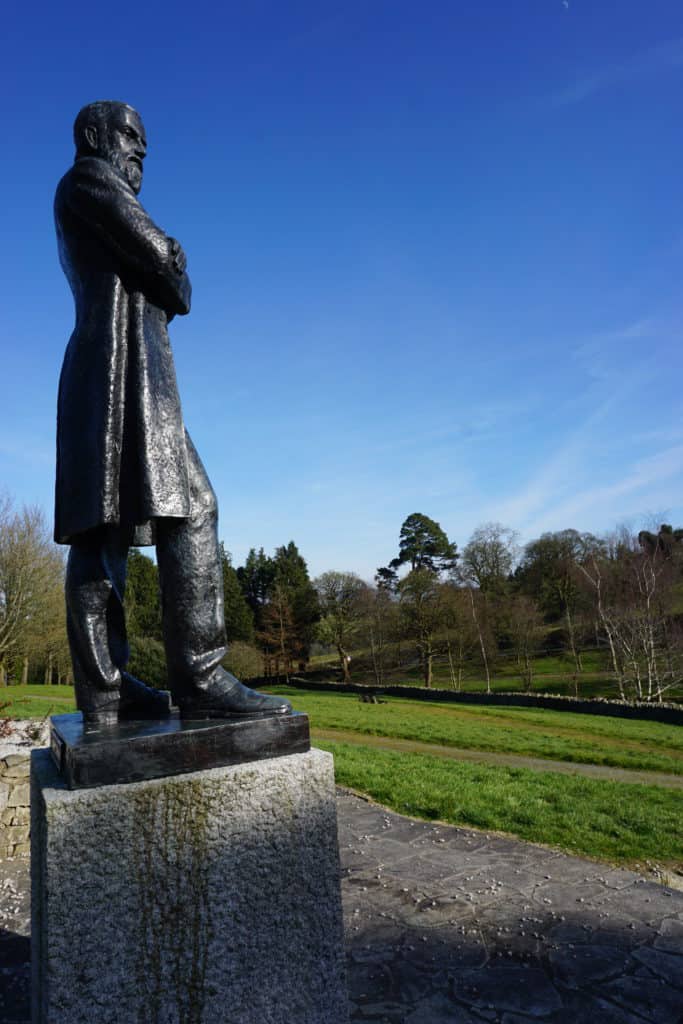 Day 3: Drive to Dromoland Castle in County Clare
Distance from Enniskerry to Dromoland Castle: 248 km (154 miles) – 3.5 hours driving time.
On the morning of day 3, we headed out on our 3.5 hour drive to Dromoland Castle. Our room wasn't ready yet when we arrived so we had a tea break in the drawing room and a short walk around the castle grounds before driving to the Cliffs of Moher. We returned to the castle late afternoon, checked into our lovely room and had just enough time to change before our dinner at the elegant Earl of Thomond Restaurnt.
Dromoland Castle
Staying at a castle with our daughter was high on our wish list when we started to plan for our family trip to Ireland. My husband and I had previously stayed at both Ashford Castle and Waterford Castle so we wanted to try someplace else and Dromoland Castle was ideally located for the other activities that we had planned.
Dromoland is everything that one would expect from a castle hotel and more – modern and luxurious yet traditional at the same time with antique furnishings, a grand staircase, and ancestral portraits hanging on the walls. The beautiful grounds and slate of fun activities round out the memorable experience.
Read: An Enchanted One Night Stay at Dromoland Castle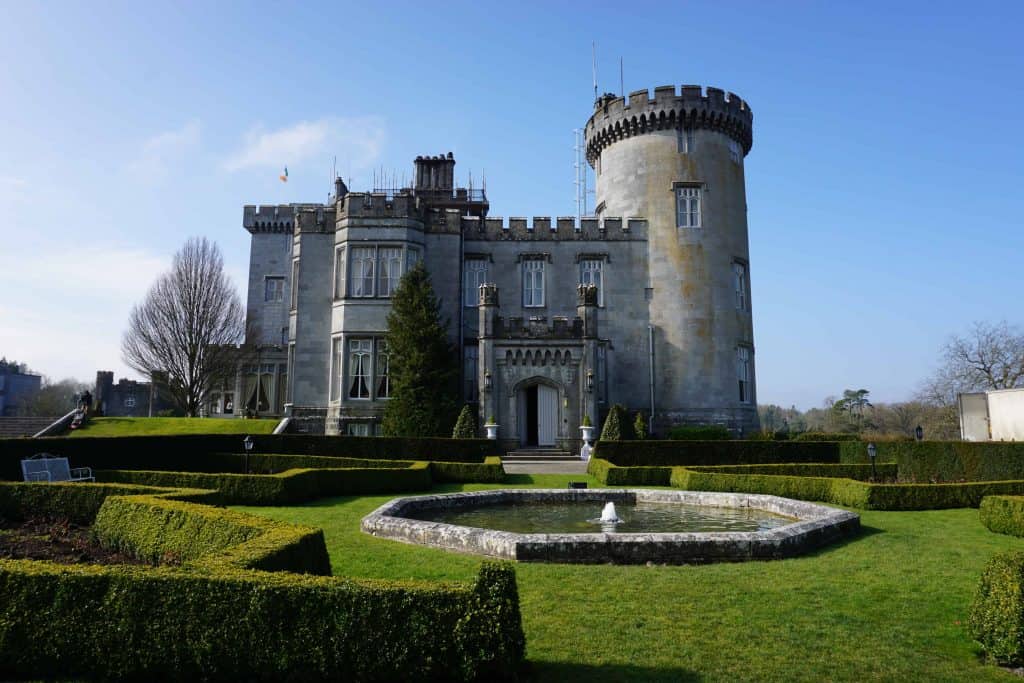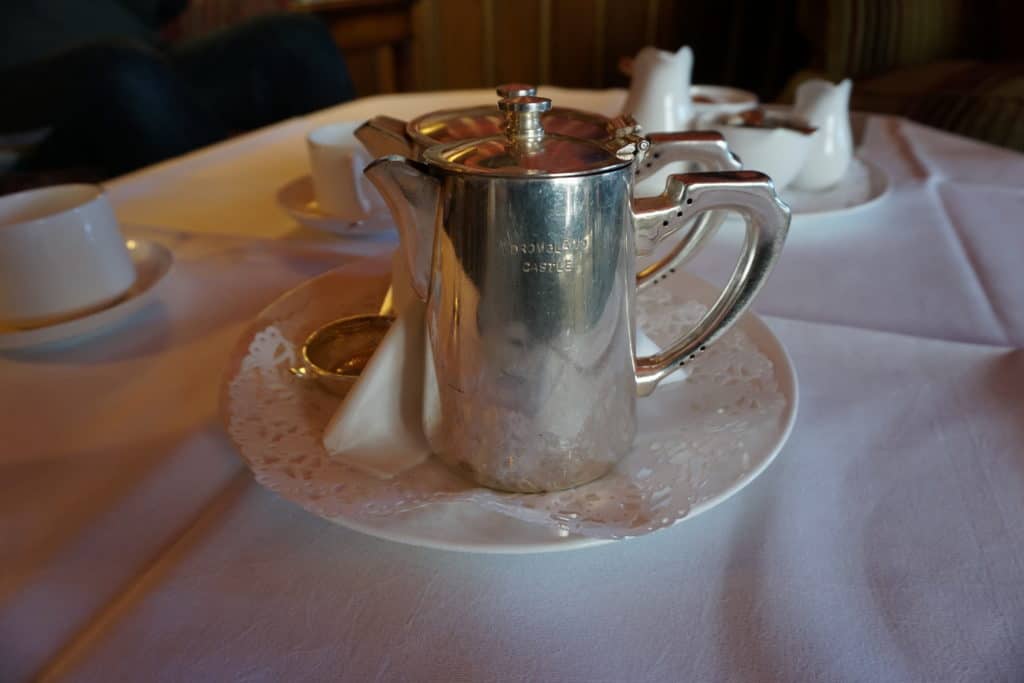 Cliffs of Moher
The world-famous Cliffs of Moher (now part of the Burren & Cliffs of Moher UNESCO Global Geopark) on the coast of County Clare rise majestically out of the Atlantic Ocean to a height of over 200 metres (700 feet) and stretch for almost 14 kilometres (8 miles). They are a spectacular sight and one of the most popular tourist attractions in Ireland visited by more than 1 million people each year.
The Cliffs of Moher are located on the west coast of Ireland close to Liscannor village in Co. Clare. Opening hours vary by time of year. Admission fees vary – peak pricing in effect from 11 am – 4 pm. 2023 Adult Admission fee starts at 7 Euros. Children under 12 are free. Book online in advance for best pricing and to be sure of entry. Parking included with admission fee.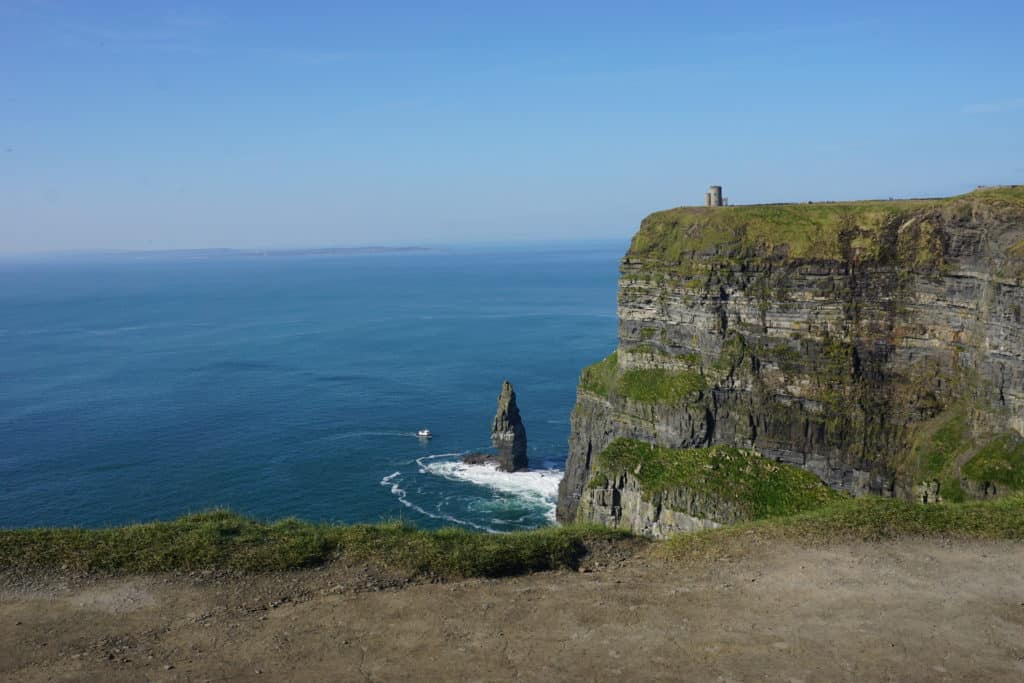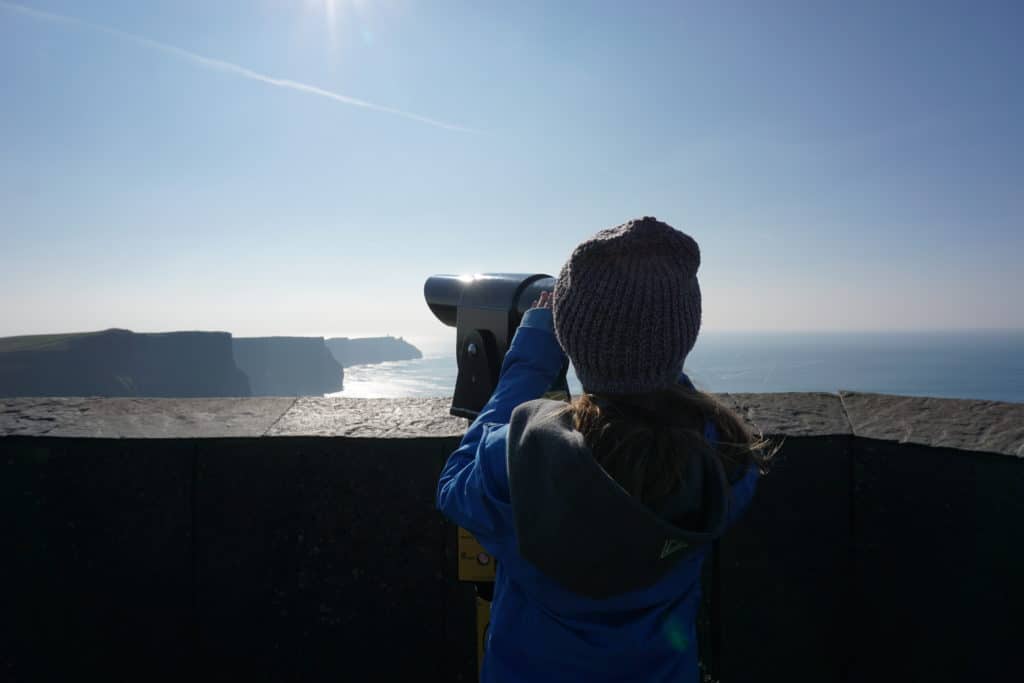 Day 4: Drive to Killarney
Distance from Dromoland Castle to Killarney: 139 km (86 miles) – 2 hours driving time.
After breakfast the next morning, we enjoyed another walk around the grounds of Dromoland Castle and fed the birds at the castle lake before starting the drive to Killarney. The drive takes approximately 2 hours and we made just one stop along the way in Adare. We arrived in Killarney late in the afternoon, checked into Killarney Park Hotel and had a bit of time for some sightseeing before dinner.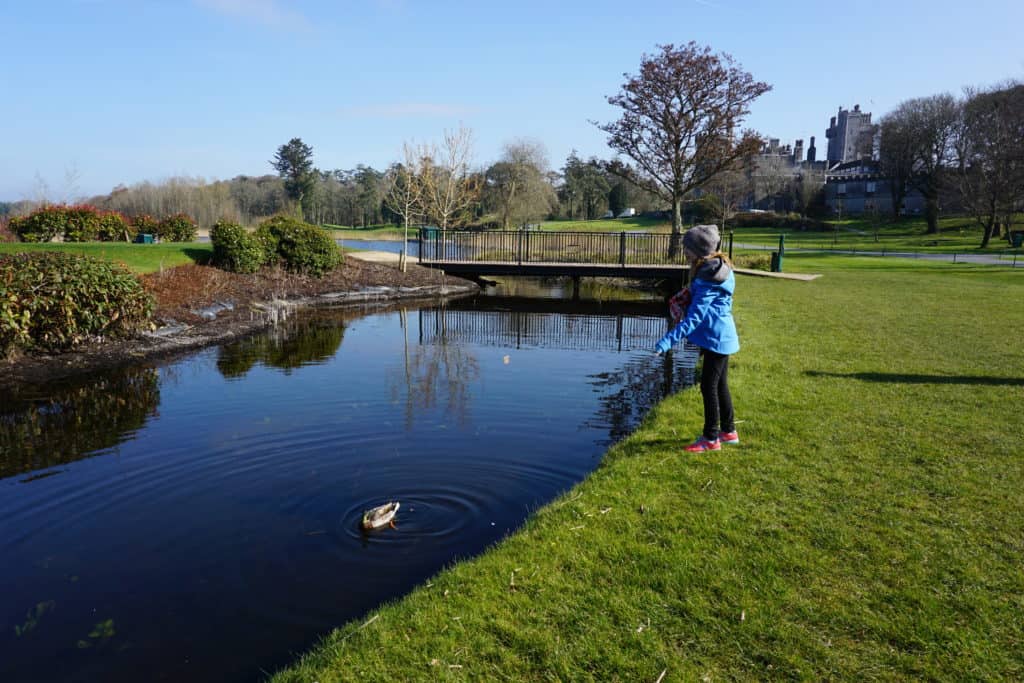 Visiting Adare Village
My husband and I had spent some time in Adare on an earlier trip to Ireland and I wanted to visit again to see if it was as lovely as I remembered it being – it was! Adare, often referred to as the prettiest village in Ireland, is known for the picture postcard thatched cottages that line its main street. The cottages were built by the Earl of Dunraven early in the 19th century as homes for the people employed on his nearby estate.
Today Adare is a designated heritage town and a popular tourist destination that attracts many thousands of visitors each year. The charming town is small and easily explored on foot. Be sure to pop into the Adare Cottage shop ( bought the cutest little Irish Dresden leprechaun Christmas ornaments there on my first trip to Ireland) and grab a bite to eat at The Blue Door Restaurant (on a nice day you can sit in the front garden and enjoy your lunch with a picturesque view).
Adare is located approximately 18 km (11 miles) southwest of the city of Limerick via the M20 and N21.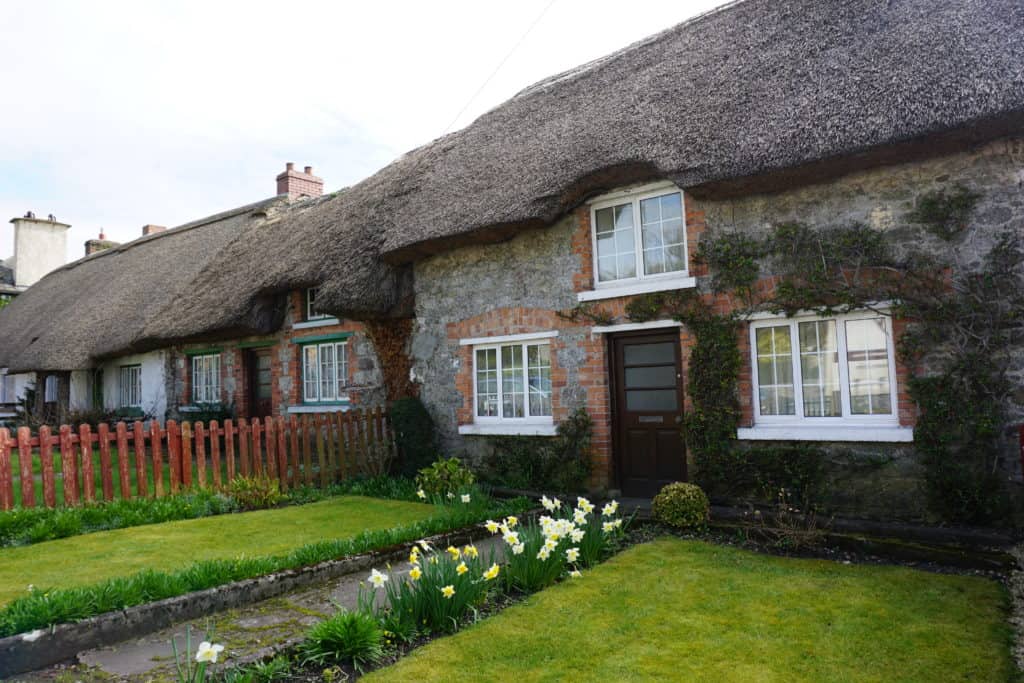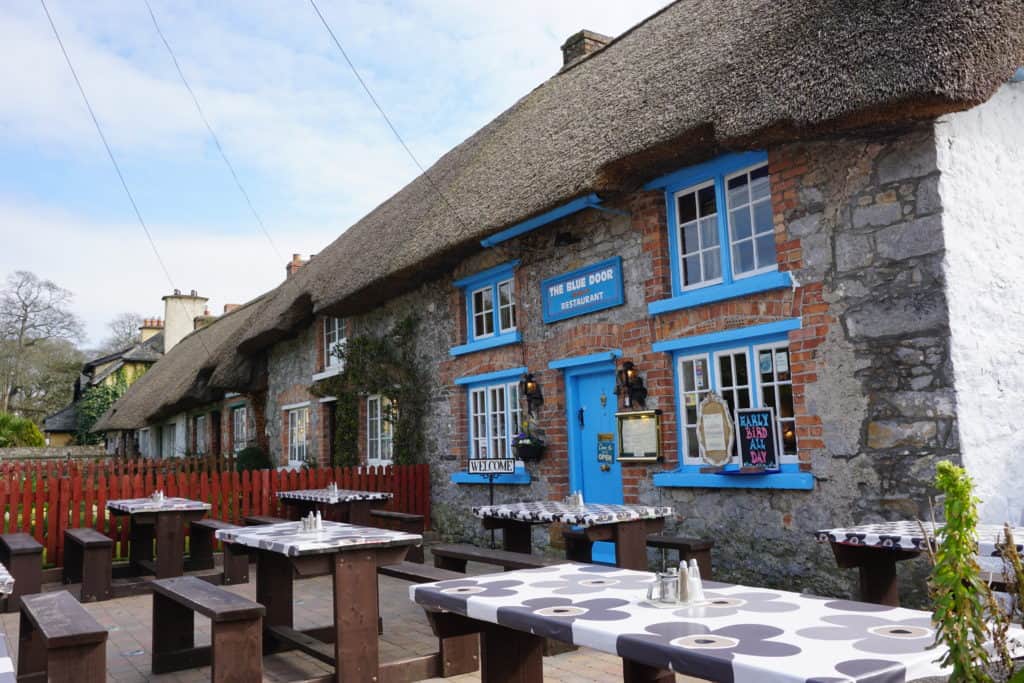 Killarney National Park
Located south and west of the town of Killarney in County Kerry, Killarney National Park encompasses a mountainous region and the famous Lakes of Killarney. We didn't have a great deal of time to visit the park but decided we could manage a jaunting car ride to the Gap of Dunloe before it got dark.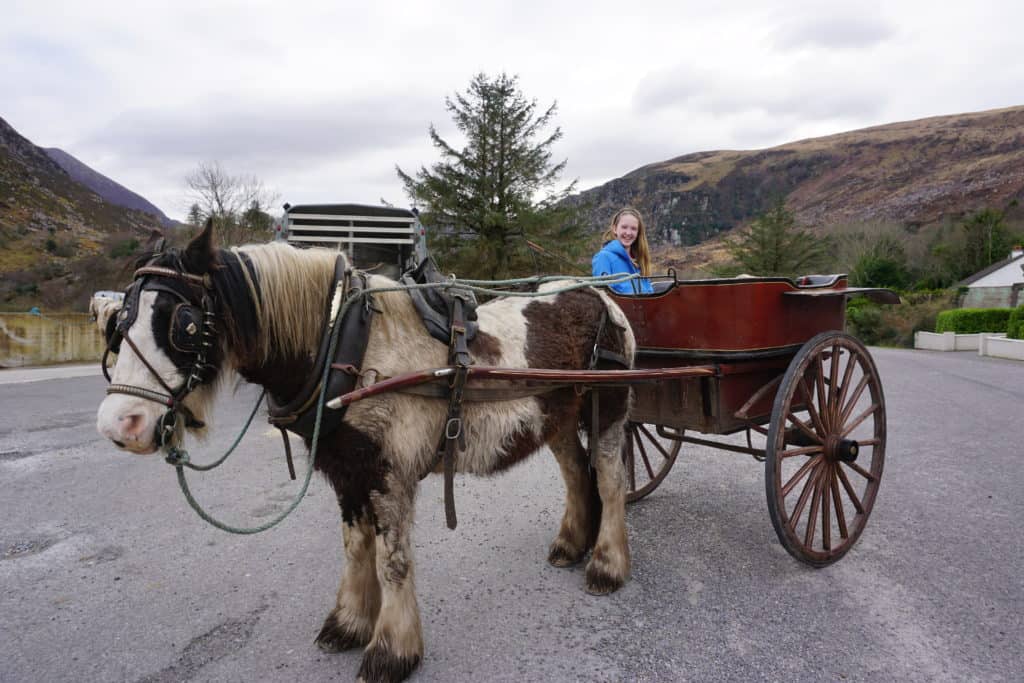 Killarney National Park is ideal for getting outside and enjoying nature. Activities include walking/hiking (with trails of varying degrees of difficulty), cycling, horse riding, canoe and kayaking, boating, fishing, swimming, bird watching and, of course, the jaunting cars. The park is unique in that it is home to many heritage sites as well including Ross Castle, Muckross House and Gardens, Killarney House and Gardens and more.
Killarney National Park is located in the south west of Ireland in Co. Kerry (beside Killarney town) and can be reached by train, car, and bus. The park is designated a UNESCO Biosphere Reserve. There is 24 hour pedestrian access to the park year round, however, the heritage sites and information centre at Killarney House have designated hours. Admission and parking is free.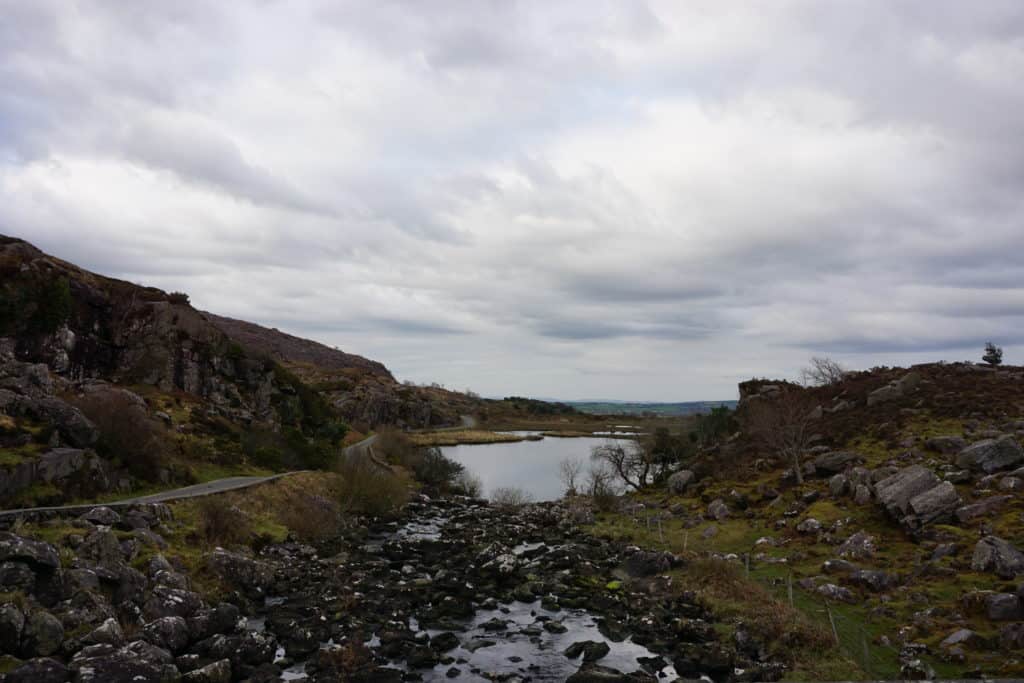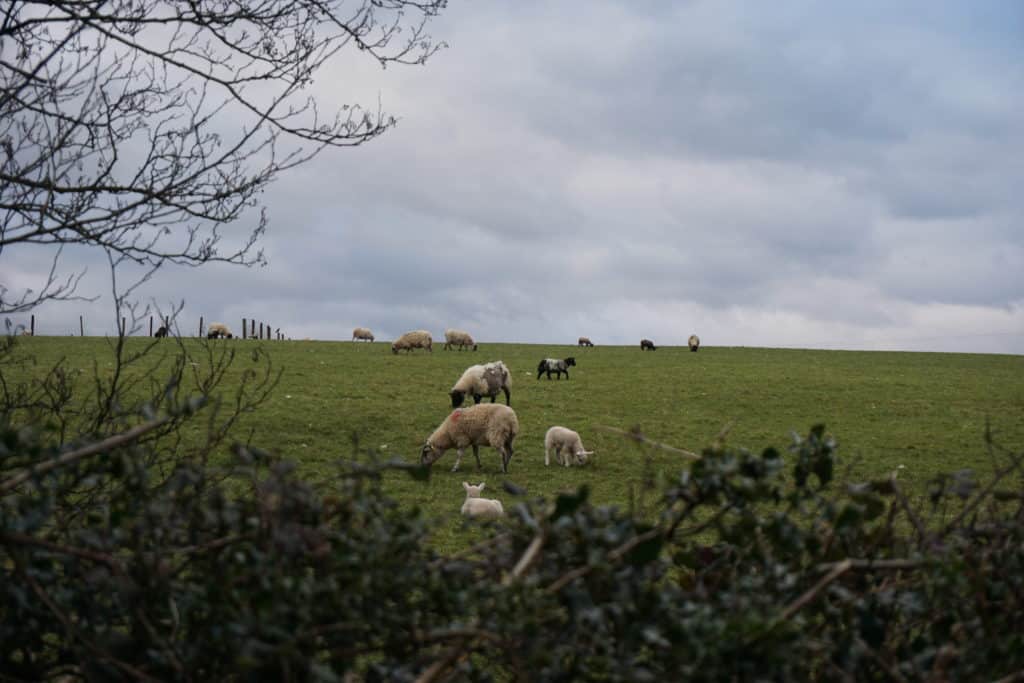 Day 5: St. Patrick's Day in Killarney
When we were planning our St. Patrick's Day trip to Ireland we decided that we wanted to spend March 17th in a smaller town rather than Dublin and chose Killarney. We thought that a smaller festival might be more family-friendly and authentically Irish and our day in Killarney was what we had hoped.
We got up the morning of March 17th and went for a walk downtown but it was a bit chilly so we returned to the hotel to warm up before the start of Killarney's St. Patrick's Day Parade. The parade was scheduled to start at 2pm so we returned to Main Street around 12:30 pm to find a good viewing spot along the route and enjoy the pre-parade entertainment.
The parade which lasted an hour or so was a fun community event celebrating the past and the future and seemed to include just about every child in Killarney from dancers, to soccer players to gymnasts. It was great fun to see all of the youngsters so pleased to be walking in the parade and enjoying the festive atmosphere.
Along with many of the other spectators, we enjoyed a post-parade ice cream at Murphy's – it's a must when you're visiting Killarney!!
Read: Travelling to Ireland to Celebrate St. Patrick's Day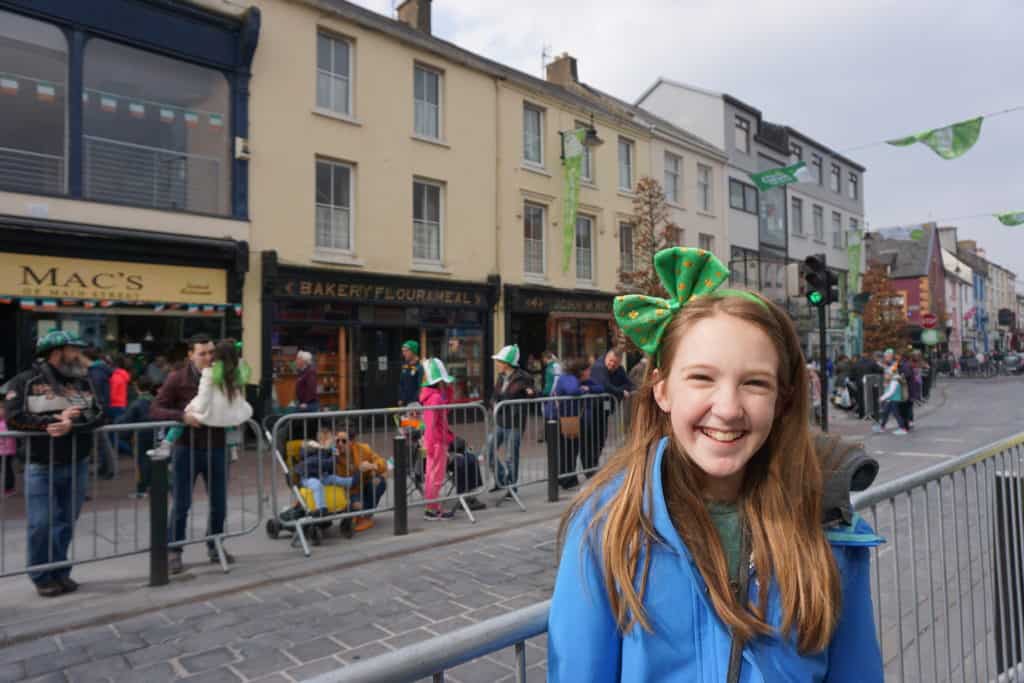 Ross Castle
After the parade we walked to Ross Castle which is one of the heritage sites located within Killarney National Park. Ross Castle is a 15th century tower house and keep built by Irish chieftain O'Donoghue Mór on the edge of an inlet of Lough Leane.
Visitors can tour the rooms of the restored medieval castle which has been furnished with pieces from the 16th and 17th centuries and enjoy the surrounding parkland and walking trails. The sun was setting as we wrapped up our visit and the view of the castle and the lake was stunning!
Ross Road – 2km from Killarney, off N71 (Kenmare Road). Open seasonally early March to early November. Open daily in season. March 3 – November 7, 2023 – 9:30 am – 5:45 pm. Admission Fee (2023): Adult – 5 Euros; Senior – 4 Euros; Child/Student – 3 Euros. Guided tours are available.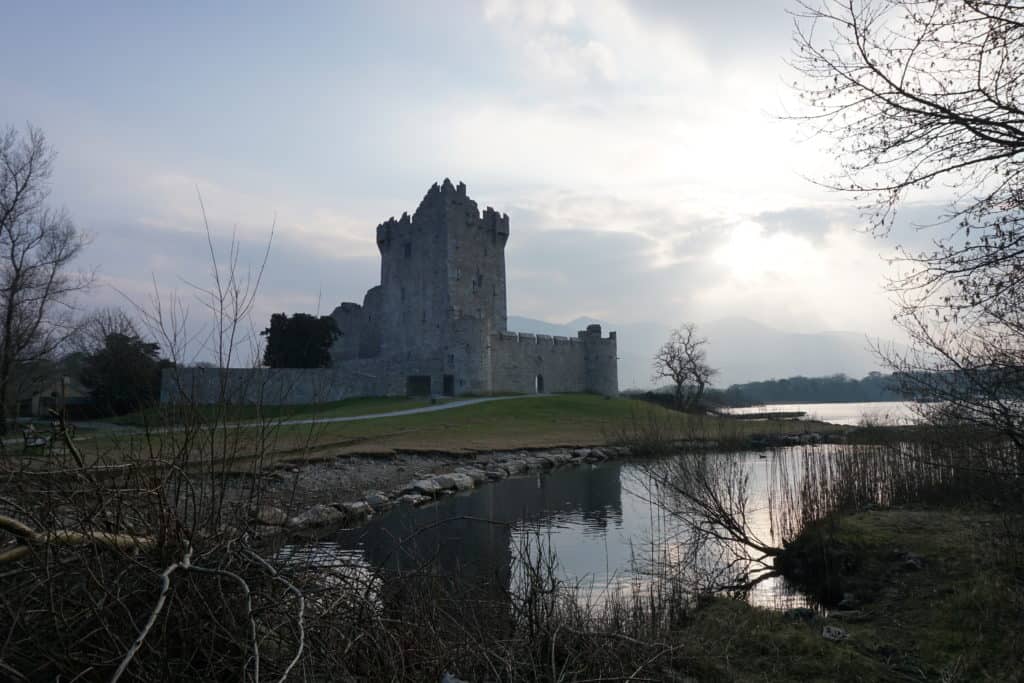 Day 6: Drive to Dublin
Distance Killarney to Dublin: 308 km (191 miles) – 3 hours, 40 minutes driving time.
On the morning of day 6 we left Killarney to drive back to Dublin. With lengthy stops along the way at Blarney Castle and in Cobh, we didn't arrive in Dublin to check into Fitzwilliam Hotel until early evening.
Blarney Castle & Gardens
Killarney to Blarney Castle, 75 km (46 miles) – approximately 1 h 20 minutes.
Our first stop was at Blarney Castle & Gardens which is located just outside Cork. We had a beautiful day for a visit – the first time I visited Blarney Castle was more than 20 years earlier in the pouring rain and I had to try and take photos from under an umbrella!
Blarney Castle has a rich history having been built nearly 600 years ago but most of the visitors to the castle are there to kiss the Blarney Stone which is incorporated into the castle's battlements. Legend has it that those who kiss the stone gain the gift of eloquence (aka the gift of gab) and millions have climbed the castle stairs to do just that. If it's a nice day, be sure to take the time to explore the lovely gardens as well after you have kissed the stone.
We also spent some time shopping at Blarney Woollen Mills which has a large selection of wool sweaters. In addition to knitwear, the family owned business also carries a wide selection of ethically sourced products designed by Irish makers. It's the perfect place to find an authentic souvenir from your trip to Ireland.
Blarney Castle is open year-round – hours vary. Tickets may be purchased in person or online but aren't timed entry. Closed December 24 and 25th. Admission Fees (2023): Adult – 20 Euros; Student/Seniors – 16 Euros; Child (6-16) – 9 Euros; 5 and under – free.
Blarney Woollen Mills is located next to the castle and is open Monday – Saturday 9:30 am – 6:00 pm and Sunday 10:00 am – 6:00 pm.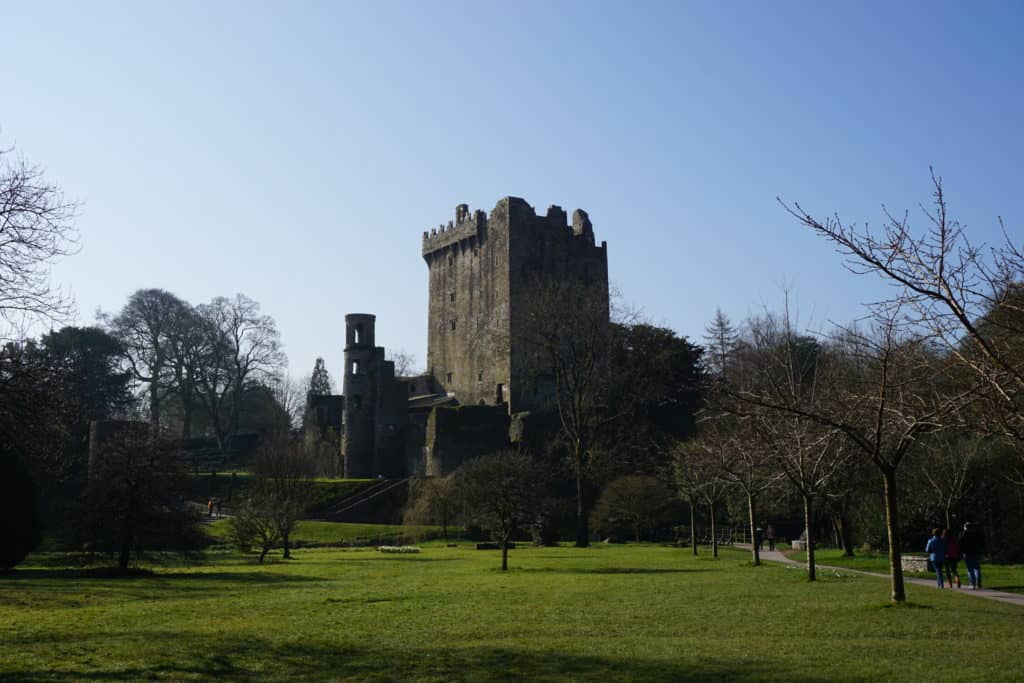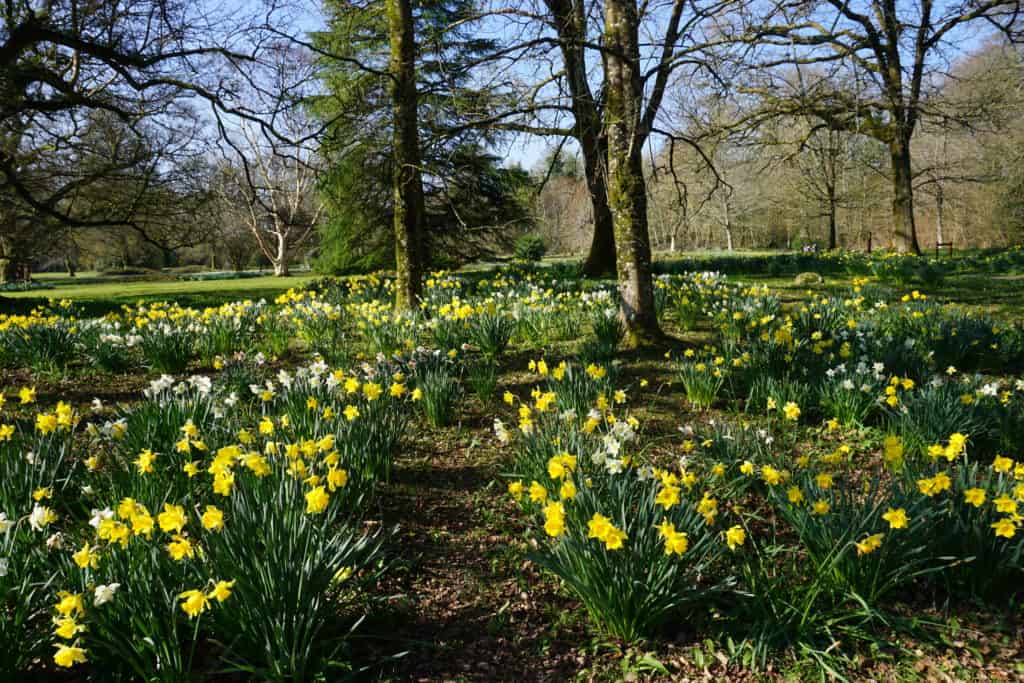 Visiting Cobh Heritage Centre
Distance from Blarney Castle to Cobh: 31 km (19 miles) – approximately 35 minute drive.
Our next stop en route to Dublin was the town of Cobh to visit Cobh Heritage Centre – The Queenston Story. The centre, located in a restored Victorian railway station, is an interesting place to learn more about Irish emigration particularly if your family has Irish heritage.
Cobh, formerly known as Queenstown, was a busy port village with the second largest natural harbour in the world and the departure point for many of the 6 million Irish people who left Ireland for North America between 1848 and 1950. If you have Irish ancestry then there's a good chance that those ancestors sailed from Cobh.
The centre has many interesting exhibits that tell the story of Irish emigration as well as exhibits on both the Titanic which departed from Cobh and the Lusitania as Cobh was at the centre of rescue efforts of passengers from that ship.
On the quay outside the Cobh Heritage Centre you will find the a statue of Annie Moore and her two brothers. Annie was the first immigrant to be processed at the Ellis Island facility in New York City and there is a similar statue of her on display there.
Open 7 days a week year-round. Winter hours are 9:30 am – 5:00 pm (mid-October to mid-April); Summer hours are 9:30 am – 6:00 pm (mid-April to mid-October. Admission Rates (2023): Adults – 13.50 Euros; Seniors/Students – 11 Euros; Child (under 18) – 9 Euros; Child (under 12) – 7 Euros; Under 6 – free.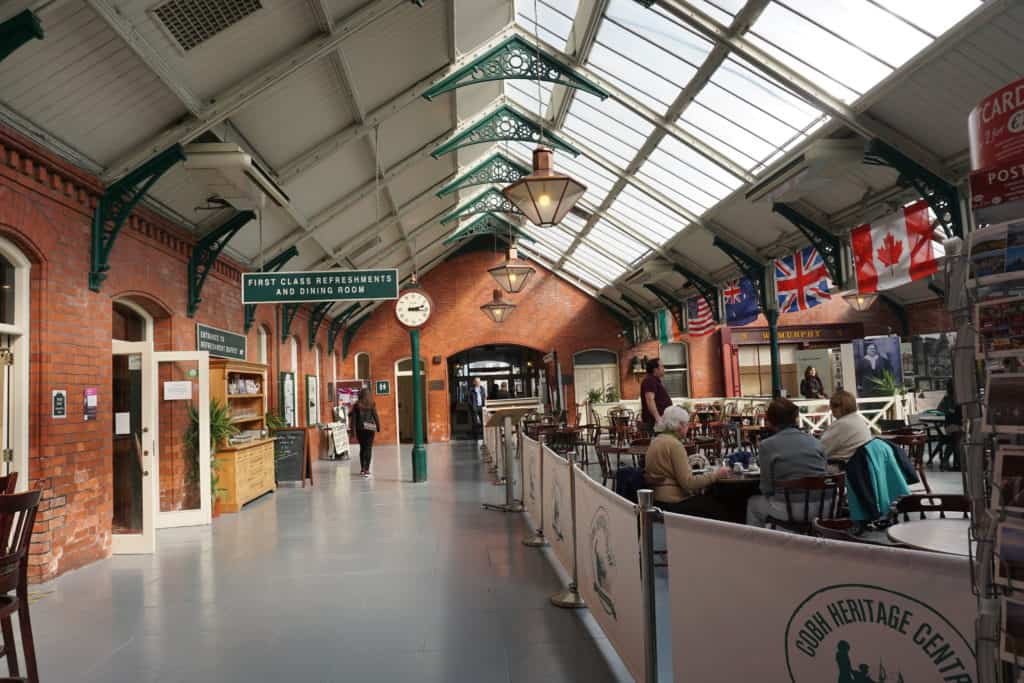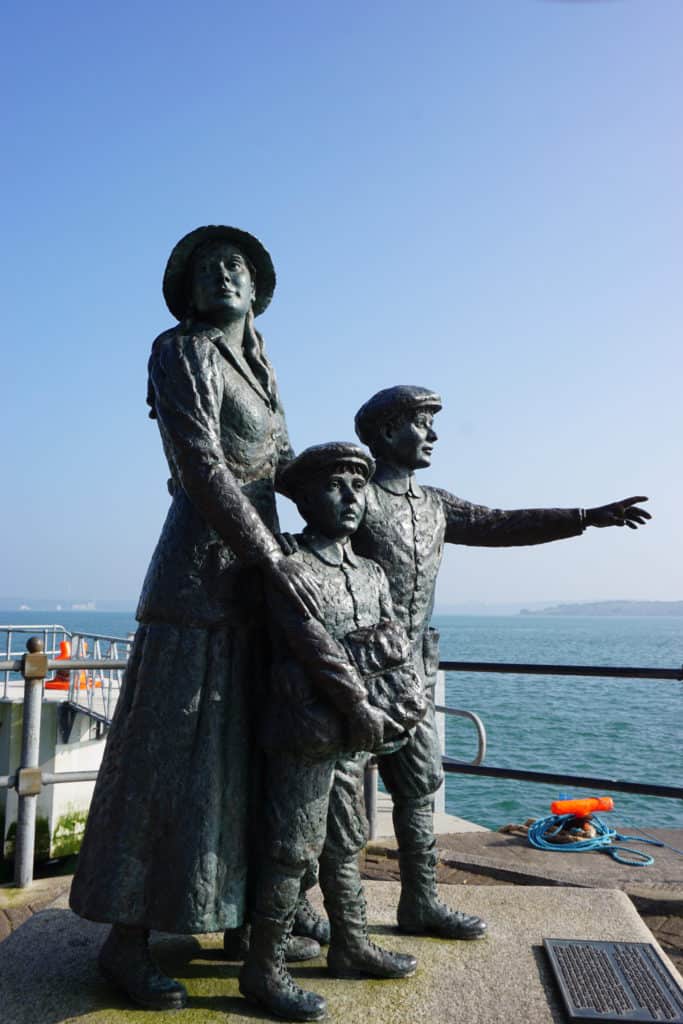 Day 7: Sightseeing in Dublin
In Dublin we stayed at the stylish Fitzwilliam Hotel and loved the fabulous location across from St. Stephen's Green just steps from the shopping of Grafton Street and within walking distance to nearly everything we wanted to see in Dublin over the weekend.
On our first day in the city we saw the Book of Kells at Trinity College and wandered the city seeing the sights before dinner followed by a show at the Bord Gáis Energy Theatre in the Docklands of Dublin. We loved seeing the city lit up green at night for the St. Patrick's Day celebrations!
If you're interested in the performing arts then check out WhatsOnStage Dublin to find out about performances scheduled during your visit.
Trinity College and the Book of Kells
The first stop on our first full day in Dublin was Trinity College to see the Book of Kells and the Old Library. The Book of Kells is a 9th century gospel manuscript transcribed by monks that is considered one of Ireland's greatest cultural treasures and is housed at Trinity College. The college's much-photographed Long Room in the Old Library houses 200,000 of the library's oldest books and is one of the world's most beautiful library spaces.
Open year-round – hours vary by season. Tickets can be booked for admission to the Book of Kells/Old Library or can be combined with a tour of campus. Online booking is strongly recommended and entry is timed. There is no photography allowed of the Book of Kells. Book of Kells/Old Library tickets from 18.50 Euros; Book of Kells & Campus Tour from 29 Euros.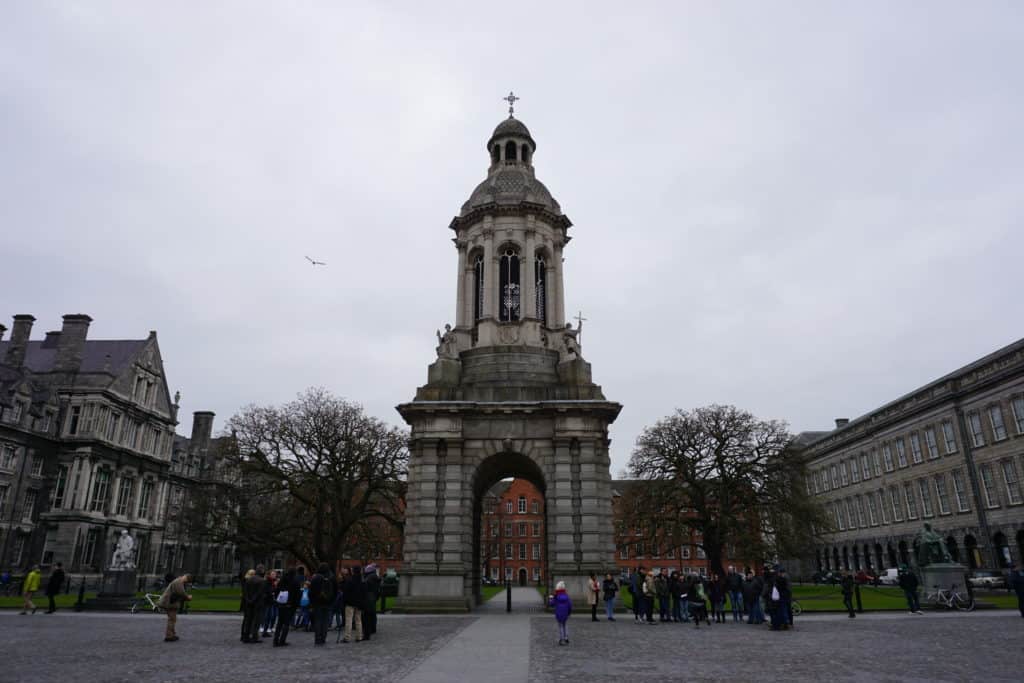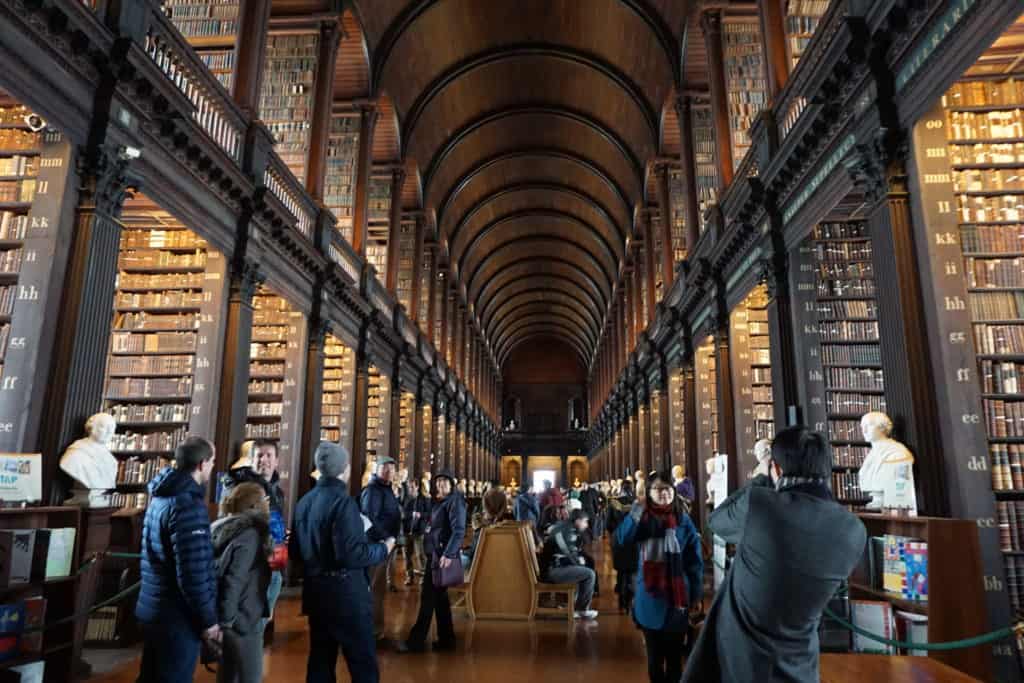 St. Stephen's Green is a historical public park in Dublin's city centre (quite conveniently was located directly across from our hotel) with lovely walking paths, gardens, pond, playground and sculptural monuments to Irish history including the Oscar Wilde Memorial Sculpture by sculptor Danny Osborne.
St. Stephen's Green Square – main entrance is through the Fusiliers' Arch, at the top of Grafton Street. Open year round – closes at dusk.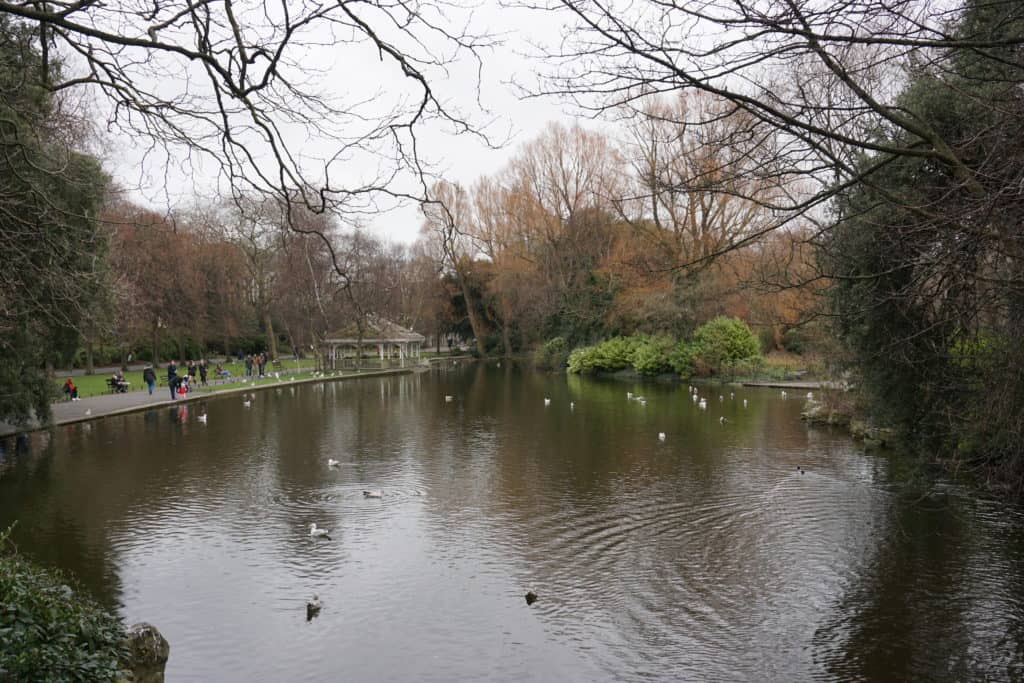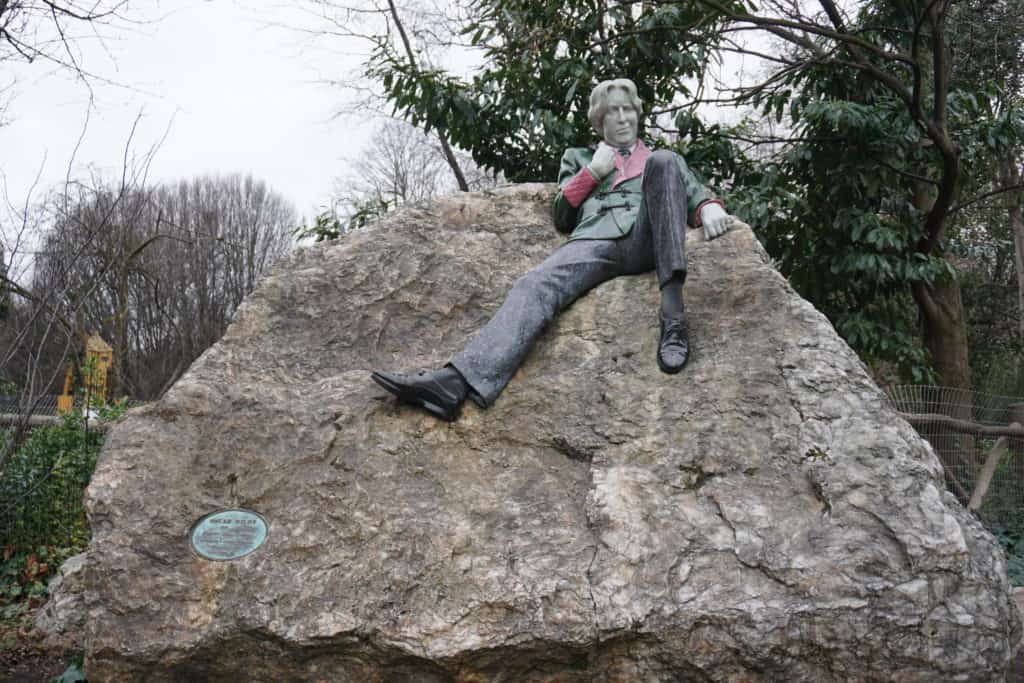 One of the prettiest (and most photographed) places is Dublin is the elegant Merrion Square with its elegant Georgian townhouses and beautiful coloured doors. We walked around the square to check them all out and to try and decide which one we would most like to live in!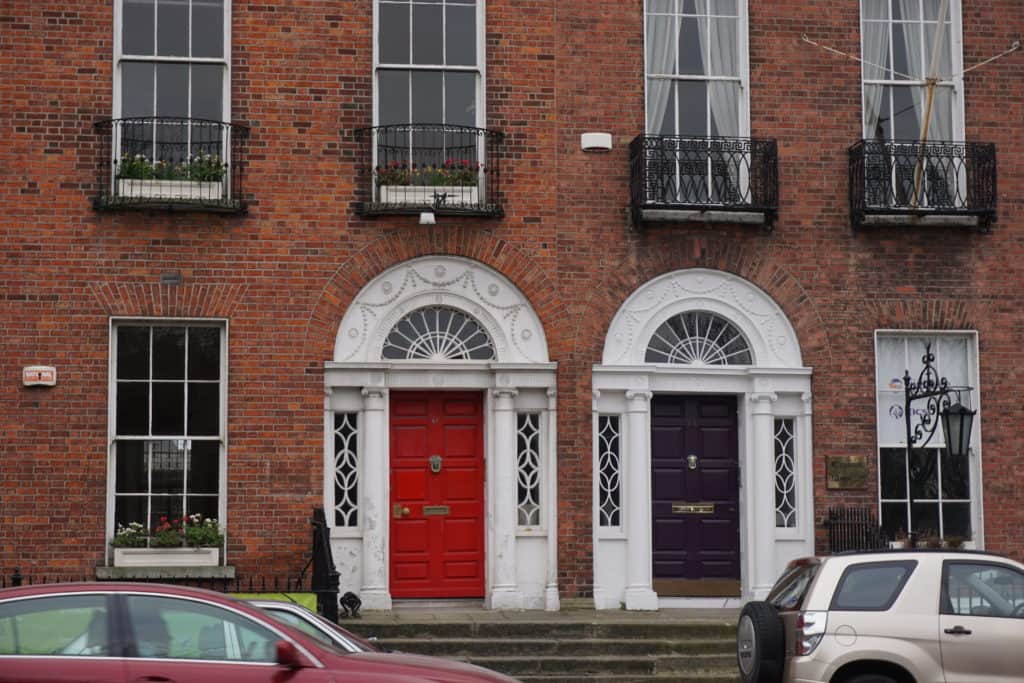 One of Dublin's principal shopping districts – Grafton Street is a pedestrianized street that runs from St. Stephen's Green to College Green. Here you can shop as well as enjoy some top-notch street entertainment and busking.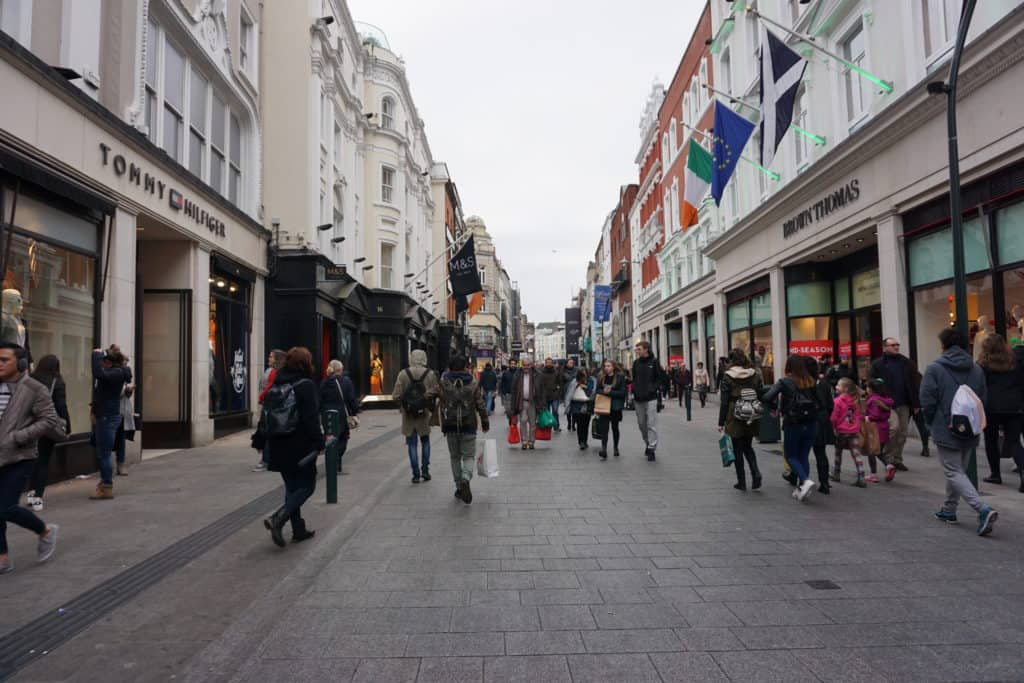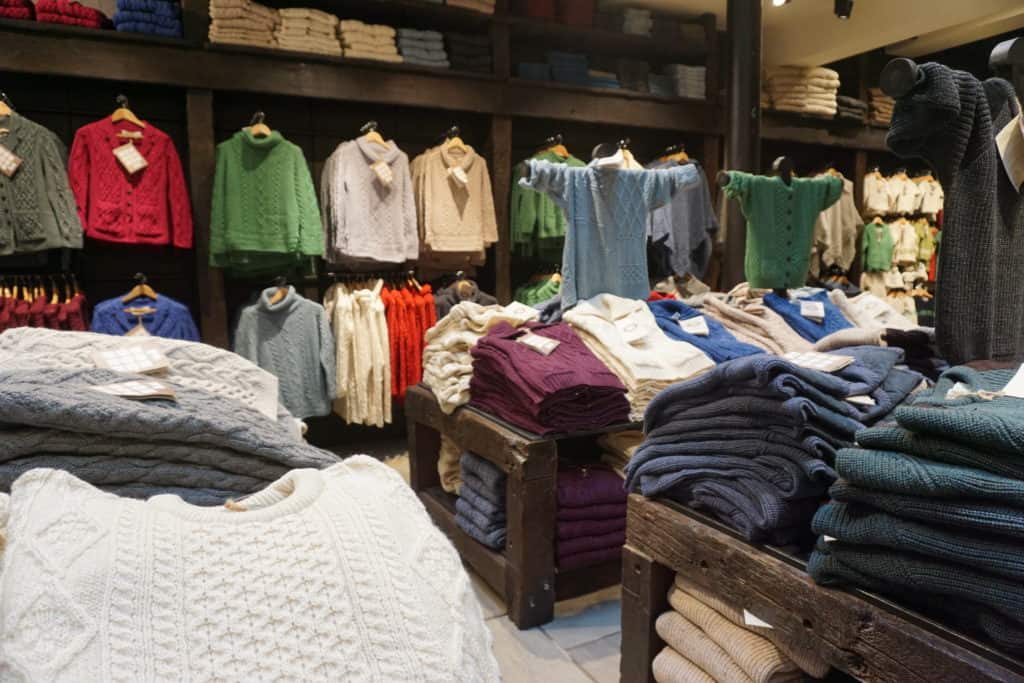 According to Irish folklore, Molly Malone was a young fishmonger who died of a fever and continued to haunt the streets of Dublin while pushing her wheelbarrow. There's a famous song Sweet Molly Malone and a bronze sculpture of her on Grafton Street which is one of Dublin's most popular tourist attractions.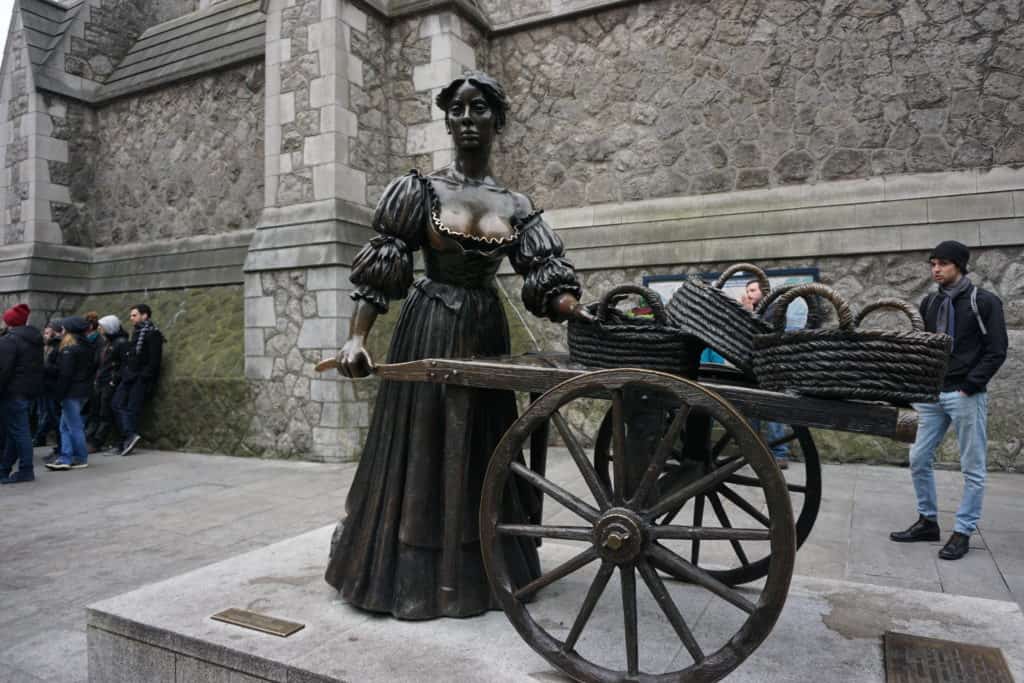 Temple Bar is both the name of the busy neighbourhood on the south bank of the River Liffey with cobblestoned pedestrian lanes that is home to many pubs and also the name of a family-owned pub in the neighbourhood. If you're in Dublin to party for St. Patrick's Day then this is the place to be – part of the reason we opted for the quieter celebration in Killarney!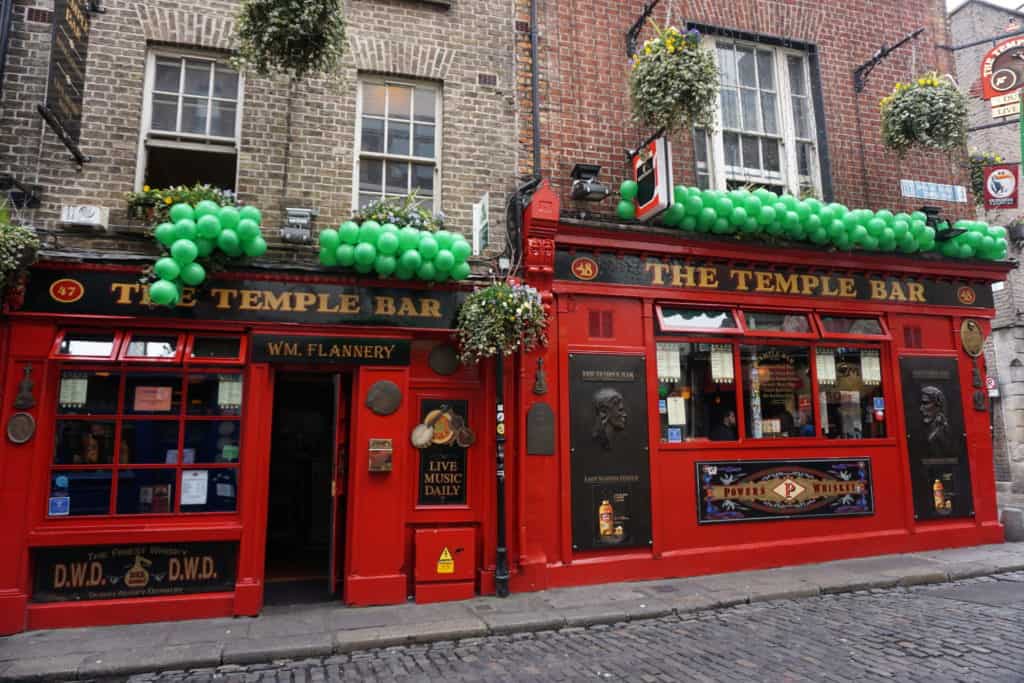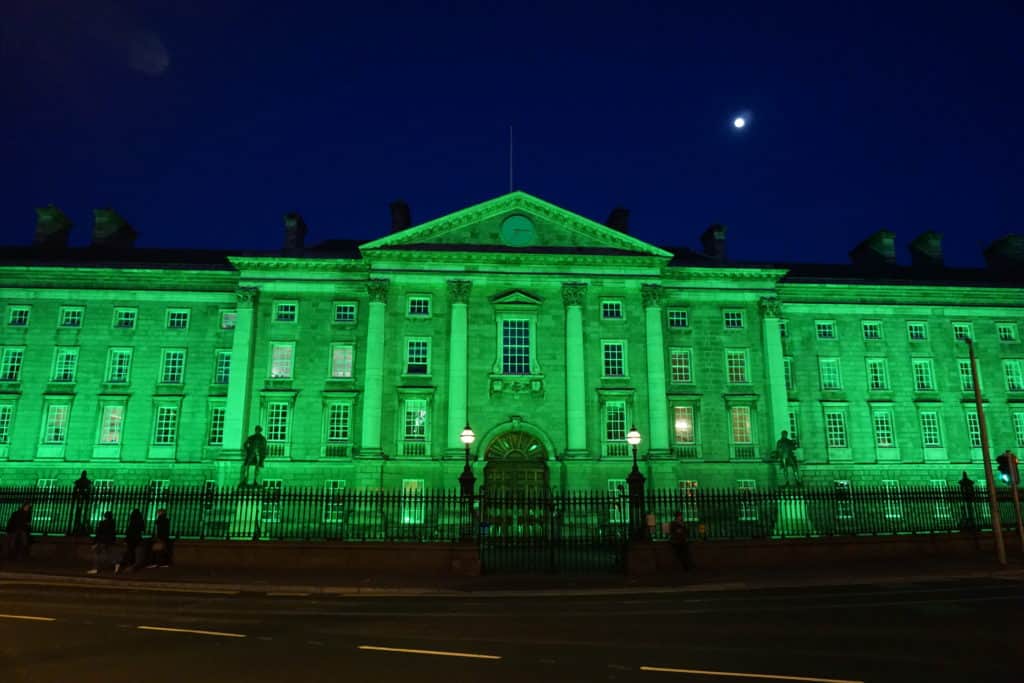 Day 8: Sightseeing in Dublin
Our second and last full day in Dublin included more wandering the streets and sightseeing along with a visit to the National Leprechaun Museum and wrapped up with dinner with an Irish music and dance show. An incredible 8 days in Ireland – the only thing that could have made it better would have been more days to spend!!
St. Patrick's Cathedral in Dublin, built in the 13th century, is one of the few buildings remaining from the medieval city Dublin and one of the city's most popular attractions. St. Patrick's is the National Cathedral of the Church of Ireland as well as the largest cathedral in the country and is famous for its choir which was established in the 15th century.
St. Patrick's Close, Dublin (at the junction of Patrick Street and Upper Kevin Street). Open daily – hours vary. Free guided tours available throughout the day. Admission Fees (2023): Adult – 9 Euros; Student/Senior (60+) – 8 Euros; Child (6-12) – 3.50 Euros; Children 5 and under are free.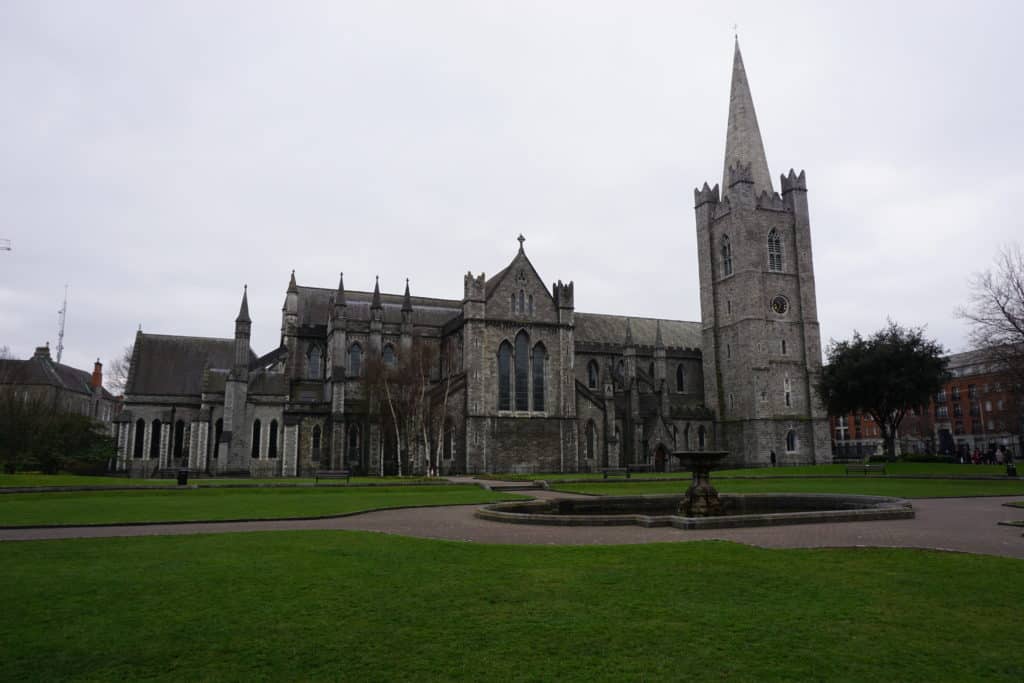 Dublin Castle dates to the early 13th century and was the seat of the British government's administration in Ireland until 1922. Today Dublin Castle is a working government building and the state apartments are open to visitors but we didn't take the time to tour on this trip.
Dame Street (behind City Hall). Open year-round 9:45 am – 5:45 pm. Closed December 25-27 and January 1. Advance booking is required for both guided and self-guided groups. Guided tour rates (2023): Adult – 12 Euros; Senior/Student – 10 Euros; Child – 6 Euros. Self-guided tours have lower rates.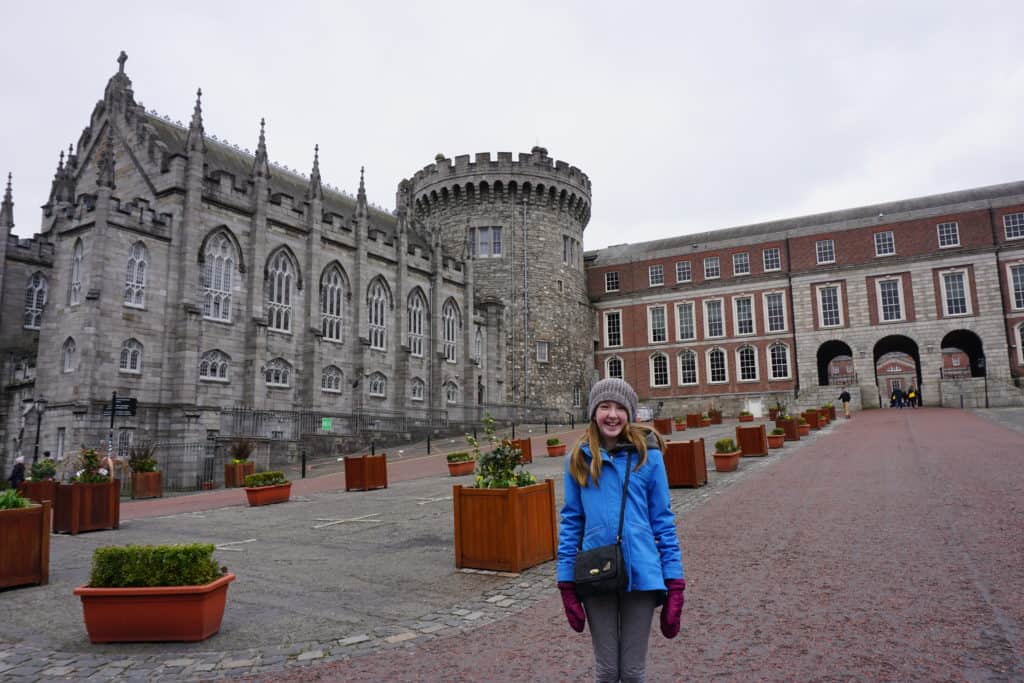 The first pedestrian bridge over the River Liffey was built in 1816 to replace ferries that transported Dubliners from one side of the river to the other. A toll of a half penny was originally charged to use the bridge and so it became known as the Ha'penny Bridge. It is estimated that approximately 450 pedestrians used the bridge each day when it was originally built whereas today 30,000 cross the bridge free of charge each day.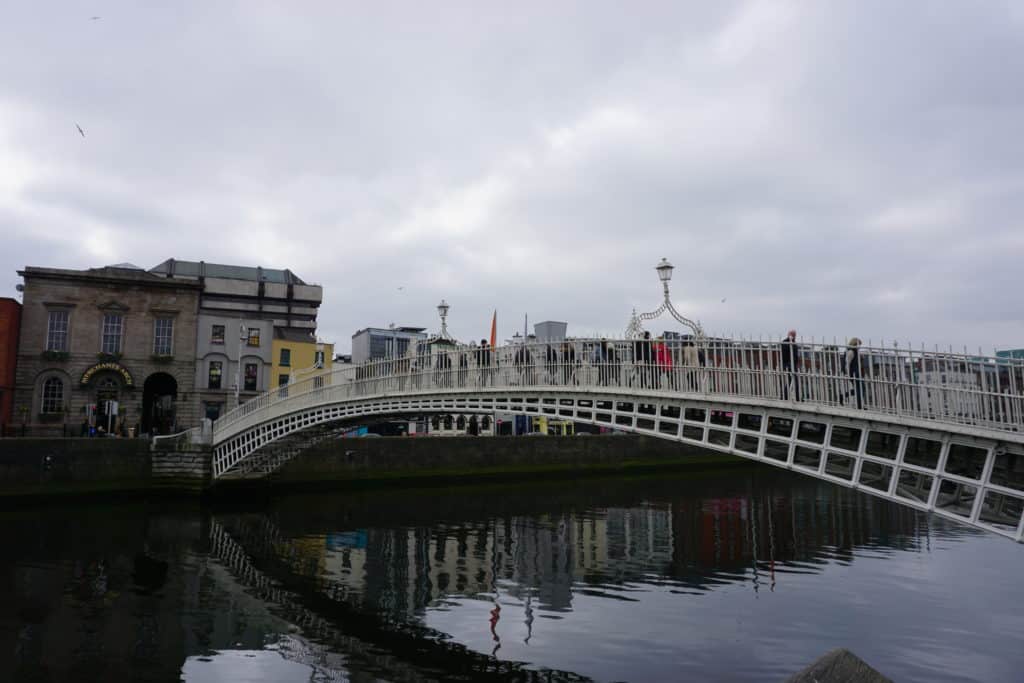 Our last stop of the day was a quirky little museum called the National Leprechaun Museum – a privately owned museum dedicated to Irish folklore and mythology. This was a fun guided storytelling experience that lasted about an hour and very family-friendly.
Jervis Street. Temporarily closed for refurbishments until summer 2023. Admission Rates (2023) – 10-16 Euros.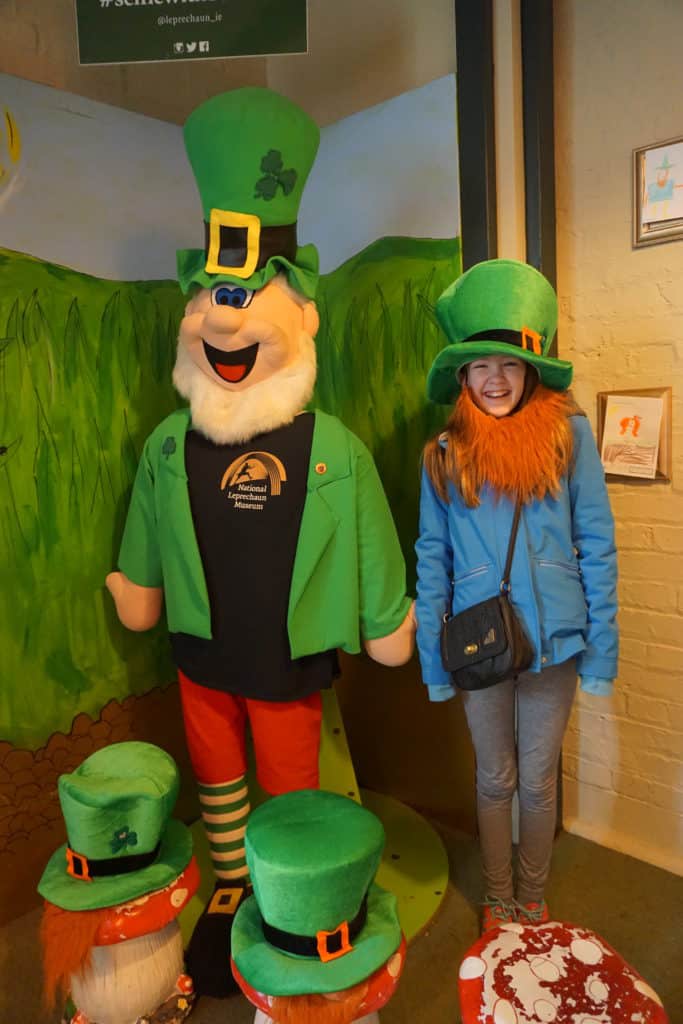 A fun thing to do on your vacation in Ireland is enjoy some of the traditional music and step dancing (as in Riverdance) that is an important part of Irish culture. On our last night in Dublin, we went to Celtic Nights at the Arlington Hotel for an enjoyable evening with dinner, talented Irish step dancers and traditional music – a bit touristy perhaps, but a lot of fun.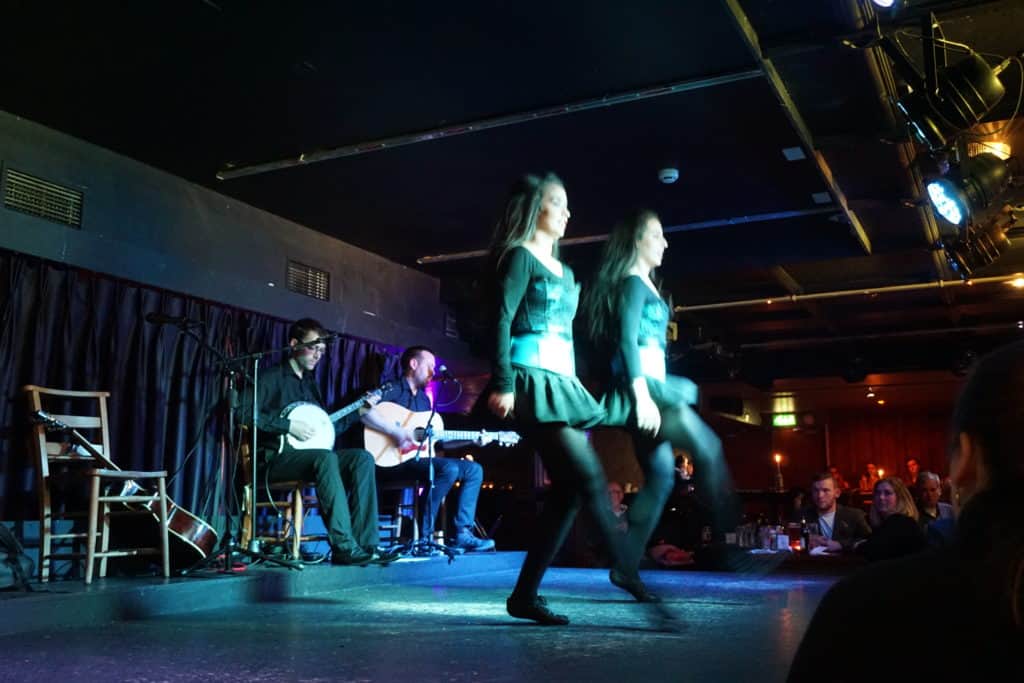 Pin This For Later