Family travel in Ireland during annual St. Patrick's Day festivities in March including tips for making the most of your visit.
The primary reason that we planned a spring break trip to Ireland was to satisfy our 12 year-old daughter, Emma, but it also allowed me to check an item off my own travel bucket list. Being of Irish heritage, we always celebrate St. Patrick's Day and the idea of visiting Ireland for the holiday seemed like an (at least) once-in-a-lifetime sort of experience.
Read 12 Fun Things To Do in Ireland with Teens and Tweens
This post may contain affiliate links. If you click an affiliate link and make a purchase then we receive a small commission at no additional cost to you.
We are a participant in the Amazon Services LLC Associates Program, an affiliate advertising program designed to provide a means for us to earn fees by linking to Amazon.com and affiliated sites. As an Amazon affiliate I earn from qualifying purchases.
About St. Patrick's Day
St. Patrick's Day originated as a feast day for the patron saint of Ireland but now it is more of a secular celebration of Irish culture by both the Irish and the Irish-at-heart. In cities and towns around the world, St. Patrick's Day is celebrated on March 17th by dressing in green, attending parades, listening to Irish music and often by drinking dyed green beer.
St. Patrick's Day is a bank holiday in both the Republic of Ireland as well as Northern Ireland but is also an official holiday in the Canadian province of Newfoundland and Labrador which has a very strong Irish heritage.
There are famous parades that take place in major international cities including Boston, Montreal and Chicago where they even dye the Chicago River green in honour of the day. As much fun as any of these celebrations would be – there can't be any doubt that Ireland is the best place to celebrate St. Patrick's Day.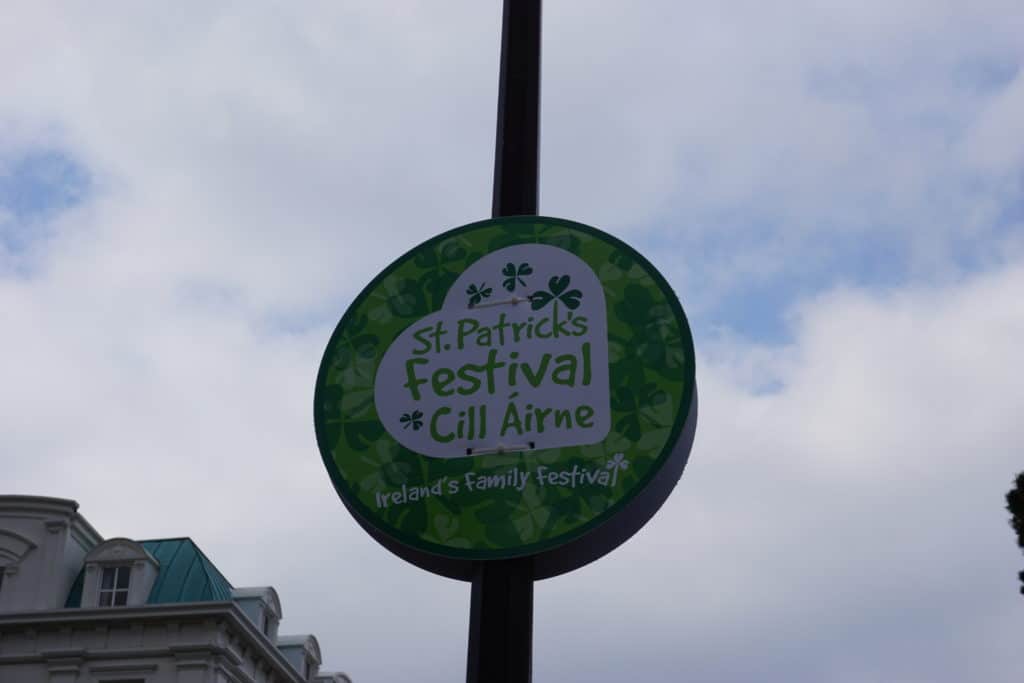 St. Patrick's Day in Killarney
When planning our trip we decided that we would prefer to spend March 17th in a smaller Irish town rather than in Dublin. We thought that a smaller festival might be more family-friendly and authentically Irish and since we were traveling with our daughter we weren't concerned about missing out on the party atmosphere in Dublin. After doing a bit of online research we settled on Killarney and planned our vacation in Ireland around being there for the St. Patrick's Day Parade.
It was a bit of a planning nightmare trying to come up with an itinerary that would have us in Killarney on the 17th as we were arriving in Ireland on the 13th and leaving again on the 21st but we managed to come up with something that worked even if our route wasn't ideal. 
We arrived late in the afternoon on the 16th and checked into our room at the lovely Killarney Park Hotel which is located just a short walk from downtown and spent the rest of that day in Killarney National Park.
The parade route went right by our hotel (and hotel staff informed us that they would be outside handing out cups of hot chocolate during the parade) but we decided that it would be more fun to be on the main street of town where most of the crowds were expected to be.
We got up the morning of the 17th, dressed in green, had breakfast at the hotel and headed out on a walk to see if anything was happening downtown yet. We were delighted to discover that when the traffic lights in town turned green they were now showing shamrocks in celebration of the festival instead of just plain old circles!
There were a few shops open but it was a chilly morning and the street was still fairly quiet so we returned to the hotel to warm up until closer to parade time.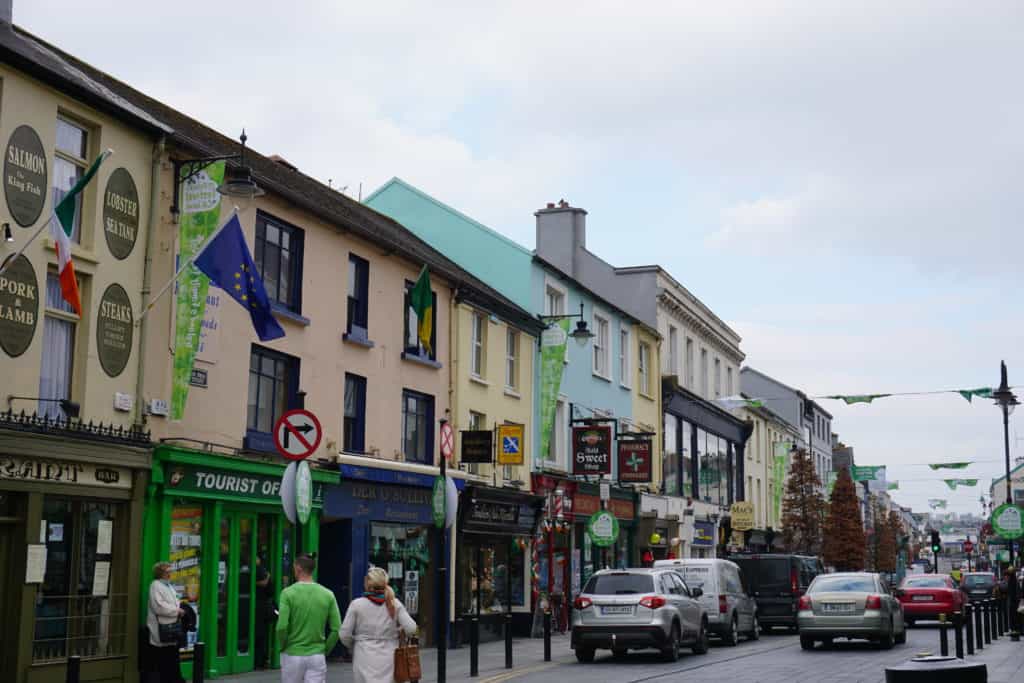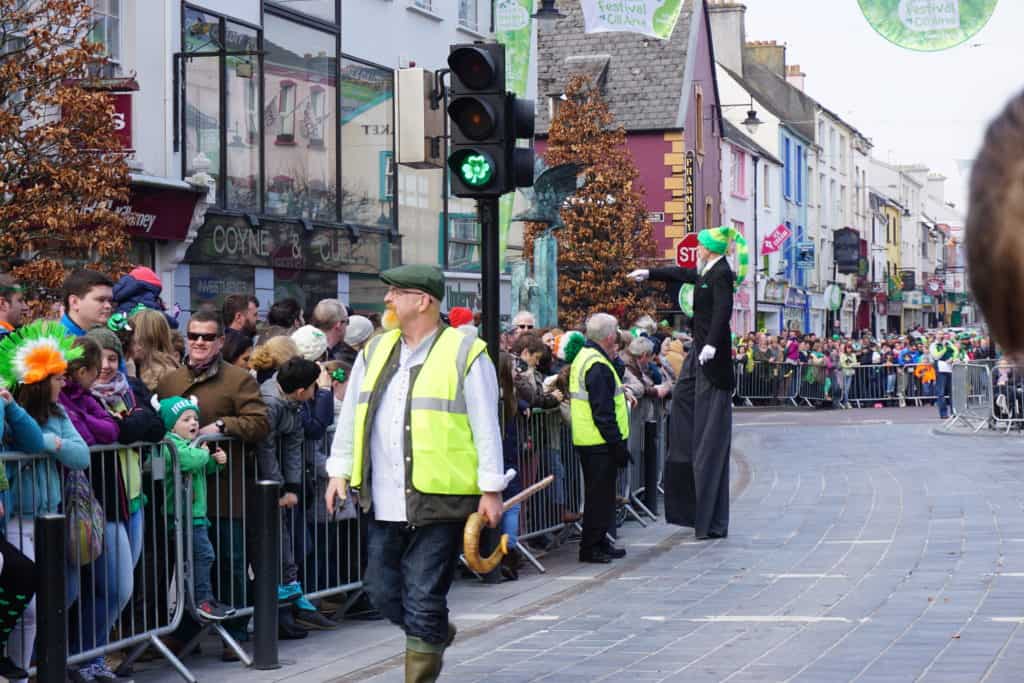 The parade was scheduled to start at 2pm so we returned to Main Street around 12:30 to find a good viewing spot along the route. It was fun seeing all the families dressed in green and waiting as patiently as possible for the parade to start. There were a couple of pre-parade performers entertaining the enthusiastic crowd and keeping the energy levels up.
The parade also had an emcee who started chatting with the crowd beforehand and narrated as the parade progressed. His conversations with the crowd revealed that we weren't the only tourists in Killarney as there were a number of visitors from Canada, the U.S. and even Australia.
The parade was a fun community event celebrating the past and the future and seemed to include just about every child in Killarney from dancers, to soccer players to gymnasts. It was great fun to see all of the youngsters so pleased to be walking in the parade and enjoying the festive atmosphere. The parade lasted an hour or so and we joined many of the other spectators on Main Street for a delicious post-parade ice cream at Murphy's Ice Cream.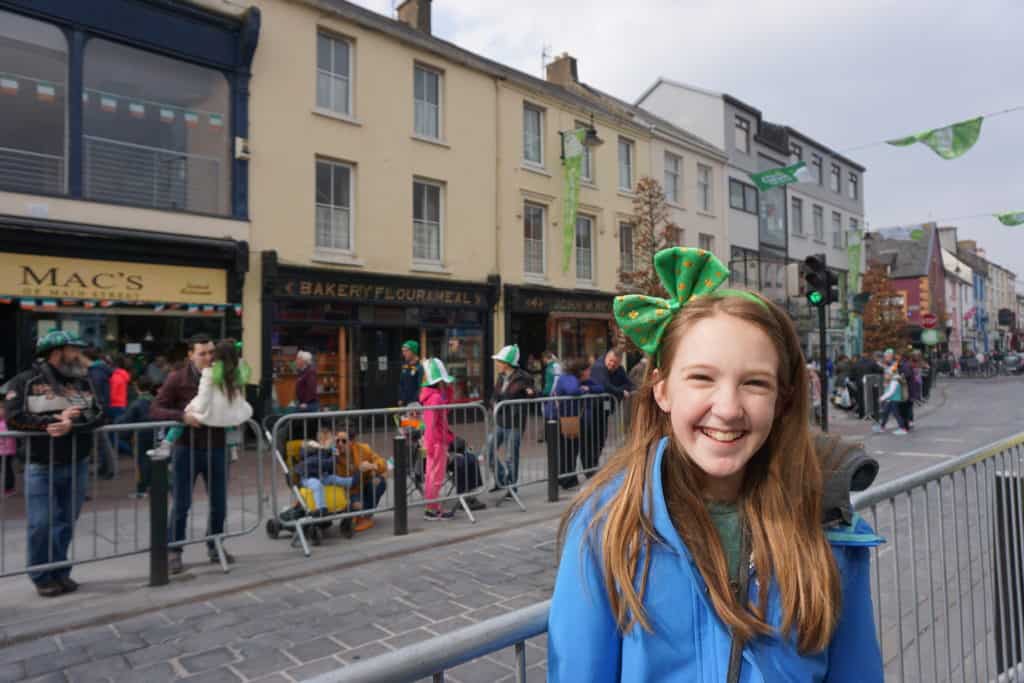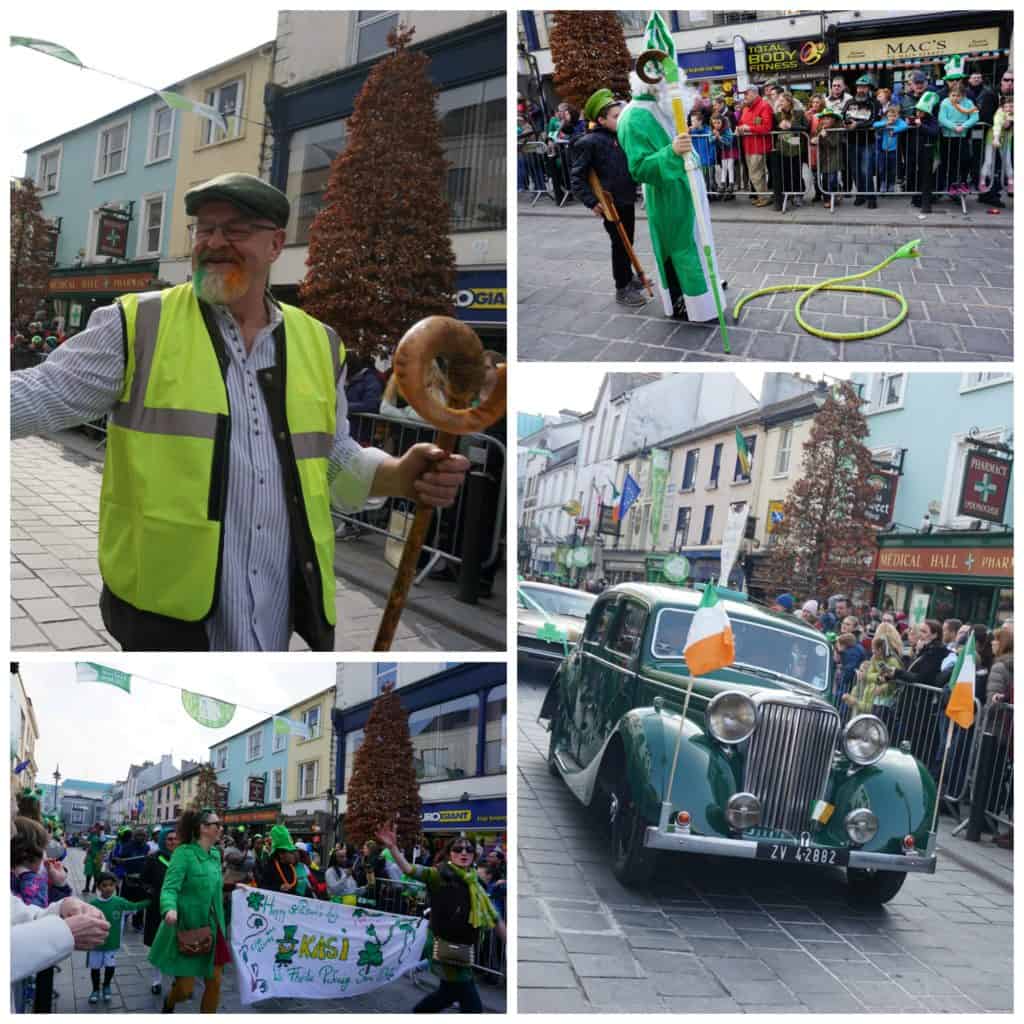 Dublin's St. Patrick's Festival
Although we were a day late for the actual holiday and parade, the St. Patrick's Festival in Dublin which took place March 17-20th, 2016 was still underway when we arrived in the city late in the day on the 18th and checked into the Fitzwilliam Hotel Dublin. The Festival kicked off with Thursday's parade which featured more than 3,000 performers and was attended by more than 500,000 people.
Despite the large numbers of visitors in the city for the Festival and also for the Ireland/Scotland weekend rugby match, we never felt like it was too busy or overcrowded.
Over the past few years Festival organizers have worked hard to plan cultural and family-friendly events in order to take some of the emphasis off of the drinking and partying which has become synonymous with Paddy's Day in Dublin.
Some of the events that took place over the four day festival this year included a family-friendly fun fair at Merrion Square, street theatre, musical and dance performances, the St. Patrick's Festival 5K Road Race, and a treasure hunt around Dublin with versions for both adults and children.
There were also tours available for visitors wishing to learn more about the history and culture of Dublin. The popular "In the Footsteps of St. Patrick Walking Tour", led by a Dublin historian, is offered annually and provides festival-goers with an opportunity to learn more about Ireland's national patron saint.
This year See Dublin by Bike also offered an Easter Rising tour as the centennial of the Rising is being commemorated across the country this spring.
My favourite event of the St. Patrick's Festival was Greening the City in which Dublin's iconic buildings including St. Patrick's Cathedral, Trinity College, Custom House and so many more are lit green in celebration.
Dublin's streets were humming with activity during our visit and the festive atmosphere made it all the more fun to wander this charming city.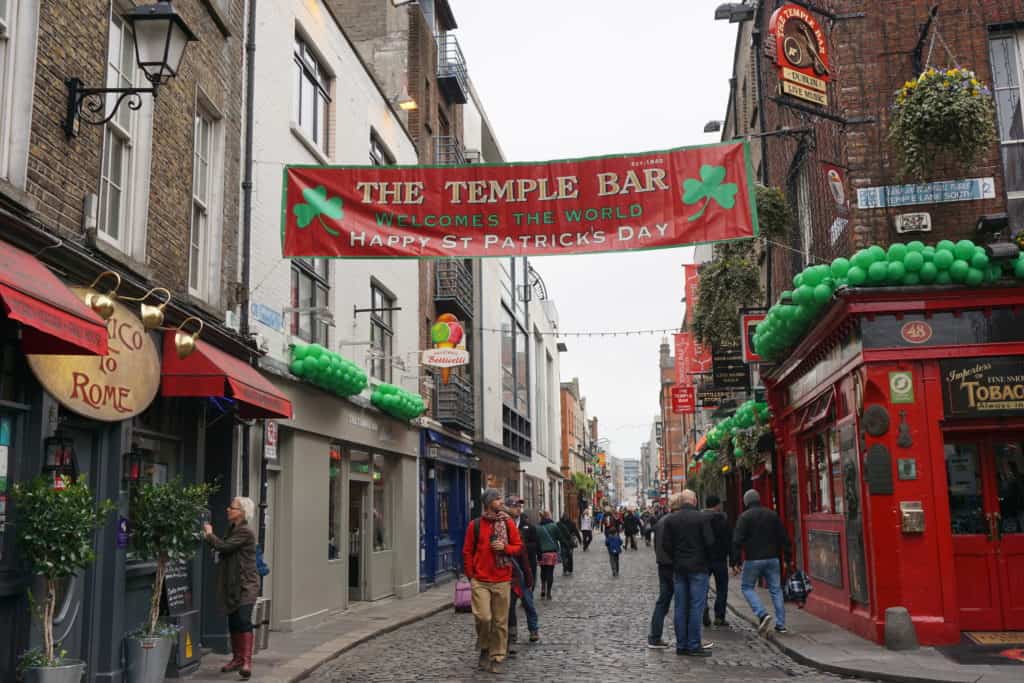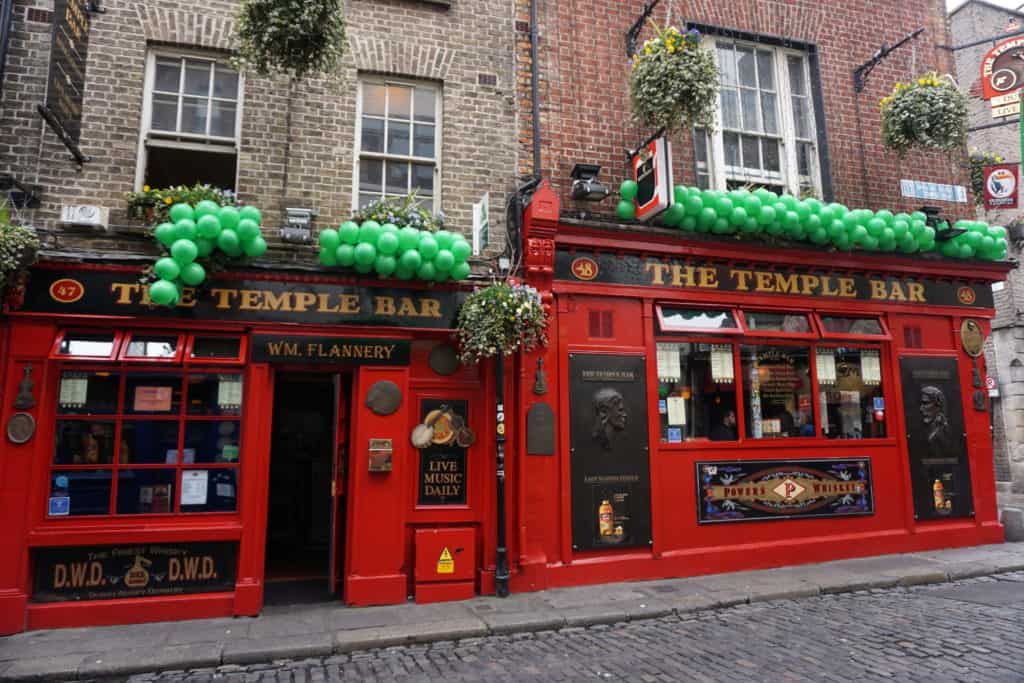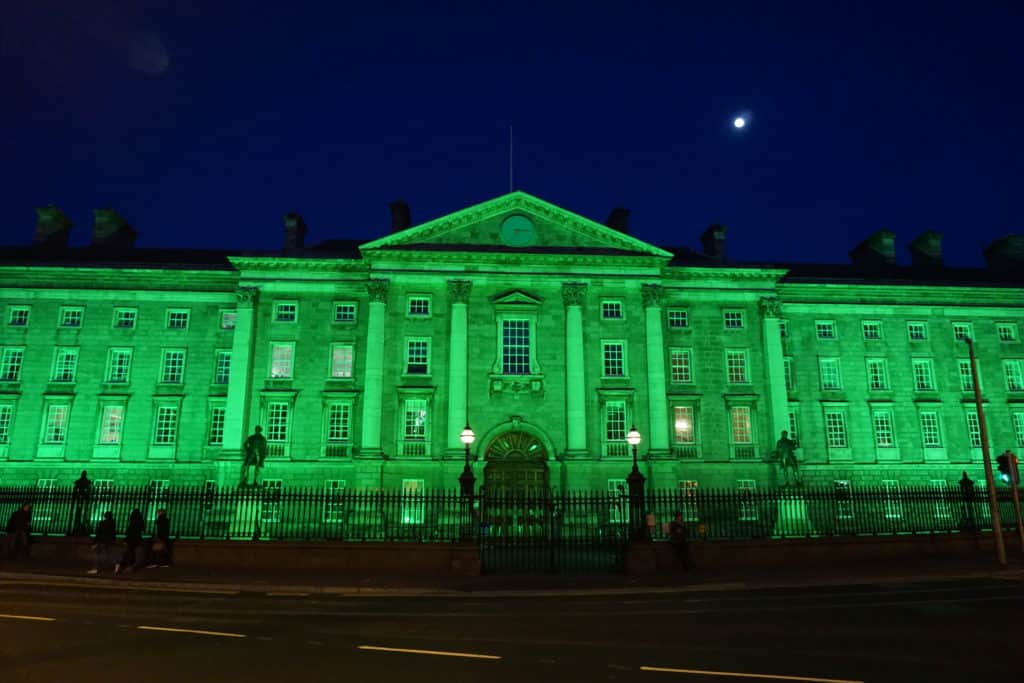 Tips for Visiting Ireland During St. Patrick's Festival
Plan as far in advance as you can rather than waiting until the last minute. St. Patrick's Day is a very popular time to visit Ireland – particularly Dublin – and you might find it hard to find a hotel room if you haven't booked ahead. Hotels might also have a minimum stay requirement during the St. Patrick's Festival.
Plan to spend at least several days in Ireland around St. Patrick's Day as the festivals take place over several days in most communities. Even if you are only visiting Dublin you will want to have time to sightsee and enjoy the city.
Dublin's St. Patrick's Festival is the largest and best known but consider smaller community festivals as well. There will be far fewer tourists in attendance than there will be in Dublin.
Plan to get in the spirit of the holiday by dressing in green. Pack any green bling you happen to have but there will be ample opportunity to purchase green hats etc. in order to accessorize your outfit.
The St. Patrick's Festival in Dublin lasts for several days so you can celebrate the holiday in more than one location like we did.
Regardless of where you plan to attend a parade you will need to arrive early. In Dublin, parade-goers start lining the route several hours ahead. In Killarney we picked a spot around 12:30 for the 2pm parade and by 1pm the street was getting quite crowded.
If you plan to be in Dublin with kids on St. Patrick's Day then avoid the Temple Bar area as most of the drinking and partying is focused in that area and the crowds will be overwhelming. Celebrating in Killarney and visiting Dublin after the 17th was the right decision for us.
I received a media rate at the Killarney Park Hotel and at the Fitzwilliam Hotel Dublin. All opinions expressed remain mine alone.