Top cities to explore in China with kids.
My 13 year-old daughter has been asking to visit China since she was three years old but we have yet to travel there primarily because I have felt unsure about what areas of the country we should plan to include in a trip. I'm delighted, therefore, to welcome guest posters Agness and Cez from eTramping, who have traveled extensively in China, to share their suggestions of cities that families would enjoy visiting.
We are a participant in the Amazon Services LLC Associates Program, an affiliate advertising program designed to provide a means for us to earn fees by linking to Amazon.com and affiliated sites. As an Amazon affiliate I earn from qualifying purchases.
This post may contain affiliate links. If you click an affiliate link and make a purchase then we receive a small commission at no additional cost to you.
China can be a great country for family holidays. Why? This country is extremely diverse when it comes to both eating and sightseeing so your kids will never get bored. It's also a fun and safe place filled with plenty of activities to keep your loved ones busy and active throughout the day.
Without a doubt, a family holiday in China is not only character-building but it is also very educational. It helps promote the interaction between you and your children as well as mutual understanding of a foreign culture. In the Land of Dragons, you will find many cities where your kids will feel at home and they will collect wonderful memories from each day.
Which cities should you include in your China bucket list? I definitely recommend these 7.
1. Beijing
Beijing is one of the most popular tourist destinations in China each year thus it should be number one on your list. This city offers plenty of interesting sightseeing spots and activities that your kids will get busy with and definitely love!
Beijing contains impressive historic sites that your family can't miss. For example the Forbidden City, the Temple of Heaven, the Summer Palace and, of course, the Great Wall. You can start off your day in Beijing by walking across the city and trying some delicious goodies from the street (Chinese candies and lollipops are especially good). After that, pack some snacks for your kids and head to the Summer Palace to take amazing pictures for your family album and enjoy some fresh air.
Let your kids run and explore local temples and don't forget to burn some calories when hiking the Great Wall of China. This is a great idea to make sure your kids stay active and healthy on this trip.
Moreover, you can involve yourself with such activities as biking in the Hutongs (ancient alleyways) to experience Beijing's traditional culture and running around the Forbidden City in order to learn about the spectacular ancient architectural complex as well as enjoying the cool vacation like an Emperor in the Summer Palace.
2. Chengdu
This is the home of the beautiful Chengdu Research Base of Giant Panda Breeding where many lovely giant pandas can be touched and fed – your kids will definitely love this experience. They can have a look at them, take care of pandas in a volunteer program and even take a photo with a cub. How awesome is that?!
Chengdu also offers delicious goodies for kids so don't forget to try sweet dumplings (Chinese baozi) when exploring the city.
3. Xi'an
Xi'an is well-known for its historical sites – sounds quite boring, right? Not really! Besides seeing the amazing Terracotta Warriors in person, there is a great variety of fun things for kids to do in the city.
You will have an amazing opportunity to create your own oriental decorations as well as learning some Chinese art of paper cutting which is one of the most popular decorative Chinese handcrafts and very easy to learn. Your kids only need a pair of scissors and a piece of paper in order to learn how to create cool Chinese designs.
There are also traditional shadow puppetry performances which are generally quite interesting for children.
4. Guilin
Travelling to Guilin is mainly about its natural beauty and leisure. It has the most famous karsts in the world with mysterious caves, grotesque rocks, verdant hills, lakes and limpid rivers. The fresh air and countryside scenery make Guilin an ideal place to escape industrial pollution.
The Longji Terraced Fields attract many photographers in spring and fall. Touring the countryside of Yangshuo by bike, cruising along the Li River, visiting the minority villages to see the variety of ethnic cultures in the region, and hiking Longsheng's rice terraces are new experiences that every kid would enjoy.
It would also be great fun for them to visit the local market and learn to cook some Chinese dishes.
5. Hong Kong
Hong Kong is the best destination for family tours with parks, nature reserves galore and, of course, Victoria Peak. The Peak is the most popular attraction in Hong Kong as visitors love the panoramic view of the city from its highest point and kids will love riding the Peak Tram to the top.
This island is also a luxury product shopping paradise and families with older kids and teens might enjoy the street fashion factory in Causeway Bay and the huge shopping malls of Central and Admiralty.
There are also some awesome natural sites and beaches in Hong Kong that will appeal to families that love the outdoors.
Read 10 Cool Things To Do in Hong Kong with Teens
6. Dengfeng
If you and your kids are interested in martial arts then Denfeng is the best place for you. You can take a kung fu class and even watch a kungfu show in the world-famous Shaolin Temple – the cradle of Chinese martial arts. I bet your kids will go crazy for it!
7. Huangshan City
The legendary natural scenery, beautiful countryside and ancient villages is what attracts visitors to the region around Huangshan City.
In Huangshan you can have a lot of fun by climbing the Yellow Mountain and enjoying the hot springs at the foot of the mountain, as well as viewing spectacular oddly shaped rocks, pine trees and the sea of clouds.
You can also visit the lovely Hongcun village which is a UNESCO World Heritage Site – your kids will absolutely love being there!
With adequate knowledge of the above top China cities to visit with kids, you are guaranteed to learn more and have fun once you visit the Land of Dragons!
All photos provided by Agness and Cez of eTramping.com
——————————–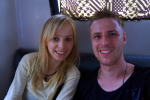 Agness and Cez are travel bloggers of eTramping where they share their exciting and adventurous stories from across the world. They've been exploring China since 2011, visiting most of the provinces in the country. If you are planning to travel with kids or teach English in China, check out their latest blog posts and follow eTramping on Twitter and Facebook.