I'm delighted to welcome guest author Anna Timbrook of Expert World Travel who makes her home in Switzerland to share recommendations for some of the best things to do in Switzerland with kids.
With plenty of fresh mountain air and room to roam, Switzerland is perfect for a vacation with kids. Old towns with castles, cathedrals, and chateaus are full of fascinating history the whole family will enjoy. Go in the summer months and you can still ski and toboggan high in the alps. The next day, you can relish the beauty and water fun of an alpine lake. Hiking and camping opportunities are boundless from stroller-friendly short scenic trails to adventure trails. Sleep under the stars at a lakeside campsite or in a valley surrounded by snow-capped peaks.
Best of all, you can leave the driving to Switzerland's world-class rail system with a Swiss Pass. You'll get unlimited access to the Swiss Travel System to kid-specific activities and free entrance to over 480 museums and exhibits. All you have to do is settle into one of the many family-friendly accommodations in a Swiss city like Zurich, Geneva, or Bern and arrange day trips to fit your personal itinerary.
Switzerland is a great destination for everyone – especially families! Here are four great reasons to visit Switzerland with kids.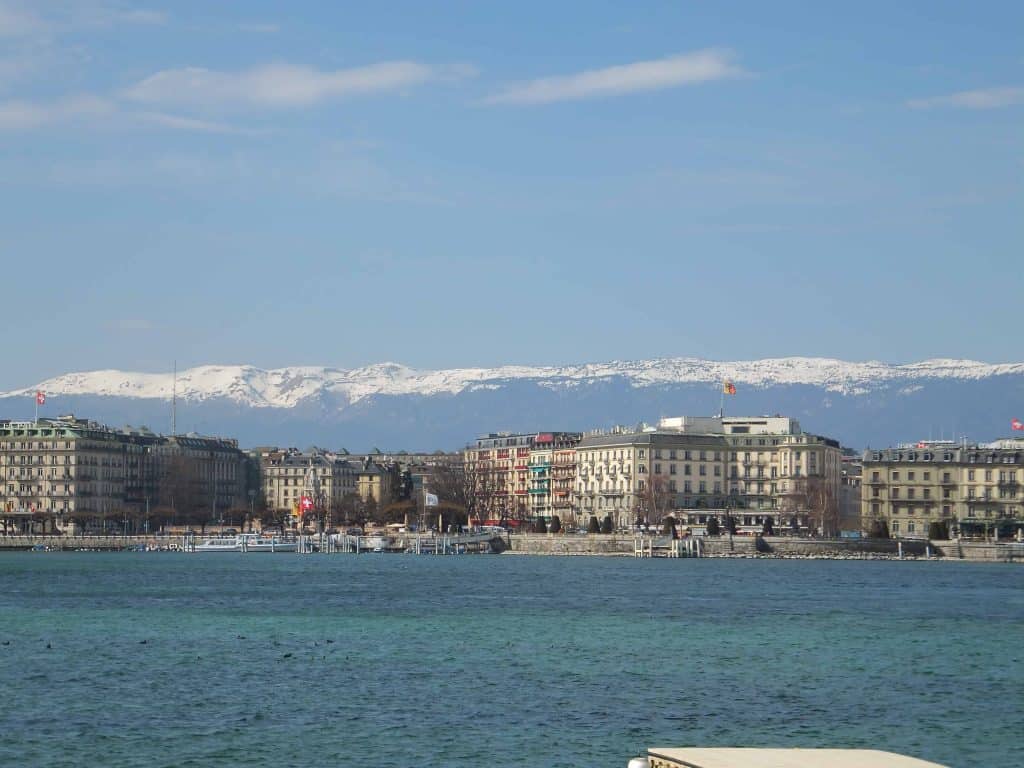 This post may contain affiliate links. If you click an affiliate link and make a purchase then we receive a small commission at no additional cost to you.
1. Switzerland's Old Towns Are Fun To Explore
Nowhere will you get a better sense of world history than in Switzerland's Old Towns, some of which have been declared World Heritage sites by UNESCO.
Geneva
Geneva's Old Town is a maze of squares lined with historical buildings with masonry facades, museums, and quaint cafes. Stop and admire Cathédrale St-Pierre Cathedral and the Maison Tavel both existing since the 12th century. Stroll the Promenade de la Treille and admire the world's longest wooden bench, built in 1797.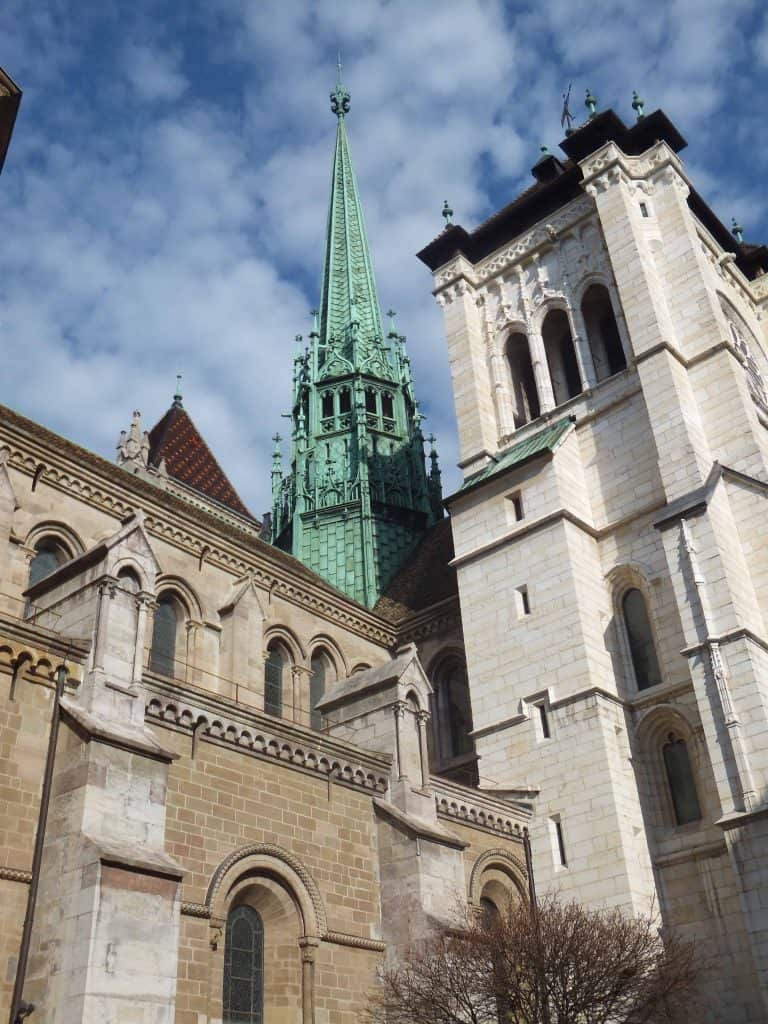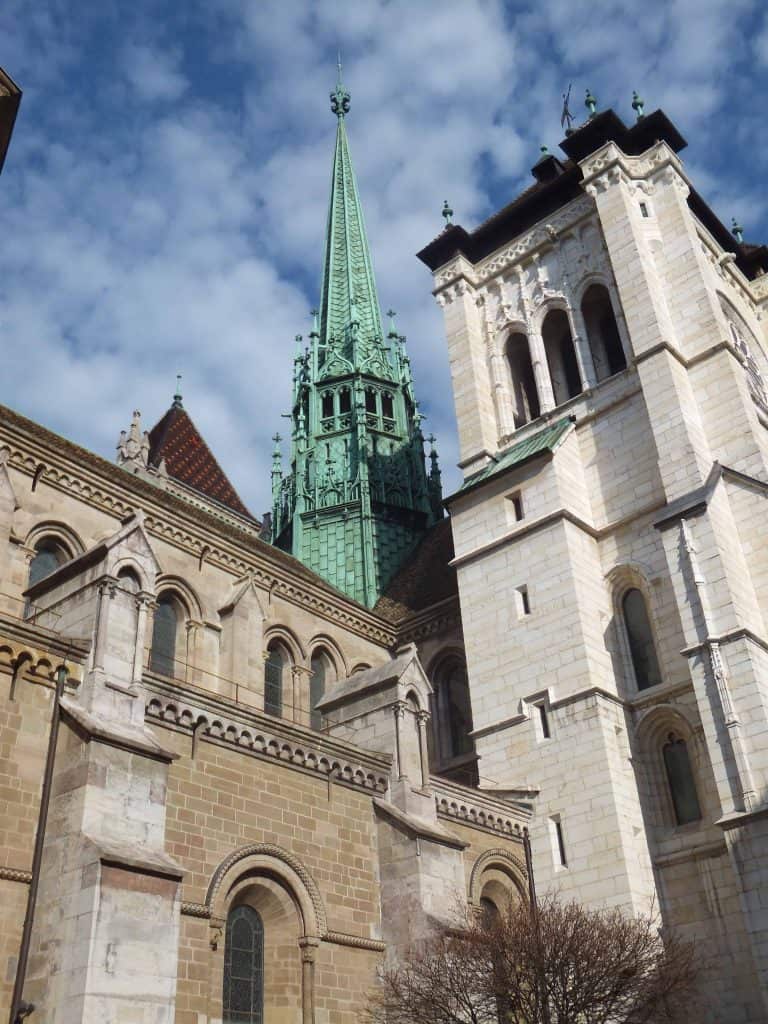 While in Geneva, don't miss a walk along the lake promenade to see the famous Jet d' Eau (a powerful water fountain that propels water at 200 km per hour 140 metres in the air) and perhaps go for a paddleboat ride.
For additional things to do in Geneva, Read One Day in Geneva, Switzerland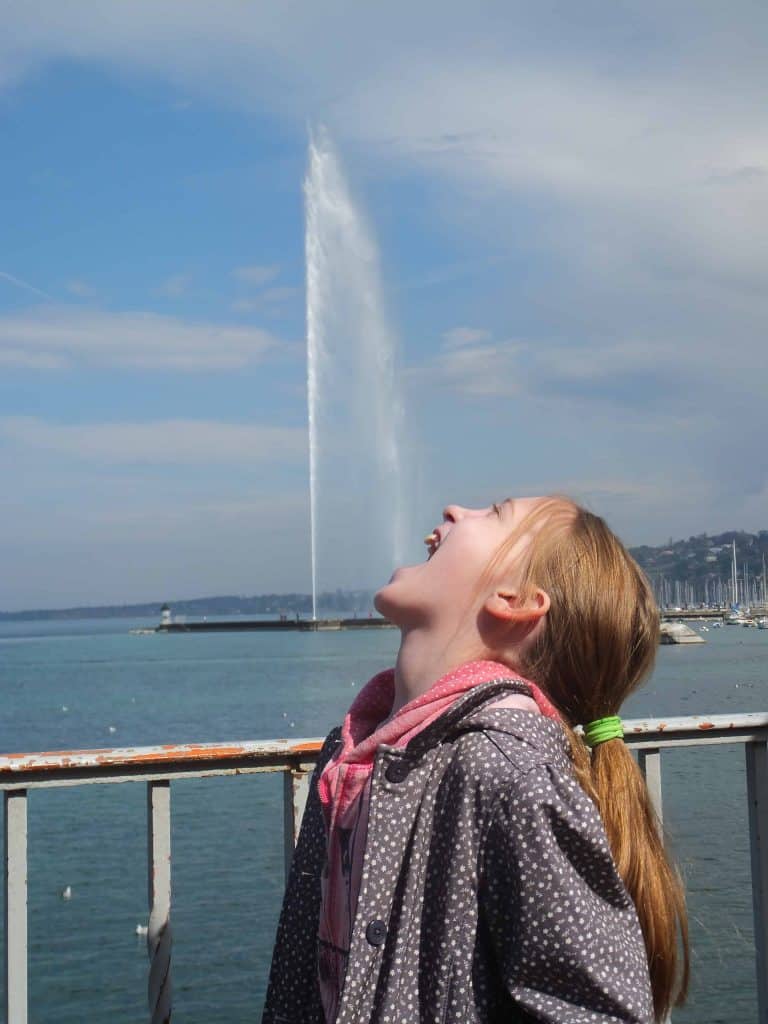 Bern
The Old Town of Bern is one of Switzerland's best displays of 12-century architecture. The town was destroyed by fire in 1405 and rebuilt in the 18th-century to retain its original character, earning it the title of a World Heritage site by UNESCO.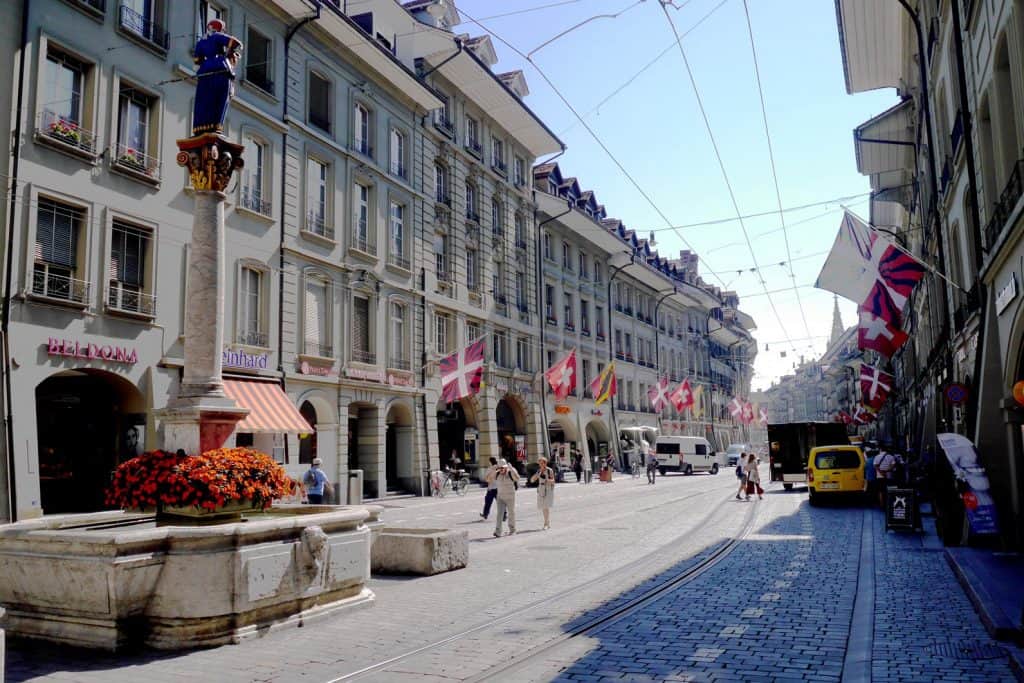 Zurich
Zurich's Old Town features a mile of world-famous shopping against a backdrop of medieval houses and town halls from the Renaissance period scattered along narrow lanes. Sights worth stopping by include the Double Towers of Grossmunster and Peterskirche (Peter's Church) boasting the largest clock face in Europe. While in Zurich, be sure to take the kids to the fabulous Franz Carl Weber Toy Store with both old wooden toys and modern inventions.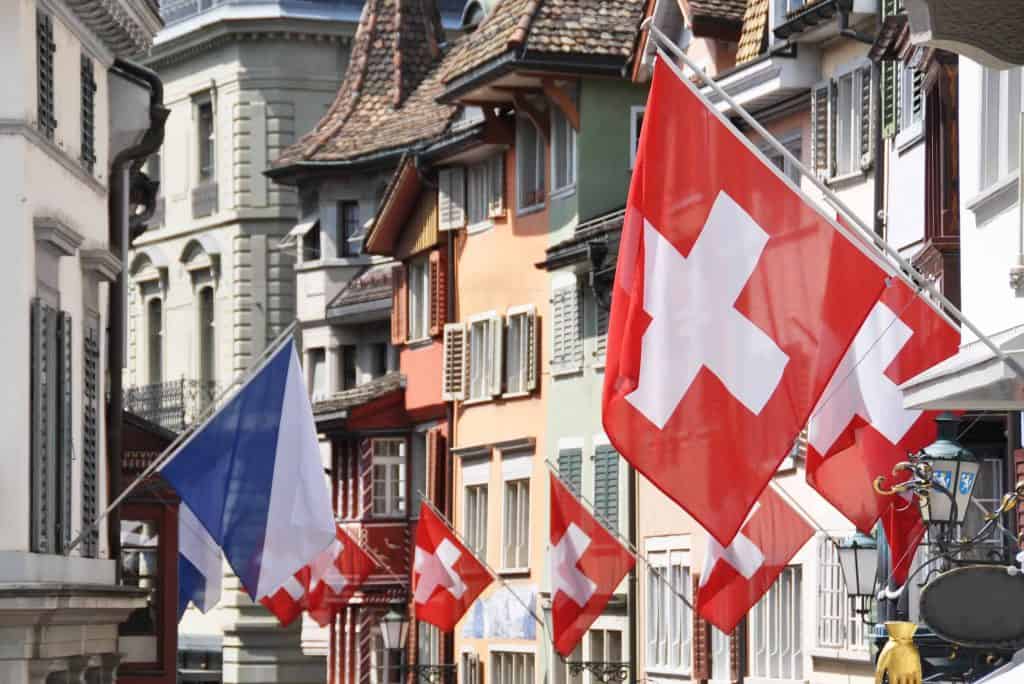 As an Amazon affiliate, I earn from qualifying purchases.
2. Year-Round Outdoor Adventures to Experience in Switzerland
One of the best reasons to visit Switzerland with kids is all of the fabulous outdoor adventures to be experienced!
Summer Skiing in the Swiss Alps
Imagine skiing snowy slopes on a day that's scorching hot back home! Zermatt, located in a remote part of the southern Swiss Alps is one of Europe's highest summer skiing regions. Novices can take advantage of a summer ski school, and kids will love the snowboard park and the Klein Matterhorn cable car soaring to 12,000 feet. By mid-summer, the snow is slushy in the afternoon so plan to go early in the morning. Lifts operate between 7 a.m. and 2 p.m.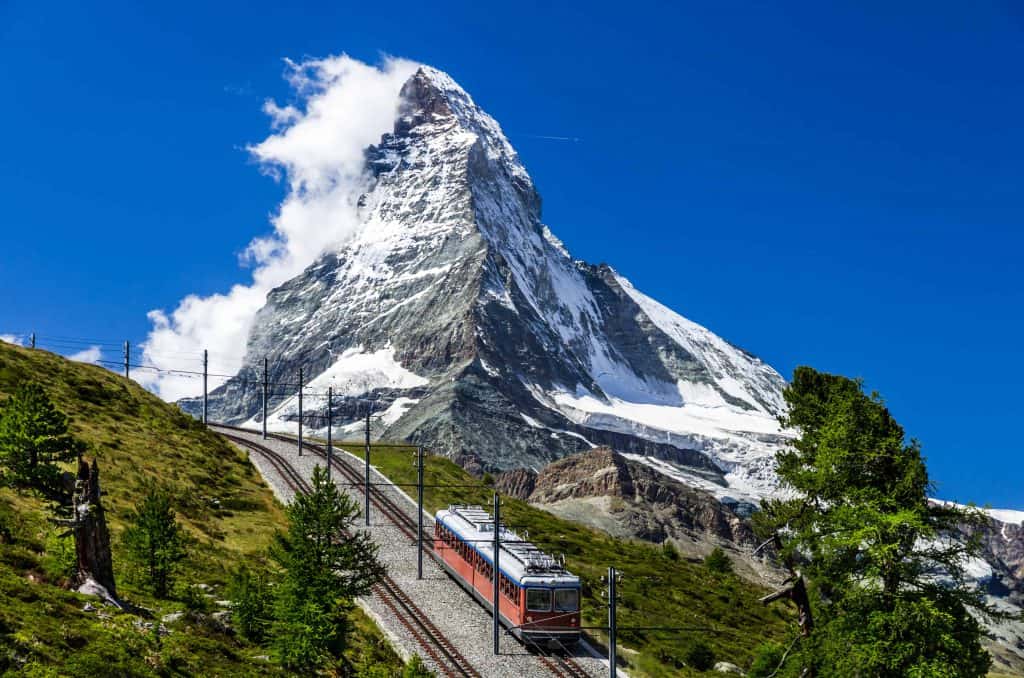 Hiking in Switzerland
When it comes to hiking in Switzerland, there is something for everyone. Most families aren't looking for extreme sports, but with short scenic hikes, themed hikes, and gondolas at most mountains, you won't miss out on the Swiss hiking experience.
One of the best for kids is the Toggenburg Tone Trail with musical instruments along a mostly stroller-friendly trail. Or try the recently-opened 4.9 km themed trail on the Zugerberg, the mountain that soars above Zug. It's themed around the imaginary character Zugiblubbi, Zugerberg's local friendly ghost. They'll make exciting discoveries along the way like the barefoot path and the mushroom forest.
Camping in Switzerland
Camping is one of the best ways to experience Switzerland's great outdoors. It's easy to find one tailored to your family. The sites are accompanied by excellent hiking, biking, and water activities steps away.
Camp in the Bernese Oberland situated among the peaks and valleys of the Bernese Alps and get immersed in beauty and adventure. Interlaken has a large selection of campsites such as Camping Aaregg on the shores of Lake Brienz with an onsite playground.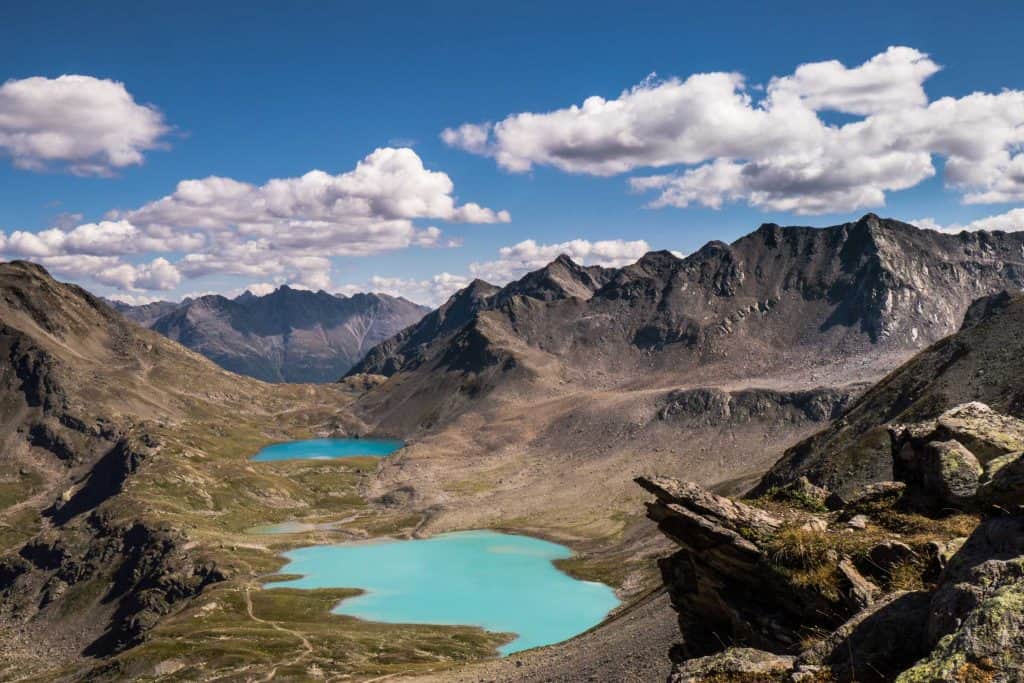 Outdoor Swimming
Find the best in water fun along Zurich lake. Called "Strandbads", the areas are roped off for swimming. Many have grassy parks and playgrounds, kiddie pools, restaurants, and bathrooms. A Zurich summer "badi" pass gives you admittance to Strandbads such as Mythenquai and Tiefenbrunnen from mid-May to early September. They're still open outside that time frame if the weather is good but all services might not be open.
Swiss Open-Air Museum
One of the most unique outdoor experiences is the Swiss Open-Air Museum in Ballenberg about 90 minutes south of Zurich. Wander the 163-acre property among historic buildings and farm animals including goats, geese, oxen, horses, donkeys, and more. The Enchanted Forest, a special exhibit for children uses elves to present a life-size picture book about the area. At the cheese storehouse, they'll learn games played by children in past centuries.
Toboggan Runs
Older children (and adults too) will find the Toboggan run at the Arosa Ski Resort in Churwallen a breathtaking ride in both summer and winter. The run features 31 curves and heights up to 480 metres that twist and turn down into the valley. At 3,060 metres, it's Switzerland's longest toboggan run.
Riding a Scooter Down a Mountain
For younger children that stand at least 125 cm (4 feet) tall, head to Grindlewald for exciting land roving on a Trottibike scooter. It's a combination scooter and bike with large tires and great brakes. Zip through countryside meadows dotted with farmhouses and stop along the way. Find them at Dorfstrasse 187, 3818 Grindelwald. They're open from early June until late October.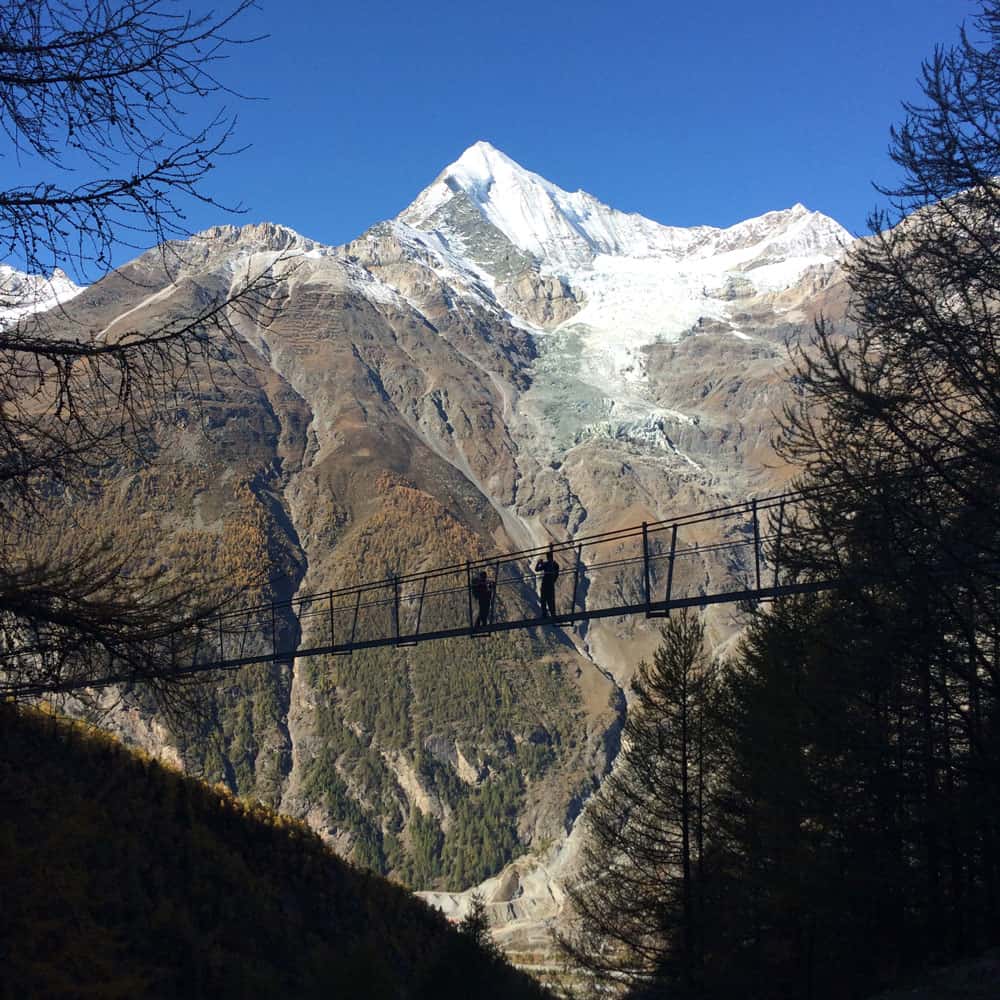 3. Diverse Kid-Specific Activities for Families in Switzerland
Switzerland is kid-friendly for more than hotels with adjoining rooms and storybook hiking trails. You'll find a long list of attractions designed specifically with kids in mind – the following are a few examples.
Toy Museum Thun
Stop in Thun en route to or from Bern to visit the toy museum. Located near Thun Castle, it features 12 rooms of dolls, teddy bears, games, and toys popular from 1850 to 1960. Kids are sure to get a kick out of discovering the toys their grandparents and great grandparents played with.
Heidi's Village
Make sure children are familiar with Heidi, the fictional character created by author and poet Johanna Spyri before visiting Heidi's Village in Maienfeld. The village is located in the beautiful Bündner region of Graubünden.
The little Swiss orphan lives high in the Alps with her grandfather and loves the countryside as much as her creator. Walk the Heidi Trail to the Heidi House and the Heidi Alp. Find mementos from the village store to keep the story alive. Visit Peter's goat pen near the shop where refreshments are served.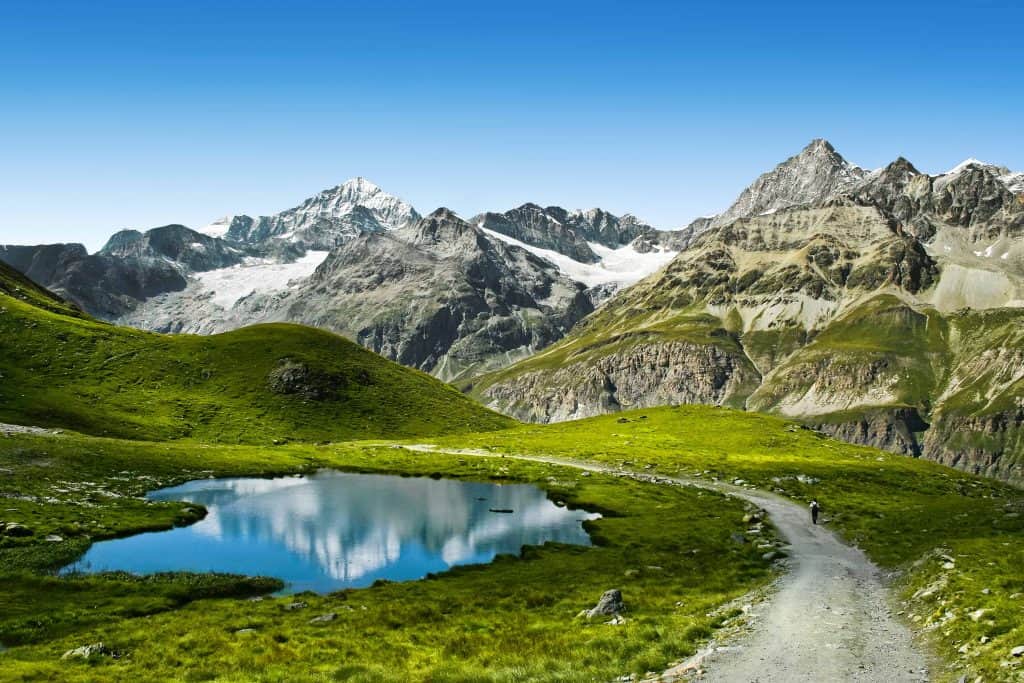 Kindermuseum – Paul Klee Museum
While in Bern, kids can express their creativity at the Kindermuseum, a part of the Paul Klee Museum. They learn about art and make their own creations in a workshop called the Open Studio. Now they'll better appreciate the works in the Swiss galleries when tagging along with you.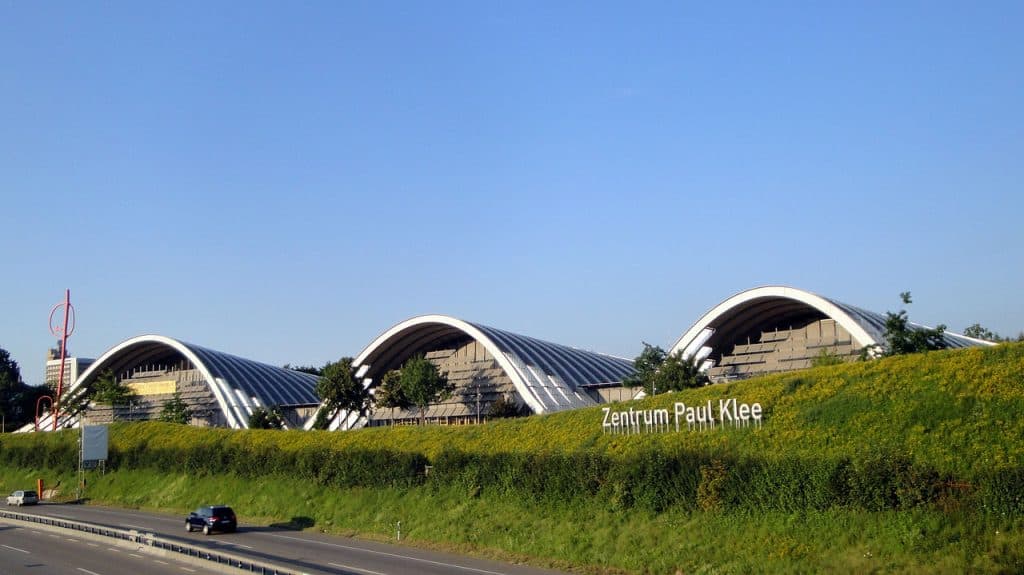 4. Delicious Kid-Friendly Culinary Adventures
Food is a big part of travel, and rightly so. Besides sustenance, eating in another country is one of the best ways to indulge in the culture. Like character and plot, cuisine and culture are inseparable. Switzerland, famous for its cheese and chocolate, makes kids happy with many food-related activities such as these.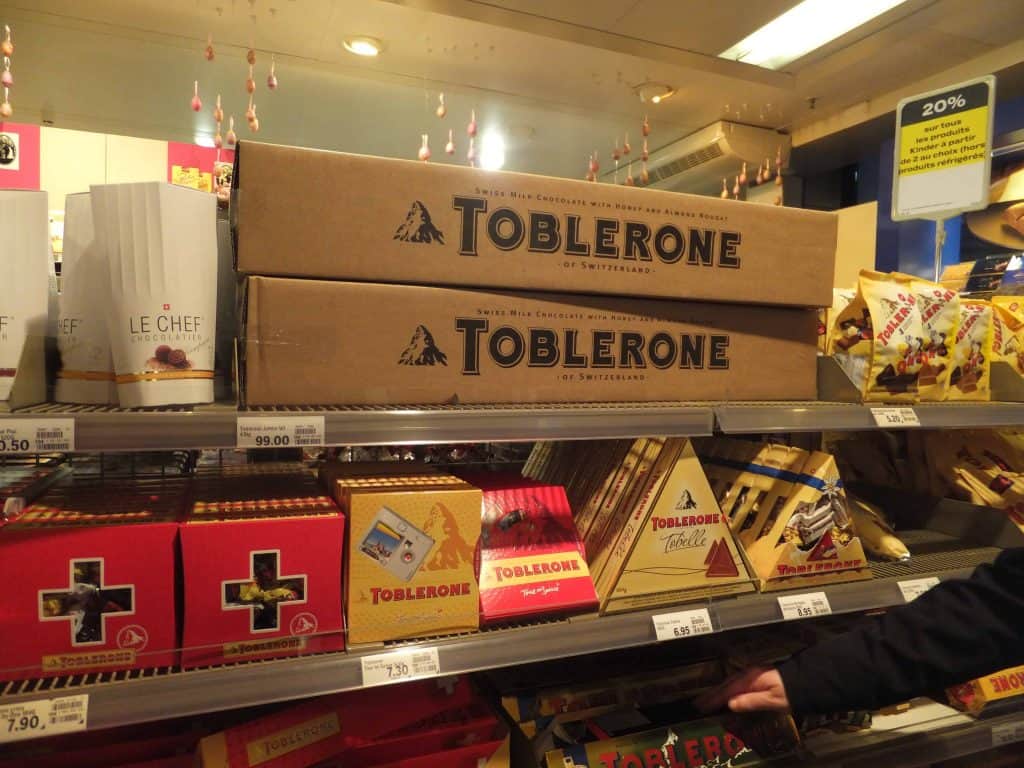 Chocolat Frey Visitor Center
First, everyone's favorite, chocolate. Outside Zurich in Buchs, stop by the Chocolat Frey visitor center and watch an overview of chocolate production with Röbi the robot. After learning about the different varieties of chocolate, they get to pick which they are and pretend to be a bonbon in a big chocolate box. Of course, samples are plentiful and there's a shop for some to take home.
Funky Chocolate Club
Interlaken has the Funky Chocolate Club and the distinction of the best milk chocolate in Switzerland. Take a chocolate-making class and taste all the samples you wish. They also have a shop to pick up some for later. Before you go, watch skydivers in the field behind the shop.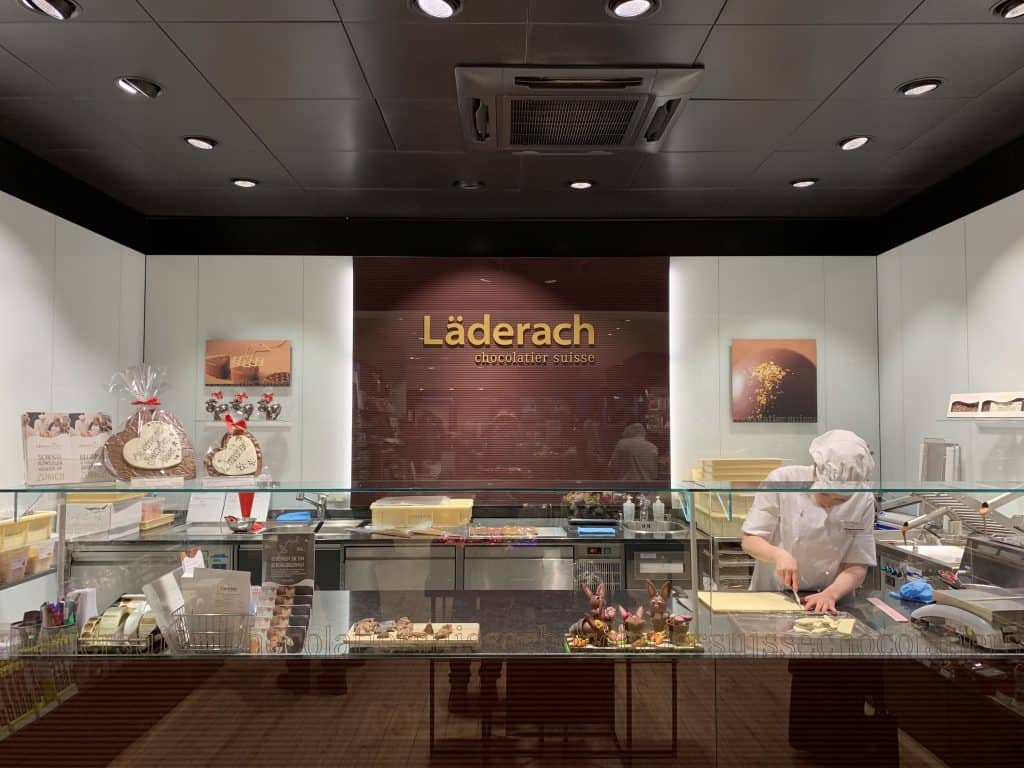 Learn About Cheese Making
In Gstaad, a little over an hour from Bern, you can visit a traditional Swiss dairy farm. The pampered cows roam free and sleep in a shelter attached to the farmer's cottage. The area is a favorite retreat for celebrities like Julie Andrews. The kids will gain an understanding of how cheese is made and will love sampling the fresh-made Swiss cheese.
Traditional Swiss Dishes
Switzerland has lots of kid-friendly restaurants with traditional dishes that appeal to children. Be sure to let them try the cheese and chocolate fondue with their newfound knowledge of cheese and chocolate. There's a meat fondue but beware of splashing hot oil.
Other treats to try include Basel cookies made with flour and almonds and spiced with ginger and cinnamon. For breakfast, try fried apples and bread. The apples are fried in butter and cinnamon. Bread is tossed in to soak up the juices. It's often served with clotted cream.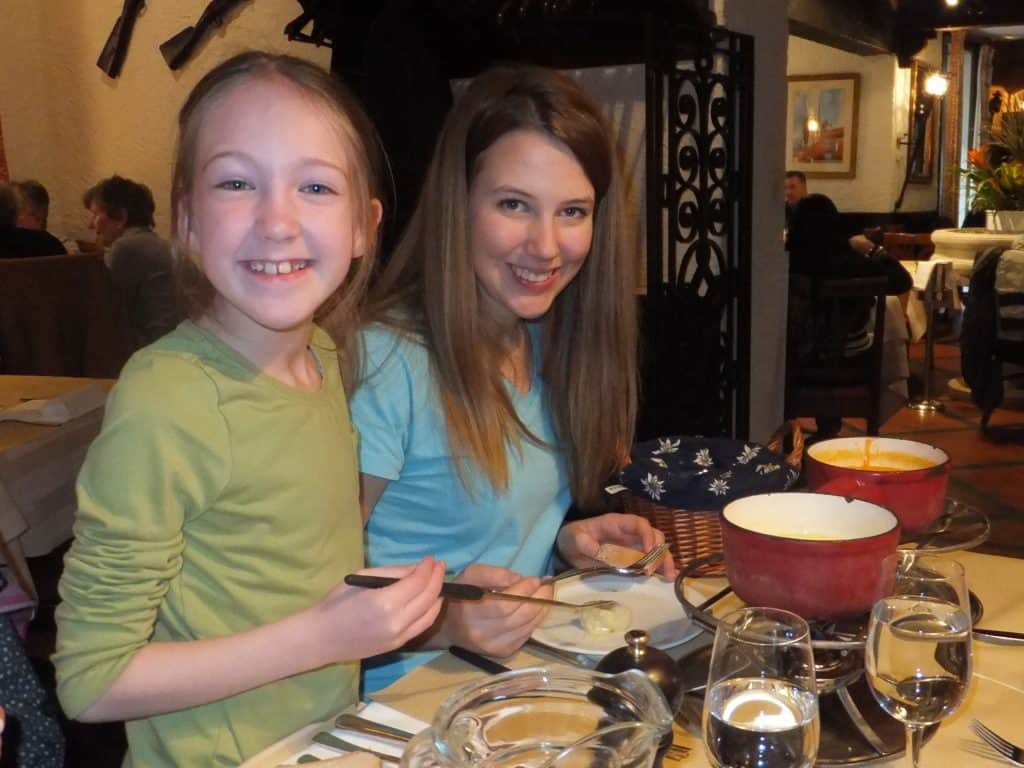 As you've learned, Switzerland has many travel opportunities for families with kids. And this list only touches the surface. Find other fun things to do in Switzerland with kids and come back again and again.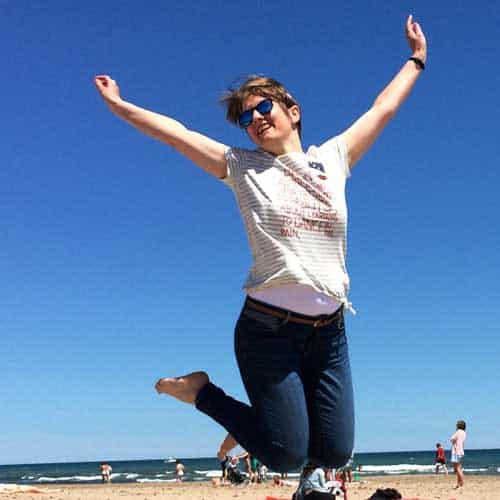 Anna was born to travel the world having studied languages all her life. Although she has traveled the world, she now calls Switzerland home and spends her time writing about her experiences on Expert World Travel. You can follow her on Facebook, Twitter and Pinterest.
Related Links
Pin This For Later