Highlights from a day spent in Oslo, Norway while on a family cruise of Northern Europe.
Oslo, Norway was one of the cities that our family visited while on a Baltic cruise for our summer vacation when our daughters were 12 and 9 years old. 
Oslo is the largest city in Norway and has been the capital of the country since 1814. Oslo is well-known as a great destination for outdoor activities due to its location which is at the head of the Oslo fjord and and surrounded by forested hills. It is also notorious for being one of the most expensive cities in the world.
Our ship was only docked in Oslo from 7am – 2pm the shortest day of any of our ports of call and we had a lot of ground that we wanted to cover.
Read 12 Spectacular Cruises To Add To Your Bucket List
This post may contain affiliate links. If you click an affiliate link and make a purchase then we receive a small commission at no additional cost to you.
We are a participant in the Amazon Services LLC Associates Program, an affiliate advertising program designed to provide a means for us to earn fees by linking to Amazon.com and affiliated sites. As an Amazon affiliate I earn from qualifying purchases.
Arriving in Oslo
With only a few short hours in Oslo we opted to jump on the Hop On Hop Off bus (HOHO) in order to get around as efficiently as possible. While planning for this port we had decided that our priorities were to see Vigeland Sculpture Park and the Nobel Peace Centre. We were also hoping to have time to walk around the city a bit and see Akershus Fortress. We had really wanted to visit the Viking Ship Museum as well but there did not seem to be any possible way to fit it in.
Vigeland Sculpture Park
Our first stop on the HOHO bus was Vigeland Sculpture Park which is located in Frogner Park, a popular recreational area for the people of Oslo. The Sculpture Park is also one of Oslo's most popular tourist attractions with over 1 million visitors a year. 
The park is the life's work of the sculptor Gustav Vigeland and contains more than 200 sculptures made from bronze and granite. Vigeland was also responsible for the design and architectural layout of the park. The sculptures depict human relationships and the central theme is the cycle of life.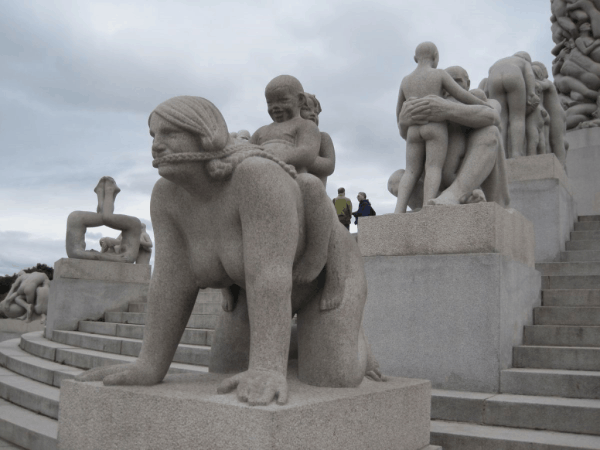 The work is breathtaking and, if we had not been on a tight schedule, we easily could have spent the better part of the day in this park admiring the brilliant work of Vigeland. As it was, we had only about 45 minutes before we had to get back on the HOHO to head downtown if we were going to have any hope of seeing anything else. 
The statue known as Angry Boy is a crowd favourite and was popular with our family as well.  We also liked the one we dubbed Bad Hair Day.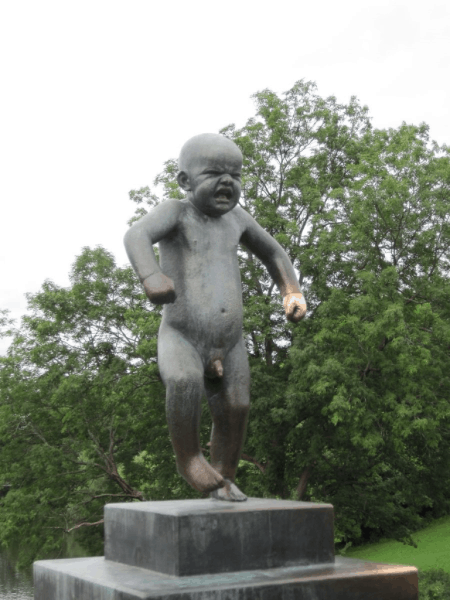 Vigeland Park, "Sinnataggen" also known as "Angry Boy"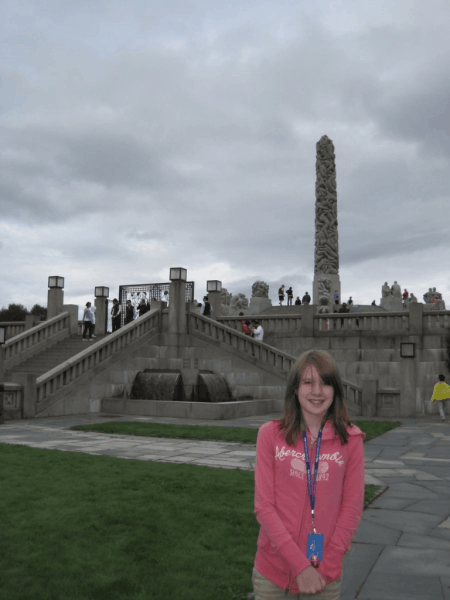 Vigeland Park, The Monolith in background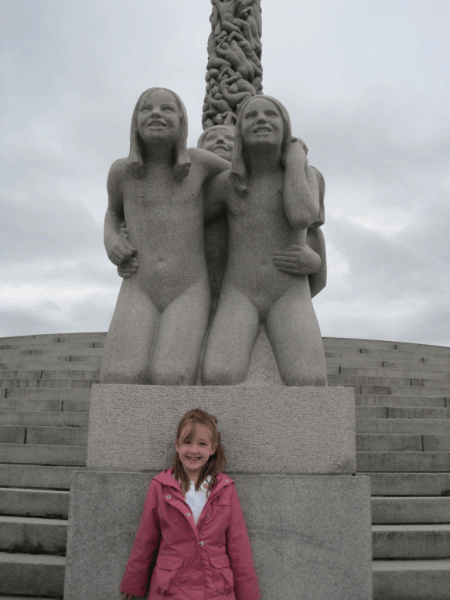 Vigeland Park, the Monolith Plateau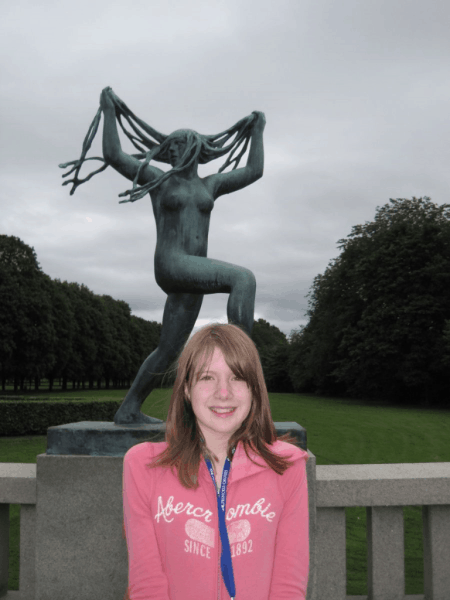 Vigeland Park, "Dancing Young Woman" or "Bad Hair Day"
Radhuset and the Nobel Peace Center
 Our next stop was downtown outside Radhuset (City Hall) and the Nobel Peace Center. The Peace Center was officially opened by King Harald in June 2005 as part of the celebrations to mark Norway's centenary as an independent country.
The objective of the organisation is to spur reflection and debate on issues relating to war, peace and conflict resolution. The Nobel Peace Prize is awarded here in Norway each year while the other four Nobel prizes are awarded in Sweden. According to Alfred Nobel's will, the Peace Prize is to be awarded to the person who "shall have done the most or the best work for fraternity between nations, for the abolition or reduction of standing armies and for the holding and promotion of peace congresses".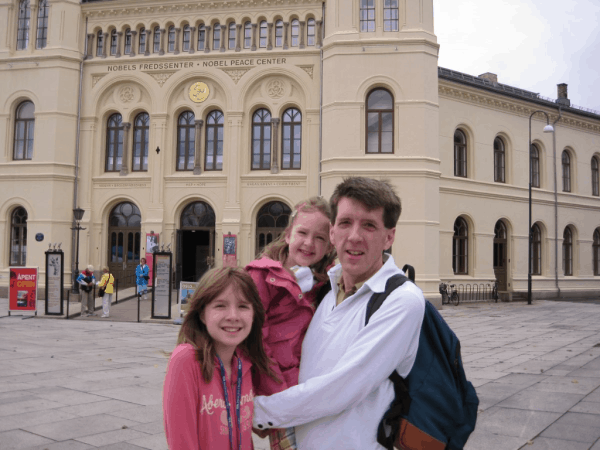 The Electronic Wall Papers is a fascinating exhibit which allows visitors to navigate through information, photos, texts and videos about each of the Nobel Peace laureates on a digital touch screen. The Nobel Field is also a very interesting display where each of the past laureates has a screen set in a garden of fibre optic lights.
My 6 year-old daughter and I enjoyed spending some time in the Children's Activity centre which was a very low-key area where we looked at books and did some individual activities. I recently read on-line that this activity room had been completely revamped and was re-opened in October 2010. The children's room is now called "Nansen and I" and it focuses on teaching children about refugees in an interactive way. We may have to plan a return visit to see how it has changed as the Peace Center was another stop where we could have spent more time, if only we had had it to spare.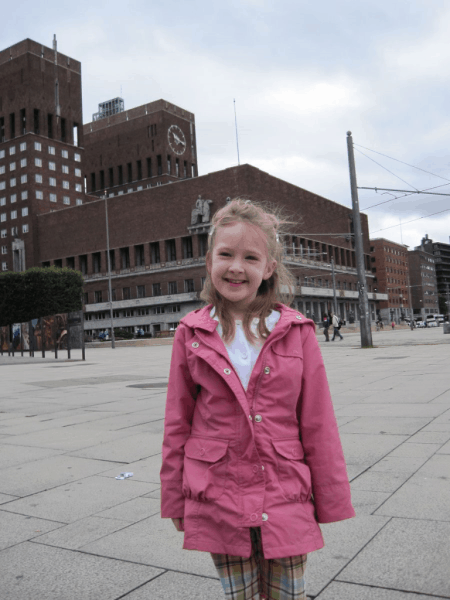 Emma outside Radhuset (City Hall) in Oslo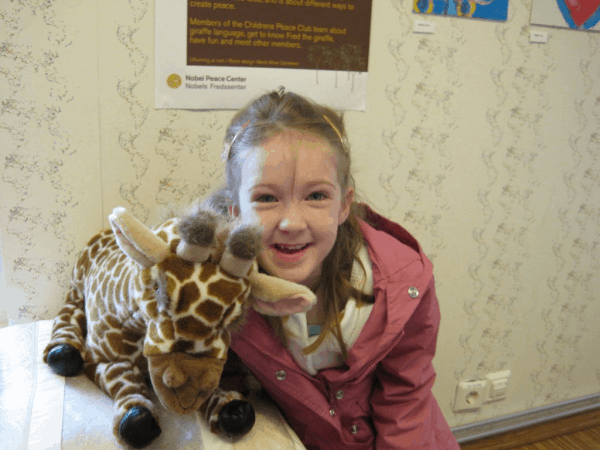 Emma and Fred the Giraffe at the Nobel Peace Center
Walking Around Oslo
Leaving the Nobel Peace Centre we decided to have a bit of a walk around town before heading back towards our ship which was docked by Akershus Fortress. We walked by the Royal Palace, the Norwegian Parliament (Stortinget) and the Grand Hotel.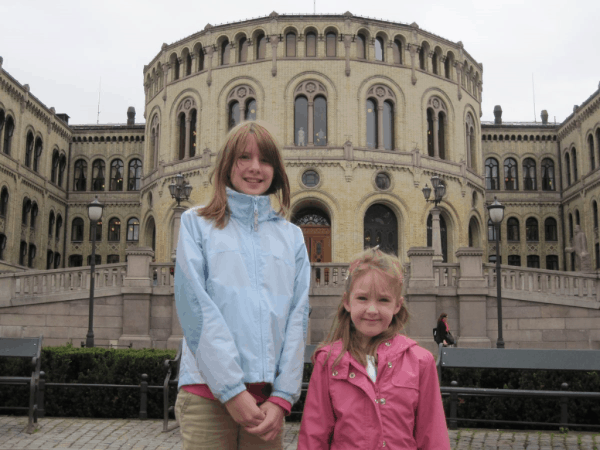 Walking around Oslo (Stortinget in background)
Akershus Fortress
 And finally, we had a brisk walk through Akershus Fortress on our way back to the cruise ship on the other side. We were running short of time so couldn't stop to admire the Fortress (also known as Akershus Castle) which was built in the 1300s to protect Oslo and withstood many sieges through the ages. The fortress is still a military area but it is open to the public daily and guided tours are available in the summer. 
Oslo was the one port of call on our cruise where I got back on the ship feeling shortchanged.  I really felt that we hadn't even begun to see Oslo and I wanted to see so much more.  I feel quite sure that we will return in the future and spend more time in Oslo, perhaps in conjunction with a cruise of the Norwegian fjords. 
Related Articles
12 Spectacular Cruises To Add To Your Bucket List