Highlights of a day spent in Tallinn, Estonia while on a family cruise in Northern Europe.
Tallinn, the capital and largest city in Estonia, was one of the ports of call on a family Baltic cruise that we took when our daughters were 12 and 6. Tallinn is a city of more than 400,000 people which has come into its own since the fall of communism. 
Tallinn's historic old town with it's medieval architecture and winding cobble-stoned streets has been designated a UNESCO World Heritage Site for being the best-preserved old town in Northern Europe. The city has also been named a European Capital of Culture for 2011.
Read 12 Spectacular Cruises To Add To Your Bucket List
This post may contain affiliate links. If you click an affiliate link and make a purchase then we receive a small commission at no additional cost to you.
We are a participant in the Amazon Services LLC Associates Program, an affiliate advertising program designed to provide a means for us to earn fees by linking to Amazon.com and affiliated sites. As an Amazon affiliate I earn from qualifying purchases.
Arriving in Tallinn
Our ship docked in the Old City Harbour Port and from there we set off on foot to Old Town for sightseeing (there are shuttles and taxis available for those who prefer not to walk). The medieval Old Town of Tallinn has one of Europe's best-preserved fortifications with nearly 2km of the original stone wall still standing. 
The area of town within the stone walls is relatively compact and can be seen in the few hours that most cruise ships are docked. As we had spent the previous two days on an intensive tour of St. Petersburg we planned a very low-key day for Tallinn. So with no fixed itinerary in mind we spent a few hours just experiencing Tallinn.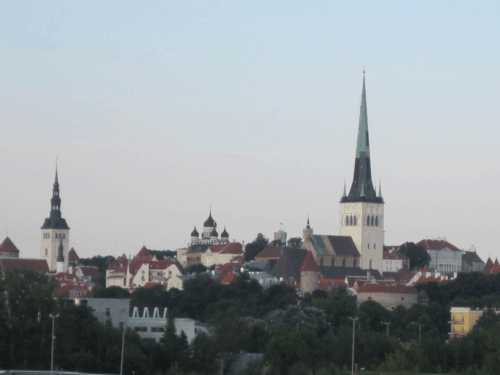 View of Tallinn from our cruise ship – St. Olav's Church dominates the skyline
Old Town Tallinn
We arrived at the walls of the old city and headed uphill to explore. Our 6 year-old loved the fairy-tale towers with the red rooftops. She decided upon first spying one that it had to be Rapunzel's tower.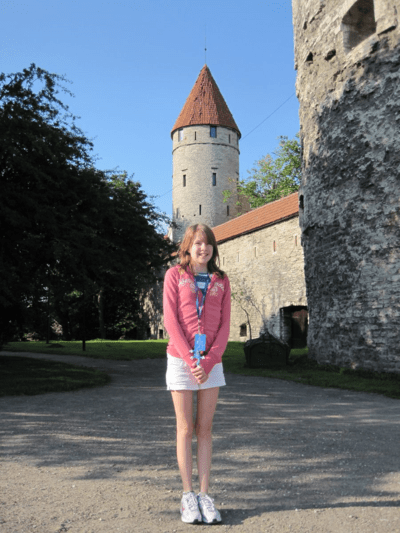 Katie entering Old Town
Alexander Nevsky Cathedral and More
The charm of Tallinn is in the wandering of the cobble-stoned streets, particularly on a beautiful summer's day. We stopped to take photos, absorbed the atmosphere in the main square, poked around in little shops and paused for an Estonian treat at a small cafe. 
We admired the opulent Alexander Nevsky Cathedral which was built in the 19th century in the style of Russian Orthodox churches. It was intended, at the time, to be a symbol of the Russian empire's dominance over Estonia. Today it is simply seen as an architectural masterpiece.  Continuing with the fairy tale theme, Emma decided that this looked like a castle where Aladdin and Princess Jasmine would live.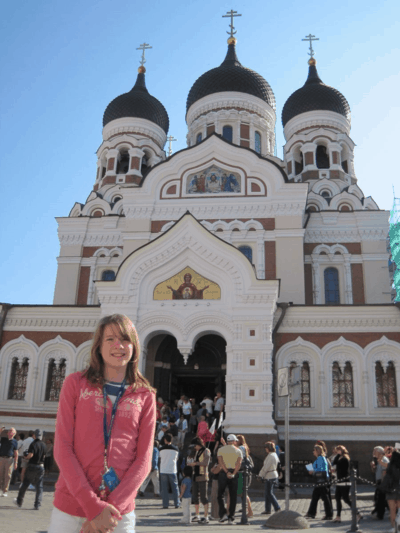 Katie at Alexander Nevsky Cathedral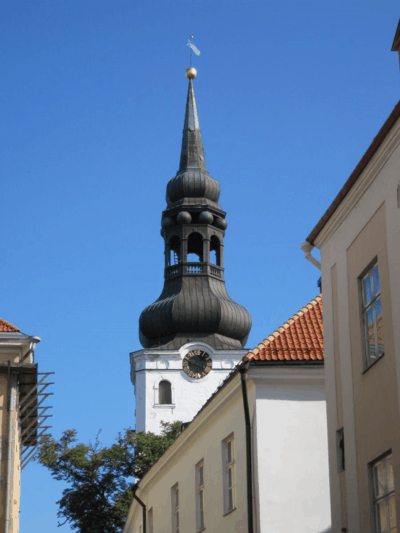 St. Mary's Cathedral in background
Town Hall Square
The beautiful 14th century Town Hall Square has been the hub of Old Town for eight centuries. Today it is lined by cafes and boutiques and is perfect for people watching, photo-ops and whiling away an afternoon. 
The square is dominated by the impressive Gothic Town Hall which was built here in the early 1400s. Emma particularly liked the dragon heads poking out near the top of the building.
Toompea Castle
Toompea Castle is perched on a cliff and towers over Tallinn. The castle has been the base of power in Estonia since the first stone fortress was built on this spot in the 13th century. The pink baroque palace was added on to the front of the castle and today this complex houses the Estonian Parliament. Everyday at sunrise the national anthem is played and the Estonian flag is raised above the tower.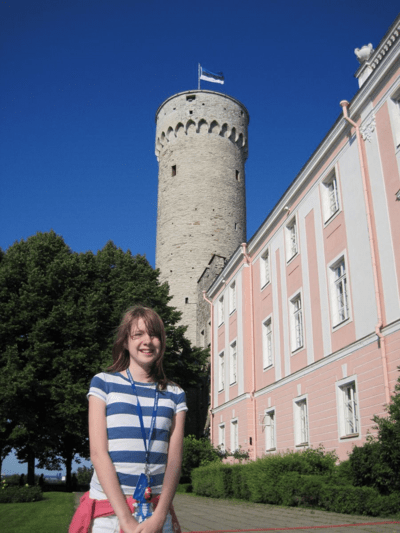 Katie with Toompea Castle in the background  
Cafe Break in Tallinn
It's fun to wander the streets of Tallinn and explore the little shops and cafes along the way.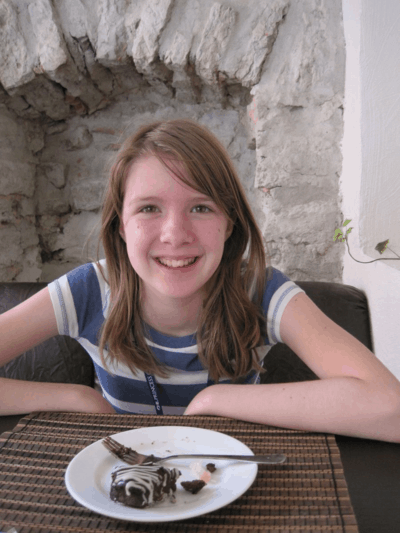 Having an delicious Estonian treat at a cafe in Tallinn
In retrospect, we did not really accomplish a lot in Tallinn and we certainly missed a great many of the city's attractions. We did, however, have a wonderful, relaxed day and sometimes in the middle of a hectic sightseeing vacation you need to have a day like that, particularly when traveling with children. My philosophy is that it is better for our family to enjoy a city even if it means not ticking off everything on the must-see list than to rush around treating the vacation like a scavenger hunt. If we have good memories, we may return one day and see what we missed the first visit, whereas too much rushing will just cast a negative pall on the whole experience.    
Related Articles
12 Spectacular Cruises To Add To Your Bucket List