Spending a summer day in Stratford, Ontario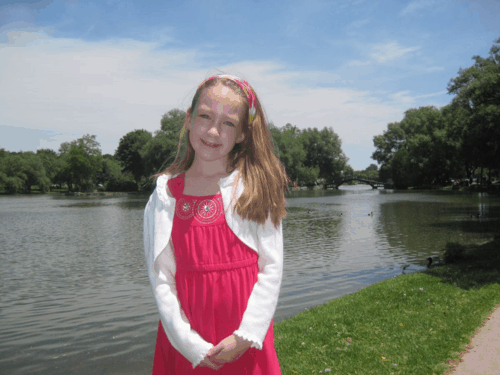 The charming town of Stratford, Ontario  is located on the banks of the Avon River about a 2 hour drive west of Toronto (but only a 1.5 hour drive west of our home in Oakville).  My husband and I have been visiting the Stratford Shakespeare Festival at least once each summer since 1993.  We started visiting with kids in 2001 and now a trip to Stratford is a summer tradition that everyone in the family looks forward to.  Some of our trips to Stratford have been overnight stays which afforded us more time to take in everything that the town and surrounding area has to offer while most have simply been day trips to attend a matinee performance.  This year we were able to make our first trip to Stratford as a Father's Day celebration with our family of four and my husband's parents to attend a critically acclaimed production of Camelot. 
The Stratford Shakespeare Festival is an internationally recognized annual celebration of theatre that was founded in 1953 and now runs from April to November each year with plays showing at four permanent venues (The Festival Theatre, The Avon Theatre, The Tom Patterson Theatre and The Studio Theatre).  The primary mandate of the festival is to present productions of William Shakespeare's plays but it also showcases a wide variety of works.  The Festival Theatre is the most prominent of the venues and is central to the festival itself.  This theatre was designed to look like a tent as a tribute to those early performances which were held in a canvas tent on the banks of the Avon River prior to the construction of a permanent venue.  The Festival Theatre is known internationally for its use of the open "thrust stage" which is designed to resemble both a classic Greek amphitheatre and Shakespeare's Globe Theatre and is surrounded by the audience on three sides.  When attending a production at The Stratford Shakespeare Festival one is, without question, watching a world-class theatrical performance.  This year's playbill includes performances of Camelot, Jesus Christ Superstar, Grapes of Wrath, The Merry Wives of Windsor, and Twelfth Night. 
Over the years, as the Festival has expanded, it has become a more family-friendly experience.  We took Katie for the first time when she was 4 years old to a performance of The Sound of Music and have continued to attend with the kids each summer, generally to a musical, although Katie has attended a production of Romeo and Juliet.  On a number of occasions we have participated in the Festival's Theatre Explorer Programme of family-friendly song/dance workshops.  As part of the workshops members of the company will typically teach a song/dance number from the show to the participants and answer questions about the production.  This year there are two family-friendly options relating to Camelot – (1) Camelot: Song and Dance; and (2) Camelot: Knights and Wizards and Damsels, Oh My! – a costume workshop for 6-10 year olds.  Unfortunately, we weren't able to attend on the dates that the workshops are being offered this year so Emma will have to wait another year before she can participate in a workshop.
One of our favourite things to do in Stratford is stroll along the Avon and see the swans and ducks that are swimming close to the banks hoping to be fed.  We were a little rushed for time this visit so we weren't able to walk far enough down the river pathway to purchase feed for the birds (conveniently sold in small brown paper bags at the snack bar next to Avon Boat Rentals on York Street), however, when we happened upon a mother swan and her four babies a very nice couple gave Emma the rest of their bird feed so that she was able to feed the swans and ducks.  It was the first time in all our years going to Stratford that we have seen baby swans and they were adorable – no way that anyone could mistake them for ugly ducklings!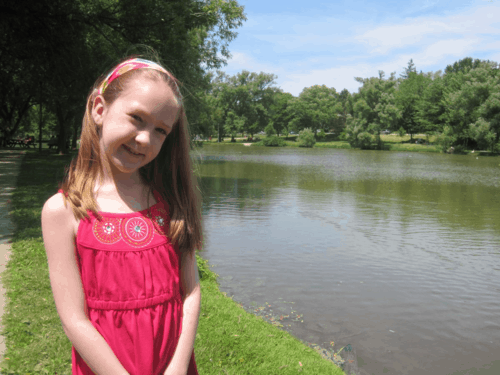 Emma by the Avon River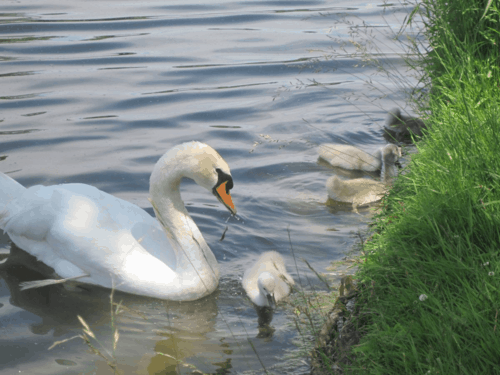 A mother swan and her babies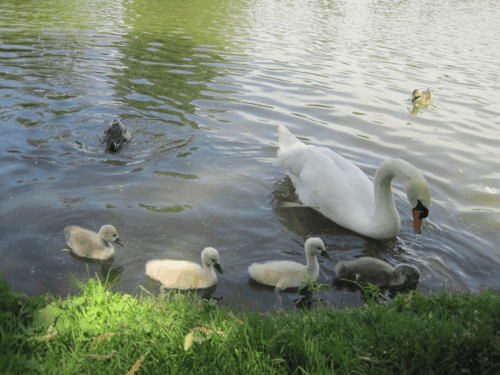 Mother swan and babies with a couple of ducklings nearby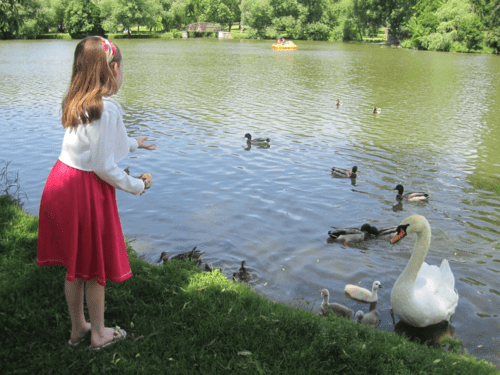 Emma feeding the swans and ducks along the banks of the Avon River 
After feeding the swans and ducks we walked back to the Festival Theatre to attend the matinee performance of Lerner and Loewe's Camelot starring well-known Canadian stage actors Geraint Wyn Davies and Brent Carver.  The musical tells the story of King Arthur creating a utopian land of chivalry and civil rule in Camelot only to be betrayed by his wife, Guenevere and Sir Lancelot, one of the knights of the Round Table.  The show was extremely well-done with outstanding musical performances and gorgeous costumes and sets.  Emma's review, however, was that she loved the music and the costumes but didn't understand the story.  The narrative is a bit complicated so it may be more suitable for older children.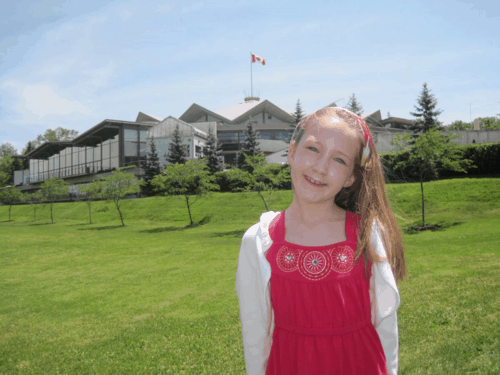 Emma outside the Festival Theatre
Spending time on the river is a popular activity on a sunny day in Stratford and on lengthier visits we have rented paddle boats for a leisurely cruise on the Avon.  In addition to the paddle boats, there are also kayaks and canoes available to rent at Avon Boat Rentals on York Street near the Tourist Information Booth.  If you prefer to sit back and enjoy the scenery without the exertion then you can book a guided tour on the Juliet III and simply float down the river listening to the commentary. 
When time permits, we often browse "Art in the Park" which is an outdoor gallery set up in the park adjacent to the Festival Theatre on Wednesdays, Saturdays, and Sundays from May 30th to September 30th.  There are also a number of unique shops along the Main Street in downtown Stratford that we like to visit.  Particular favourites are Chocolate Barr's for the selection of handmade chocolates and Fundamentals Books and Toys for obvious reasons. 
Stratford is an ideal destination for families on weekend getaways or day trips.  The combination of culture, outdoor activities and shopping means there is something to keep everyone busy and entertained for the duration of the stay.  Although this was the briefest of visits we did have a great afternoon.  Emma was a bit disappointed at first that Justin Bieber was nowhere to be found (Stratford is his hometown) but she forgot about him rather quickly as it would seem that cygnets trump pretty-boy popstars.  From the photos one would think that Katie wasn't with us but she just decided that she didn't want her picture taken – teenager's prerogative.  And in the interest of full disclosure – my kids fought all the way home in the car but I think I'll edit that out of my memory of the day and simply anticipate the possibility of a return visit before the Festival's 2011 season closes. 
Related Link
Canada Day at the Stratford Shakespeare Festival
Have you liked our Facebook page yet? I post articles from the blog there as well as photo albums from our travels and other travel news. Or, if you prefer, you can subscribe to the free RSS feed or sign up for an email subscription to keep up-to-date on our travel adventures.