Getting lost on the streets of Mykonos was a highlight of the day in port for my 8 year old daughter and I while on a Mediterranean cruise.
Is there a better place to be lost than among the twisting alleyways of Mykonos, wandering among whitewashed buildings with no idea of what lies around the next corner? I hadn't intended to discover the answer to this question but it turned out that was what we were meant to do on this idyllic Greek island.
The day started uneventfully as our family disembarked from our ship and headed for Mykonos town.  We splashed around on the small beach as we walked into town and casually strolled the waterfront pausing to poke around in some of the little shops selling knickknacks, souvenirs and jewellery.  Katie wasn't feeling well after a mishap the day before and the scorching heat wasn't helping the situation so my husband left to escort her back to the ship.  We agreed on a meeting time and place and Emma and I set off in search of the island's famous windmills.  They were marked quite clearly on our map but anyone familiar with my sense of direction and map-reading skills knows that this story isn't going to end well.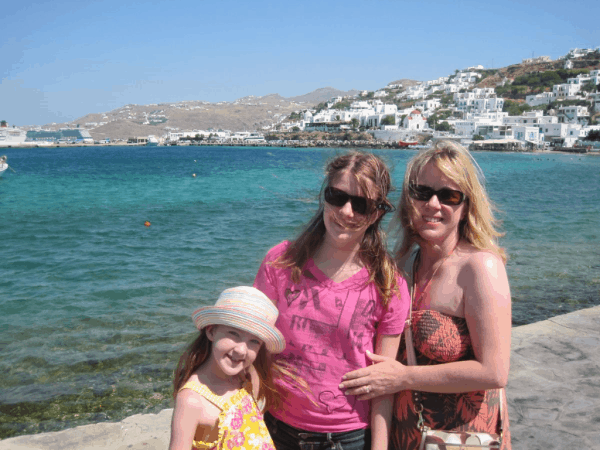 Katie, Emma and me in Mykonos (I do occasionally make my way into a photo)
We were fine at first as we browsed the many shops along with the throng of cruise ship passengers who were in port for the day.  A few turns on the maze-like streets, however, and I soon had no idea where we were or, more importantly, how to get back to where we had started.  The labyrinth of narrow streets in Mykonos were designed to confuse pirates so, in retrospect, I really didn't stand much of a chance.  Walking deeper into the neighbourhoods one sees only whitewashed cube houses with blue doors and shutters rising on either side of the walkways.  There is no way to get perspective or orient oneself as there is no view beyond the walls.  Before long we were on obviously residential streets with laundry hanging from the lines and nary a soul to be seen.  Fortunately, Emma wasn't the least bit concerned that we were lost and I reassured myself that we had hours to find our way out before the ship departed without us.
As we continued meandering along the un-named streets, I was determined to simply enjoy our walk and not let on to Emma that I had any concern.  I admit though that I felt a deep sense of relief when we finally rounded a corner and found a few fellow tourists.  It felt like hours had passed since we had first gone astray but in reality it was much less and we met my husband at the appointed time without any difficulty.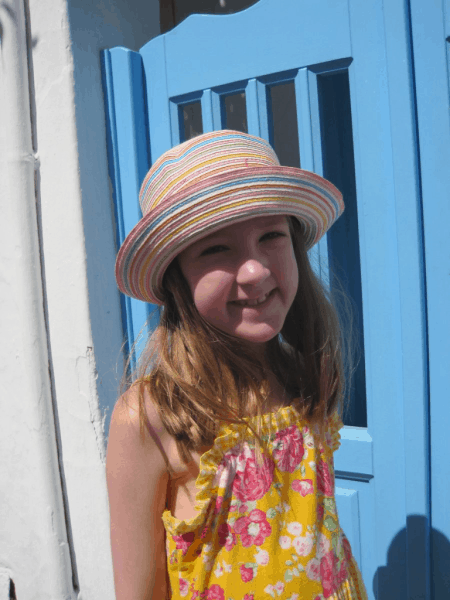 Emma wandering the streets of Mykonos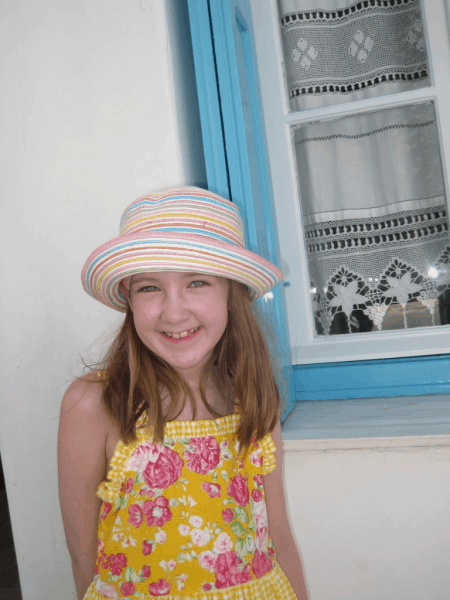 Lost in Mykonos (but couldn't care less)
I wasn't finished yet though.  Everything that I had read about Mykonos beforehand had mentioned those windmills and I was determined to see them before we left the island.  So we plunged back into the heart of Mykonos Town and it wasn't long before we were hopelessly lost once again.  We were soon passing buildings that Emma and I recognized from our earlier digression.  I had learned an important lesson though and this time we asked for directions to the windmills and were told something along the lines of "a left, a right, another left and two rights".  Sounds simple enough but isn't really when you aren't sure what actually constitutes a street and what's just a pathway.  Remarkably we turned a corner, climbed a pathway and voilά – windmills!!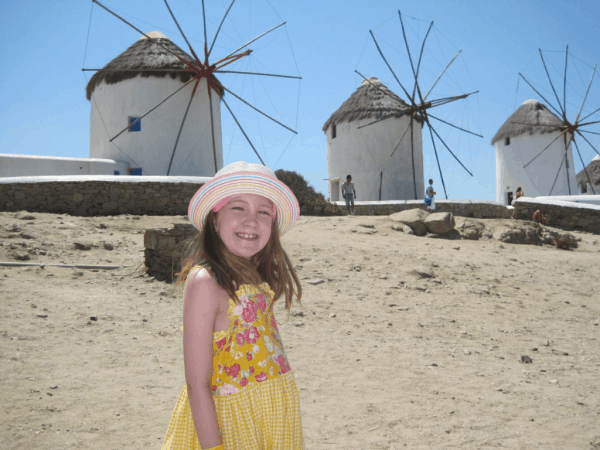 Emma and the elusive windmills of Mykonos
My husband wondered if it had been worth all the walking in circles and my answer was a resounding yes.  Sure we got a bit lost but there's always something new to be discovered when you have no idea where you are going.  We even happened upon Mykonos' famous pelican named Petros who was not too pleased with the crowd of tourist paparazzi snapping his picture.  We couldn't possibly have found him if we had gone looking but somehow our hapless wandering led us straight to him.  It couldn't have been a more serendipitous ending to our tale of being lost in Mykonos.
The story doesn't end there though.  A few weeks after we returned from our holiday Emma and I were browsing the travel section of our local bookstore when she spied the new edition of Fodor's Greek Islands and exclaimed, "Look, Mom, it's where we were lost in Mykonos".  And sure enough the photographer had captured the exact feeling of being lost on the streets of Mykonos. 
Related Links
5 Reasons Crete is Unique and Family-Friendly
Touring Athens with Private Greece Tours
Cruising on the Celebrity Equinox with Kids 
Have you liked our Facebook page yet? I post articles from the blog there as well as photo albums from our travels and other travel news. You may also subscribe to the free RSS feed or sign up for an email subscription to keep up-to-date on our travel adventures.