Plans for our upcoming family trip to Paris.
Our spring break is about to start and we are heading off to Paris for 9 nights of exploring the City of Light.  We are staying at Résidence & Spa Le Prince Régent in the 6th arrondissement which, hopefully, will be convenient for seeing much of Paris on foot.  This is the first time to Paris for Katie and Emma and my husband and I haven't been there since our honeymoon almost 17 years ago.  When we first started planning this trip, my husband expressed some concern that there wasn't enough to do for a 9 day stay, however, I assured him that there was no shortage of things to do in Paris.  I now have quite a full itinerary sketched out and I'm hopeful that we can fit in everything we want to see and do.
Museums
When my husband and I visited Paris in April of 1995, the museum workers were all on strike until the last day of our stay and we hustled to see both the Louvre and the Musée d'Orsay on the same day.  We're going to try and space the museum-going out a little more on this trip!  Once again though the same two museums are at the top of our list.  The Louvre is an absolute must as Emma is adamant that she has to see the Mona Lisa.  We have been looking at art books including The Pocket Louvre and she has been picking out the works that she most wants to see. 
The Musée d'Orsay is my favourite gallery of any that I have been to.  I love Monet and the other impressionists and Emma is a fan as well so I'm hoping that the girls will share my enthusiasm for it.  
I had heard that the Musée Rodin is a lovely spot to visit and after watching the movie Midnight in Paris, it became a priority is well.  We were also hoping to see the Musée Picasso but sadly it is closed for renovations until summer 2013.
Sightseeing
Since we are traveling with kids who have never been to Paris, we will be hitting all of the big attractions that they are anxious to see.  They may be touristy but you can't go to Paris without seeing the Arc de Triomphe, the Eiffel Tower, the Champs Elysee, Sacre Coeur, or Notre Dame.  And I'm fairly certain that a boat ride on the Seine is mandatory for first-time visitors.
Parisian Gardens
We are hoping that we will be arriving in Paris to beautiful springtime weather which will allow us to explore some of the city's beautiful gardens such as Luxembourg and Tuileries.
Beyond Paris
We have also planned a few day trips from Paris.  We are planning a visit to the Château de Versailles and to Disneyland Paris both of which are just a short train ride from central Paris.  We have also booked a Normandy D-Day tour with Paris Luxury Tours which will include a visit to Juno Beach and the Canadian cemetery.  In the afternoon we are planning to visit Bayeux and perhaps Rouen as well if time allows.  Towards the end of our visit we will also be taking the train to Geneva, Switzerland for the day to visit friends who are living there and I'm very excited about seeing the Swiss Alps for the first time.
It will be a very busy 9 days and I fully expect that we won't see everything we have planned to, however, it's usually being sidetracked by pleasant discoveries that throws off the itinerary and that's okay too.  Above all else, I'm hoping that, at the end of this trip, my daughters will have fallen in love with Paris too.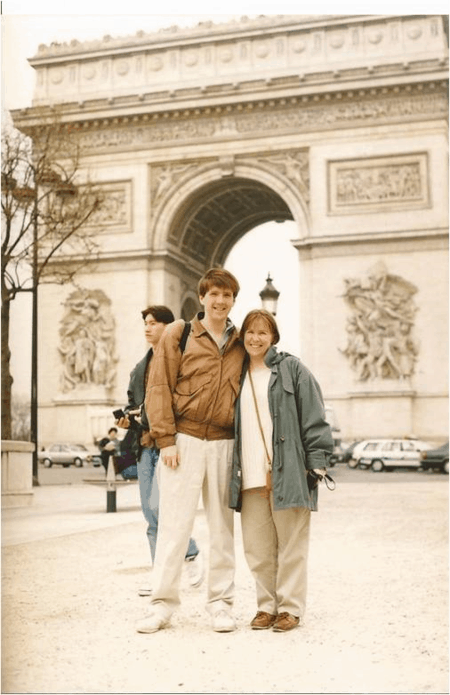 My husband and I at the Arc de Triomphe, April 1995 
We will be on the road for the next 10 days so the best way to follow along is by liking our FACEBOOK PAGE or by following me on TWITTER.
This article may contain affiliate links which help support this site at no additional cost to you. 
Related Links
Paris with Kids? Mais, Bien Sûr!

Enjoying a Spring Day in the Jardin des Tuileries in Paris
A D-Day Tour of Normandy with Kids
A Whirlwind Visit to Musée Rodin
Visiting the Palace of Versailles with Kids
Le Prince Régent Résidence & Spa
Love Locks on a Parisian Bridge