Reading Percy Jackson and the Lightning Thief prior to our Mediterranean trip to Italy, Greece and Turkey made sightseeing much more interesting for my 8 year old daughter.
When preparing for a trip, I always try to find books that are related to our destination in order to familiarize my daughters with the things that they are going to see and to get them excited about their upcoming travels. Last summer, we were planning to spend a few days in Rome prior to a Mediterranean cruise with ports of call in Greece, Turkey and Italy and, primarily, I needed books to pique the interest of my younger daughter, Emma, who turned 8 just a couple of weeks prior to the trip.
One of the books that I kept picking up every time that we visited a bookstore was Percy Jackson and the Lightning Thief – the first in the Percy Jackson and the Olympians series by Rick Riordan – but I hesitated to purchase it as a number of people had told me that they didn't think Emma was old enough to find it interesting.
For those of you who aren't familiar with the books or the movie, young Percy discovers early on in the first book that many of the mysterious things that have happened to him are due to the fact that he is a demi-god.  He is being raised by his mother, a mortal, in New York City, however, he learns that his father is one of the Greek gods and is sent to Camp Half Blood for training with other kids who have a god for a parent.  
Eventually I decided that we would give this book a try and Emma was immediately hooked (as was I)!  It is a very exciting story filled with gods, monsters and mythical creatures and suddenly Emma couldn't get enough of Greek mythology.
I figured that Emma's familiarity with some of the gods and goddesses would increase her interest in some of the historical sites that we intended to visit but I underestimated just how keen she would become.
Rome
It had never occurred to me that we might see much that related to Greek (or Roman) mythology in Rome, however, our guide very cleverly played on Emma's interest while we were on our Vatican Tour. Daniela, from Context Travel, chatted with the girls about the things that they were interested in at the start of our tour and as soon as she learned that Emma was passionate about Greek mythology she started pointing out any sculptures or artwork that had connections.
Emma and Daniela discussed at length the Roman and Greek names for each of the gods, what each was god of and the symbolism used in artwork to represent certain gods or goddesses.  Emma was so excited about learning more about mythology while we were at the Vatican that she didn't once give any indication of being bored during our three hour tour.

"Antinous, as Bacchus" (Dionysus is the Greek god)
Athens
I knew that Athens would be popular because Emma had decided early on that her favourite god and goddess were Poseidon and Athena.  (I can't tell you why without giving away the plot of the book though.)  
We knew that according to Greek mythology, Athena became the patroness of Athens after a competition with Poseidon.  Athena offered the gift of an olive tree to the city's residents, whereas Poseidon offered the gift of salt water.  The residents chose Athena's gift and named the city in her honour.  Emma was very keen to see the Parthenon which is the ancient temple located on the Acropolis that was built to honour Athena.
When our driver picked us up after our visit to the Acropolis, he suggested a brief stop at the Theatre of Dionysus which pleased Emma as Dionysus is another key character in the book series. It takes only a few minutes to see the ruins but sitting in this theatre was one of Emma's highlights of the day.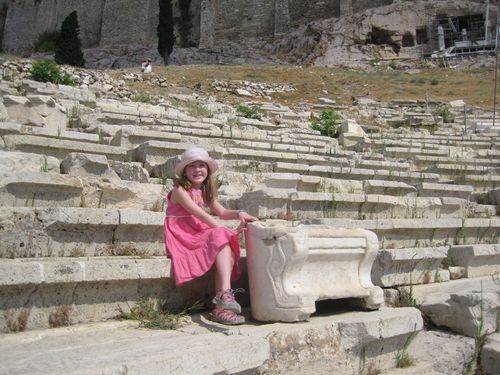 Emma at the Theatre of Dionysus
Another stop at the Temple of Olympian Zeus and Emma was thrilled with the way that her day was going. There are only a few columns left of this temple but it is easy to see that it must have been huge at one time. Emma thought that the size was appropriate since Zeus was, in her words, "the top god".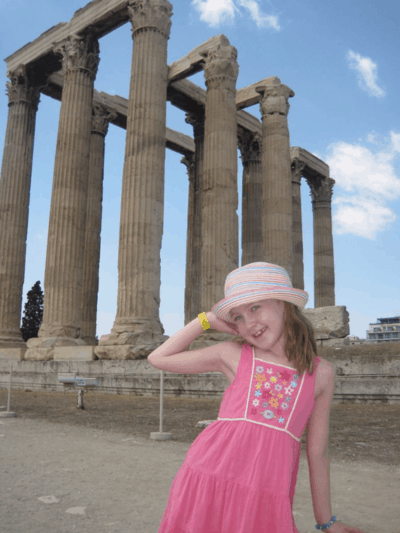 Emma at Temple of Olympian Zeus
All of the temple viewing wasn't sufficient though, Emma had in mind purchasing figurines of Athena and Poseidon to display in her bedroom so our driver, Spyros, had to find a store where Emma could shop for souvenirs to remind her of Athens.  After making her purchase, she announced that each time she visited Greece she was going to purchase another god figurine to add to her collection!  
The other souvenir that Emma purchased in Greece was a deck of cards depicting the Greek gods and goddesses as well as many mythological monsters and creatures complete with interesting facts about each which she could commit to memory.
Kusadasi
Our stop in Kusadasi, Turkey was our opportunity to visit the ancient city of Ephesus which is considered to be the best preserved Roman city in Europe.  
Our first stop was the Temple of Artemis which was a temple dedicated to the goddess Artemis and was one of the 7 Wonders of the Ancient World.  This temple was once four times the size of the Parthenon in Athens but all that remains of it is one single column and a few fragments of stone.  Most people advise to skip this site when visiting the area but it was a highlight for Emma as Artemis is her second favourite goddess.
We had a bit of a grumpy day at Ephesus due to the extreme heat, however, Emma was happy to discover some symbols from Greek mythology there as well. We saw a carving of the goddess Nike (which is apparently where the company got the idea for their symbolic swoop).
We also saw a carving of the monster Medusa who had serpents for hair and would turn to stone any unfortunate soul who looked directly into her eyes.
Finding these mythological references was our saving grace on the tour of Ephesus.
Pompeii
Our final port of call was in Salerno, Italy where we had arranged a private tour of the ruins of Pompeii. We found statues here that were built to honour some of the gods, particularly Athena and Apollo.
We also saw the ruins of the temple which had been built to honour the Roman goddess Venus (Aphrodite in Greek mythology).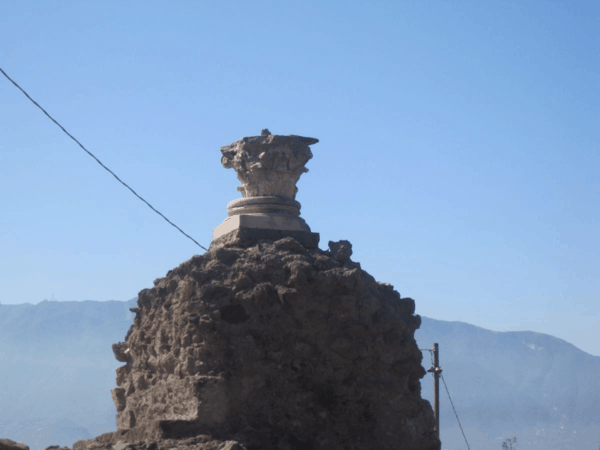 Altar to Venus (Aphrodite) at Pompeii
Visiting these ancient sites and seeing many of the temples and statues that were built to honour the gods and goddesses of Greek mythology fueled Emma's interest in the topic.  Several months on she is still keen to read and learn more about the ancient gods and myths.  Just recently she chose Greek mythology as the subject for her grade 3 speech.  
Reading Percy Jackson and the Lightning Thief prior to our Mediterranean trip ignited a passion for the subject and made sightseeing that much more interesting for Emma.  I am grateful to Rick Riordan for having introduced the ancient stories to my daughter and other kids her age in such a captivating way.  
Has anyone had a similar experience where reading a book prior to the trip made the sights much more relevant to a child or teenager?
We are a participant in the Amazon Services LLC Associates Program, an affiliate advertising program designed to provide a means for us to earn fees by linking to Amazon.com and affiliated sites. As an Amazon affiliate I earn from qualifying purchases.
Related Links
Touring Athens with Private Greece Tours
Exploring Rome with Kids in 2.5 Days
Cruising on the Celebrity Equinox with Kids