The family-friendly Halifax Marriott Harbourfront Hotel is a great choice for visitors who want a bit of luxury in a fabulous waterfront location.
Our family recently spent one night at the Halifax Marriott Harbourfront Hotel and I only wish that it could have been a longer stay.  When planning our Atlantic Canada trip, I intended only to be in Halifax long enough to pick up a rental car at the airport, however, my older daughter decided that she would like to tour Dalhousie University so we opted to stay overnight.
This post may contain affiliate links which help support this site at no additional cost to the consumer.
Read reviews and check current rates for the Halifax Marriott Harbourfront Hotel on TripAdvisor
Location of the Hotel
The hotel is located on Water Street directly on the harbourfront and is just steps away from the shopping and restaurants of the Historic Properties as well as the downtown business district.  It is also mere steps from the Halifax location of Cows Ice Cream so we were able to have our first Cows cone of the summer within minutes of checking into the hotel.
On our previous visit to Halifax we stayed just a few blocks from downtown but I much preferred this location on the waterfront.  We had a rental car with us so we drove to the university for Katie's tour but other than that we spent the 24 hours or so that we had in Halifax walking around the harbour.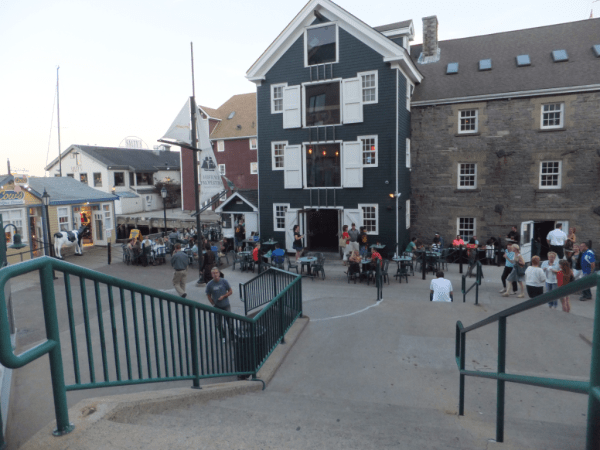 Historic Properties Halifax Waterfront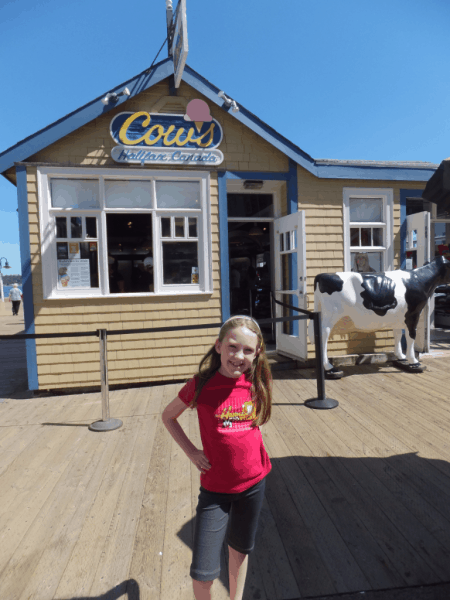 Cows Ice Cream – Halifax Harbourfront
Our Room
There are more than 350 rooms available at the hotel including rooms with either 1 King or 2 Double beds, Junior Suites, and Suites.  Harbour view and pool view rooms are also available.  We booked a 1 Bedroom Junior Suite with a Sofabed (no view) and requested a rollaway as well.
We have had similarly described accommodations elsewhere but I don't think that we have ever had a room as large as this.  There was all kinds of floor space in the living area even with the sofa bed pulled out and the rollaway folded down.  Generally, adding a rollaway to a room makes for cramped quarters but in this case crawling over the furniture to move around the room was not necessary.
The bathroom was modern and luxurious with marble countertops and a large walk-in shower.  There was also a whirlpool tub in the main room which we didn't use it but Emma thought it was great fun to play in.  We were able to set up the rollaway cot alongside this tub which kept it out of the centre of the room and the floor space clear.
The room was also furnished with a flat screen television and a desk with an ergonomic chair.  There were plenty of outlets for charging and plugging in our array of electronics.  There was also a coffee maker in the room but I preferred to get my coffee downstairs at Starbucks.  Complimentary bottles of water were also provided.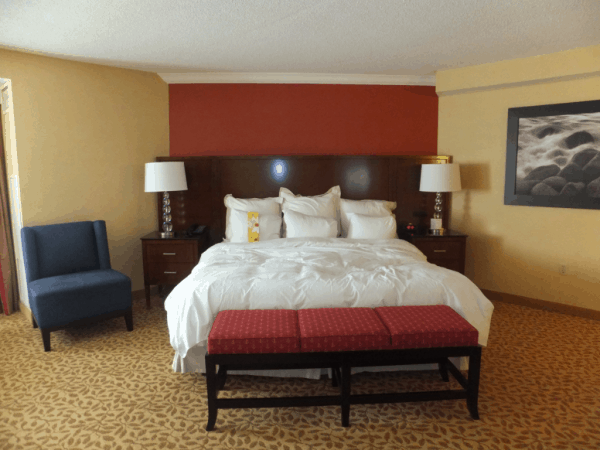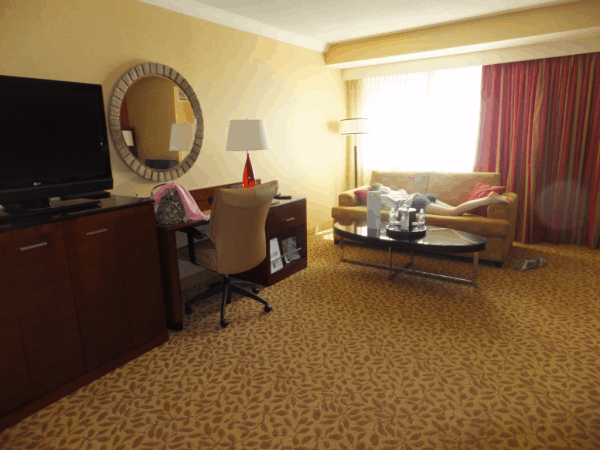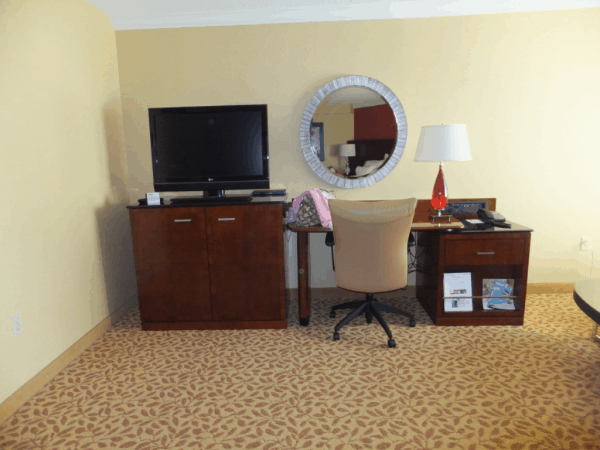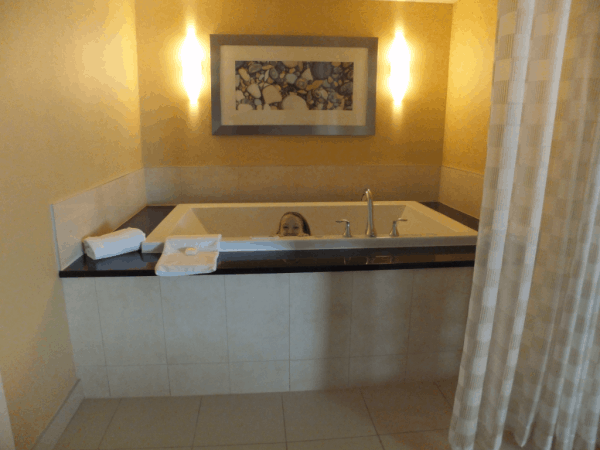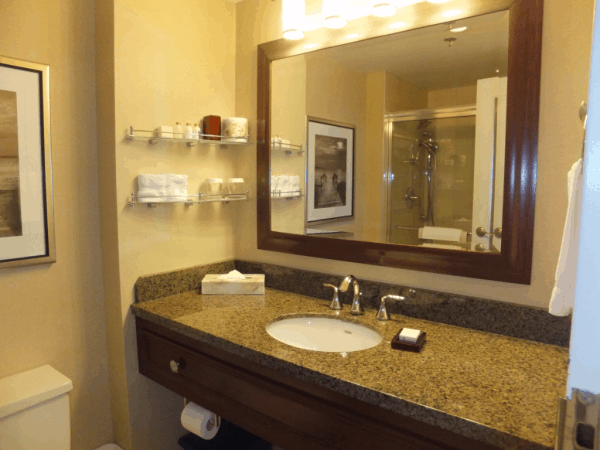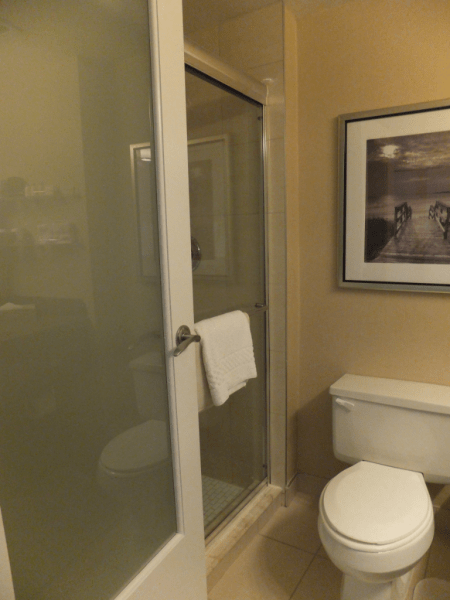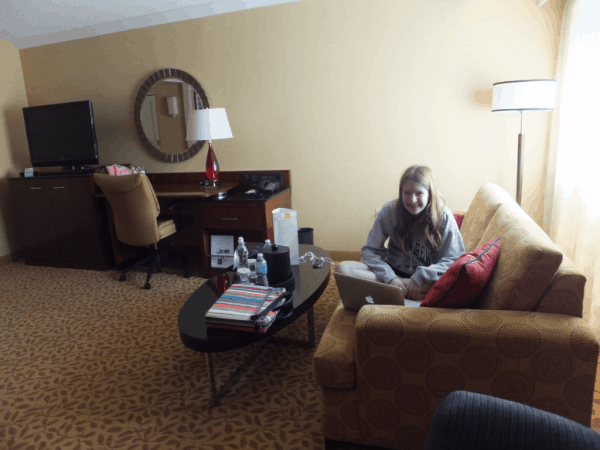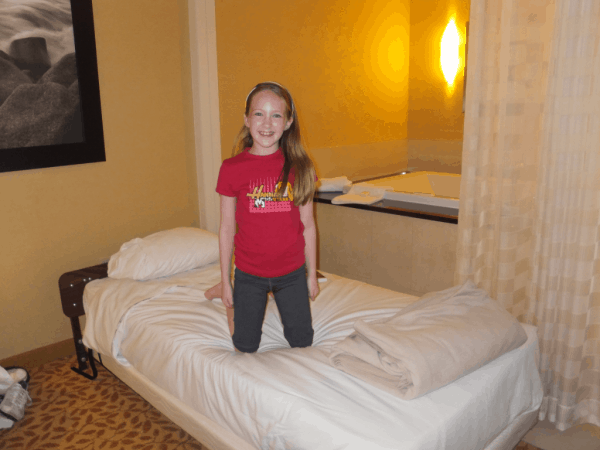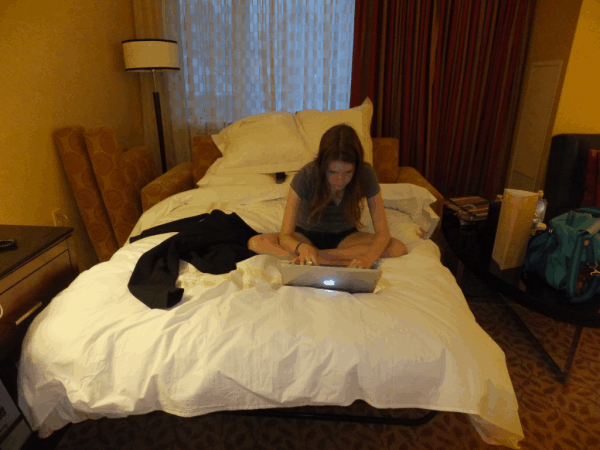 Hotel Amenities
The hotel has a modern fitness facility and an indoor pool as well as the Interlude Spa.  Our visit was so rushed that we didn't have time to take advantage of any of these.
Upscale dining is available all day at 44 North which has panoramic views of the harbour.  More casual fare, as well as entertainment, is available for dinner at the Fife and Drum Pub.  Cocktails and snacks are available at lunch and dinner in 63 West Lounge.  We ate dinner at Murphy's Restaurant which was about a 5 minute walk away so we weren't able to try any of the hotel's restaurants on this visit.  There is a Starbucks on the main floor of the hotel just steps from the waterfront which is where we had our breakfast.  Room service is also available from 6:30am – 11:30pm and coffee and tea are both available in rooms.  
There is a Concierge Desk in the main lobby and we found them to be quite helpful in providing directions the following morning to get to Fairview Cemetery and then on to Peggy's Cove.  We were provided with a  printed copy of Map Quest directions from the hotel to our destination which was far easier for me to follow than a route drawn on a map.
Rooms are wired and wireless and public areas are wireless, however, there is a charge for high speed internet access of $15.95CAD per day.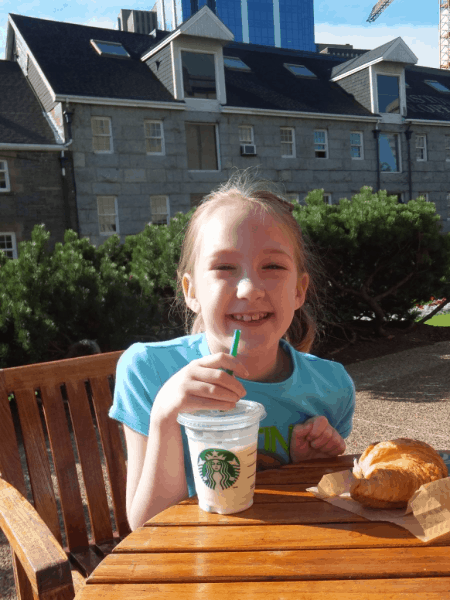 Even though we were only here for the shortest of stays, I loved everything about the Halifax Marriott Harbourfront Hotel.  The next time I'm visiting Halifax I won't even give my accommodations a second thought – I'll be staying here.

What You Need To Know
The Halifax Marriott Harbourfront Hotel is located at 1919 Upper Water Street;
The Marriott has 331 rooms and 21 suites;
Both on-site self parking and on-site valet parking are available for a fee.  At the time of our stay (August 2012) self- parking was $19.95CAD and valet parking was $25.00;
The hotel is connected to Casino Nova Scotia via an indoor skyway;
There is a 24 hour fitness centre, indoor pool and a spa available for guests;
A no-smoking policy is in place at this hotel.
Related Links
7 Family-Friendly Activities in Halifax
A Titanic Quest in Eastern Canada
Lighthouses of Atlantic Canada

Have you liked our Facebook page yet? I post articles from the blog there as well as photo albums from our travels and other travel news. Or, if you prefer, you can subscribe to the free email subscription or RSS feed to keep up-to-date on our travel adventures.