On a recent trip to Prince Edward Island and Nova Scotia, my husband and I stayed for three nights in Hubbards, Nova Scotia. This gem on the south shore of Nova Scotia is just a short drive from Halifax and is perfect for a couples getaway or a family vacation.
We have travelled the Nova Scotia Lighthouse Route from Halifax to Lunenburg several times in the past, however, this was the first time that we have spent any time in Hubbards. We will definitely return now that we know there are fun things to do in Hubbards!
Read A Beautiful Scenic Drive Along the Nova Scotia Lighthouse Route
This post may contain affiliate links. If you click an affiliate link and make a purchase then we receive a small commission at no additional cost to you.
Stay at The Tuna Blue
Our three night couples getaway in Nova Scotia in early September was a last minute change of plans while we were already on the east coast. A quick online search for a place to stay on the south shore turned up The Tuna Blue which sounded ideal for us.
The Tuna Blue is a six room boutique inn and restaurant in Hubbards, Nova Scotia located approximately 50 km from Halifax (about a 30-45 minute drive without stops). Formerly known as the Dauphinee Inn, The Tuna Blue is owned and operated by two couples who wanted to create the kind of tropical vibe that they loved on Caribbean sailing adventures in Nova Scotia.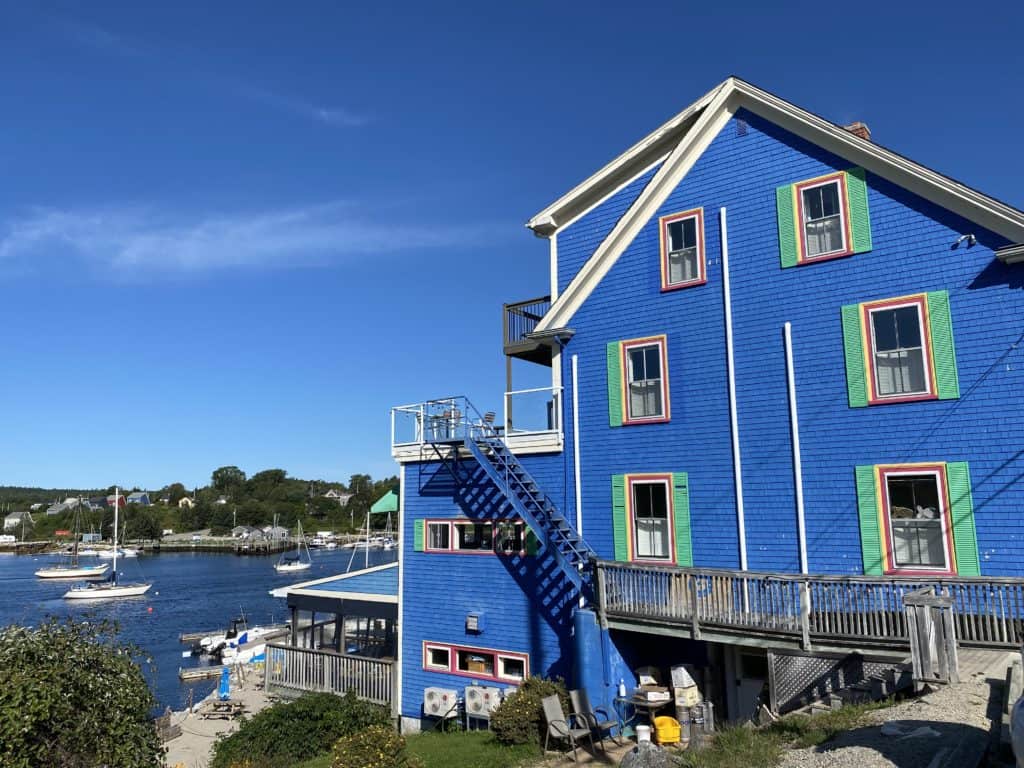 We stayed in the recently renovated Shatford Suite on the top floor of the inn which was a spacious room with a Queen sized bed, seating area and large bathroom with a walk-in shower. The rooms are outfitted with beautiful Nova Scotia antique furnishings and I absolutely loved the private balcony where we could sit and enjoy the gorgeous view of the bay!
(All of the rooms at the Inn are accessed via stairs so that would be a consideration for anyone with mobility issues.)
The Tuna Blue is open seasonally and our stay was mid-September at the tail end of the season so the restaurant was only open Wednesday-Sunday. During the season it is open daily for breakfast, lunch and dinner 7 days a week. We were able to enjoy one meal outside on the deck of the the restaurant on the last night of our stay and the food (I had South Shore Fish Cakes) was delicious.
We had a wonderful stay at the Tuna Blue with its ideal location, great accommodations, fresh, delicious food at the restaurant and friendly, helpful, hands-on owners and will definitely consider a return visit!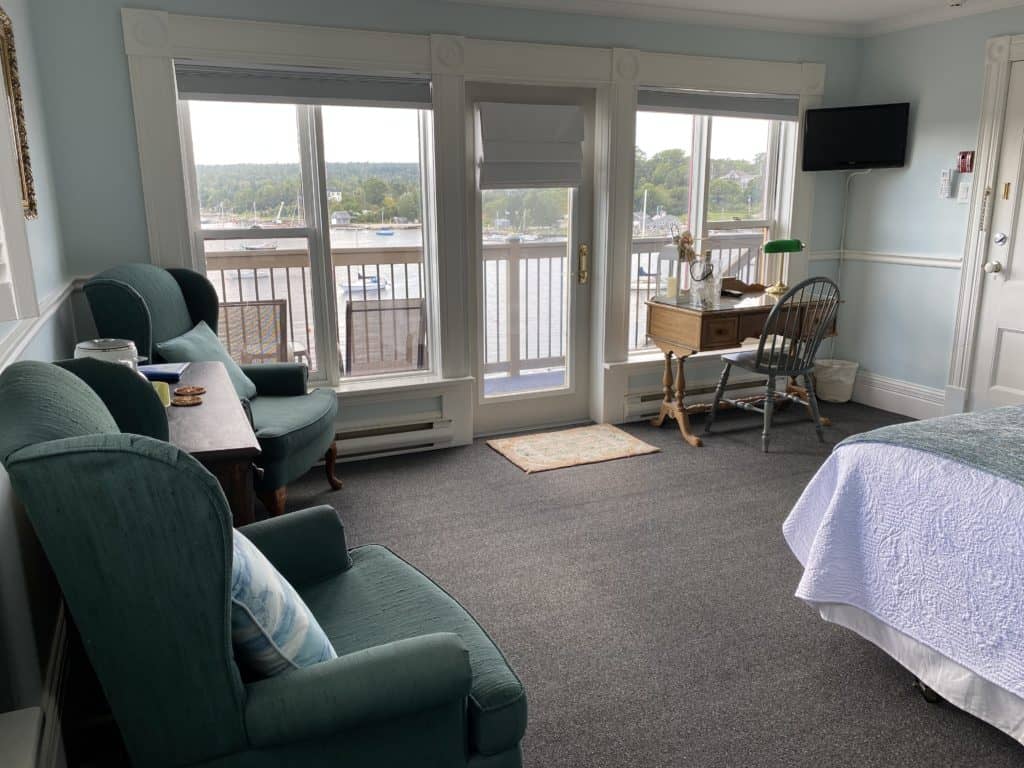 Hubbards Beach
Chilly fall days might not be the best 'beach weather' but if I'm near the ocean then I want to spend some time on the beach regardless. Hubbards Beach is a beautiful white sandy beach that would be the perfect place to spend a summer day as it has a picnic area, washroom with showers and a canteen but it's lovely during the off-season as well. The weather was a bit damp and chilly when we visited in September but we still enjoyed our walk along the sandy beach.
This is a private beach which has free walk-on access to guests who are camping at Hubbards Beach, Campground and Cottages but there is a small 'per car' fee for non-campers to drive to the beach and park. When we visited mid-September we couldn't find anyone collecting the fee so it's possible that it's not charged in the off-season or at least not on weekdays.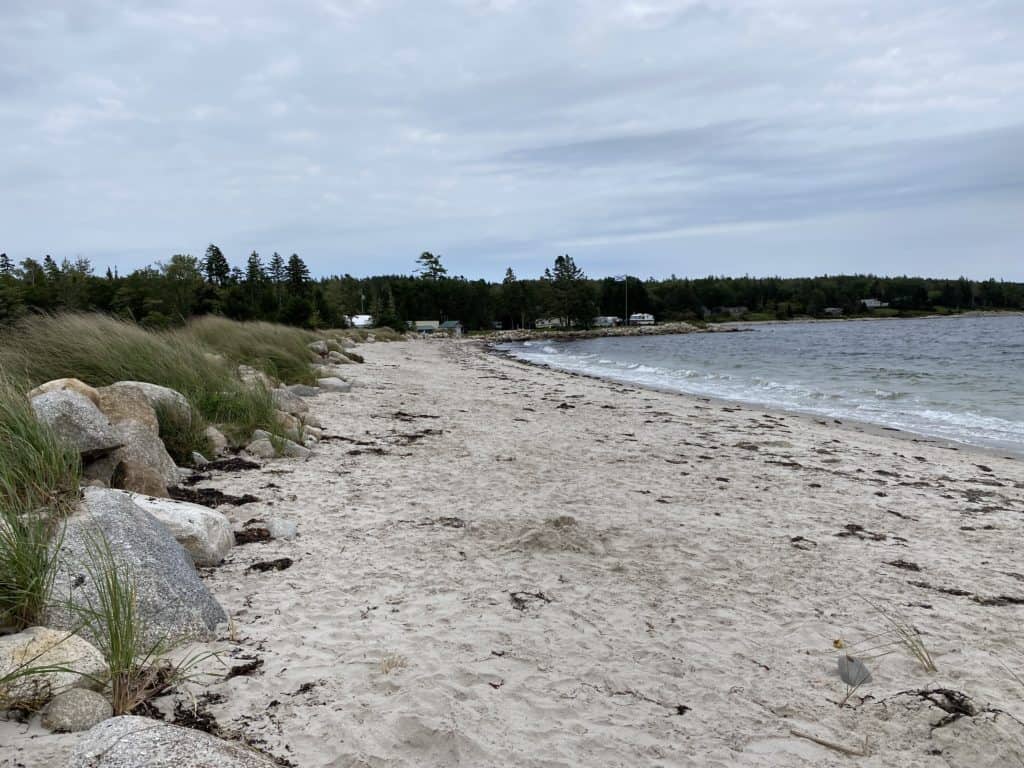 Queensland Beach
Another lovely nearby beach is Queensland Beach which is only a couple of kilometres down the road from Hubbards. This is a small but very popular beach that has supervised swimming in July and August and can get very crowded. We had it almost to ourselves, however, for walking on a chilly September day. If you're driving by when it's not busy then you can pull off the road into a space in the free parking lot and enjoy a leisurely stroll on the sandy beach.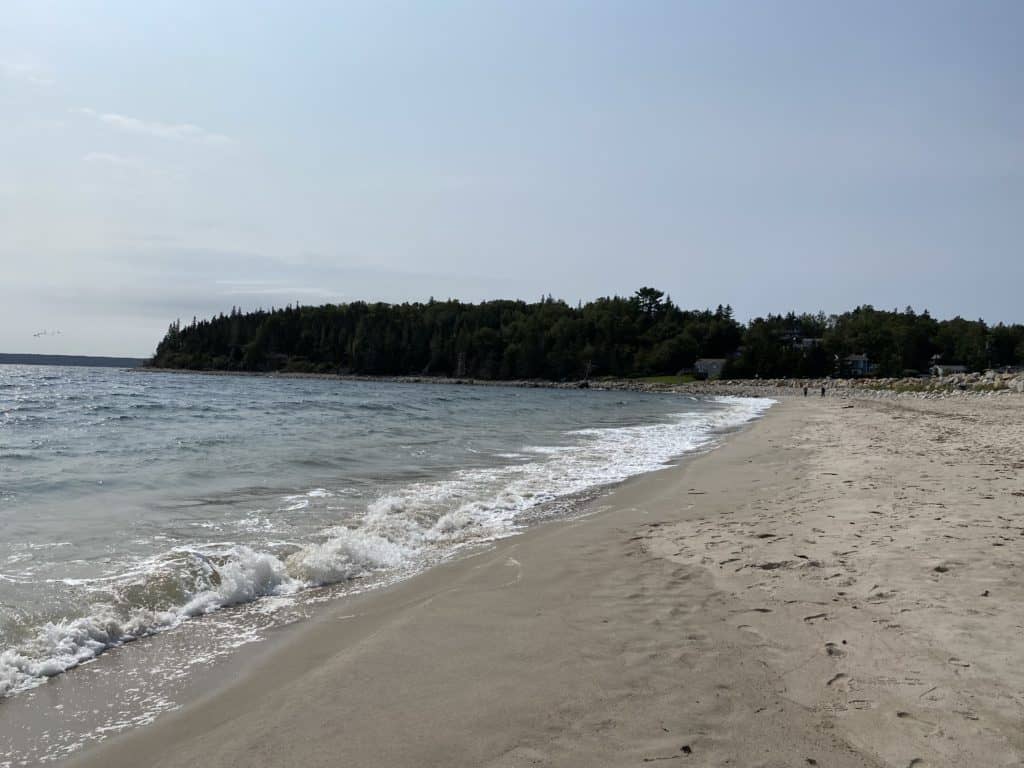 Eat at The Trellis Café
Whether you're staying in Hubbards or just passing through, be sure to stop for a meal at The Trellis Café. This charming café is located on Highway 3 and serves delicious upscale comfort food in a relaxed and friendly atmosphere both indoors and outside on the patio. The menu features fresh, local seafood, produce and meat and sustainable whenever possible.
The Trellis Café, established in 1985, is family-owned and operated and is a Taste of Nova Scotia Restaurant of the Year. The restaurant is open seasonally for breakfast, lunch and dinner and weekend brunches and there's a kids menu as well.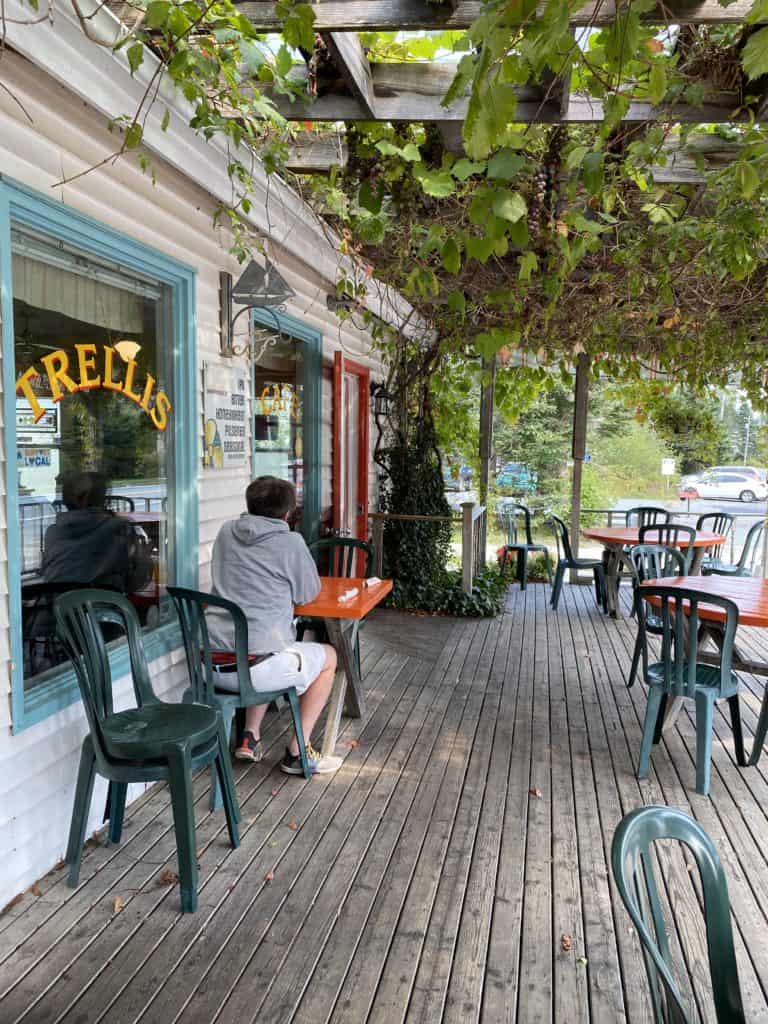 Visit the Hooked Rug Museum of North America
The Hooked Rug Museum of North America which is open seasonally is located just outside of Hubbards (on Highway 3) and worth a visit while in the area. The museum is dedicated to preserving the history and heritage of rug hooking and has several galleries displaying hooked rugs that are beautiful works of art and craftsmanship.
There is also as a marketplace where rug hookers can purchase supplies and the museum hosts a number of crafting workshops each year which you might see in progress while touring the exhibits.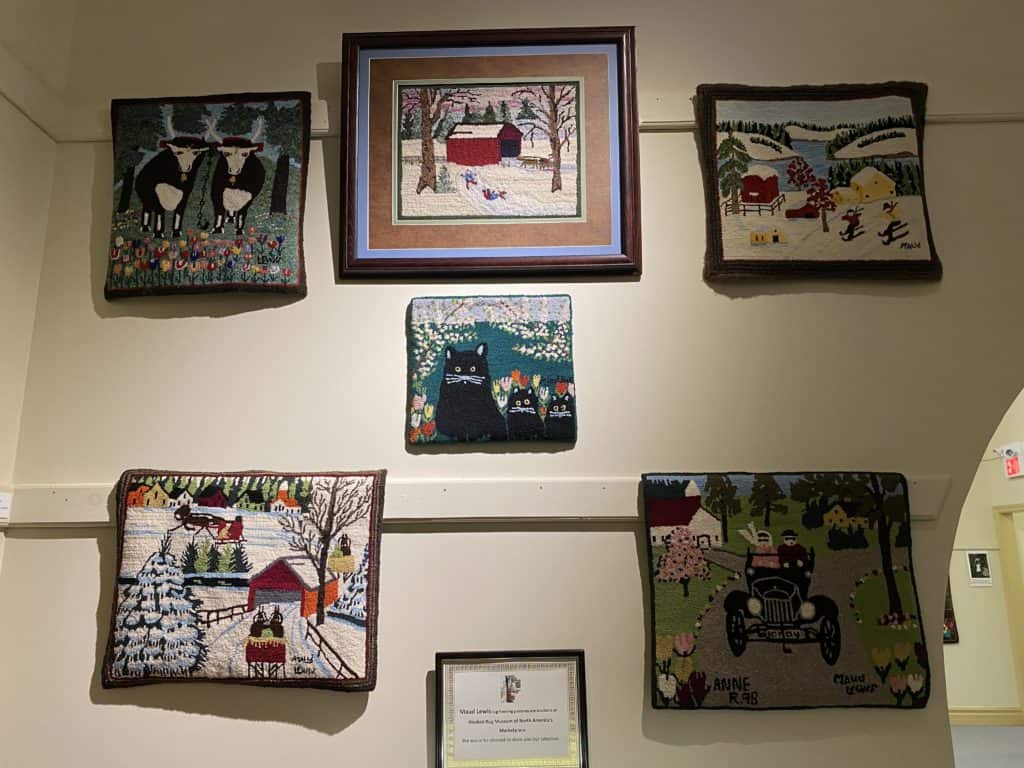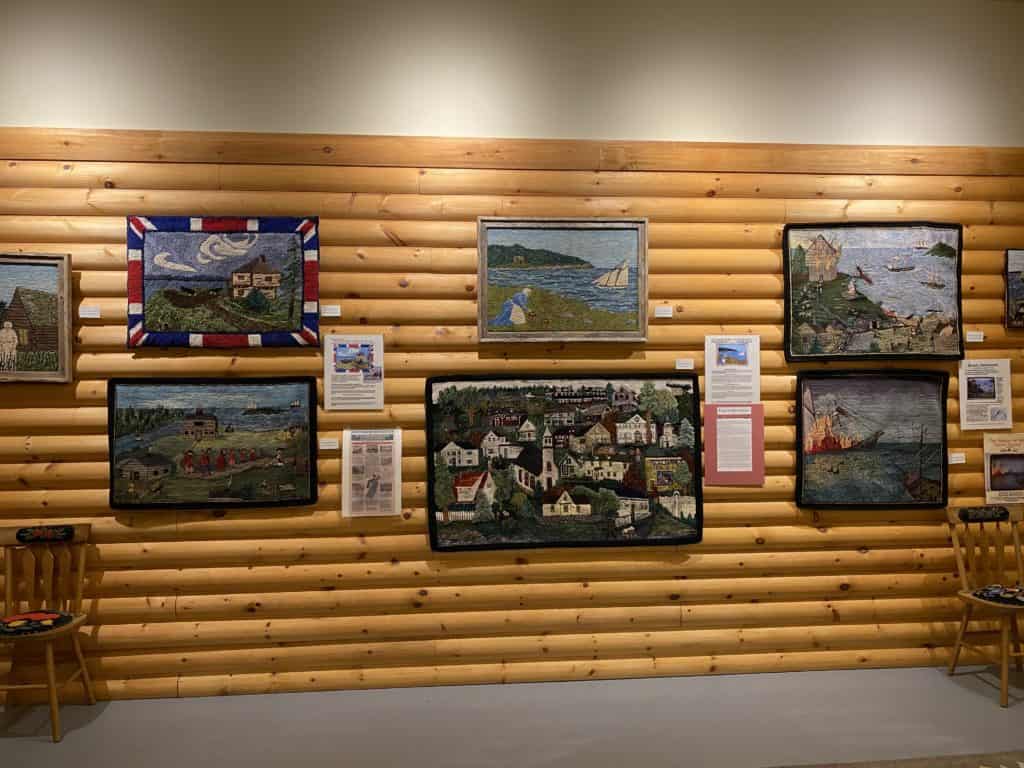 Enjoy a Spectacular Sunset Over Hubbards Cove
Our private deck at Tuna Blue was the perfect spot to enjoy the beautiful sunset over Hubbards Cove – one of the most spectacular sunsets I have ever witnessed!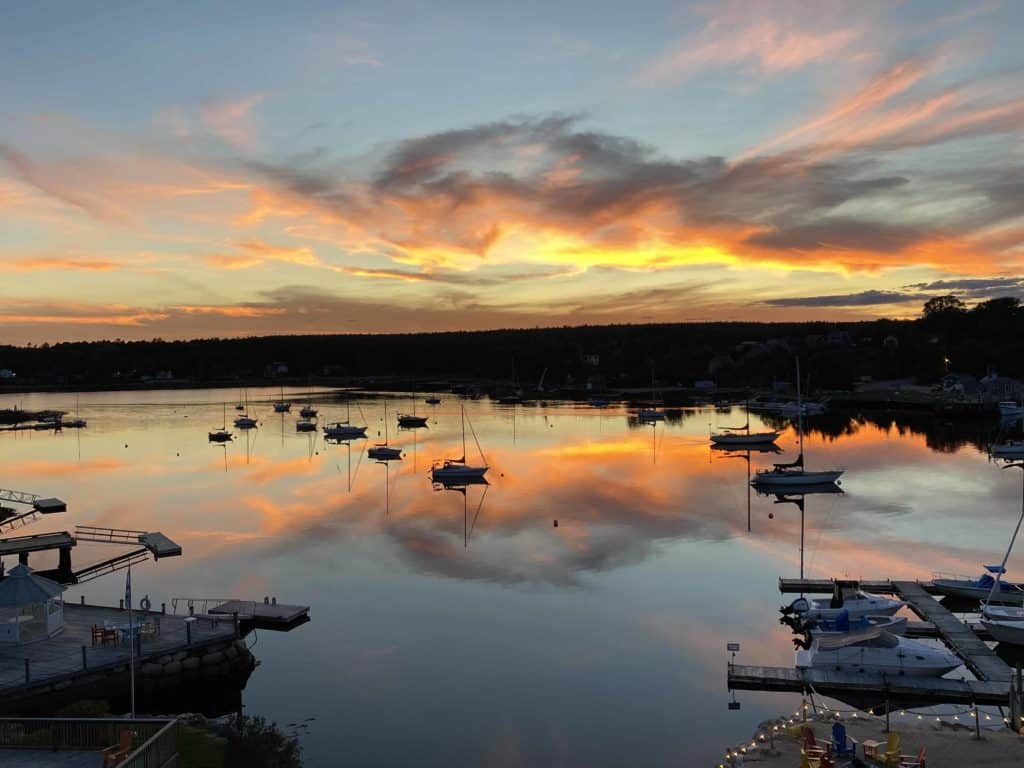 Additional Things To Do in Hubbards
We ran out of time and weren't able to do everything that we would have liked in Hubbards. Our three night getaway was mid-September starting on a Monday and there were quite a few closures as it was the tail-end of the season and the area was still recovering from pandemic restrictions. We also had a day of rain so outdoor activities weren't too appealing that day!
Hubbards Farmers' Market operates from May – October on Saturdays but our stay was Monday – Wednesday so we, unfortunately, missed it. The market is located at the Hubbards Barn and Community Park and features over 40 local vendors from the South Shore, the Valley and Halifax selling food, plants and flowers and other goods.
Hubbards Cove Coffee – I'm always on the lookout for a good coffee shop where I can enjoy my daily latte and this shop looked promising but, unfortunately, was closed for the duration of our stay in Hubbards.
Rails to Trails – The St. Margaret's Bay Rails to Trails hiking trail is a 33 km recreational trail built along an old railway line that features interpretive panels with information about the area and stunning views of the bay. We planned to hike this trail on our last day in Hubbards but, unfortunately, it was raining and I'm a fair weather hiker. It's now top of our list for the next time that we're in the area!
Shore Club Lobster Supper – The Shore Club Lobster Supper is famous and a not-too-miss attraction in Hubbards that I missed because of the days of the week that we visited late season. The Lobster Supper has been taking place in Hubbards since 1936 and moved indoors when The Shore Club was built in 1946. Since then they have been serving delicious lobster dinners along with a live band on stage on Saturday nights and billing themselves as Nova Scotia's Last Great Dance Hall and Home of the Original Lobster Supper. Open seasonally.
Day Trips from Hubbards, Nova Scotia
On our previous trips to Nova Scotia we stayed in Halifax and spent one day travelling along the south shore. This time we enjoyed staying in Hubbards and planning day trips from there which allowed us to spend more time exploring nearby communities.
Visit Peggy's Cove
Have you even been to Nova Scotia if you don't visit Peggy's Cove? We have visited this small rural fishing community located on the eastern shore of St. Margaret's Bay many times yet I'm still blown away by the natural beauty every time.
Peggy's Cove is one of the must-see attractions of Atlantic Canada and the lighthouse perched on granite rocks is one of Canada's most-photographed landmarks. I will admit that I have a lot of photos of that lighthouse but I enjoy taking photos around the quaint fishing village itself even more.
You can also grab a bite to eat or do some souvenir shopping while visiting Peggy's Cove. On this visit it was incredibly foggy when we arrived so I bought a lobster roll at Tom's Lobster Shack and we sat for awhile to wait out the fog. By the time I had finished eating, the fog had cleared and I was able to take more photos in the sunshine.
When we visited in September construction was still underway on the new observation platform which has since opened and makes the site more accessible for all.
Read A Beautiful Scenic Drive Along the Nova Scotia Lighthouse Route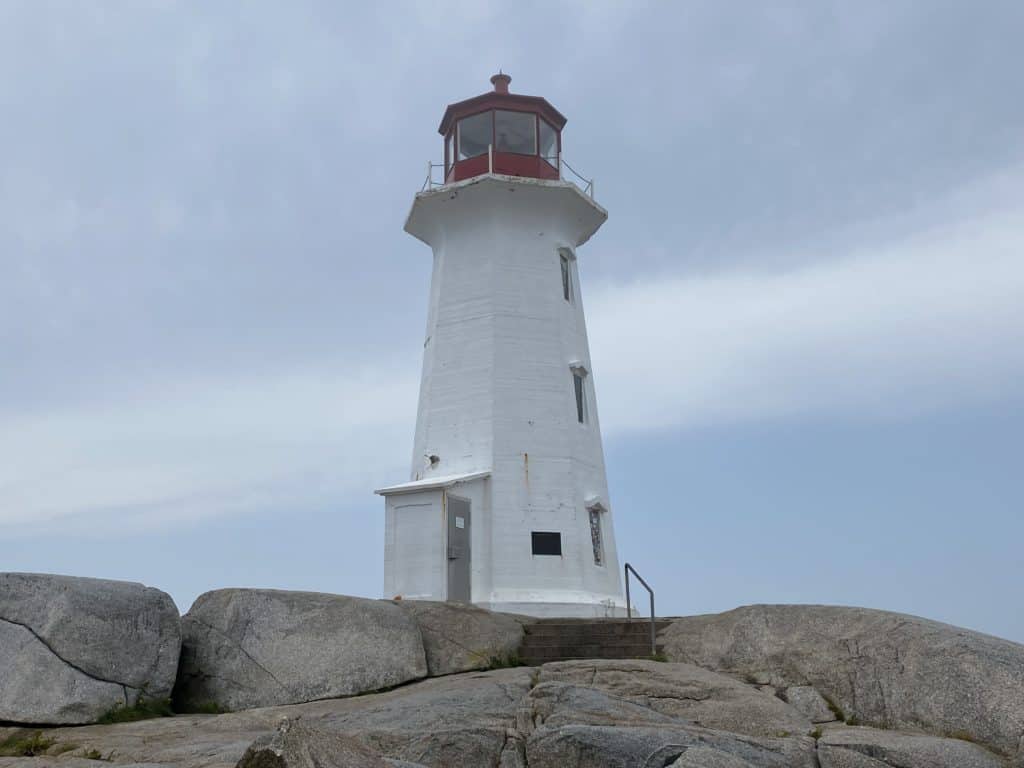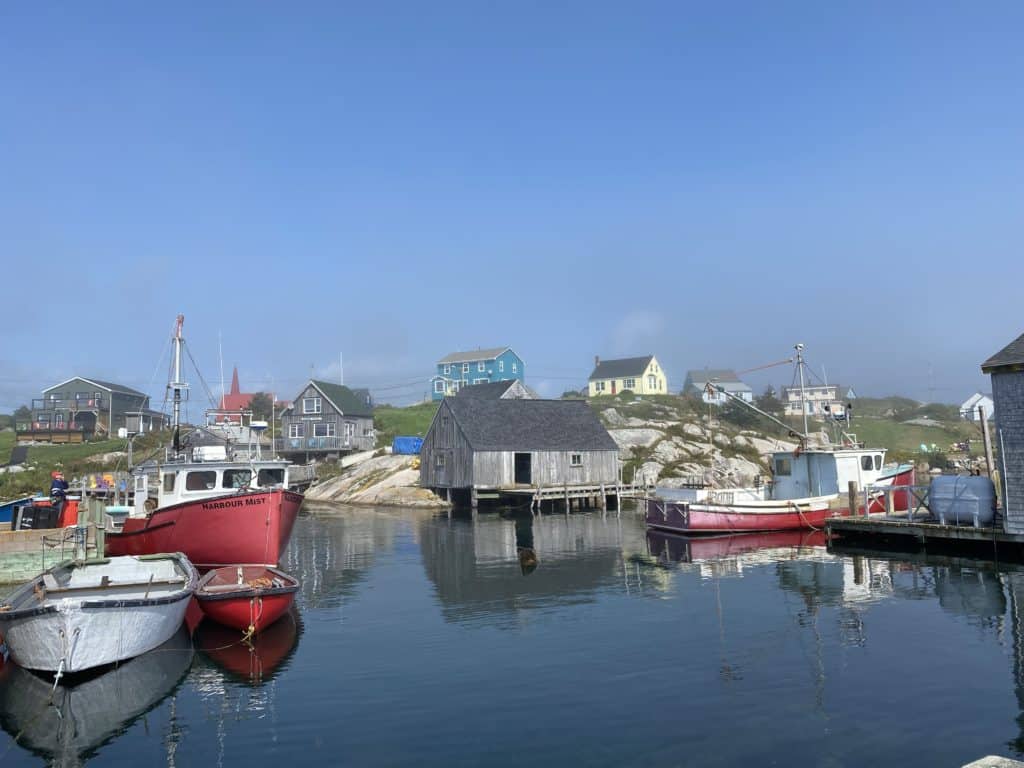 Shop and Dine in Mahone Bay
Mahone Bay is a picturesque town located on the shore of Mahone Bay in Lunenburg County which was originally settled in 1754 and founded on the shipbuilding and logging industries. Mahone Bay is primarily known for the iconic images of three churches along the waterfront which is one of the most photographed spots in Nova Scotia.
On previous visits, we browsed the unique shops found in the pretty seaside Main Street district of Mahone Bay while enjoying a cofee from The Barn Coffee and Social House. Since we were staying in nearby Hubbards on this trip, we were also able to enjoy dinner at a couple of Mahone Bay's restaurants dining outdoors on patios at Mateus Bistro on a special tapas night (533 Main Street) and at Oh My Cod! (567 Main Street) where I had a Lobster Croissantwich that was a delicious take on the ubiquitous lobster roll.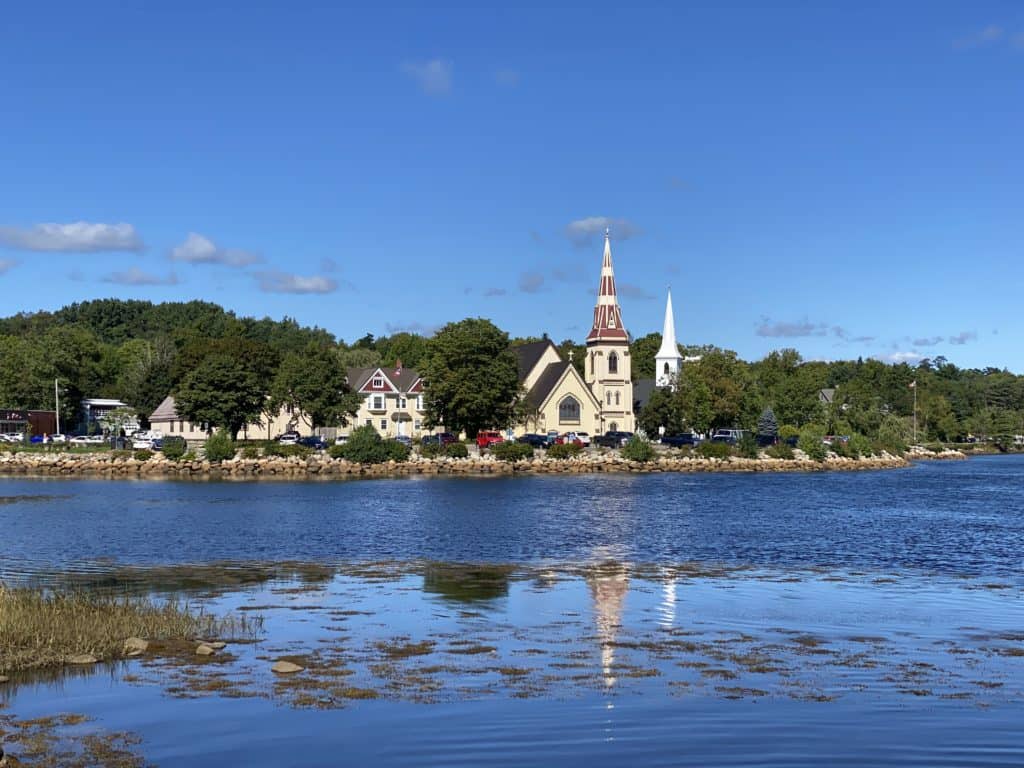 Visiting Lunenburg and Blue Rocks
Lunenburg has been one of my favourite towns in Nova Scotia since we first visited on a family vacation in 2006. Lunenburg, formally established in 1753 as the first British colonial settlement in Nova Scotia outside of Halifax, was designated a National Historic District in 1992 and was added to UNESCO's World Heritage List in recognition of the town's cultural and natural heritage in 1995.
If you enjoy wandering then Lunenburg is the perfect town for you to admire the colourful colonial architecture, explore the waterfront, browse shops and find a bite to eat – just be prepared to walk some hills! If you would like more structure to your visit then you can take a horse and carriage or walking tour of the town, visit the Fisheries Museum of the Atlantic, or take a whale watching tour. If you're lucky then you might even get a chance to see the iconic Canadian tall ship Bluenose II which offers two hour public sails when in port.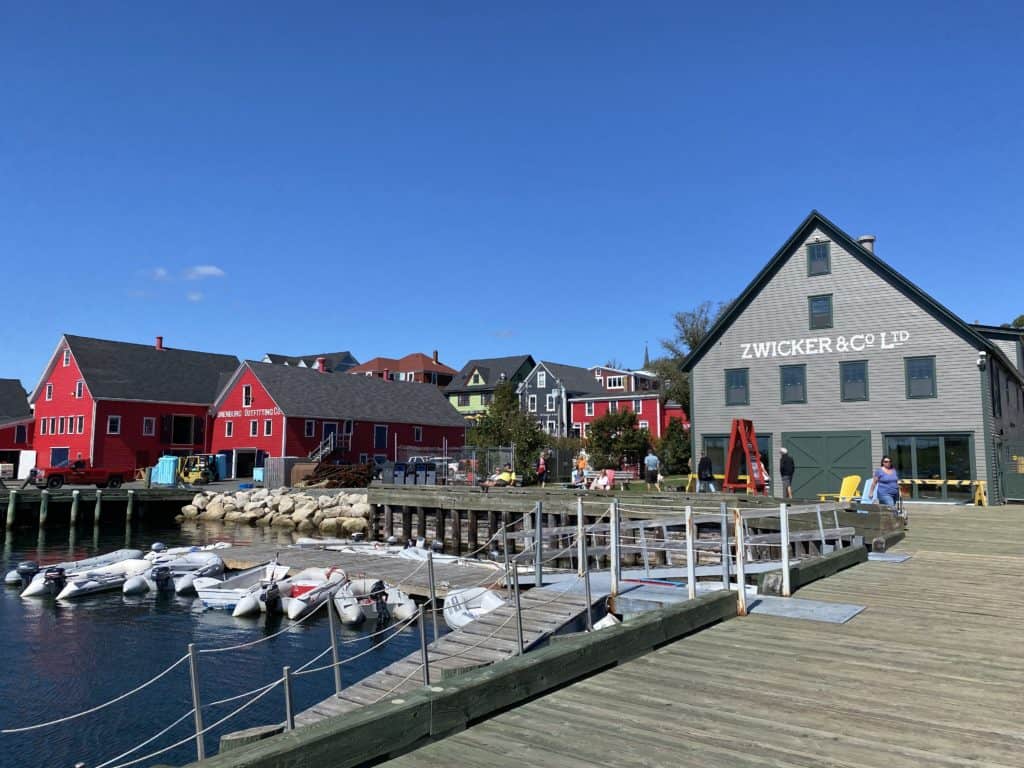 We have visited Lunenburg several times as the final stop on a day trip from Halifax and always headed directly back to the city when we were finished exploring the town. On our recent trip while staying in Hubbards, we also visited the picturesque little fishing village Blue Rocks which is located just a short distance from Lunenburg and definitely worth the drive.
Blue Rocks is a small working fishing village located about a six minute drive from Lunenburg that is very popular with artists and photographers for its century old fish shacks and blue slate rocks. When you're done taking photos of Blue Rocks, be sure to pop into The Point General for coffee and baked goods and to browse the gift shop!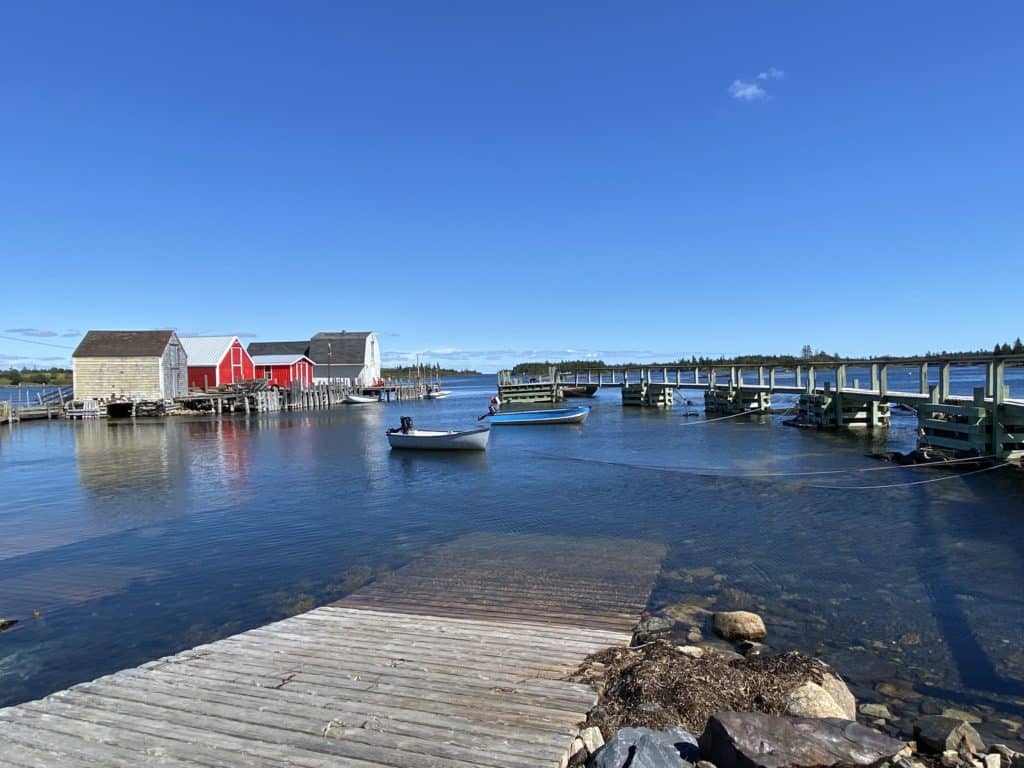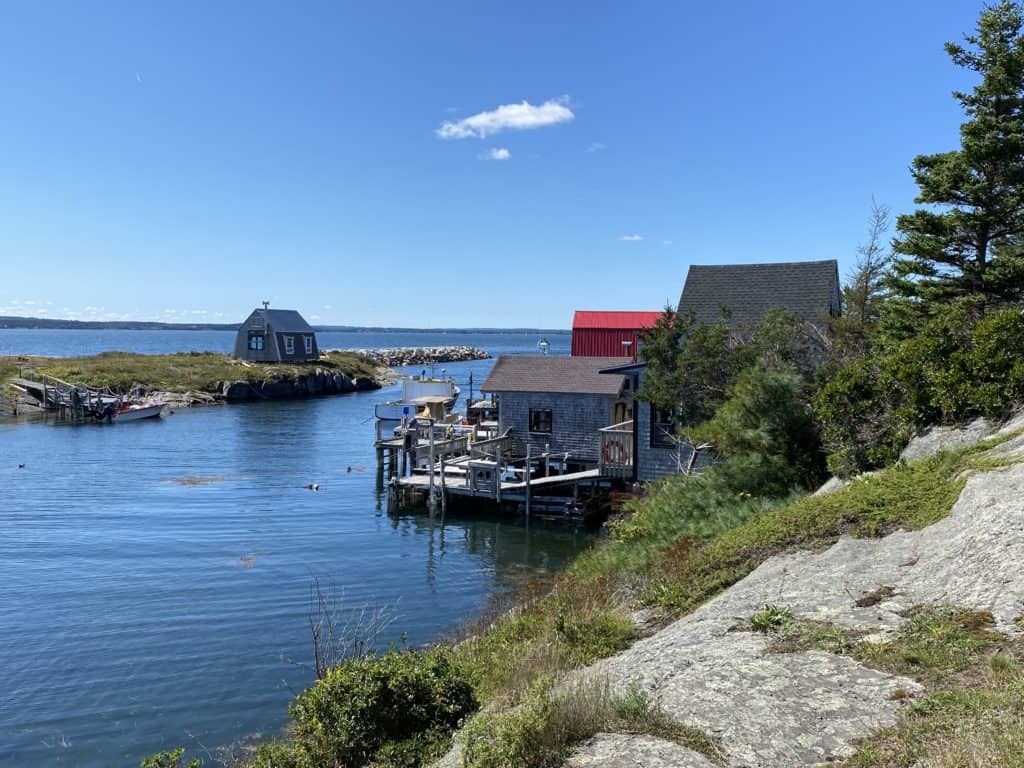 Pin This For Later