Celebrating the holidays at Disney World's theme parks – Magic Kingdom, Animal Kingdom, EPCOT, and Hollywood Studios.
We traveled to Orlando over the New Year's holiday last year and, apart from a brief visit to the The Wizarding World of Harry Potter, spent the better part of a week at Disney World.  Each of the parks was decked out for the holidays and the festive atmosphere made for an even more magical experience.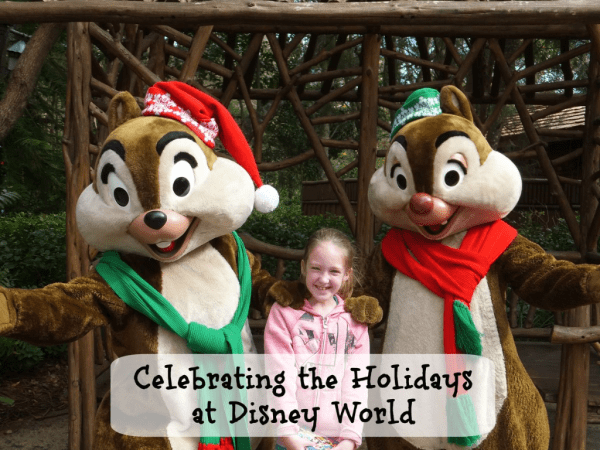 These are some of my favourite photos from each of the four parks that we visited during the holidays as well as a few tips for visiting Disney World at this time of year.
Magic Kingdom

The holiday magic begins as soon as guests enter through the front gates and catch sight of the gigantic Christmas Tree in Town Square.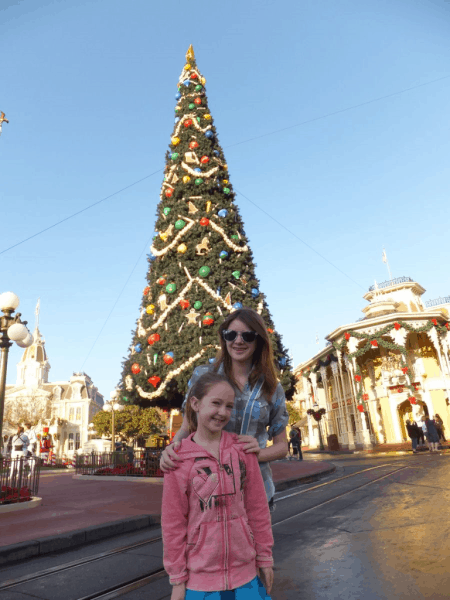 The Magic Kingdom Christmas tree
Festive wreaths are strung across Main Street U.S.A.
And there is plenty of Christmas window shopping to be done – even if there are about 359 days until Christmas.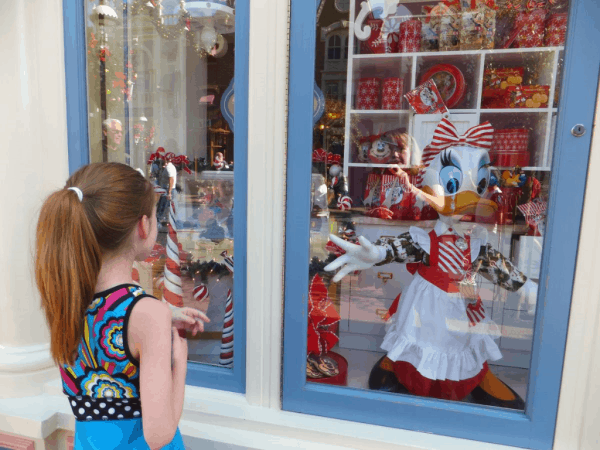 Window shopping on Main Street U.S.A.
Even Lady and the Tramp at Tony's Restaurant in Town Square were getting in the holiday spirit with matching Santa hats.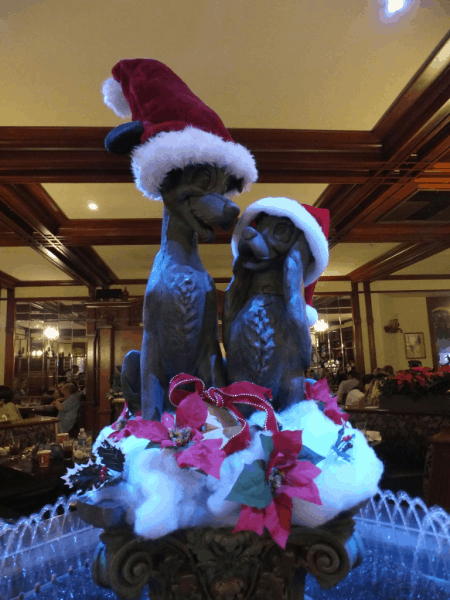 Lady and the Tramp at Tony's Restaurant
Meeting the characters has always been one of my favourite parts of Disney World so Pluto greeting us upon our arrival in the beautifully decorated Town Square ensured that our visit got off to a festive start.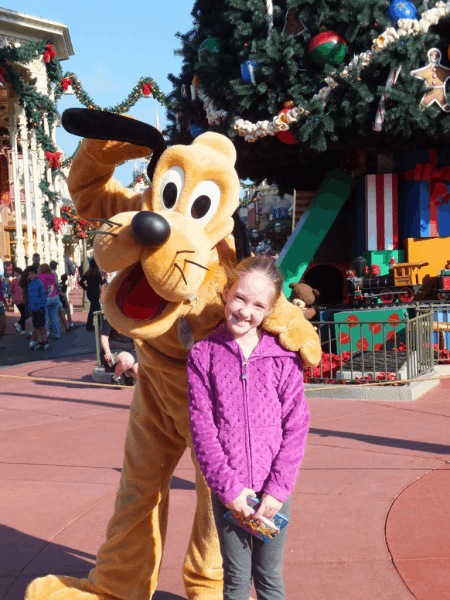 Meeting Pluto at Magic Kingdom
Our magical day in the kingdom was capped off by the sight of Cinderella's Castle lit up like an ice sculpture after the sun went down.
EPCOT
Our intention had been just to do some globetrotting around the World Showcase at EPCOT but we soon discovered that we could enjoy festive decorations in this park as well as learning about holiday traditions around the world.
I loved this pickle tree in the Germany pavilion mostly because I find it hard to believe how this notion that Germans hang a pickle from their tree has become so widespread when there doesn't seem to be much truth to it.  (A disbelief shared by my friend, Sonja, from To Europe With Kids in her article about the German pickle ornament.)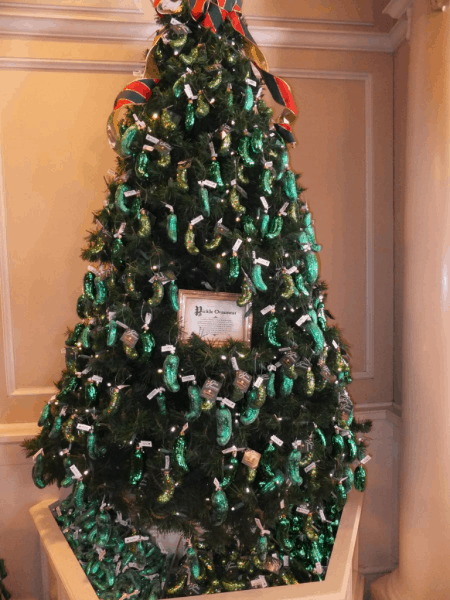 Germany's Pickle Tree at Epcot
We also learned that in Italian folklore an old woman (the "Befana") visits children on Epiphany Eve to leave them presents of candy if they have been well-behaved and lumps of coal if they have not.
One of the most beautiful trees at Disney World is found in the American pavilion of World Showcase.

Christmas Tree – U.S.A. pavilion
Hollywood Studios
We loved the movie-themed tree at Hollywood Studios.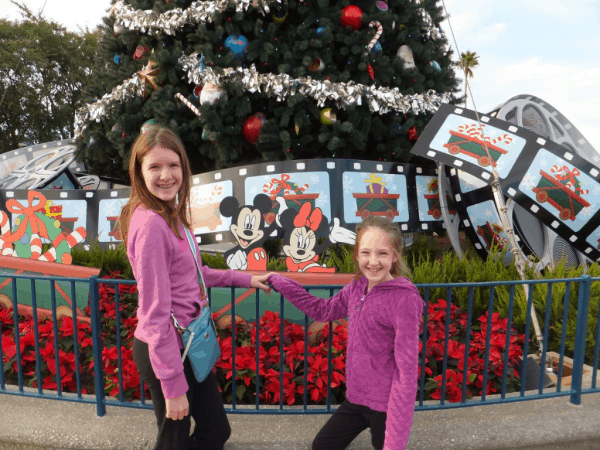 Hollywood Studios during the holidays
Meeting Phineas and Ferb and having a holiday photo taken was also a lot of fun.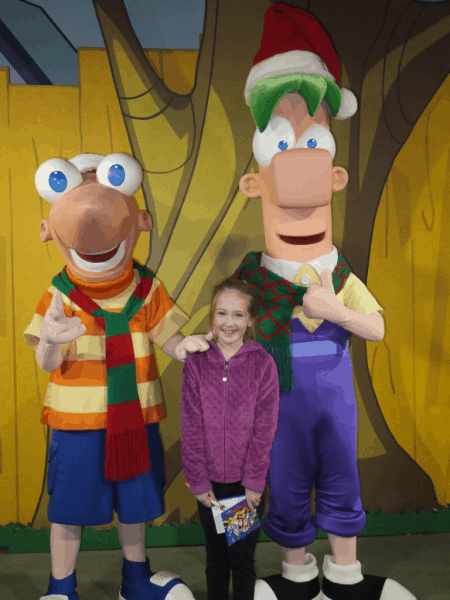 Emma with holiday Phineas and Ferb
The highlight of our visit to Hollywood Studios though was seeing the Osborne Family Lights.  I have never seen such a spectacular light display and when the lights began to dance and the snow began to fall it was pure Disney magic. 
Animal Kingdom
There is another beautiful themed-Christmas tree greeting guests as they arrive at Animal Kingdom for the day.
The highlight for me at Animal Kingdom was meeting so many of our favourite characters dressed in holiday apparel.  I didn't mind the long line-ups at all – it was worth it to get the photos!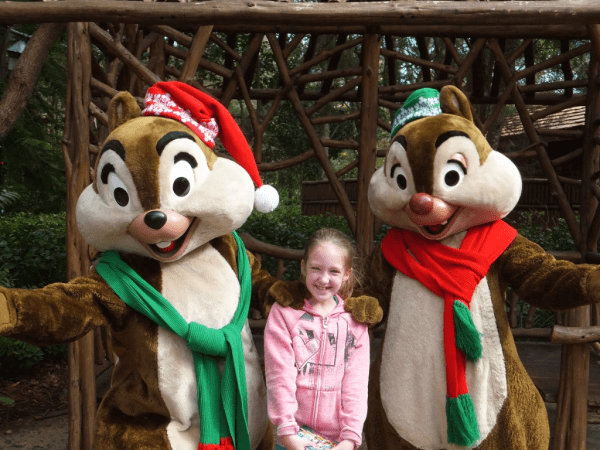 Chip and Dale ready for some chilly weather
I think perhaps the holidays are now my favourite time to visit Disney World. 
Tips for Visiting Disney World During the Holidays
Be prepared for crowds. Disney World is very busy during the holidays and it's crucial to prepare everyone in the family for that. You won't be able to see or do as much in a day as at other times of the year but the trade-off is that you get to experience Disney at its most magical time.

Plan as much as possible ahead of time and establish priorities for what the family wants to see most. If at all possible, make dining reservations as soon as they open up 180 days prior to the visit.

Get an early start on the day in order to beat some of the crowds. Our experience has been that this works particularly well on New Year's Day. If you can get to the park early on January 1st then a lot of ground can be covered before the New Year's Eve revellers crawl out of bed.

Prepare and pack for variable temperatures. While winter in Orlando, Florida is much warmer than Canada or the Northern states, it is still winter and temperatures can fluctuate. During our visit, we had shorts and t-shirts days as well as days that required sweatshirt and on the morning that we were departing temperatures were barely above freezing.
Related Links
Holiday Gift Guide: The Best Books for Travelers
Disneyland During the Holidays
Osborne Family Lights at Disney's Hollywood Studios
Have you liked our Facebook page yet? I post articles from the blog there as well as photo albums from our travels and other travel news. Or, if you prefer, you can subscribe to the free RSS feed or sign up for an email subscription to keep up-to-date on our travel adventures.