Instagram Travel Thursday: Winter
It's only February but I have already grown quite weary of winter. We have had more than our fair share of brutally cold temperatures and Mother Nature seems to be making up for lost time lately – dumping all the snow on us that we didn't get earlier in the winter. Thoughts of embracing winter have all but disappeared.
Compounding my misery earlier this week, during a major snowstorm no less, the groundhog had the nerve to predict six more weeks of winter. For those of you who aren't familiar with Groundhog Day celebrated in North America on February 2nd this is the gist of it. If the groundhog exits his den and sees his shadow then he is frightened and runs back into his den thus predicting six more weeks of winter and if he doesn't see his shadow…then we are still likely to get six more weeks of winter although it's said to mean an early spring.
Given my state of mind, I thought that I could use a reminder that winter can be both beautiful and fun. To that end I am sharing some of my favourite winter Instagram shots for Instagram Travel Thursday.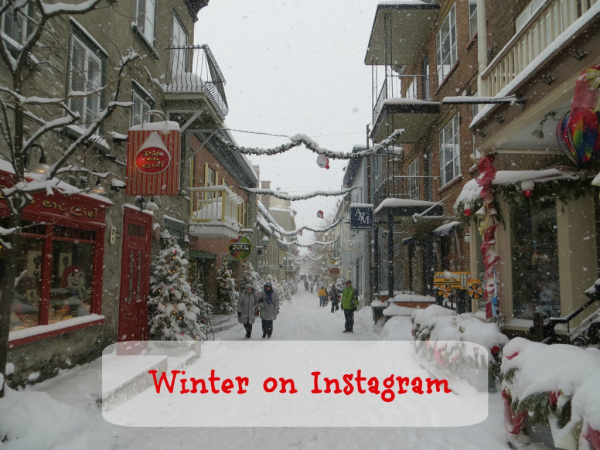 Winter can be beautiful even at it's most destructive. These photos were taken in the Toronto area during the aftermath of an ice storm in December 2013 that caused widespread damage and power outages lasting several days and much longer for some people.
Québec City is nothing short of magical when covered by a blanket of freshly-fallen snow. This is the winter that people dream of experiencing.
As long as you are dressed for it, winter can also be a whole lot of fun! Whether it be dogsledding in Montebello, Québec…
Sleigh rides in our hometown…
A snow bath at the Québec Carnival…
Or playing in freshly fallen snow…
And I'm going to continue reminding myself of this for the next two months until the flowers start popping out of the ground sometime in early April!
Related Articles
Winter in Québec City via Instagram
A Winter Walk in Québec City: A Photo Essay
A Photo Tour of Québec's Hôtel de Glâce