On a recent spring break trip to Europe we wanted to see as much as possible of Bavaria, Germany and Austria so decided to spend three nights in Munich, two nights in Salzburg and three nights in Vienna. This is our 8 night itinerary for Munich, Salzburg and Vienna designed to see as much as possible in a limited time.
This post may contain affiliate links. If you click an affiliate link and make a purchase then we receive a small commission at no additional cost to you.
Day 1 – Arrival in Munich
Munich (München in German), the capital of the German state of Bavaria, is one of Germany's largest cities and most popular tourist destinations. It's a modern cosmopolitan city with a strong sense of history and Bavarian tradition. We had connected through the city on previous trips to Europe but this was our first time staying in Munich and we wanted to see as much as possible in our limited time.
We flew overnight from Toronto to Munich arriving in the city early in the afternoon and checked into our hotel. Our teenager decided to have a nap while my husband and I went for a walk to get some fresh air and exercise (our preferred method of dealing with jet lag).
We spent a couple of hours walking around Munich's Old Town which was enough to orient ourselves. We walked to Marienplatz to have a look around the area then on to nearby Viktualienmarkt, walked over to Hofbräuhaus and had a peek inside before circling back towards our hotel. We had an early dinner at our hotel and called it a night as we were meeting a guide the next morning for some sightseeing outside of the city.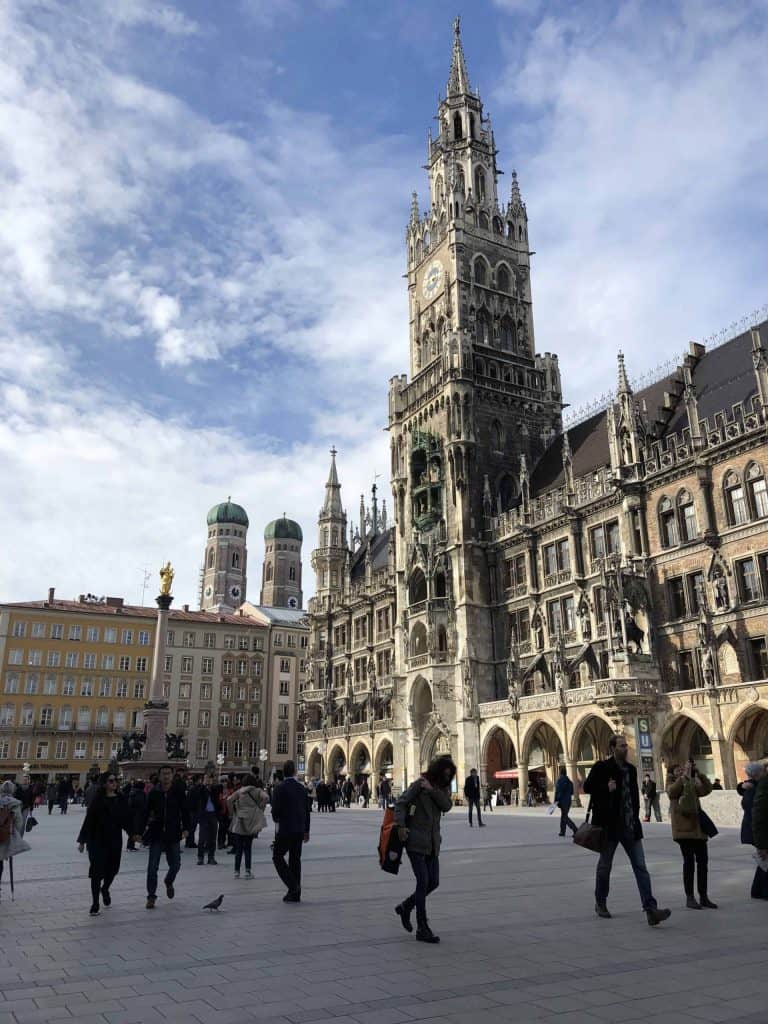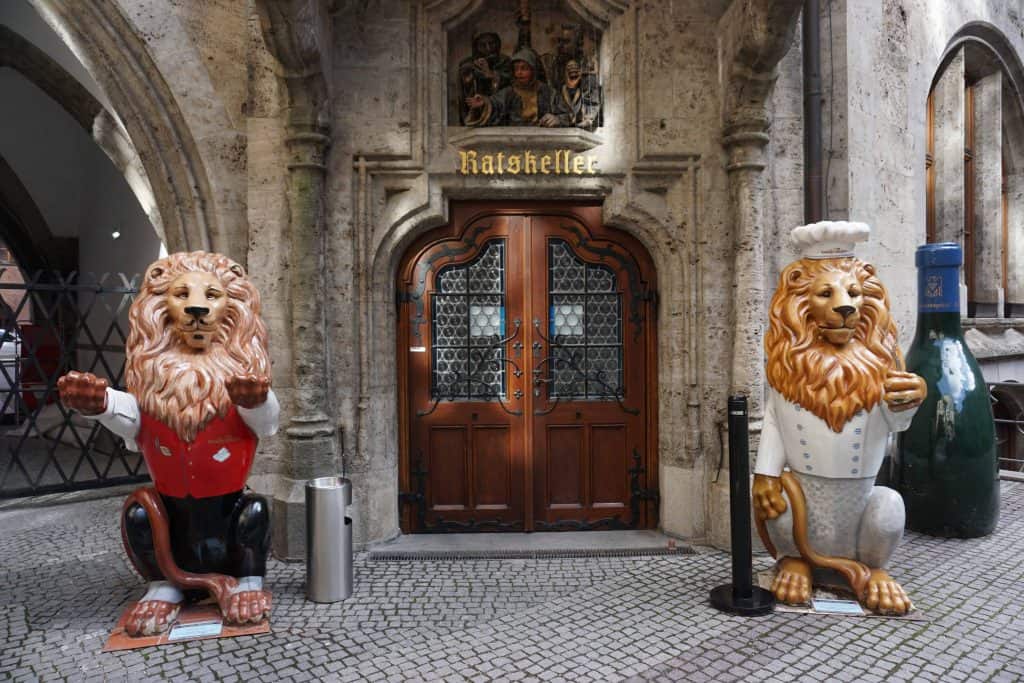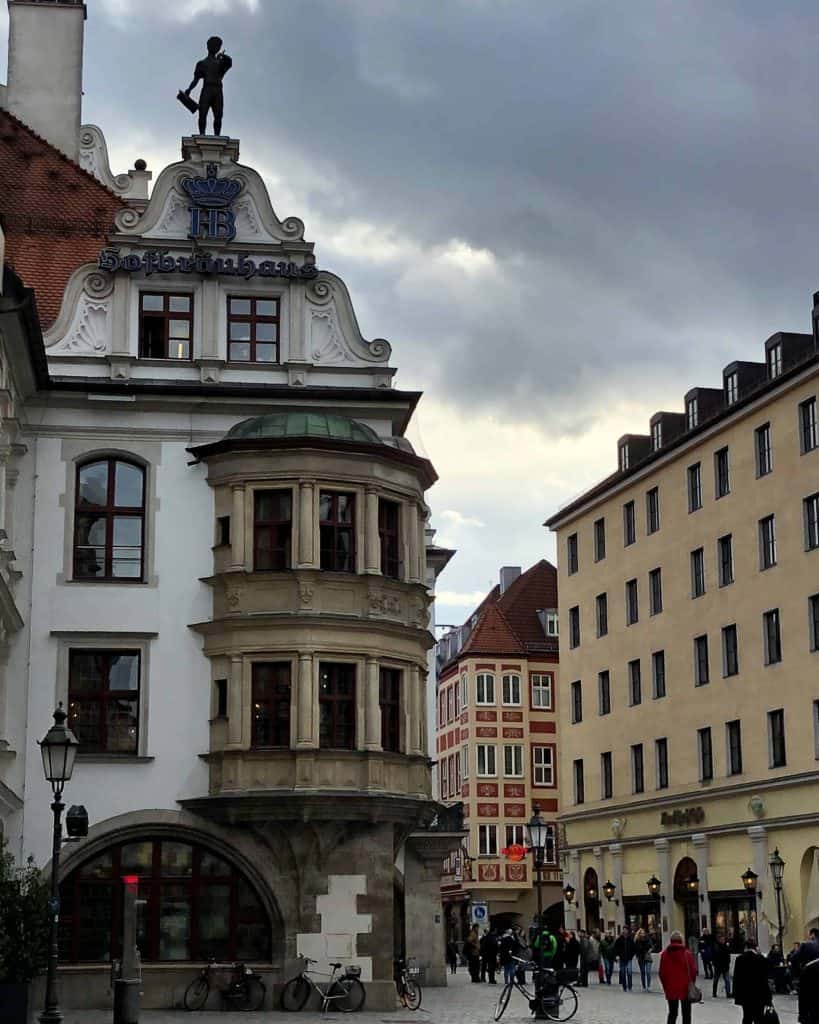 We enjoyed a lovely stay at The Charles Hotel in Munich, a luxury Rocco Forte hotel overlooking the Old Botanical Garden and just a short walk from the train station. I loved the hotel's style, the service was excellent, and the location was ideal as we were able to walk to Marienplatz and all of the attractions that we wanted to visit while we were in Munich. 
Find the best deal, compare prices, and read what other travelers have to say about The Charles Hotel at Tripadvisor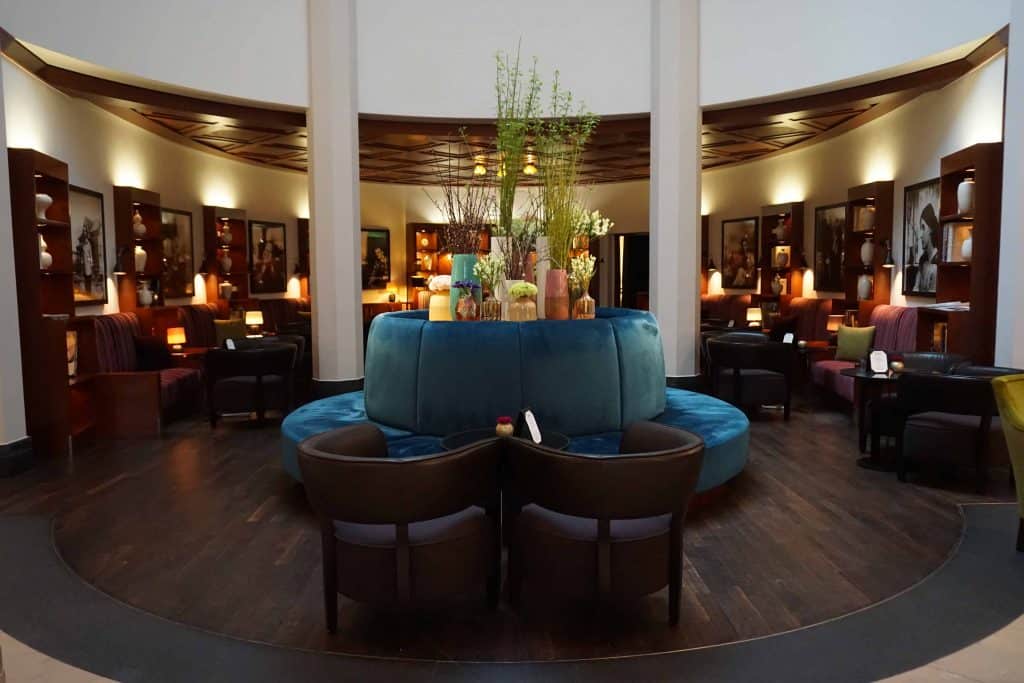 Day 2 – Day Trip from Munich to Neuschwanstein Castle
On day two we headed out on a day trip from Munich to Neuschwanstein Castle. We chose to book a private tour with Mike's Bike Tours, a company known for organized bike tours in and around Munich but they also offer additional guided tours.
We opted for a full day private tour as we didn't want to rent a car and drive ourselves and decided that a private tour would be more efficient than taking public transportation. By hiring a local guide we had the benefit of his expertise and were able to see far more of the countryside of the Bavarian Alps than we ever could have managed on our own in one day. Our driver/guide, Siegmund, picked us up in our hotel lobby at 7:45 am for our full day of sightseeing in Bavaria.
Neuschwanstein Castle was our ultimate destination, however, our guide had booked our timed entry tickets for the castle in the afternoon so that it would be our final stop of the day. In the meantime, we were able to visit more of Bavaria.
Our tour included stops in Garmisch-Partenkirchen, Ettal Monastery, and Linderhof Palace, a drive through Austrian Alps and then finally Neuschwanstein Castle
For a more detailed description of our day tour read A Day Trip From Munich to Neuschwanstein Castle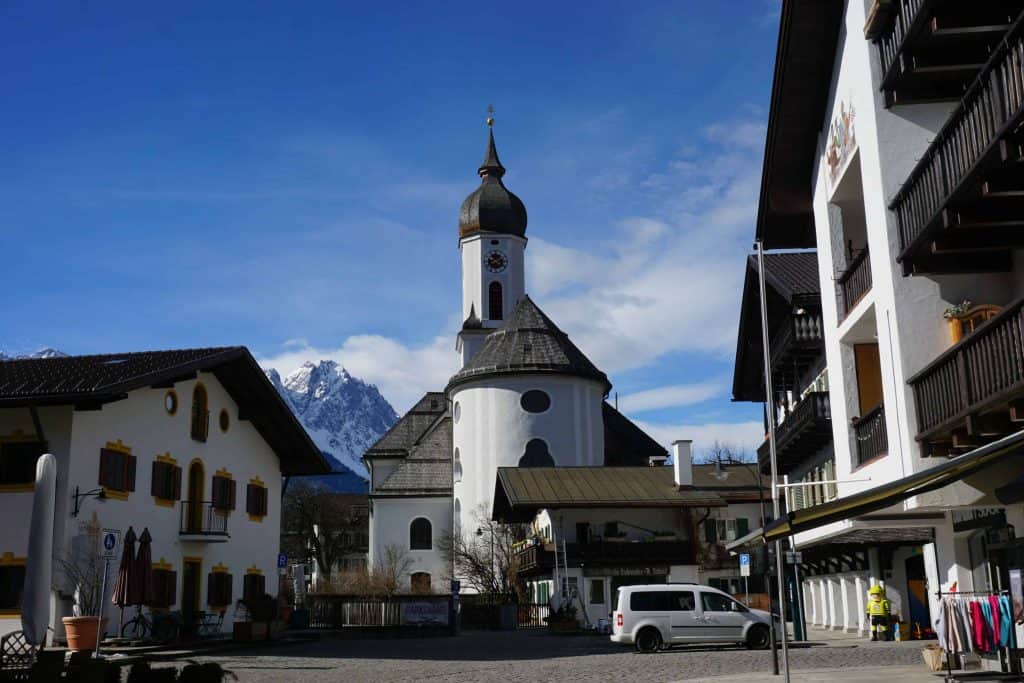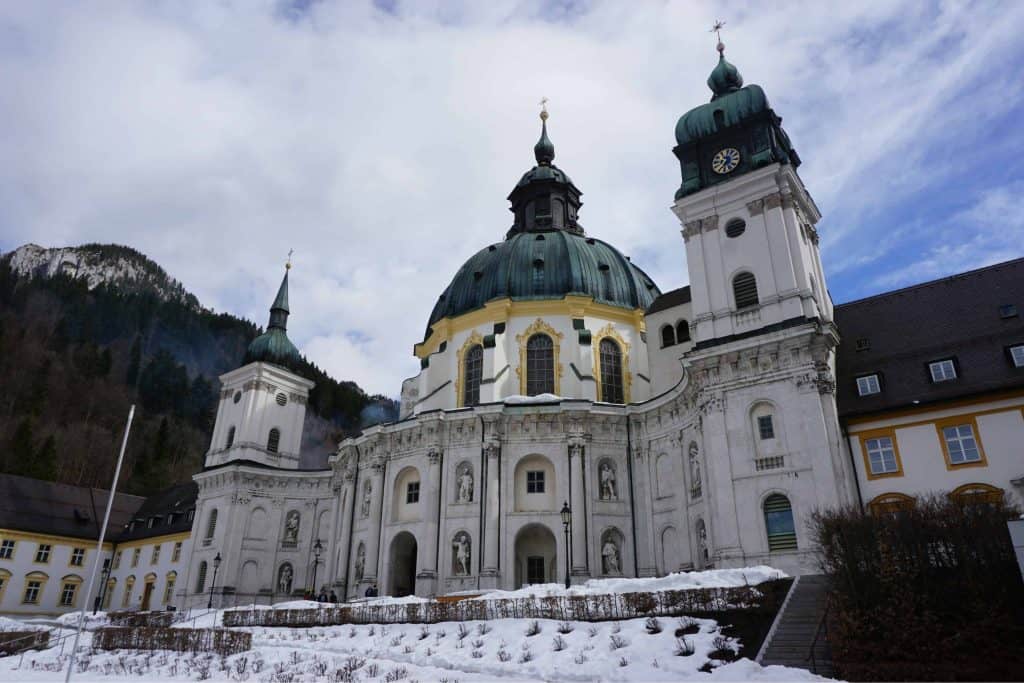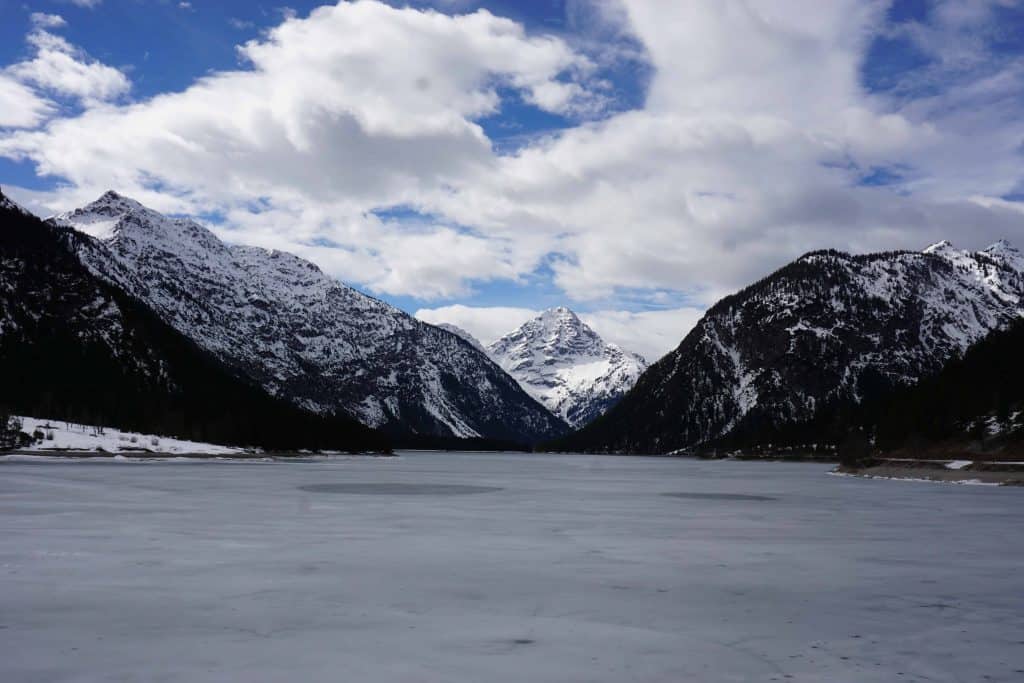 Neuschwanstein Castle
Neuschwanstein Castle is located above the village of Hohenschwangau near Füssen in southwest Bavaria approximately 120 kilometres (75 miles) from Munich. The castle which "Mad" King Ludwig started building in 1869 is one of the most popular tourist attractions in Germany with approximately 1.5 million annual visitors.
We arrived in the afternoon and commenced our walk uphill to the castle from the village which takes about 30-40 minutes. Horse-drawn carriages and shuttle buses are also an option for getting to the top of the hill. It is only possible to tour the interior of the castle on a guided tour and it's a good idea to book the tours in advance as they do sell out particularly when travelling during the high season.
Our timed-entry tickets had been arranged by our guide and picked up when we arrived so we hadn't had to worry about that at all. Guided tours are available in English and German and audio guides are available in a number of additional languages. Photography inside the castle is strictly forbidden.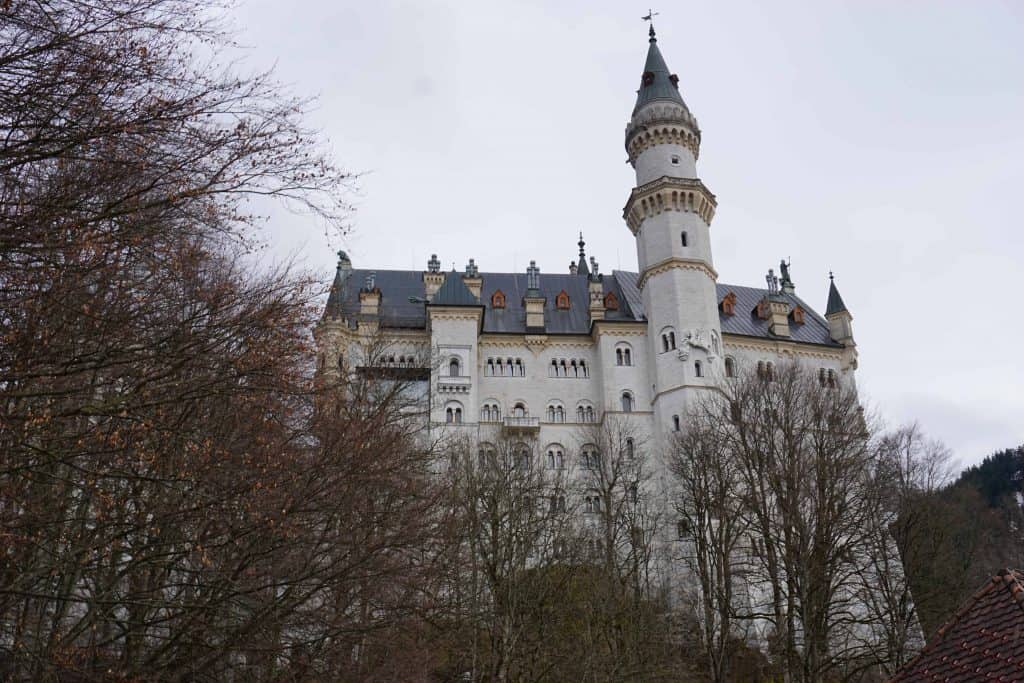 Day 3 – Sightseeing in Munich
We spent the day sightseeing in Munich on our third and final day in the city. We knew we wouldn't get an early start to the day with our sleepy teenager so we timed our departure from the hotel so that we would arrive in Marienplatz, Munich's central square, around the time that the famous glockenspiel on Neue Rathaus (New Town Hall) would be playing at 11 am.
After watching the glockenspiel show, we did some exploring in the area around Marienplatz. We visited Frauenkirche, the 15th century Gothic cathedral that is one of Munich's most recognized landmarks, St. Peter's Church which is the oldest church in Munich, and Asam's Church – a 30 foot wide Baroque church which is probably the most elaborate.
We also visited Viktualienmarkt which is a great place to buy something to eat or drink or to do some shopping. The original market in Munich was in Marienplatz, however, the market moved to this location in 1807 when Maximilian I ordered a larger market to be built to meet the needs of the growing city. We loved the market's prominent blue and white striped maypole which features signs to represent the merchants doing business in the market.
For more details on our full day of sightseeing read The Best Things To Do in Munich in One Day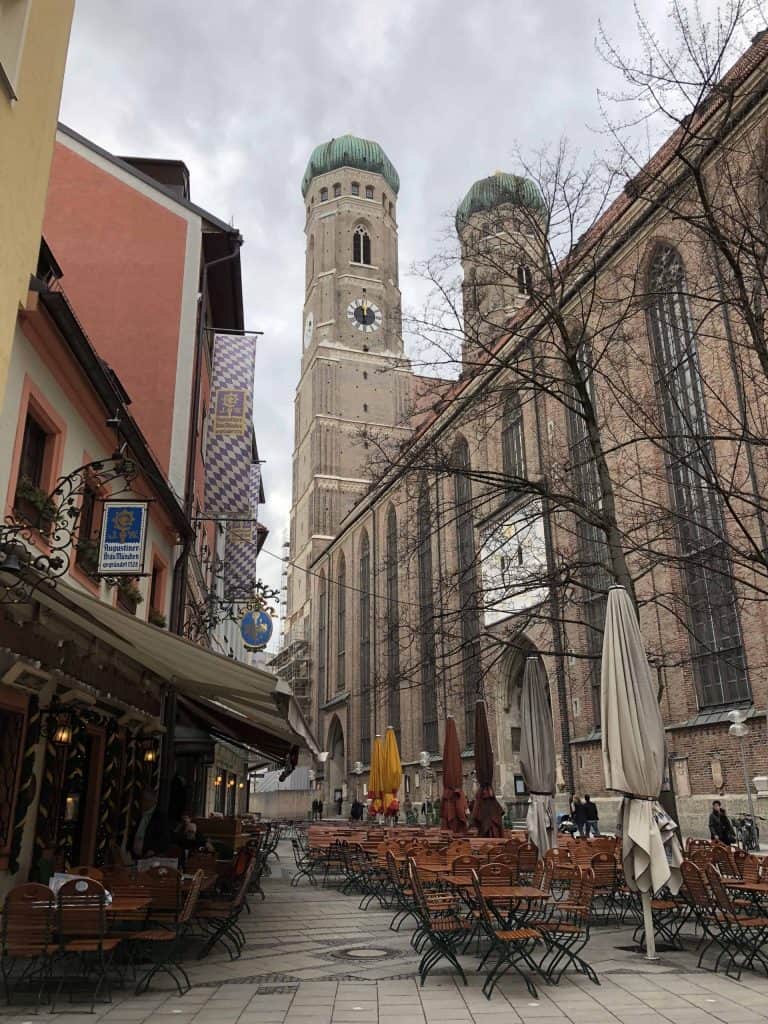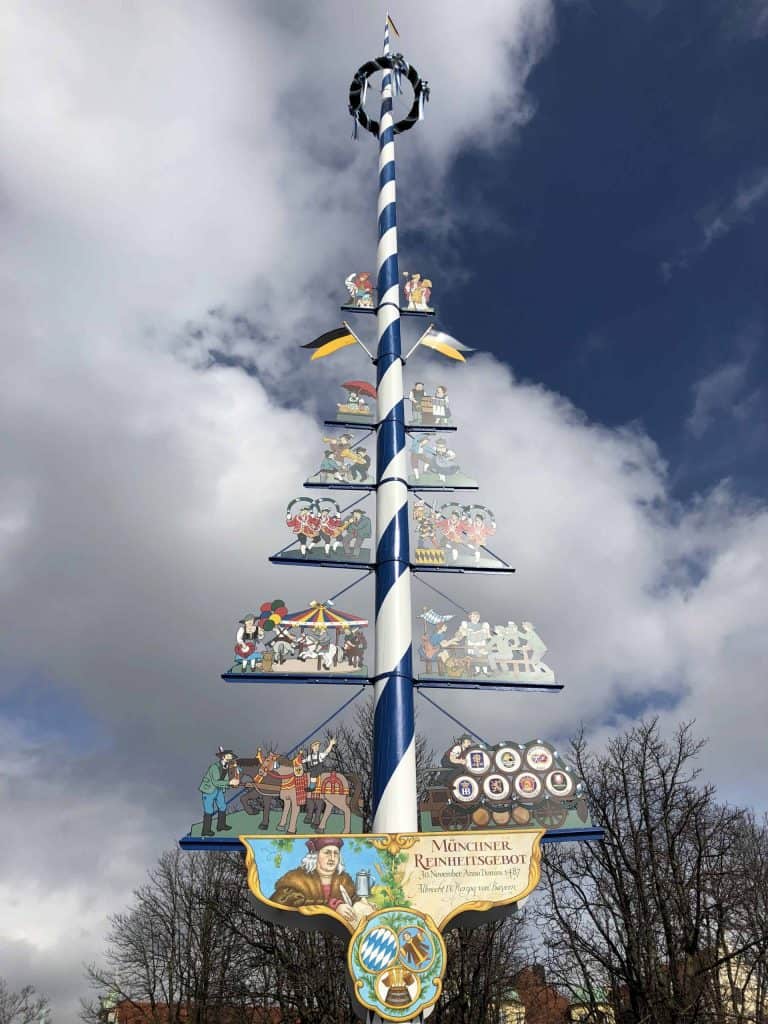 From Marienplatz, we then headed to Munich's most famous beer hall – Hofbräuhaus. Visiting is a must even if you aren't a beer drinker! Hofbräuhaus was established more than 400 years ago and today is both a magnet for tourists and a favourite watering hole for locals. The beer hall serves 30,000 people a day on average!!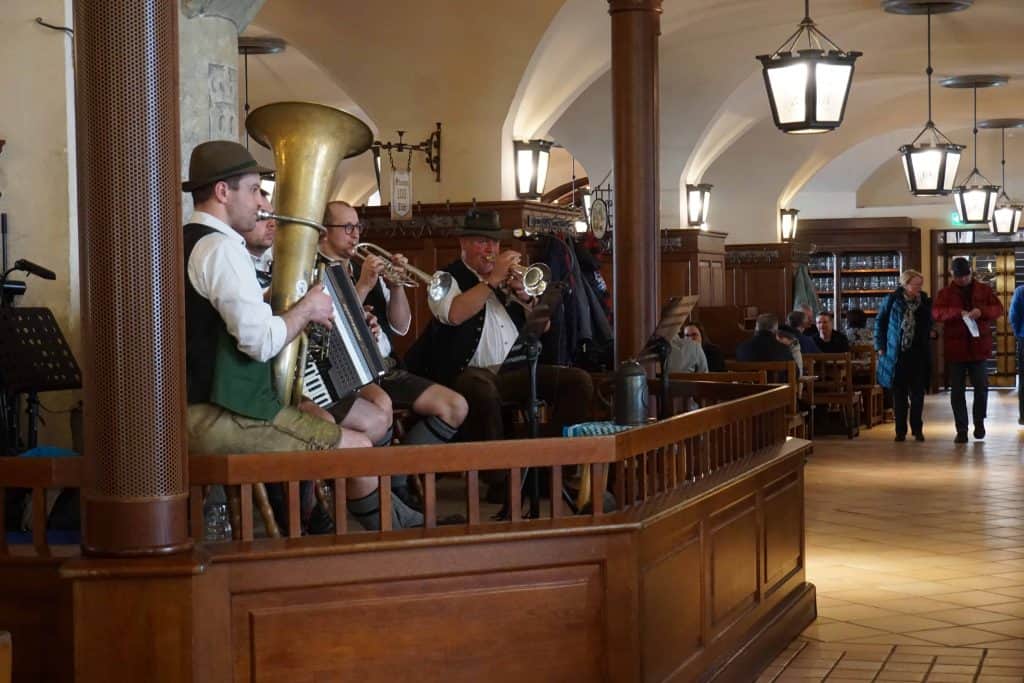 Visiting the Munich Residenz was a priority for me even though we only had one day in Munich – I love palaces! The Munich Residenz was both the seat of government and the castle home of the ruling Wittelsbach family from 1508-1918. Today visitors can visit three sections of the complex – the Residence Museum, the Treasury, and/or the Cuvilliés Theatre. We opted to visit all three but spent most of our time in the Residence Museum (the opulent palace that was home to Bavaria's ruling dynasty for several centuries).
It was a lovely spring day, so we followed our visit to Munich Residenz with a short walk through Hofgarten and the English Garden and then headed down Maximilianstrasse through Munich's upscale shopping district to the museum district. We only had time to visit one museum so we chose Neue Pinakothek because of the focus on European artists of the 19th century. The museum's collections feature masterpieces by such artists as Édouard Manet, Vincent van Gogh, Thomas Gainsborough, Paul Cézanne and Claude Monet.
By the end of the day we had covered a fair bit of ground and headed back to our hotel exhausted and ready to move on to Salzburg after our short stay in Munich.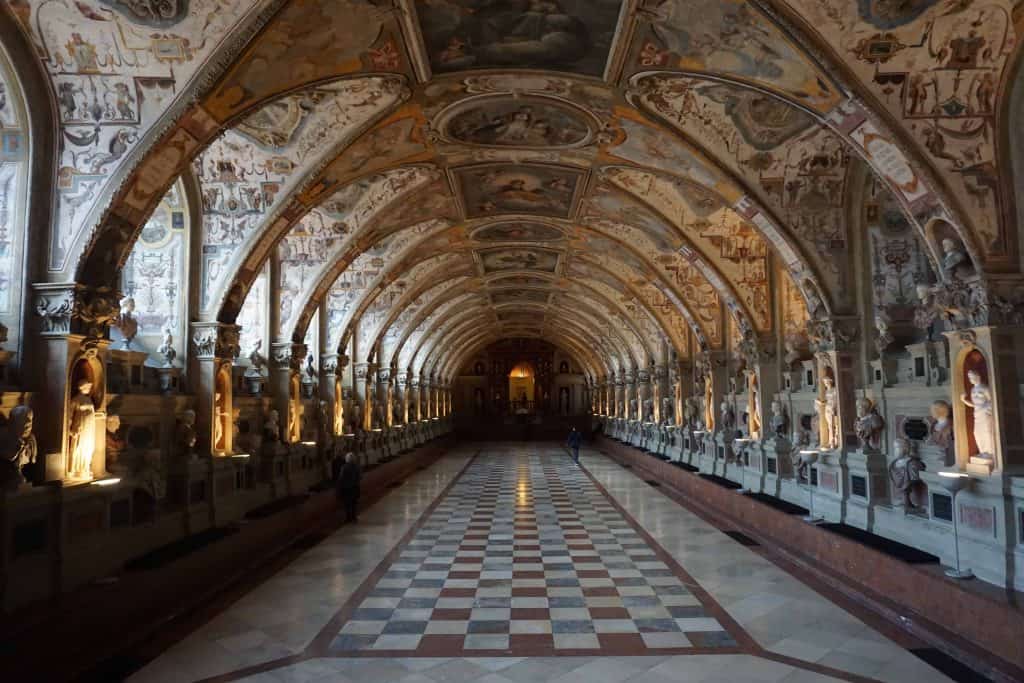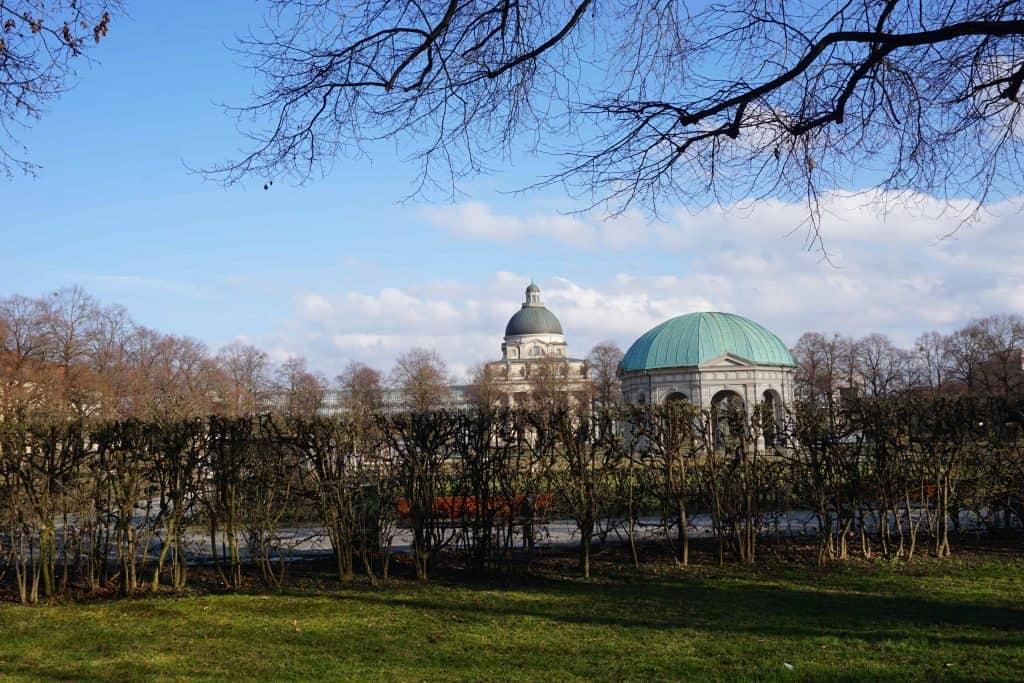 Day 4- Train from Munich to Salzburg
We checked out of the Charles Hotel in the morning and walked over to the train station to catch our train from Munich to Salzburg. The train journey was a little more than 1.5 hours and we arrived in Salzburg, checked into Hotel Wolf-Dietrich and were out exploring by mid-afternoon.
The weather was beautiful so we spent the rest of the day walking around Salzburg's Old Town and then over to Mirabell Gardens (a filming site for The Sound of Music) because I wanted to be sure to have nice photos there and there was rain in the forecast for our tour the next day. We had decided to visit Salzburg primarily because of The Sound of Music connection but I fell in love with the city and by the end of our first day was wishing that we would have planned to spend more time here.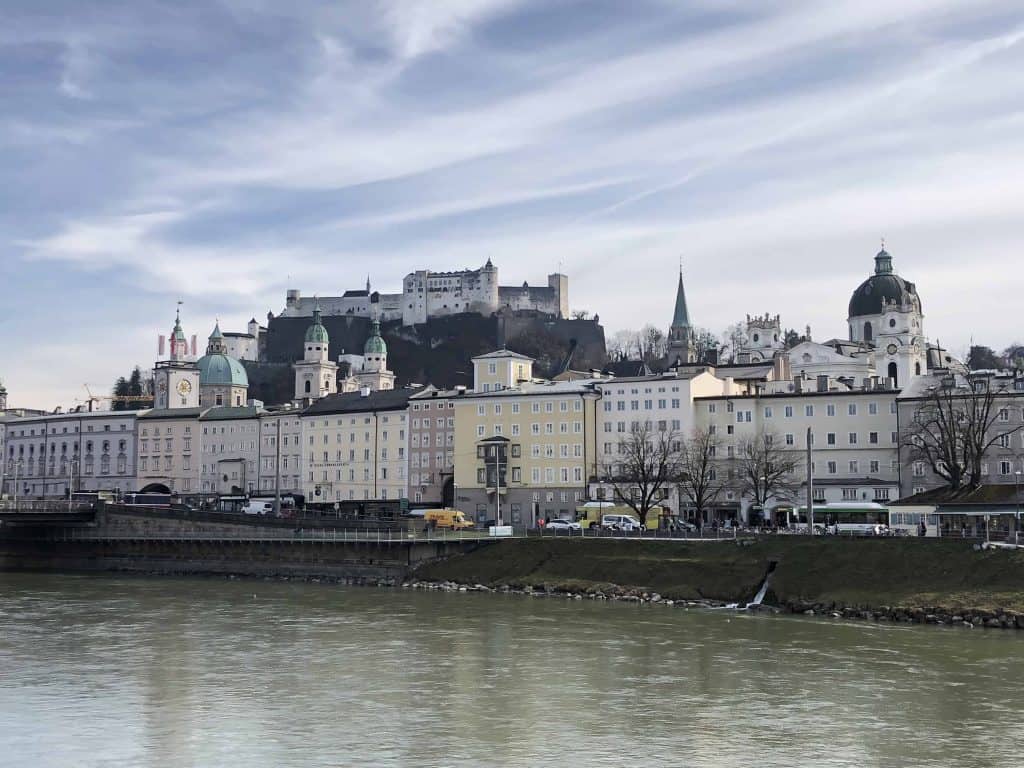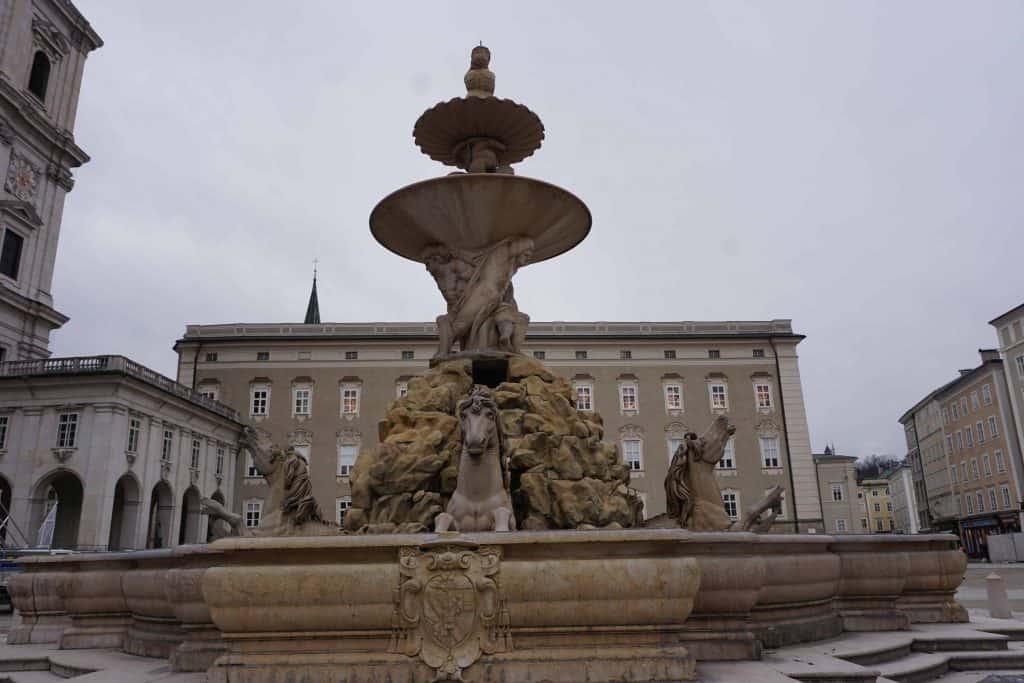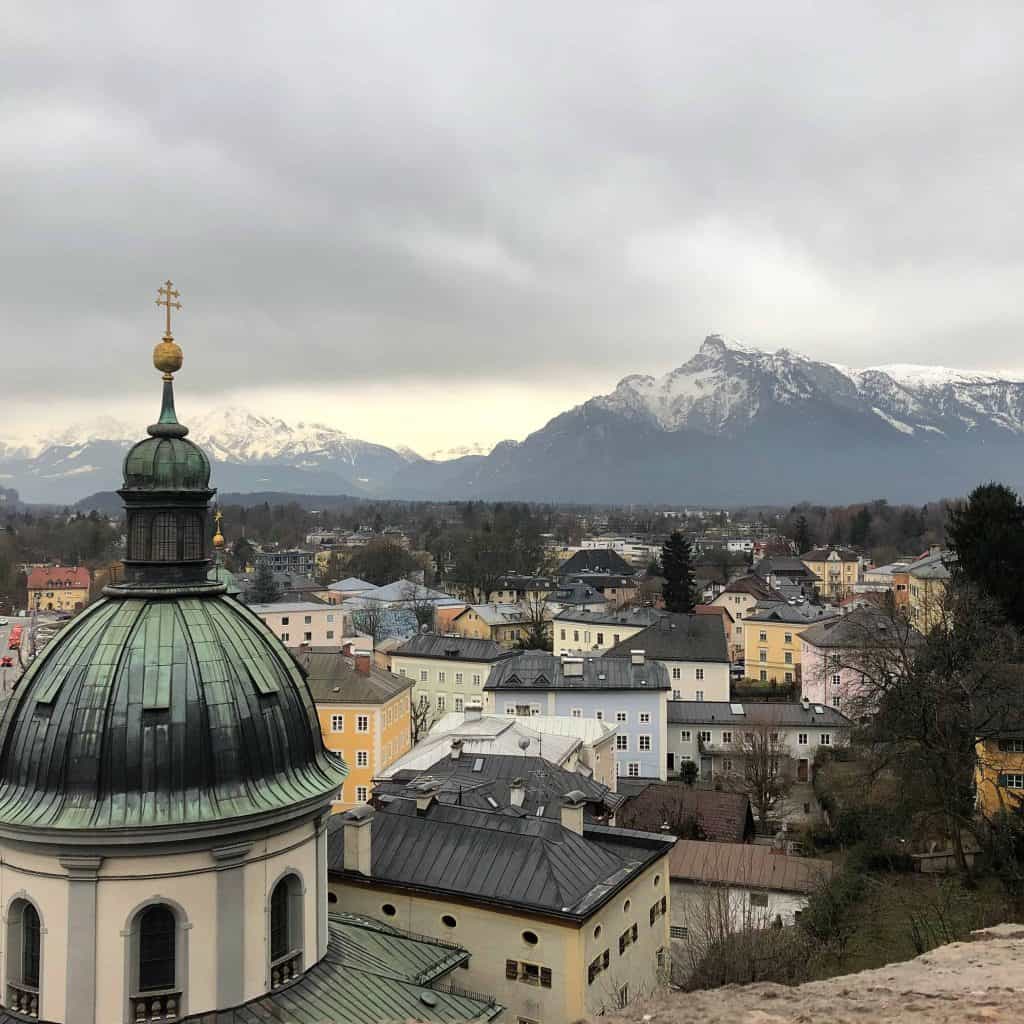 We stayed at Hotel Wolf-Dietrich, a four star boutique hotel located in the historic city centre of Salzburg. There are a number of different styles of rooms available and all have been individually decorated. The hotel's location is ideal as it is within easy walking distance of all of the city's main attractions. The hotel features a spa with an indoor pool, free wifi, and a breakfast buffet which is included in the room rate.
Find the best deal, compare prices, and read what other travelers have to say about Hotel Wolf-Dietrich at Tripadvisor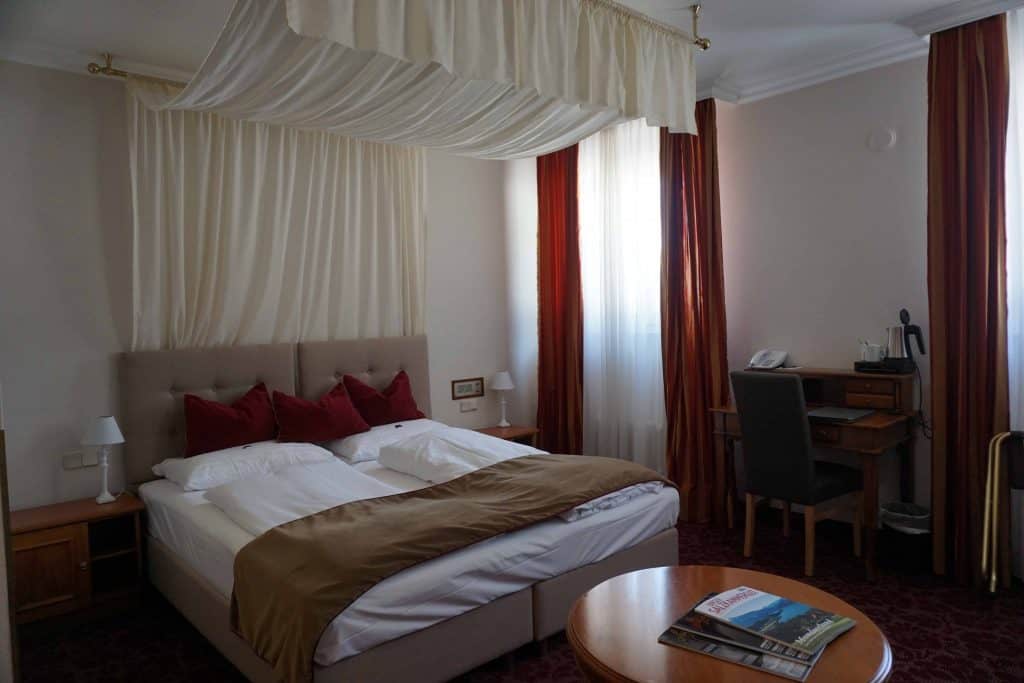 Day 5 – Sound of Music Tour
Our full day in Salzburg was devoted to The Sound of Music. We dismissed the Do-It-Yourself option in favour of a guided tour and chose Bob's Special Tours, a family run business which has been operating in Salzburg since 1976 and is recommended by Rick Steves, Fodors and Frommers. We selected an 8 hour tour which included a walking tour of Old Town Salzburg, an Austrian cooking class, and a driving tour (maximum 8 passengers) to visit the filming sites outside of the city. We also got a lucky break as nobody else signed up for the tour so it ended up being just the three of us and our guide.
We met our guide, Jürgen, at 9 am and headed out on a 3 hour walking tour of Old Salzburg that included Nonnberg Abbey, St. Peter's Monastery & Cemetery, Salzburg Cathedral, Residenzplatz, and Mirabell Palace and Gardens.
Around noon Jürgen dropped us off at the the Edelweiss Cooking School for our lesson in traditional Austrian cooking. Our instructor gave a brief demonstration on the steps involved in making apple strudel and then we made our own from the assembled ingredients as well as a second dessert called Salzburger Nockerl. While our desserts were cooking we dined on Austrian goulash and then enjoyed our masterpieces fresh from the oven. We had a great time learning to cook Austrian specialties and lunch was delicious!!
Our driver/guide for the afternoon met us at the cooking school and we headed out in the minivan to see some of the filming sites outside of the Old Town and in the Lake District including Schloss Leopoldskron, Schloss Frohnburg, Schloss Hellbrunn, Salzburg Lake District, and Mondsee Cathedral.
For a detailed account of our tour read Salzburg, Austria for Fans of The Sound of Music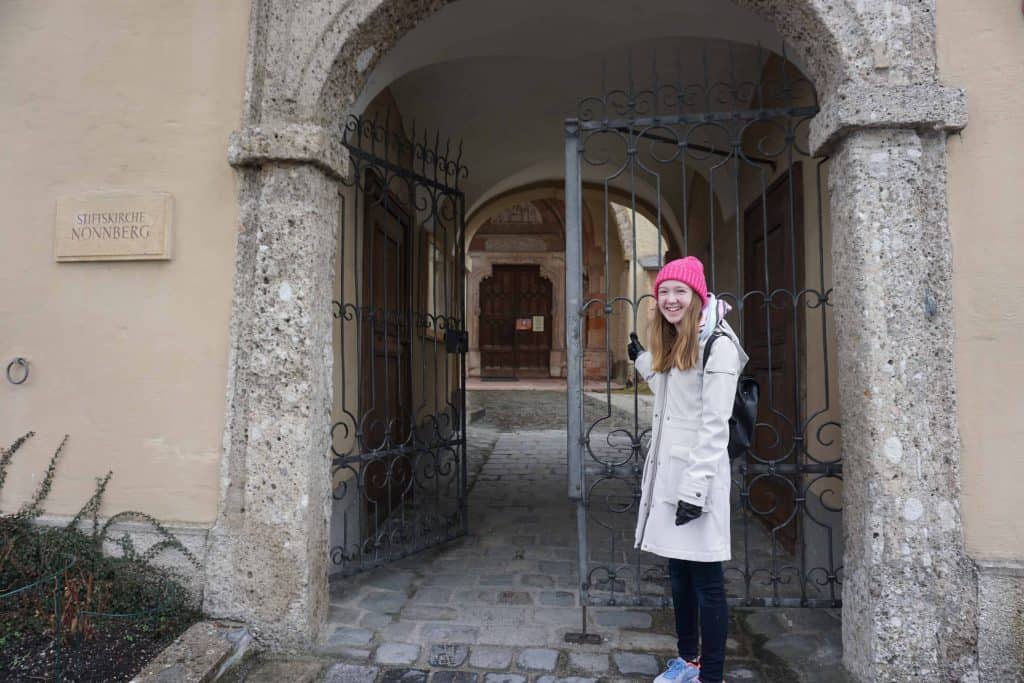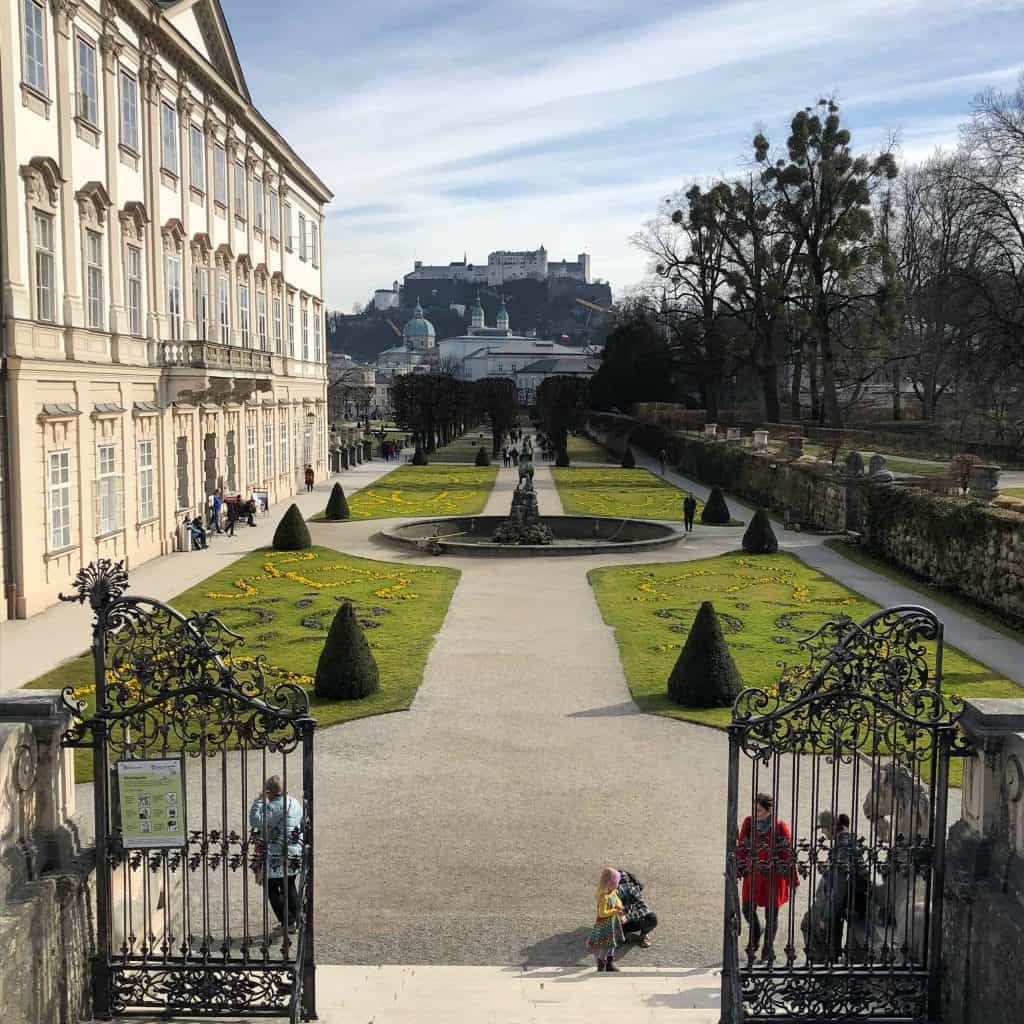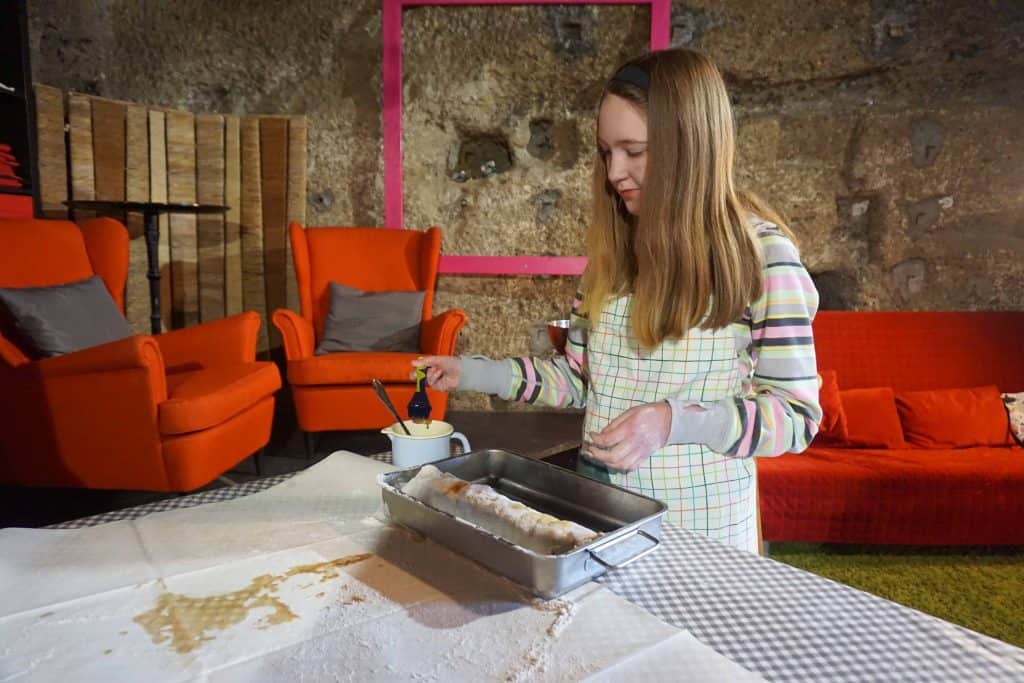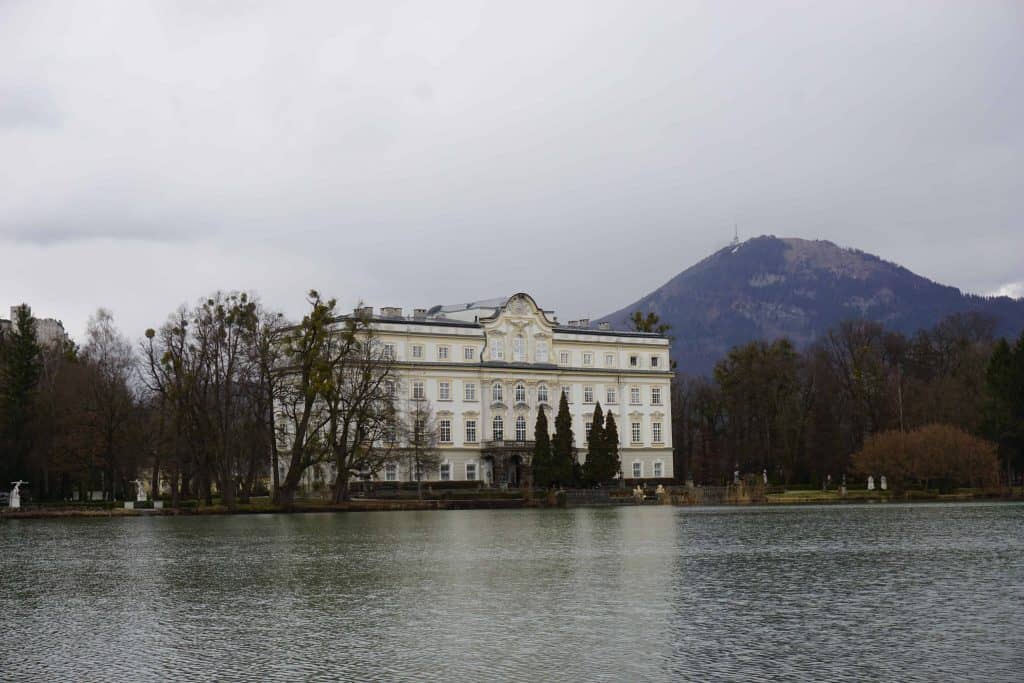 Day 6 – Train from Salzburg to Vienna
We headed out the next day to catch our train to Vienna which was leaving around noon and discovered that the weather had turned quite cold. Whereas we had been enjoying lovely spring temperatures on our trip, winter had now definitely returned.
The train journey was about 2.5 hours and we arrived in Vienna late afternoon and checked into our lovely hotel the Palais Hansen Kempinski Vienna. We decided that since it was so cold out that it wouldn't be fun to go for a walk and opted instead to have dinner and enjoy a quiet evening at the hotel.
Find the best deal, compare prices, and read what other travelers have to say about Palais Hansen Kempinski Vienna at Tripadvisor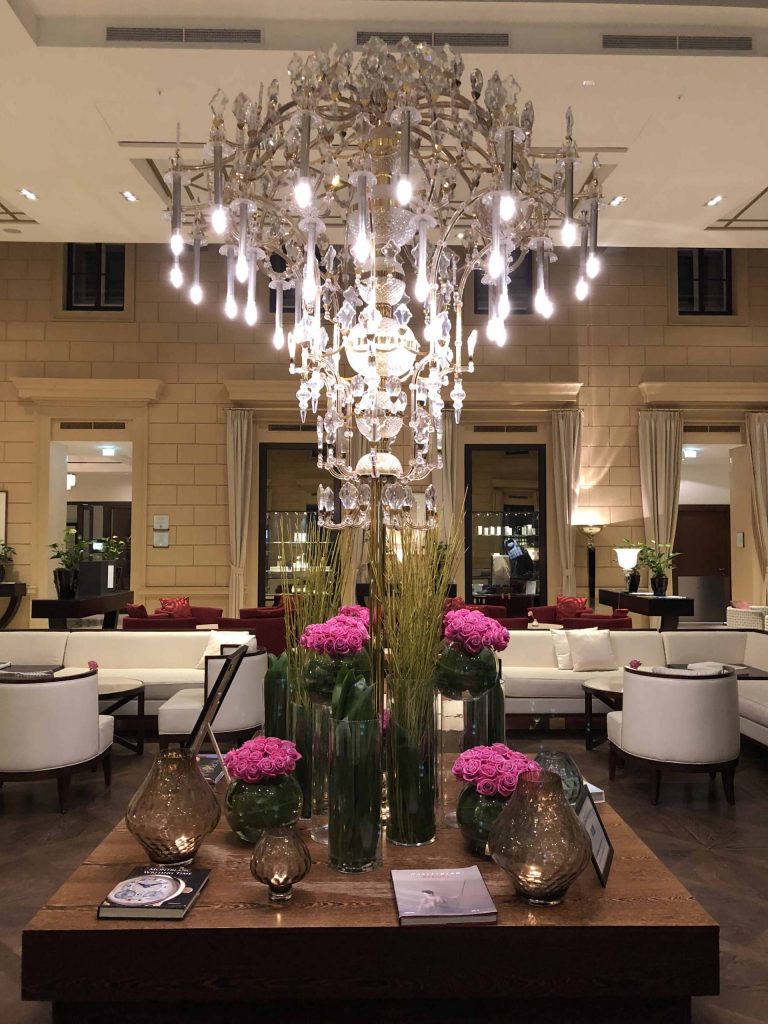 Day 7 – Vienna
Vienna is the capital of Austria as well as the country's largest city known for its stunning architecture as well as arts/culture, the Spanish Riding School and coffee houses. I had been looking forward to visiting Vienna for so long that it was quite bad luck that the weather didn't cooperate while we were there. Temperatures had dropped well below freezing with a bitter wind and we weren't dressed for it with only spring jackets, hats and mittens. We decided to make the best of it though and headed out on foot to do some sightseeing in Vienna.
Our ultimate destination was Belvedere Palace but our plan had been to take a leisurely walk there in order to see all of the grand buildings along the way. We did manage to see the Mozart Monument, the Museum District, Hofburg Imperial Palace, the Vienna State Opera and more but I can't say that anyone was actually enjoying the sightseeing. A return trip to Vienna at a warmer time of year is definitely in order!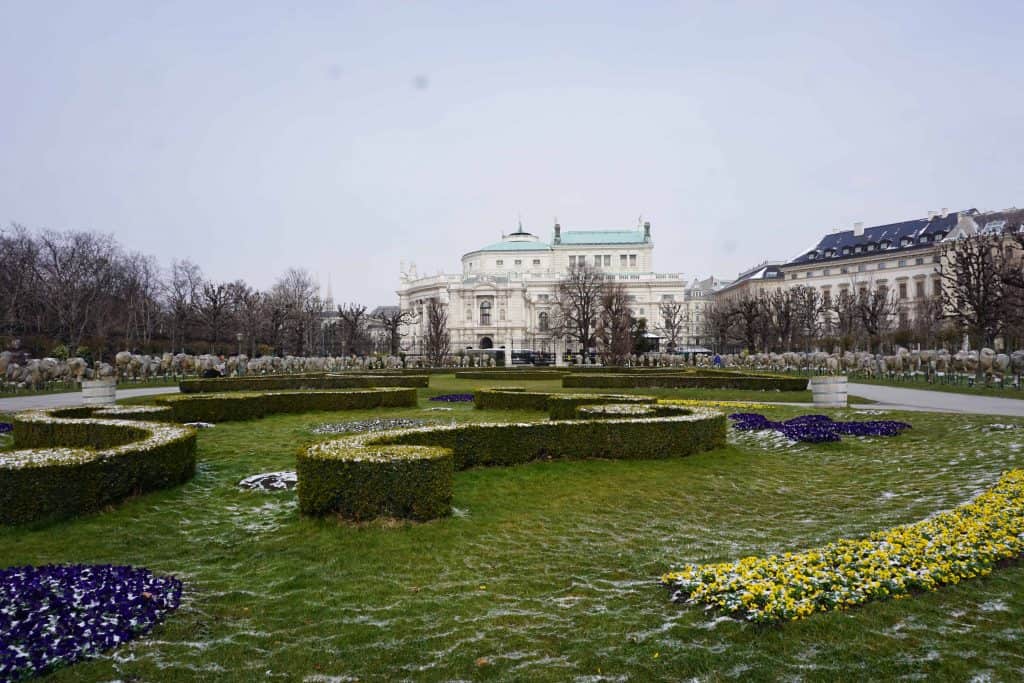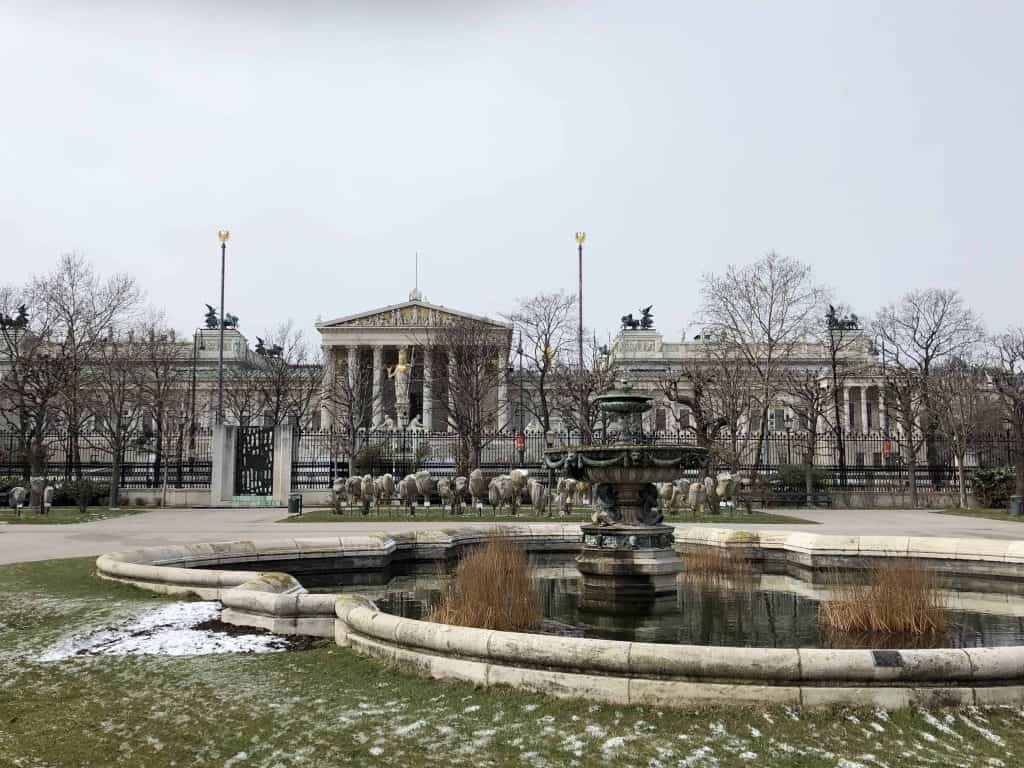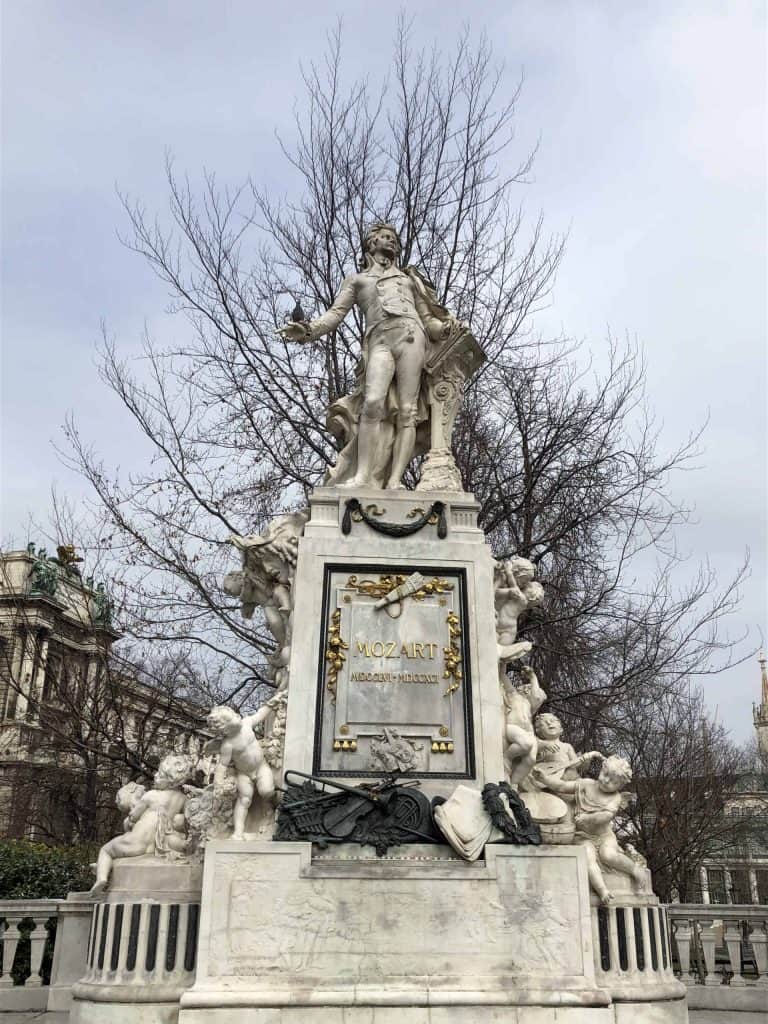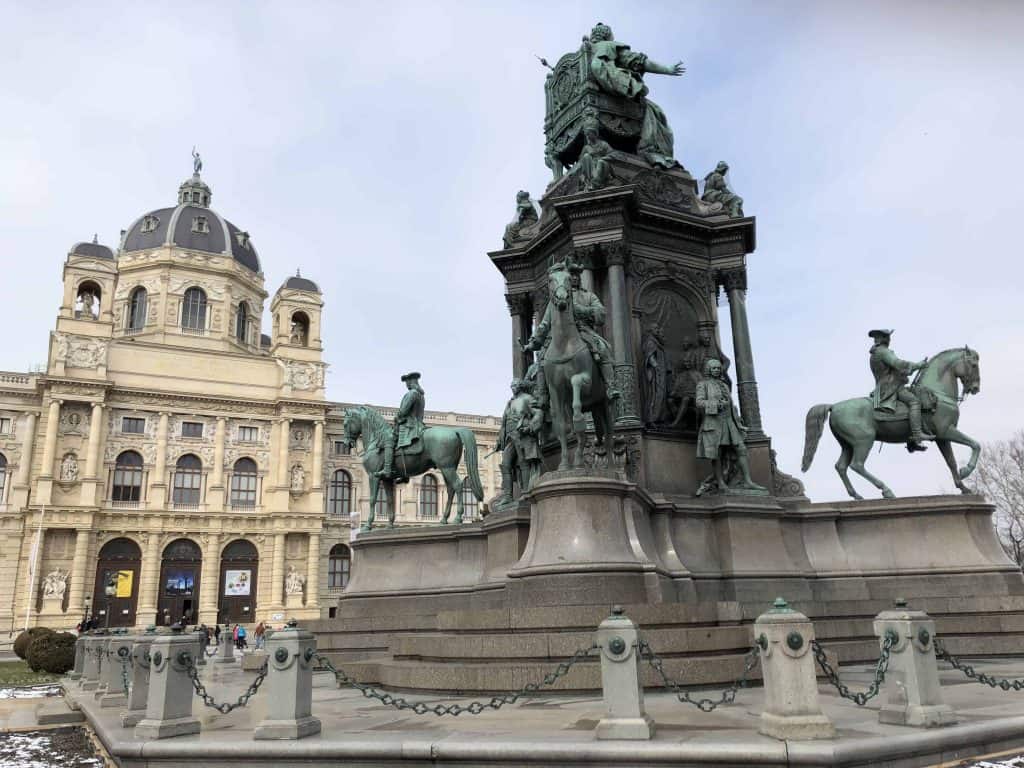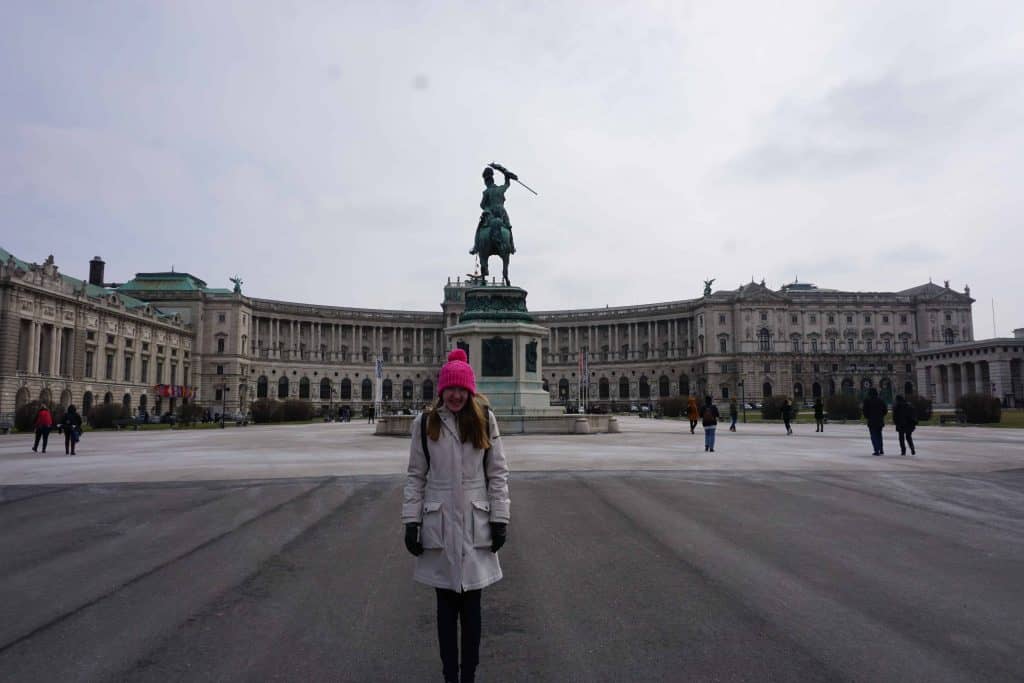 Belvedere Palace (Schloss Belvedere)
It was a relief when we eventually made it to Belvedere Palace. We took some photos outside and then were quite happy to get in out of the cold and visit the art museum inside. The elegant Belvedere Palace, a complex of two palaces and extensive gardens, is a stunning example of Baroque architecture and a UNESCO World Heritage Site. Work started on the complex early in the 18th century when Prince Eugene of Savoy commissioned renowned Baroque architect Johann Lukas von Hildebrandt to build a summer residence.
After the death of Prince Eugene, the Upper Palace was transformed into an exhibition for the imperial art collections and it became one of the first public art museums in the world. We enjoyed the museum's collection which focuses on 19th and early 20th century artists including works by French impressionists such as Monet and Van Gogh. The museum also has a large collection of paintings by Austrian artist Gustav Klimt. Be prepared to find a large crowd gathered around his most famous painting The Kiss!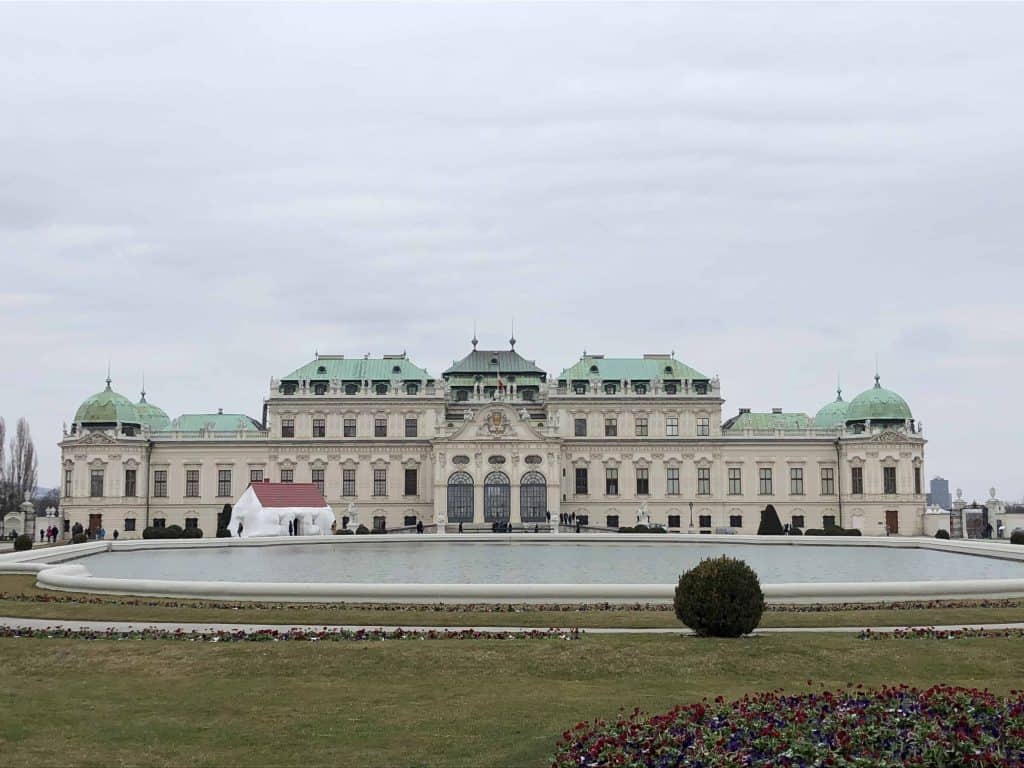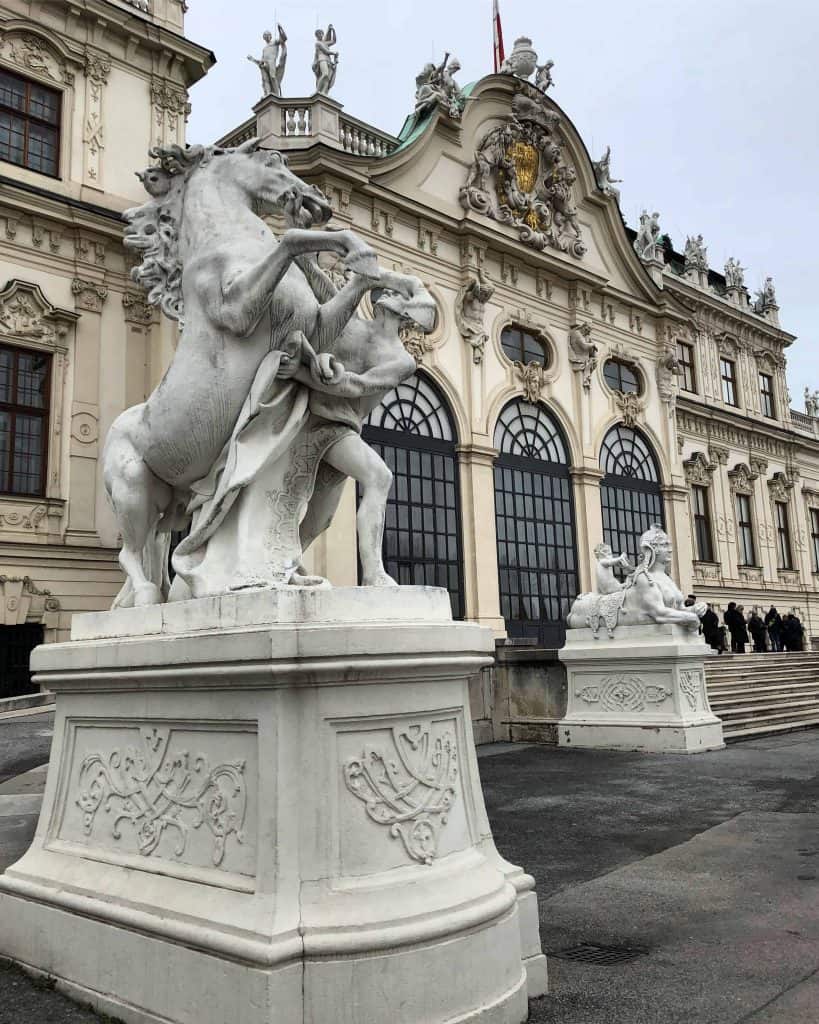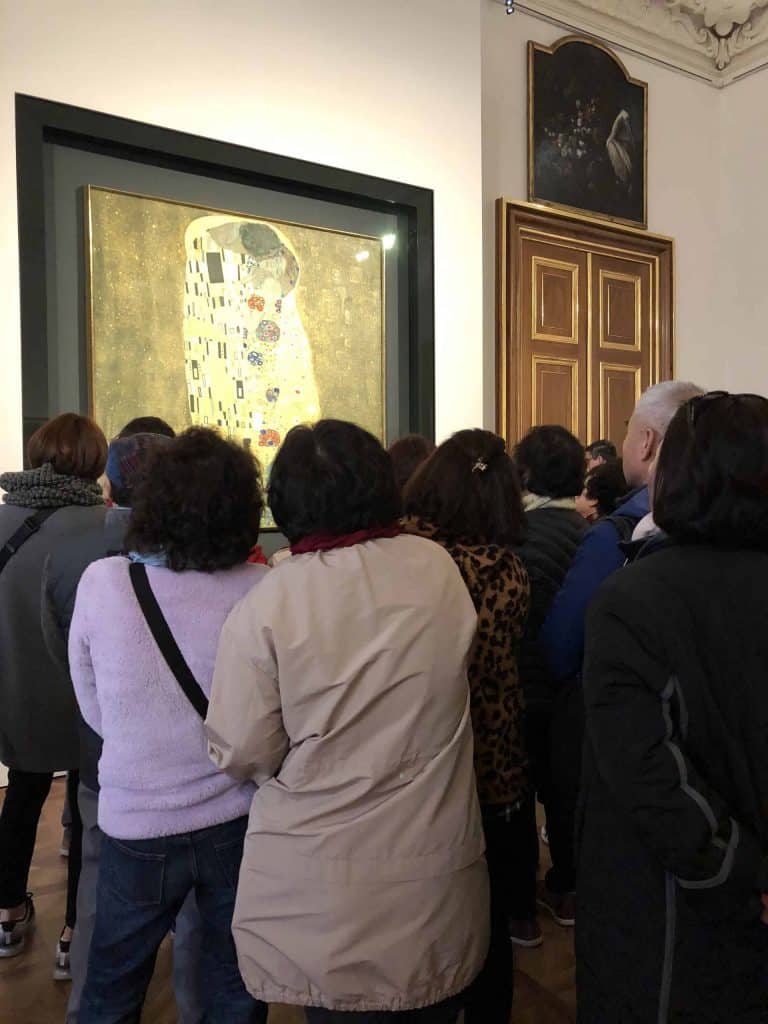 Day 8 – Vienna
Our daughter opted for sleeping in on our final day in Vienna so my husband and I went for a walk to St. Stephen's Cathedral first thing in the morning. By this time I was starting to panic that we weren't going to be able to see everything that I had planned to because the cold was putting a damper on our sightseeing.
St. Stephen's Cathedral
St. Stephen's Cathedral (Stephansdom) is a stunning structure that dominates the skyline of Vienna and is a must-see for visitors to the city. The current building which is Romanesque and Gothic in design was constructed in the 14th century but there had been two earlier churches on the same spot dating back to the 12th century. The cathedral is known for the ornate pattern of its tiled roof which includes a mosaic of an eagle as well as coats of arms of the City of Vienna and the Republic of Austria.
Visitors can enter the cathedral free of charge, however, there are areas within the church to which there is only paid access including the main nave, the towers and the catacombs. We just had a quick look around the cathedral on our own as we were short on time, however guided tours are also available in both German and English and audio-guides are available in 23 languages.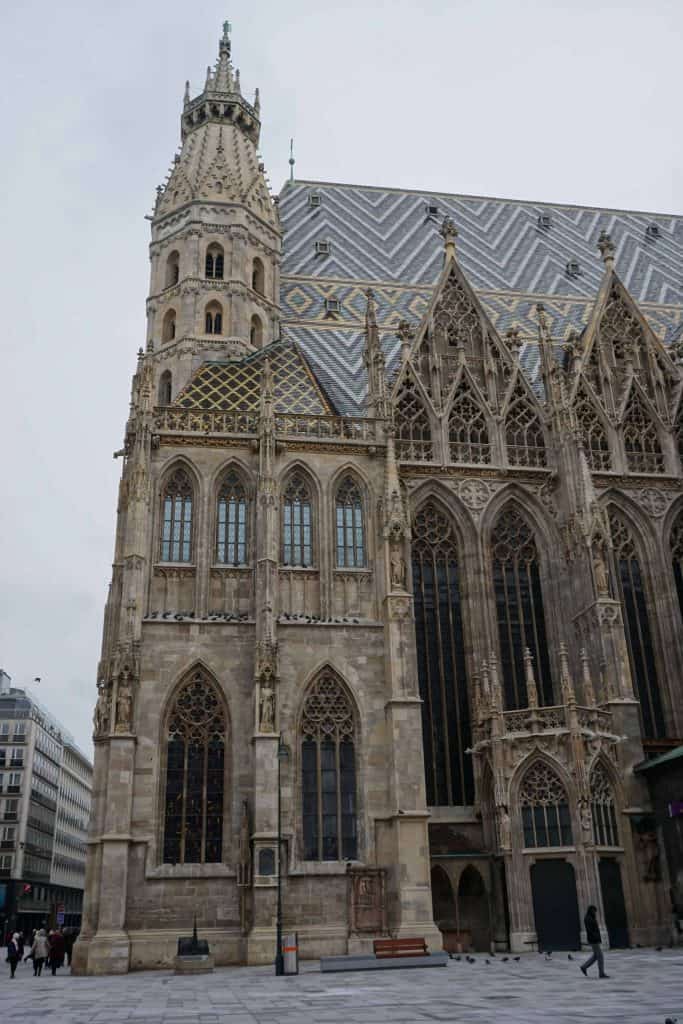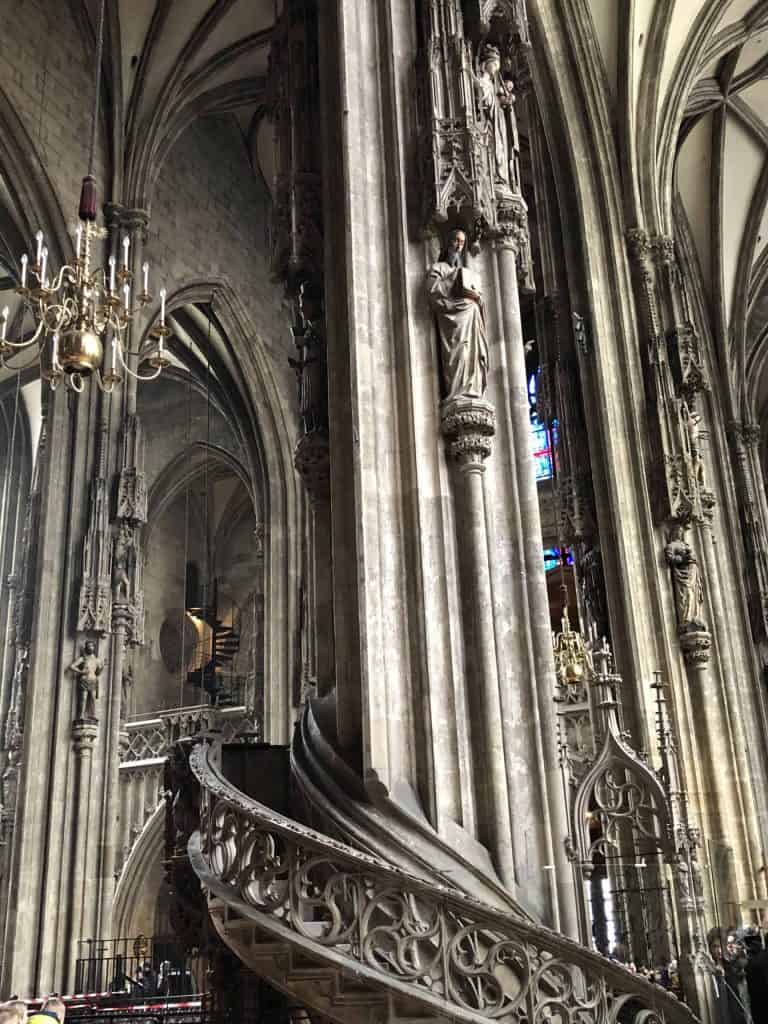 Schönbrunn Palace
Our final day of sightseeing in Vienna focused primarily on a visit to Schönbrunn Palace. The timing of our visit meant that we were lucky to be there while the Easter Market was underway which was a treat as we had never visited one before. Schönbrunn Palace which was the summer residence of the Hapsburg royal family is located on the outskirts of the city about 8 kilometres from our hotel. We took a cab but it can also be reached via public transport.
The palace is Vienna's most popular tourist attraction and can be very busy so be prepared for crowds. There are two tours of the palace's state rooms available – the Imperial Tour which includes 22 rooms and lasts approximately 30-40 minutes and the Grand Tour which includes 40 rooms and lasts approximately 50-60 minutes. With both tours, visitors are provided with an audioguide and follow a marked route through the rooms. No photography is allowed inside the palace. We opted for the Grand Tour which included the state rooms and apartments of Franz Josef and Sisi as well as the Rococo rooms from the time of Maria Theresa.
After our tour we went outside for a brisk walk in the gardens as far back as the Neptune Fountain in order to get a better view of the Gloriette (a triumphal arch built in 1775) but it was too cold to linger. There wasn't much growing in March but I'm sure the beautifully manicured gardens are stunning during the spring and summer seasons. Visiting the Palace Park is free of charge, however, you need tickets for special attractions such as the Privy Garden, the Orangery, the Maze and the viewing terrace at the Gloriette.
We had planned to head from Schönbrunn Palace to Prater, Vienna's amusement park with a giant observation wheel, but we were so cold that we decided to just call it a day. We had dinner at the hotel and packed for our flight home the next morning. We didn't see as much as we had planned to in Vienna but were still astounded by the beauty of the city and hopeful to return another time.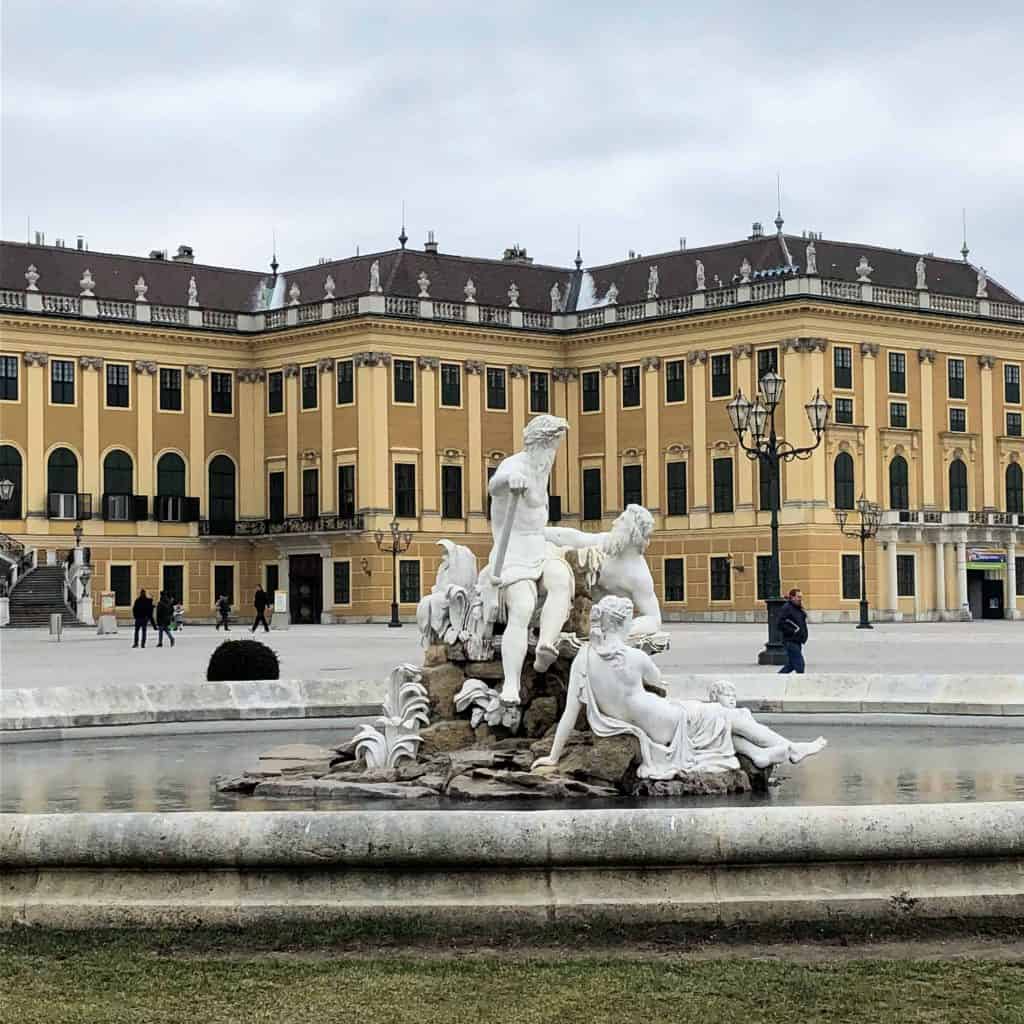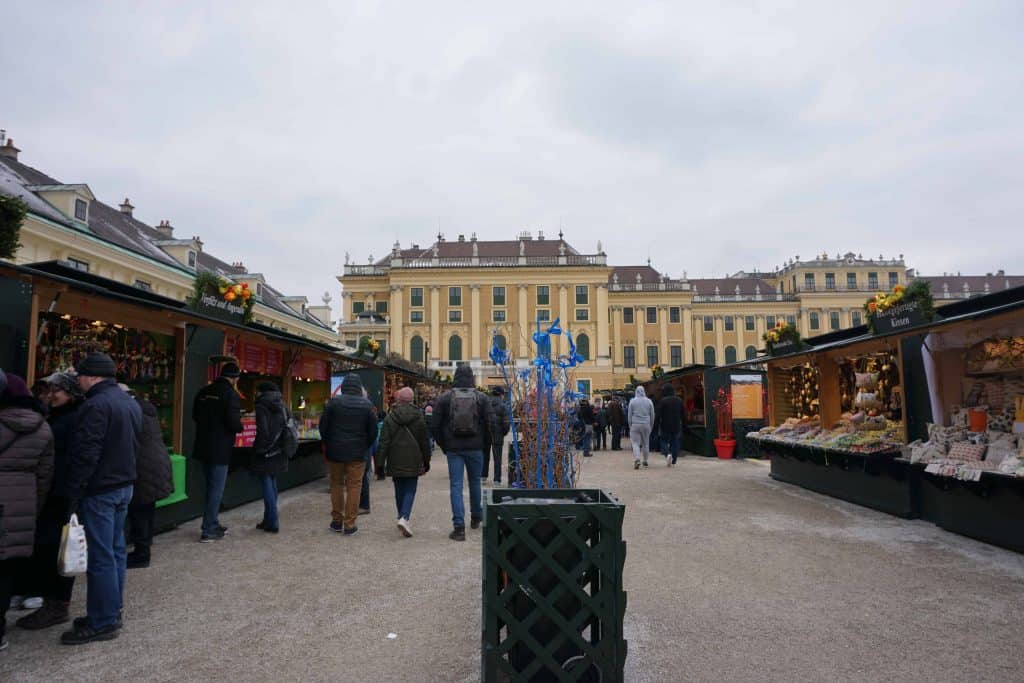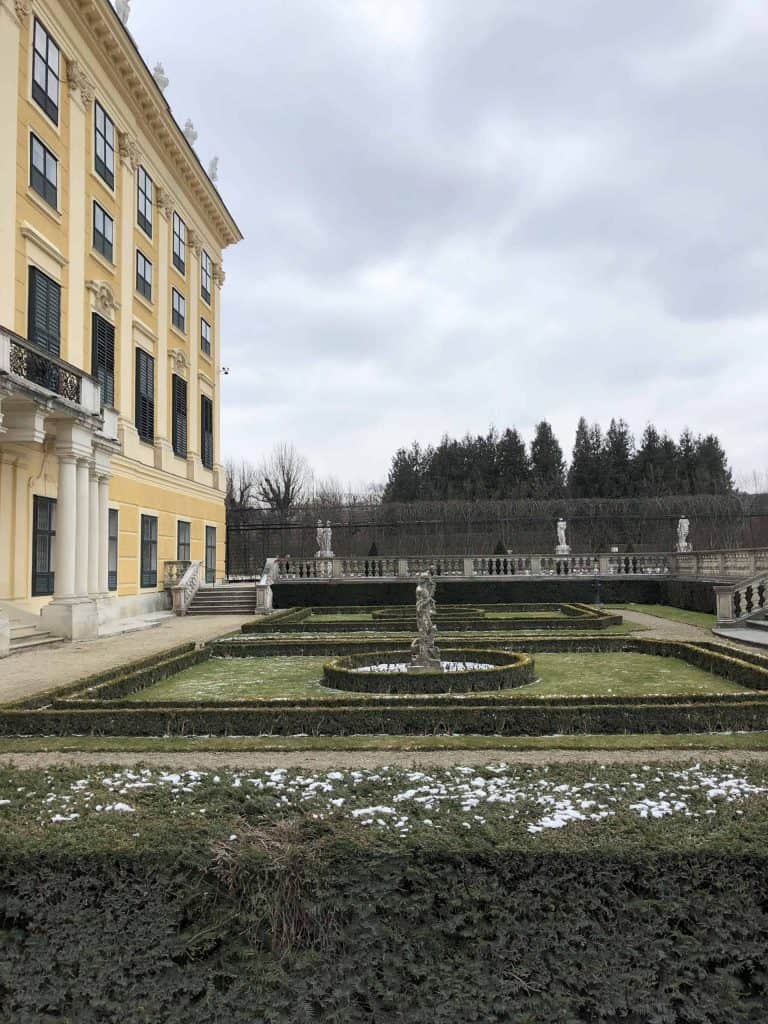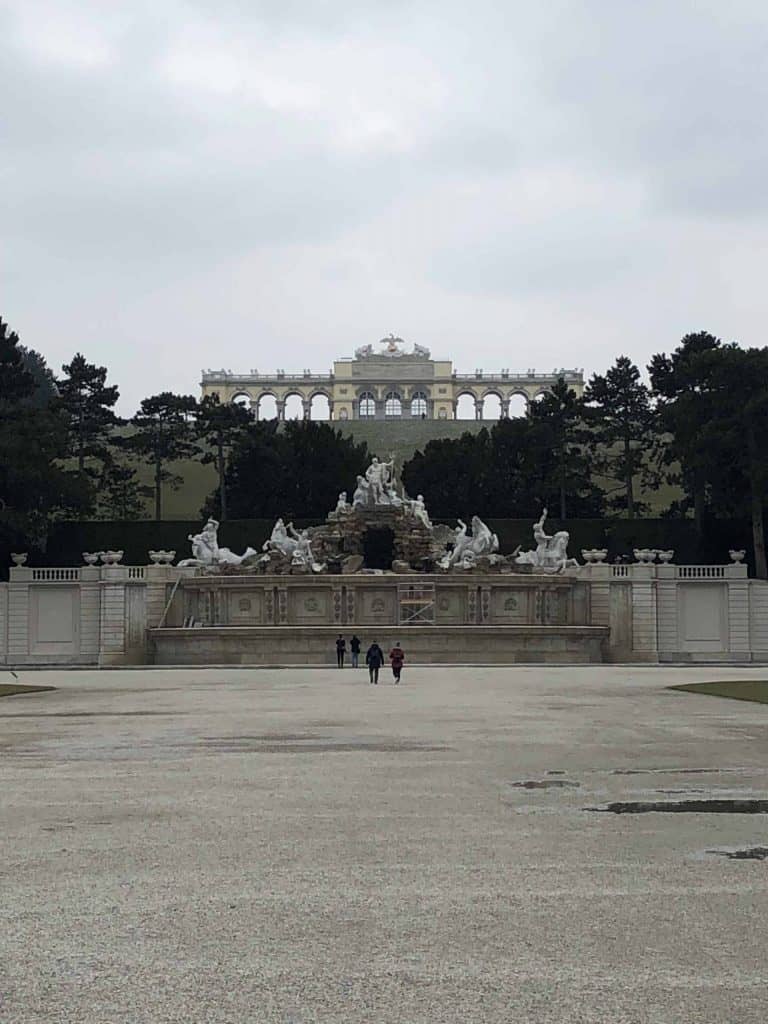 We are a participant in the Amazon Services LLC Associates Program, an affiliate advertising program designed to provide a means for us to earn fees by linking to Amazon.com and affiliated sites.
Pin This For Later