Do you only have one day in Munich, Germany? This is our itinerary including 13 things we were able to see and do with only one full day in Munich plus our recommendation for a luxury hotel in central Munich.
Updated February 2023
Munich (München in German), the capital of the German state of Bavaria, is one of Germany's largest cities and most popular tourist destinations. It's a modern cosmopolitan city with a strong sense of history and Bavarian tradition and it goes without saying that there are more things to do in Munich, Germany than can be experienced in just one day.
It is only possible on a short visit to touch on the top things to do in Munich but one day is enough to provide a taste of the city that will leave you wanting to return for more. It is said that Munich is the city where most Germans would like to live and after our visit it was easy to understand why.
Read Munich, Salzburg, Vienna: An 8 Day Itinerary
We are a participant in the Amazon Services LLC Associates Program, an affiliate advertising program designed to provide a means for us to earn fees by linking to Amazon.com and affiliated sites. As an Amazon affiliate I earn from qualifying purchases.
This article may contain affiliate links. If you click an affiliate link and make a purchase then Gone with the Family may receive a small commission at no additional cost to you
We arrived in Munich on a Monday mid-day after an overnight flight from Toronto. My husband and I went for a walk to orient ourselves but our teenage daughter preferred to rest at the hotel. The following day we had a full-day tour to Neuschwanstein Castle with Mike's Bike Tours which left Wednesday as the one full day that our family had for sightseeing in Munich.
Read about our Day Trip from Munich to Neuschwanstein Castle
Our March visit was at the tail end of winter in Munich but we were fortunate to experience lovely spring weather while we were there which made it easier to see the highlights of Munich in just one day. We were travelling with a teen but we would have followed the same itinerary with younger kids although likely wouldn't have been able to cover as much ground.
Munich is a reasonably compact city which made it easy to cover quite a bit of ground in one day particularly since most of what we wanted to see was located in Altstadt (Old Town). Since I prefer to explore a city on foot, we chose a hotel which was just a few minutes walk from Marienplatz and did our sightseeing on an extended walk. Public transit is also an easy option in Munich and many people travel around Munich on bicycle as well.
Munich's official tourism website has extensive information on getting around the city which you can find in the Traffic and Transportation in Munich section of their website.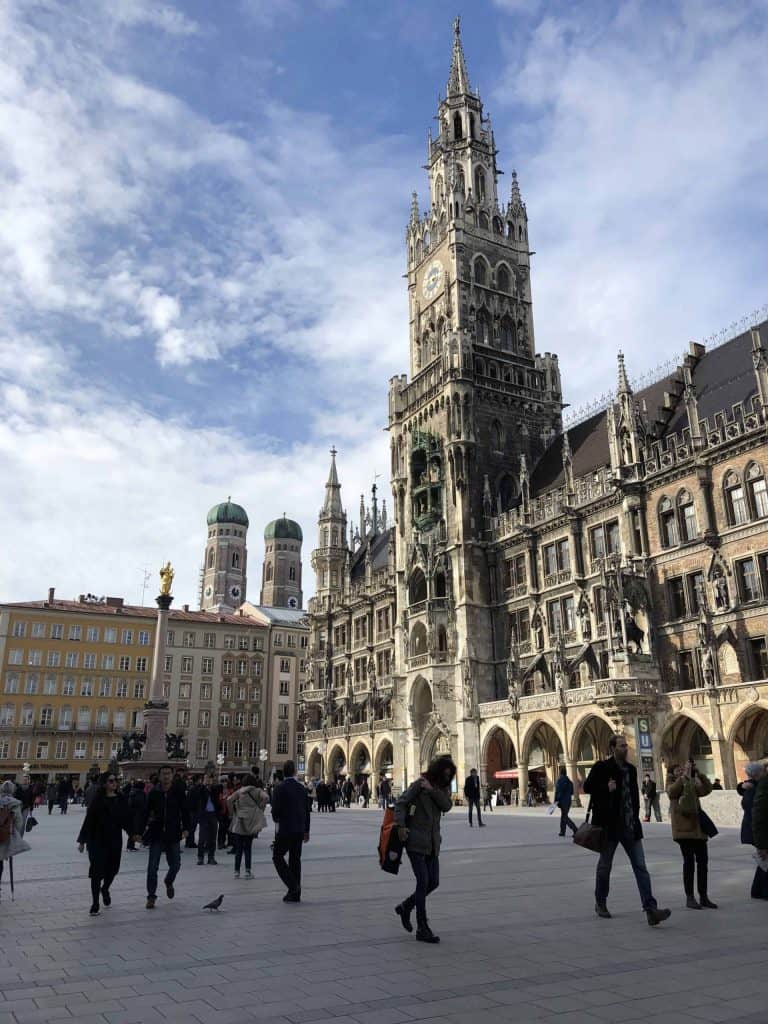 Kaufingerstrasse/Neuhauserstrasse
En route from our hotel to Marienplatz, we walked through this pedestrian shopping district which is one of Munich's oldest streets and the city's busiest shopping street. The district has a variety of stores that will appeal to the shoppers amongst you and also features some unique architecture.
I particularly liked Michaelskirche (St. Michael's Church), a Jesuit church that was built late in the 16th century and is said to be the largest Renaissance church north of the Alps. The building sustained heavy damage from bombing during World War II but was restored in subsequent years. The facade of the church features a number of bronze statues including one of Michael. Many members of the Wittelsbach are buried in the tombs of St. Michael's church including "Mad" King Ludwig II.
St. Michael's Church is located in the pedestrian zone at Neuhauser Straße 6. A team of volunteers welcomes visitors to the church and answers questions. Guided tours are can be arranged – 90 EUR for a 90 minute tour. Virtual tours are also available online.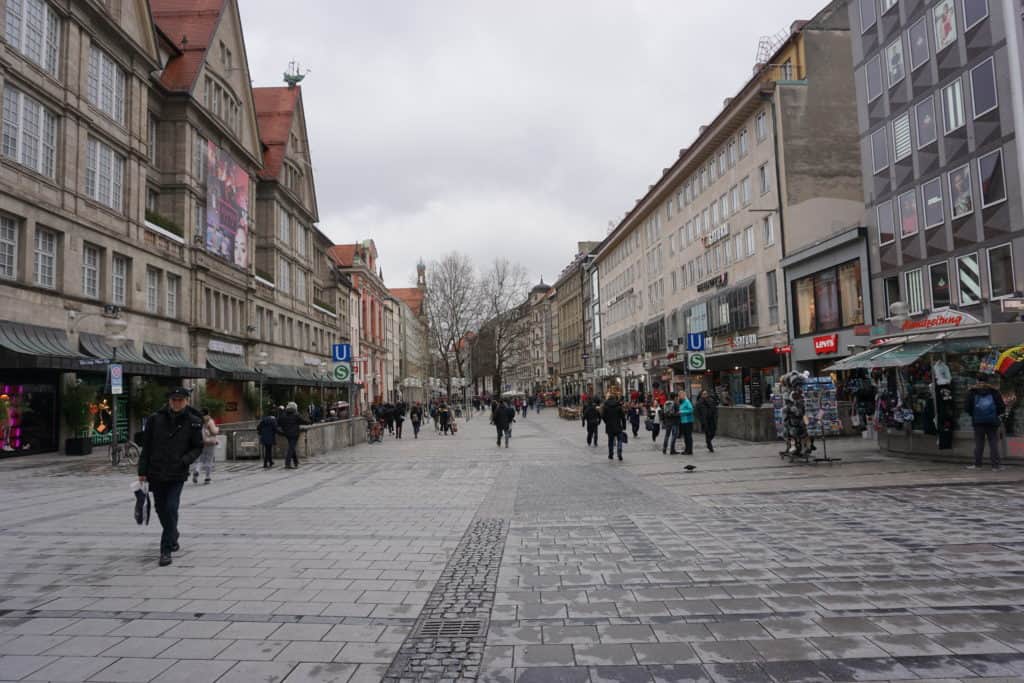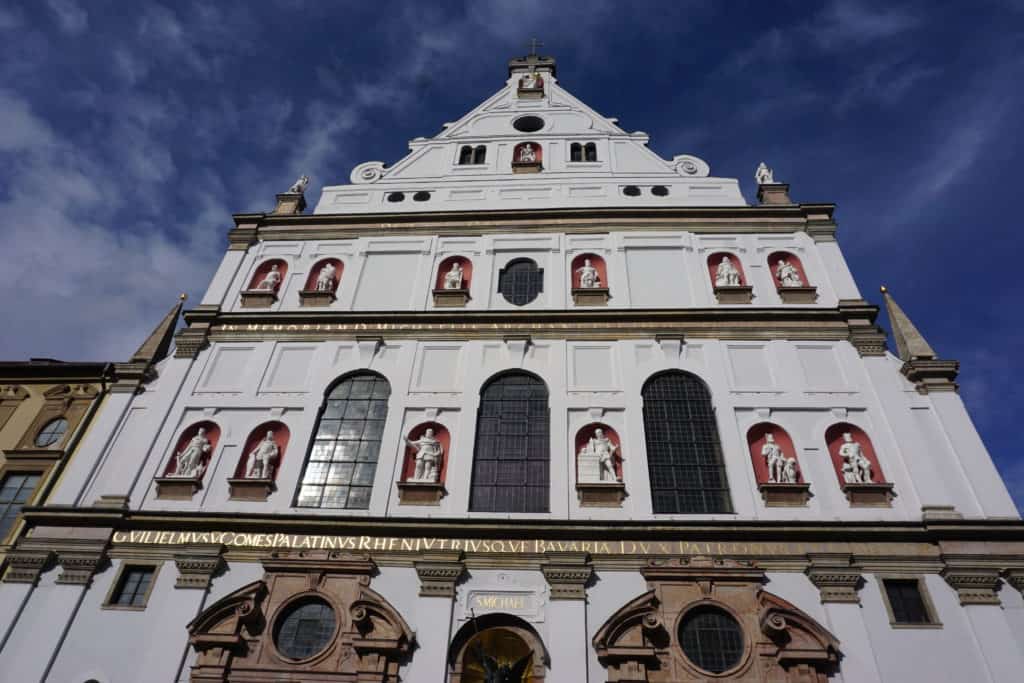 Marienplatz (Mary's Square)
Our plan was to start our day of sightseeing in Marienplatz, the central square which has been the heart of Munich for centuries. We timed our visit so that we would be arriving in Marienplatz around the time that the glockenspiel on Neue Rathaus (New Town Hall) would be playing.
Neue Rathaus, a stunning neo-gothic building constructed late in the 19th century that dominates Marienplatz, has an 85 metre high (255 feet) tower with an observation deck which offers views over the city.
Daily at 11 am and at 12 pm, and from March to October additionally at 5 pm, the world famous glockenspiel on the building's tower plays for almost 12 minutes with music and figurines that represent stories from Munich's history. The glockenspiel is considered a must-see for visitors to Munich and it was high on my list but we honestly didn't think it lived up to the hype. We have, however, seen glockenspiels before – perhaps the novelty would have made it seem more interesting.
The gothic style Altes Rathaus (Old Town Hall), also on Marienplatz, has a history dating to 1310 and was the seat of Munich city council until 1847 when the local government moved to New Town Hall. The original building was renovated many times over the years most notably after a fire in 1460 when it was rebuilt in Gothic style.
The building was almost completely destroyed again during the bombing campaigns of the Second World War and was rebuilt in the 1950s using the Gothic design from the 15th century. Today the Altes Rathaus is home to a historical toy museum – Spielzeugmuseum. We didn't have time to visit but would likely be of interest to families travelling with younger children. 
Neue Rathaus is located at Marienplatz 8 – guided tours are available.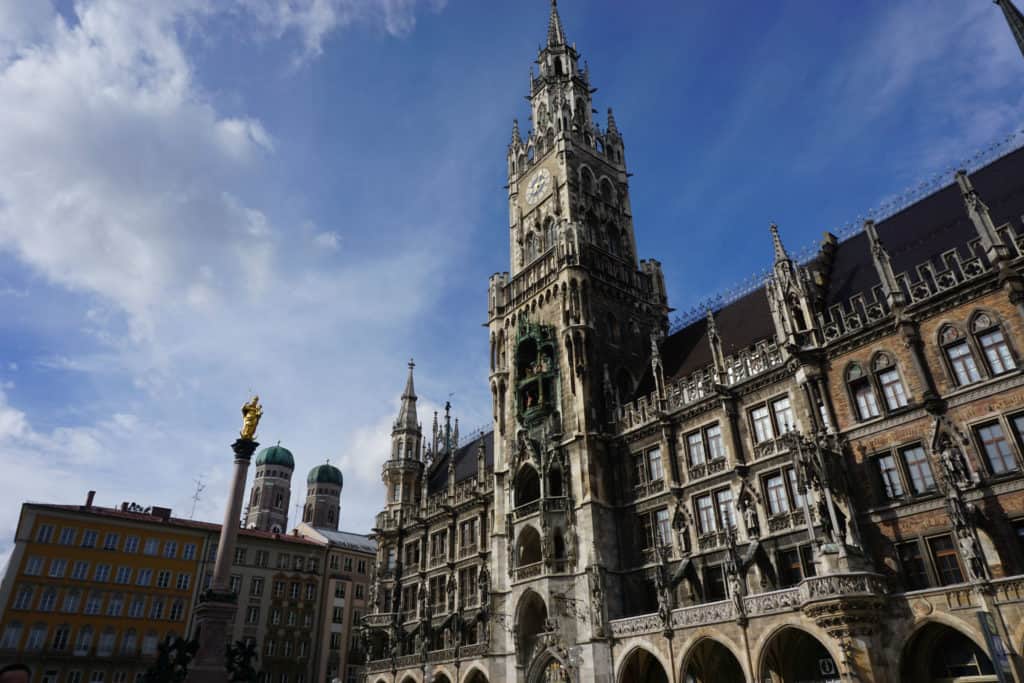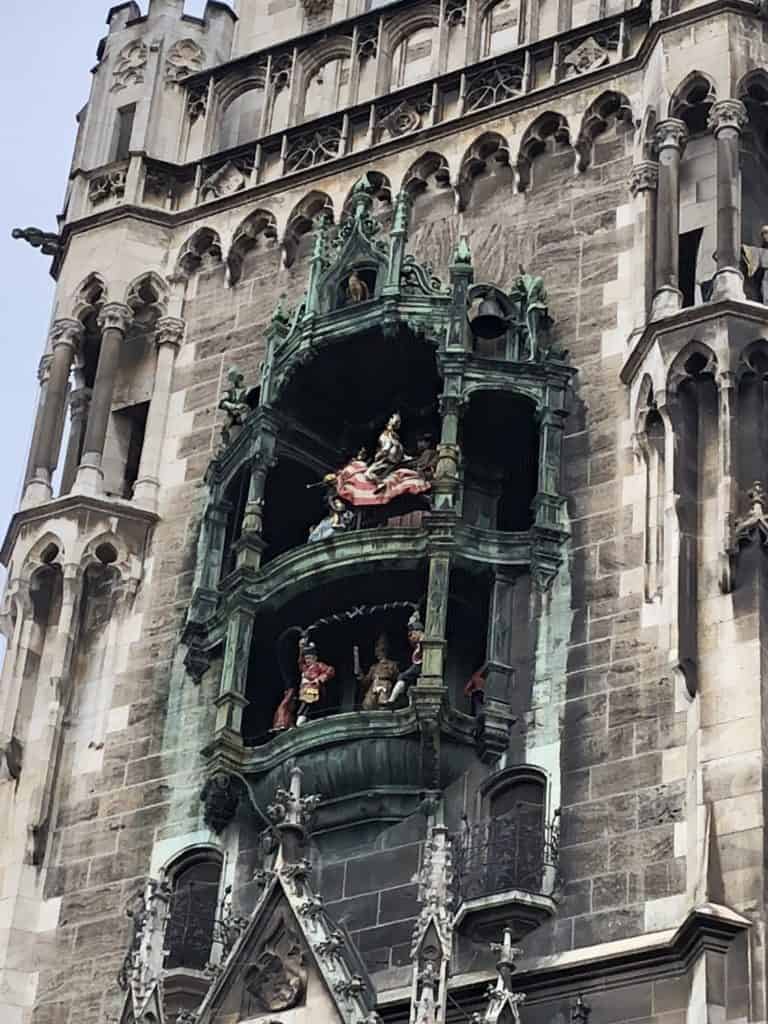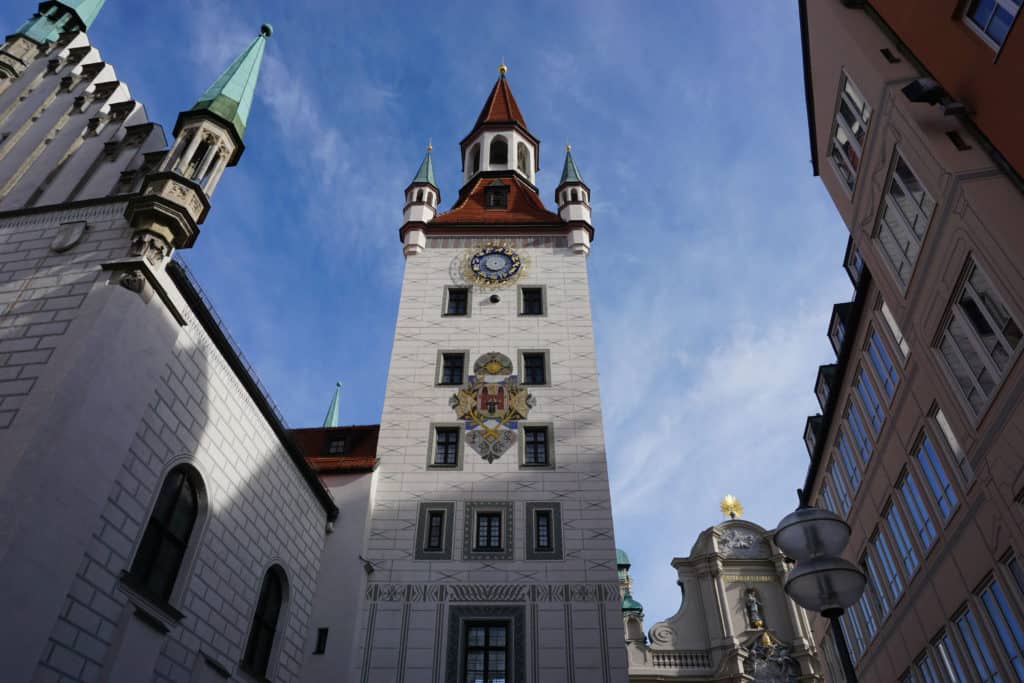 Frauenkirche (Church of Our Lady)
One of the most recognized landmarks in the city of Munich is Frauenkirche with its two distinctive onion-shaped dome towers. My husband and I had poked our heads in on the day we arrived but we only had time to point out the building to our daughter as we walked through Altstadt (Old Town) on our full day of sightseeing.
Construction of the gothic cathedral began in 1468 and completed in 1488 but the towers topped with the distinctive copper onion-domes which stand 99 metres (325 feet) high weren't added until 1525. The church sustained heavy damage during allied bombing of World War II and was rebuilt during several phases of construction. One of the unique things to see at the cathedral is the "devil's footprint" imprinted in the entranceway. 
Located at Frauenplatz 12. The cathedral is open to visitors but cannot be visited during church services. Visitors who wish to climb the South Tower to view the Munich skyline may do so Monday to Saturday from 10:00 am – 5:00 pm; Sundays and public holidays from 11:30 am – 5:00 pm. Last ascent at 4:30 pm. Tickets are only available on site in the cathedral shop. Adults 7.50 EUR; Children 7-17 5.50 EUR; Children 7 and under are free. Please note that the spiral staircase is narrow so not recommended for people with claustrophobia.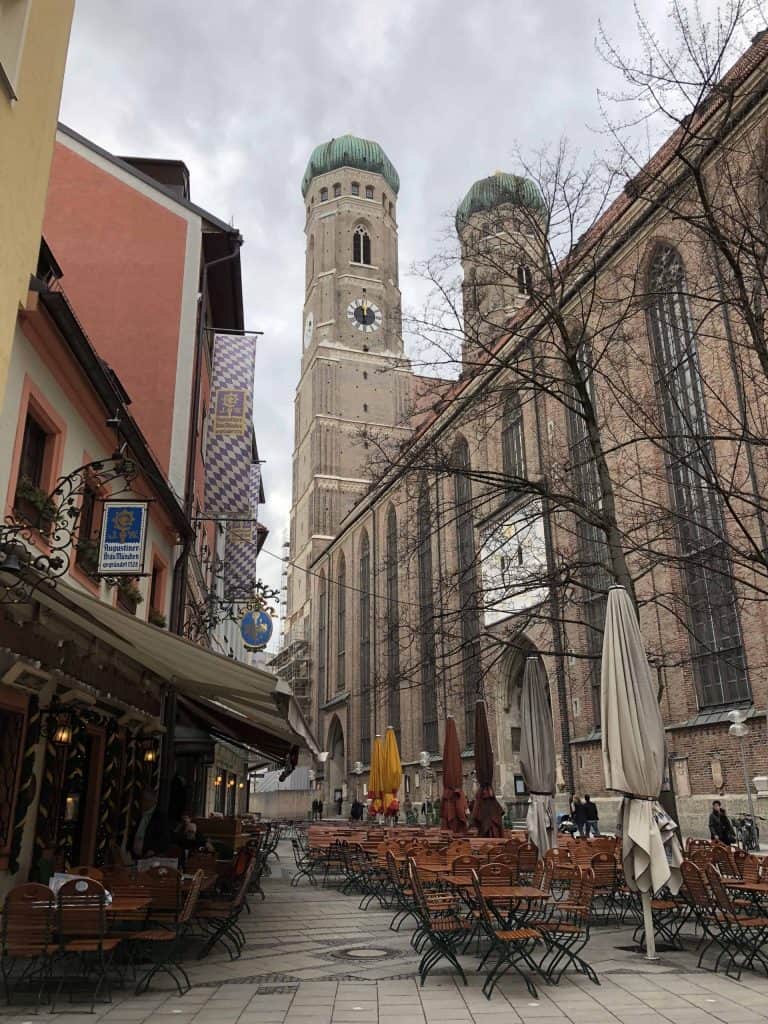 Viktualienmarkt
When it's time to take a break from sightseeing then a visit to Viktualienmarkt to grab a bite to eat or do some shopping is called for. The original market in Munich was in Marienplatz, however, the market moved to this location in 1807 when Maximilian I ordered a larger market to be built to meet the needs of the growing city.
We loved the market's prominent blue and white striped maypole which features signs to represent the merchants doing business in the market. Traditionally, maypoles are decorated for May Day (May 1st) and rival towns try to steal each other's maypoles in the days leading up to May Day. Recently a group of young men from a small village managed to steal Munich's Maypole and an interesting ransom had to be paid for the return of the pole – beer!!
Located at Viktualienmarkt 3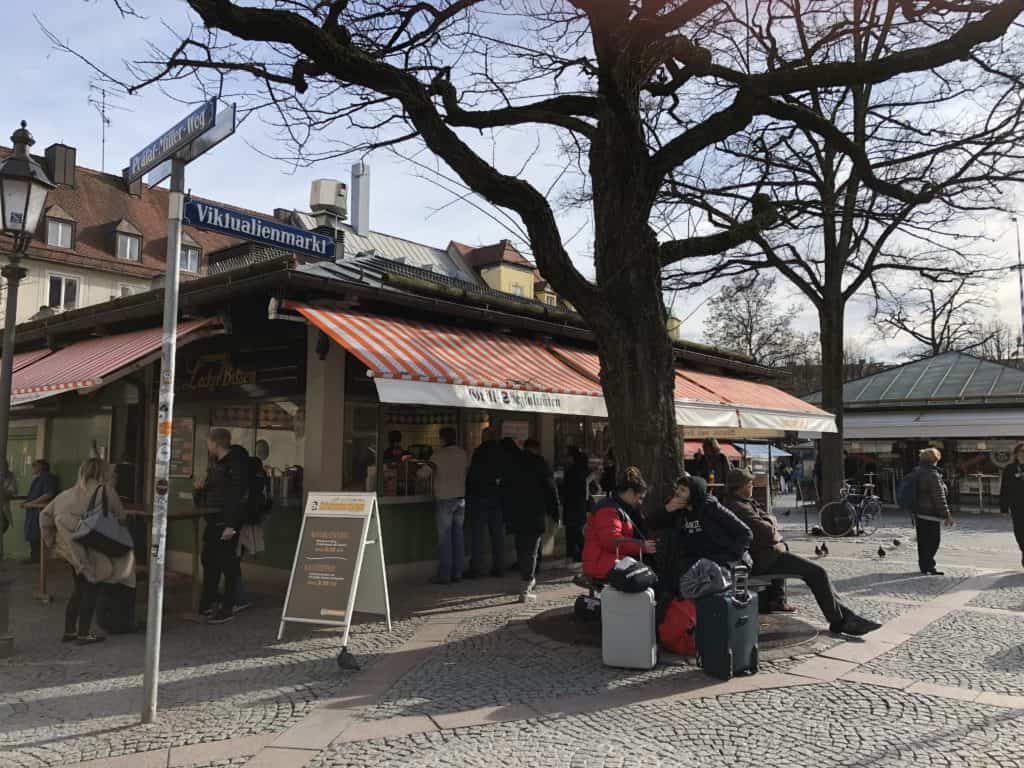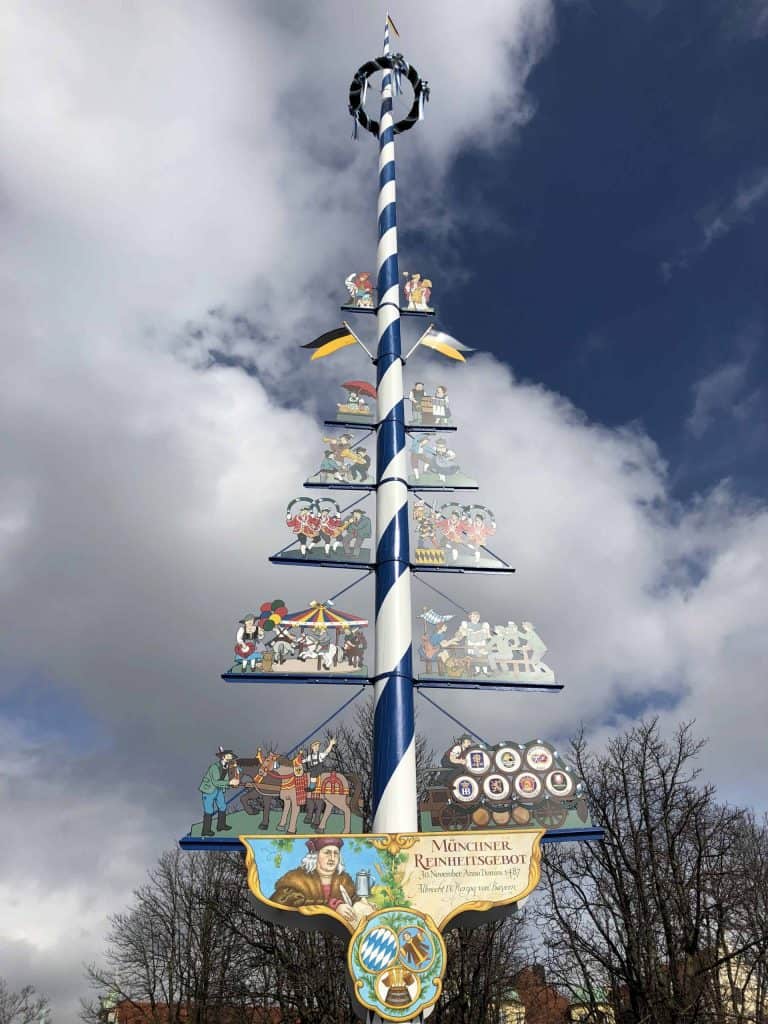 Peterskirche (St. Peter's Church)
While we were walking in the neighbourhood around Marienplatz, we had a brief look at Peterskirche, also known as Alte Peter (Old Peter) since it's the oldest church in Munich. As with many of the buildings in central Munich, St. Peter's sustained heavy damage during World War II and had to be reconstructed over the following decades.
Visitors can climb to the top of the spire to take in the incredible views of the city if they don't find the prospect of climbing 306 stairs too daunting. From the top of Alter Peter you will enjoy not only one of the best views of Munich but also a 100 km wide view of the Alps in clear weather. It is also a bell tower that houses eight bells (including a 800th anniversary bell of the city of Munich) which can be viewed through windows at the level of the belfry.
Located at Rindermarkt 1. Opening hours vary by season. Tower entry fee: Adult 5 EUR; Children 6-18 2 EUR; Children under 6 is free.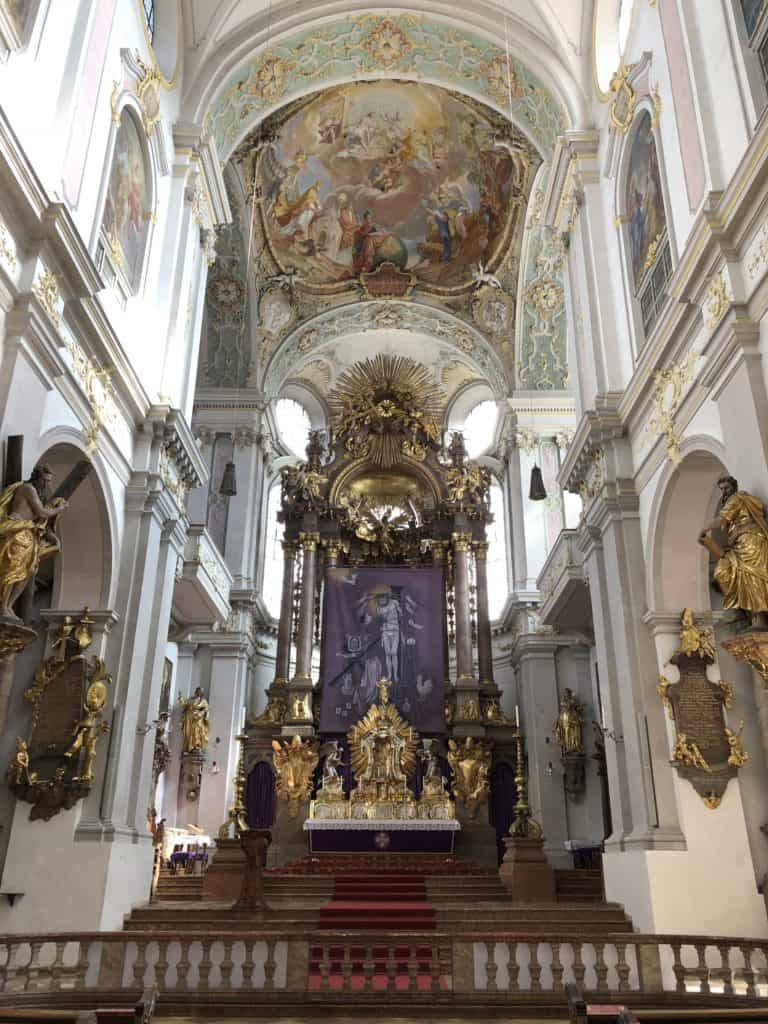 Asamkirche (Asam's Church)
One of the most unusual churches I have ever seen is the Church of St. Johann Nepomuk (better known as Asamkirche) which is located a short walk from Marienplatz. This elaborate Baroque church was built by two architect brothers, Cosmas Damian Asam and Egid Quirin Asam, between 1733 and 1746 and while it may be one of Munich's smallest churches it makes up for that in sheer opulence.
The church is only 30 feet wide as it was built to fit between two row houses and was originally intended to be a private chapel but the brothers were forced to open it to the public. When we visited we were only able to enter the lobby as the entrance to the church was gated. It was relatively easy, however, to admire the small church and take photos through the wrought iron gates.
Located at Sendlinger Str. 32. Open Monday – Sunday (except Friday) 9:00 am – 7:00 pm. Friday 1:00 pm – 7:00 pm.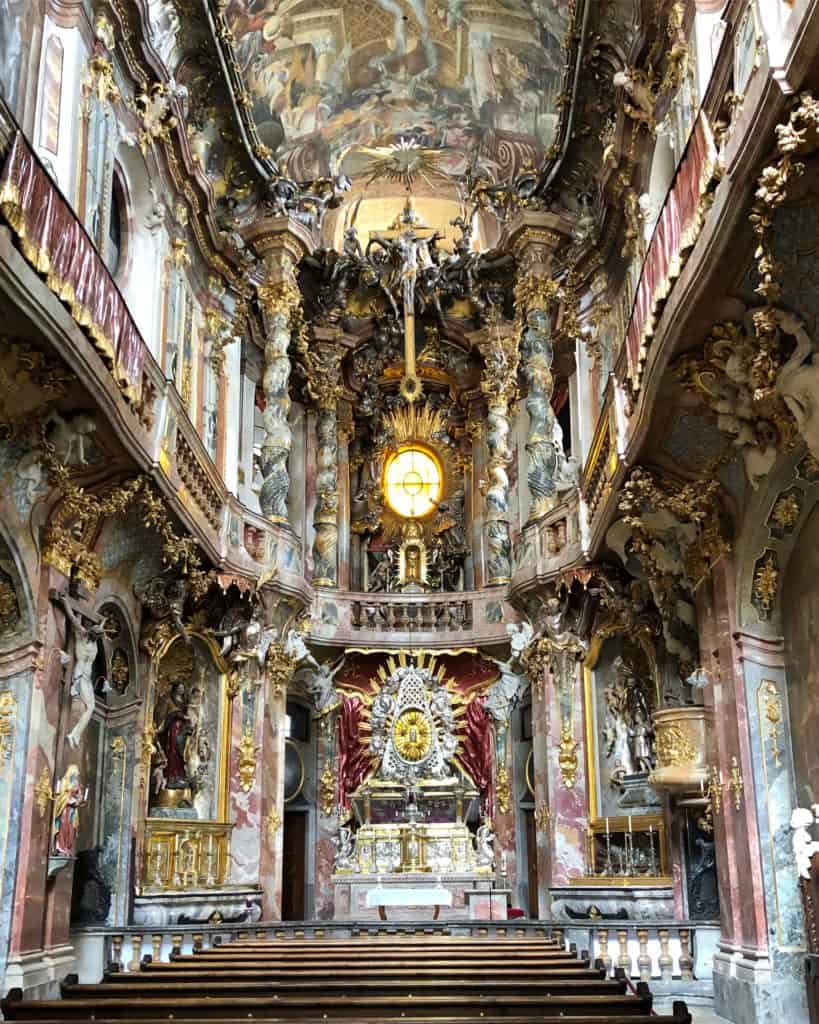 Hofbräuhaus
Is it possible to visit Munich without including a stop at the city's most famous beer hall? The answer is probably not – neither my husband nor I are beer drinkers but we still felt that we needed to have a walk through just to get a sense of the place (and to enjoy some oompah music). Hofbräuhaus was established more than 400 years ago when Wilhelm V, Duke of Bavaria, had the brewery built in order to have a local supply of beer for the court of the Wittelsbach.
Today the beer hall is a magnet for tourists but also serves as a favourite watering hole for locals, many of whom have their regular table and some who actually store their beer steins on site. Apparently the beer hall serves 30,000 people each day on average and, as it was quite busy on a mid-week afternoon in March, I can only imagine what it would be like in the evening and during the summer tourist season!
Located at Platzl 9. Open Monday to Sunday and public holidays 11 am to midnight.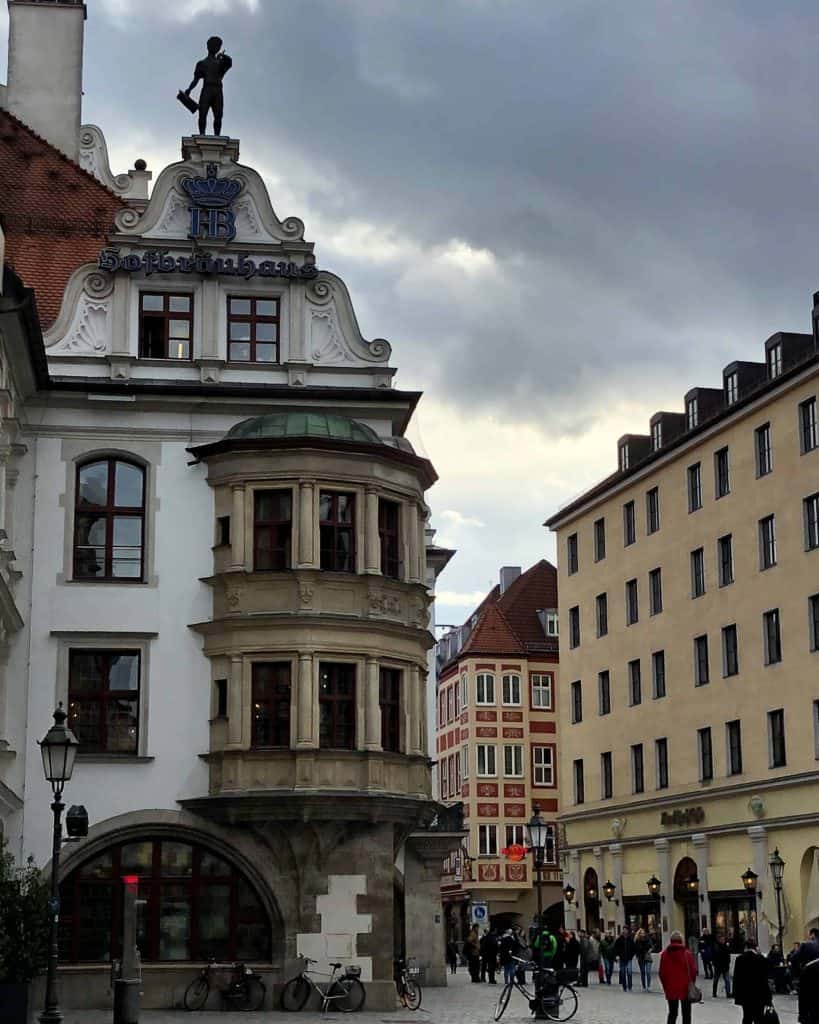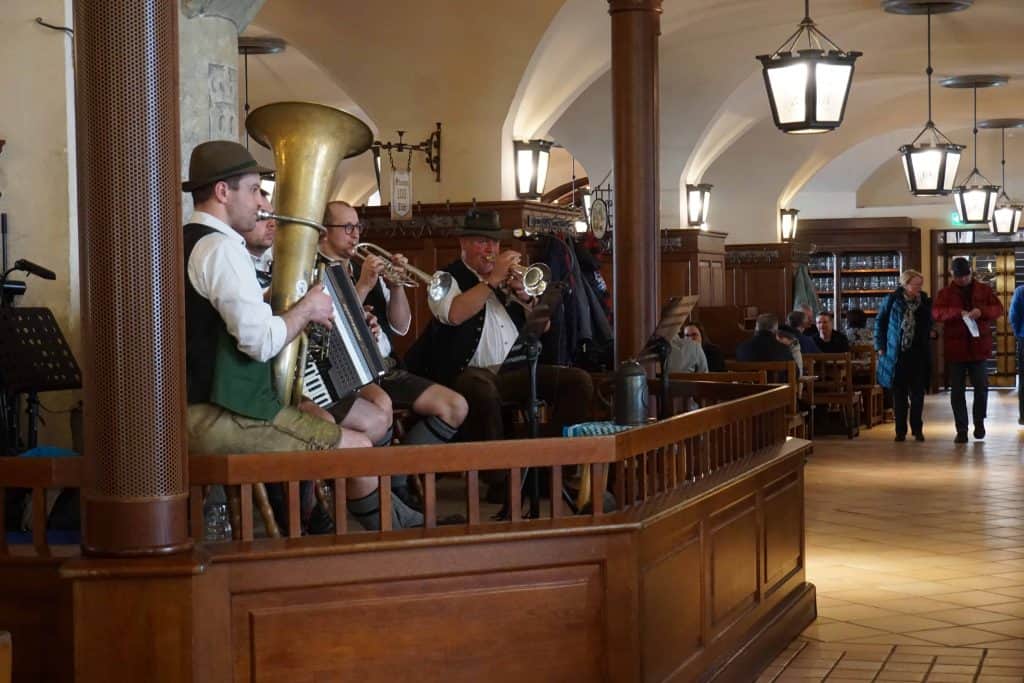 Munich Residenz
Visiting the Munich Residenz was a priority for me even though we only had one day in Munich (I love palaces, whereas my husband feels like if he has seen one he has seen them all!). The Munich Residenz was both the seat of government and the castle home of the ruling Wittelsbach family from 1508-1918. Much of the Residenz was destroyed during World War II and had to be gradually reconstructed in the years following the war.
Today visitors can visit three sections of the complex – the Residence Museum, the Treasury, and/or the Cuvilliés Theatre. We opted to visit all three but spent most of our time in the Residence Museum.
The Residence Museum is the opulent palace that was home to Bavaria's ruling dynasty for several centuries. Visitors follow the museum's suggested route through the elaborately decorated public rooms and private apartments of the palace using the free audio guide (available in German, English, French, Italian and Spanish).
All of the rooms are stunning but my favourite was the Antiquarium which is the oldest room in the Residenz and was built by Duke Albrecht V in the latter half of the 16th century for his collection of antique sculptures. The arches of the windows are also decorated with paintings of more than 100 Bavarian villages as they looked at the time.
The Residenz Treasury is much less sprawling than the museum and contains many of the crowns, jewels and other treasures belonging to the Wittelsbachs.
It will likely only take a few minutes to visit the Cuvilliés Theatre, an exquisite small performance venue decorated in red, gold and white. Elector Maximilian Joseph III had the theatre built in 1751-55 as his new opera house and it was originally reserved exclusively for members of court.
The building was destroyed during the bombings of 1944 and a new theatre was built during the post-war years. The theatre's painted wood carvings had been removed to safety in 1943 and are all that remain of the original theatre. Preparations for an upcoming performance were underway during our visit and we were treated to seeing the crew hard at work building the set on stage.
Munich Residenz Information
Getting There: The Munich Residenz is located at Residenzstraße 1 in central Munich and is easily accessible by public transport. The Residenz website has instructions for public transport located here.
Hours: The Munich Residenz is open daily with the exception of the following public holidays (January 1, Shrove Tuesday, December 24, 25 and 31st). Opening hours for the Residenz Museum, the Treasury and the Cuvilliés Theatre vary by season – check the Munich Residenz website for details.
Cost: Regular admission prices (2023) are: Residenz Museum 9 Euros; Treasury 9 Euros; Cuvilliés Theatre 5 Euros. There are also combination tickets available for the Residenz Museum + Treasury 14 Euros and for the Residenz Museum + Treasury + Cuvilliés Theatre 17 Euros. Children under 18 are admitted free of charge. For up-to-date ticket pricing always check the Residenz website.
Notes: It is not possible to purchase tickets online in advance. Photography and video for personal use are permitted but without flash or tripod. Large bags must be left at the free supervised cloakroom.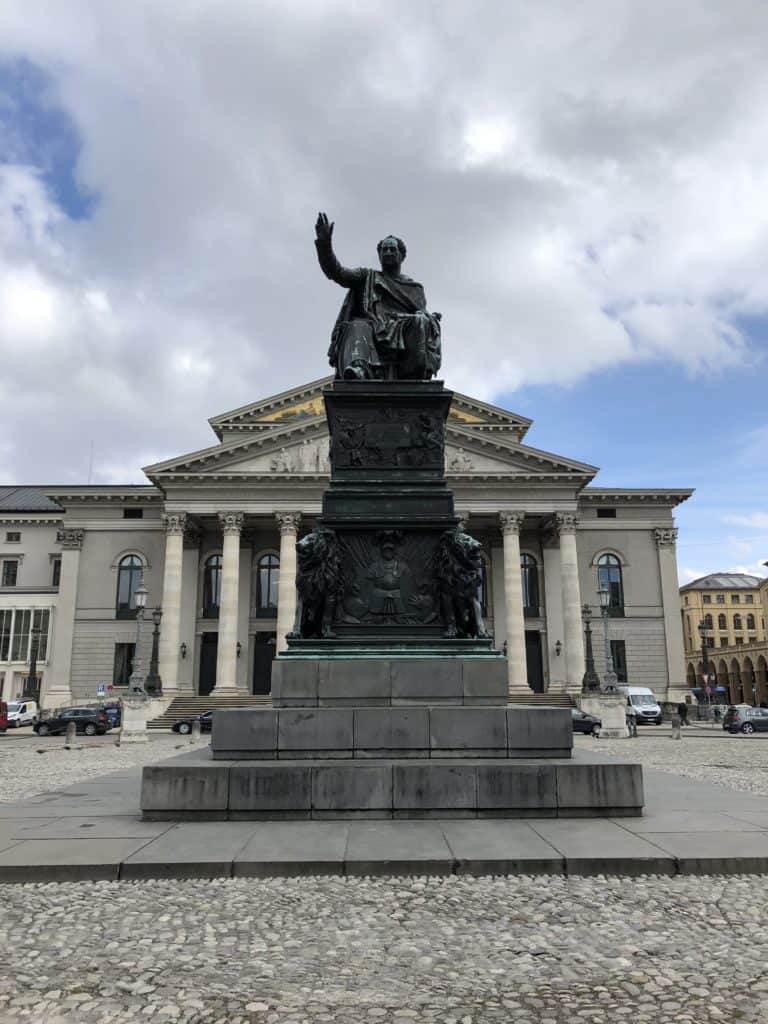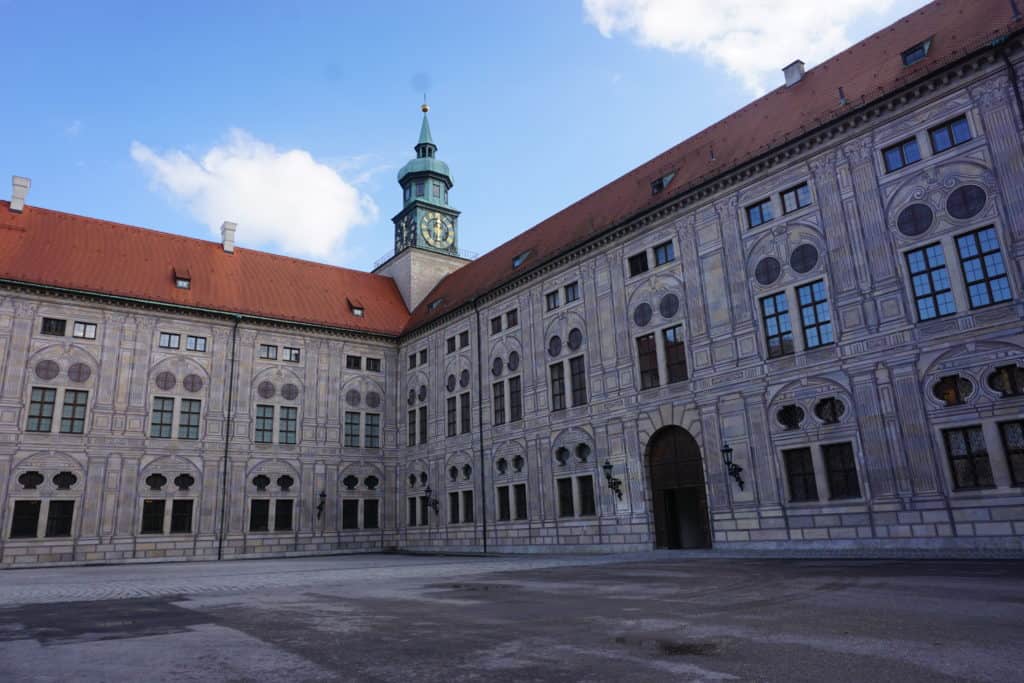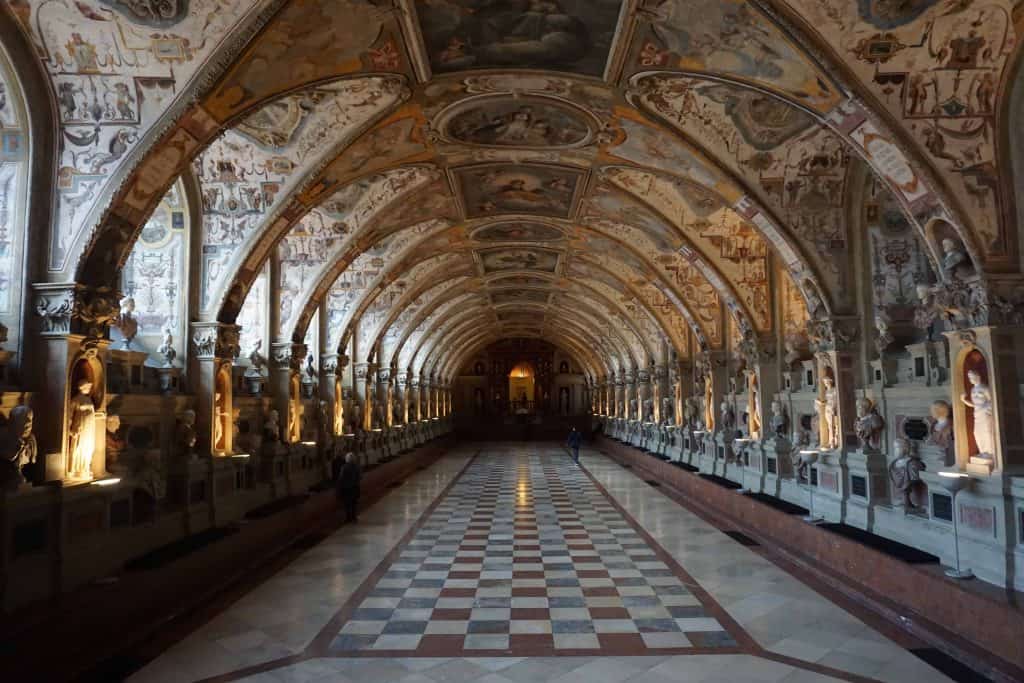 Hofgarten
It was a beautiful spring day so after leaving the Residenz, we had a walk through the Hofgarten (Court Garden) which is located between the Residenz and the English Garden. The garden was originally built as a formal Italian style garden by Maximilian I, Elector of Bavaria, between 1613-17. A pavilion at the centre of the garden, built in 1615 with a path radiating from each of its eight arches, is known as the Temple of Diana.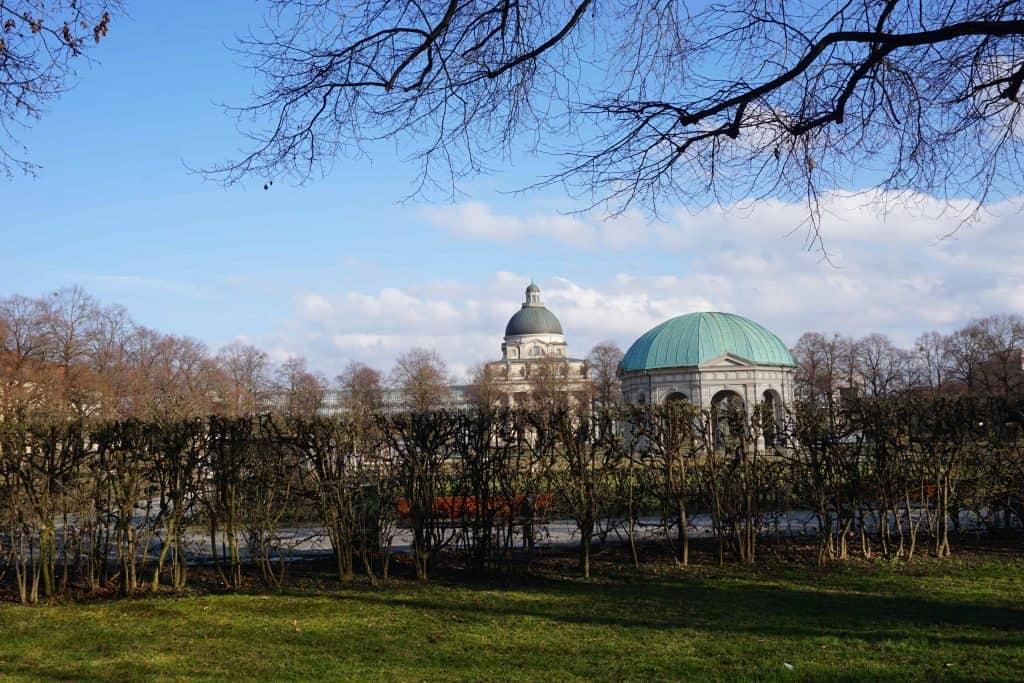 Odeonsplatz
The Odeonsplatz is an impressive square located near the Munich Residenz and bordered by Hofgarten, Feldherrnhalle and Theatinerkirche. The square was developed early in the 19th century and named for a former concert hall on the site. There are several wide streets that lead from this square including one that runs to Nymphenburg Palace which was the summer home of the Wittelsbachs and one that runs to the city's triumphal arch.
Feldherrnhalle, the covered hall with arches, was built at the request of Ludwig I to honour Bavarian generals. A number of members of the Wittelsbach family are buried in Theatinerkirche dates to the 17th century. Many parades and processions run through Odeonsplatz including the annual Oktoberfest parade and it has also become a popular outdoor concert venue.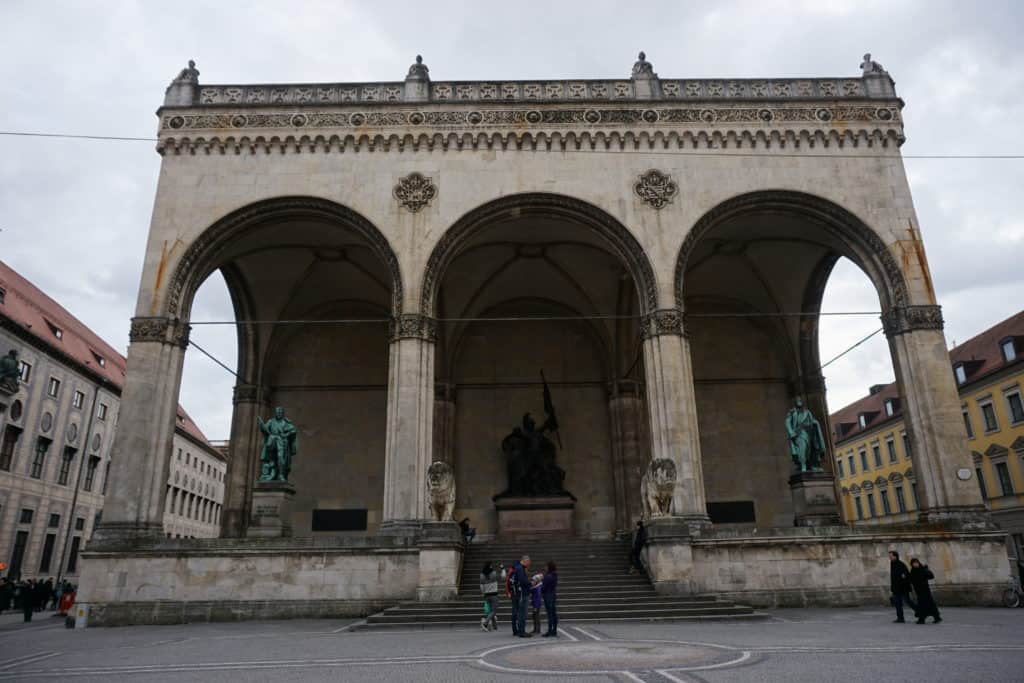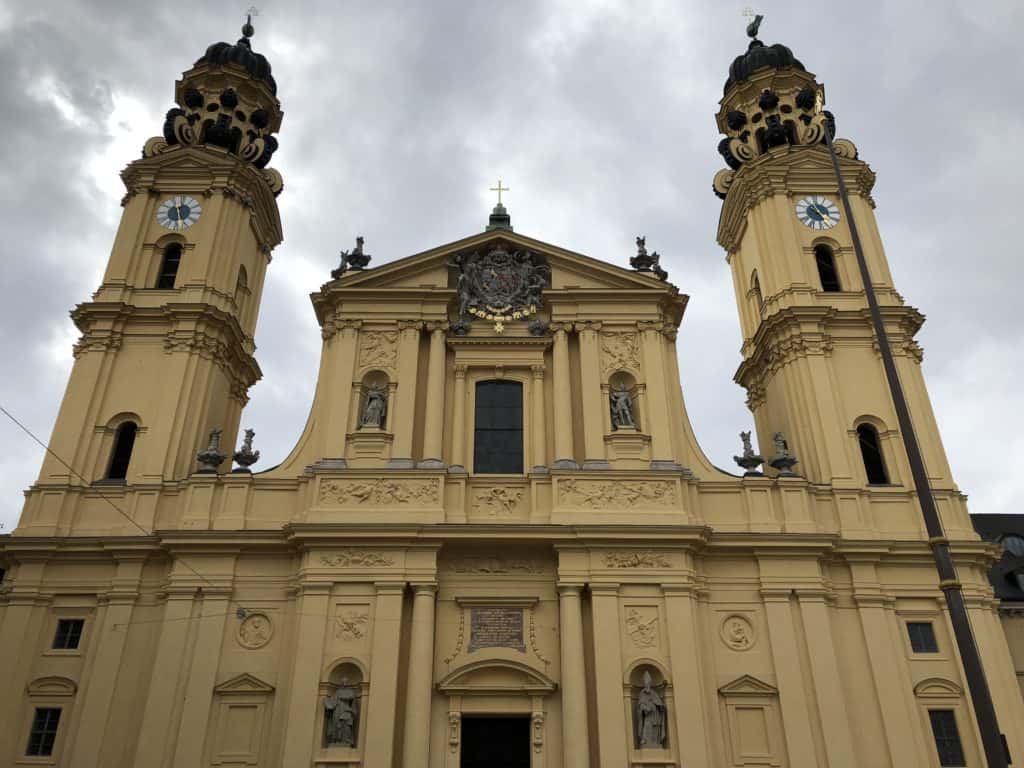 Englischer Garten (English Garden)
The English Garden is Munich's "Central Park", a sprawling city park that is one of the largest in Europe and is popular with both locals and visitors. The park was created in 1789 at the request of Elector Charles Theodore and designed in the style of an English country park which is how it got its name. We walked through just a small section of the garden because there was so much that we wanted to see and do over the course of the day in Munich that there wasn't much time for a long walk in the park.
The English Garden is well-known for its river surfers that surf year-round on the Eisbach, a man-made river that flows through the park. We had been hoping to see them but apparently the water flow had been shut down for a couple of days during the time of our visit so I will have to wait for another visit to Munich to see for myself.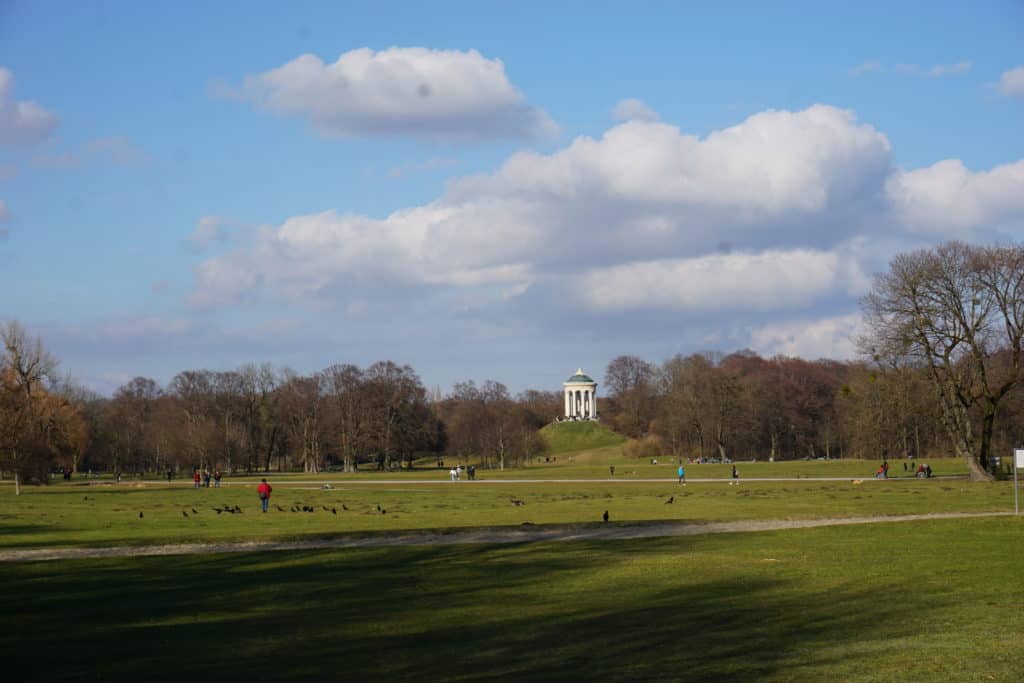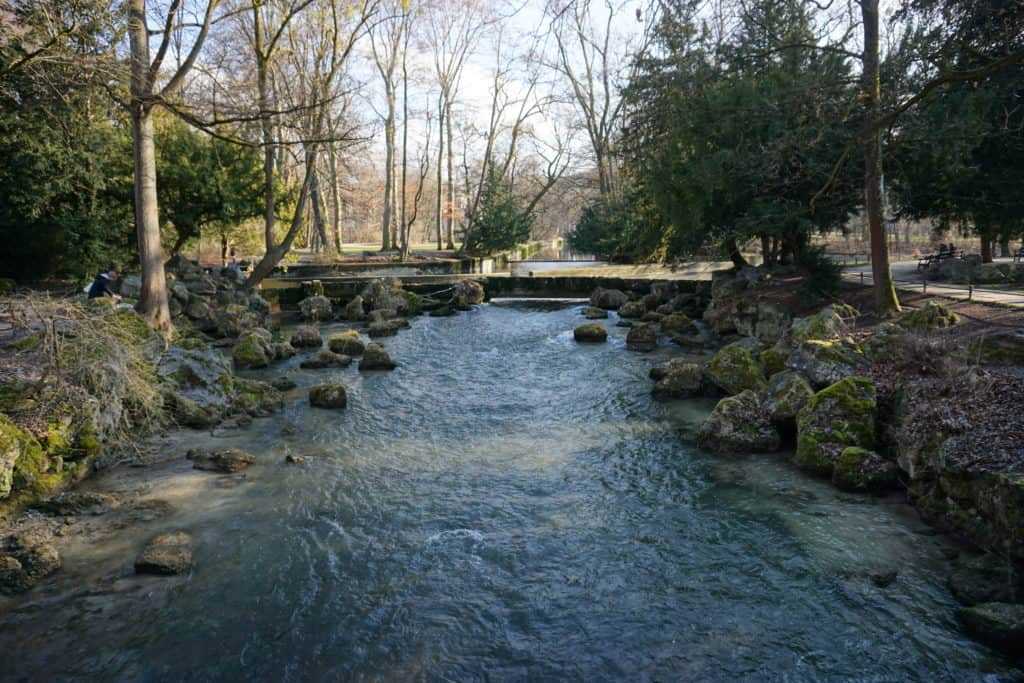 Maximilianstrasse
We walked down Maximilianstrasse through Munich's upscale shopping district as we headed from Aldstadt toward the Museum District but only had a look in the windows as there was no time for any serious shopping on the day's agenda.
Neue Pinakothek
There were several museums that we were interested in visiting but with only one full day in Munich, there wasn't time for more than one so we chose to visit Neue Pinakothek because of the focus on European artists of the 19th century. The Neue Pinakothek was founded by Ludwig I of Bavaria in the mid-19th century and the first public museum in Europe to be exclusively dedicated to contemporary art. The museum's collections feature masterpieces by such artists as Édouard Manet, Vincent van Gogh, Thomas Gainsborough, Paul Cézanne and Claude Monet.
The other options that we considered for an art museum visit were Alte Pinakothek and Pinakothek der Moderne. All are located in the Museum Quarter and are a short distance from each other. We also would have enjoyed a visit to the Deutsches Museum which is the world's largest museum of science and technology.
Neue Pinakothek Information
Getting There: The museum is located at Barer Straße 29 – the entrance is on Theresienstraße. Accessible by public transport – directions on the Neue Pinakothek website.
Hours: The museum is open Tuesday and Wednesday 10:00 am – 8:30 pm. Thursday – Sunday 10:00 am – 6:00 pm. Closed on Mondays. Closed on Shrove Tuesday, Labour Day (May 1), Christmas Eve, Christmas Day, New Year's Eve.
Cost: Regular admission (2023) is 7 Euros. Admission on Sundays is 1 Euro. Children under the age of 18 are admitted free of charge. There is a pass available for multiple museums – see Neue Pinakothek website for details and to confirm current pricing. Tickets may be purchased online in advance.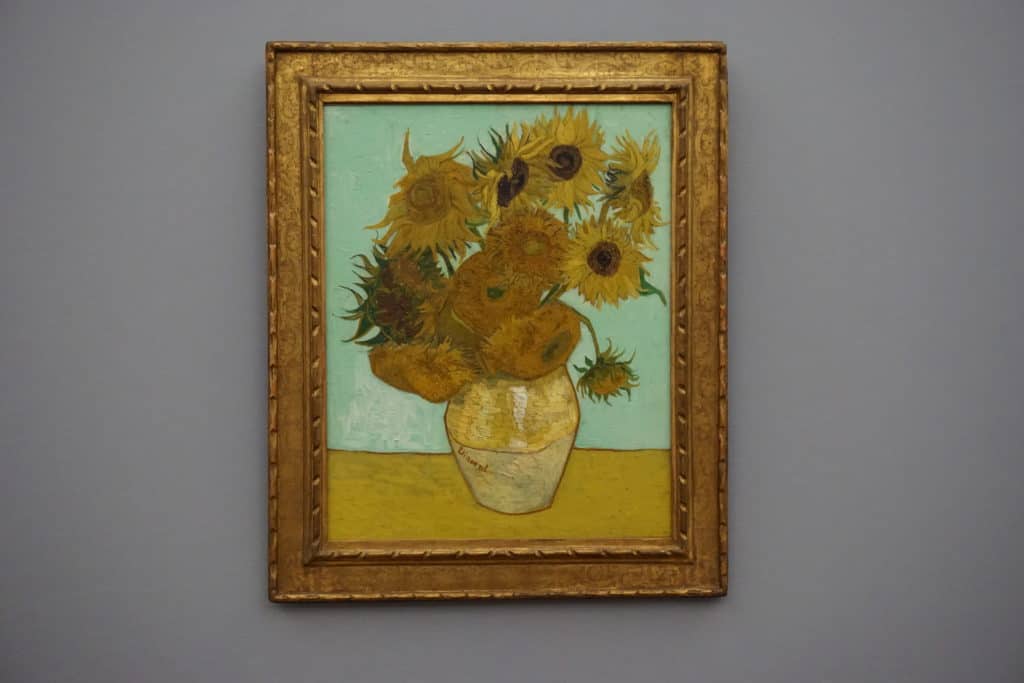 At the end of the day we had covered a fair bit of ground and were exhausted. We loved Munich and will definitely return for another visit as I already have a list of things to see and do that we missed on this trip including some of the other museums, Schloss Nymphenburg and the surfers in the English Garden.
Where to Stay in Munich
We enjoyed a lovely stay at The Charles Hotel, a luxury Rocco Forte hotel overlooking the Old Botanical Garden and just a short walk from the train station. I loved the hotel's style, the service was excellent, and the location was ideal as we were able to walk to Marienplatz and all of the attractions that we wanted to visit while we were in Munich.
Our room rate included a lovely breakfast at Sophia's Restaurant, a stylish bistro-style restaurant on the main floor of the hotel. We also enjoyed dinner at Sophia's one evening of our stay. I loved the adjoining terrace but it was still a little cool in March for me to dine outside.
We stayed in a Classic Room which had a King size bed, a work desk, a separate sitting area with a small sofa, armchair and table, and a spacious limestone bathroom with walk-in shower. We requested an extra bed for our daughter and the cot fit very nicely along the wall that the television was on without infringing on the space of the room at all. WiFi is complimentary.
Read reviews and check current rates for The Charles Hotel Munich on TripAdvisor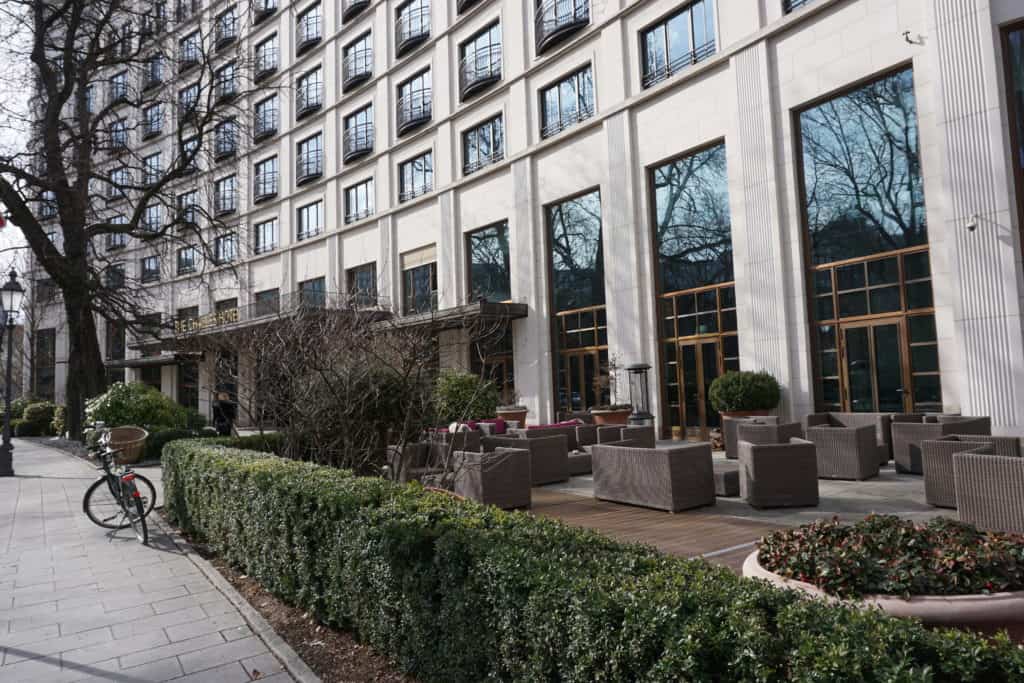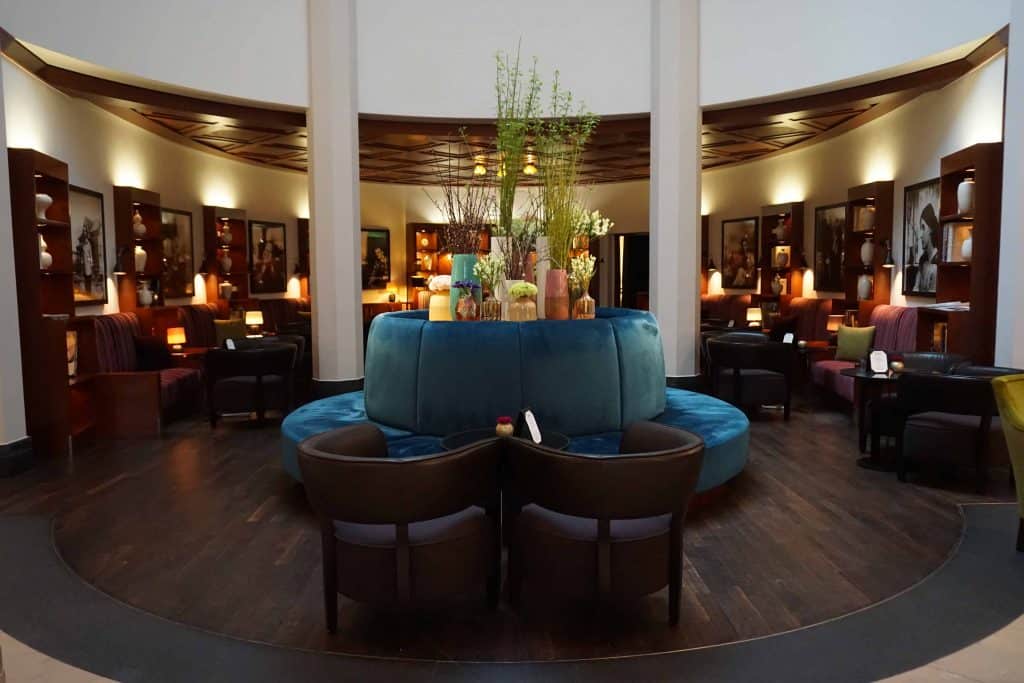 Pin This For Later