Rattlesnake Point Conservation Area, one of eight Conservation Halton Parks in the Halton Region west of Toronto, can be visited year-round to explore the trails, enjoy outdoor activities and get your nature fix.
Most recent update: September 29, 2023
This post may contain affiliate links. If you click an affiliate link and make a purchase then we receive a small commission at no additional cost to you.
You Might Also Enjoy:
Hiking at Hilton Falls Conservation Area
Hiking and History at Crawford Lake Conservation Area
Visiting Rattlesnake Point Conservation Area
Rattlesnake Point Conservation Area in Milton, Ontario is one of the most beautiful places in Ontario to enjoy time spent in nature at any time of the year. The 261 hectare (644 acres) park opened to the public in 1962 to provide a recreational area and to preserve the unique cliff habitat on the Niagara Escarpment. Today the park is part of the Niagara Escarpment UNESCO Biosphere Reserve.
Rattlesnake Point offers a great combination of forest hiking and scenic Escarpment views with 10 kilometres of cliff-edge and forest trails and multiple lookouts. The trails are suitable for hiking with kids and are pet-friendly although dogs must be on leash at all times.
The limestone cliffs of Rattlesnake Point are also one of the most popular natural areas for rock climbing in Ontario. The park has three designated sites for rock climbing where experienced climbers can scale the cliffs and enjoy the incredible views.
There are geocaches hidden throughout the park which is a fun activity for adults and kids and in summer there are generally planned activities such as Yoga in the Park although it's not yet clear what will be allowed to take place summer 2021.
Rattlesnake Point also has 17 camping sites available year-round. Each campsite comes with a firepit and a picnic table. Showers and washrooms are closed during the winter.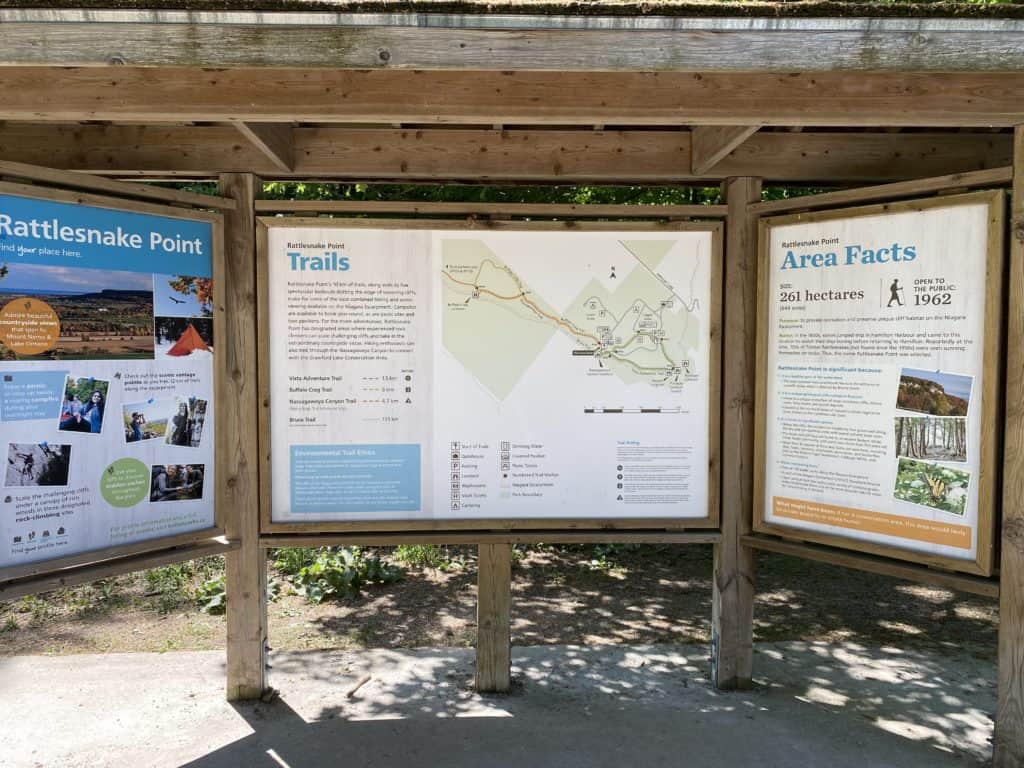 How Did Rattlesnake Point Get Its Name?
It's not entirely clear how Rattlesnake Point got its name but there are two reasonable possibilities for the name's origin. According to one story, sailors in the 1800s would come to this location to watch ships sail away from Hamilton Harbour and named it for the hundreds of Timber Rattlesnakes that they would see sunning themselves on the rocks.
It's also possible that it was named for the snake-like paths that glaciers cut along the edge of the Niagara Escarpment. You can rest assured, however, that you can enjoy a scenic hike at Rattlesnake Point today without any chance of seeing a rattlesnake as the Timber Rattlesnakes haven't been seen since the 1950s!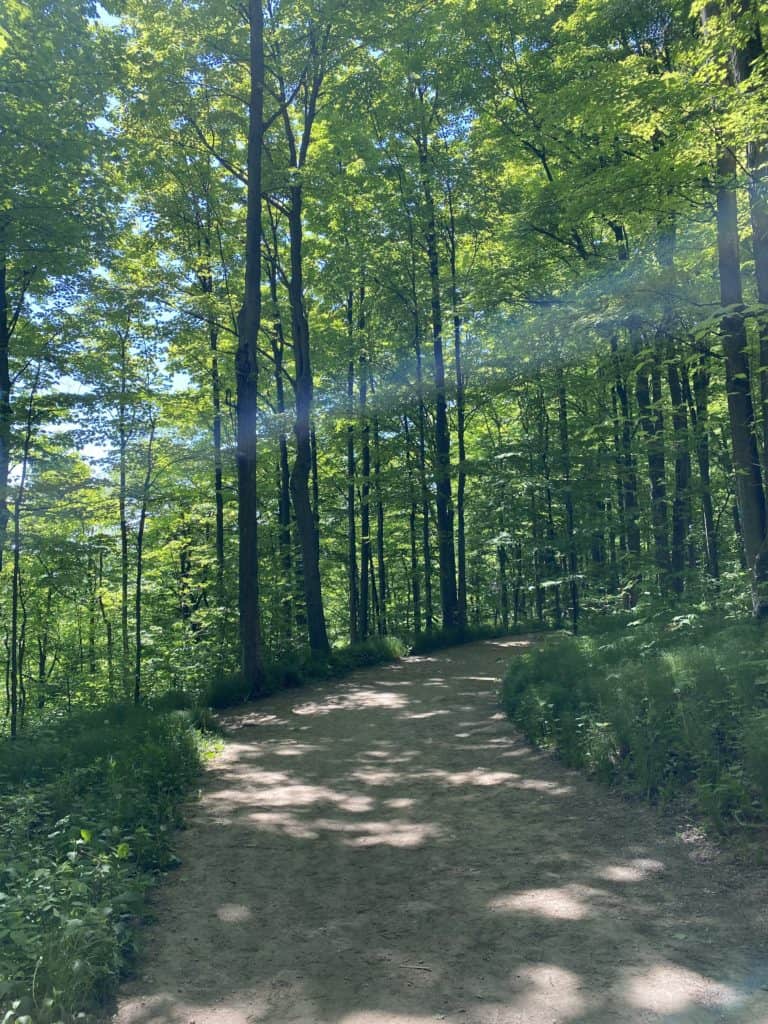 How to Get to Rattlesnake Point
Rattlesnake Point Conservation Area is located at 7200 Appleby Line south of Highway 401 in Milton, Ontario west of Toronto. The park is open 9:00 am – 9:00 pm Monday – Sunday from May to October. Park hours vary by season – check the Conservation Halton website for details.
Planning a Visit to Rattlesnake Point
Reservations are not currently required for visiting Rattlesnake Point Conservation Area but are recommended. If you book online, you can reserve your spot and save money on gate fees. Gate attendants are on duty Monday to Friday 10am – 4pm at all Halton Conservation Parks with the exception of Mount Nemo. On weekends gate attendants are staffed daily.
Reservations are rain or shine, however, changes can be made up to 1 hour prior to your scheduled visit. Refunds can be issued up to 48 hours prior to your visit.
Tips for Hiking at Rattlesnake Point
When hiking at Rattlesnake Point or anywhere else, arrive suitably prepared for spending time outdoors.
Be sure to wear appropriate footwear as the trails may have obstacles such as rocks and tree roots and will be affected by recent and current weather conditions.
Bring water with you. If you're hiking with kids then you will definitely want to bring along snacks as well even for a short hike.
Stay on the trails at all times.
Exercise caution (and supervise young children) near the cliffs and and never climb the lookout walls. The cliffs can be hazardous and and the rocks are slippery when wet.
There are picnic tables available if you want to pack a lunch.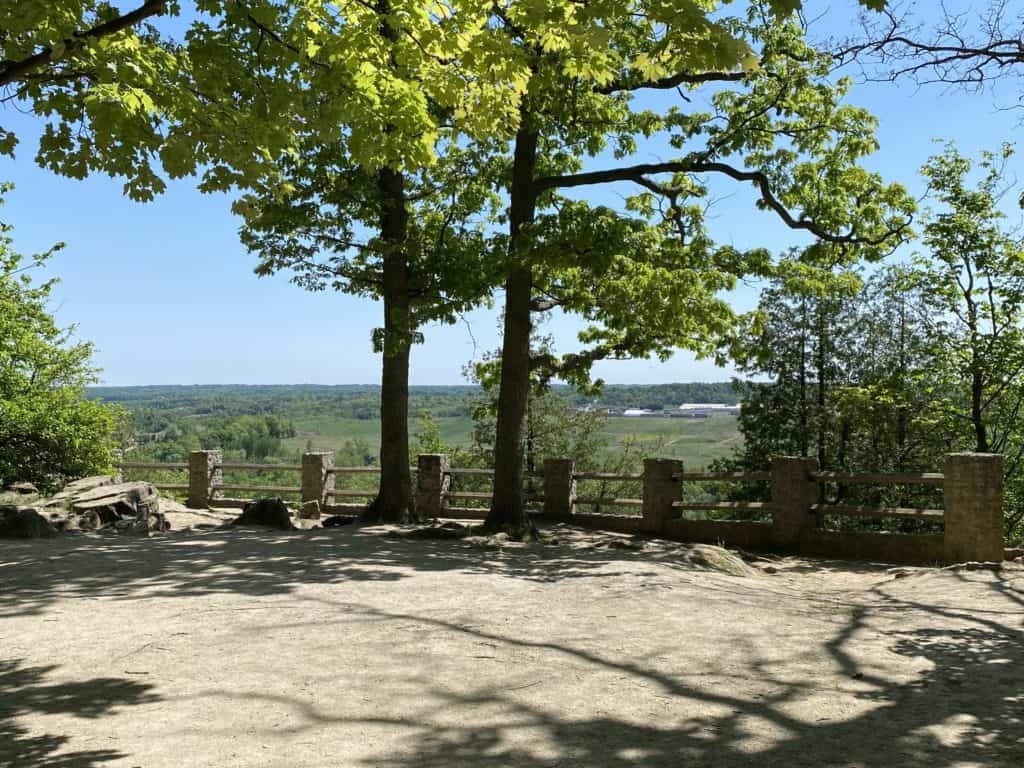 Hiking Trails at Rattlesnake Point
There are three hiking trails of varying difficulties at Rattlesnake Point Conservation Area and a section of the Bruce Trail, Ontario's longest footpath, runs through the park as well.
On our most recent visit we hiked both the Buffalo Crag Trail and the Vista Adventure Trail. The Nassagaweya Canyon Trail was closed at the time but has since reopened so we will tackle it (or at least a portion of it) at another time.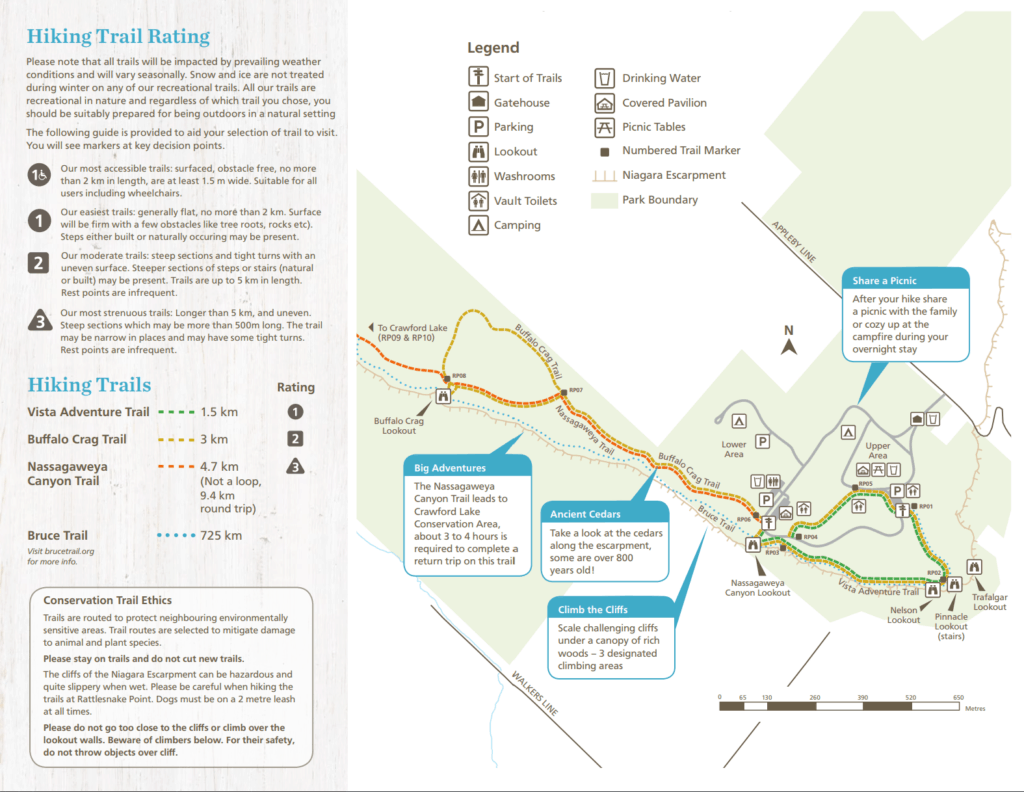 The Buffalo Crag Trail
The Buffalo Crag Trail is 3 kilometres in length and has a trail rating of 2 which is a moderate trail. Moderate trails may have steep sections and tight turns with an uneven surface and they may be up to 5 kilometres in length with infrequent rest points.
This trail got its name because there was a herd of bison that could be seen from the trail's lookout point, however, the bison were moved to Mountsberg Conservation Area in the late 1980s.
The highlight of the trail is the Buffalo Crag Lookout where visitors can enjoy the incredible views over the escarpment. This is a great option as a fall hiking trail as the views are stunning when the leaves have changed.
Be sure to watch for the turkey vultures soaring over the canyon on updrafts of warm air if you are visiting during the spring and summer. The birds have only been found in the region for the past 70 years or so and migrate south to warmer regions in the winter.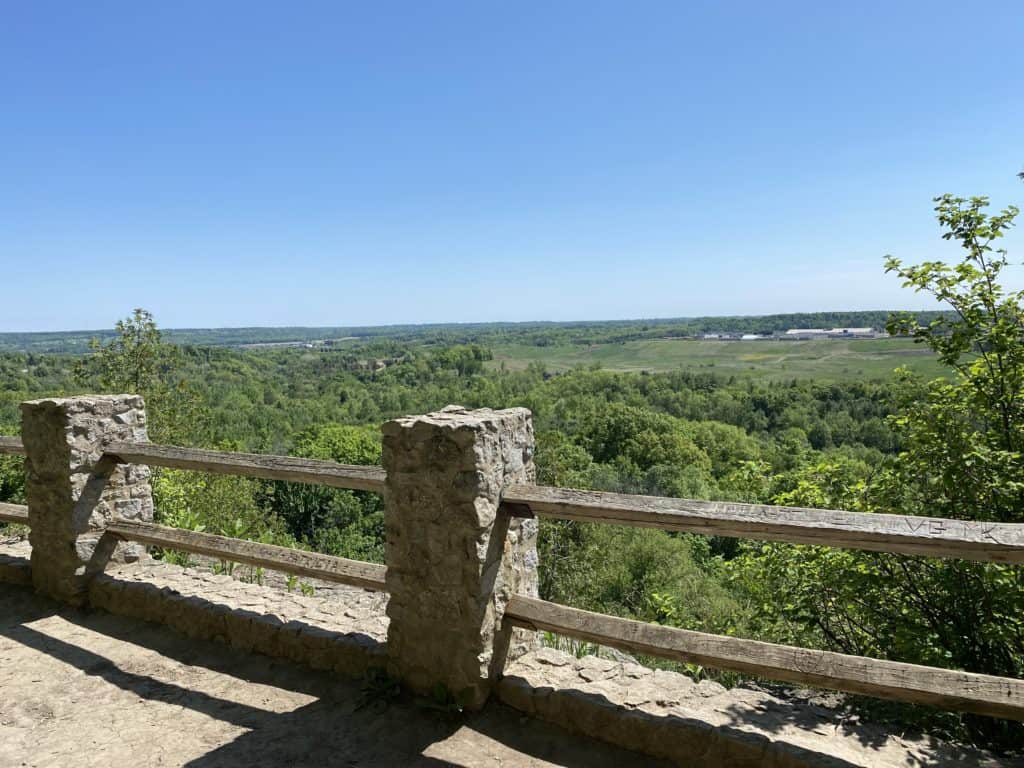 The Vista Adventure Trail
The Vista Adventure Trail is a 1.5 kilometre loop trail that is rated as a difficulty of 1 meaning that it is generally flat and no longer than 2 km.
The trail is shorter, however, we didn't think that there was much difference in terrain between this trail and the Buffalo Crag Trail.
Depending on the direction that you are walking, the trail goes from the upper to lower parking lots and there are several lookout spots for views over the canyon.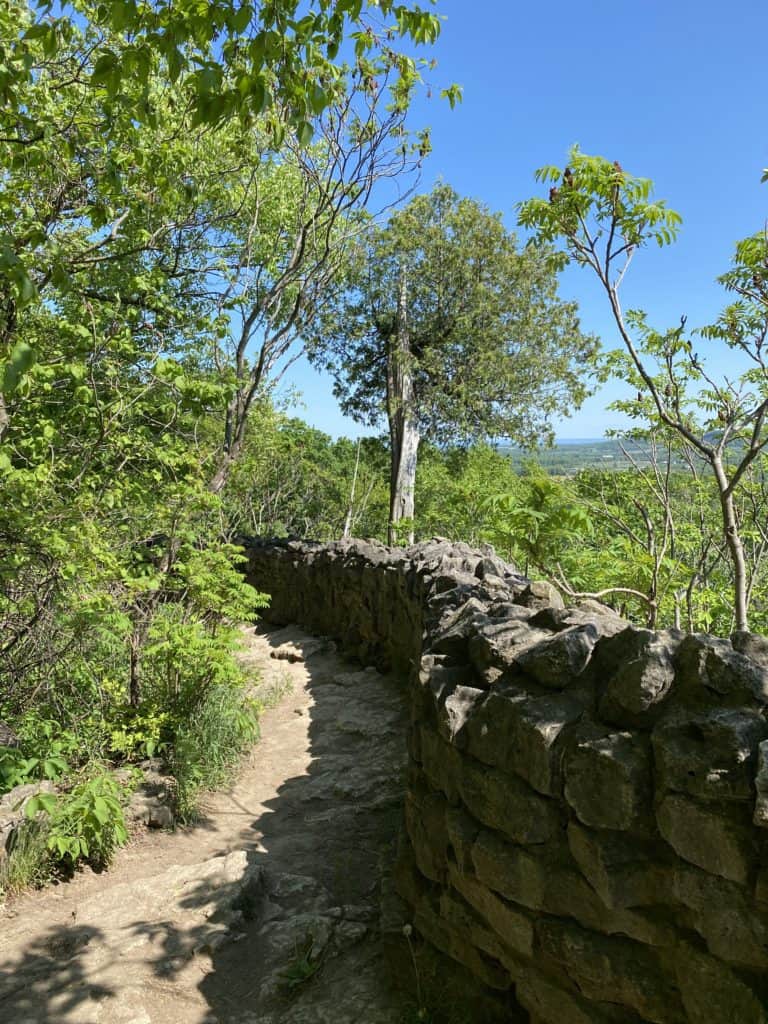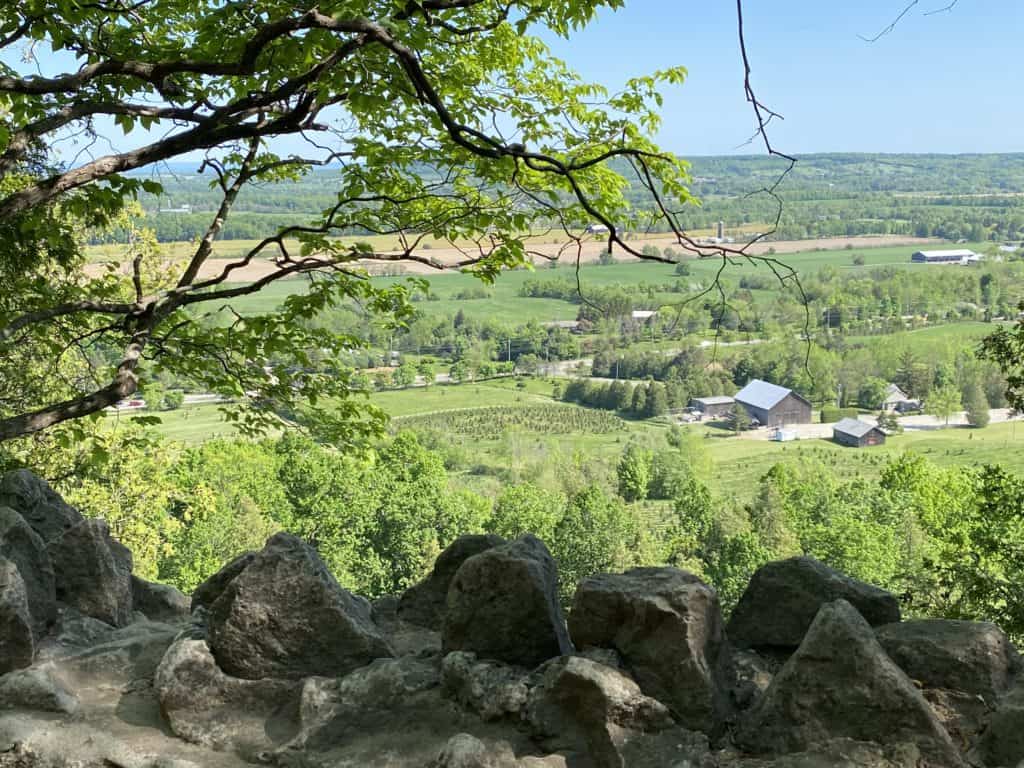 The Nassagaweya Canyon Trail
The Nassagaweya Canyon was created millions of years ago by rivers carving through the massive sedimentary rock. Today Limestone Creek winds along the bottom of the canyon and hikers on the Nassagaweya Canyon Trail are able to descend into the canyon as they travel between Rattlesnake Point and Crawford Lake.
This trail is not a loop and is 4.7 kilometres in each direction so a round trip of 9.4 km which takes an estimated 4-5 hours to complete. The trail has a 3 rating which is the most strenuous as it is longer than 5 km and may be uneven with steep sections and narrow places with tight turns.
Halton Conservation Parks
There are now eight Conservation Halton Parks: Rattlesnake Point, Hilton Falls, Mount Nemo, Crawford Lake, Robert Edmondson, Mountsberg, Kelso (including Glen Eden in winter) and the newest park which is still known as Area 8.
Although I have lived in the region for more than 20 years, I hadn't visited any of the parks until the Covid shutdown in 2020. During that time that we were limited in our travels, we started exploring more close to home and taking advantage of all the beautiful places in our region including our conservation areas and continued to do so after the world opened up again.
At various times of the year we have visited Hilton Falls, Robert Edmondson, Crawford Lake, Kelso, Mountsberg, Rattlesnake Point and Mount Nemo (some multiple times) but have yet to visit Area 8. Sunday hiking has become our favourite activity so we'll continue to explore the parks to get that nature fix that we all need.
The current fee for a visit to the parks is $10.50 + HST per adult when purchased online and $12 + HST when purchased at the gate with reduced fees for seniors (65+) and children (ages 5-14). Admission is free for children under 5. There is no longer a time restriction on your visit – you can stay until the park closes.
There is a Conservation Halton Park Membership available for purchase which includes admission to all 8 of the parks year-round. Members do not need to make a reservation online before visiting the parks. The cost of a membership is currently $105 +HST for an individual and $165 +HST for a vehicle membership (replaces the former "family" membership and covers admission for all occupants in a personal vehicle). There are also individual and vehicle memberships for seniors at a reduced price. We purchased and used it many times so it is definitely economical if you plan frequent visits.
You Might Also Like
Pin This For Later