Hilton Falls Conservation Area, one of eight Conservation Halton Parks in the Halton Region west of Toronto, can be visited year-round to see the falls and explore the trails.
This post may contain affiliate links. If you click an affiliate link and make a purchase then we receive a small commission at no additional cost to you.
Please note that Conservation Halton Parks are still operating with reduced visitor capacity in fall 2021. Trails are for use by members of the same household, individuals who live alone may visit with one other household. Visitors are asked to practice physical distancing and masks are encouraged. Washrooms are available. Visitor centres, programs and rentals are not available at this time. Please check the website for updated guidelines for visitors.
About Hilton Falls Conservation Area
Hilton Falls Conservation Area on the Niagara Escarpment (a designated UNESCO World Biosphere Reserve) is open year-round and is a beautiful place to spend some time outdoors. The 645 hectare park might be known for its 10 metre waterfall, however, there are also 33.5 kilometres of colour-coded trails in a series of overlapping loops available for hiking, biking, and cross-country skiing.
We haven't tried geocaching here, however, there are apparently some hidden around the park. You can find more information about geocaching in Halton parks on the Conservation Halton website.
The trails at Hilton Falls are suitable for hiking with kids and are pet-friendly as well, however, dogs must be kept on leash at all times.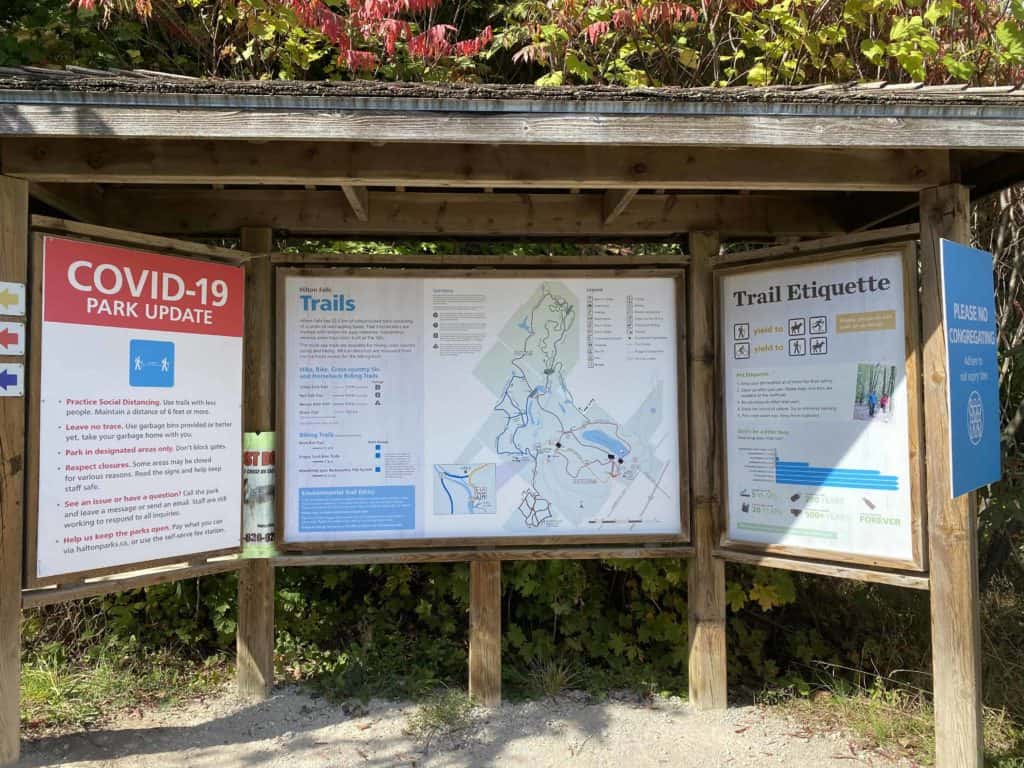 How To Get to Hilton Falls
Hilton Falls Conservation Area is located at 4985 Campbellville Road north of Highway 401 in Milton, Ontario west of Toronto. The park is open 9 am – 8pm May 22 – October 18. Park hours vary by time of year – check the Conservation Halton website for details.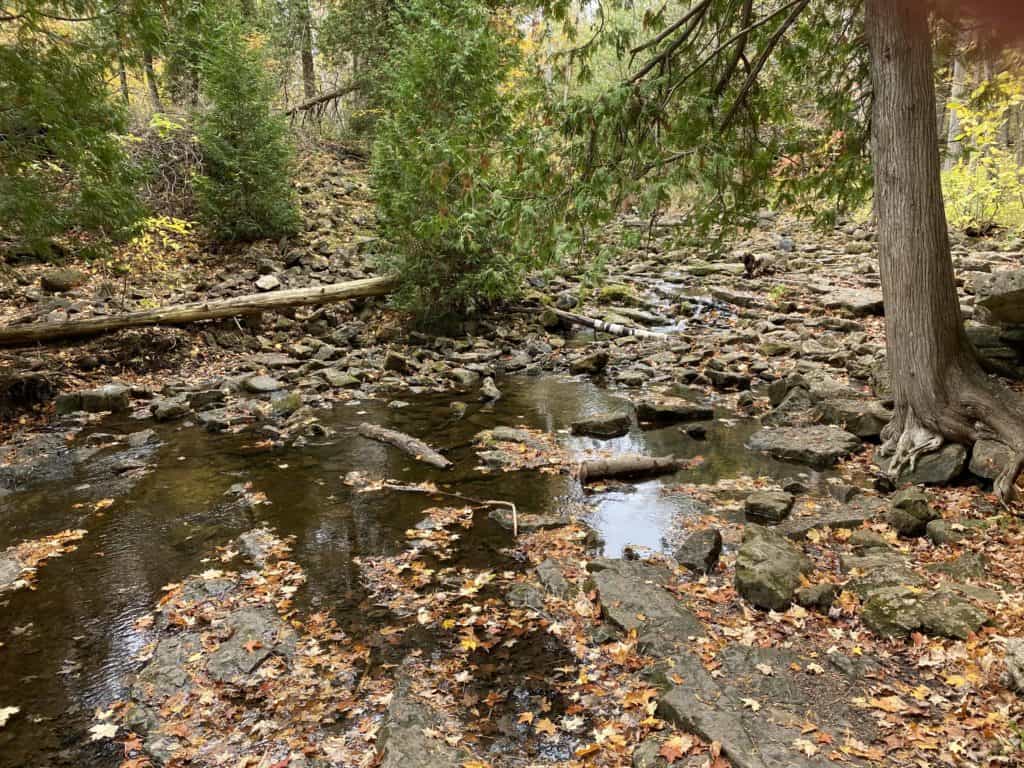 Planning a Visit to Hilton Falls Conservation Area
Reservations are currently required for visiting Hilton Falls Conservation Area and visits are limited to a two hour window Friday – Sunday and a three hour window Monday – Thursday. Visits can be reserved online at the Conservation Halton website by choosing a day, time slot and paying the park admission fee. The reservation system also indicates whether the park is busy or not on the day that you plan to visit which is nice information to have. You will receive an e-ticket once you complete your reservation.
When you make your online reservation you will also provide your license plate number. When you arrive at the park, your car's plate will be scanned to find your reservation and the gate will open. Bring a print-out of your e-ticket or have it available on your phone as well since the attendant will need to scan the barcode if there is any issue with your license plate.
Reservations are rain or shine, however, changes can be made up to 1 hour prior to your scheduled visit. Refunds can be issued up to 48 hours prior to your visit.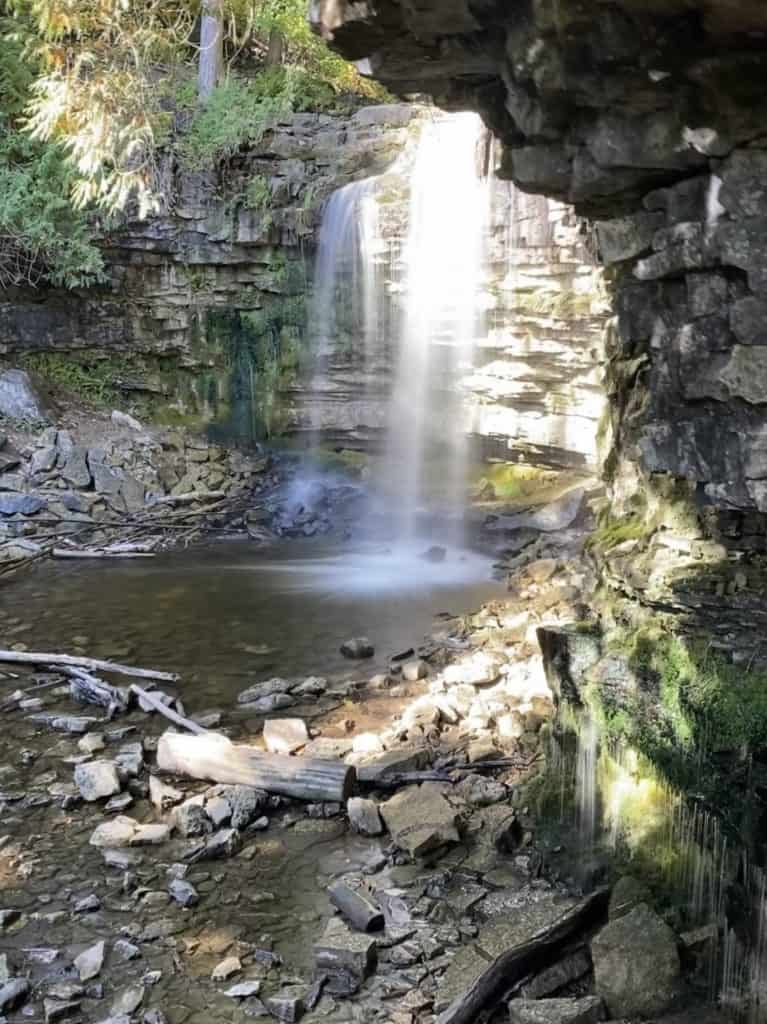 Tips for Hiking at Hilton Falls
When hiking at Hilton Falls or anywhere else, arrive suitably prepared for spending time outdoors.
Be sure to wear appropriate footwear as the trails may have obstacles such as rocks and tree roots and will be affected by recent and current weather conditions.
Bring water with you. If you're hiking with kids then you will definitely want to bring along snacks as well even for a short hike.
Stay on the trails at all times and do not cut new trails.
Exercise caution on the trails (and supervise young children). The cliffs of the Niagara Escarpment can be hazardous and quite slippery when wet.
If you're able to visit on a weekday then you will find the area around the waterfalls much quieter than on weekends.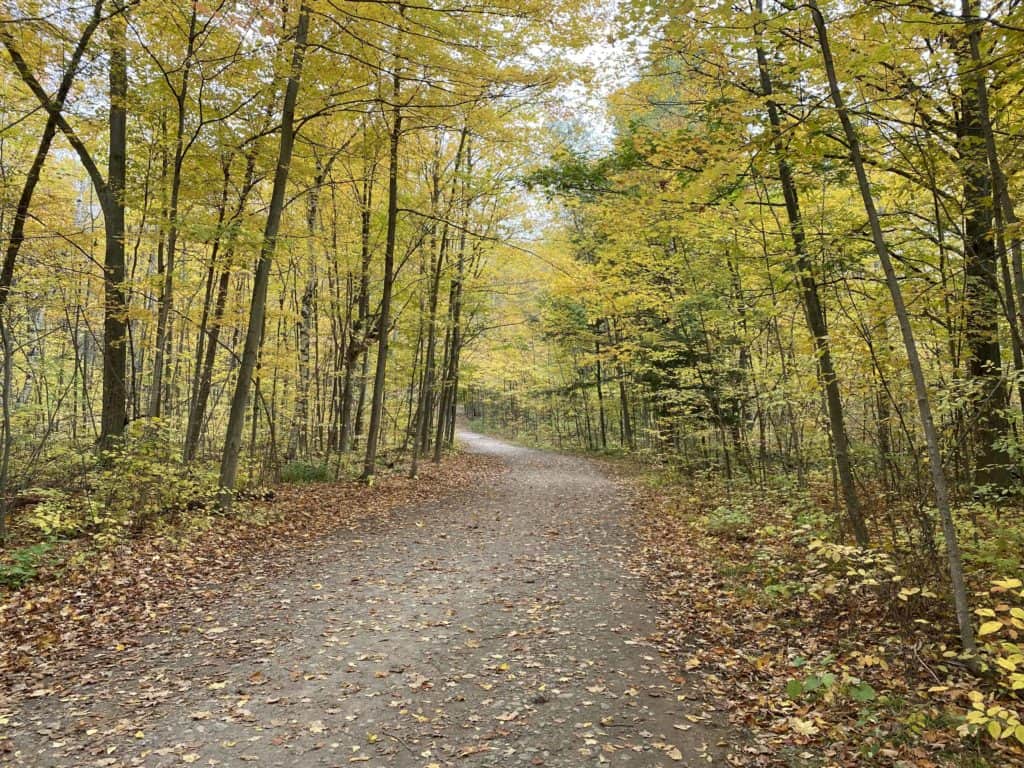 Hiking Trails at Hilton Falls
There are three hiking trails of varying difficulties at Hilton Falls Conservation Area and a section of the Bruce Trail, Ontario's longest footpath, runs through the park as well.
We have visited the park twice and hiked the Hilton Falls Trail on both occasions. On our most recent visit, we also hiked a portion of the Red Oak Trail although it was partially closed due to construction work that was underway. The Beaver Dam Trail is on our agenda for the next visit as it's an 8 km loop and would take up most of the time allotted for a visit.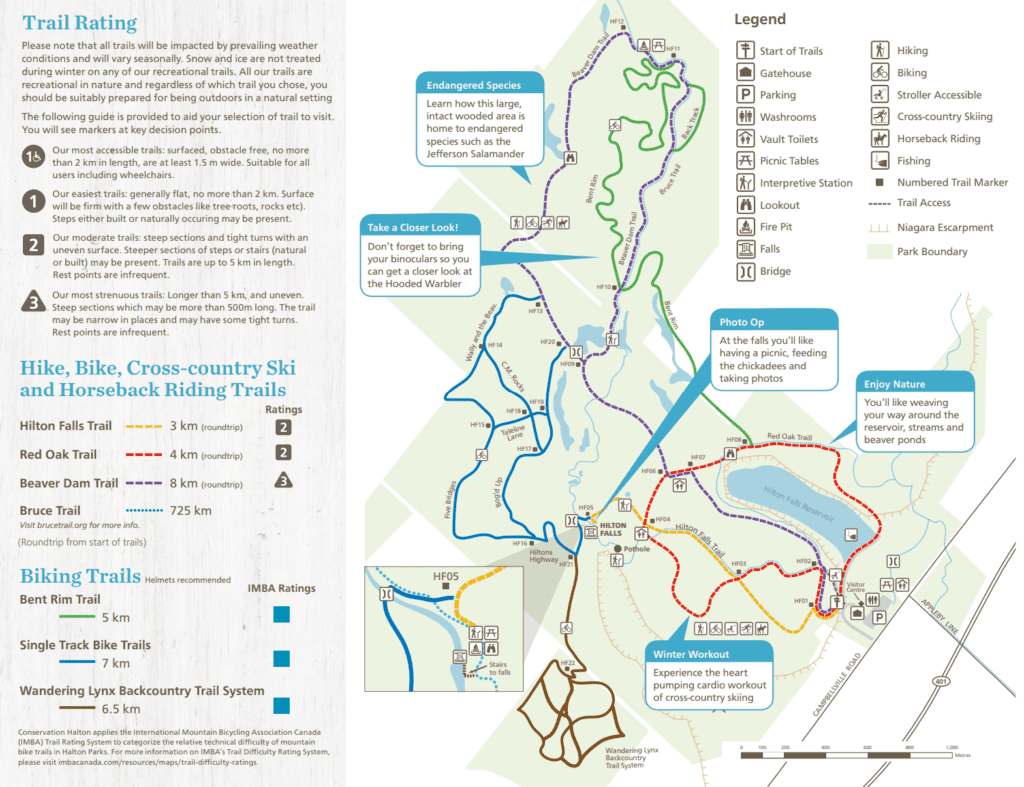 Hilton Falls Trail
The Hilton Falls Trail is a 3 km roundtrip looped trail that goes through the forest to the river and waterfalls. This trail is rated as a Level 2 Moderate but is a fairly easy walk. There's only a bit of uphill terrain and the ground is mostly flat until you arrive at the falls where the ground is rocky and there are stairs to navigate. This is the busiest trail at Hilton Falls Conservation Area as it seems that most visitors are just there for the falls.
At the end of the trail, there are stairs down to a viewing platform near the base of the falls where you will also see the historic Mill Ruins. These stone structures are all that remain of three 19th century saw mills which operated in Hilton Falls on Sixteen Mile Creek between 1835 and 1867 and supplied lumber to the Nassagaweya Township.
There's a firepit located in the area at the top of the falls which visitors can use so bring along a few marshmallows to toast if you need a little energy boost before continuing your hike!
(These two photos below were taken on two separate hikes to Hilton Falls in October. The first was taken on a weekday visit and the second was taken on a weekend. So if you prefer a less crowded visit to the falls then visit on a weekday if possible!)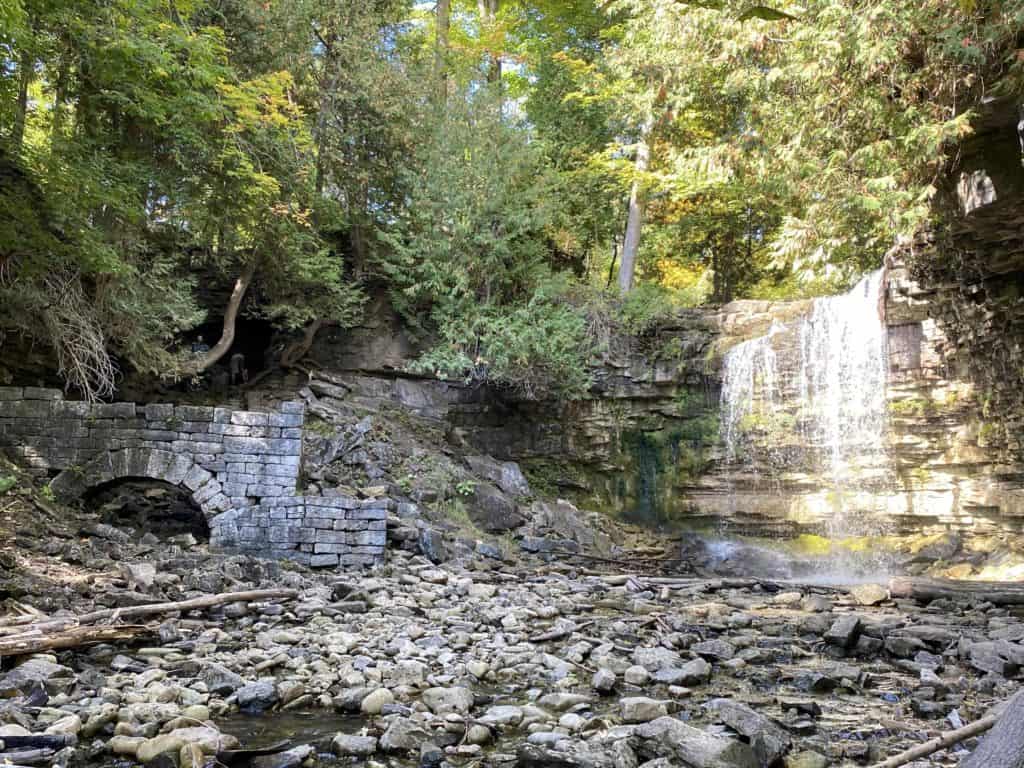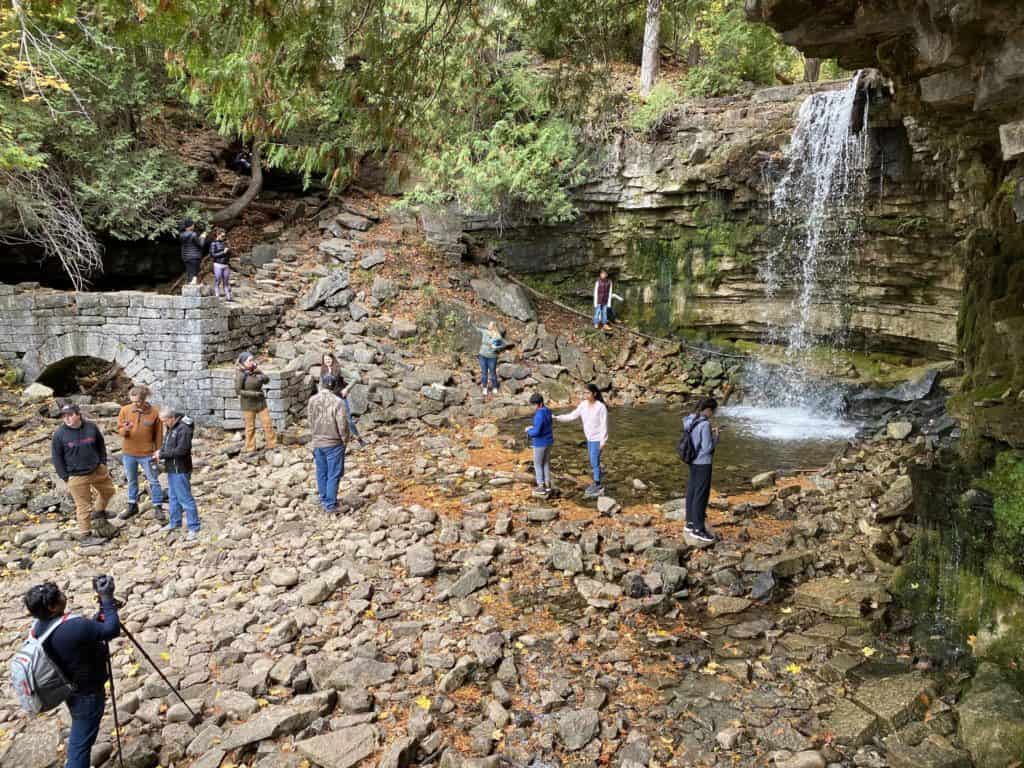 Red Oak Trail
We were able to walk part of the Red Oak Trail on our recent visit which is a 4 km roundtrip trail. It is also rated a Level 2 Moderate and is a circular trail that goes around the Hilton Falls Reservoir. Access to the east side of the trail around the Reservoir was closed for construction on the day of our recent visit so we plan to return soon in order to see the Reservoir part of the trail.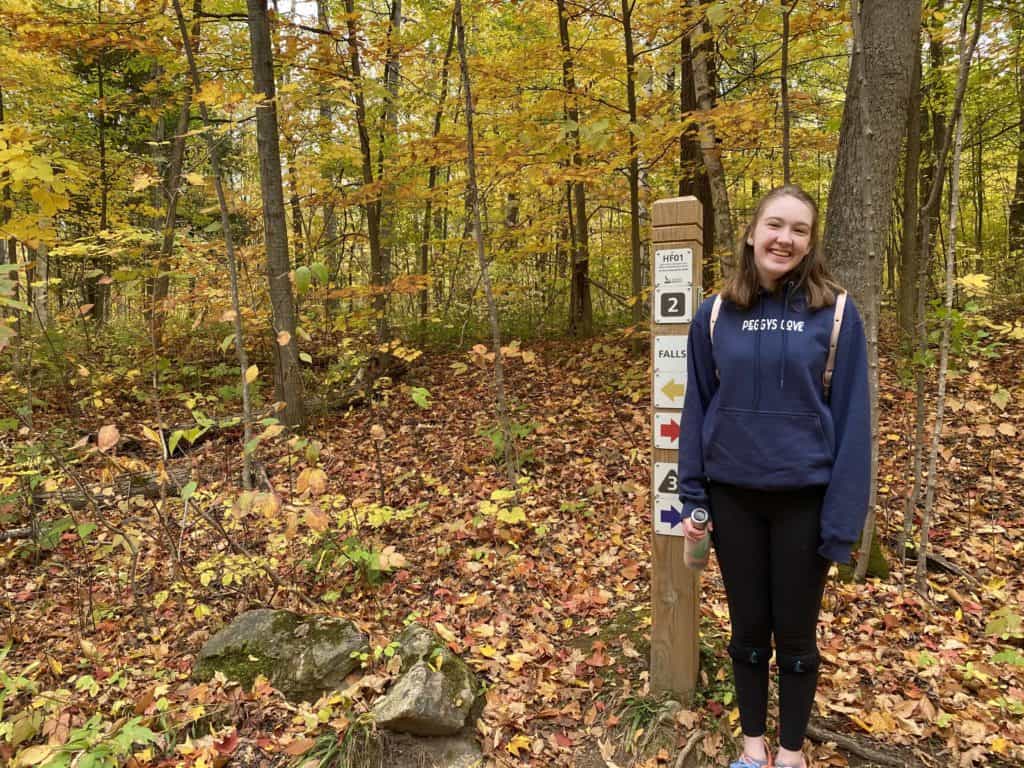 Halton Conservation Parks
There are seven fully-open Conservation Halton Parks: Rattlesnake Point, Hilton Falls, Mount Nemo, Crawford Lake, Robert Edmondson, Mountsberg, and Kelso (including Glen Eden in winter). Reservations are currently required at all of the parks with the exception of Robert Edmondson. An eighth park, known only as Area 8 at the moment, has finally opened to the public after more than 20 years of restoration work. Park development in Area 8 will occur in phases over the next few years, but visitors are now able to enjoy this beautiful space on weekends only.
Although I have lived in the region for more than 20 years, I hadn't visited any of the parks until fall 2020. One of my goals during the time that we are limited in our travels is to explore more close to home and take advantage of all the beautiful places in our region including our conservation areas.
Since last fall we have visited all of the parks (with the exception of Area 8) at least once and have started return visits. Hiking has become our favourite activity so we'll continue to explore the parks to get that nature fix that we all need.
The current fee for a visit to the parks is $9.50 per adult with reduced fees for seniors (65+) and children (ages 5-14). Admission is free for children 4 and under. Currently reservations made Monday – Thursday have been upgraded to 3 hours whereas Friday – Sunday reservations are limited to 2 hours.
There is a Conservation Halton Park Membership available for purchase which includes admission to all 8 of the parks 364 days of the year. Members do still have to make a reservation for their visits at this time and are still limited to a two hour or three hour time slot depending on the day of the week. The cost of a membership is currently $75 for an individual and $150.000 for a family (prices include HST). We decided to purchase the family membership this past spring and used it multiple times within the first few weeks so it is definitely economical if you plan frequent visits.
You Might Also Like
Pin This For Later