Crawford Lake Conservation Area, one of seven Conservation Halton Parks, can be visited in any season to explore the trails, enjoy outdoor activities and learn about First Nations history at the Iroquoian Longhouse Village.
This post may contain affiliate links. If you click an affiliate link and make a purchase then we receive a small commission at no additional cost to you.
Visiting Crawford Lake Conservation Area
Crawford Lake Conservation Area in Milton, Ontario is one of the region's best destinations to enjoy some time spent immersed in nature at any time of year. The 232 hectare park located along the Niagara Escarpment was established in 1969 and offers approximately 19 km of hiking trails connected to the Bruce Trail.
There are trails open for hiking during the spring, summer and fall seasons and in winter for snowshoeing and cross-country skiing. In the winter there are even Moonlight Guided Snowshoe Hikes although I'm not certain whether those will be happening in the winter of 2020/21.
Typically there is also a slate of activities, events and educational programs taking place at Crawford Lake although those have been limited since the Halton parks were able to reopen after the spring 2020 lockdown. The indoor Visitor Centre and Gift Shop is also currently closed, however, washrooms are open for the use of visitors and masks are currently required inside the facilities. Check online prior to your visit for current park hours.
What Type of Lake is Crawford Lake?
Crawford Lake is a rare meromictic lake which means that it has layers of water that do not intermix whereas in a typical lake there is a physical mixing of the surface and deep waters at least once a year. Crawford Lake is deeper than its surface area, so the lowest levels of water are very rarely disturbed, and little oxygen reaches the lowest levels.
The unique qualities of this lake led to an important discovery relating to the history of First Nations in the area. Scientists found ancient corn pollen deep in the sediment of Crawford Lake which indicated the presence of settlements and led to the conclusion that First Nations had settled the area over 600 years ago.
Many people ask can you swim in Crawford Lake? The answer is no! Swimming is not permitted in Crawford Lake because it is a rare meromictic lake and a habitat for many species. Swimming in the lake (or allowing a dog to swim in the lake) would be disruptive to this habitat.
How to Get to Crawford Lake
Crawford Lake Conservation Area is located at 3115 Conservation Road in Milton south of Highway 401 and east of Guelph Line.
Planning a Visit to Crawford Lake
Reservations are currently required for visiting Crawford Lake Conservation Area and visits are limited to a two hour window. Visits can be reserved online at the Conservation Halton website by choosing a day, time slot and paying the park admission fee. The reservation system also indicates whether the park is busy or not on the day that you plan to visit which is nice information to have. You will receive an e-ticket once you complete your reservation.
When you make your online reservation you will also provide your license plate number. When you arrive at the park, your car's plate will be scanned to find your reservation and the gate will open. Bring a print-out of your e-ticket or have it available on your phone as well since the attendant will need to scan the barcode if there is any issue with your license plate.
Reservations are rain or shine, however, changes can be made up to 1 hour prior to your scheduled visit. Refunds can be issued up to 48 hours prior to your visit.
During my recent visit, I was able to complete two trails and tour the Iroquoian Village during that 2 hour time frame. Ideally I would have liked to have a bit more time as my tour of the longhouses was a bit rushed but two hours is a reasonable length of time for a visit.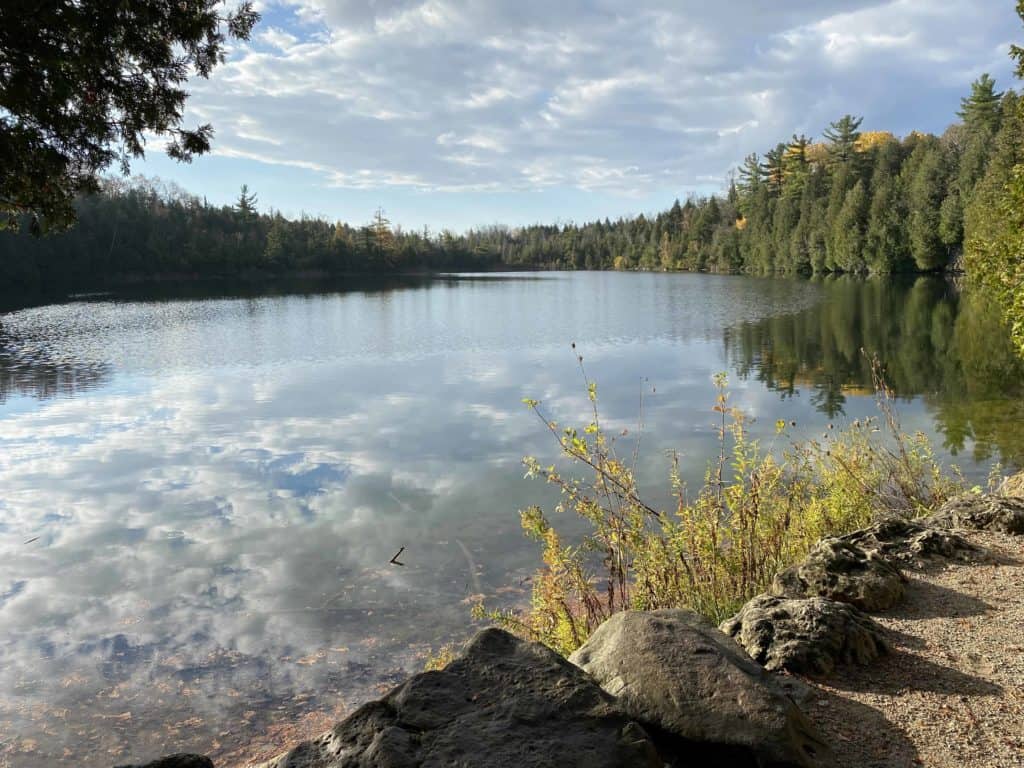 Crawford Lake Hiking Trails
There are several hiking trails at Crawford Lake of varying difficulties. The Crawford Lake Trail (1 km) and the Woodland Trail (1.5 km) are both rated as easy trails, the Pine Ridge Trail (3.6 km) and the Escarpment Trail (2.4 km) are both rated moderate and the Nassagaweya Canyon Trail (4.7 km each direction or 9.4 km round trip) is rated as the most strenuous trail. Some of the trails also connect to the Bruce Trail.
The Nassagaweya Canyon Trail which connects Crawford Lake to Rattlesnake Point Conservation Area is not currently open because it would take longer to complete than the current two hour time limit for visits.
On my recent visit, I hiked the Crawford Lake Trail first and then hiked the Escarpment Trail and that's all I could fit in given the current time limit for visitors.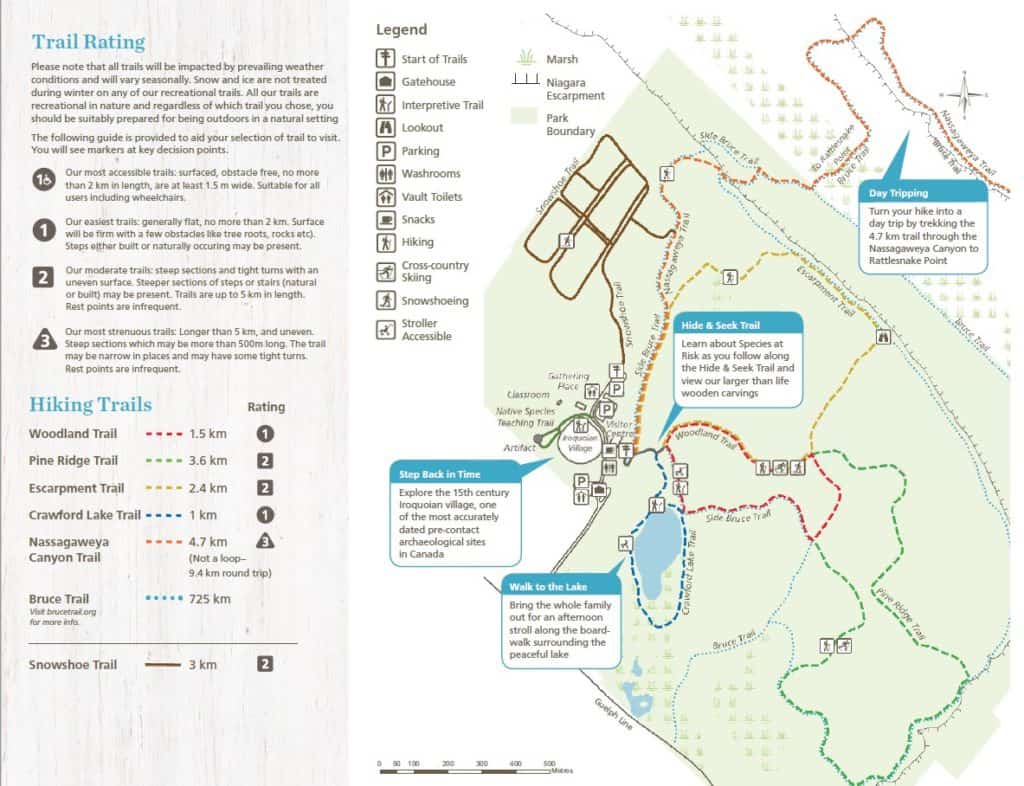 Crawford Lake Trail
The Crawford Lake Trail is approximately 1 km in length and, as it is mostly on an elevated wooden boardwalk through the woods around the lake, is easy enough for most anyone to walk or possibly even push a stroller.
The beginning portion of the trail before reaching the lake and the boardwalk includes the Hide and Seek Trail of wooden animal carvings which is great for a scavenger hunt with kids.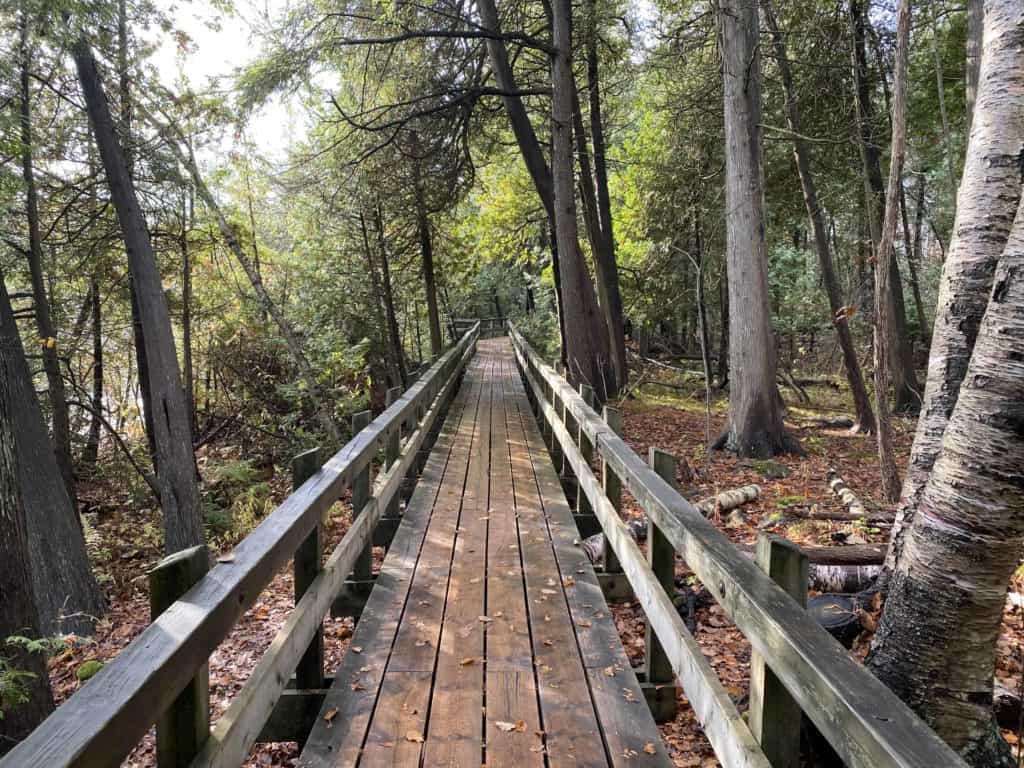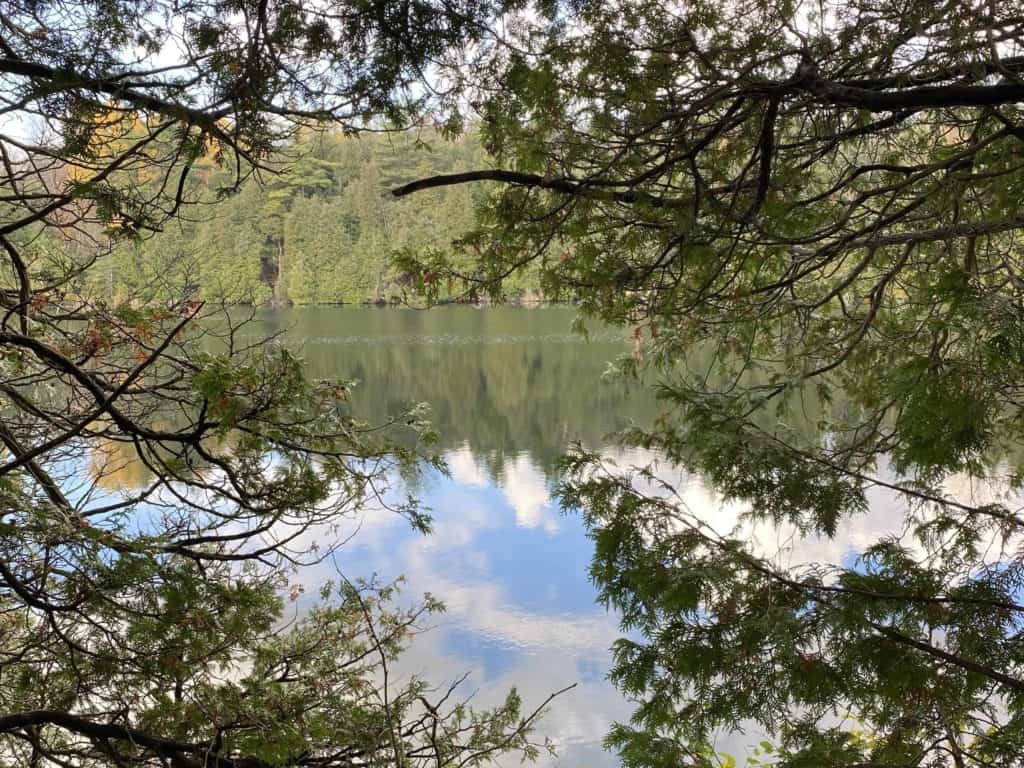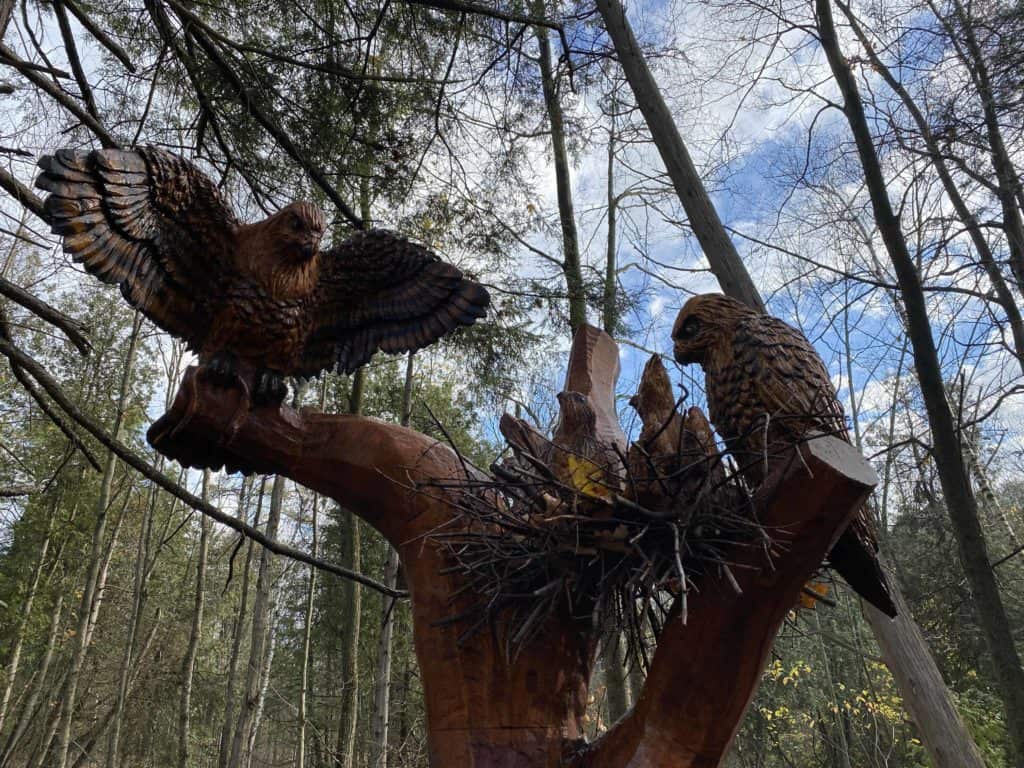 Escarpment Trail
The Niagara Escarpment Trail is a loop trail that winds it's way through the woodlands to the Nassagaweya Canyon Lookout where there's a spectacular view of the canyon and the Niagara Escarpment. It's particularly beautiful in the fall when the leaves are changing colour. I was there a bit past peak leaf viewing season but it was still quite beautiful.
This canyon was created millions of years ago by rivers carving through the massive sedimentary rock. Today Limestone Creek winds along the bottom of the canyon and when the Nassagaweya Trail is open hikers are able to descend into the canyon as they travel from Crawford Lake to Rattlesnake Point.
The first part of the loop in the direction that I was travelling was very flat and an easy walk until the Lookout. Past the Lookout, however, the trail became quite rocky and was a more challenging and strenuous hike.
Be sure to wear proper footwear as the footing is uneven and can be slippery. It had rained for a couple of days prior to my visit so the rocks were slippery plus there were a lot of wet leaves on the ground as well. I would have liked to have been wearing proper hiking boots instead of just running shoes as I was hiking by myself and a bit worried about slipping and falling on the rocky terrain.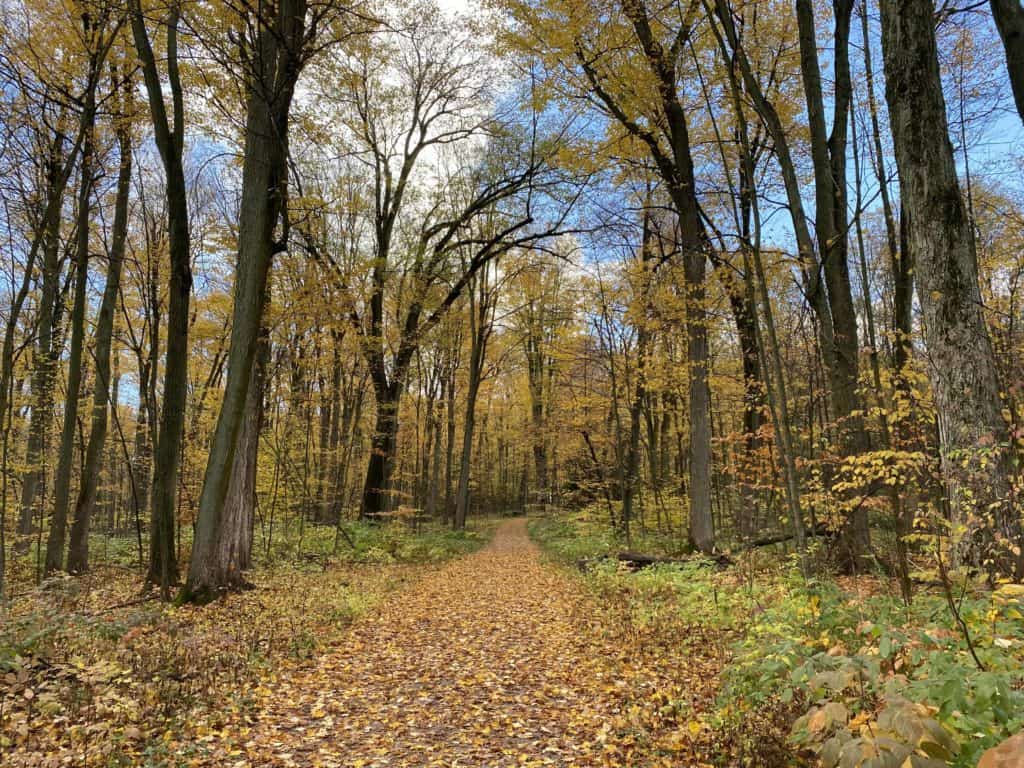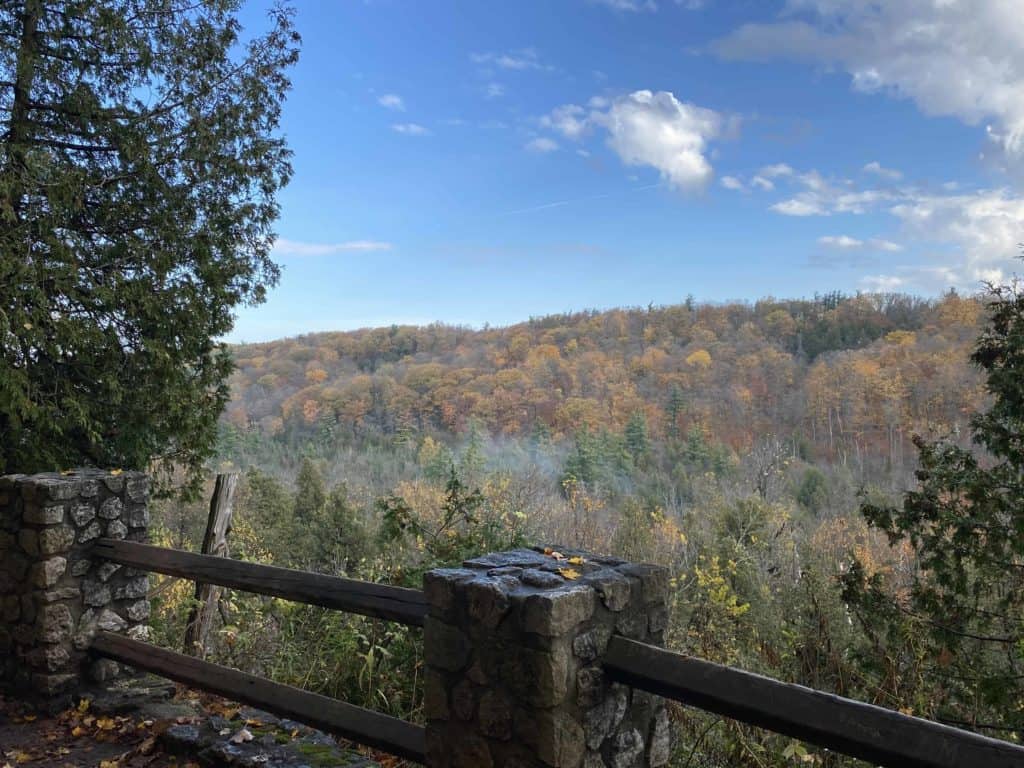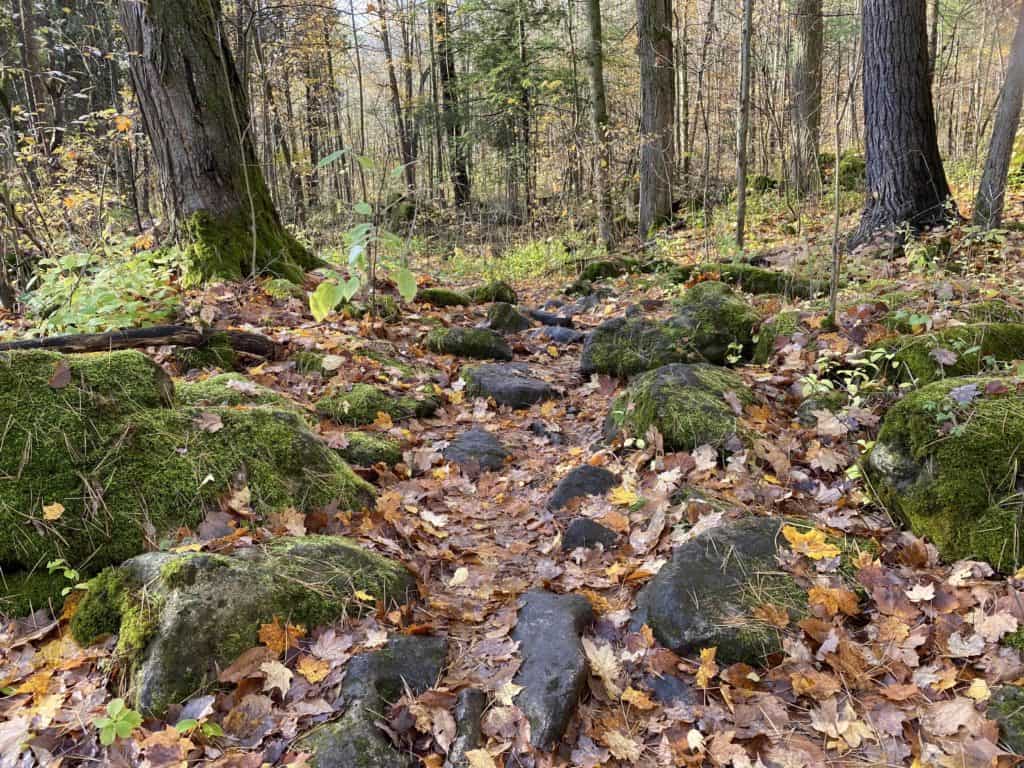 Crawford Lake Iroquoian Village
After hiking, I spent some time exploring the reconstructed 15th century Iroquoian Village at Crawford Lake. Between 1973 and 1987, excavations on this site uncovered 11 longhouses and over 10,000 artefacts from the daily lives of the Iroquoian people who made their homes here. Three of these longhouses have been reconstructed and are open to visitors.
Visitors can wander around the village and learn about what life was like here 600 years ago. There are artefacts on display in the longhouses and interpretive programs and demonstrations to educate visitors about the history of the First Nations. Crawford Lake is a popular field trip for local schools but I somehow missed out on this one with both of my girls.
The Deer Clan Longhouse also features seasonal exhibits that explore contemporary Indigenous art and culture. The exhibit on display during my visit was Haudenosaunee Clans…Extended Families of the Iroquois which was quite interesting.
My time in the Longhouse Village was a bit limited as my two hour time slot was running out so I was only able to have a cursory look at the displays. I'll plan to spend more time here the next time that I visit Crawford Lake. Lake to Longhouse private group tours can also currently be booked to get a more in-depth look at the village. The 1 hour tours are $75 per group up to a max of 10 people.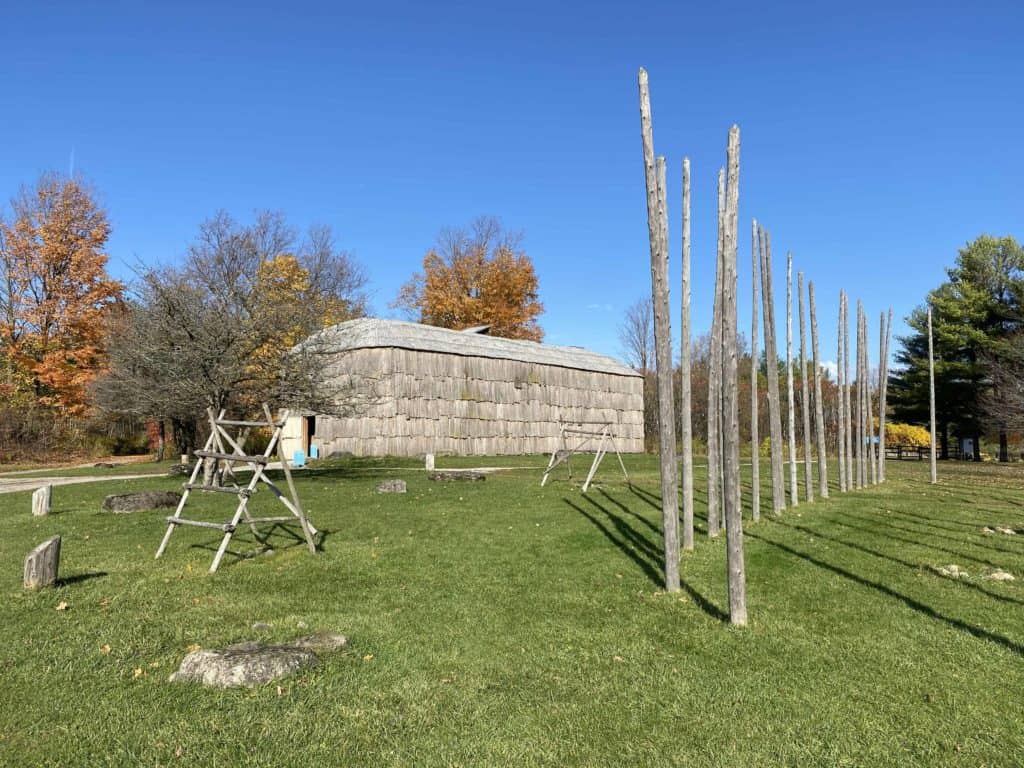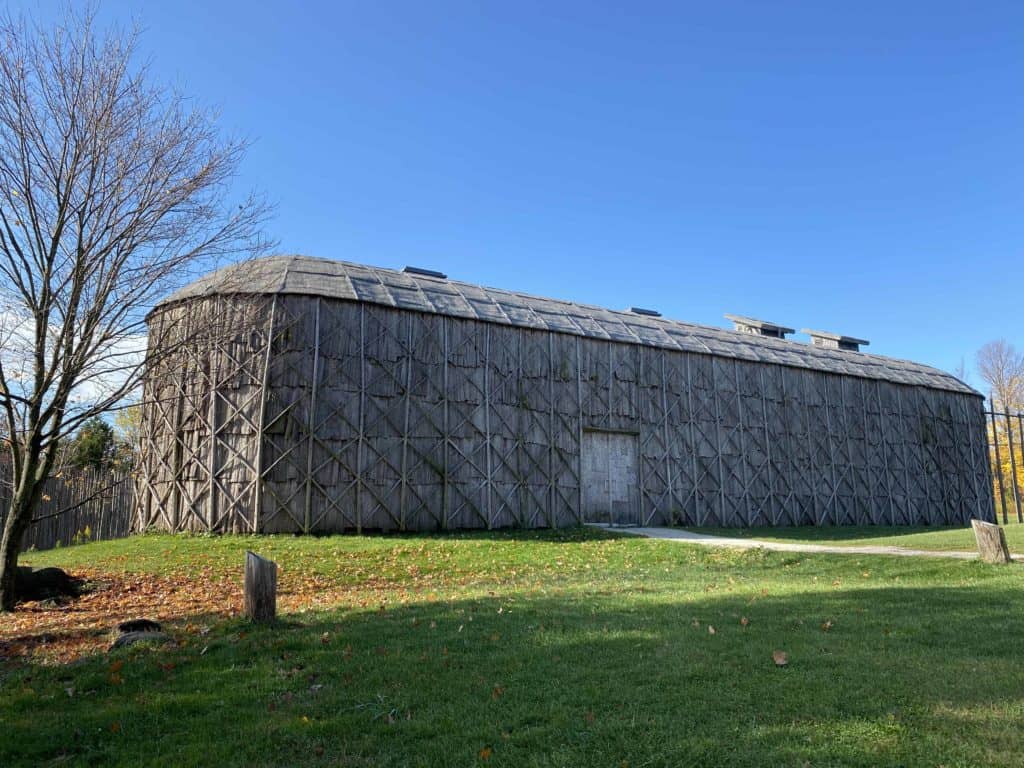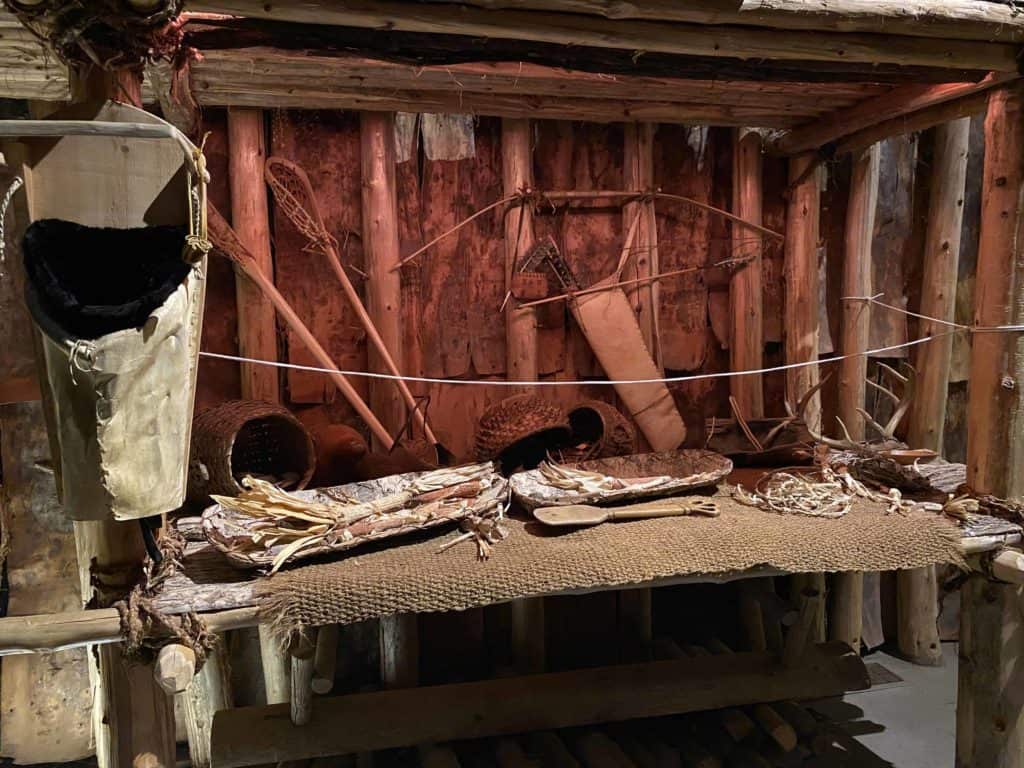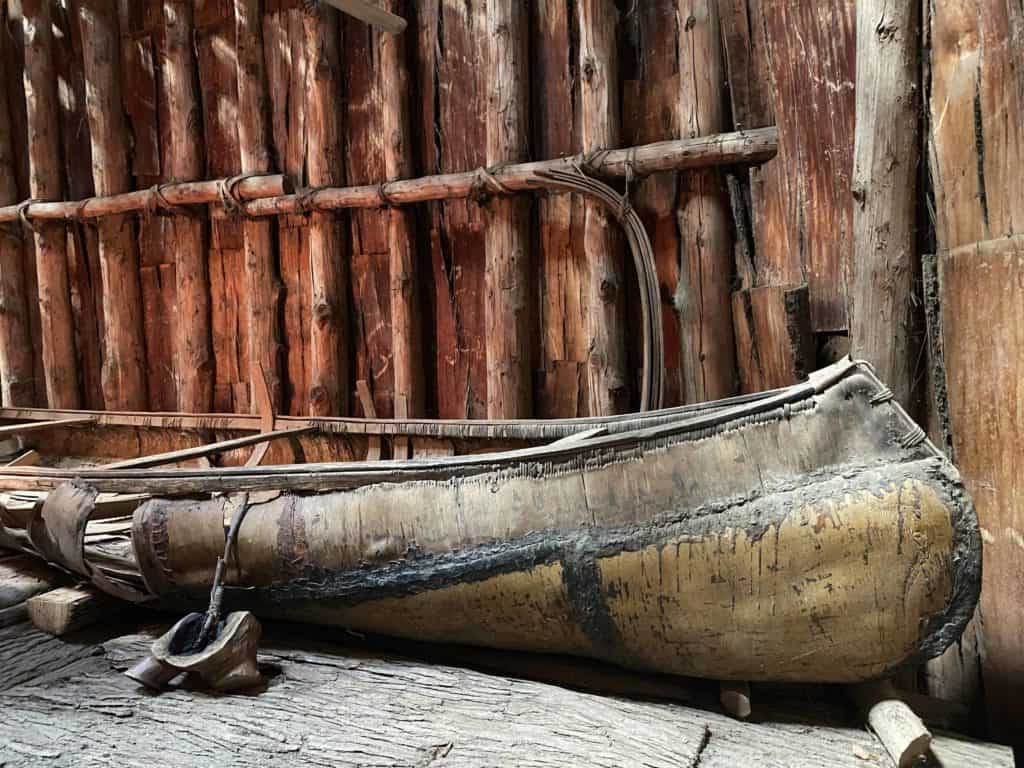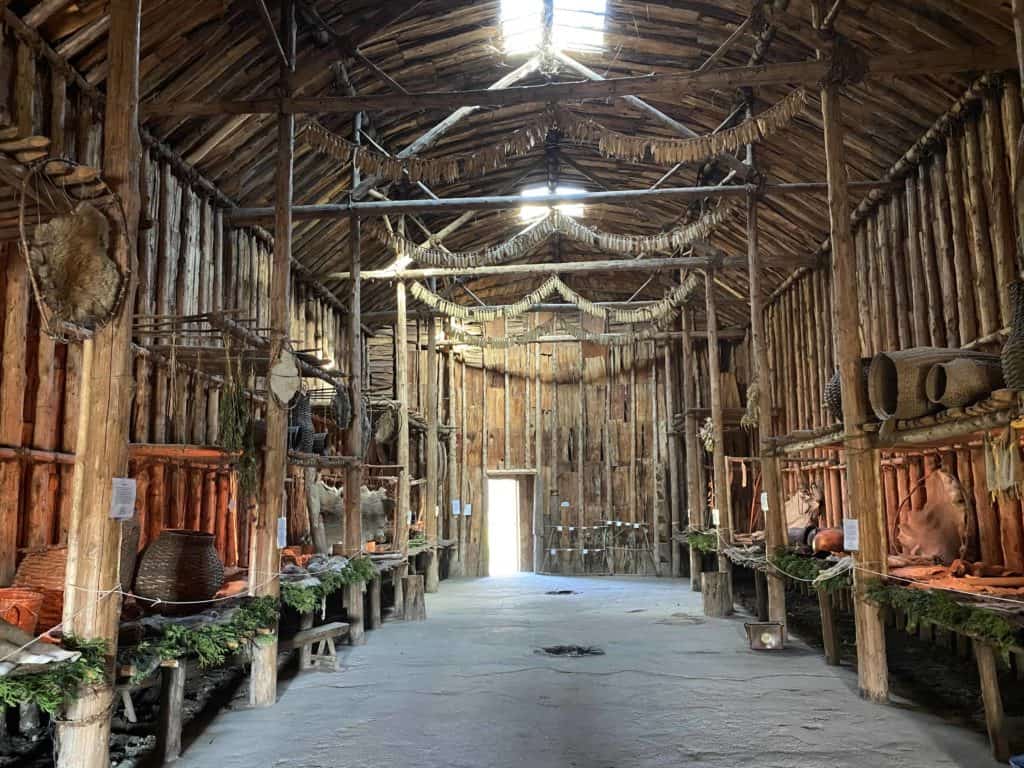 Conservation Halton Parks
There are seven Conservation Halton Parks: Rattlesnake Point; Hilton Falls; Mount Nemo; Crawford Lake; Robert Edmondson; Mountsberg; and Kelso (including Glen Eden in winter). Reservations are currently required at all of the parks with the exception of Robert Edmondson.
Although I have lived in the region for 20 years, I hadn't visited any of the parks until this fall. One of my goals during the time that we are limited in our travels is to explore more close to home and take advantage of all the beautiful places in our region including our conservation areas. Thus far, I have visited three of the parks (Hilton Falls, Robert Edmondson and Crawford Lake) and hope to visit the others soon.
Current fees for a two hour day visit to the parks is $6.50 per adult with reduced fees for seniors (65+) and children (ages 5-14). Admission is free for children 4 and under.
Conservation Halton also sells a membership which includes admission to all 7 of the parks 364 days of the year. Members do still have to make a reservation for their visits at this time and are still limited to a two hour time slot. The cost of a membership is currently $62 for an individual and $135.50 for a family.
You Might Also Like
Visiting the Incredibly Unique Cheltenham Badlands in Caledon, Ontario
Exploring the Trails at Rattlesnake Point Conservation Area
Hiking at Hilton Falls Conservation Area
10 Fun Fall Activities in Ontario
52 Things To Do in Ontario: The Ultimate Ontario Bucket List
Pin This For Later