A review of our family's Mediterranean cruise on the Celebrity Equinox.
It has only been a little more than a week since our family returned from an Eastern Mediterranean cruise on the Celebrity Equinox.  The Equinox, which is part of Celebrity's Solstice class, debuted in 2009 and has a capacity of 2850 passengers.  
This was our fifth cruise as a family, however, it was the first time that we would be sailing with Celebrity and we were all very excited about our destination as well as the  opportunity to experience a new cruise ship.  The Equinox sails from the port of Civitavecchia (about an hour's drive from Rome) and on our itinerary the ports of call were Santorini, Greece; Athens, Greece; Istanbul, Turkey; Kusadasi, Turkey; Mykonos, Greece; and Salerno, Italy.  
Embarkation Process
Embarkation was a very simple process.  We arrived outside the terminal shortly after noon, passed off our luggage to the baggage handlers and headed inside the terminal building.  Our rooms were in Concierge Class and there was virtually no line up.  We handed over our express passes and a credit card, signed a few papers, received our room keys, had a family photo taken and boarded the ship.  An announcement informed boarding passengers that rooms would be ready after 1:30pm so we headed upstairs to the Oceanview Café for some lunch while waiting for access to our stateroom.
Our Staterooms
On other cruise lines we have booked family rooms, mini-suites, and suites, however, on this cruise we opted to book two Concierge Class balcony rooms that were inter-connecting.  This type of inter-connecting room seems to be unique to Celebrity and, in my view, is ingenious.  Certain pairs of staterooms have an extra set of doors that can be folded out and locked as one door resulting in a small shared foyer outside the two rooms. 
The result is that you now have two staterooms (and two bathrooms) behind one common door.  This was ideal for us because we needed the extra space but my younger daughter was still able to get to us if she woke in the night or early morning without exiting her room into the hallway or via the balcony.  We also had the balcony opened so that we had a double-size balcony.
The rooms on Celebrity are decorated in neutrals and quite elegant.  Closets were spacious for two people and had plenty of hangers (it's a pet peeve of mine when a sufficient number of hangers aren't provided).  The bathroom (with shower only) had adequate cupboard and drawer space for storing toiletries.  There is a mini-bar fridge which we used for storing bottles of water.  We were provided with a bowl of fruit that was replenished on a daily basis.  The chocolates on the pillows with turn-down service were very popular with everyone in the family and Emma particularly liked the towel animals that greeted her when we returned to our staterooms for the evening.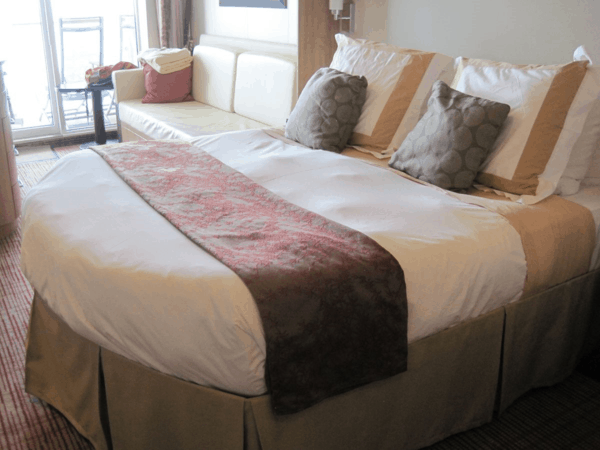 Our Concierge Class Balcony Stateroom
When we first gained access to our staterooms, we discovered that they had not yet been set up as connecting rooms.  We contacted our stateroom attendant and waited to have this issue addressed  before we went off to explore the ship.  After spending the balance of the afternoon exploring the ship, we returned to our room to dress for dinner, with Emma soaking wet from playing in the fountains, to discover that we were locked out of our room.  Our stateroom attendant could not access our room either as the electronic door seemed to have malfunctioned.  An electrician had to be called to try and deal with the problem and it took quite some time for it to be resolved. We finally regained access to our room with less than an hour to go before dinner only to discover another problem.
Cards had been left in our staterooms to indicate where we would be sitting for dinner and my husband and I were seated at one table and our daughters at another (on a different level of the restaurant).  We have no idea how this happened as we were on one joint reservation with Celebrity and had requested a table of 4 for our family.  It was rather annoying to have to get it sorted out shortly before dinner as we had visions of having to eat at the buffet instead of the main dining room.  My husband ended up waiting for about 30 minutes in the long line at Guest Relations in order to get the error in seating corrected so that we would be able to dine together that evening in the main dining room.  
This oversight was a bit of a disappointment for a line that prides itself on its level of service.  We were able to be switched to a table together, however, the tables that we had initially been assigned were by the windows (as we had booked this cruise as soon as the itinerary became available) and the table we were switched to was next to the waiter's service station in the middle of the room.  None of  these issues were huge but combined together on the first day of the cruise meant that we were starting the cruise with the sinking realization that the service on Celebrity may not be all that we had expected it to be.
Public Areas of the Ship
The Equinox is a beautiful, sophisticated ship (no garish design here) with a number of public areas for guests to spend time.  One of the most unique is The Lawn Club on deck 15 which has a half-acre of freshly manicured grass where passengers can lounge or play games such as barefoot bocce ball or croquet or brush up on putting skills.  The evening that we were anchored off Santorini there was a wine and cheese party held on the lawn while the Livadiya String Trio entertained guests who were watching the sun set over the caldera. 
We also spent some time hanging out in the Entertainment Court before dinner, particularly when the a capella group Full Tilt (which our entire family enjoyed) was performing.
There are a number of common rooms that are very nice places for spending some quiet time.  On our deck we had The Library which was a luxurious, quiet spot for reading with comfortable chairs and quite a number of books and magazines for borrowing.  The spacious, peaceful library is a two-story space that can be found on decks 10 and 11.  Team Earth is the public space on deck 7 and it's purpose is to raise eco-awareness and to inform guests about the efforts of Celebrity to conserve the environment.  The large globe here is the biggest attraction.  The Card Room in the atrium on deck 9 provides a spot for passengers to engage in a friendly game of cards.
There were a number of boutiques and shops (18 apparently) on decks 4 and 5 for those who either can't get enough shopping ashore or can't be bothered to shop while ashore. The shops offer everything from Celebrity Brand souvenirs to men's and women's fashion to jewellery – all tax and duty free.  
Dining on the Equinox
Celebrity provides a choice of either traditional seatings or select dining which allows passengers to dine when they choose.  We chose the traditional early seating of 6:30pm and a table of 4.  The main dining room on the Equinox is the two-story glamorous restaurant Silhouette which boasts dazzling chandeliers and a two-story glass wine tower.  The food in Silhouette was excellent.  In comparison to the other lines that we have cruised with (Disney, Princess and Holland America), I would say that Celebrity's food was definitely better than Princess and Holland America and probably on par with Disney.
The Equinox has a total of 10 dining venues including four specialty restaurants.  Apart from Silhouette there is Oceanview Café which is the buffet style restaurant on deck 14; AquaSpa Café for Aqua Class passengers; Bistro on Five which served crepes and sandwiches; Café al Bacio & Gelateria where gelato and specialized beverages were available for a fee; and Mast Grill which offered burgers and other grilled foods near the pool.  There are also three specialty dining restaurants which have a cover charge (Murano; Silk Harvest; and Tuscan Grille) as well as Blu which offers private dining for AquaClass guests.  Room Service is also available 24 hours a day. 
Most days we ate breakfast on the 14th floor in the buffet style Oceanview Caféand on sea days had our lunch there as well.  We didn't eat at any of the specialty restaurants.  There are also 12 Bars & Lounges on board the Equinox, however, we did not make use of any of them.  
Onboard Entertainment
The primary spot for entertainment is the Equinox Theatre on decks 4 and 5.  We attended a show there nearly every evening and found them to be quite entertaining.  The guest performers were of a particularly high calibre compared to what we have experienced on other cruise ships.  The opening night show, for example, introduced a number of the acts and included an orchestral version of Lady Gaga's Bad Romance, a Uruguayan guitar player performing What a Wonderful World with Latin flavour; and a capella group Full Tilt with a brilliant rendition of Bring Him Home.  Our family also enjoyed The Magical Mayhem of Neal Austin which was a magic/comedy show performed by Mr. Austin who has also performed many times for British royalty.  The Olivier Award winning star of London's West End, Paul Baker, also gave an absolutely brilliant performance.   
We didn't use Fortunes Casino at all, however, I certainly appreciated it's smoke-free atmosphere when passing through.  Kudos to Celebrity for limiting smoking to specific designated areas on board thus making the air a lot easier to breathe for everyone else on board.
I spent about an hour one afternoon watching The Hot Glass at Sea Show up on the 15th deck.  The Corning Museum of Glass has set up a glass blowing studio where guests can witness the art of glass blowing as professional gaffers create beautiful works of art.  Two gaffers work on blowing the glass while a third narrates the performance.  At the end of the cruise a number of their glass creations were auctioned off to raise money for a scholarship fund for aspiring glass blowers at the Corning school in upstate New York.
There is a theatre showing Hollywood movies in Celebrity Central on deck 4, however, none of the movies that played during our cruise were family-friendly.
Smithsonian Journeys Speaker
One of the on-board activities that I particularly enjoyed was the Smithsonian Journeys Speaker series.  The talks were given by architectural historian, Gail Cornell.  The highly informative talks that I attended were: Everything You Always Wanted to Know About Greek Architecture but Were Afraid to Ask; and Architectural Masterpieces of Ephesus.  The scheduling of the speaker series was unfortunate, however, as each talk took place at 1pm whereas the Fun Factory is closed from 12-2pm.  This timing meant that, generally, only one parent would be able to attend the talks while the other was in charge of the kids.  It would have been far better, in our opinion, to have these talks scheduled while the Fun Factory was in session in order to enable more parents of younger children to attend. 
Additional Port Talks
We attended a couple of the port talks given by the Equinox shore excursion staff and found them to be short on information and too focused on selling shore excursions and recommending the approved stores ashore.  This was in marked contrast to our experience on Princess in the Baltics where John Lawrence gave detailed port talks that provided passengers with all the practical information that they needed in order to explore each port on their own.
There was also a series of Beyond the Podium talks with Captain Paul Eschenfelder covering a broad range of topics including "Michelangelo", "Santorini – Through the Ages", "Rome & the Turks" and "Ephesus – Glory of the Empire".  Try as I might, I did not make it to any of these lectures as there was just too much to try and fit into the schedule each day.  
Pools and Fitness/Spa Facilities
Emma and her new friends thoroughly enjoyed the pools on the Equinox even though there are no water slides.  There is also a fun fountain area which sprays water at different heights and different times and is very pretty lit up at night in different colours.  We had hardly been on the ship an hour when Emma discovered the fountains and managed to get thoroughly soaked (while fully dressed).  There is also an adults-only pool area in the Solarium which is much quieter and less hectic for passengers traveling without children.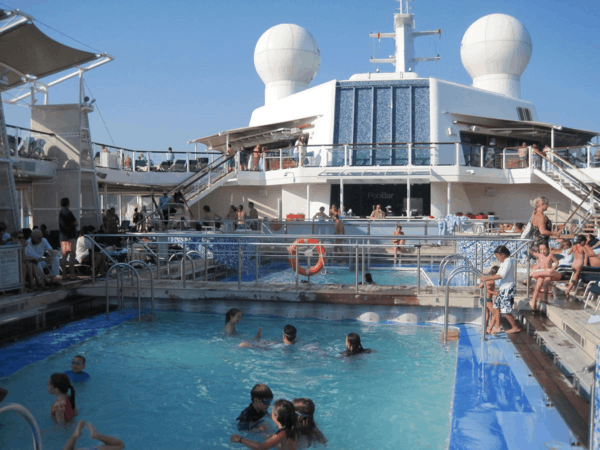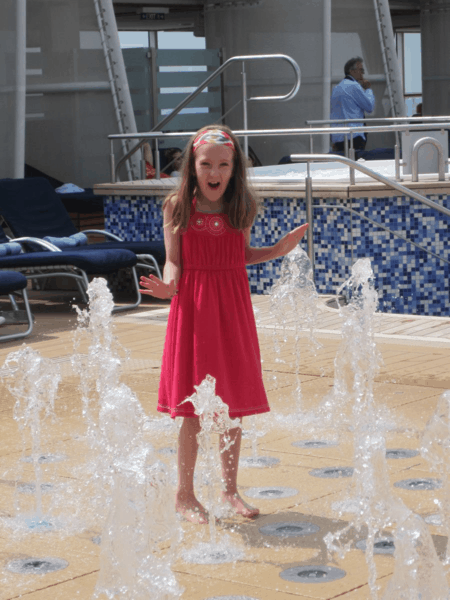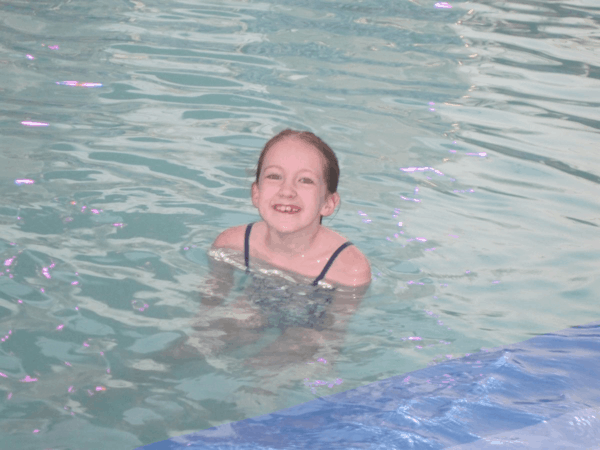 I didn't use the Fitness Area as I was taking a break from both running and weight training due to tendinitis in my knee, however, my husband used the facilities and found them quite adequate.  The gym area was large compared to some of the other ships that we have been on and had more cardio equipment.  There is a jogging track on Deck 14, however, it was virtually impossible to use it apart from the very early morning hours as it runs through an area with deck chairs so there is constantly people milling about on the track.  In mid-day it wasn't possible to walk the track let alone jog it. 
Fun Factory and X-Zone
The Fun Factory is divided into three separate age groups each with their own play space, counsellors, and programming.  The youngest group ShipMates for 3-5 year olds, Cadets for 6-8 year olds, and Ensigns for 9-11 year olds.  The X-Zone is for teenagers and is subdivided into Junior Teens aged 12-14 and Senior Teens aged 15-17.  The complementary program ran from 9am-12pm; 2pm-5pm and 7pm-10pm on both sea days and port days.  For a fee of $6/hour per child Celebrity also offers Lunch Parties on port days; Dinner Parties on port days or sea days; and slumber parties each evening from 10pm-1am.  Parents can purchase VIP service which allows them unlimited access to the paid parties for the duration of the cruise and the children are also taken on a Bridge Tour and a Stage Tour.  I believe that the cost for the VIP Party Pass was $199 for our 11 day cruise.  We did not make use of any of the paid services as Emma only went to Fun Factory on sea days or after dinner on port days.    
We have mixed reviews on the Celebrity kids' program.  My 8 year old daughter, Emma, had an absolute wonderful time in the Cadets' program for 6-8 year olds.  We signed her up for the program at the open house the first afternoon and she eagerly went off to the Fun Factory after our first dinner.  By the time we picked her up she excitedly announced that she had a new best friend and could not wait to go back to play the next day. 
Each day there was a different theme with crafts and games that Emma thoroughly enjoyed.  They also had a few activities that took them around the ship and had their photos taken with the ship's Captain on the last sea day.  The program culminated with a well-attended Talent Show in the Sky Observation Lounge and Emma performed Mamma Mia with two of her new friends.  She was very sad to see the cruise come to an end and is hoping to keep in touch with the close friends that she made onboard.
Katie, my 14 year old daughter, however, was not the least bit impressed with the teen program on Celebrity.  It is quite possible that it varies ship to ship depending on the counselors in charge of the X-Zone and from voyage to voyage depending on the teens who are present but these were her main criticisms.  On the first evening of the cruise she went up to the X-Zone after dinner hoping to meet up with some other teens to hang out with.  At the time there was a counselor in the room and a group of Spanish-speaking teens.  She sat for half an hour by herself without anyone even acknowledging her presence before the counselor finally asked for her name so that she could have a record of who had used the facility.  Katie compared this unfavourably to our previous cruise on Princess where the counselor on the first evening was very involved making sure that everyone was introduced and had getting to know each other activities.
Each evening we received a card in the stateroom outlining the activities on the teen program for the following day.  To the best of our knowledge none of those activities ever actually took place apart from the late-night activities (which Katie wasn't allowed to stay out for).  Katie spent the first three days of the cruise walking back and forth between our stateroom, the Oceanview Café and the X-Zone hoping to meet up with someone that she could hang out with.  Each time she returned from the X-Zone becoming increasingly dejected saying that there was nobody there except some boys playing video games and that nothing was going on. 
After a few days of this I learned from the mother of Emma's new best friend that her teen daughter was doing the exact same thing and we arranged for the two girls to get together.  After that all was well.  The two girls eventually met up with a third and were then content that they at least had friends to hang out with, however, were still disappointed that the organized activities never happened as, on paper, some of them sounded like quite a bit of fun.
Our assessment of the Celebrity kids' program is that it is excellent for younger kids.  The program for teens seems to be less structured than other cruise lines and unless your teen is particularly outgoing or already knows other teens who will be on the cruise then they may be disappointed.  It would seem that the counsellors in the teen program do not take an active role in getting teens involved or assuring that everyone has fun.  Teens on our cruise had to use their own initiative to find friends and there were no organized activities for them to participate in.  
Overall View of the Cruise
Overall, we had a wonderful cruise on the Celebrity Equinox and were sad to see it coming to an end.  Emma spent most of the last evening in tears as she insisted that she did not want to leave the ship to return home.  It started at dinner as we said goodbye to our waiters, Jefferson and Guven, and worsened when we she had to bid farewell to her new friends at the 10pm pick up from Fun Factory.
There were glitches in the quality of service that we obtained that we were surprised with given our expectations of what a cruise on Celebrity would be like, we felt that there was too much emphasis on selling extras and we were disappointed with the teen program, however, none of these would dissuade me from sailing with Celebrity again.  The ship was elegant and sophisticated, the quality of the food was excellent, and the interconnecting rooms are an absolutely ideal arrangement for our family.  If Celebrity was offering an an itinerary that I wanted then I wouldn't hesitate to set sail with them again.  
Emma started planning a second cruise on the Equinox on the last evening and has continued to talk about her plans over the few days that we have been home.  This Monday morning she and I are definitely dreaming about beautiful ships, exotic destinations and new friendships.
Related Links
7 Reasons to Take Your Kids on a Mediterranean Cruise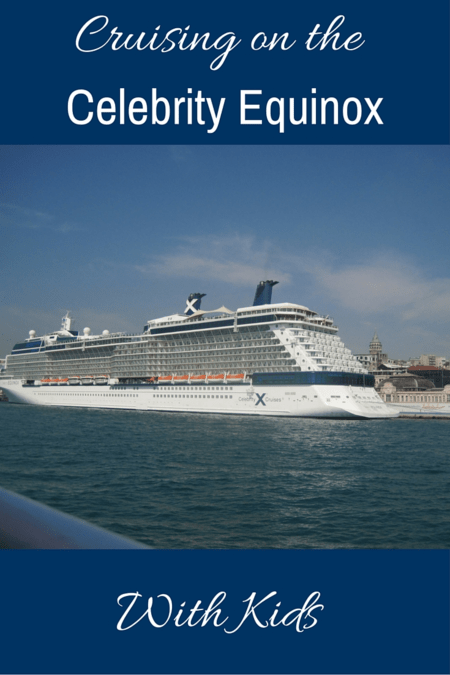 Have you liked our Facebook page yet? I post articles from the blog there as well as photo albums from our travels and other travel news. Or, if you prefer, you can subscribe to the free RSS feed or sign up for an email subscription to keep up-to-date on our travel adventures.