Our family had a great time celebrating Canada Day at the Stratford Shakespeare Festival's Canada Day Family Weekend.
There were only three of us for Canada Day this year since Katie flew to Scotland for her summer abroad program the night before.  It was the first time that our family wasn't going to be together for a holiday and Emma was feeling a bit sad about it so I knew ahead of time that I had to find something fun for the three of us to do on the day.  When we received an email from the Stratford Shakespeare Festival announcing their 1st Annual Canada Day Family Weekend, I jumped at the chance to book tickets.
The Stratford Shakespeare Festival is an internationally recognized theatre festival that presents the works of William Shakespeare and other great writers and runs each year in Stratford, Ontario from April to November.  Attending the theatre in Stratford is one of our family's favourite things to do each summer.  This summer marks the 20th season that my husband and I have been attending and we have been taking kids since Katie saw a performance of Sound of Music in 2001.  If there was anything that was going to take Emma's mind off her big sister's absence it was a trip to the theatre and a walk along the Avon River.  The Canada Day family program sounded like it would be a lot of fun as it included a matinee performance of You're A Good Man, Charlie Brown at the Avon Theatre followed by an after party in the Chalmers Lounge.  
We arrived in Stratford early in the afternoon to find a Canada Day festival across the street from the Avon Theatre and we stopped to acquire a couple of Canada flags for waving and to watch an Irish dancing demonstration.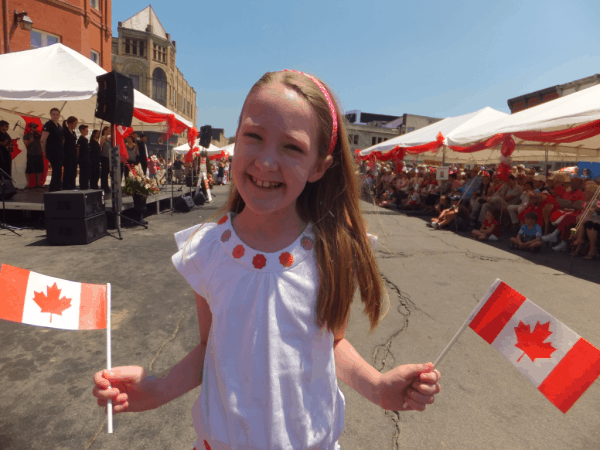 Canada Day Festival in Stratford
We headed to the Avon Theatre for the matinee performance of You're A Good Man, Charlie Brown with time to spare for a bit of shopping at the Theatre Store.  One of the highlights of the day was discovering that Justin Bieber has a star in the sidewalk right outside the Theatre Store quite near the spot where he was known to busk during theatre season when he was growing up in Stratford.   
I wasn't sure what to expect from this musical as I wasn't familiar with any of the songs and I wasn't sure how much Emma would like it as she doesn't really know the Peanuts characters.  There was no reason to have any doubts though – we loved this musical!  It was a bright, colourful, fun show to watch and the six member cast was wonderful.  Snoopy, in particular, had the kids in the audience in giggles throughout and brought down the house with his performance in the number Suppertime.  
After the show we attended the Canada Day Family party in the lounge upstairs where we met the cast members who played Charlie Brown (Ken James Stewart), Linus (Kevin Yee), Sally (Amy Wallis) and Snoopy (Stephen Patterson).  The four charming young actors answered questions and posed for photos with partygoers.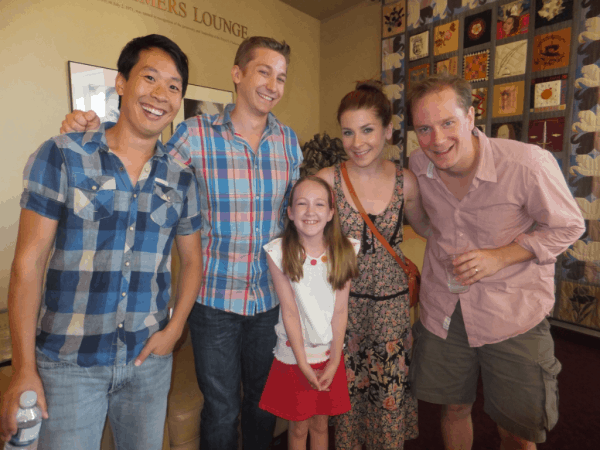 Emma with cast from Charlie Brown
Kids also had the opportunity to try on costumes and have snaps taken in a photo booth which thrilled Emma.  There was face painting and there was a creative balloon guy making planes, flowers and whatnot.  Each family was provided with a pizza to go and we headed down to the river to eat ours picnic-style.
After the party and our pizza dinner, we bought some feed for the ducks and swans which is one of Emma's favourite parts of going to Stratford.  We stroll the path alongside the river while Emma tosses the corn feed to the birds and she is as happy as can be – so long as the birds don't get too eager to get the food out of her paper bag.
We missed having Katie with us but we still managed to have an incredible Canada Day at the Stratford Shakespeare Festival – hopefully Katie was enjoying herself as much in St. Andrews!
Related Link
Stratford On A Summer Afternoon
Have you liked our Facebook page yet? I post articles from the blog there as well as photo albums from our travels and other travel news. Or, if you prefer, you can subscribe to the free RSS feed or sign up for an email subscription to keep up-to-date on our travel adventures.