A review of our family's stay at the Courtyard by Marriott in St. John's, Newfoundland.
Our family recently spent 3 nights at the Courtyard by Marriott in St. John's, Newfoundland.  The hotel's convenient location in the heart of the city's historic downtown area makes the Marriott an ideal choice for families who would like to explore downtown St. John's on foot.  
This post may contain affiliate links which help support this site at no additional cost to the consumer.
Check reviews and current rates for the Courtyard by Marriott St. John's Newfoundland on TripAdvisor
Checking In
We had reserved a Junior suite/Harbour View which was to have a master bedroom with a King bed as well as a sofa-bed in the living/sitting area.  We made the reservation by phone and requested a roll-away bed as well since our teenage daughter, Katie, and 9 year old daughter, Emma, refuse to sleep together.  The website indicated that either a roll-away bed or a crib was permitted in the room and no objection was raised by the agent taking our reservation so we thought that we had booked a room with three beds.
Upon arriving in our room, we called the front desk as there was no roll-away present and there didn't seem to be space for one.  The call confirmed that the room that we had been assigned didn't have the floor space to safely accommodate a roll-away bed but the friendly and helpful desk clerk immediately upgraded us to a larger room and had a cot delivered.  This was much appreciated as it preserved family harmony for the time being.  We were returning to St. John's at the end of the following week though and we were advised that the larger room would not be available that evening.  As a result we had to make last-minute arrangements to stay somewhere else when we returned to the city.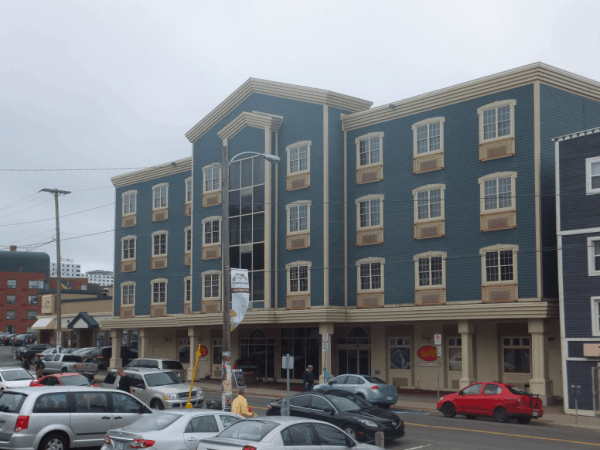 Marriott St. John's, Newfoundland
Location of the Hotel
The Marriott's location on Duckworth Street is ideal for visitors to St. John's as it is a pleasant walk to the shops, restaurants and pubs in the waterfront business area.  We had a rental car which we used for day trips out of the city but once we returned at the end of the day then we parked the car and walked wherever we wished to go.
Our room faced the St. John's harbour and we could see Signal Hill from our window which made for a lovely view.  The downside of facing a busy harbour, however, is that it was quite noisy both well into the night and early in the morning.  We grew accustomed to it in no time and didn't have any trouble sleeping but light sleepers might not wish to face the harbour.
One of the interesting quirks of this hotel is that it is built on a hill so the entrance to the lobby from Duckworth Street is actually higher than the back entrance on to Water Street.  We had to go upstairs from our room to get to the lobby which Emma found both amusing and confusing as she couldn't remember to push  the elevator button 'down' when returning to our room.
Living/Sitting Room
The Living/Sitting area of our room was quite spacious when not in use as a bedroom.  With the sofa bed pulled out and the roll-away in place it made the space a bit tight but still manageable.  There was also a large desk that was ideal both for using as a computer station or as a dining table.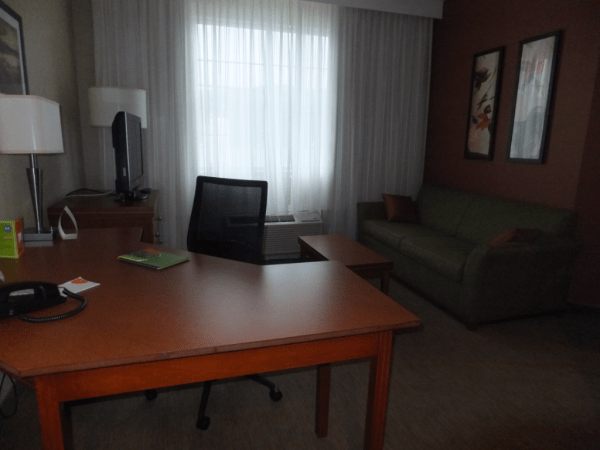 Living Room
Kitchenette of Room
The room also had a small kitchenette with a sink, microwave, fridge and coffee maker.  We prefer to have a small breakfast in our hotel room rather than going out to eat in the morning so I appreciate having even a small kitchen area to facilitate our morning routine.  The hotel provides complimentary coffee and tea, however, those who share my obsession will be happy to know that there is a Starbucks in Atlantic Place about a 10 minute walk from the hotel.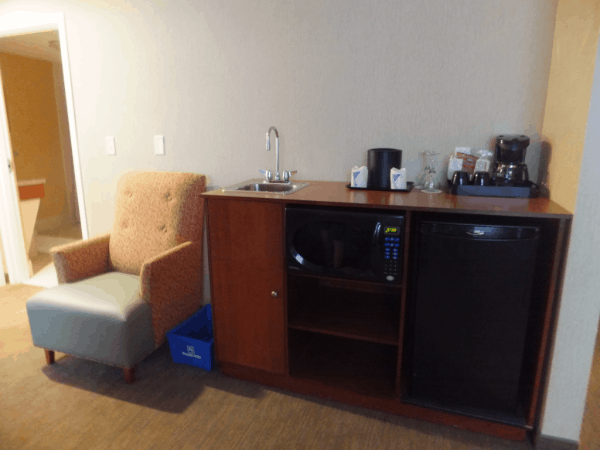 Master Bedroom
The Master Bedroom was furnished with a comfortable king-sized bed and had a second television as well which meant that we could watch TV if we wanted while Emma was falling asleep in the living room.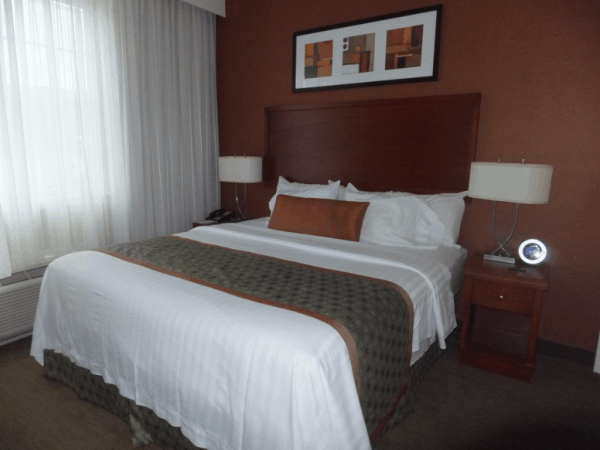 Bathroom
The Bathroom had a shower/tub combination and was large, clean and perfectly adequate as far as bathrooms go.  Lack of counter space is one of those little things that always annoy me in hotel bathrooms so I was pleased that this bathroom had plenty of space for all of us to leave our make-up bags in the bathroom.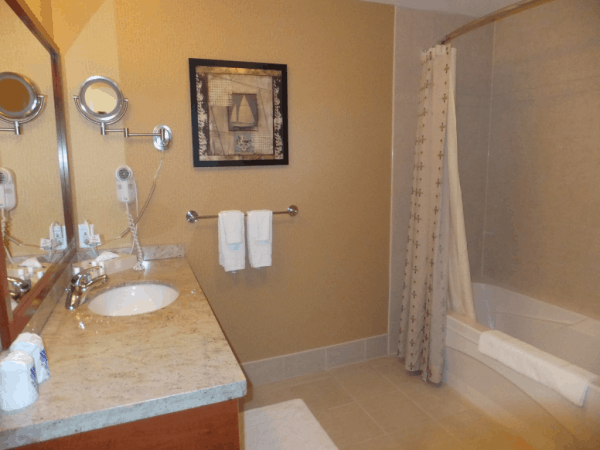 Dining at the Hotel
We hadn't planned on eating at the Smitty's Restaurant, located on the lobby level, on our first evening in the city but ended up back there when we struck out trying to find a restaurant on Water Street.  (The lesson here is that when arriving in St. John's on a Friday evening in the summer one needs to have a dinner reservation.)  Emma and I both ate the fish and chips and they were far better than I expected from a chain restaurant.  Emma also enjoyed having her breakfast in the restaurant each morning before her sister was up and ready to go.
Overall
The Marriott is a good choice for family-friendly accommodations in St. John's, Newfoundland.  The rooms are spacious, the staff is friendly and welcoming and the location is just about impossible to beat.  The hotel also provides free WIFI – an amenity which our family simply can't live without.

What You Need To Know
The Courtyard by Marriott is located at 131 Duckworth Street in St. John's, Newfoundland;
Complimentary Wireless High Speed Internet is available in all rooms and public areas;
Both on-site and valet parking is complimentary;
The hotel has a smoke-free policy;
There is a Smitty's Restaurant on the lobby level which is open for breakfast, lunch and dinner.  Room service is available from 4pm – 9pm;
There is a fitness facility on site.
Related Links
Standing on the Edge of North America at Cape Spear
Have you liked our Facebook page yet? I post articles from the blog there as well as photo albums from our travels and other travel news. Or, if you prefer, you can subscribe to the free RSS feed or sign up for an email subscription to keep up-to-date on our travel adventures.