Visiting Terre Bleu Lavender Farm in Milton, Ontario, Canada is a lovely way to spend a summer afternoon.
Terre Bleu Lavender Farm will be opening on July 1, 2021. Farm visits require timed entry tickets purhased online in advance.
This post was originally written in 2016 and updated in June 2021.
You might also enjoy: Celebrating Spring at Tasc Tulip Farm in the Niagara Region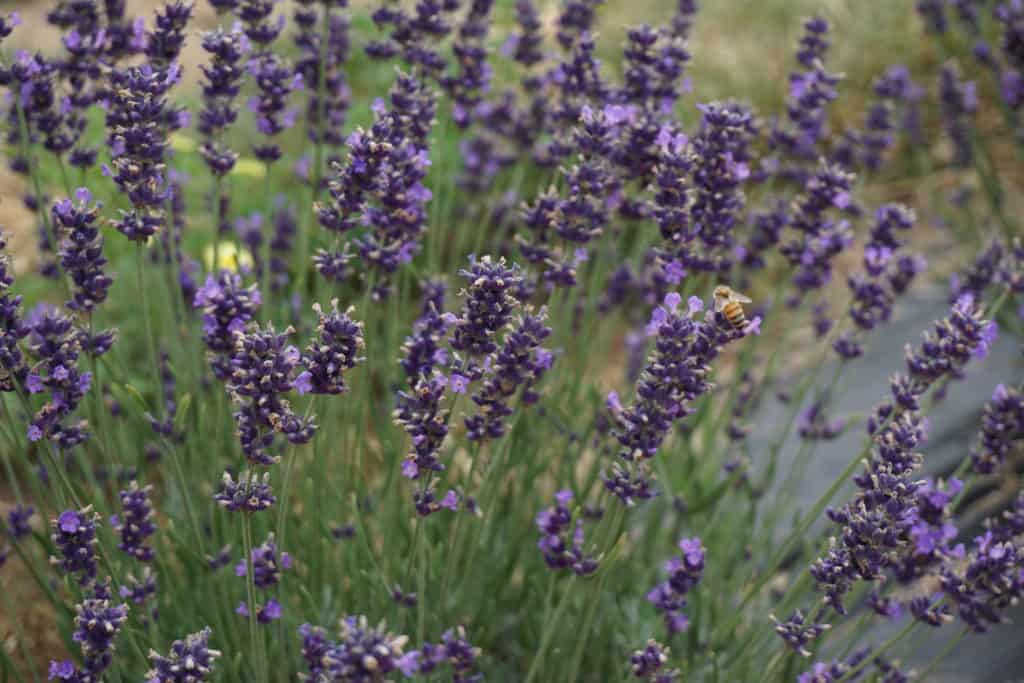 For as long as I can remember I dreamed of seeing the much-photographed fields of lavender in southern France in person. I thought my dream would finally come true when we travelled to Provence several years ago but the lavender bloomed early that year and I missed it.
Until recently I had no idea that lavender could be grown in Ontario so when I heard about Terre Bleu Lavender Farm, I had to pay a visit. I finally had the opportunity to experience lavender fields albeit much closer to home than anticipated. I have now visited Terre Bleu Lavender Farm on two separate occasions (in 2016 and 2020) and, in my opinion, it's one of the loveliest places to spend a summer afternoon in Southern Ontario.
About Terre Bleu Lavender Farm
Terre Bleu is a family-run agritourism farm in Milton, Ontario that includes an organic lavender operation, an apiary, stables and more. The farm's location west of Toronto makes it ideal for day trips from the Greater Toronto Area, Hamilton and other communities in Southern Ontario.
Owners Ian and Isabelle Baird were busy professionals living in Toronto when they made the decision to purchase the farm and move to the countryside with their two children. Inspired by fields of lavender they saw on a family trip to Québec, the two set about to educate themselves on lavender farming in order to turn their dream into reality.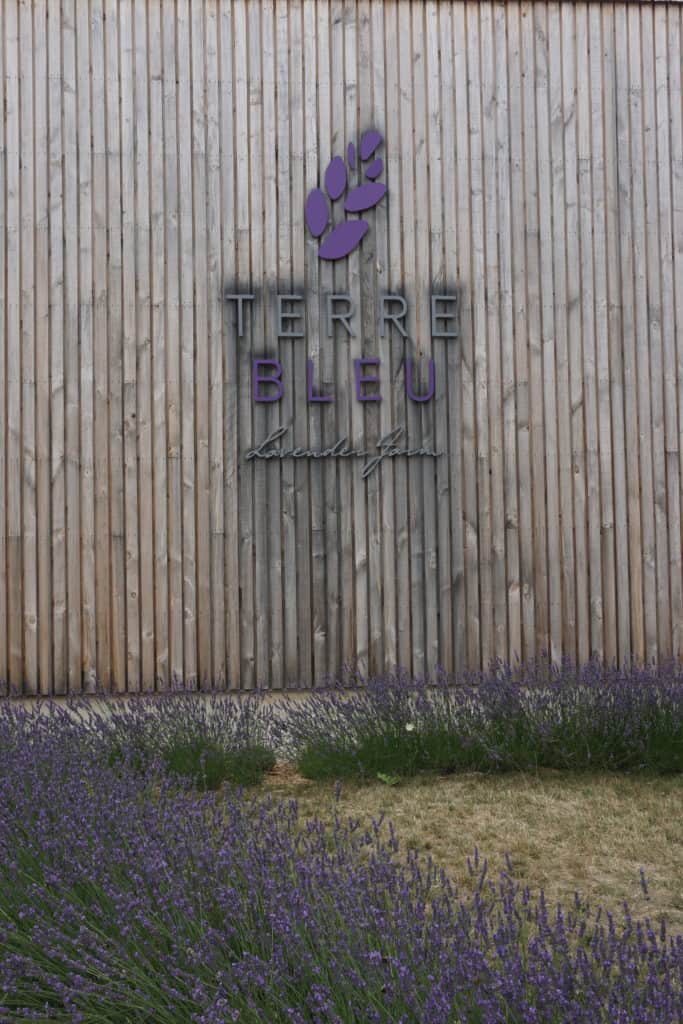 The Bairds planted their first crop of 10,000 lavender plants in 2011 and continued to expand over subsequent years. Today Terre Bleu is Ontario's largest lavender farm and is home to over 65,000 lavender plants and many other herbs and flowers spread over 200 acres.
The farm has eight different varieties of lavender grown over several fields (two of which have public access) which bloom and are harvested at different times. In 2014, the farm began opening its gates to visitors during the summer season to share the beauty of the flower fields and the importance of sustainable and organic farming. In 2019 Terre Bleu opened a second nearby farm site with fields of sunflowers to visitors as well.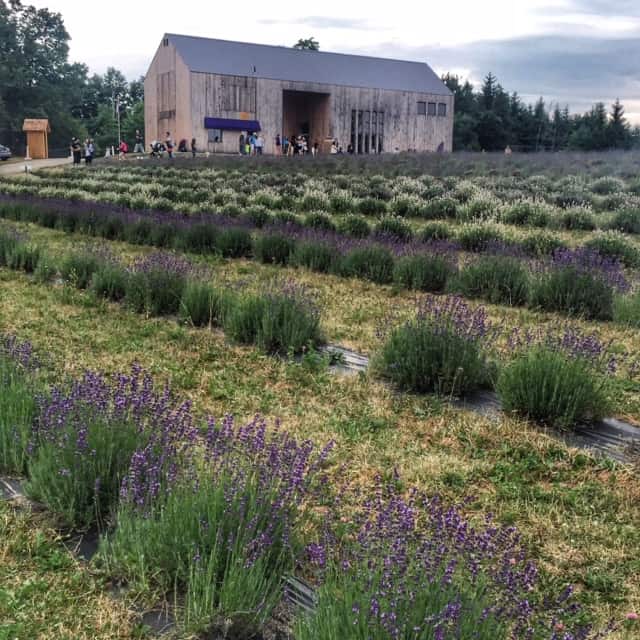 Things To Do at Terre Bleu Lavender Farm
There are generally a number of organized activities available at Terre Bleu including educational guided tours of the farm, apiary and lavender distillery. Tours have been temporarily suspended, however, due to provincial health restrictions and replaced with a self-guided interactive map. So plan to explore at your own pace and just spend a lovely afternoon walking the paths in the flower fields enjoying the sweet fragrance and trying to capture the beauty in photographs.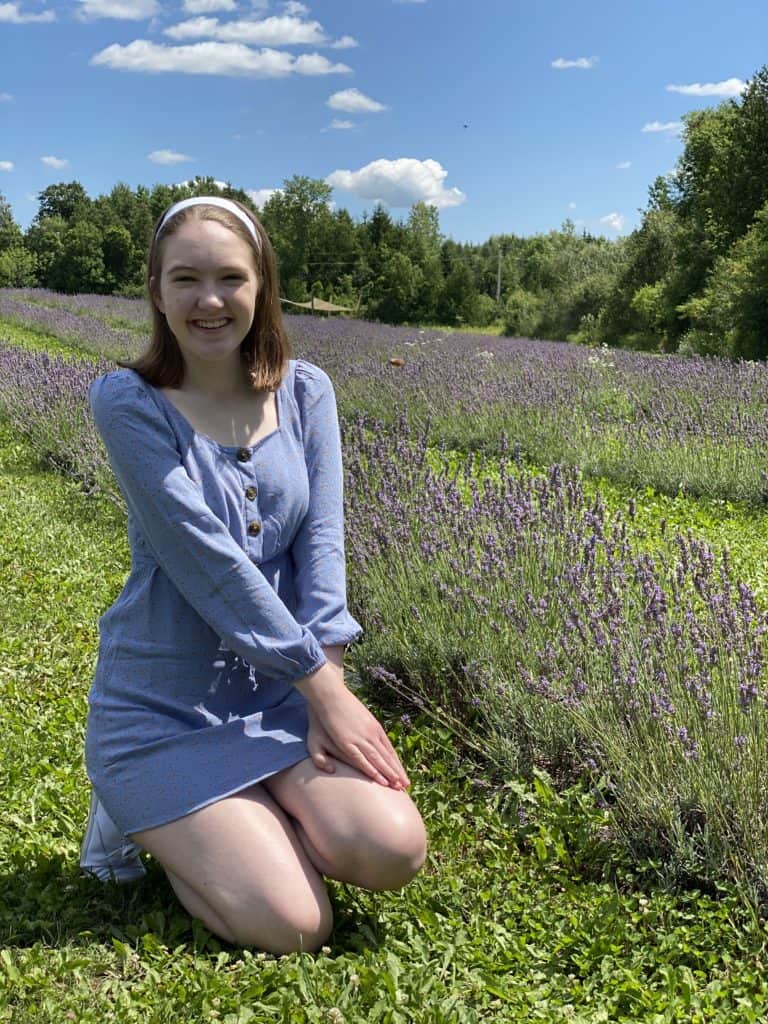 The Main Farm – Fields of Lavender
The main attraction at Terre Bleu is walking through the lavender fields inhaling the fragrance and admiring the blooms. The first field that is open to the public is near the main entrance and you can take lovely photos with the barn in the background. You will also see the horse paddock and equestrian ring in this area as well as a gazebo which is a comfortable place to relax and get out of the sun for a few minutes.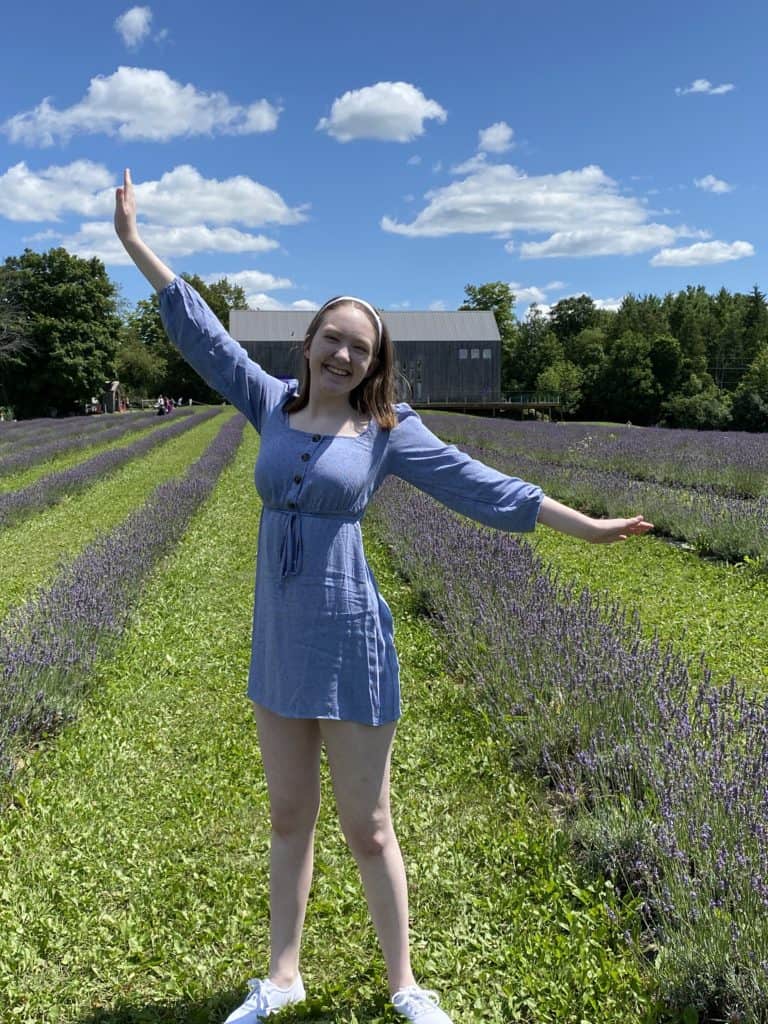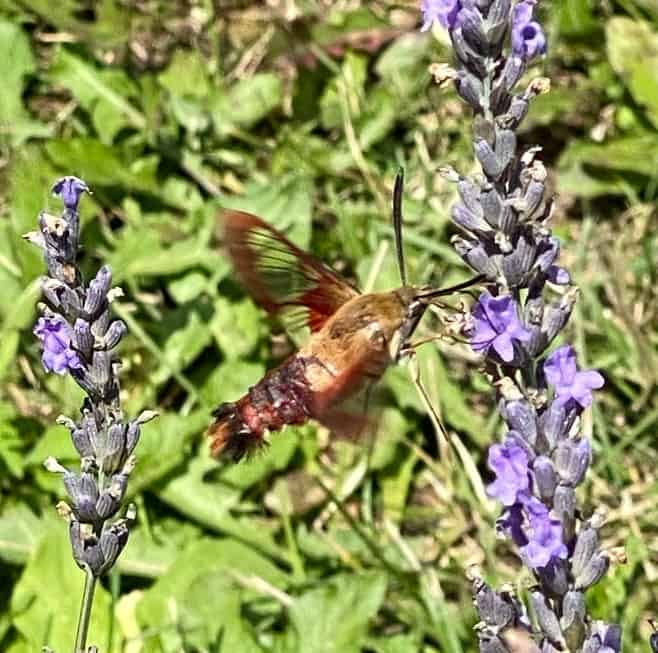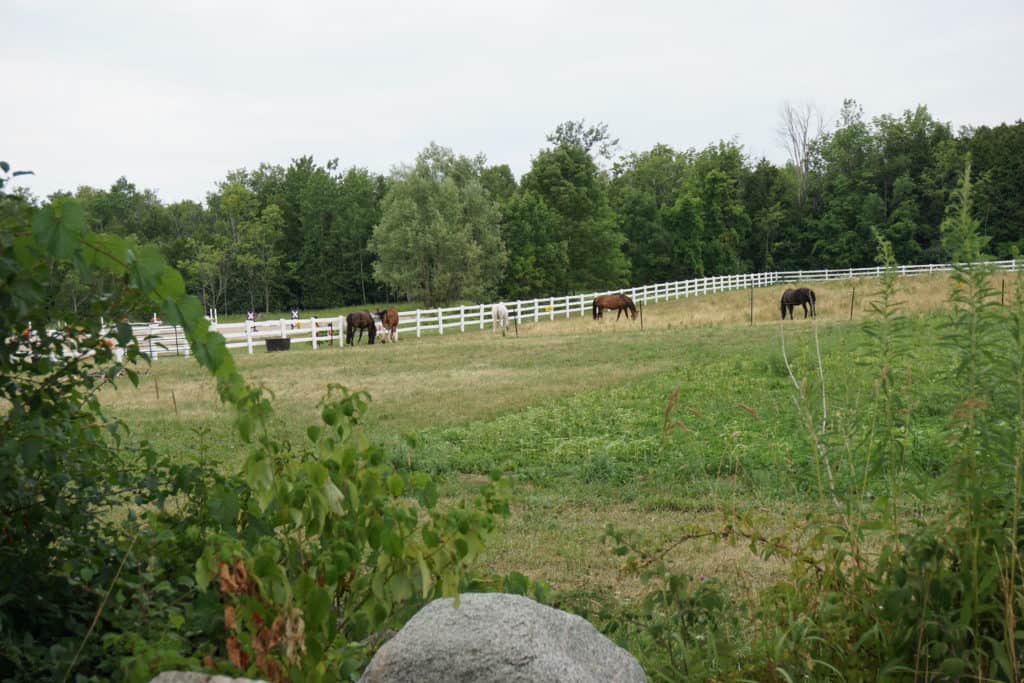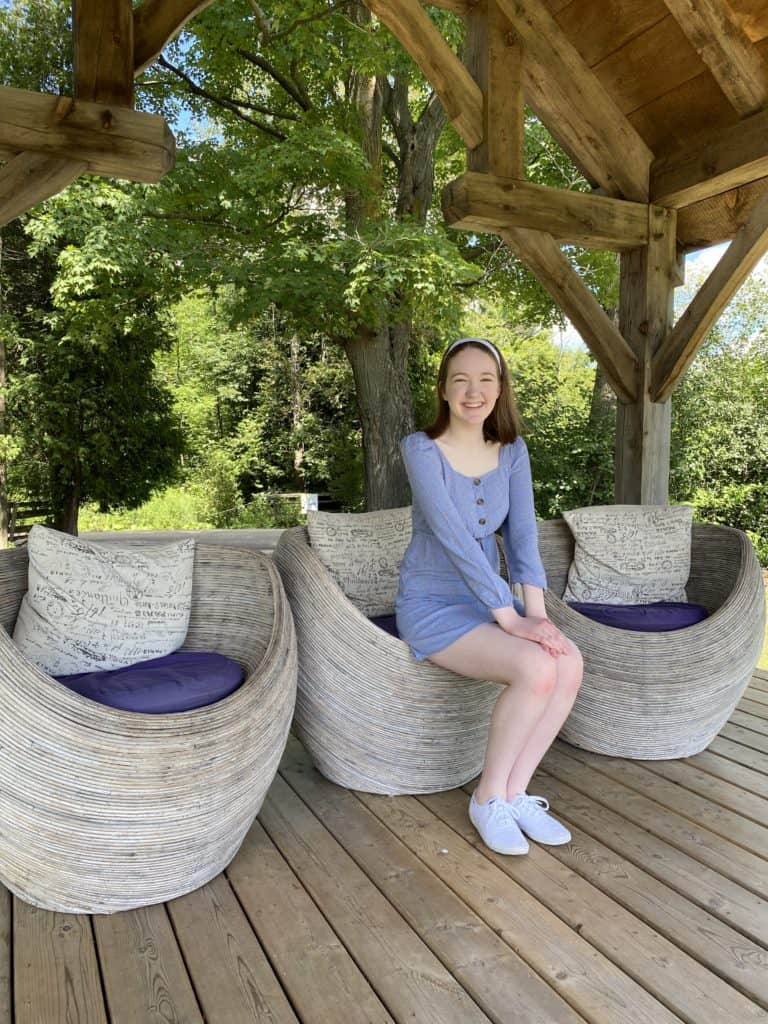 A short walk along the Yellow Bench Trail through a cedar forest brings you to the second field of lavender with the famous yellow door art installation. Be sure to stop for a photo on the yellow bench in the forest!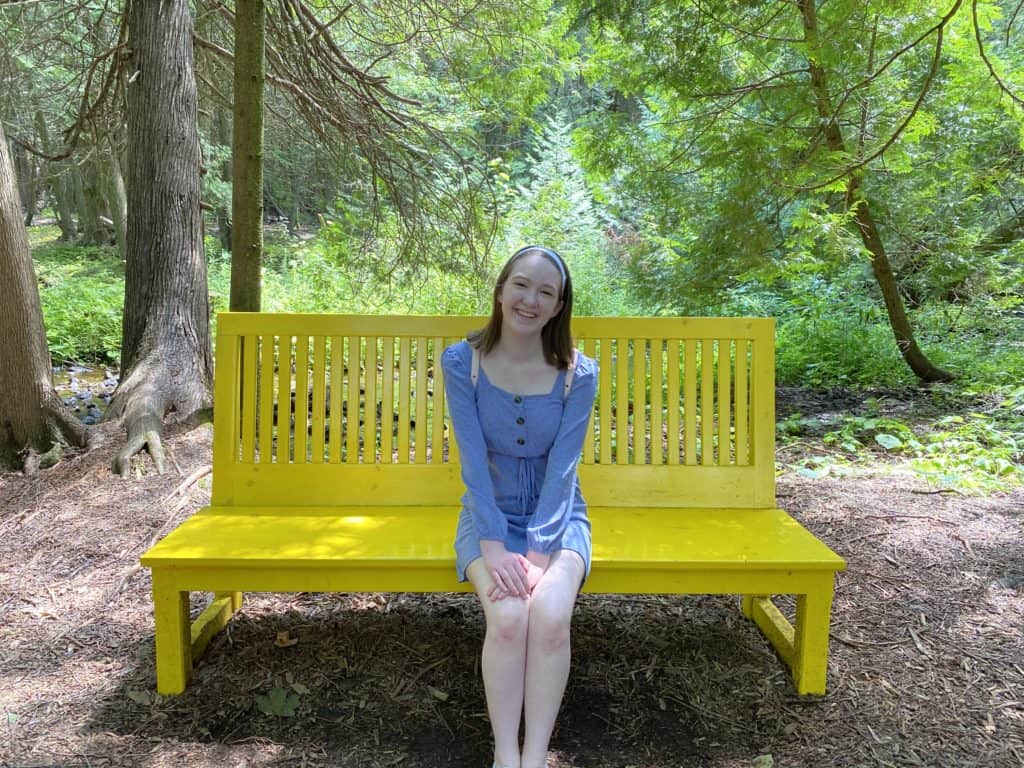 The Yellow Door is the most famous of the art installations at Terre Bleu Lavender Farm and makes an exceptional backdrop for photos in the lavender field. The door is intended as a metaphor for the philosophy of leaving your worries behind and truly experiencing the wonder of the world around you.
This is a popular spot so you may have to wait in line for a few minutes to take a turn posing with the door. When we visited last summer social distancing while lining up was required as well.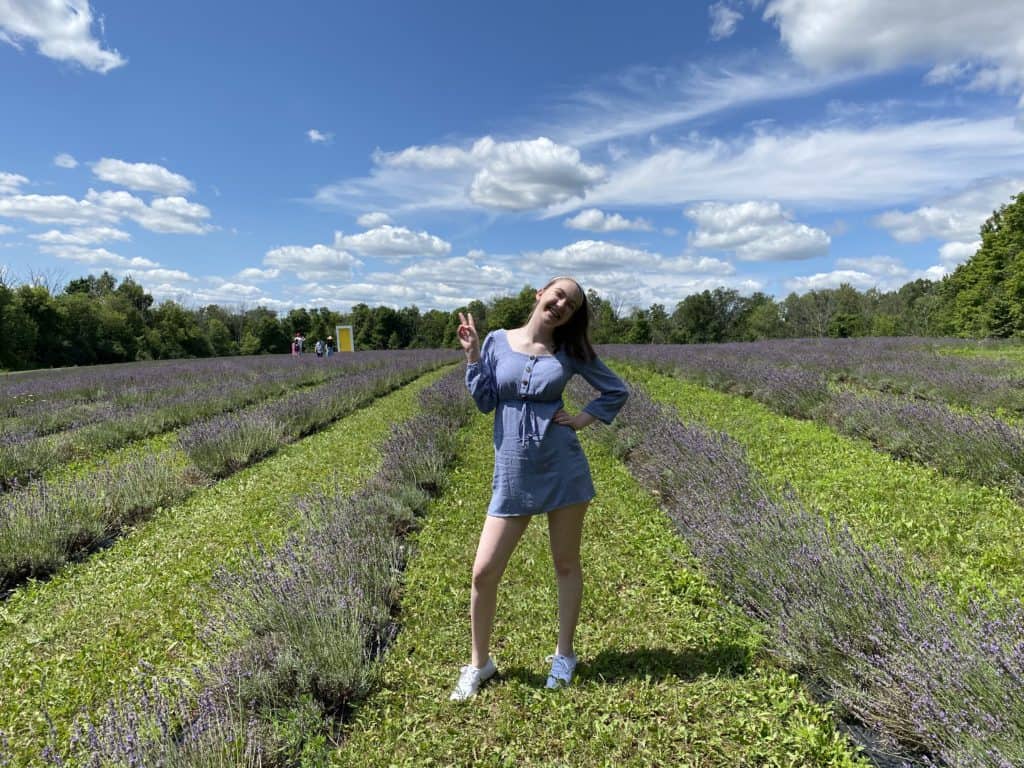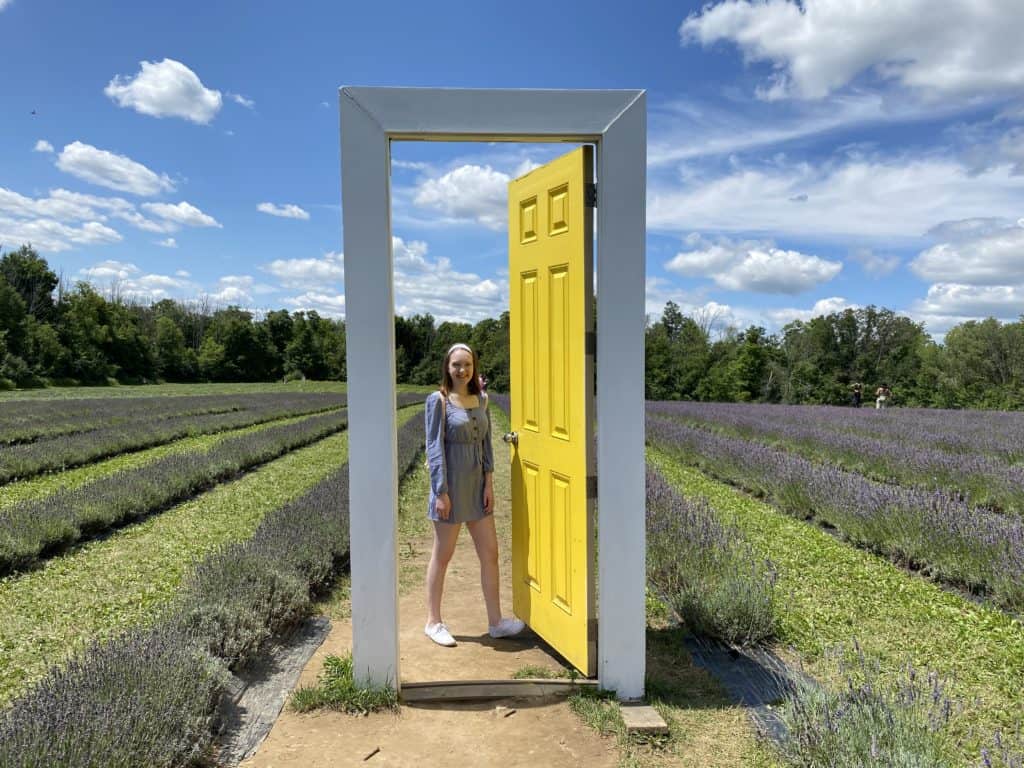 During our walks through the fields we passed the apiary where honey is made but my daughter has never been keen on getting too close to the buzzing honeybees. Some day I will take one of the educational tours so that I can learn more about beekeeping and how honey is made on the farm.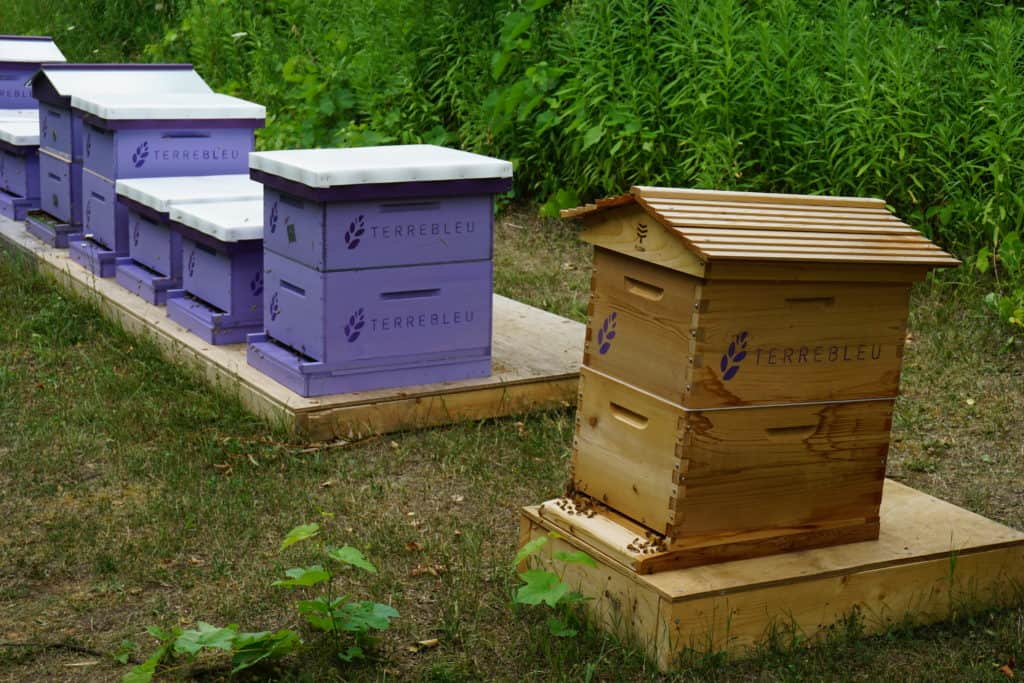 The distillery is where Terre Bleu's premium lavender essential oil is produced in the traditional European way using an artisan copper still handmade in Portugal. During harvest season you may be able to watch staff distilling the harvested lavender to be used in the farm's products. Lavender at Terre Bleu is harvested by hand and then distilled or dried for the various products.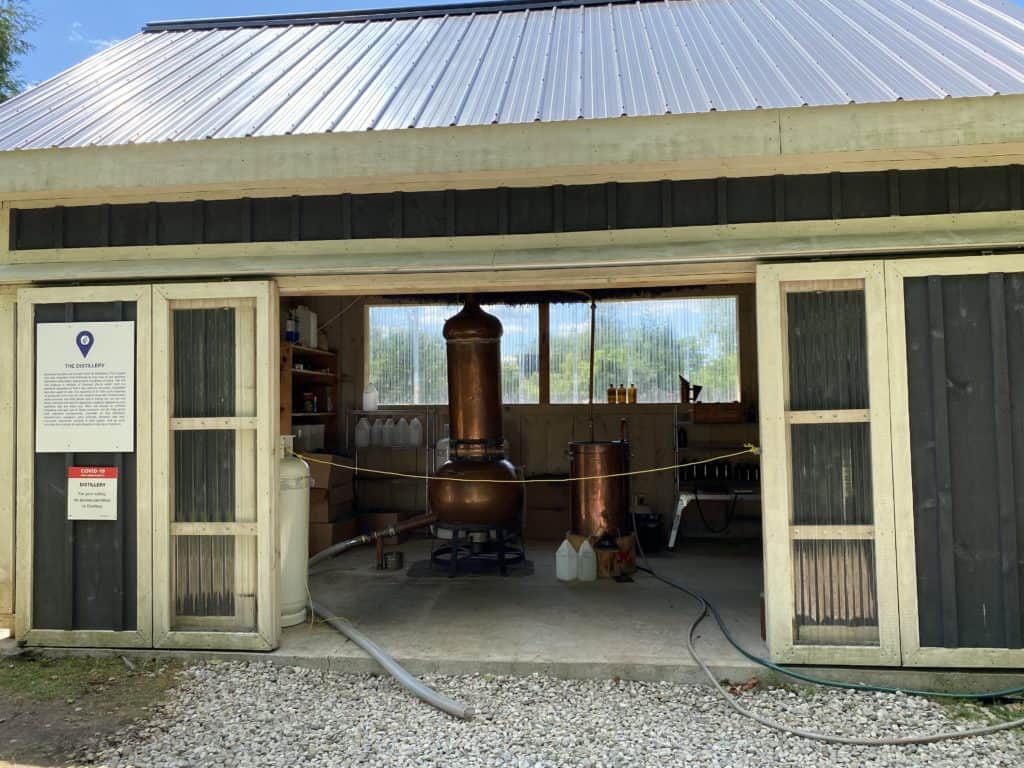 The Herb Bar is the place to enjoy a refreshing mocktail beverage if you're visiting Terre Bleu on the weekends.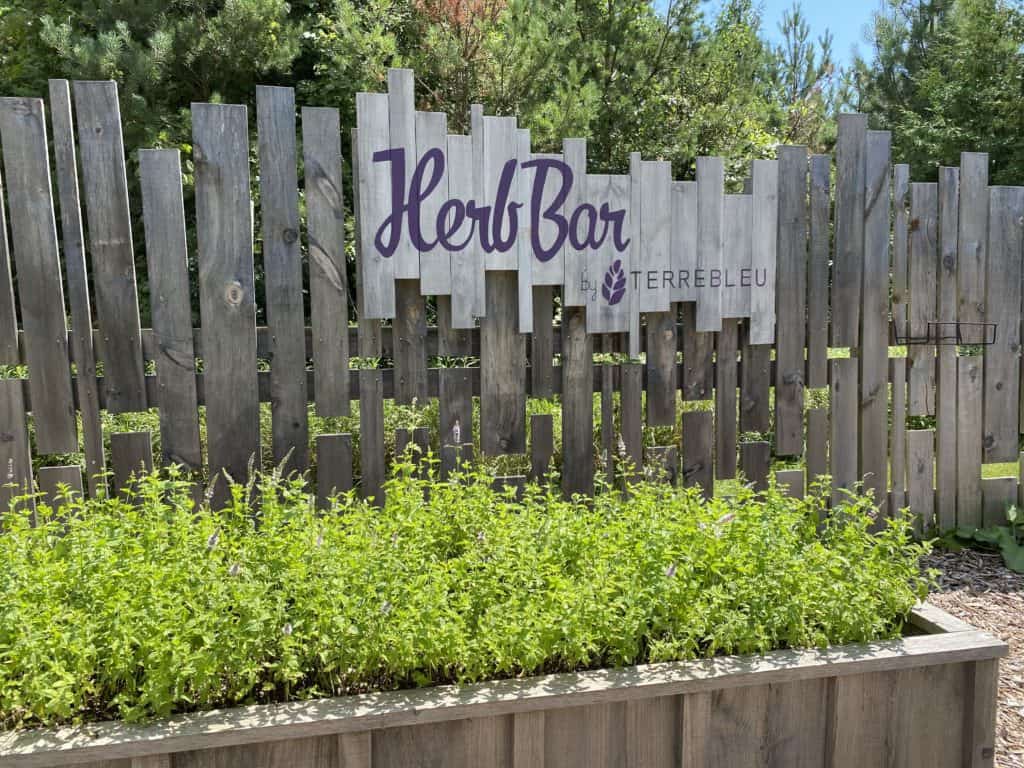 Shopping at Terre Bleu Lavender Farm
There is a lovely shop at the entrance to the main farm which carries a range of lavender products made on the farm including lavender sachets, lavender room spray, lavender honey, lavender shortbread and much more. It's a great place to find a lovely gift for a special someone or for yourself!
Capacity in the store will be limited again this summer and masks will be required. Online shopping with delivery and curbside pick-up are also available options.
If you want to get creative in the kitchen after your visit to the farm then check out the Terre Bleu blog for a variety of recipes using lavender.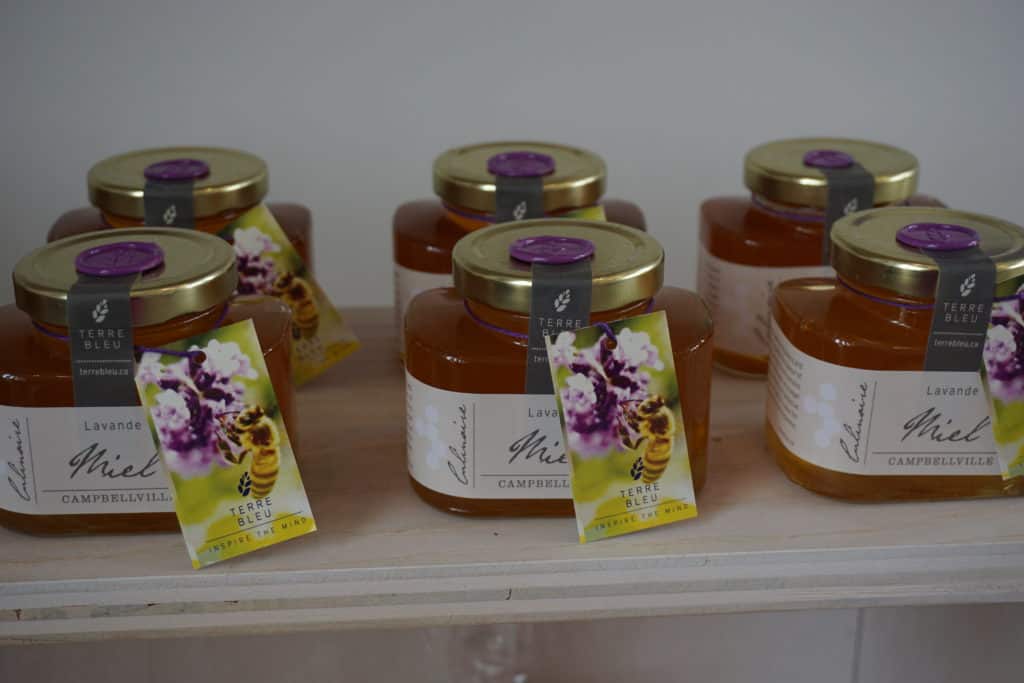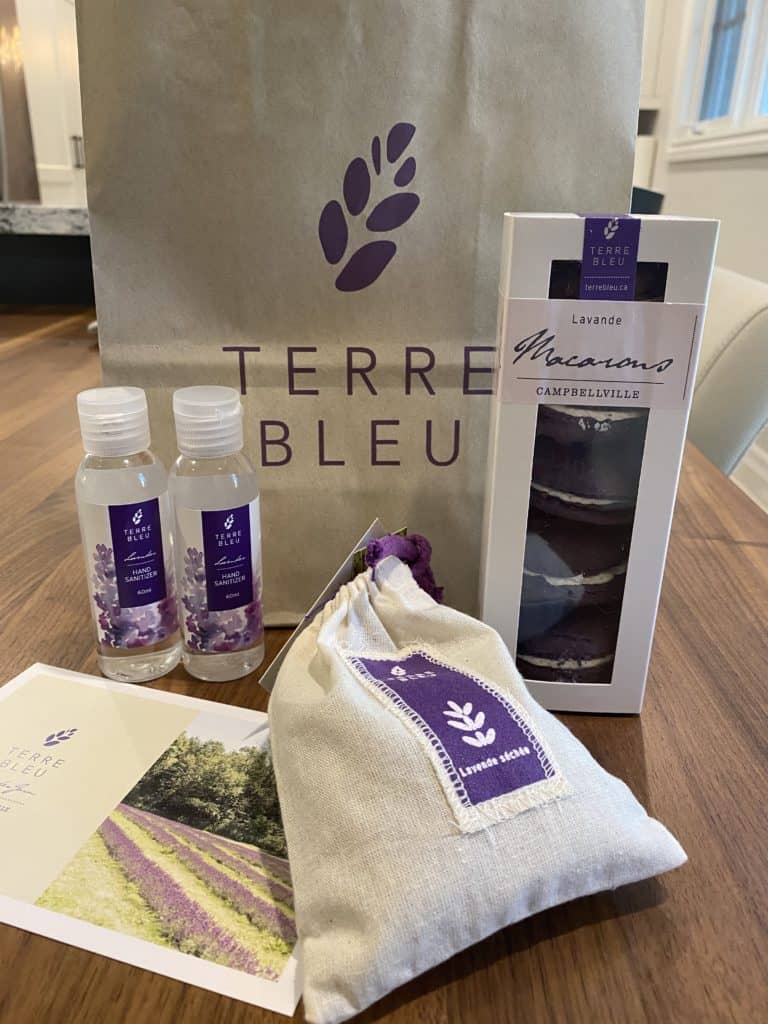 On our first visit we couldn't leave without sampling the lavender ice cream sold at the farm store. I had heard rave reviews and it exceeded expectations. My daughter didn't think she wanted any but decided to try mine and one lick from my cone was all it took for her to want one of her own.
We were disappointed that cones weren't available due to Covid restrictions last summer and that will remain in effect in 2021. There will, however, be pints of ice cream available for sale in the store so plan ahead and bring a cooler with ice or a freezer bag if you would like to take some home with you. This year ice cream will also be available in small dixie cups.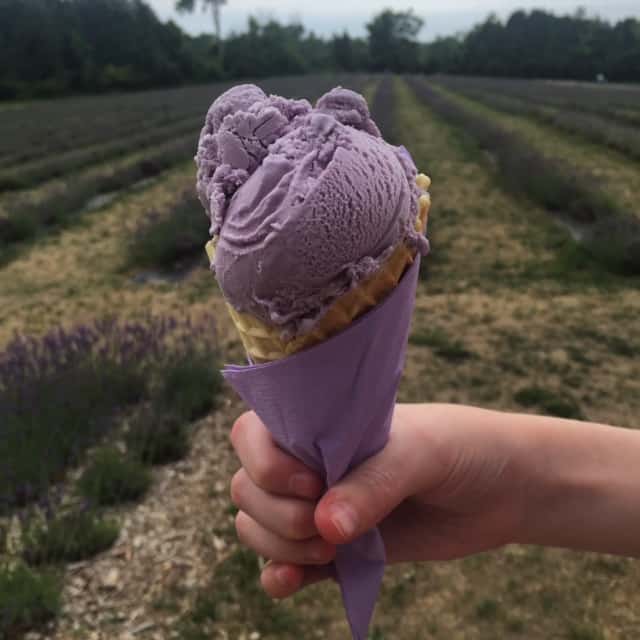 Second Farm – Terre Bleu Sunflowers and More
On our visit to Terre Bleu last summer, my daughter and I were excited to discover that there was now a second farm that we could visit just down the road. We visited the end of the first week of August and our timing was impeccable as both the lavender at the original farm and the sunflowers at the second farm were in bloom – that doesn't happen often!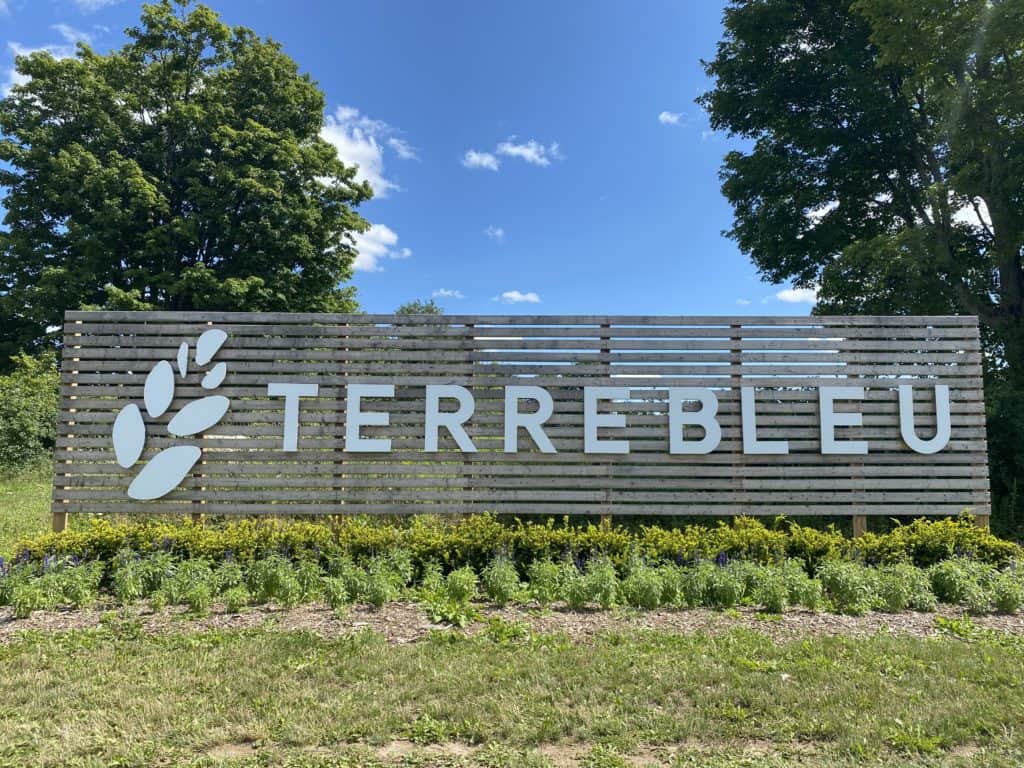 The Second Farm is located just a short distance down the road from the original location, however, you will have to drive there as walking between the two is discouraged. There are a number of things to see at the second location as well including the Galena Sky Window and The Ruins which is an outdoor terrace set in the remains of a 100 year old barn surrounded by original stone walls and beautiful gardens.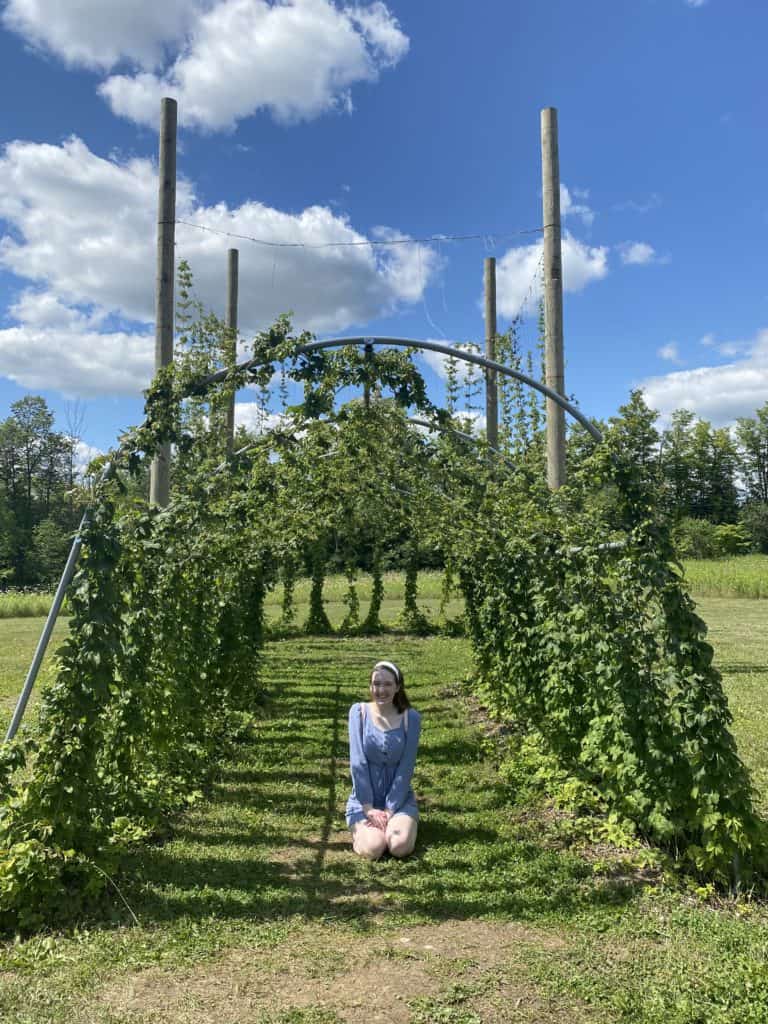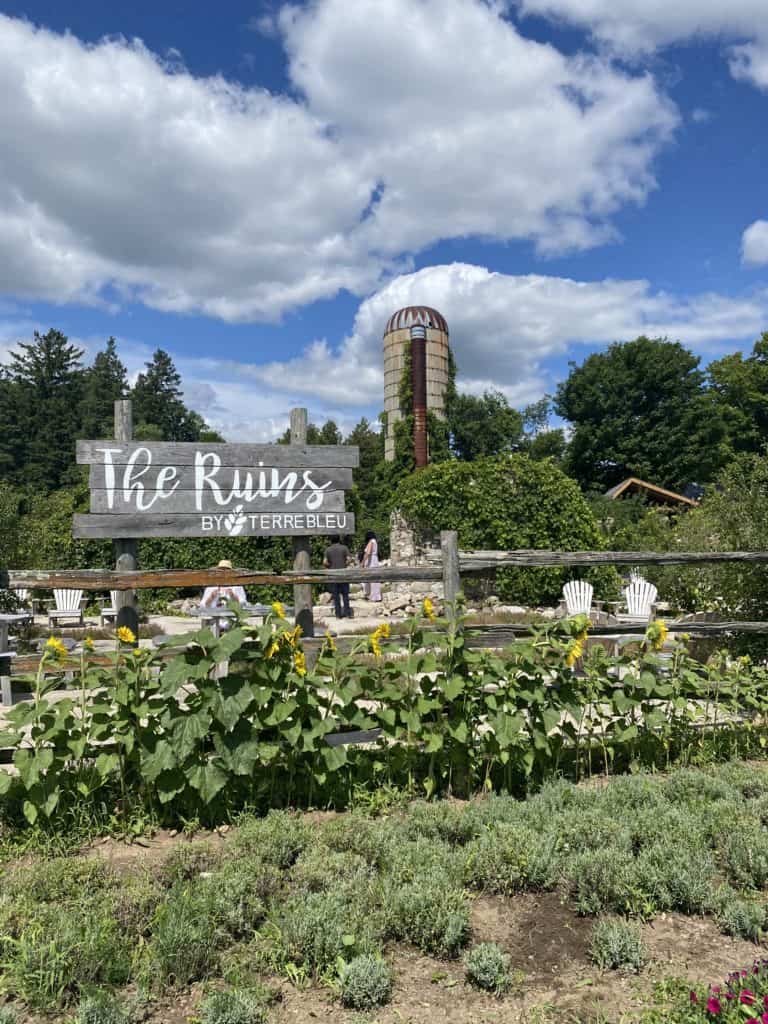 The highlight though is seeing the fields of brightly coloured sunflowers – another first for me! We visited at the very beginning of sunflower season so the flowers were just starting to bloom but were lovely nonetheless. Taking photos on the large Japanese-style swing with the fields of sunflowers in the background was a highlight of our day.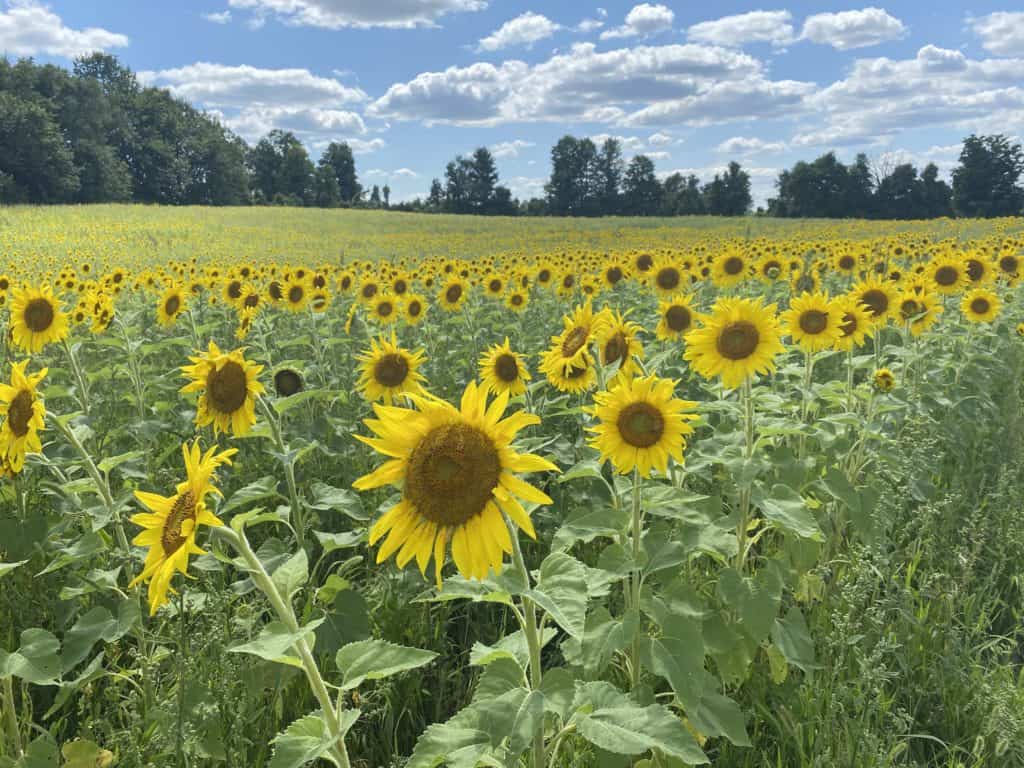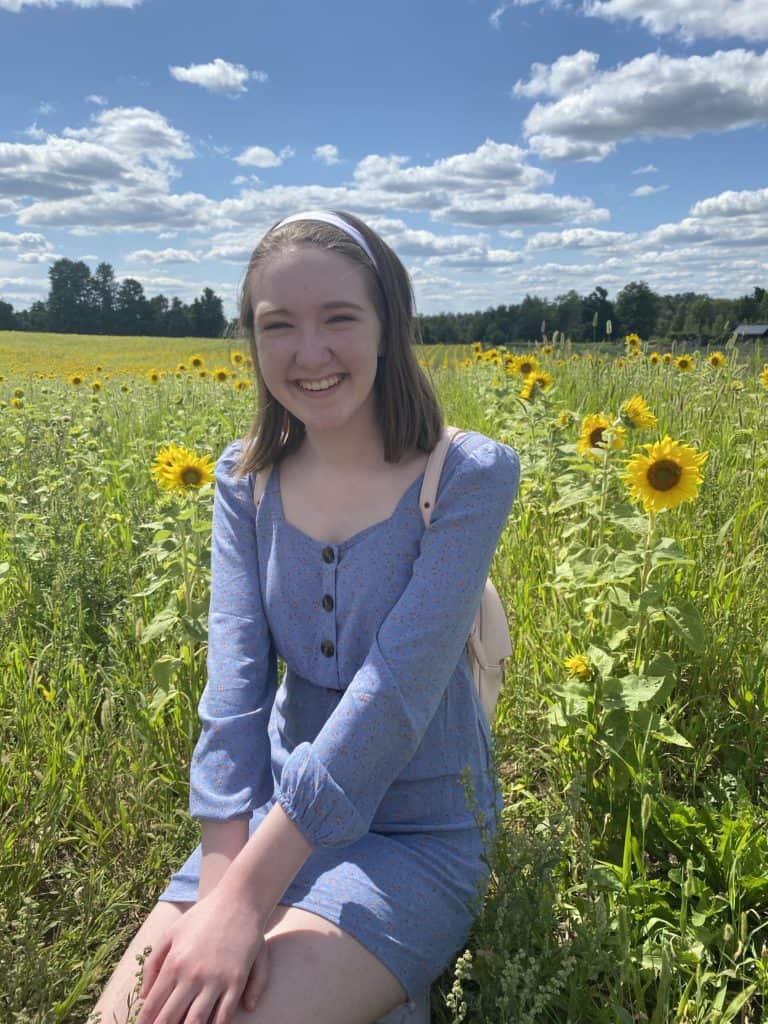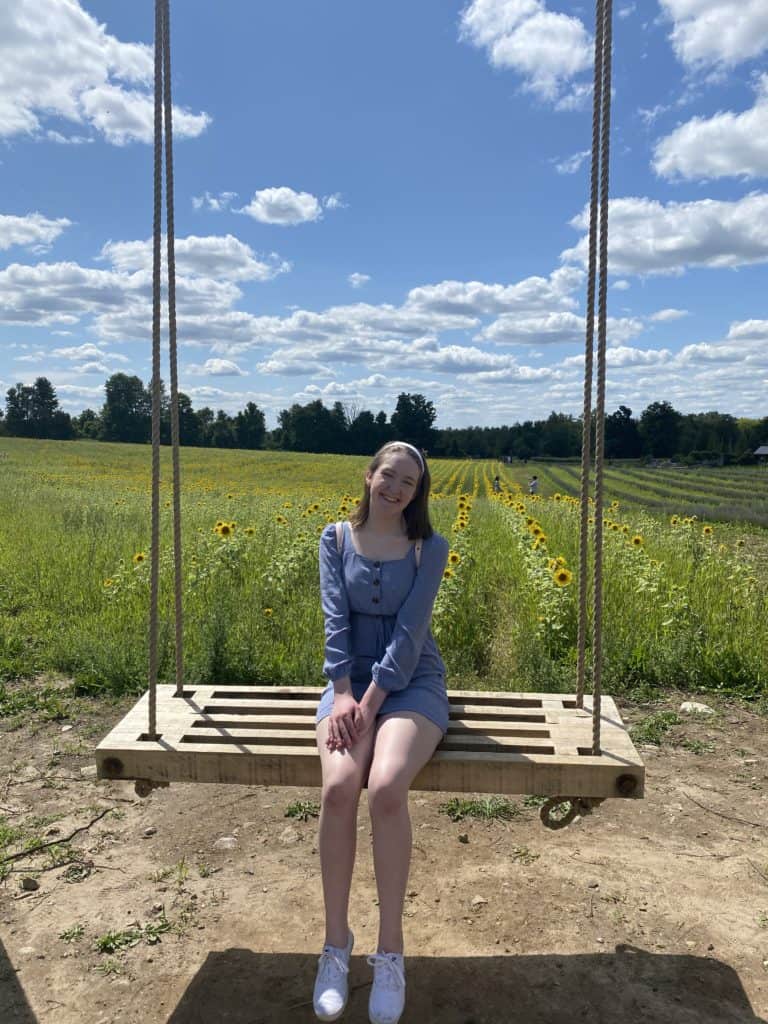 Additional Activities
In past years, there have been a number of additional activities offered at the farm including equestrian events, outdoor yoga, art and photography courses, and lavender-inspired cooking classes. Check the Terre Bleu Facebook page or the farm's website prior to visiting to find out if there are any special activities planned.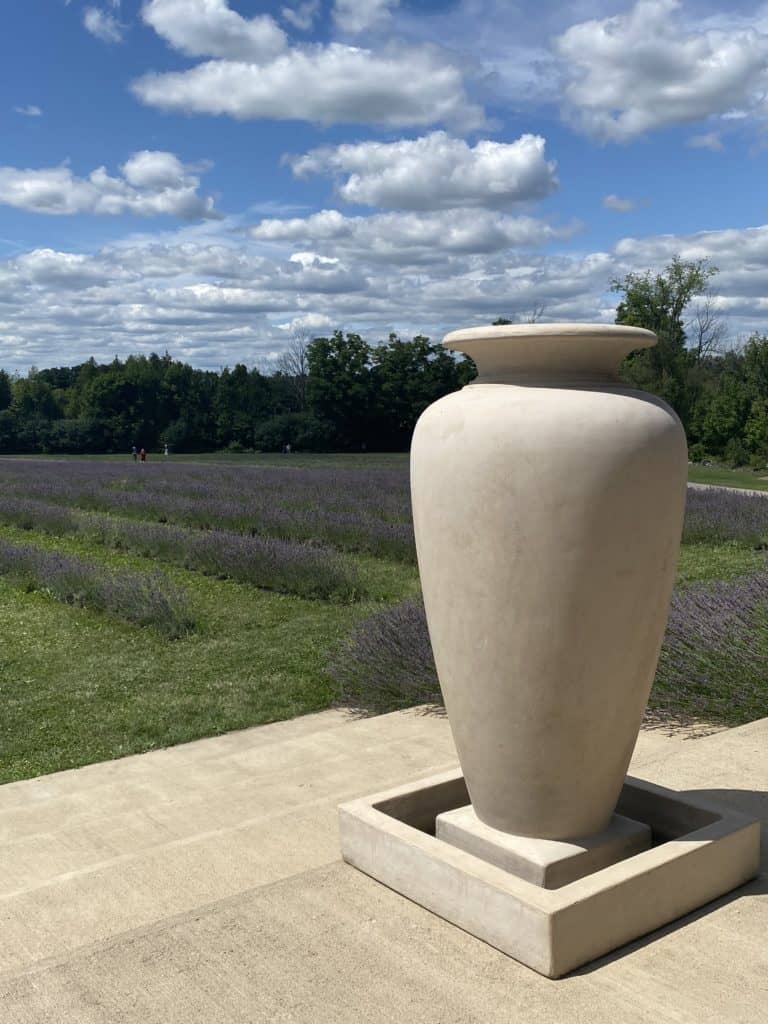 Planning Your Visit
Prior to Covid-19 restrictions, spur-of-the moment visits to Terre Bleu were the norm but during the summer of 2020 and again the summer of 2021 the farm is required to impose capacity limits. As a result, entry will be through pre-paid timed-entry tickets purchased online in advance only.
Terre Bleu is opening to the public July 1 – August 30, 2021 Thursdays – Mondays 11am – 5pm. Ticket arrival time slots are every 30 minutes and you must arrive during that window but may stay on the farm as long as you like up until closing time. Tickets are non-refundable and non-transferable, rain or shine.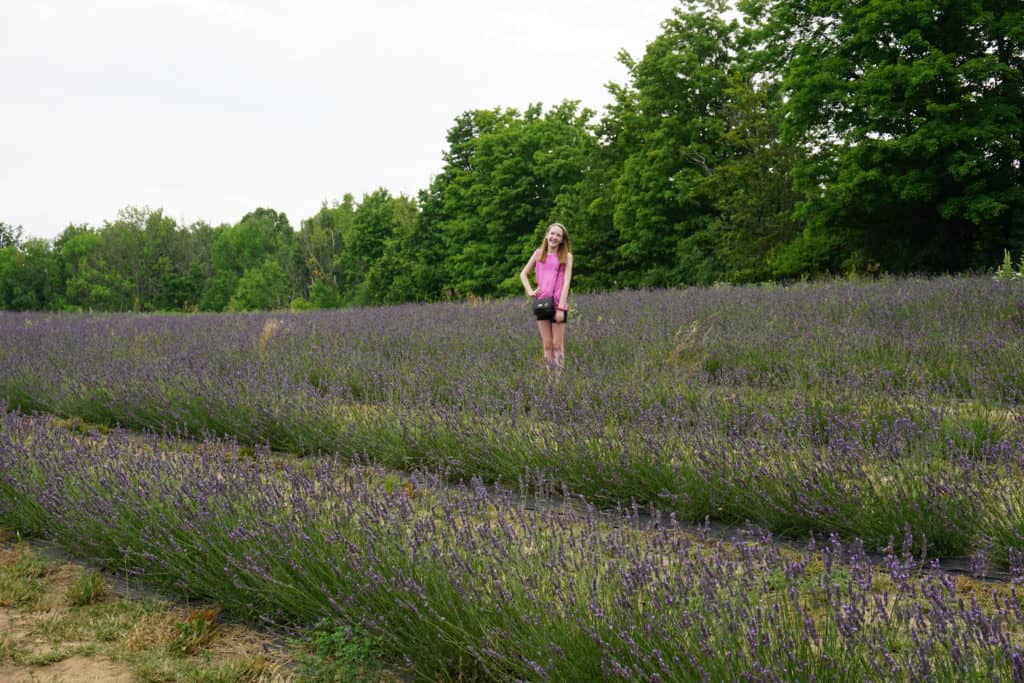 Terre Bleu is also selling a membership option this year. The Beyond the Yellow Door Collective will include unlimited visits to the farm during the 2021 season plus the option of bringing one guest each visit, reduced admission for additional guests, a welcome package, fresh cut flowers, first access to tickets for events and much more. Members do not need to book a time in advance and are welcome to visit the farm anytime during open public hours. The cost of the membership is $200.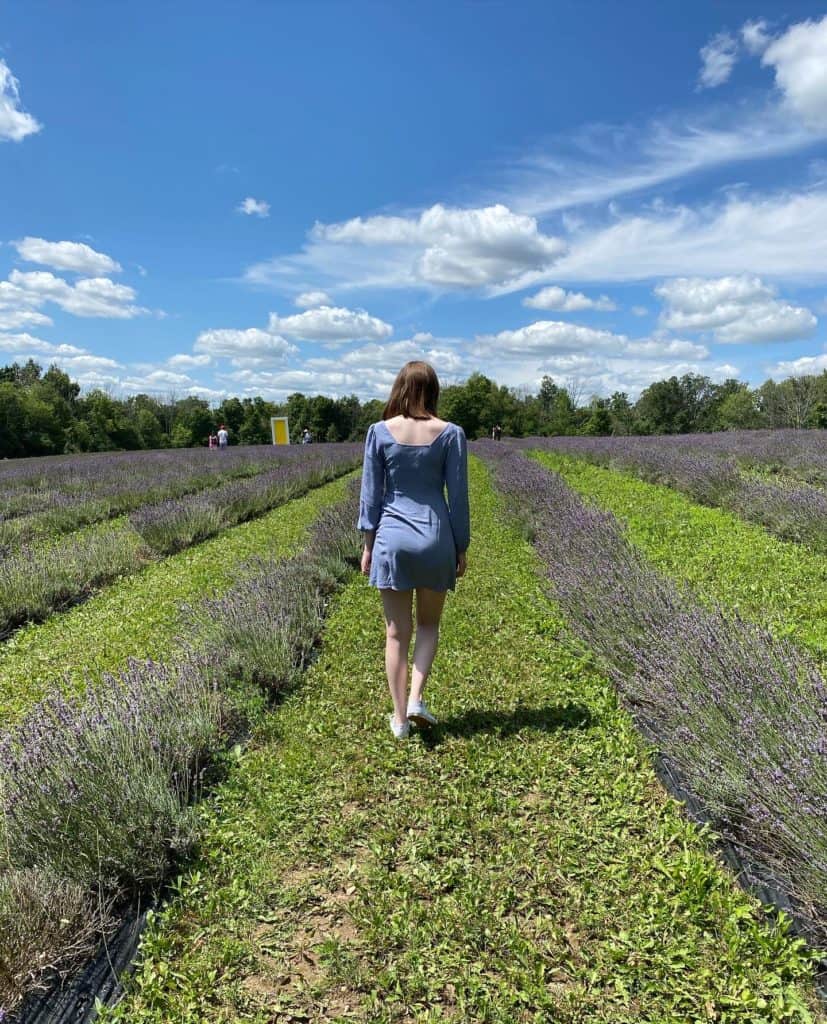 Harvesting takes place throughout the summer starting around the middle of July depending on the variety. You can check what's in bloom prior to your visit by following the Terre Bleu social media pages on Facebook and Instagram for beautiful photos and up-to-date information on farm visits and events.
The lavender season is short so if you can't make it out this year then do plan to pay a visit to Terre Bleu next summer and hopefully by 2022 there will be fewer restrictions in place. One day I will make it back to Provence to see the fields in bloom but in the meantime it's nice to know that I can visit this lovely farm close to home for my lavender fix.
What You Need To Know
Terre Bleu Lavender Farm is located at 2501, Sideroad 25, Milton, Ontario (west of Toronto).
The farm is generally open to the public from early June through to the end of August. Visits have been restricted due to public health guidelines in 2020 and 2021. For summer 2021, entrance will be through prepaid online tickets only and the farm will open on July 1st.
Due to provincial health restrictions, Terre Bleu has temporarily suspended guided tours and replaced them with a self guided interactive map, points of interest signage, and a contest that allows you to learn and explore at your own pace.
2021 Admission fee starts at $20 for a visitor age 13+. Timed entry tickets must be purchased online in advance. Tickets are non-refundable and non-transferable, rain or shine. In the event that the farm has to close on the date of your tickets then alternate dates will be provided to you.
Pre-covid entry to the farm store only was free when open except during special events, however, with Covid-19 restrictions entry to the farm store is limited to those who have paid admission. Online ordering from the shop with curbside pick-up is also available. Only credit and debit currently accepted for payment, cash is not accepted.
There will be no group reservations in 2021 due to restrictions on gatherings of 10+ people in Ontario.
There are only limited washroom facilities available on-site.
Wear comfortable and stable walking shoes.
No smoking anywhere on the farm.
Dogs and other family pets are not allowed anywhere on the farm.
All commercial photography requires a permit and must be booked in advance. Only handheld cameras allowed without a permit – no tripods or other equipment.