If you are visiting Madrid, Spain and considering day trips outside of the city there are several beautiful towns around Madrid that are worth it! There are so many excursions from the capital city to the countryside that are ideal for visitors.
This post may contain affiliate links. If you click an affiliate link and make a purchase then we receive a small commission at no additional cost to you.
We are a participant in the Amazon Services LLC Associates Program, an affiliate advertising program designed to provide a means for us to earn fees by linking to Amazon.com and affiliated sites. As an Amazon affiliate I earn from qualifying purchases.
All of these day trips from Madrid are accessible by train with lines called Cercanias and with departures from the Madrid Atocha Train Station (the largest station in the city). It was difficult to choose just a few, but these are my recommendations for 5 beautiful day trips that families will enjoy outside of the bustling capital city.
Looking for a hotel in Madrid? Read reviews and check current rates on TripAdvisor!
1. Day Trip to Toledo from Madrid
If you are planning to take a day trip to Toledo from Madrid, then I would advise you to take the train. It takes approximately one hour and a half and prices for a one-way ticket begin at 8 euros.
The main attractions in Toledo are the Alcazar and a few museums. The Alcazar was built in the 16th century and is a fortress-palace which consists of 4 major donjons linked together by high walls and a huge central place. It was built following an Arabic architecture style. It is now a place where you will be able to find a library and the Army Museum.
You can also visit the former house where the painter El Greco used to live and the cathedral of Toledo is also very beautiful to see. The cathedral was built-in a gothic style in the 15th century and inside you will be able to discover works of art from famous Spanish artists such as El Greco and Velazquez.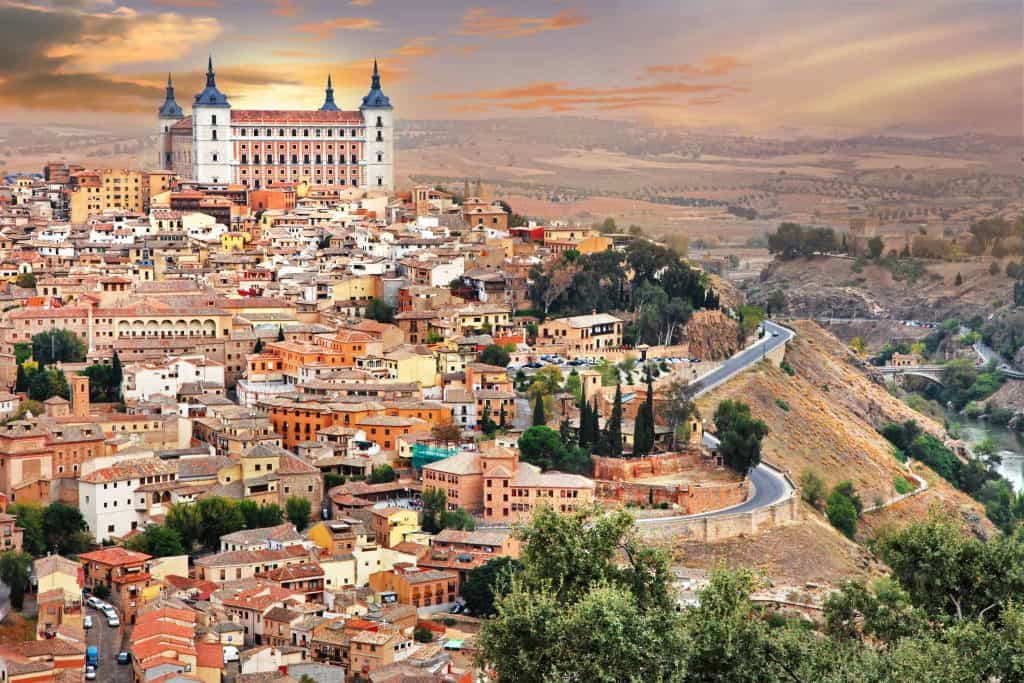 When it comes to food, the local market in Toledo takes place on the Plaza Mayor where you will find fresh and quality products such as meat, fish, fruits and vegetables. This is the municipal market which is open nearly every day and which is an indoor market.
Every Tuesday another market takes place where, producers and artisans meet to sell not just food but their artifacts, old vinyl or typical Spanish furniture and decorations.
Finally, the last market which takes place every Saturday is very popular for its tapas area and takes place on the Calle Rio Alberche. Another market is also organised every Sunday and is located near the Abadia mall.
Good restaurants in Toledo are the Taberna el Botero and the café Masa Madre. The first one offers a wide range of cocktails and wines from the country but also typical Spanish food mixed with Asian influences. You can try the Lasagna de Rabo de toro which is made of bull meat but also try various kinds of fish.
The second place is a coffee and bakery offering local and traditional treats – perfect to enjoy a hot chocolate or simply buy croissant or bread in the morning. The owners are very friendly and the atmosphere is relaxing and familial.
2. Day Trip to Segovia from Madrid
The city of Segovia is accessible by train from the Atocha Station of Madrid and it will take you about 1 hour and 20 minutes to get there. The cost of a one-way ticket is approximately 6 euros but the cost varies depending on when you buy it.
The main monuments in Segovia are the Roman aqueduct, the alcazar and the Antonio Machado Museum. With its typical architecture, the old town of Segovia has been designated a UNESCO World Heritage Site. Its roman aqueduct is very well conserved and dates back to the 1st century AD. It is made of granite and stands at more than 28 metres high above the ground.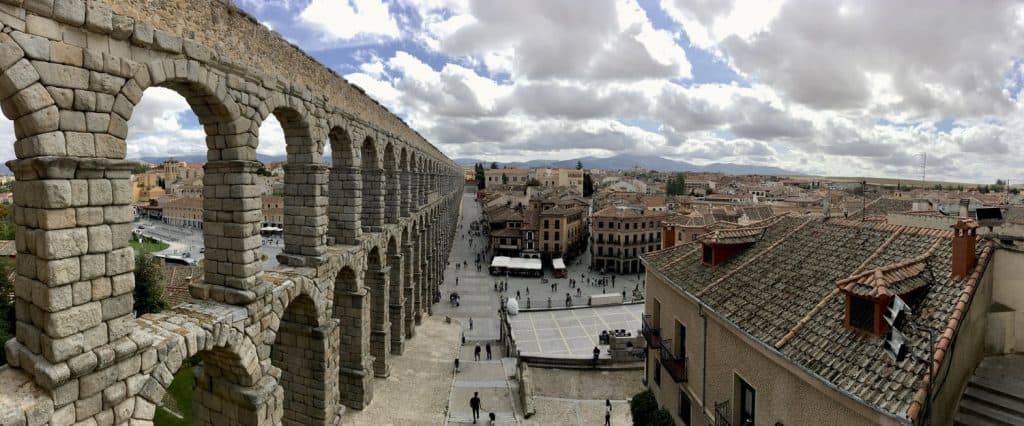 Another major building which reminds us of the ancient history of the city is its alcazar, which shows us that the city was a strong place and played a major role to defend its people against enemies.
Segovia also makes you discover its artistic face through the former house of the poet Antonio Machado. He was born in Sevilla and taught French in Segovia. Its major work is based on melancholic and nature.
When it comes to food, I will advise you to go to a restaurant called Meson Don Jimeno. It is a place where you will be able to enjoy a different kind of food basically all with Mediterranean influences. Either for lunch or dinner, it is perfect to taste typical Spanish food especially their suckling pig, all in a very authentic and rustic atmosphere.
The second restaurant is the José Maria Restaurante which is located in the city centre and offers local, fresh and quality dishes all based on traditional ones but revisited. This place is managed by the renowned chef José Maria and his daughter, where they invite you to taste their suckling pig too, as it is a speciality of the region.
As an Amazon affiliate, I earn from qualifying purchases.
3. Day Trip to San Lorenzo de El Escorial
San Lorenzo de El Escorial which is also a UNESCO World Heritage Site is located in the north of Madrid, just 40 minutes away by train from Madrid. Tickets start at 6 euros, which is not that expensive when we know that for big families, transport can easily cost a lot!
It is a huge establishment which offers a variety of activities. The library displays a collection of more than 45,000 books and has very high and beautifully painted ceilings. In addition to a marble floor and sculptures surrounding you, you can only be impressed. The books are all about different subjects such as philosophy, religion or music and in various languages such as Latin or Italian.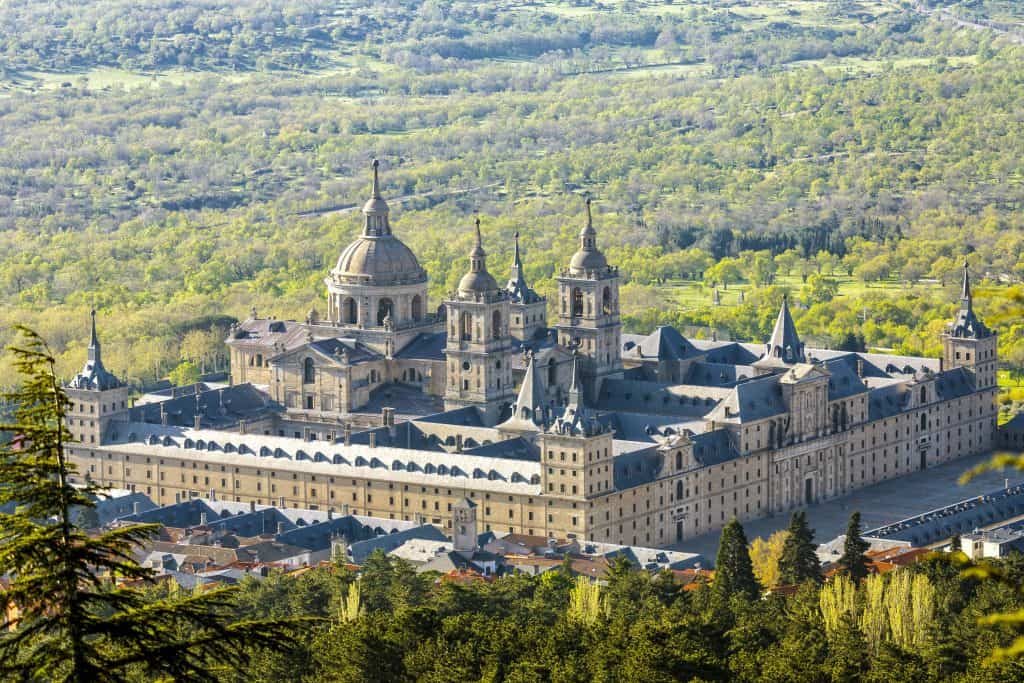 Another major part of the complex is its palace where the former King used to spend a few days in order to escape from his responsibilities. You will be able to visit the King's former apartments but also the one from his family and a very particular room with paintings representing former battles and wars.
4. Day Trip to Aranjuez from Madrid
The city of Aranjuez is accessible by train in just 35 minutes from Madrid and tickets start at 5 euros.
Major places to see are the Royal Palace and the Casa del Labrador. The Royal Palace is one of the numerous secondary residences of the King and is a UNESCO World Heritage Site. The Palace was initially built by the order of King Philip II in the 16th century and one of its most beautiful rooms is the little church with paintings. The Palace gardens are impressive and the rooms show us the luxury of the bourgeoisie at this time with, for example, the famous Arabic cabinet or the porcelain living room.  
The Casa del Labrador was built in a neoclassical style and was usually a place where the King and his family liked to gather in order to spend some days without any responsibilities and rules of their daily life. It was built in the late 18th and early 19th century and was mostly decorated by a French designer. It's good to know that if you plan to visit the Palace, there is a cost to tour the interior, however, visiting the gardens is free.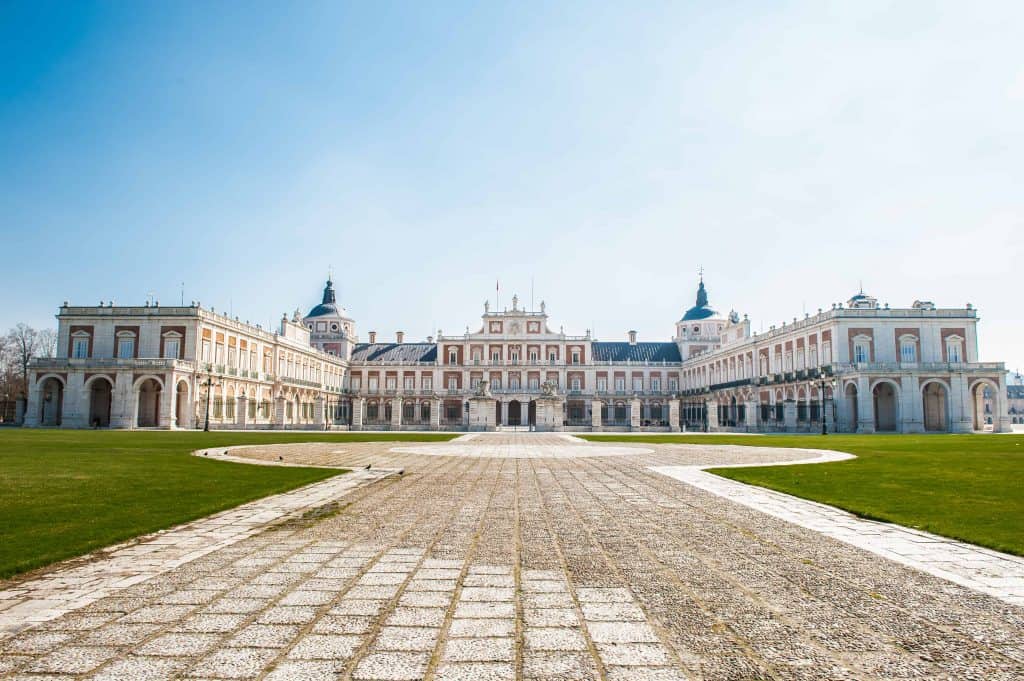 When it comes to food, I will advise you to go to the Asador El Corral de la Abuela, which literally means Grandma's Corral Rotisserie. This restaurant offers a wide choice of meat and fish all roasted, to taste with incredibly good Spanish wines.  They do have numerous inside rooms but also a terrace to eat outside under the sun, either for lunch or dinner, it is the perfect restaurant! Perfect for a family dinner at reasonable prices.
5. Day Trip to Avila from Madrid
You can have access to Avila by train from Madrid and it will take you approximately 1h 40. Prices for tickets usually start at 7 euros. 
This city is situated high on a hill at more than 1,100 meters above the level of the sea. This town is known for its medieval walls and ramparts which have been very well conserved. The walls are more than 2,500 meters long, with 9 doors and 88 towers. Some say that the walls were reconstructed on the previous Roman ramparts.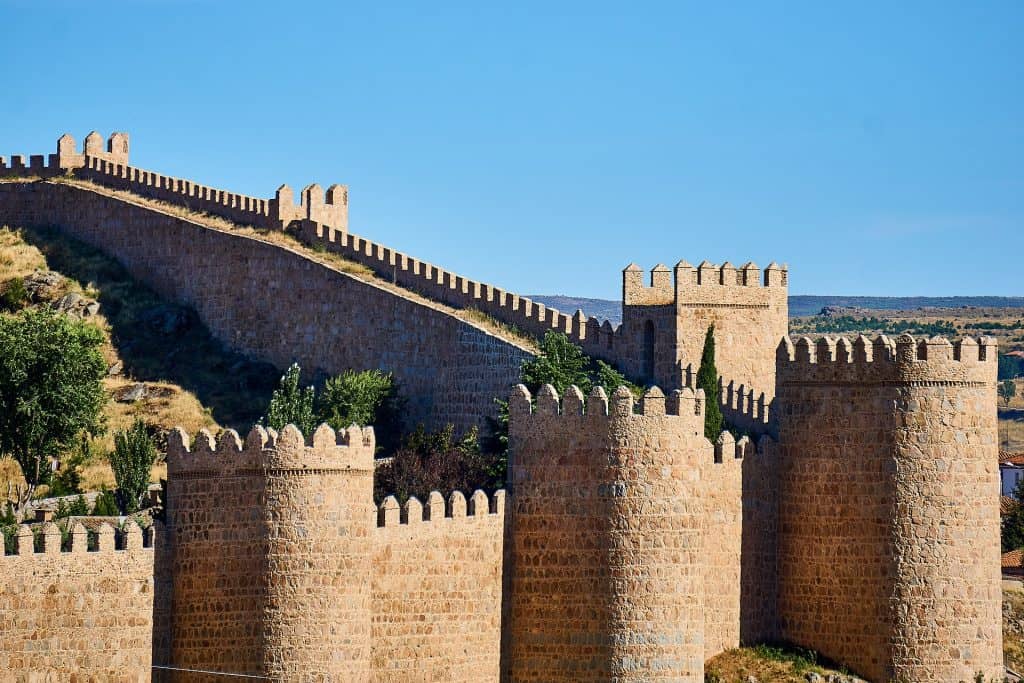 Another major attraction in the city is the Fiesta de Santa Teresa which takes place in October and lasts the whole month. The festivities include music, bull-fighting and religious processions in the streets. 
If you are a bit hungry, I recommend the restaurant called Los Candiles which offers meats such as lamb and beef from the country. Products are local, fresh and from good quality. Dishes are traditional and portions are generous. The menu is at €27 but it includes 3 courses. The staff is very friendly and if you are lucky the chef will even come to introduce himself to your table.
Looking for a hotel in Madrid? Read reviews and check current rates on TripAdvisor!
Juliette Smith from Madrid Discovery is passionate about travelling. She has already been pretty much everywhere in Europe and experienced different travelling types from backpacking to luxury travel, from leisurely and relaxing trips to more adventurous ones. But Spain is where her heart is! Follow on Facebook and Instagram! 
Pin This For Later