2020 was a year filled with challenges for all of us as we dealt with a global pandemic and accompanying lockdowns intended to slow the spread of the virus. Isolating at home meant not seeing most of our friends and family for the better part of a year while shutdowns and travel restrictions limited our activities.
It was a year of upheaval but there were some silver linings despite all the negativity of 2020. There were good things that happened pre-pandemic and good things resulted from the stay-at-home orders that gave us a greater appreciation for all that we have.
2020 wasn't the best year but, honestly, it wasn't the worst that we have experienced either. Like everyone else, we suffered losses but the people I love most in the world are still here in 2021 and that's what matters the most.
When I started to write this list I wanted to come up with 20 things but wasn't sure that I could – turns out that it wasn't as hard as I thought it was going to be.
These are a few (20 to be precise) of my favourite things that happened in 2020.
1. Caissie Levy Concert
January 2020 seems like a lifetime ago now but one of the highlights of our year was attending a Caissie Levy concert at the Burlington Performing Arts Centre in January.
Caissie, who grew up in nearby Hamilton, is a Broadway actor best-known for her recent performance as Elsa in Disney's Frozen the Musical.
She gave an incredible performance and we were thrilled to meet her after the show – it was a great way to start off the year!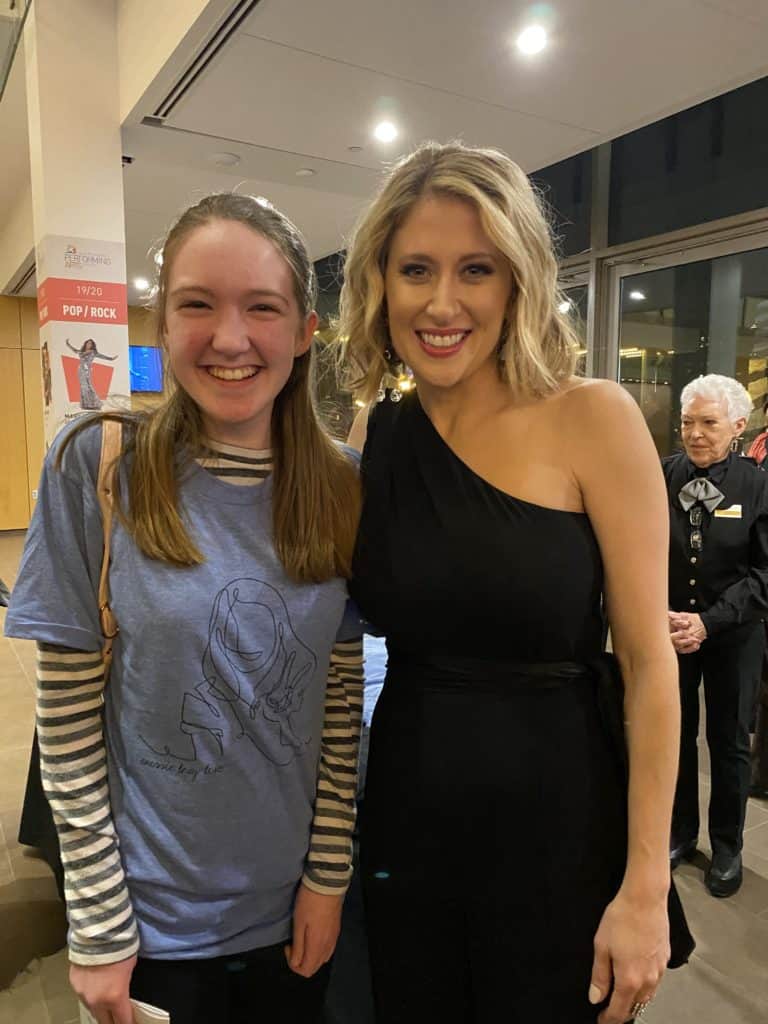 2. Hamilton the Musical in Toronto
At the end of February, my husband, younger daughter and I finally saw Hamilton: An American Musical on stage in Toronto and it was worth the wait! We had tickets for our family of 4 to see it several years ago in Chicago, however, a conflict came up and our older daughter ended up travelling there with three of her friends to see it. The pandemic halted the production prematurely just a few short weeks later so I'm very grateful that we saw it beforehand.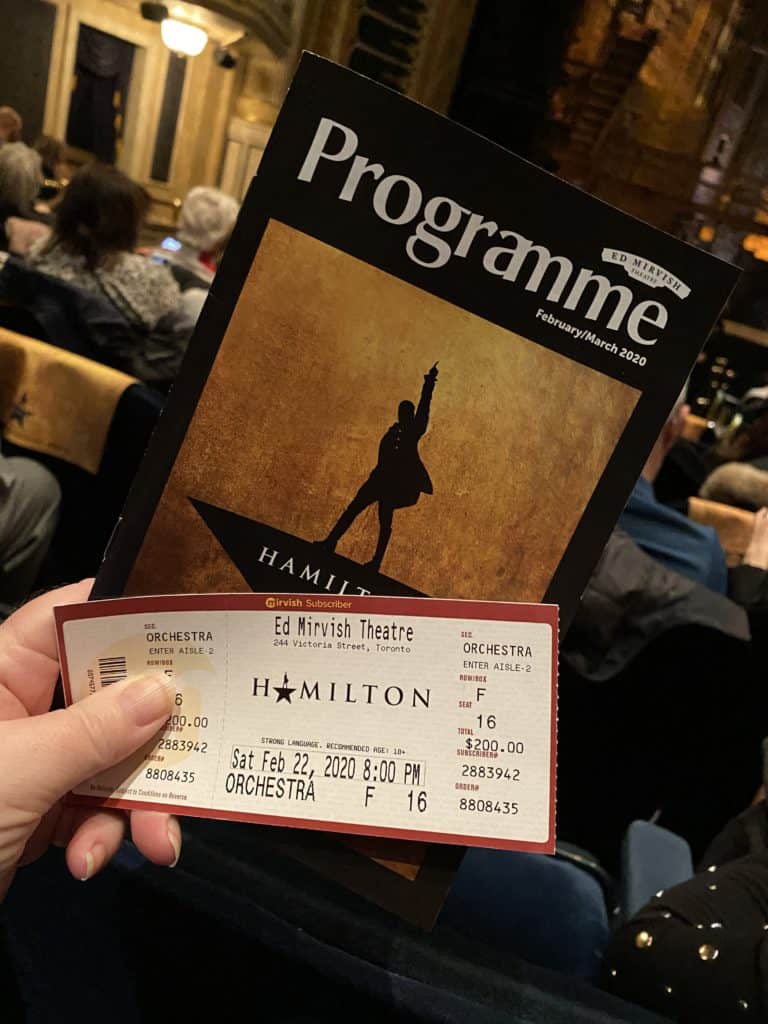 3. School Performances
In February we also watched our younger daughter, Emma, play Serena in her school's production of Legally Blonde. It's bittersweet looking back at it now as little did I know that it would be the last time that I would see either of my daughters performing on stage in a very long time. Hopefully there will be a return to live performances late in 2021.
4. Road Trip to Ottawa
We were originally planning to be on a Caribbean cruise for our spring break in March, however, our plans changed very quickly. We were supposed to fly to Florida on March 7th and embark on our Holland America cruise on the 8th but we decided on March 6th to cancel as we didn't want to risk being on a ship given the escalation of the pandemic at that time.
We debated what to do instead and decided that the safest option was to stay in Canada so quickly opted for a road trip to Ottawa. We had a fabulous few days in the city visiting museums, meeting our Member of Parliament and touring one of the universities.
The world started announcing shutdowns on the last day of our stay and we drove home the next day to begin lockdown not realizing that Ottawa would be the last place we would visit for some time.
You might like 10 Fantastic Free Things To Do in Ottawa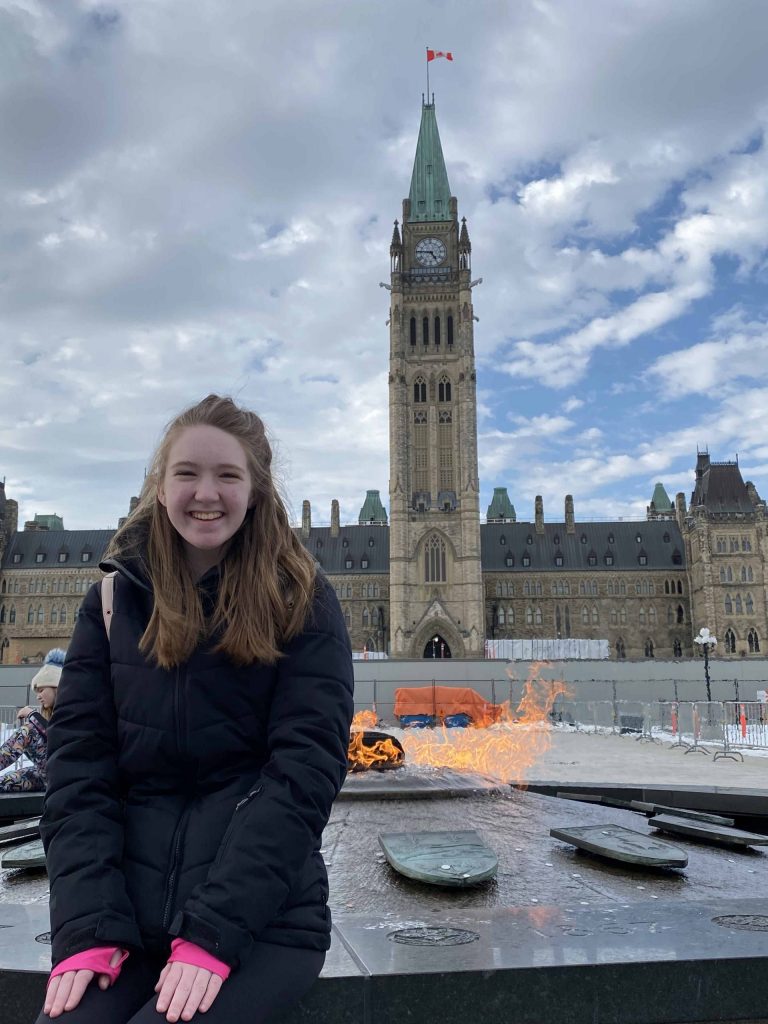 5. Jigsaw Puzzles
When our lockdown first started in March, I was looking for something to fill time spent at home and rediscovered my love for putting together jigsaw puzzles. I find it a very relaxing activity and have convinced myself that it has to be a mental workout as well! My favourite puzzles are ones that remind me of past travels or bucket list destinations.
Buy this Eurographics USA Globetrotter puzzle on Amazon (As an affiliate, I earn from qualifying purchases).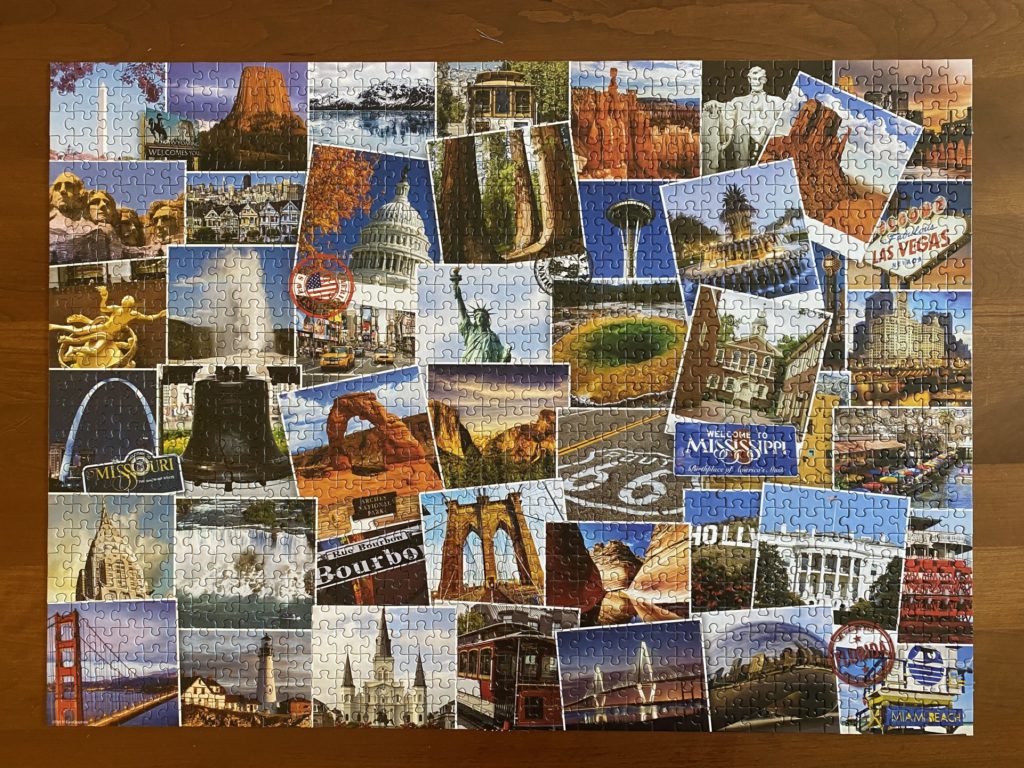 6. Celebrating Our 25th Anniversary
When we married on March 25, 1995, we never imagined that we would be spending our 25th anniversary in lockdown but that's what happened. We were able to order a nice take-out dinner and our daughters were here with us so it was still a lovely celebration. I thought at the time that perhaps our 26th would be an event to look forward to but maybe it will have to be our 27th!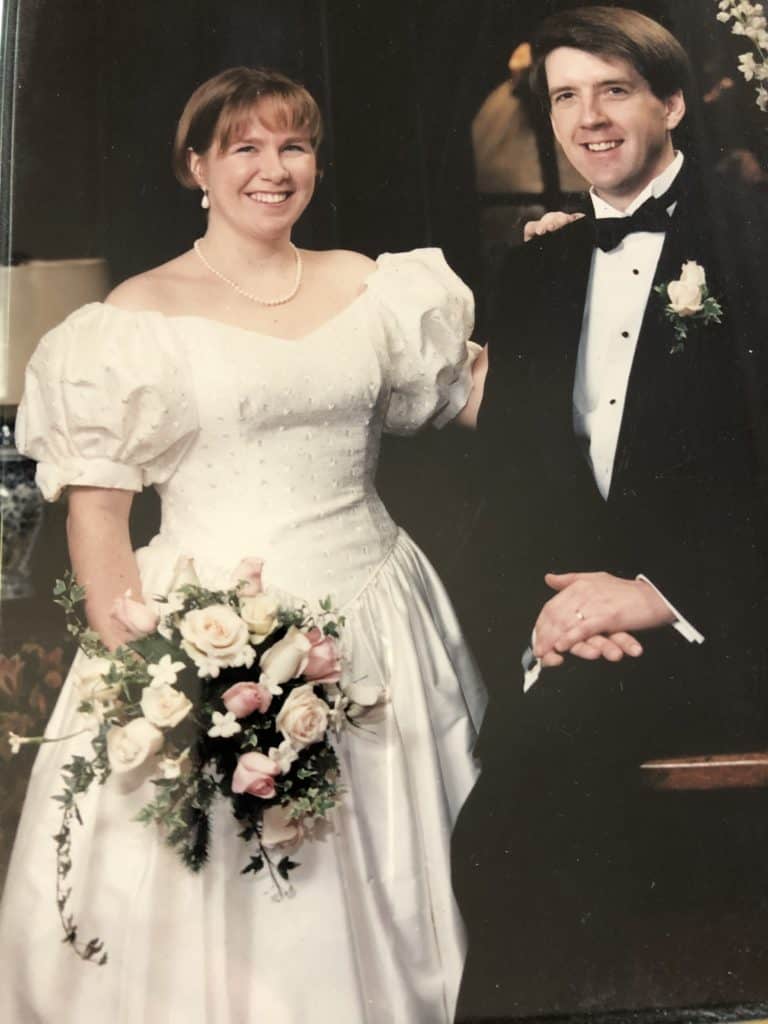 7. Spring Flowers
Our lockdown started in mid-March and several weeks of grey dismal weather followed here in the Toronto area. I mostly stayed in the house during that time and my mood suffered as a result.
Spring was late arriving but when the flowers started blooming they brought hope with them and I finally started feeling like we would get through this pandemic no matter how challenging it became.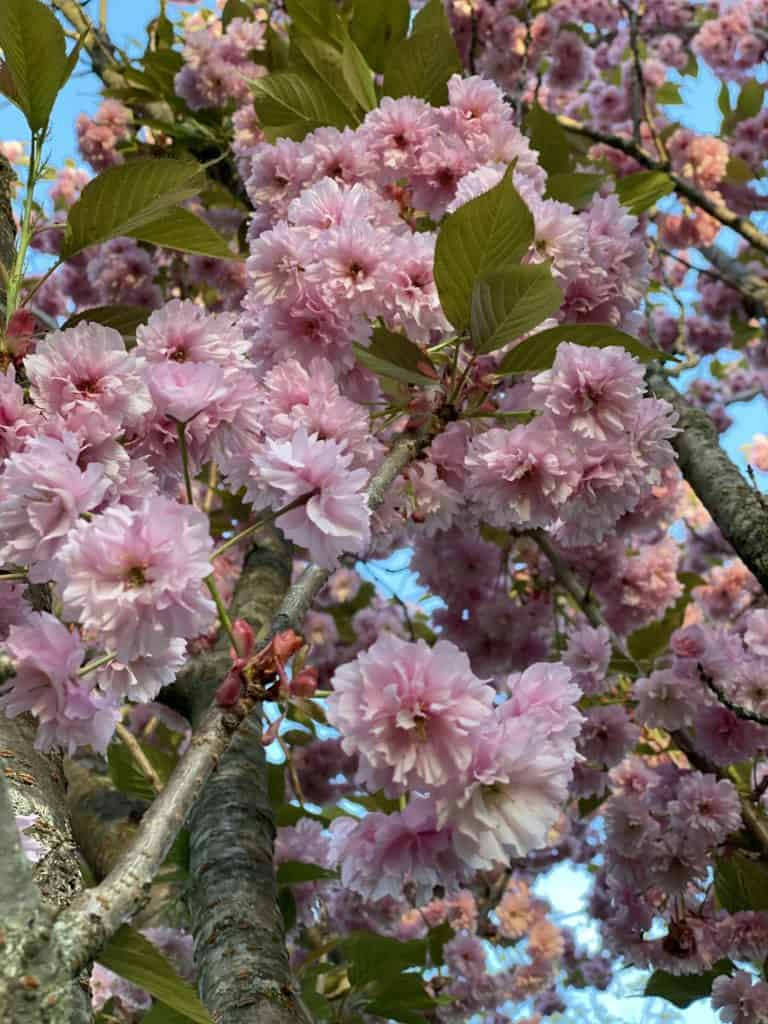 8. Developing an Appreciation for My Hometown
Once I had recovered from those first few bad weeks I realized that we weren't going anywhere. I started to open my eyes and look around a bit and developed a new appreciation for my hometown.
I live in a beautiful town on the shores of Lake Ontario which has a multitude of parks and hiking trails available to use. Daily walks made me appreciate just how lucky I am to live where I do.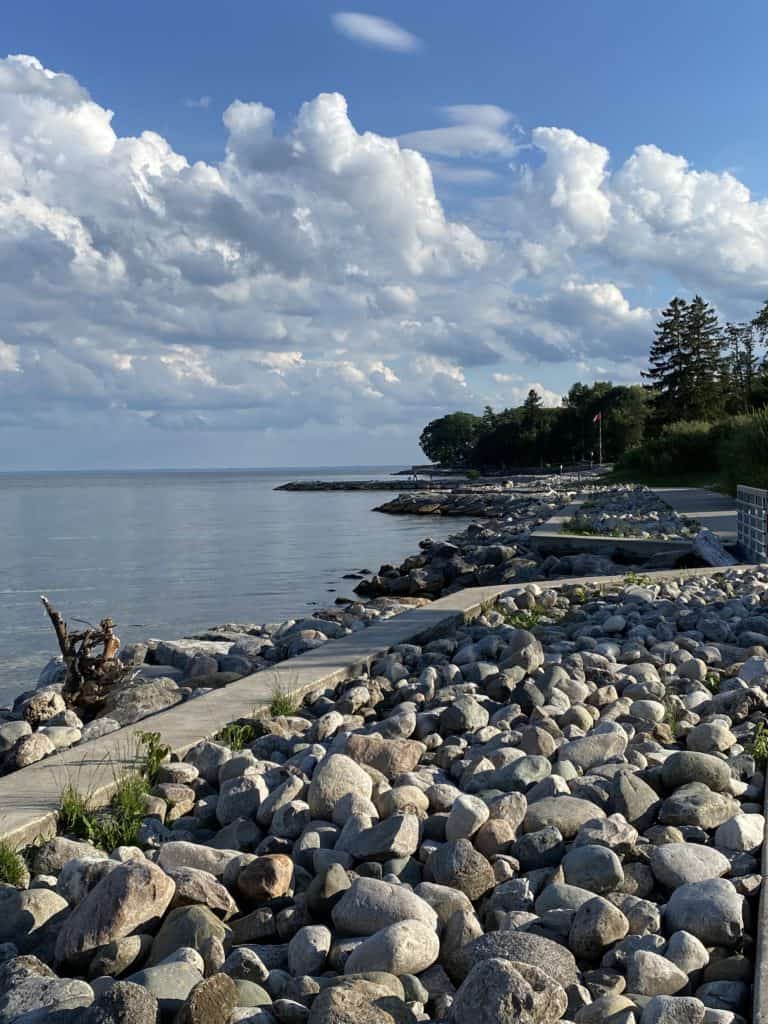 9. Time Spent with Family
Time spent together as a family is a precious commodity when your kids become teenagers and young adults. We'll be empty nesters before long so I thoroughly enjoyed the extra time spent at home with our teenager in 2020. Of course, there were some rough spots but for the most part it was great!
Our older daughter has lived on her own for several years, however, we also had her home over the summer in between moving residences and having that extra time spent with her was precious. My husband who has been working from home since mid-March has saved many hours of time from commuting into the city which also meant more family time.
10. Technology
I can't tell you how many times that I have said in the past 10 months that we should be thankful that this pandemic happened now and not 20 years ago. I can't imagine how much harder it would have been to cope without FaceTime, Zoom, social media, Netflix and all the other technology that we now take for granted.
11. Focus on Healthy Living
We lived a hectic lifestyle prior to the pandemic always rushing from school to activities, rehearsals and meetings. As a result, there was rarely time for cooking and eating a proper meal so we made do with a lot of take-out and prepared foods wolfed down on the way to wherever. Exercise had also become a chore that was difficult to make time for.
Life slowed down as a result of the pandemic and we suddenly had nowhere to be. As a result we started cooking almost all of our meals at home with occasional take-out to support our local restaurants.
I also started walking daily once the nice spring weather arrived and now strive for a minimum of one hour of walking each day. As a result, I have managed to drop 20 pounds since mid-March and feel much better. Best of all, I think we have developed healthy habits that will be easy to maintain going forward.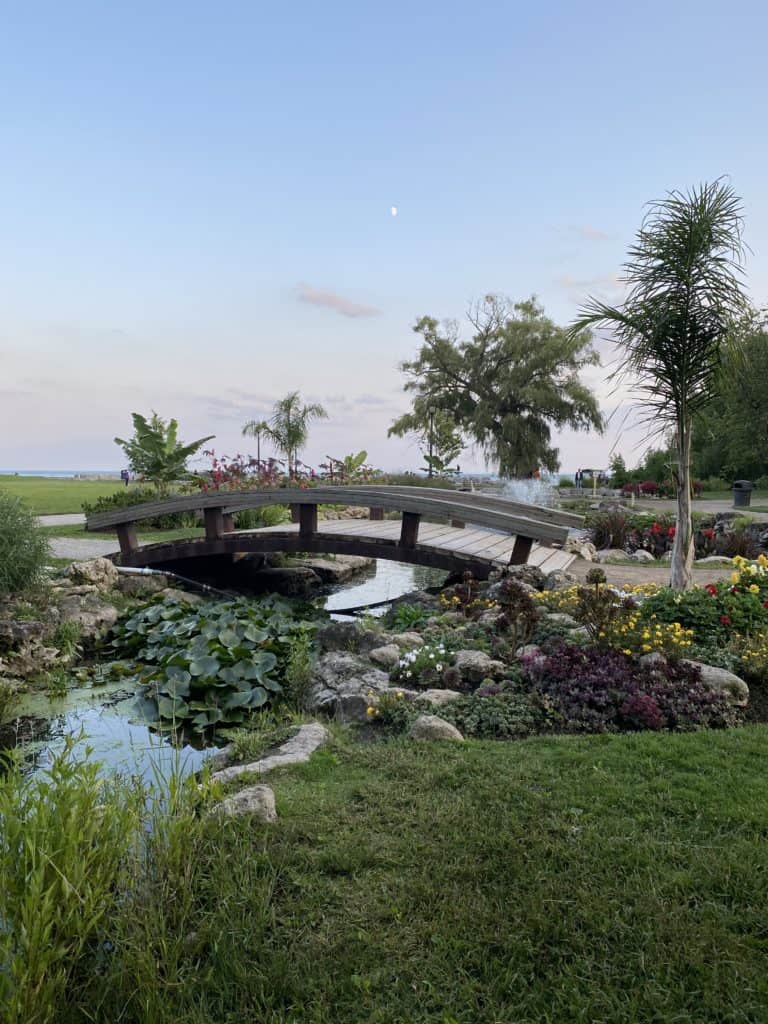 12. Books, Books, and More Books
More time at home translated into more time for reading for me and I don't think I have read so many books since I was in high school. Since there hasn't been so much travel happening, I have also been writing more book recommendations as I find reading a great way to travel when I have to stay at home.
As an Amazon affiliate, I earn from qualifying purchases.
I'm not sure exactly how many books I read in 2020 as I have never kept track but a few of my favourites were American Dirt by Jeanine Cummins, From Scratch by Tembi Locke, Homegoing by Yaa Gyasi, The Tourist Attraction by Sarah Morgenthaler, A Gentleman in Moscow by Amor Towles, Code Name Hélène by Ariel Lawhon, and The Henna Artist by Alka Joshi. And I have now opened a Goodreads account so that I can keep track of what I read going forward!
If you're interested in reading recommendations then you can find them in the Book Reviews category on my site.
13. Cottage Life
Five years ago we inherited the cottage belonging to my husband's parents on Manitoulin Island. We have visited there every summer for as long as I have known him, however, the island is a 6 hour drive from our home and it was a struggle to find much more than a week to spend there each summer the past few years.
That all changed in 2020 because my husband was working from home and could do it just as easily there. We spent about 5 weeks at the cottage last summer and loved the slow and relaxing pace as well as the opportunity to explore the island and all it has to offer. My husband retires this year so we're planning some cottage renovations and will likely spend much more of our summers there in the future.
Learn more about Manitoulin Island (the world's largest freshwater island) in this article 15 of the Best Things To Do on Manitoulin Island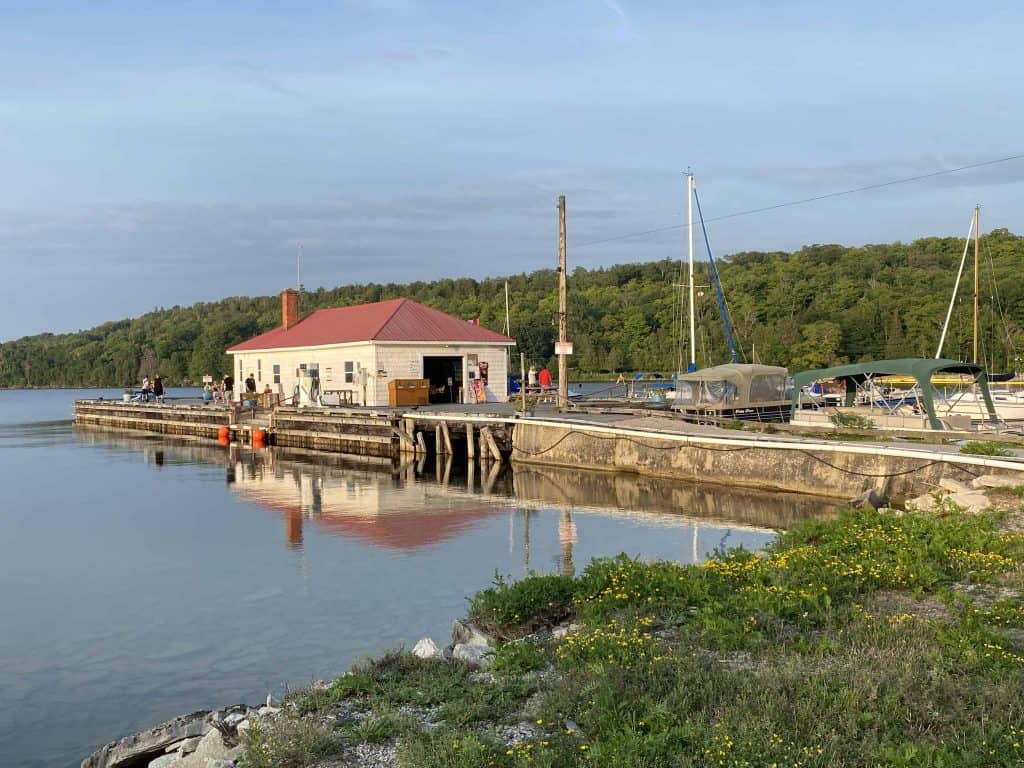 14. Getting Back to Nature
Having the time to devote to walking in 2020 led me to rediscover how good it feels to be outdoors. Walking turned into hiking and I started exploring some of the wonderful conservation areas in my region as well as the hiking trails on Manitoulin.
My favourites so far included Rattray Marsh, Hilton Falls, Crawford Lake and the Cheltenham Badlands and I hope to explore the others in my region as well. I'm doing my best to embrace winter but I'm a wimp when it comes to the cold so there might be more neighbourhood walks than nature hikes until spring returns!
Read Hiking and History at Crawford Lake Conservation Area and Visiting the Incredibly Unique Cheltenham Badlands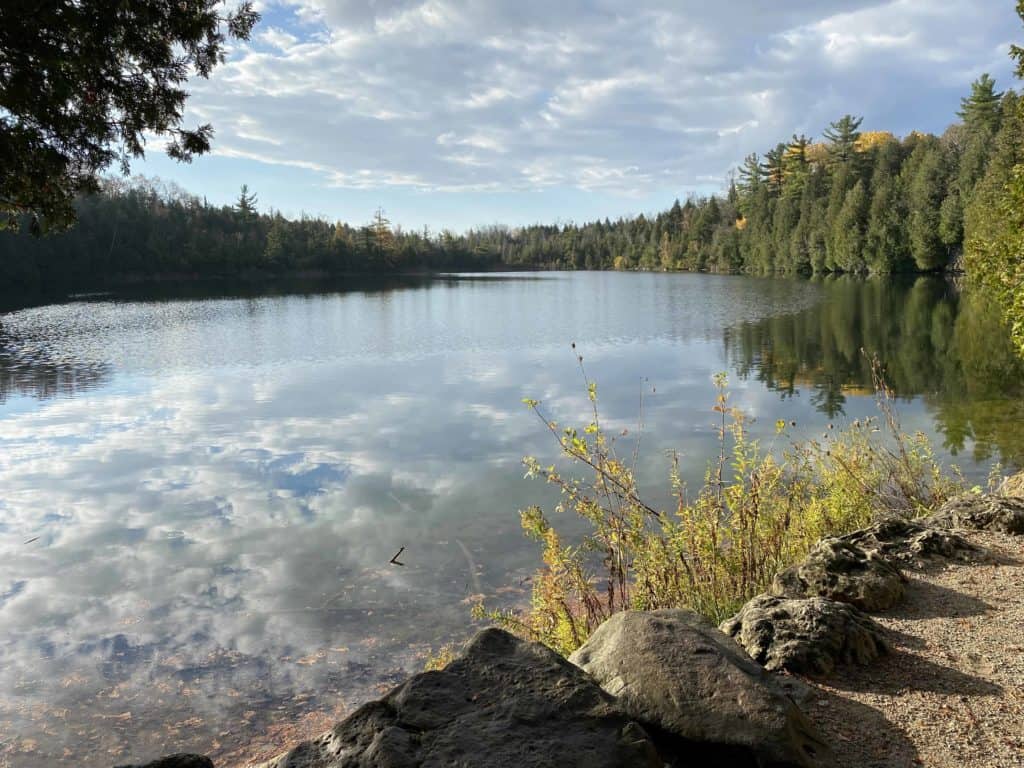 15. Lavender and Sunflower Fields
My daughter, Emma, and I spent a delightful afternoon exploring the lavender and sunflower fields at Terre Blue Lavender Farm which is near our home. The flowers were stunning and it felt great to get out and do something. In fact, the experience was even better than in previous years as capacity at the farm was significantly reduced in accordance with COVID-19 safety protocols and it almost felt like we had the flower fields to ourselves.
Read A Summer Visit to Terre Bleu Lavender Farm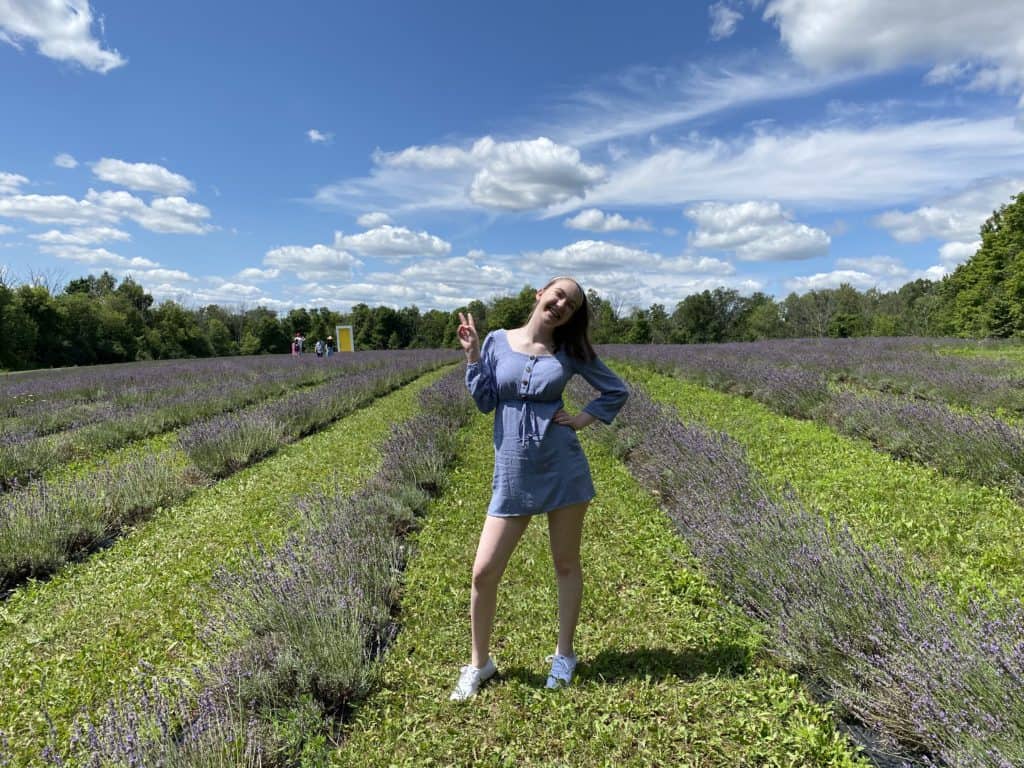 16. Visiting My Parents
My parents live in rural Northern Ontario which is about a 7 hour drive from our home so we don't see them as often as we like. Typically we would get together at my sister's home in Sudbury which is a few hours closer but that couldn't happen this year because of the pandemic.
Staying at our cottage meant that it was more like a 2.5 to 3 hour drive so twice during the summer we made the 6 hour round-trip drive in order to spend a couple of hours visiting with them in their backyard. My dad is 93 and my mom is 86 so each visit is cherished.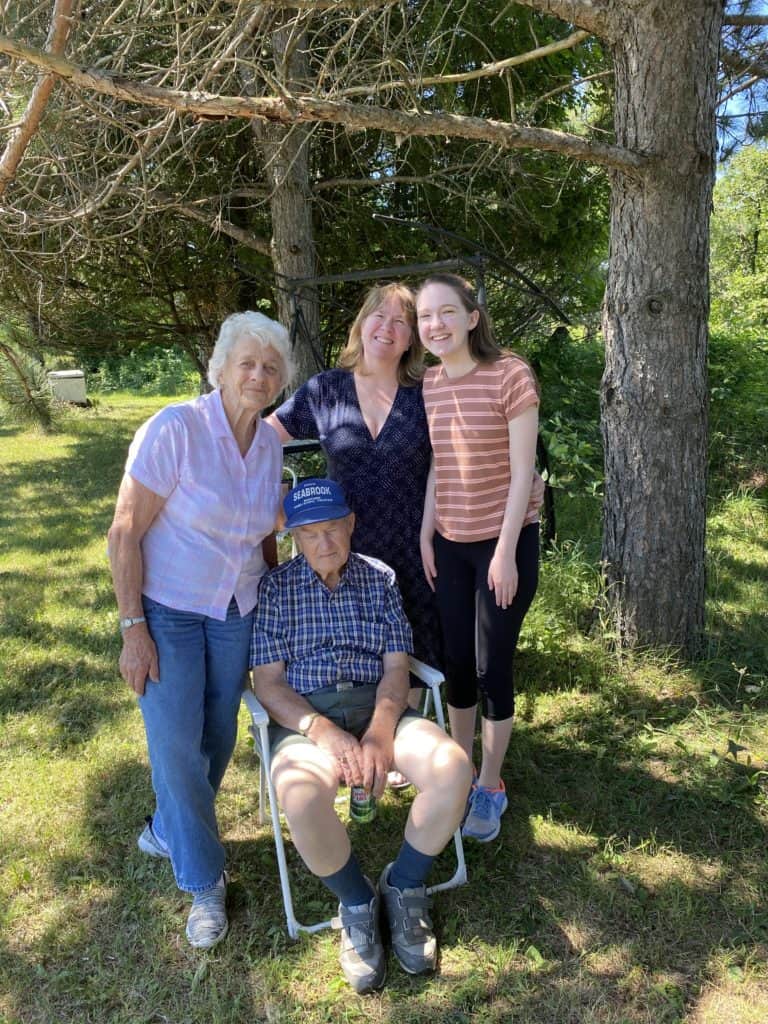 17. Online Theatre
We are a family of theatre geeks who, between professional theatre, community theatre and school or youth productions, would typically see or participate in at least a couple of shows a month. We miss that more than anything so have been thrilled to see theatre offerings online beginning with the launch of Hamilton on the Disney+ subscription service.
18. Day Trip to Niagara-on-the-Lake
One day in early fall we decided that we needed a change of scenery and headed out on a day trip to Niagara-on-the-Lake. It was a little bittersweet because typically we visit when attending a performance at the Shaw Festival but it was a lovely day nevertheless. We didn't do much other then buy ice cream cones at Cows Ice Cream and walk around town and down to the lake but it felt like a pre-pandemic day and it was the change of pace that we needed.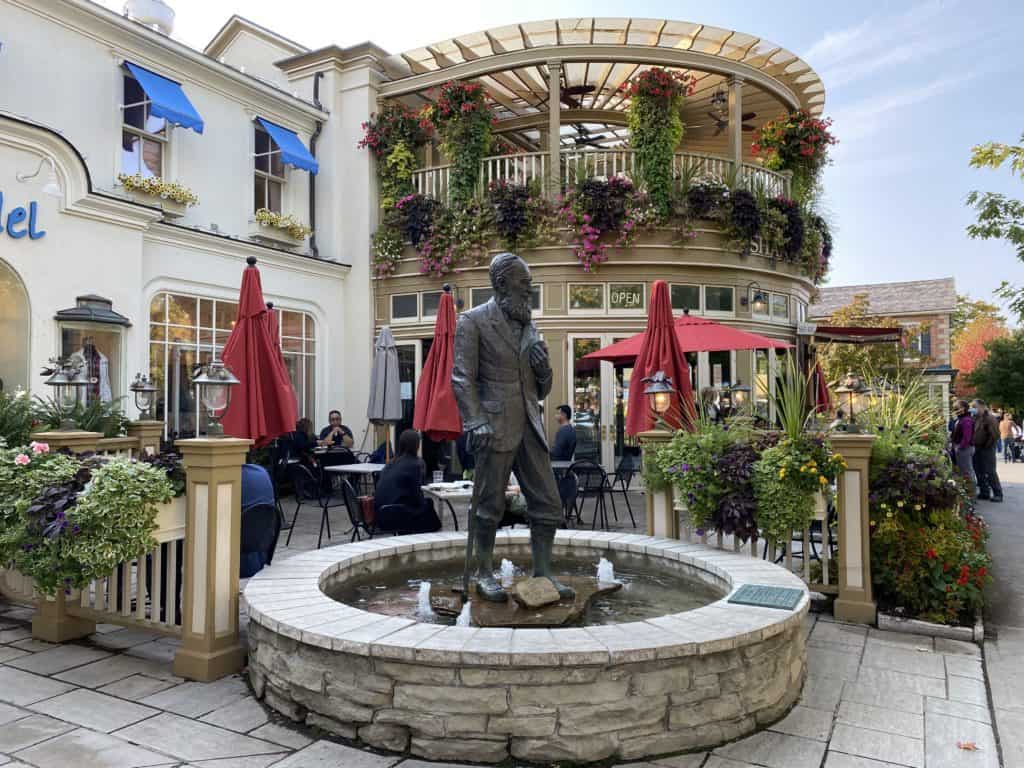 19. Stunning Fall Colours
Mother Nature was on her game this fall and treated us to one of the most amazing years of fall foliage that I can recall. We did some hiking and car drives to take it all in and the colours were simply stunning even in our town itself.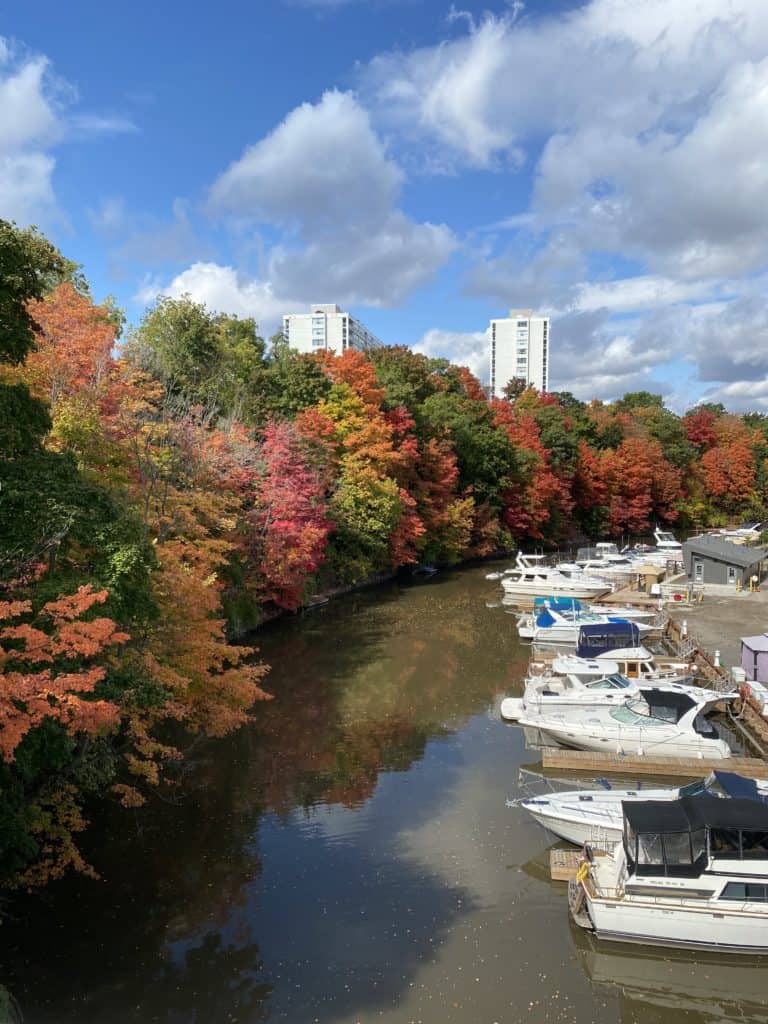 20. Planning Future Epic Trips
We haven't been able to travel for 10 months and the situation has been too uncertain to make definite plans but that didn't stop me from spending much of 2020 planning some epic future trips.
Having to stay home has been the impetus to force me to think about the places that I most want to visit in the upcoming years and to start planning how to make those travel dreams come true.
2020 was the year of drafting bucket lists for me and I'm hopeful that sometime later in 2021 that I will be able to start crossing some items off of those lists!
I hope your 2020 had some silver linings as well and that 2021 brings much happiness! Leave a comment and let us know about your favourite things from 2020.