Highlights from a day spent in Gdansk, Poland while on a family cruise in Northern Europe.
Gdansk, Poland was one of the ports of call on the Baltic cruise that our family went on the summer that our daughters were 12 and 6 years old. Gdansk, which was once an independent city-state called Danzig, is rich in history, having celebrated its 1000th year as a Baltic city in 1997. Danzig was a member of the Hanseatic league and was one of the most prosperous seaports and shipbuilding centres in the Baltics at the time. 
Gdansk was almost completely destroyed during World War II but the streets of Main Town have been restored with historical authenticity. Gdansk is also well-known as the birthplace of the anti-Communist workers' movement (Solidarity). Solidarity's leader, Lech Walesa, became the President of Poland after the fall of the communist bloc in 1989. 
Read 12 Spectacular Cruises To Add To Your Bucket List
This post may contain affiliate links. If you click an affiliate link and make a purchase then we receive a small commission at no additional cost to you.
We are a participant in the Amazon Services LLC Associates Program, an affiliate advertising program designed to provide a means for us to earn fees by linking to Amazon.com and affiliated sites. As an Amazon affiliate I earn from qualifying purchases.
Arriving in Gdansk
Our ship actually docked in Gdynia which is a distance of about 22km from Gdansk. While conducting research for this trip I had learned that the traffic between Gdansk and Gdynia can be particularly congested and that this had to be taken into consideration in planning one's return trip. 
I was concerned about the possibility of missing the ship so we decided that in this one port that we would book a shore excursion with the cruise line. We opted for a bus trip into Gdansk with a walking tour and free time in the historic district. 
Our day in Gdansk was rainy which detracted from the experience, as did the form of tour that we had booked. It did not take long for me to conclude that large group tours did not suit our family. There is nothing worse than having to trail behind a large group when you want to stop and explore more or take photos. My older daughter panicked several times when we stopped to take a picture and I had to reassure her that we would catch up to the group. 
We enjoyed our free time quite a bit more and I think that if we had been on our own we would have had a better time in the beautiful Main Town of Gdansk. However, our return trip did take more than twice as long as the drive into town so I think that the decision to book with the cruise line was the best decision to have made under the circumstances as I would have been completely panicked if we had been traveling independently and stuck in traffic heading back to Gdynia.
Walking Tour of Gdansk
The bus dropped us with our guide just outside historic Main Town and we started our walking tour in Gdansk.
The first stop was St. Mary's Church which is claimed to be the largest brick church in the world. The sanctuary of this 14th century church can accommodate 25 000 people. One of the highlights of a visit to the church is the 500 year old, 25 foot high astronomical clock which keeps track of solar and lunar progressions and displays the signs of the zodiac (quite unusual for a Catholic church). 
Like most shore excursions that you book with a cruise line this one also had a shopping opportunity embedded in it. Our tour included a stop at a shop that sold amber jewelry in order to be educated on the properties of amber. The kids were bored and I had no interest in buying anything so it was a waste of time, in my opinion, which would have been better spent actually seeing something in Gdansk. 
During our free time in Gdansk we wandered through Main Town where, despite the weather, there was a small market of street vendors set up. We try to buy a Christmas ornament as a travel souvenir everywhere that we travel and we were able to purchase a beautiful hand-painted angel from one of the street vendors in Gdansk. 
We also took photos by Neptune's Fountain which is one of the city's most distinctive landmarks. The fountain dates to the early 17th century and is representative of the relationship that Gdansk has with the sea. The statue was removed and hidden during the Second World War and was returned to its rightful place in 1954.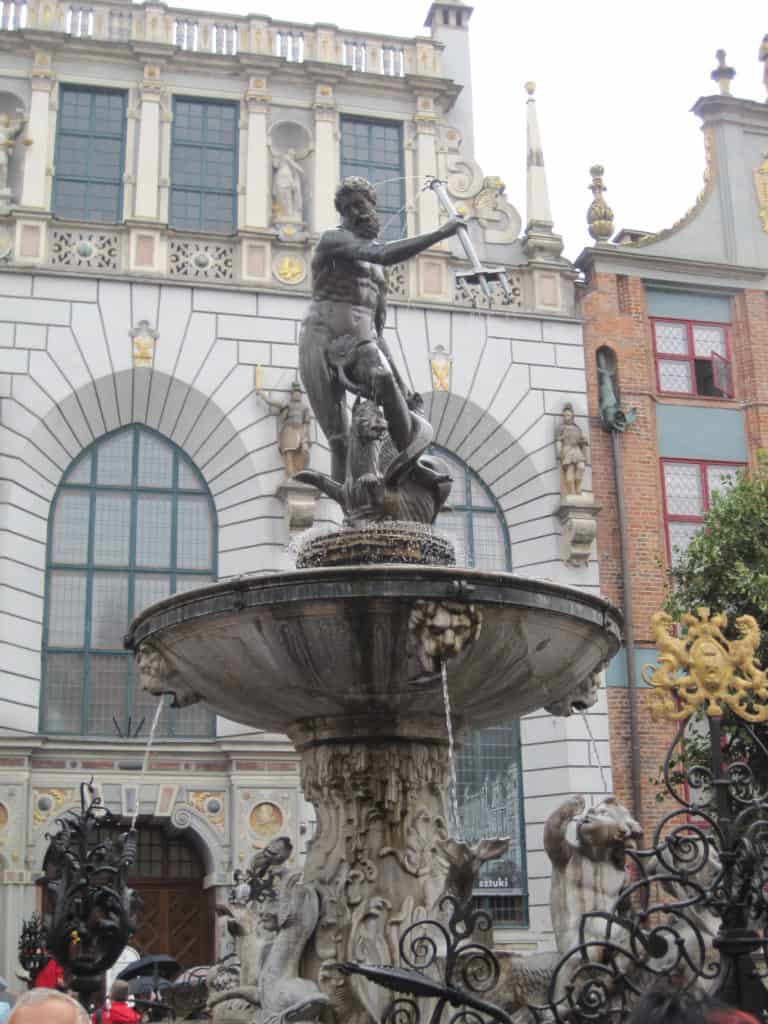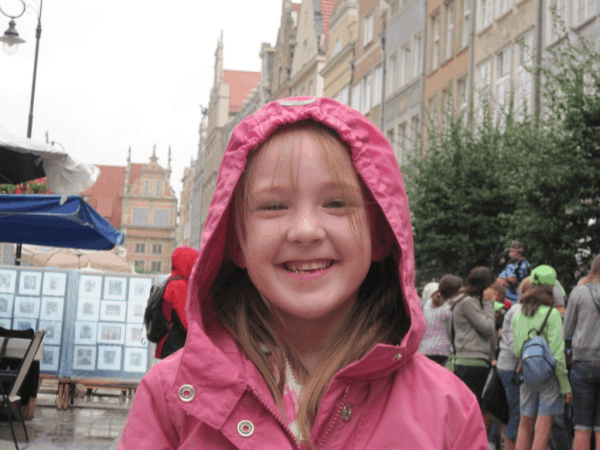 Emma's having fun despite the rain
Solidarity Monument
The final stop on our bus tour was the Gdansk shipyards to view the Monument to the Shipyard Workers, also known as the Solidarity Monument, which honours the workers who died during the strike and protests against communism in 1970. 
As time was running short, we were only allowed a 10 minute photo stop and most of our fellow passengers didn't even bother to get off the bus. There simply wasn't enough time to absorb the significance of the monument but I wanted our kids to see it up close so that we could talk later about what had happened during the shipyard strikes and how the monument honours those workers who had died in the fight for democracy.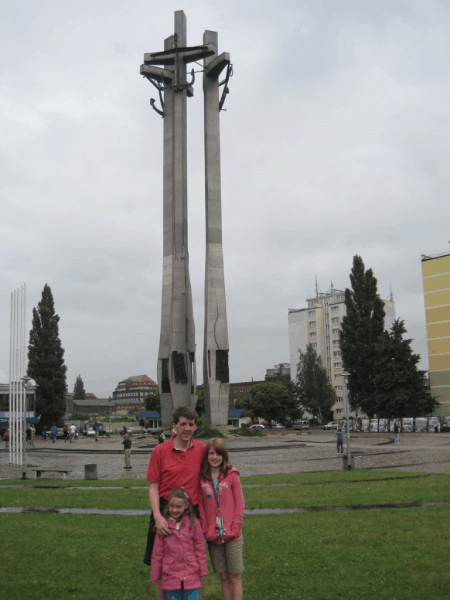 The Solidarity Monument, Gdansk
Related Articles
12 Spectacular Cruises To Add To Your Bucket List
Pin this for later