Our family's magical New Year's Day spent at Disneyland in California.
For the past few years my husband and I have given our daughters a trip as a Christmas gift.  I wrap up clues and, as they open them, they try and figure out where they might be going.  Our post-Christmas trip in 2010 was to San Diego where the only theme parks that I had planned on visiting were the San Diego Zoo, SeaWorld, and Legoland.  Within about a half an hour of unwrapping their present, however, it occurred to my very excited kids that Disneyland was in California.  I had always harboured a secret desire to see Disney at Christmas time so it didn't take long for them to get me on side and we were soon discussing the possibility of taking a road trip to Disneyland.     
We had been to Disney World in Orlando a number of times but as nearly three years had passed since the previous visit the kids were ready to agree to just about anything in order to get to Disney.  We warned them that it was a long drive from San Diego and that they would have to get up very early.  They insisted that they didn't mind so on New Year's Day we got up before the sun to drive from San Diego to Anaheim.  We were aided by the fact that we had never really switched over from East Coast time, however, it will never cease to amaze me how a teenager has no difficulty hauling herself out of bed at an ungodly hour when it's something that she wants to do.
There wasn't much traffic on New Year's morning so we had an easy drive to Anaheim and arrived in time for the park's opening.  Emma was beyond thrilled!

Emma was very excited to arrive at Disneyland
Truth be told, I was also very excited to walk up Main Street with the gorgeous holiday decorations and see Sleeping Beauty's Castle in all its finery.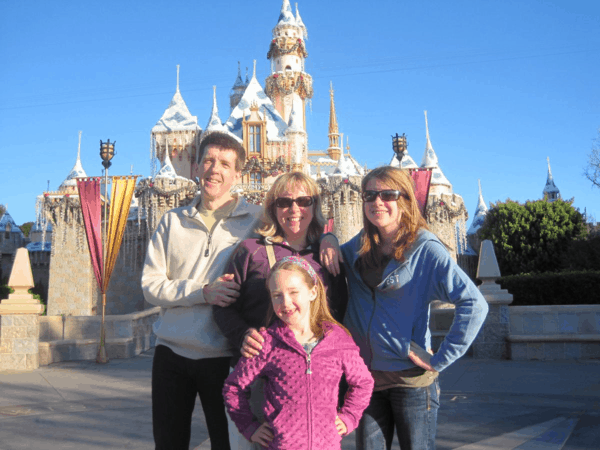 Our family in front of Sleeping Beauty's Castle
It seemed that everyone other than us had been up late celebrating the night before so the park was virtually empty.  We were able to walk straight on to the attractions in Fantasy Land and in less than an hour we had been on all the rides – some more than once.  This was an experience that we had never had in Orlando during spring break.
My favourite ride has always been "It's a Small World" and seeing it all decked out for the holidays was very special for me.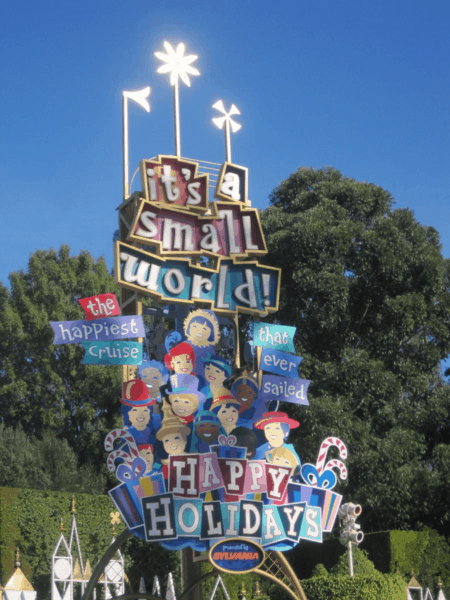 It's a Small World decorated for the holidays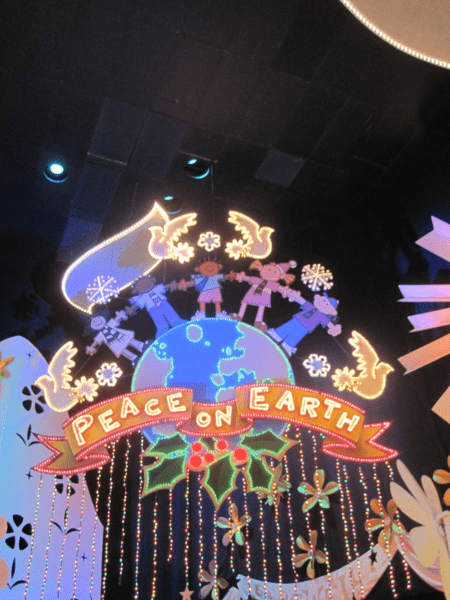 The Small World ride – "Peace on Earth"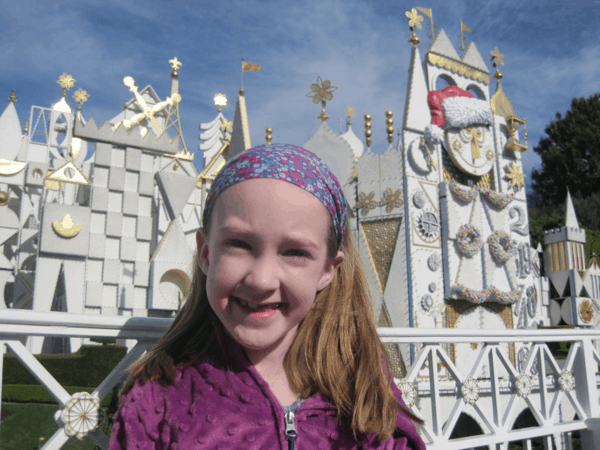 Emma outside "It's a Small World"
The Holiday Parade was a highlight for everyone.  We staked out a curbside spot early so that we had a great view once the parade started.  I love a parade so Disney, Christmas and a parade all rolled into one is just about as perfect as can be.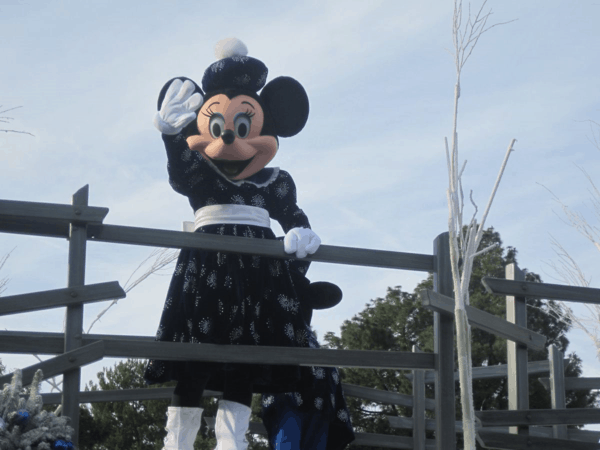 Minnie Mouse in the Holiday parade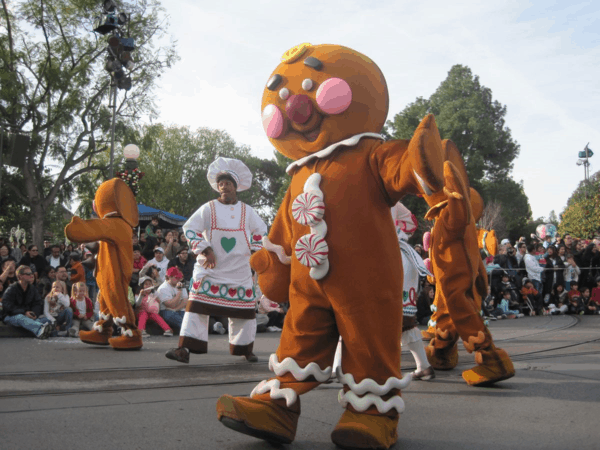 Gingerbread men in the Holiday parade
One of the other highlights of the day was meeting Tinker Bell in Pixie's Hollow.  Emma was a big fan of the fairies at the time and this was her first opportunity to meet Tink and friends.  We had to make several trips back to the Hollow in order to try and meet some of the other fairies who took turns signing autographs with Tinker Bell.  By the end of the day Emma had autographs from Tinker Bell, Vidia, Iridessa and Terence.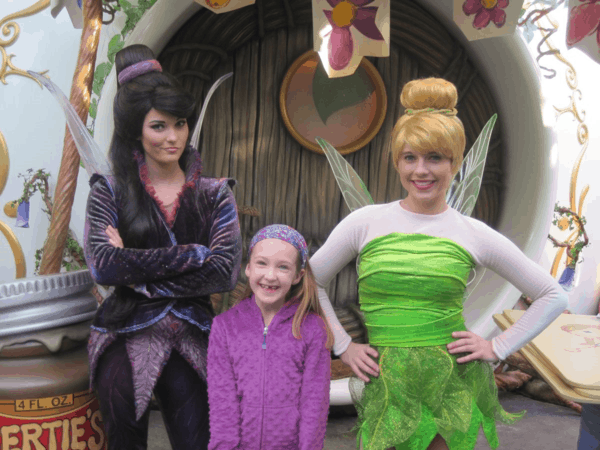 Emma with Tinker Bell and Vidia
Emma was also keen to meet Rapunzel and Flynn from the movie Tangled.  And so was every other little girl in the park.  By this time it was early afternoon, the park was filling quickly and lineups were growing longer.  We waited well over an hour but it was definitely worth it given how much Emma had her heart set on meeting them.
The day was quickly wearing on, the park was becoming crowded and everyone was starting to get tired so we made a quick stop in ToonTown, lined up to see some princesses and then headed back to Main Street to do a little shopping before driving back to San Diego.
All in all we spent a wonderful New Year's Day at Disneyland.  Disney is truly magical during the holidays and I was thrilled to be able to experience that magic with my family.  I'd do it again in a heartbeat!
Related Links
Holiday Gift Guide: Best Books for Travelers
Osborne Family Lights at Disney Hollywood Studios
San Diego, California Trip Report 
Celebrating Halloween at Disneyland
Halloween Fun at LEGOLAND California
Have you liked our Facebook page yet? I post articles from the blog there as well as photo albums from our travels and other travel news. You may also subscribe to the free RSS feed or sign up for an email subscription to keep up-to-date on our travel adventures. 
Pin this for later