The village of Oia on the island of Santorini is one of the most beautiful places that our family has ever visited.
Crescent-shaped Santorini in the Cyclades chain of Greek islands is one of the most beautiful islands in the Aegean Sea. The village of Oia, on an impressive cliff on the northern tip of the island, affords visitors spectacular views of the Aegean and is renowned for its beautiful sunsets over the caldera. 
This village, the most photographed in the Aegean, definitely lives up to its reputation as one of the most picturesque spots in the world.  The whitewashed buildings with blue accents, the blue domed churches and the stunning views of the Aegean Sea beg to be photographed as visitors stroll the streets of the village.  We had only an hour or so in Oia and I spent the entire time snapping photos in an attempt to capture the incredible beauty of this village.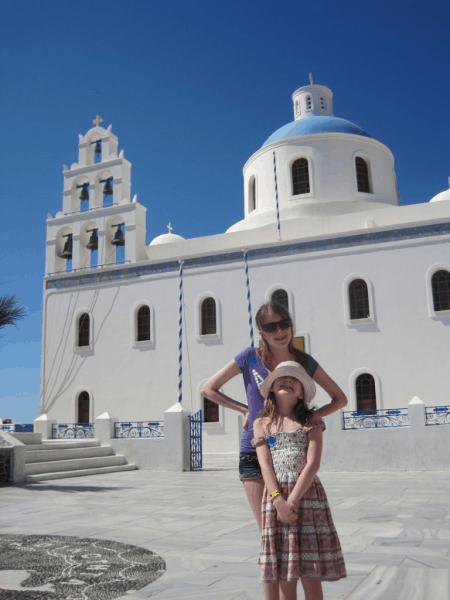 Katie and Emma in Caldera Square, Oia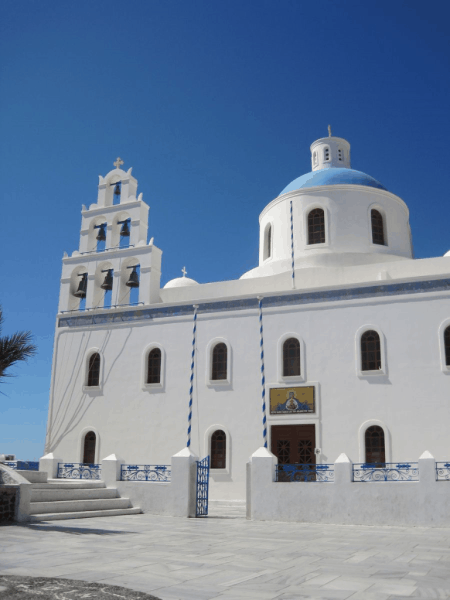 Church of Panagia of Platsani, Caldera Square, Oia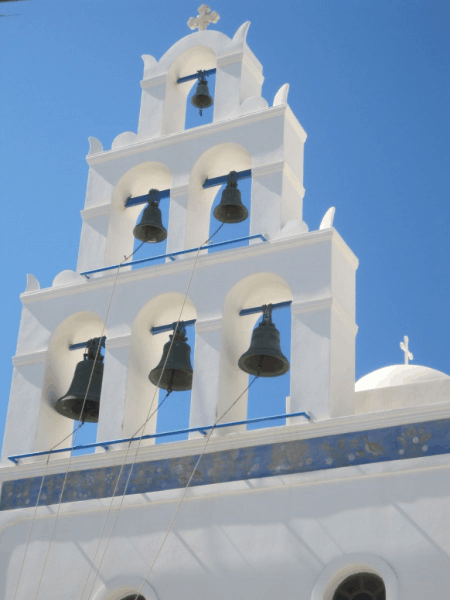 Bells of the Church of Panagia of Platsani, Caldera Square, Oia
Related Links

5 Reasons Crete is Unique and Family-Friendly
Touring Athens with Private Greece Tours
Port of Call: Santorini, Greece
Cruising the Celebrity Equinox with Kids
Have you liked our Facebook page yet? I post articles from the blog there as well as photo albums from our travels and other travel news. Or, if you prefer, you can subscribe to the free RSS feed or sign up for an email subscription to keep up-to-date on our travel adventures.