We recently spent an enjoyable afternoon visiting the Royal Botanical Gardens (RBG) Arboretum in Hamilton, Ontario to see the many flowering trees with their spring blossoms and to explore the Cootes Paradise walking trails.
About the RBG Arboretum
The Royal Botanical Gardens, located on the border between Burlington and Hamilton, is the largest botanical garden in Canada, a National Historic Site of Canada and part of the Niagara Escarpment UNESCO World Biosphere Reserve. The RBG plays a vital role in the region in preserving environmentally sensitive areas and connecting people to the plant world.
The RBG Arboretum is a park with a variety of trees to see year-round (although particularly beautiful in the spring and fall) and is also a trailhead for the Cootes Paradise nature sanctuary. The Arboretum is over 47 hectares (116 acres) and showcases 1,140 types and 3,269 individual plants.
Royal Botanical Gardens is within the Traditional Territories of the Haudenosaunee, Anishinaabe, and Huron-Wendat Nations, on land covered by a Treaty between the Mississaugas of the Credit First Nation and the Crown.
We have visited the main location of the Royal Botanical Gardens (680 Plains Rd. W. in Burlington) many times but hadn't visited the Arboretum before even though it is quite close to our home in Oakville (about a 35 minute drive west on Highway 403). We decided to check it out recently on a beautiful spring day in May primarily to see the blossoms but also to do a bit of hiking.
Our visit to the Arboretum lasted about 2 hours and 15 minutes in total – we admired the flowering trees and took photos for about half an hour and then hiked the trails for about 1 hour and 45 minutes. Ideally I would have liked to stay for another half an hour but we had to cut our visit short due to an appointment in Oakville. The trees were beautiful and we enjoyed the hiking trails so will definitely add it to our list of nearby places to go walking.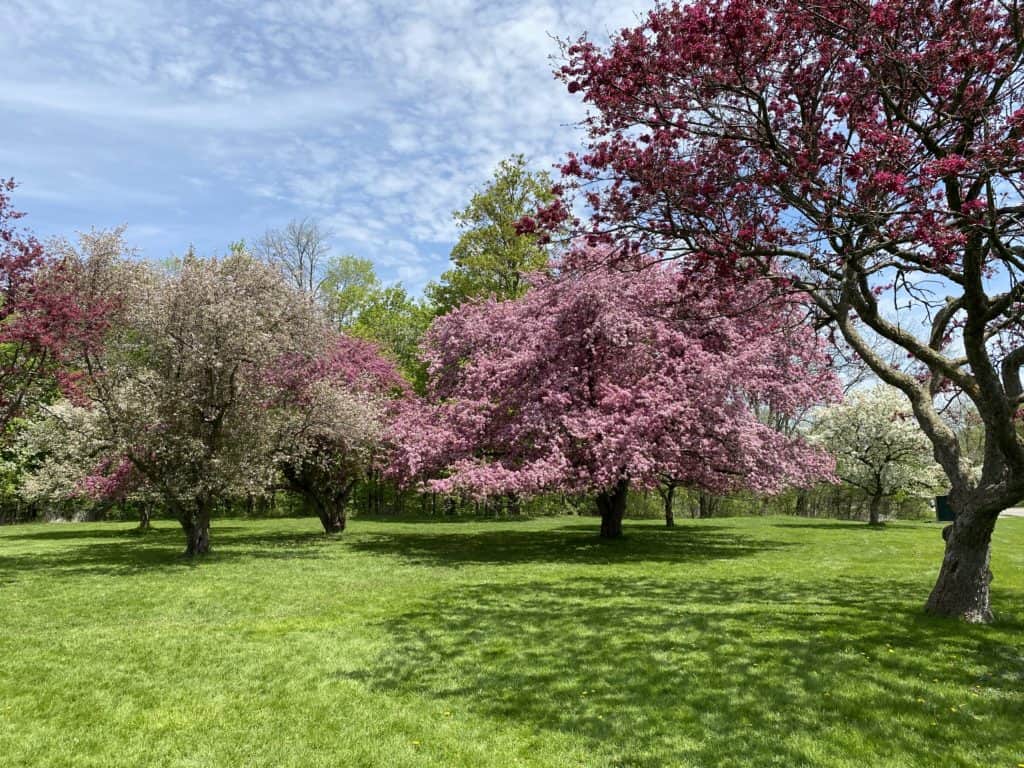 This post may contain affiliate links. If you click an affiliate link and make a purchase then we receive a small commission at no additional cost to you.
Location of the RBG Arboretum
The Arboretum is located at 16 Old Guelph Road in Hamilton, Ontario.
Flowering Trees at the RBG Arboretum
Spring is a popular time to visit the RBG Arboretum to see the stunning flowering trees that are in bloom in May and June.
On our recent visit, the Flowering Crabapple trees, Redbud, and Dogwood were blooming and the Lilacs were just starting to bloom. Some Magnolias were still blooming and the Flowering Cherries were past peak. Bloom season is very weather dependent and varies year-to-year. It's advisable to check the RBG social media feeds prior to visiting if you want to be sure that certain trees are in bloom.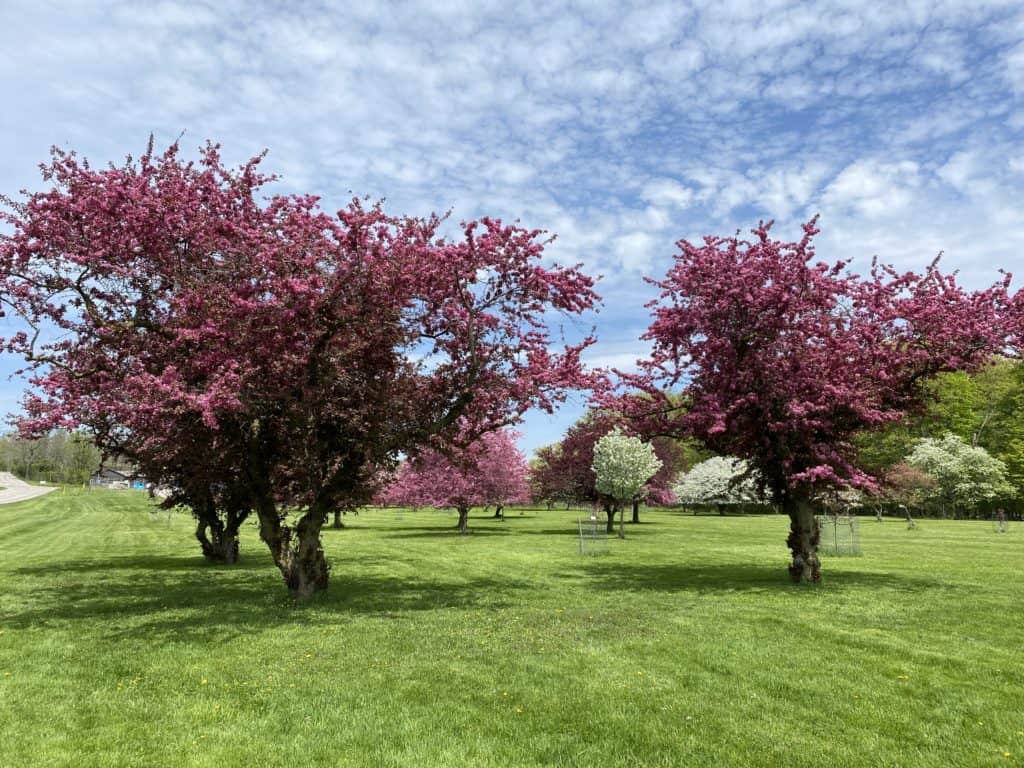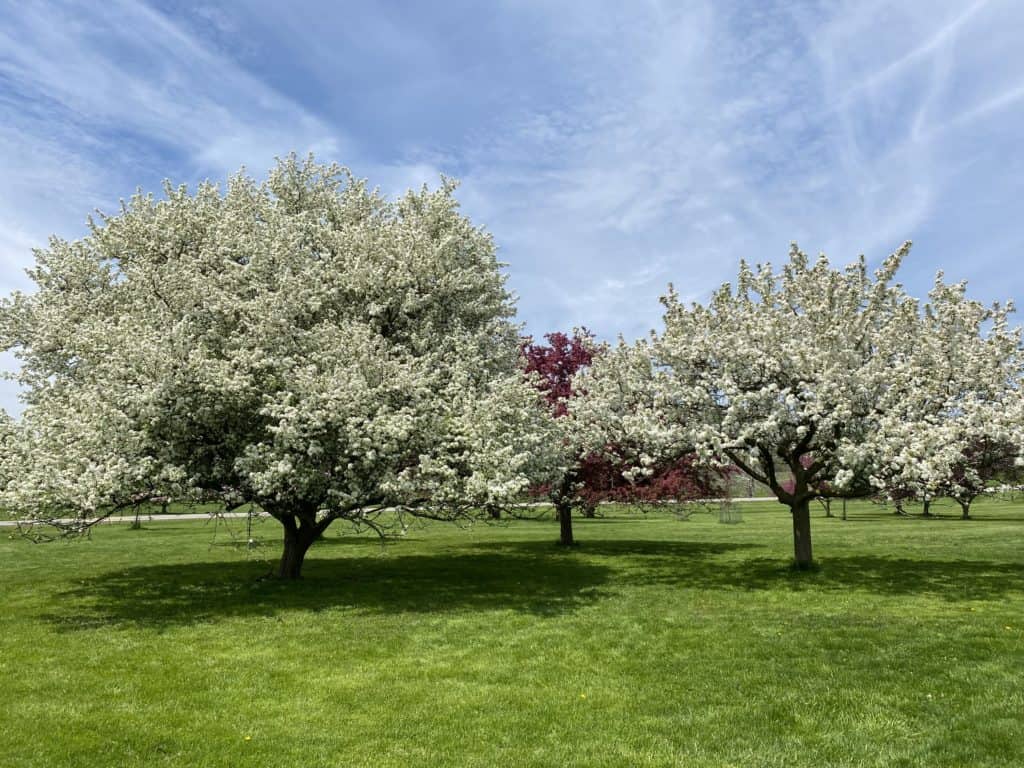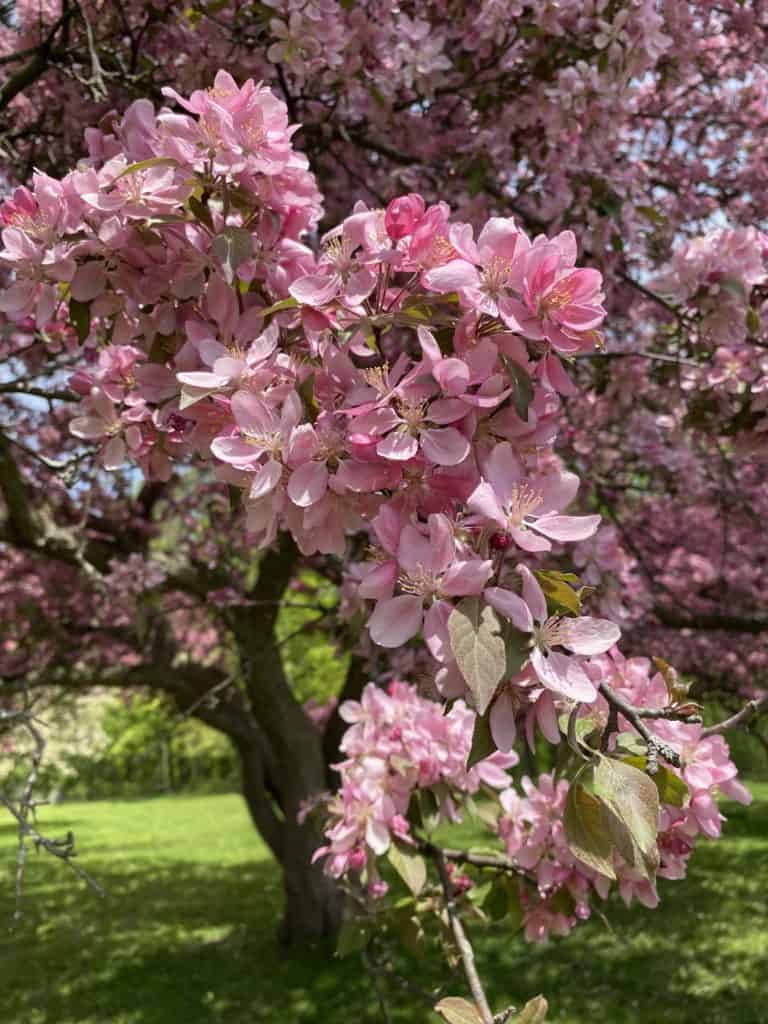 The Lilac Walk
The RBG is home to one of the largest lilac collections in the world with over 400 varieties and the Lilac Walk is one of the most beautiful and fragrant areas of the Arboretum.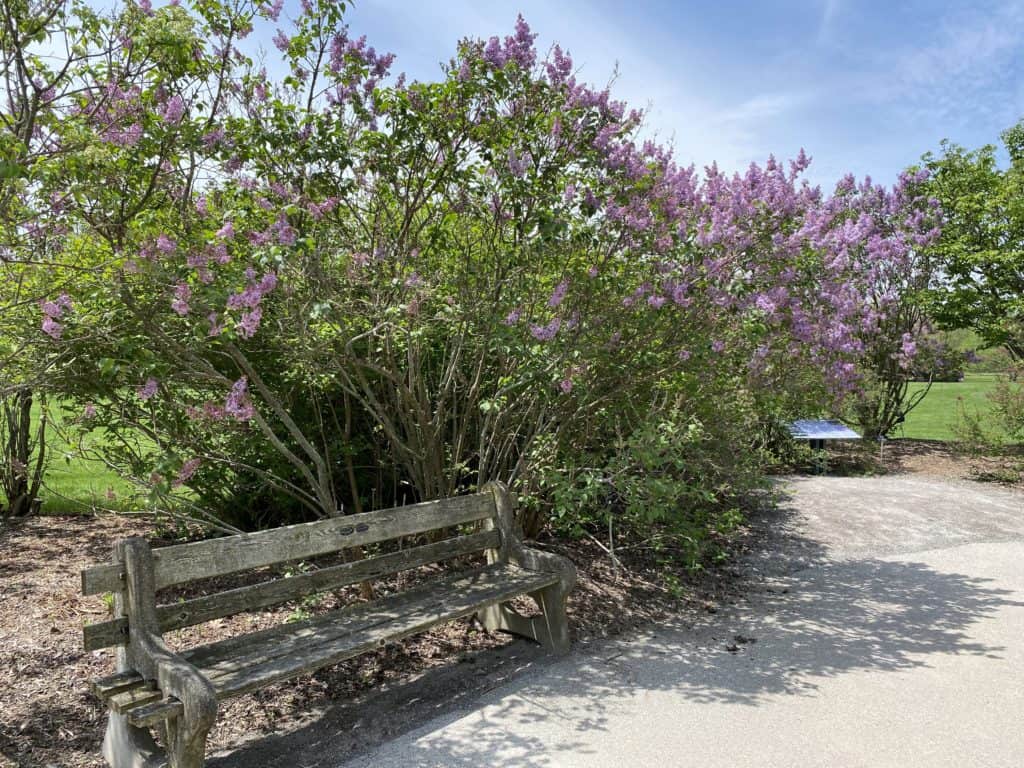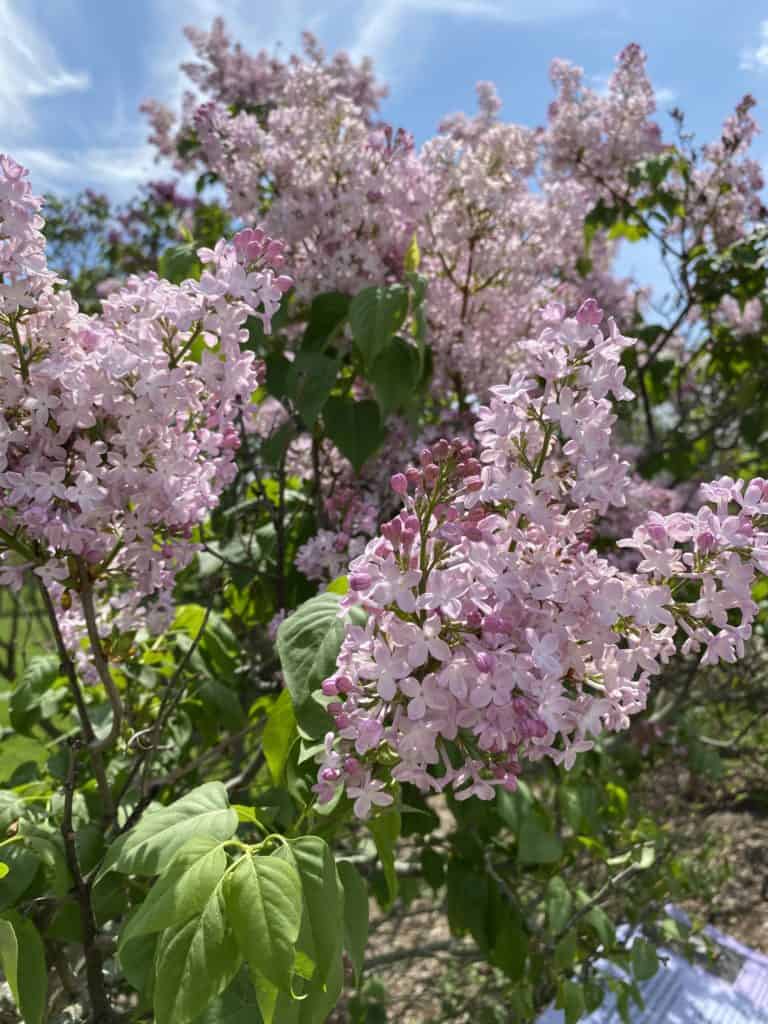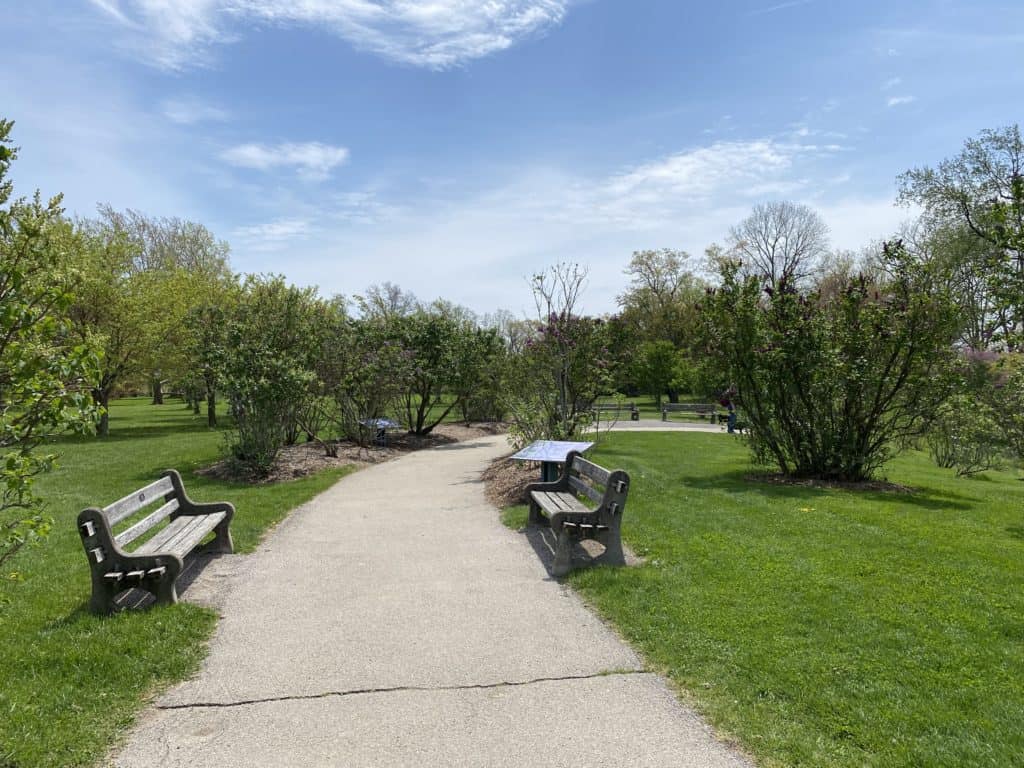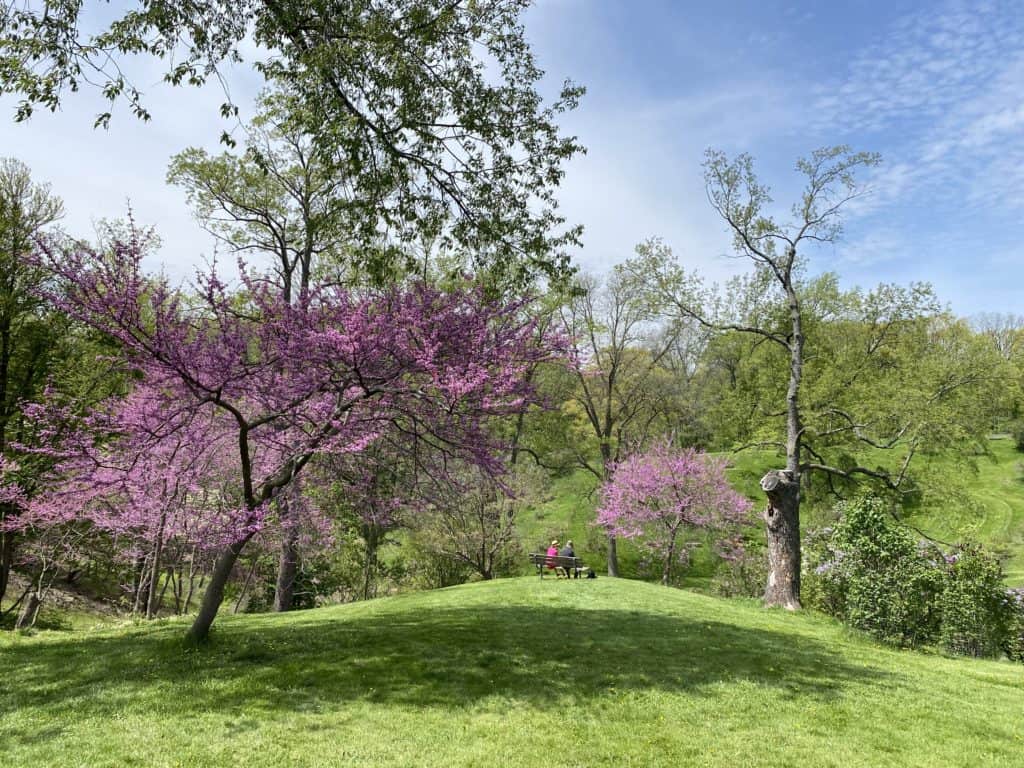 Hiking Trails at the RBG Arboretum
The RBG Arboretum, as a trailhead for Cootes Paradise nature sanctuary, is also a great place for a nature walk with more than 10 kilometres over several hiking trails to enjoy. Cootes Paradise was established as a sanctuary in 1927 due to its significance as a stopover for migratory birds. The area includes a marsh, creeks, shoreline and the surrounding forest dominated by oak trees.
When we finished viewing the flowering trees, we took a path from the Lilac Dell down to the Captain Cootes/Anishinaabe waadiziwin (Indigenous Plant Medicine Trail) and followed that to the Bull's Point Trail (including down to the Bull's Point Lookout) which is mostly flat terrain.
We also took the Marsh Trail which is a hilly path down to the waterfront for the views of Cootes Paradise Marsh and then a climb back up to Bull's Point Trail. Bull's Point Trail intersects the flat Homestead Trail which we followed back across to the Arboretum parking lot to complete our afternoon of hiking.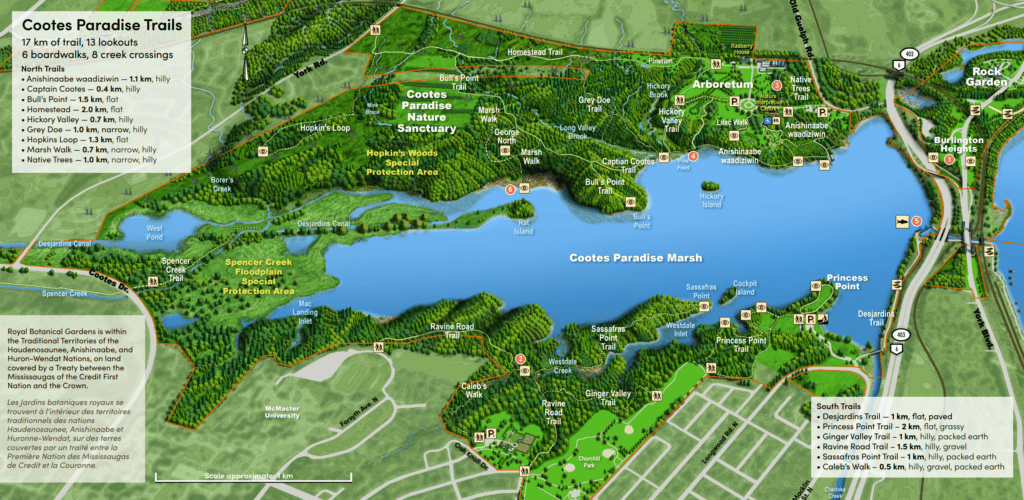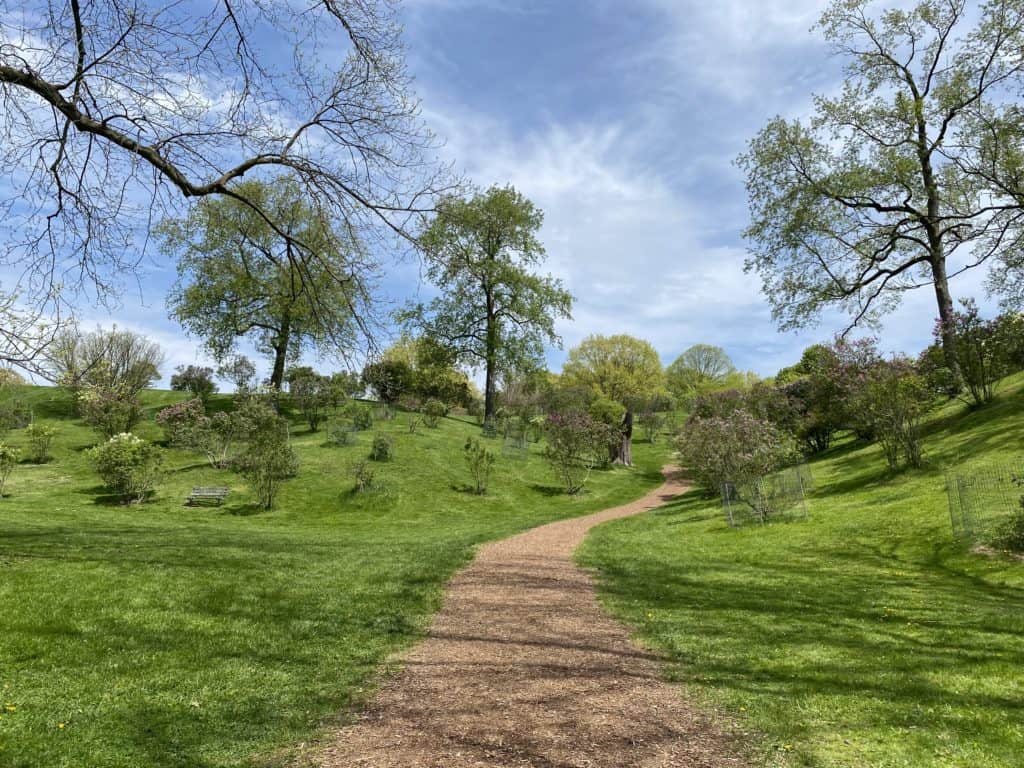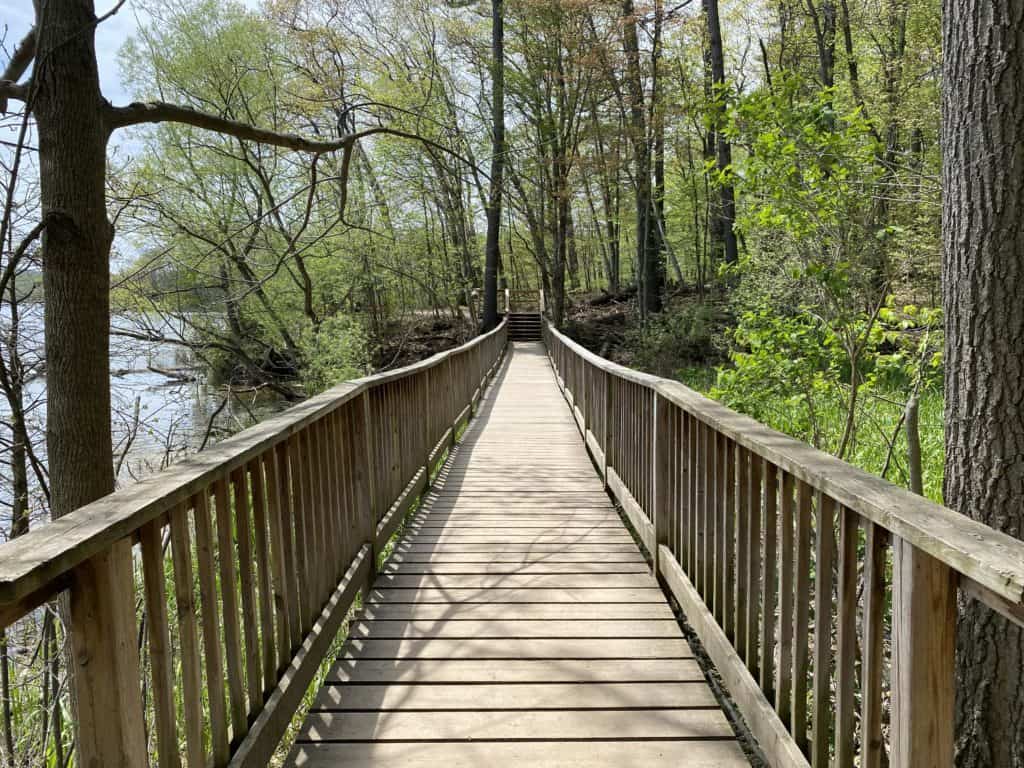 I knew that Royal Botanical Gardens was a National Historic Site of Canada but finding Parks Canada red chairs on our hike was unexpected!!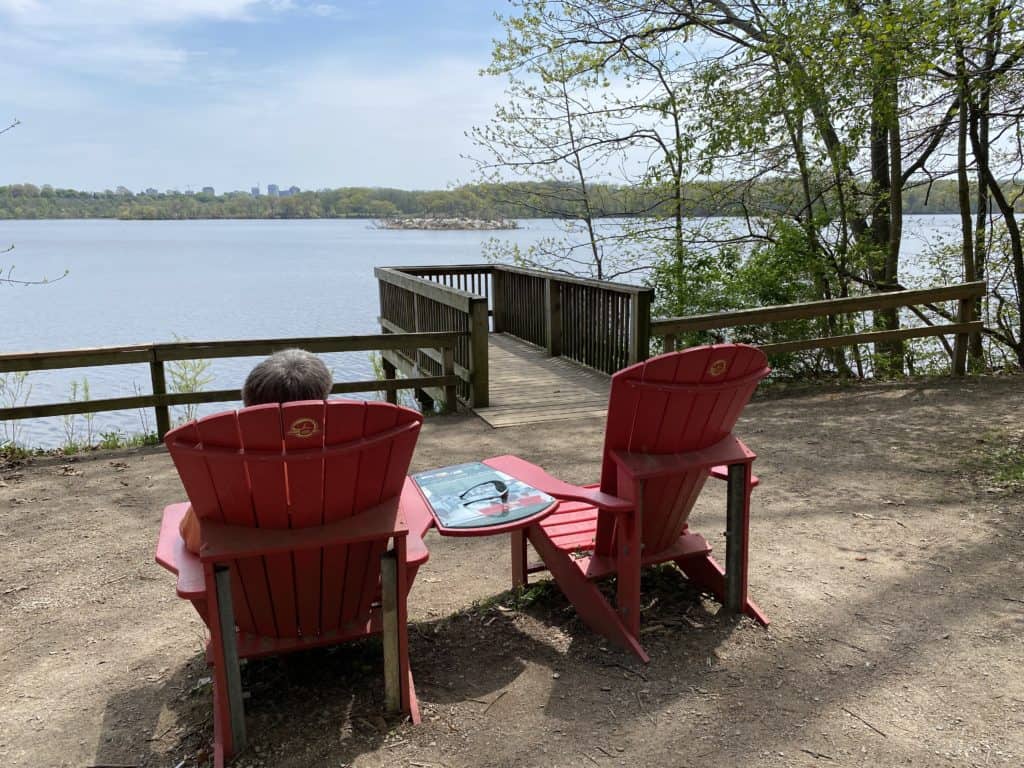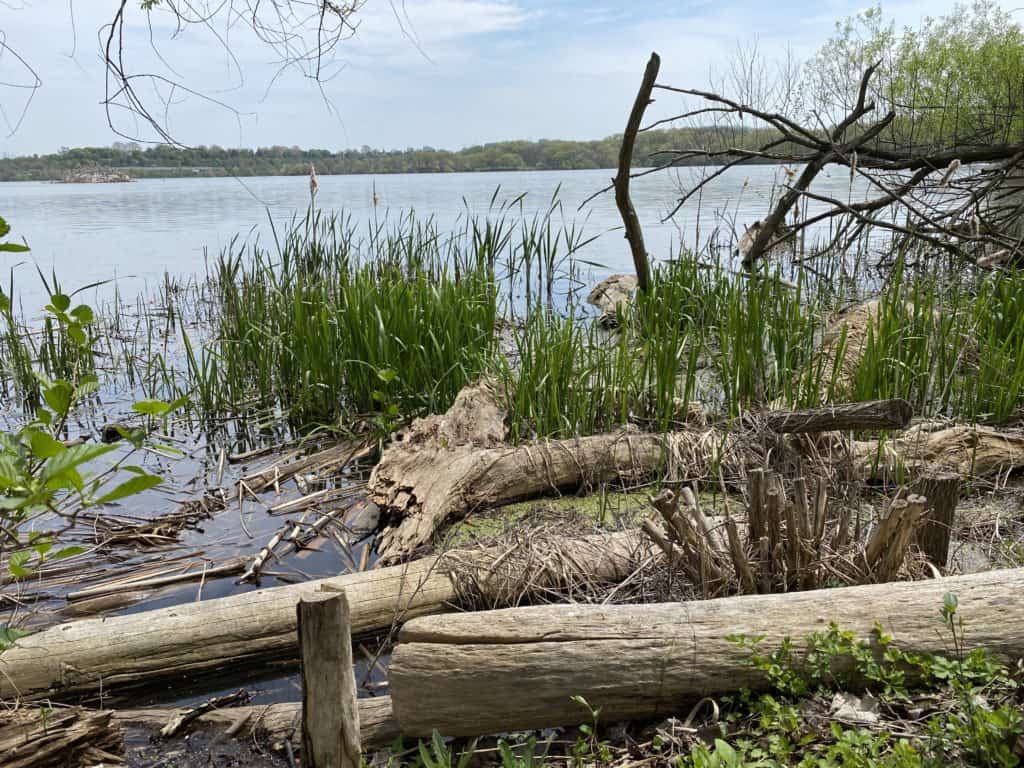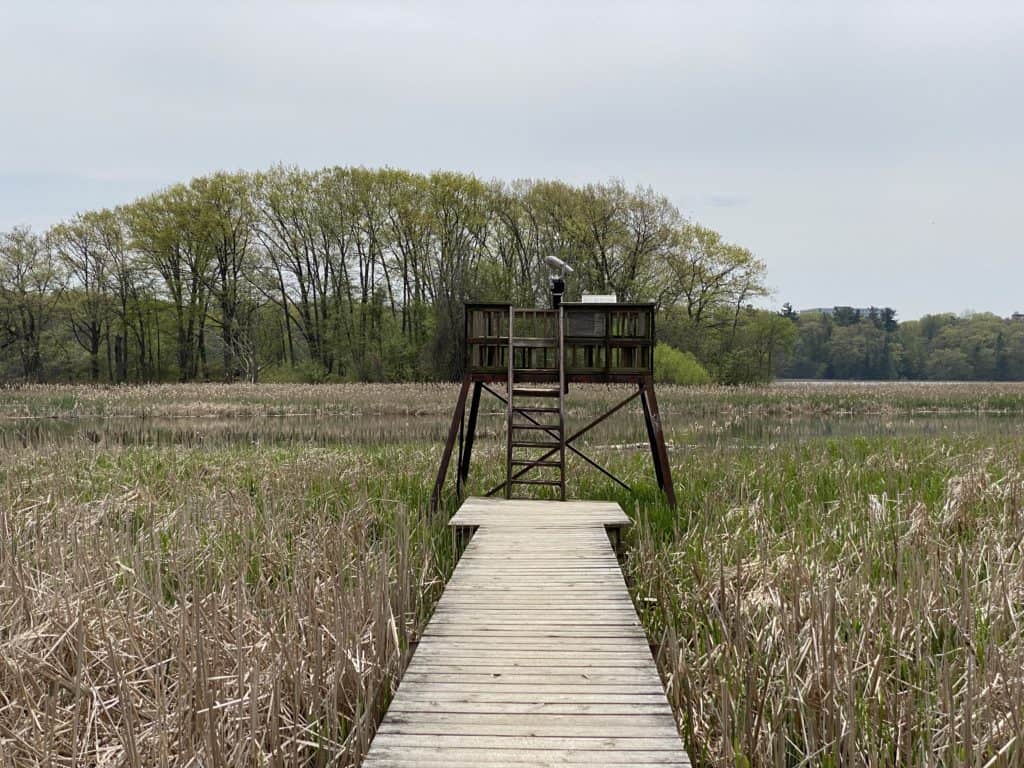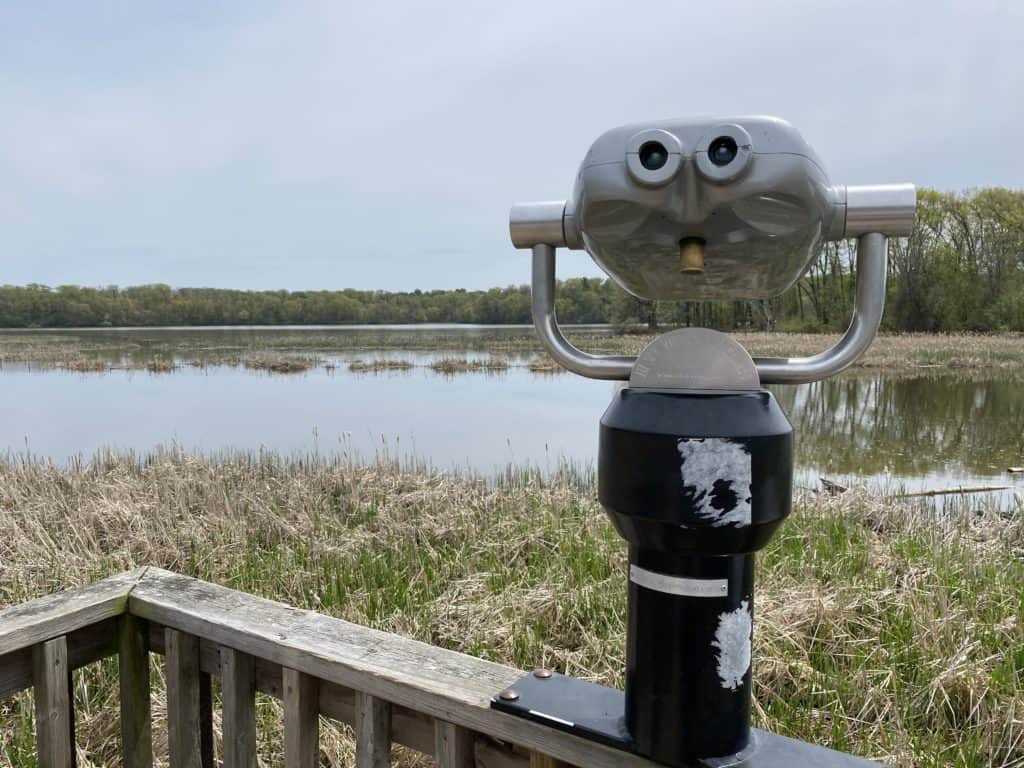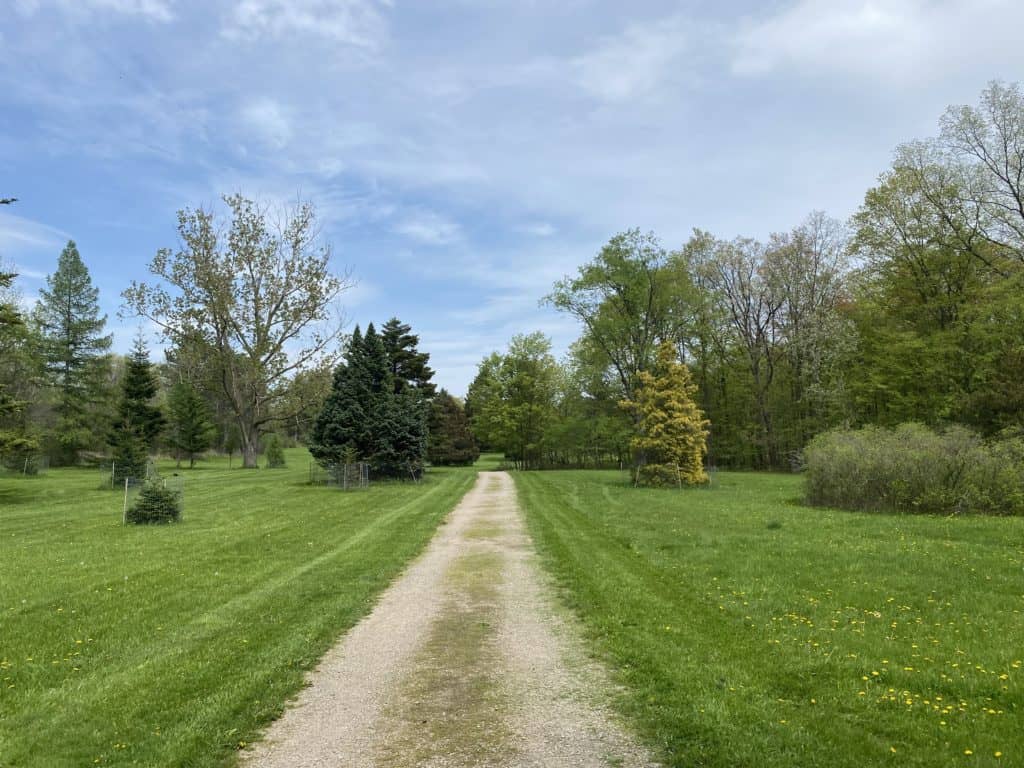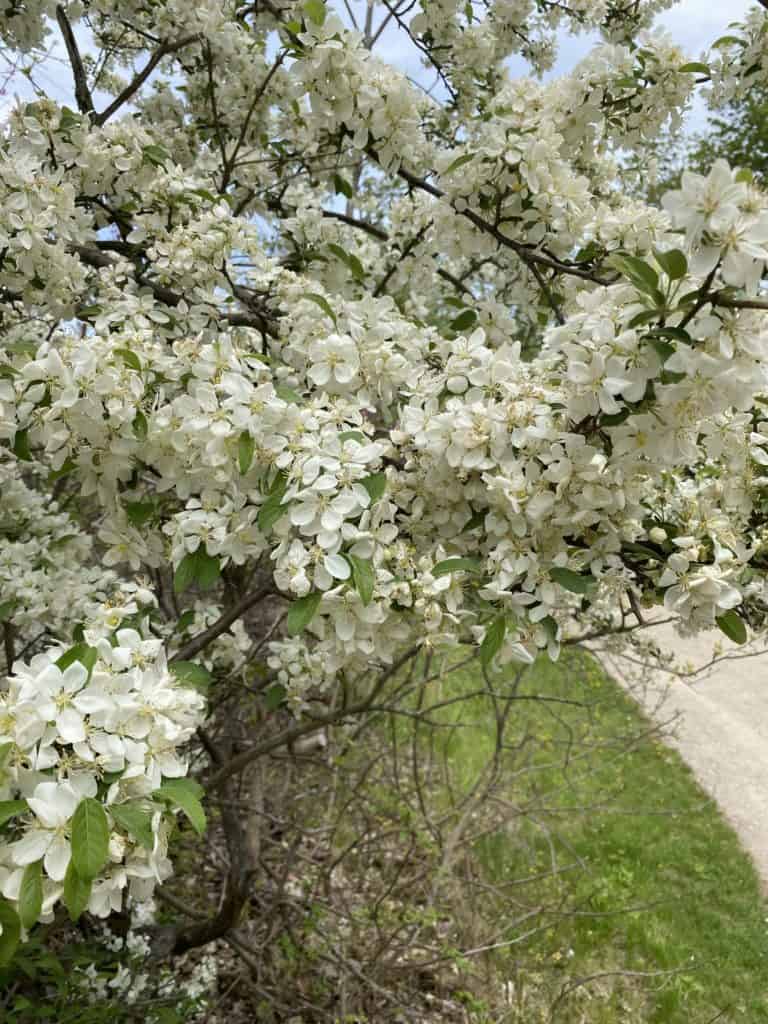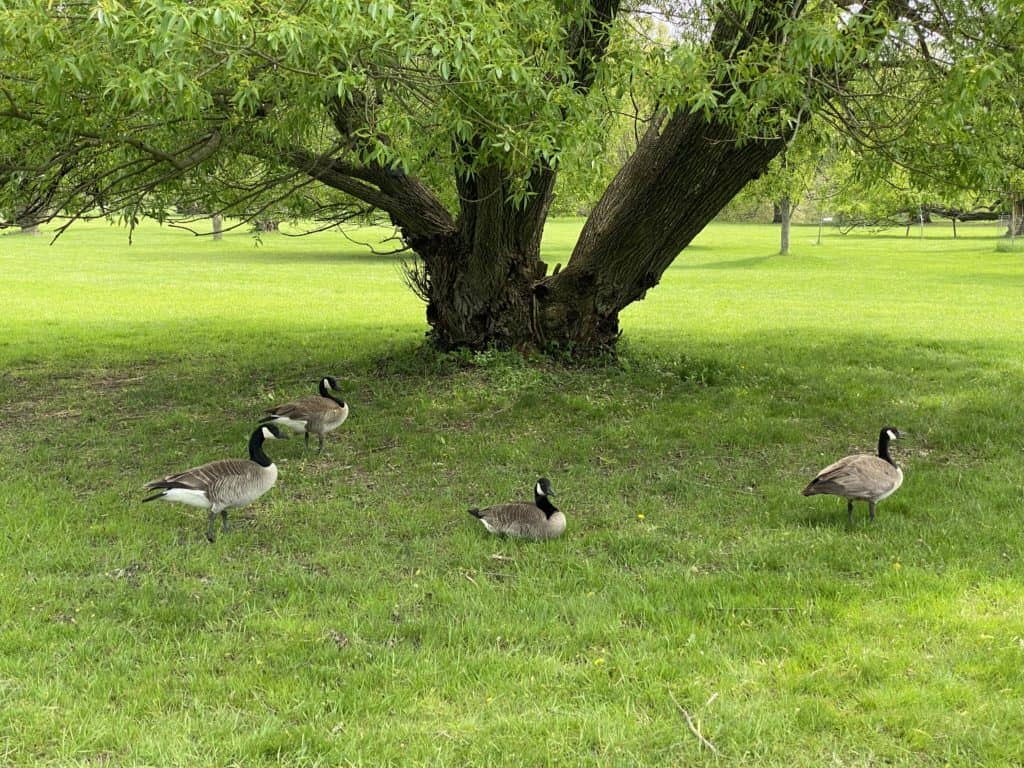 Activities and Tours at the Arboretum
The Royal Botanical Garden offers a program of activities and tours at the Arboretum (either outdoors or in the Nature Interpretive Centre) as well as the other garden locations. Some programs may not be included in the garden admission fee and some require pre-registration.
Scheduled events in May 2023 at the Arboretum include lilac tours, canoe tours and a family-friendly education program on oaks and acorns.
Information is available on the RBG – Arboretum website.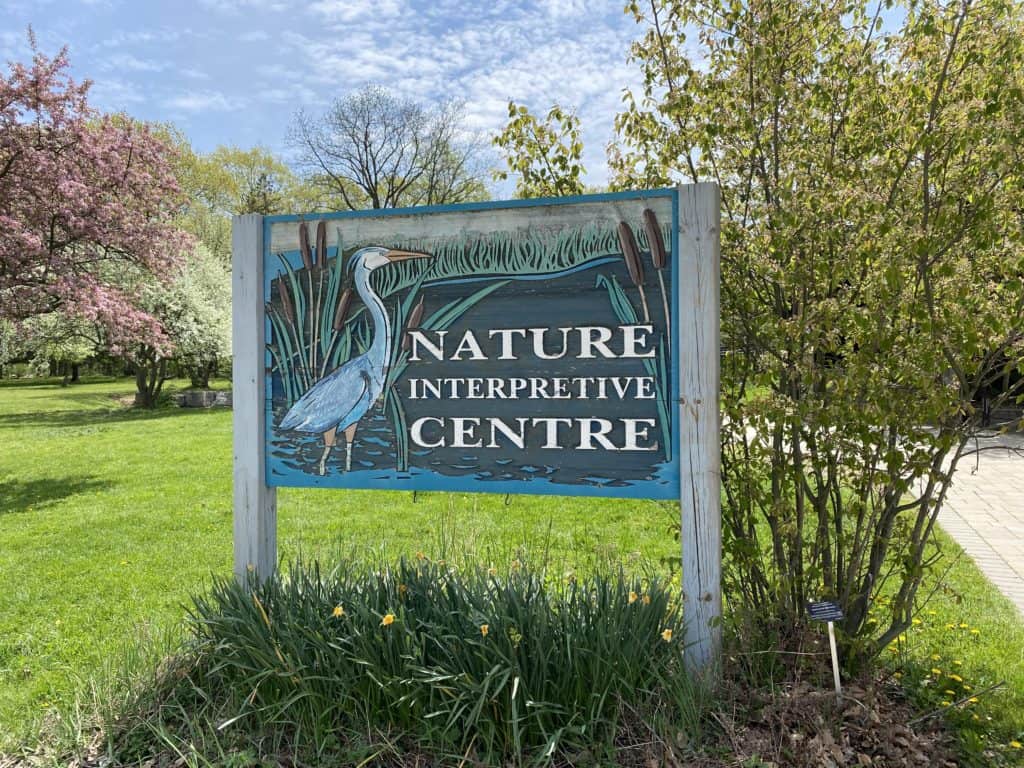 Admission and Parking at the RBG Arboretum
Admission fees and parking fees at the RBG Arboretum vary by the time of year.
May 5 – June 1, 2023 (Bloom Season):
Garden Admission applies ($10 for Single Garden Admission for all ages except children under the age of 4 who are free).
Time-ticketed parking is in effect ($10) and pre-booking is strongly recommended during peak visitation. Parking is free to RBG members but pre-registration is still required. We didn't pre-book and there was parking available but were visiting on a weekday. I would definitely pre-book if planning a weekend or holiday visit.
There is a free shuttle from the RBG Centre on weekends.
Jan 1 – May 4, June 2 – Dec 31, 2023:
No admission fee.
A $10 parking flat rate applies when the parking lost is staffed on weekends. Metered parking is in effect beyond staffed hours, $5/hr to a maximum of $15. Parking is free to RBG members with a RGB parking pass.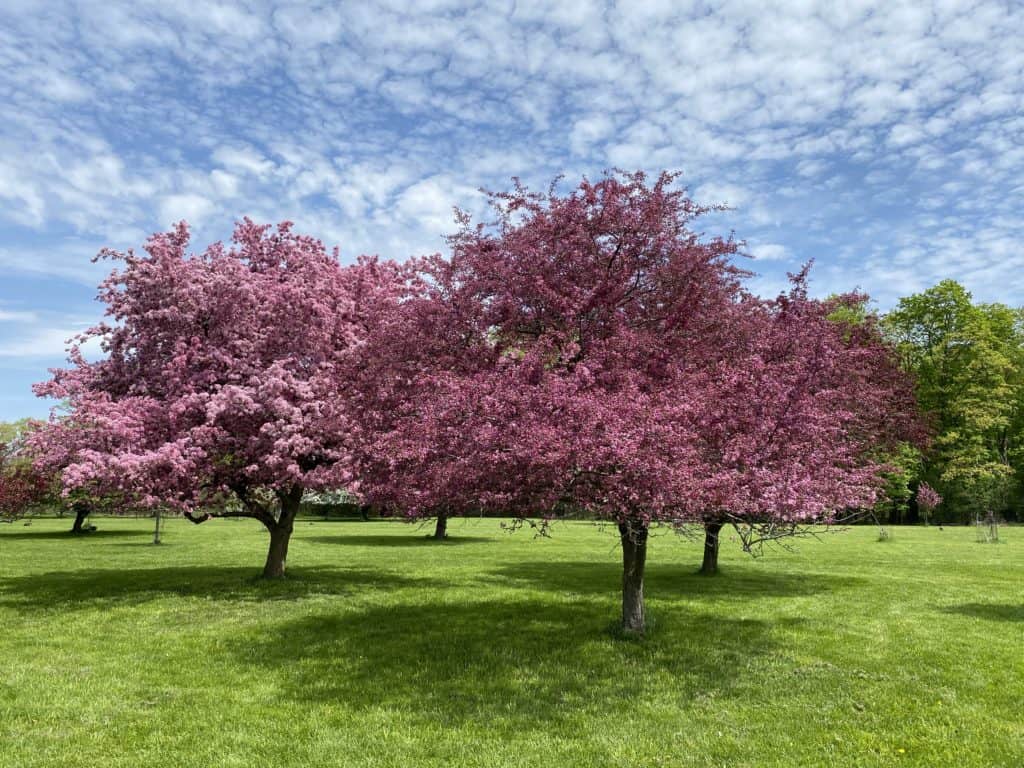 FAQ and Additional Information
Opening hours vary. Jan 1 to May 4: 8 am to dusk; May 5 to June 1: 9 am – 8 pm (last admission at 7 pm); June 2 to Dec 31: 8 am to dusk.
Dogs are permitted at the Arboretum but must be kept on leash and on trail at all times.
Portable washrooms are available.
Outdoor bottle refill at the Nature Interpretive Centre.
The day we visited there was a food truck set up selling drinks and snacks.
Picnics are permissible during regular hours but might be restricted during special events.
Bicycles are prohibited on the trails.
Picking or collecting plants is prohibited. Feeding the wildlife/birds is not permitted.
Use of drones is prohibited.
Pin This For Later