Until recently I had never listened to travel podcasts (or any podcasts for that matter) but with much more free time over the last couple of months I decided to give them a try. Now I'm listening to them for about an hour each day while walking and have put together this list of my favourite fun and informative travel podcasts.
This post may contain affiliate links. If you click an affiliate link and make a purchase then we receive a small commission at no additional cost to you.
General Travel Podcasts
These general travel podcasts cover a wide range of travel topics and travel styles.
1. Explore the World with Matt Long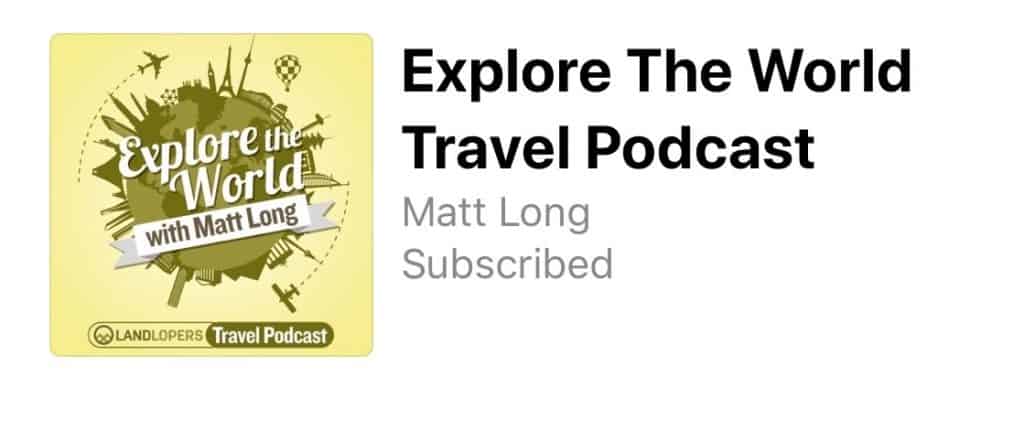 One of my favourite travel podcasts is Explore the World with Matt Long. I have been following Matt on Instagram and reading his popular blog Landlopers for years so I knew that his podcast would be highly informative as well as entertaining. The podcast includes interviews with travel experts, destination reviews and travel tips for all styles of travel including solo travel, luxury travel, cruising and Disney.
Matt started his travel podcast in early 2019 and there are already well over 60 episodes to choose from. One of my favourite episodes is Exploring the Best of Canada (#57) which covers some of the highlights of travelling in my home country. Matt does need to visit Prince Edward Island though!
Explore the World Travel Podcasts and Show Notes are available on Landlopers.com and the podcast is available on iTunes, Google Play, Spotify and Stitcher.
2. Frommer's Travel Show

If you are looking for news from the travel industry then Frommer's Travel Show hosted by Pauline Frommer and Frommers.com Editor-in-Chief Jason Cochran is a great option. The show covers news in travel and also includes questions from listeners who call in.
Podcasts are available going back to 2016 and I'm enjoying listening to recent episodes as Pauline and Jason discuss what has been happening to the travel industry during the Covid-19 shutdowns and what recovery might look like.
The Frommer's Travel Show airs on WABC in New York City and streams worldwide. Subscribe to the podcast on iTunes or OG Podcast Network.
3. The RV Atlas

When I was a kids I used to think that an RV would be the ideal way to travel the country. As an adult, I have yet to travel in an RV but I still am drawn to the idea and think that it will be a particularly attractive form of travel as we deal with the repercussions of the current pandemic. I have a listened to a few RV podcasts and the one that I enjoy the most is The RV Atlas hosted by Stephanie and Jeremy Puglisi.
The RV Atlas is a weekly show that explores RV and family travel (they are a family of 5) and covers tips and tricks for RV travel, the RV industry, campgrounds and destination guides. If you're looking for expert information about RV travel then this podcast is a great place to start and you can also check out the blog and social media accounts for even more details.
Show notes for the podcasts are available on The RV Atlas website where you can listen to the podcast as well. Also available to download on iTunes, Stitcher, Google Play and TuneIn.
Family Travel Podcasts
If you travel with kids then you likely trust the advice and information that you get from other parents the most. These family travel bloggers have podcasts that provide more information about travelling with kids than general travel podcasts do.
4. The Vacation Mavens

Another of my favourite podcasts is Vacation Mavens hosted by family travel bloggers Tamara Gruber of We3 Travel and Kimberly Tate of Stuffed Suitcase. The podcast was launched in 2016 and has more than 160 episodes covering family travel destinations, tips for travelling with kids and other travel topics relevant to parents including girlfriend and couple getaways.
One of my favourite recent episodes was Virtual Tours and Experiences to Travel from Home (#163) an interview with two tour operators and a winery owner about the virtual experiences that they are offering during a time when travel has paused. There have been so many innovative virtual experiences developed over the past couple of months that I think it will be interesting to see if some of these continue once the world of travel has opened up again.
Show notes are available on VacationMavens and the podcast is available on iTunes, Google Play, Stitcher and Spotify.
5. The Y Travel Podcast

Craig and Caz Makepeace of the award-winning Y Travel blog have just recently launched the Y Travel Podcast (in April 2020) so there are only 11 episodes at the moment but they are adding new content once or twice a week. Early episodes tell a bit of their back story and also are covering specific destinations and travel experiences with their two children. Caz and Craig are entertaining storytellers so the podcasts go by quickly even though many of them are close to an hour.
One of my favourite episodes so far has been What did the girls think of the US RV trip? (#8) about an extended 12 month RV trip that the family took across the US. The different perspectives of the two girls about the trip made me laugh because they very much mirrored what I believe my two girls would have thought if we had taken them on a similar trip at the same ages.
Shownotes for the Y Travel Podcast can be found on their website and you can listen to episodes on iTunes, Spotify, Stitcher, TuneIn and Google Play.
Disney Podcasts
Are you hoping to get your Disney fix in a podcast? There are quite a few Disney-themed podcasts available and I listened to a number of them before deciding that these three were my favourites.
6. Disney Deciphered

Disney Deciphered is a podcast intended to help you and your family save money, time and stress as you plan your Disney vacation. The podcast is hosted by Leslie Harvey of Trips with Tykes and Joe Cheung from asthejoeflies.com and includes well over 100 episodes broadcast between 2018 and today. Episodes cover attractions, resorts, budget tips and so much more and even though the primary focus is Walt Disney World there is also some information on Disneyland, Disney cruises and the international parks.
I'm finding the episodes during the park shutdown very interesting as Leslie and Joe provide their insights on when Disney might reopen and what that might look like as well as important tips on booking refundable vacations which will be key for peace of mind as people contemplate booking a Disney trip. A good example is Discussing Concerns about Returning to the Parks (#118).
Shownotes from Disney Deciphered are available online and episodes are available on iTunes, Stitcher, Spotify, TuneIn, Google Play and PlayerFM.
7. D23 Inside Disney
D23 Inside Disney, launched in 2019, is the podcast of the Official Disney Fan Club hosted by Jeffrey R. Epstein from D23, Sheri Alzeerah from Oh My Disney and Candice Valdez from Radio Disney. This podcast is a great source for Disney news and behind-the-scenes interviews with the talented people responsible for Disney magic.
When my older daughter was in elementary school, one of her favourite Disney shows was Kim Possible so I thoroughly enjoyed the recent podcast Disney Throwbacks with Kim Possible's Christy Carlson Romano (#35).
Learn more about the D23 Inside Disney podcast on the D23 website and download or stream episodes on Apple podcasts, Stitcher, Google Play, Spotify and TuneIn.
8. The Best & Worst of Walt Disney World

The Best & Worst of Walt Disney World podcast is a DIS Unplugged product hosted by Pete Werner and Steve Porter with guest panelists that covers those things that are great and not so great at Walt Disney World. The weekly podcast has been around since 2016 and has over 150 episodes so there's a lot of reviews for you to dive into.
If you enjoy best and worst lists then you will love these quick reviews where the panelists each give their opinion on the episode's topic – and you may or may not agree. My favourite recent episode is Our Best Park Picks at Walt Disney World (#153) where each panelist provided their best picks for attractions, snacks, restaurants and resorts at one of the parks – Magic Kingdom, EPCOT, Animal Kingdom and Hollywood Studios.
Shownotes for The Best & Worst of Walt Disney World podcast are available and you can find the episodes on iTunes and Stitcher. Episodes are also available on YouTube.
Cruise Travel Podcasts
If there is a cruise is in your future then you might enjoy one of these podcasts that is geared to that form of travel.
9. Gary Bembridge's Tips For Travellers

Gary Bembridge, blogger, YouTuber and author of The Cruise Traveler's Handbook, is the host of the Tips For Travellers podcast. Podcast episodes go back as far as 2012 which means there's a lot of listening material here! Earlier episodes feature general travel information but in recent years he has focused more on cruise travel with ship reviews, tips for cruising and interesting info about the cruise industry.
There haven't been any new episodes posted since late March but I expect that once Gary is able to travel again that there will be updates. I love that his podcasts are short (in the 10-15 minute range) so I can listen to several on different topics in one walk. Recent favourites of mine include 8 Offbeat Questions About Cruise Ships Answered, How To Avoid Crowds in Cruise Ports, and 11 Things To Never Do In Your Cruise Cabin.
Gary's website is Tips for Travellers and you can find the Tips for Travellers podcast on iTunes, Stitcher, TuneIn and Google Play.
10. Cruise Tips TV Unplugged

CruiseTipsTV was founded in 2013 with a popular YouTube Channel that provides cruise tips, tactics and strategies to help with planning a dream cruise. The accompanying weekly podcast, launched in 2019, features episodes hosted by Sheri Griffiths, her husband (Mr. CTTV) and their son, Junior Editor.
My favourite recent episode is Out of the Box Cruise Destinations (#64)because I'm doing a lot of travel daydreaming while I'm not able to travel and thinking about possible itineraries for my own cruise bucket list was a great way to pass some time.
Shownotes for the CruiseTipsTV Unplugged podcast are available online and the podcast is available on Apple podcasts.
11. Cruise Radio

If you're looking for news about the cruise industry then Cruise Radio should be on your playlist. The weekly podcast, hosted by Doug Parker, provides cruise news, ship reviews, money saving tips and more to help you make the most of your cruise vacation. Episodes go back as far as 2009 but it's primarily the recent episodes about the state of the cruise industry that I find the most appealing.
It has been interesting listening to these podcasts as the cruise industry has been shaken and is trying to adapt to the current situation. My favourite recent episode is How Cruise Ships Will Change Moving Forward as I don't think there's any doubt that cruising is going to be a very different experience when the ships set sail again and I was interested to hear some of the options that are being discussed.
Shownotes are available on the Cruise Radio website and the podcast is available on Apple podcasts, Google podcasts, Stitcher, Spotify, TuneIn and more.
Destination Specific Podcasts
There are a few places that I can never get enough of so I was thrilled to discover that there were podcasts dedicated to specific destinations.
12. Traveling in Ireland

Jody Halsted of Ireland Family Vacations is an expert on travel to Ireland with a website that is the only online resource on family travel in Ireland. Jody has been a frequent visitor to Ireland for 15 years and her family visits at least once, if not more often, annually. In addition to the information provided on her website, Jody offers vacation planning and coaching services and is launching guided tours of Ireland. Whether you're planning an upcoming trip to Ireland or just want to daydream about a visit, you will enjoy Jody's Traveling in Ireland podcast which she has been recording regularly since 2016.
I thoroughly enjoyed The Best Time to Visit Ireland episode (spoiler alert – it's always a good time to visit Ireland!) where Jody discusses tips for visiting Ireland at different times of the year and what can be expected each month. Ireland is one of my favourite countries and I know I'm going to enjoy working my way through these podcasts!
Shownotes for the Traveling in Ireland podcast are available and the episodes can be listened to on Apple podcasts, Spotify, and Stitcher.
13. Canada's Calling Travel Stories

Of course I had to include a podcast focused on my home country – Canada! Canada's Calling is a new podcast series that was launched in February 2020 following hosts Mike and Ashley as they travel to every province and territory to connect with Canadians and discover what is unique about each area of Canada. There hasn't been an update since late March but I presume that there will be more coming. As of now, there are 13 episodes to listen to – one for each Canadian province and territory.
Prince Edward Island is a very special destination for my family (we have visited the island 9 times over the years) so, of course, my favourite episode is Prince Edward Island: Exploring Canada's Foodie Paradise.
The shownotes for Canada's Calling can be found on Destination Canada's website and the podcast is available on Apple podcasts, Google podcasts and Spotify podcasts.
14. Dream of Italy

If Italy is often on your mind then the Dream of Italy podcast hosted by Kathy McCabe will easily make your list of best podcasts. McCabe is the host of the PBS TV travel series Dream of Italy and also the founder of the award-winning travel publication of the same name. The series was just launched last year and there are only 8 episodes available thus far but they cover a variety of topics including planning trips to Italy, family travel in Italy, cooking in Italy and more.
Two of the episodes include author Frances Mayes as Kathy's guest and the discussions between the two will have you dreaming of buying a villa in Tuscany. I had just finished reading Frances Mayes Always Italy when I discovered this podcast so it's probably not surprising that my favourite episode is Author Frances Mayes on Moving to Italy (#6) where the two women discuss the challenges and rewards of moving to Italy.
Read the shownotes on the Dream of Italy website and listen to the episodes on Google Play, iTunes and Stitcher.
15. Join Us in France Travel Podcast

Join Us in France is a travel podcast hosted by Annie Sargent that aims to help listeners discover France and plan their next trip to France. The podcast was launched in 2014 and now has close to 300 episodes. Annie and her guests discuss visiting the various regions of France, chat with tour guides, share information on French culture, history, food and wine and so much more. Whether you're planning an upcoming trip to France or you're a Francophile who devours information about the country – you will love this podcast and the charming host.
My favourite recent episode is Where to Settle in France for a Month because I dream of being able to do just that one day.
The shownotes are available on the Join Us in France website and the podcast is available on Apple, Google and Spotify.
Pin This For Later