I'm delighted to welcome guest author Samantha Karen of Sam Sees World with her recommendations for a family-friendly trip to Montenegro.
Montenegro is Europe's hidden gem filled with clear blue beaches, panoramic views, towering mountains, and a rich history. It is much less popular than its neighbour Croatia but holds all the same beauty and charm, and even a little more! Since it is less touristy, Montenegro has that authentic untouched feel that is very rare in Europe. Some areas have gained popularity in recent years, however, most of the country is still growing in tourism.
This post may contain affiliate links. If you click an affiliate link and make a purchase then we receive a small commission at no additional cost to you.
Montenegro is a very small country and driving from one end to the other takes only about four hours. Despite the small size there are a ton of different places and areas to discover in Montenegro all with their own unique qualities and attractions. This makes it the perfect country for a road trip, especially with family.
Here is everything you need to know and all the beautiful places you need to visit to have an amazing family friendly Montenegro road trip. 
How to get to Montenegro
Montenegro is reachable in three main ways:
By plane: Plane is the quickest and easiest way to reach Montenegro. There are two airports in the country; one in Tivat and one in Podgorica. Plus, there is an airport in Dubrovnik which is only a short distance from the top of Montenegro.
By Boat: There are ferry boats and fast boats that can bring you to Montenegro from various other countries in Europe. These are a slower but more scenic option.
By Car: Renting a car in a different European country is also a viable option when visiting Montenegro. 
Looking for a hotel in Montenegro? Read reviews and check current rates on TripAdvisor.
When to Visit Montenegro
Due to Montenegro's recent pick up in tourism during the summer months, the best time to visit is in the shoulder seasons. The months of April – May and September – October offer warmer temperatures and beautiful scenery and this is when the country is waking up from its winter slumber. However, the summer months do have warmer temperatures which are best for beach days and a summer escape, but during these months you will find significantly more tourists and longer drive times due to traffic. 
Tips for A Montenegro Road Trip 
Renting a car is a great way to get around quickly, easily, and within a budget. A car costs around 30 euros per day and gas will be around 40 euros for a week.
Cars can be rented and returned to different airports; however, the transfer will result in an additional fee.
Choose a small car if possible. Montenegro has narrow roads with small parking spots and with a big vehicle you may have trouble finding your place and driving comfortably.
Montenegro Road Trip
Day 1: Arrive in Tivat
Drive time: Arrival in Tivat: 0 
The first day of your road trip will consist of arriving at your chosen airport, picking up your car and heading to your first destination. A great place to arrive in when travelling to Montenegro is the Tivat airport. This airport is central and the city itself is a great place to spend your first day in Montenegro. Plus, if you arrive late or run into any hurdles along the way then you don't have to rush trying to get to a nearby city.
Tivat is a very interesting city in Montenegro that is worth a day of your itinerary. It is completely different from the other old and ancient cities in Montenegro because it recently underwent a huge reconstruction to make it a more modern destination. Tivat is the main yacht port of Montenegro and with the super-yachts in the marina, high-end stores, and luxurious streets. It has the same vibe as Monaco! Therefore, spending some time walking the streets, visiting some restaurants, and exploring this interesting city is a must.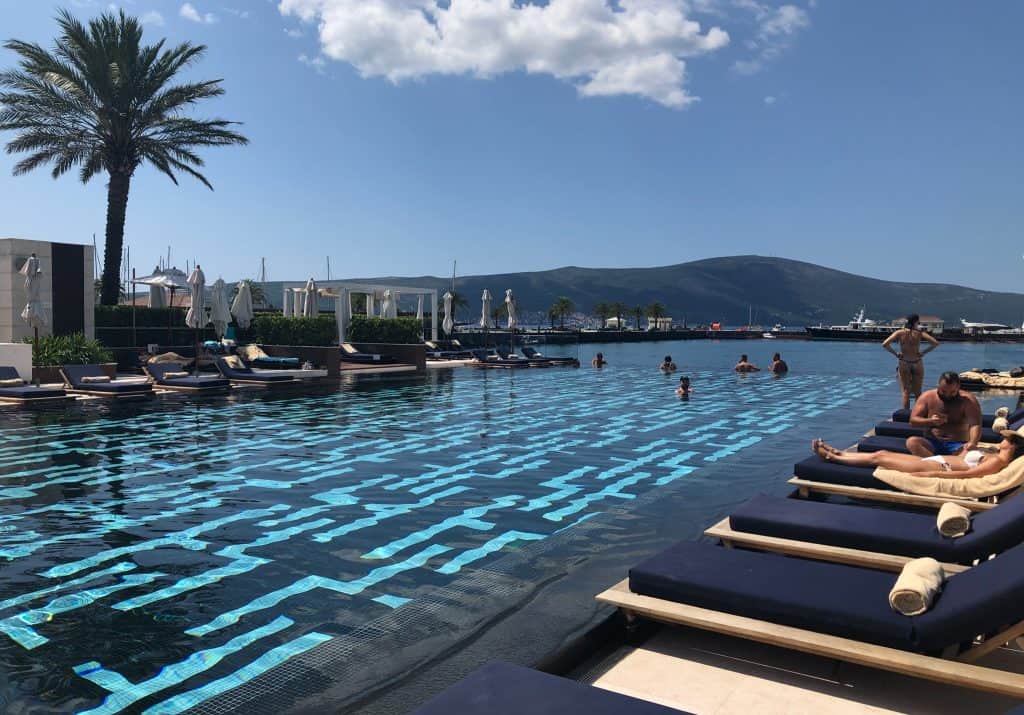 Day 2-3: Budva & Sveti Stefan
Drive time: From Tivat to Budva: 30 minutes
Budva is one of Montenegro's best cities to visit and is even one of the best places to visit in the Balkans. It is lively, full of things to do, and not super touristy yet. It is best to find accommodation in Budva for the next two days to enjoy the city itself and the nearby islet Sveti Stefan. 
A full day is required to appreciate and explore Budva to its fullest. This city has it all; sun, sea, adventure, and city! There is something for everyone, and family friendly activities everyone can take part in. From going to one of the many beaches, to exploring the medieval old town, to visiting historic monasteries, there is so much culture and excitement to be discovered in Budva.
Just 15 minutes from Budva is the gem of the Adriatic, Sveti Stefan. This is a small island connected to the mainland via a small strip of land. The area offers postcard perfect views of its orange roofed houses surrounded by aqua blue waters. This is the perfect place to escape to for a lazy afternoon. Just beware that the beaches here are rocky and most are owned by hotels and are very costly to stay on. But there is a free area to the south of Sveti Stefan. 
Day 4: Bar
Drive Time: From Budva to Bar: 50 minutes
Drive down the beautiful Adriatic Coast until you reach your next destination Bar. Bar is not a very touristy city in Montenegro which only adds to its charm and enchantment. This is an old and historic city in Montenegro that will give you a taste of a more authentic and untouched side of the country. It is best to stay here for a night to enjoy its various interesting attractions.
The main thing you must see in Bar is the old town. There are old towns all over Montenegro, but the old town in Bar has settlements dating back to 800BC! This area is full of history and is unlike anything else. More so, Bar is home to a 2,200-year-old olive tree that is a part of history. It is the oldest tree in Europe and might even be the oldest tree in the world. While walking around and viewing these historic spots you can also admire the old stone arc bridge.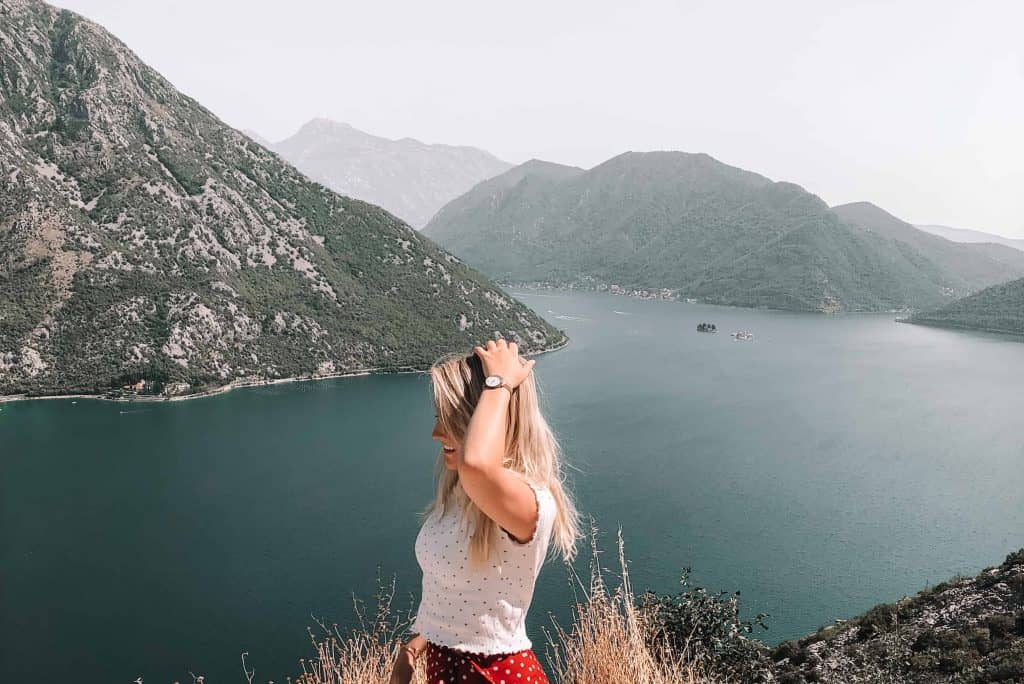 Day 5: Skadar National Park
Drive Time: Bar to Skadar: 50 minutes 
Skadar is a stunning national park located in the middle of Montenegro. It is characterized by its lush green mountains, still lakes and roaming wild animals. Here is where you will find the iconic horseshoe bend and views that stretch for miles. This is the best place to go in Montenegro for an outdoorsy day of adventure and fun. You can go on a hike in the mountains, enjoy a boat ride through the waters, or simply walk around and admire the natural beauty that is Montenegro. After a day here you will head to Podgorica as this is where you will spend the night.
Drive time: Skadar to Podgorica: 30 minutes 
Day 6: Ostrog Monastery 
Drive time: Podgorica to Ostrog: 1 hour
Day six is time for adventuring to an off the beaten track spot in Montenegro; Ostrog Monastery. Ostrog is a significant religious place in Montenegro that is both interesting and beautiful. This orthodox Serbian church is built almost vertically into the cliff side and is not only a religious place but also a historic and cultural one. Since it is located in the middle of the country not as many people make the journey out, but with a car it is more than doable! The Monastery is a stunning piece of architecture that will wow you. Just remember it is a very important religious place and if you visit you must dress modestly and be very respectful upon entrance. 
After a few hours exploring and admiring Ostrog you will make the longest drive of this road trip itinerary to Kotor. 
Drive time: Ostrog to Kotor: 2 hours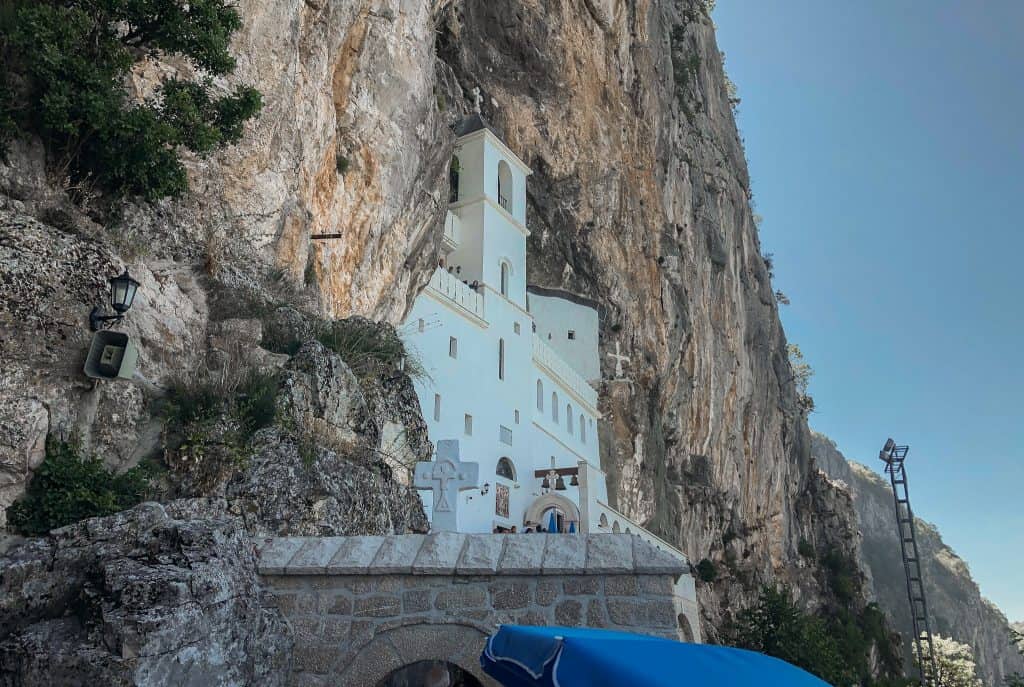 Day 7: Kotor 
Drive time: Arrival in Kotor last night: 0 
Kotor is the most popular and frequented city in Montenegro, it welcomes thousands of tourists every year all eager to see its beauty and magic. In order to appreciate everything Kotor has to offer a full day is required.
There are so many different things to do and see in Kotor that make it such a lust worthy travel destination. The main thing is the famous and iconic Kotor Fortress hike. The hike to the top of the Kotor Fortress results in some of the most beautiful panoramic views of the Bay of Kotor, the surrounding mountains, and the whole city of Kotor. The stunning views from the top are well worth the difficult 1300 step hike, just be sure you go on this hike in the morning before the sun is in full force.
During the afternoon Kotor gets quite busy. In the summer months especially, as cruise ships arrive every day and unload their passengers to explore. This makes exploring the old town quite crowded and not as enjoyable. Which is why heading on a quick 15-minute boat ride to Our Lady of The Rocks is a great idea. This is a tiny island with one church on it. The island is artifically made from sinking ships and throwing rocks into the water.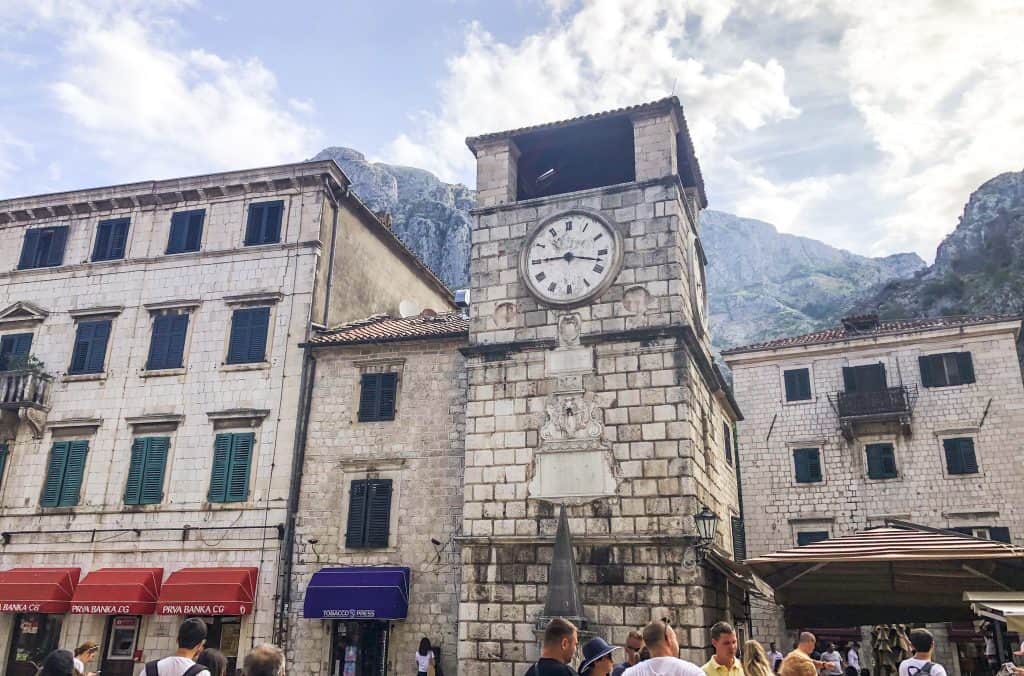 Day 8: Bay of Kotor 
Drive time: Kotor to Herceg Novi: 1 hour
From Kotor you can finish off your road trip by driving on the stunning road that winds along the Bay of Kotor. The final stop you are heading to is Herceg Novi or onwards to Dubrovnik to catch a plane to leave. This final route has some sites and attractions you do not want to miss. The first is Perast, a small town just 20 minutes from Kotor that is located just off the main road. This small town is a charming place to explore with its local restaurants, stone buildings, and cobblestone streets.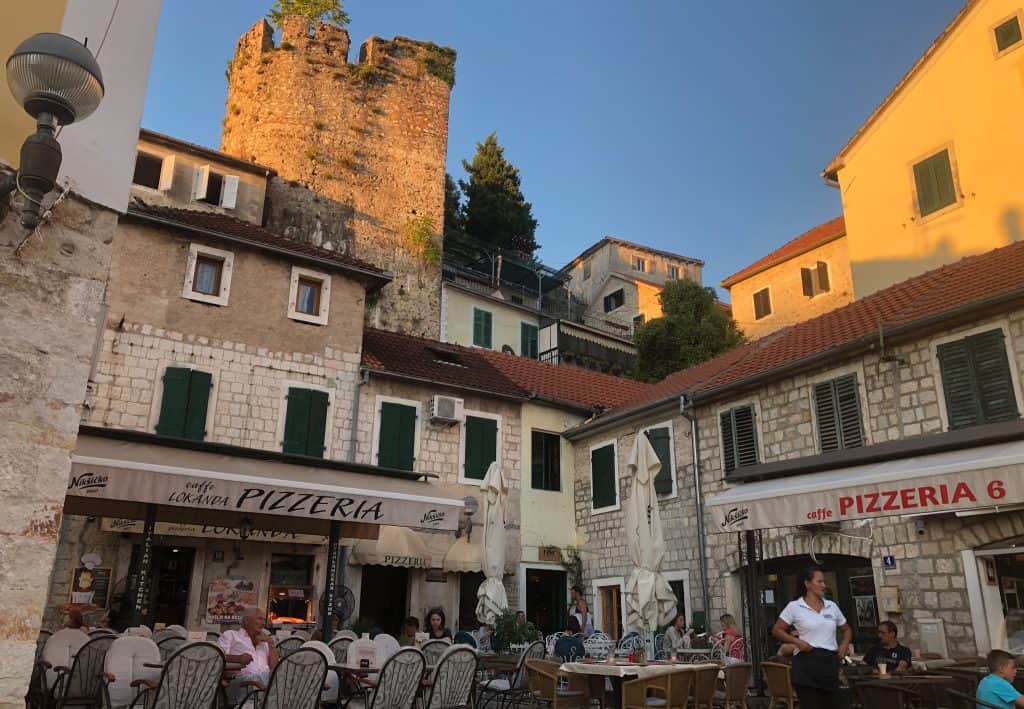 Beyond Perast you will drive another 30 minutes until you reach the beautiful coastal town of Herceg Novi. Here you will find an old town, two fortresses, and a whole coastline filled with beaches. It is the perfect Montenegrin small town that is ideal for winding down after your adventure filled road trip.
From here you can either stay a night in Herceg Novi, which is recommended, or drive to the airport in which you depart.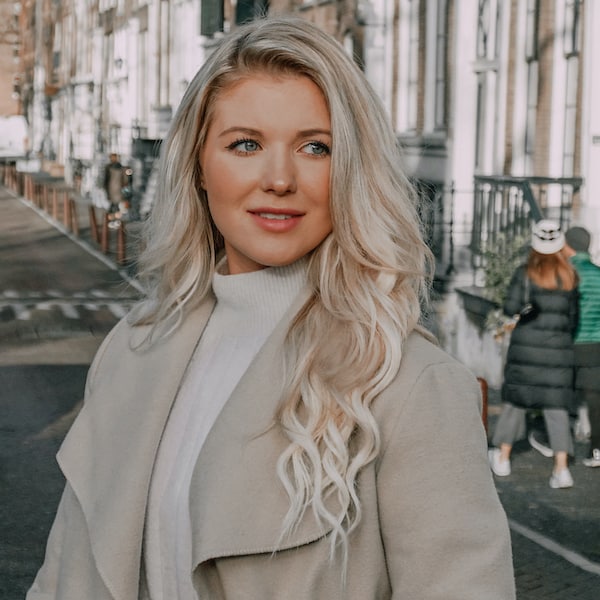 Samantha Karen is the founder of the travel blog Sam Sees World. She is a twenty something traveler on a mission to explore the world to seek the new and unknown so she can document her experiences and inspire others to explore this wondrous world. Her objective is to learn about the world while also searching for her place in it. Check out Sam Sees World for valuable information on the best things to do, see, eat, and experience while traveling and making memories along the way. Follow Sam on Pinterest and Instagram.
Pin This For Later