There is no place like Yosemite National Park, and this iconic slice of California now attracts over four million visitors every single year. From legendary rock climbing to hiking, ancient sequoias, and rafting, there is no shortage of fun things to do for the entire family.
Engaging your kids with nature by enjoying Yosemite can spark a lifetime of adventure. Whether you're stopping in for a day or a week, here are 8 incredible, family-friendly adventures in Yosemite National Park. 
Please check all travel restrictions and safety precautions in effect prior to visiting any destination or attraction.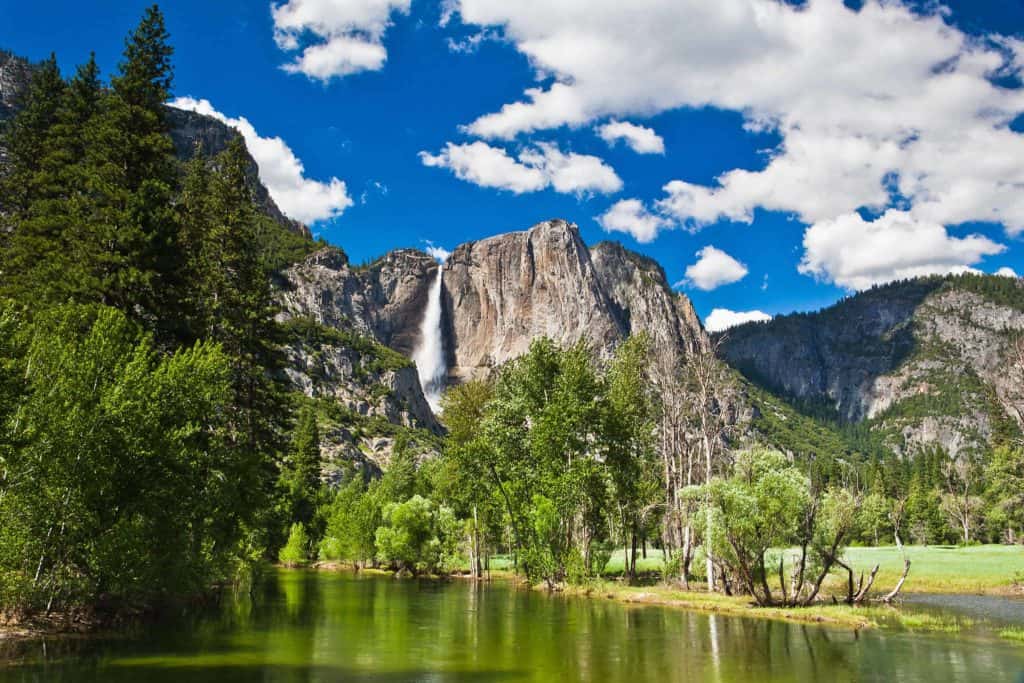 This post may contain affiliate links. If you click an affiliate link and make a purchase then we receive a small commission at no additional cost to you.
1. Take a Hike
With 800 miles of hiking trails, Yosemite is the perfect place to get the entire family on their feet. Whether your kids are out scrambling you or you're just looking for minimal elevation gain, there's a perfect hike for you in Yosemite. 
For families with strollers, Glacier Point Loop is a great, relaxed option. A portion of the trail is paved and the rest of it is clear and easy to follow. Need a mid-hike snack? There's an ice cream shop along the way! Now that's a great way to hike. The trail leads to a 270-degree panoramic outlook over Half Dome, the Yosemite Valley, and various peaks and waterfalls.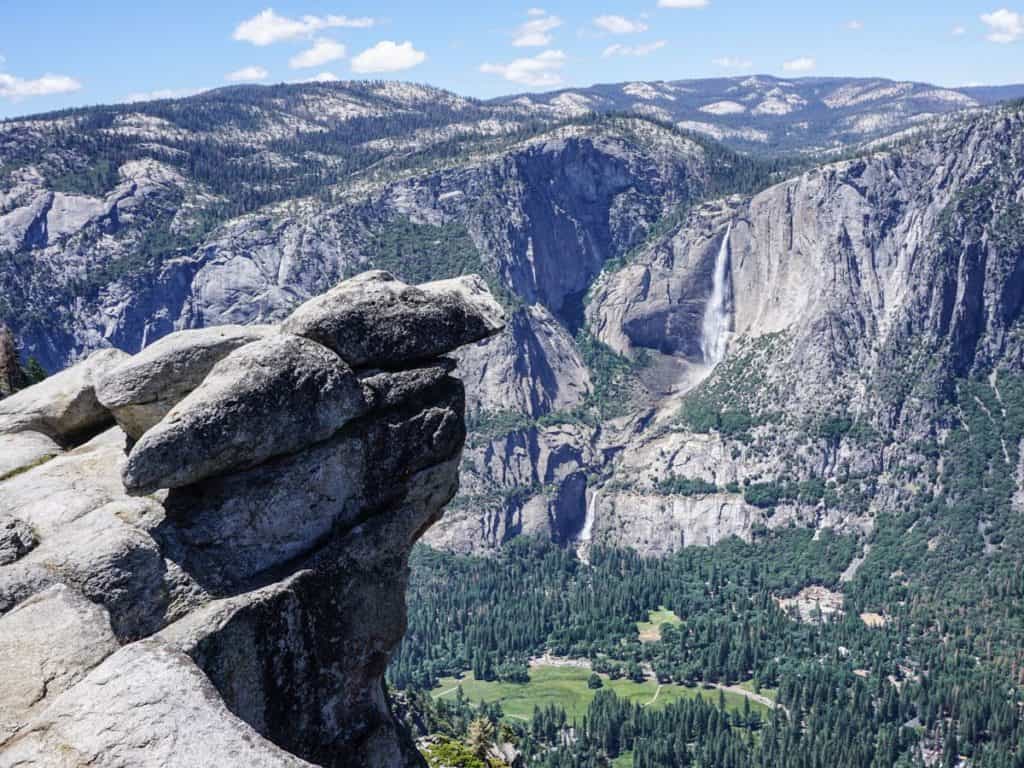 If you've got older kids willing to trek a little further, I love the Panorama Trail. At 8.5 miles, it's a more satisfying trip without being too steep or difficult to navigate. You'll enjoy unforgettable views of the valley and falls that make the distance absolutely worth it. 
Those seeking wildflowers over dirt trails will love Tuolumne Meadows. In the late spring through mid-summer, you'll be treated to miles of flowers skirting the granite peaks and flowing river. Keep an eye out for deer!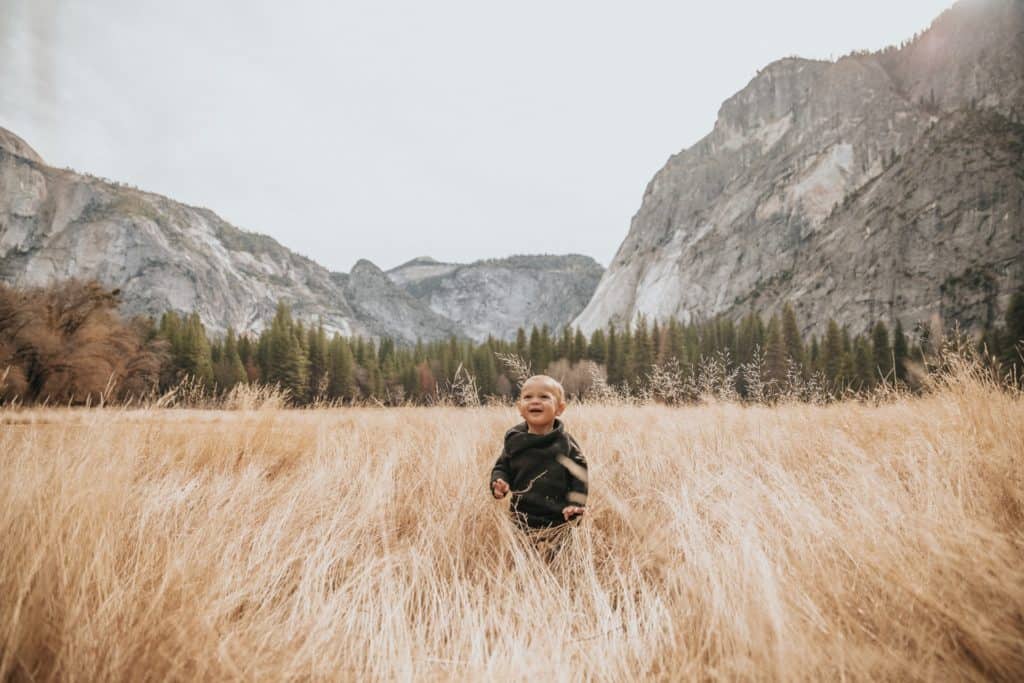 If you're willing to put the work in for a birds-eye view, try Lower Mariposa Grove. While the ascent is a bit steeper, you'll be able to sneak a peek of the world's oldest sequoia, Grizzly Giant. The trail also leads you through the California Tunnel Tree, which the little ones are sure to love. It's more than worth the effort!
Of course, there are plenty more hikes in Yosemite to choose from, so spend some time picking the perfect trail for your family. 
As an Amazon affiliate, I earn from qualifying purchases.
2. Get Sworn in as a Junior Ranger 
Got a tiny park ranger on your hands? Get your kids involved in the park by having them sworn in as a Junior Ranger! This fun task is designed for kids aged 7-13, and little ones aged 3-6 can become a Little Cub. Junior Rangers must purchase the self-guided booklet ($3.50 at the Visitors Centers), complete all the pages, collect a bag of trash, and attend the guided program. Upon completion, your little ranger will earn a badge and their Junior Ranger status. 
Young ones can pick up the Little Cub Handbook, complete the pages, and earn their button. The programs are fun for kids and help to engage the entire family in the park. Visiting in 2020? The Junior Ranger and Little Cub programs are available virtually!
3. Ice Skate Under Half Dome
Visiting Yosemite in the winter? You're in for a treat! The ice skating rink at Curry Village has been getting families on skates since 1928. The rink has a breathtaking view of the surrounding mountains and cliff faces, is surrounded by trees, and the fire pit lights up your view of Half Dome. It's about as beautiful as a winter outing can be!
You can bring your own skates or rent them for the family. Helmets and skate sharpening are available too. Lucky enough to live close to the park? Season passes provide unlimited skating and rentals. Seems like a perfect way to spend the winter.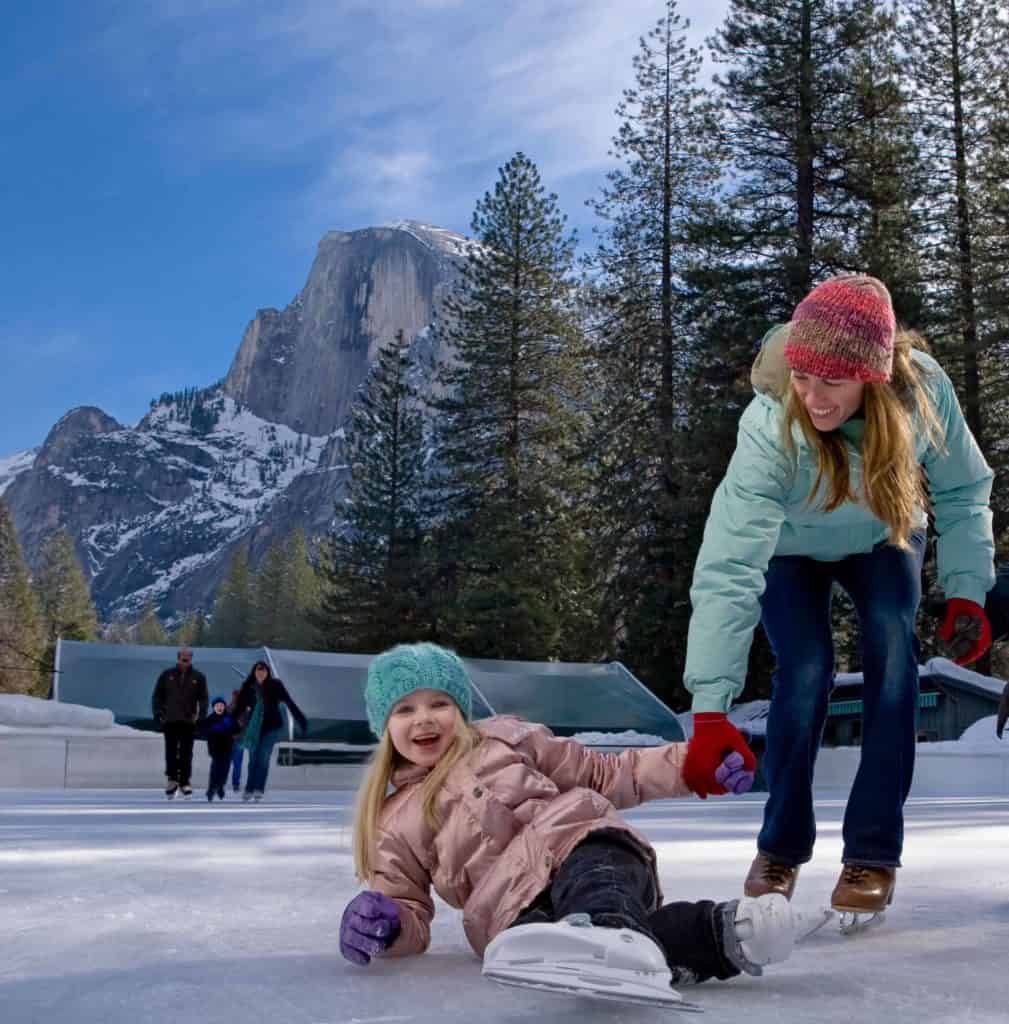 Looking for a place to stay on your trip to Yosemite National Park? Check reviews and current rates for Yosemite Valley Lodge on TripAdvisor.
4. Wildlife Watch 
With 400 species of animals calling Yosemite National Park home, odds are good that you and your family will spot a critter during your trip. Nothing gets the kids excited like seeing a fawn, fox, or bighorn sheep along the side of the road!
Speaking of foxes, here are some of the other animals you might be able to see in Yosemite: black bears, bobcats, 250 species of bird, mountain lions, turtles, snakes, toads, and plenty more reptiles.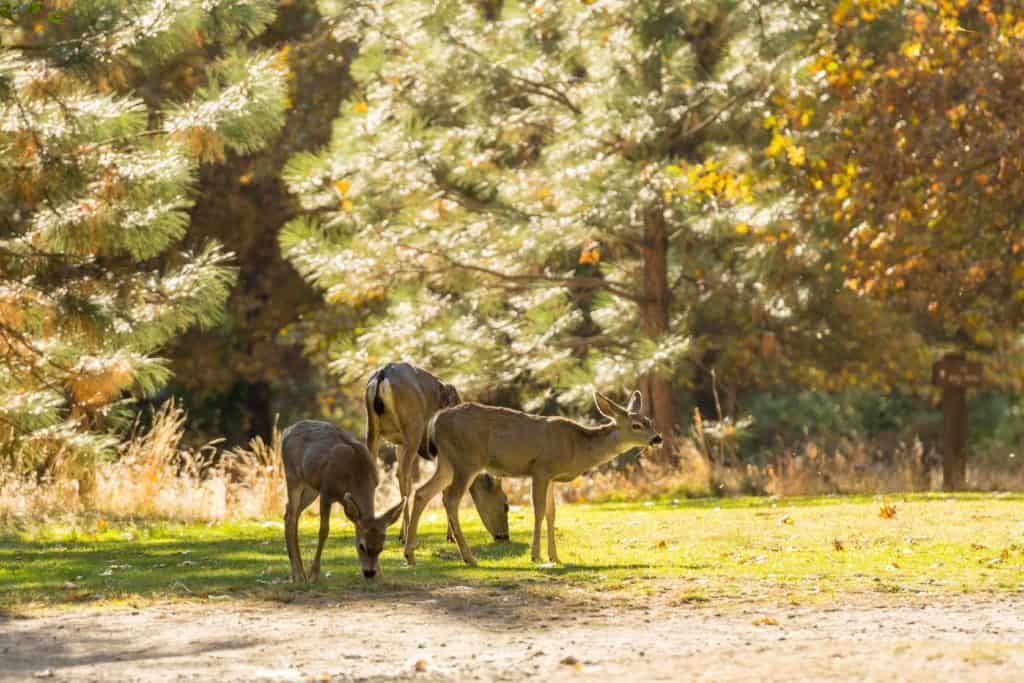 Now, if black bears and bobcats sound a bit intimidating, don't worry too much- most family-friendly trails and viewpoints are well-trafficked enough that those kinds of animals won't want to be anywhere nearby. 
Families wanting to make a point of seeing some wildlife can do a few things to maximize their chances. First, you can link up with one of the naturalist tour guides to learn about the animals while you search for them.
Alternatively, you can explore the Mariposa Grove or Tuolumne meadows, which are favoured spots for local creatures. If all else fails, you can check in with the park rangers, who are up to date on wildlife sightings and where to safely view wildlife.
If you're spending more than a day in the park, I suggest playing Animal Bingo with the whole family as a fun way to keep the crew engaged and the kids focused on what's around them. 
5. Ice Cream in Half Dome Village 
Remember how I mentioned ice cream? Yes! Any family trip to Yosemite needs an ice cream stop at Half Dome Village (Curry Village). Grabbing a cone to take along one of your hikes is a perfect afternoon treat, or you can settle in at the village for a bigger snack. The village has everything from food trucks to pizza patios, making it a perfect midday break. My personal favourite is the taco truck, but you can do some taste testing to find your go-to. 
6. Walk Under Giant Sequoias 
Is anything more incredible to a three-foot-tall child than a 250-foot sequoia? Honestly, even as a 6-foot adult (on a good day) I can't get enough of these towering trees.
There are three groves of giant sequoias in Yosemite National Park. The first, Mariposa Grove, is the most easily accessible and the best choice for those with small children. It's near the South Entrance and is accessible from spring through fall, and boasts over 500 mature giant sequoia trees.
For an even easier journey, there's a free shuttle from the Mariposa Grove Welcome Plaza. Families with strollers can take advantage of the accessible trails in the grove, and those with older children can enjoy the more rustic trails.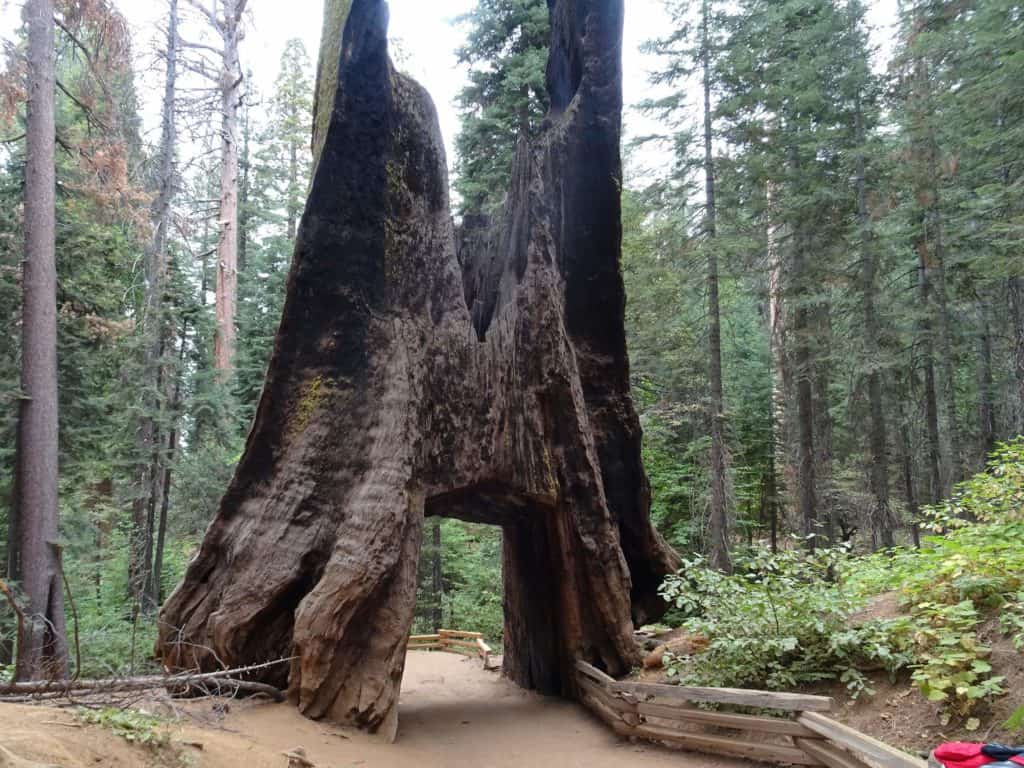 If your family is more game for adventure, you can try the less-visited Tuolumne Grove. You'll only be able to reach the grove after a one-mile hike with 500 feet of elevation loss. I know what you're thinking: that means the hike back to the car gains 500 feet. Worth it for the two dozen massive sequoias you'll be able to admire. 
If your gang wants the least crowded sequoia viewing experience possible, you can head out to Merced Grove. Similar to Tuolumne Grove, you'll have to hike a mile and a half down and return the same distance up with 500 feet of elevation change. Parking is extremely limited for this grove, which makes it the perfect choice if you want a quiet experience and you're willing to get there nice and early.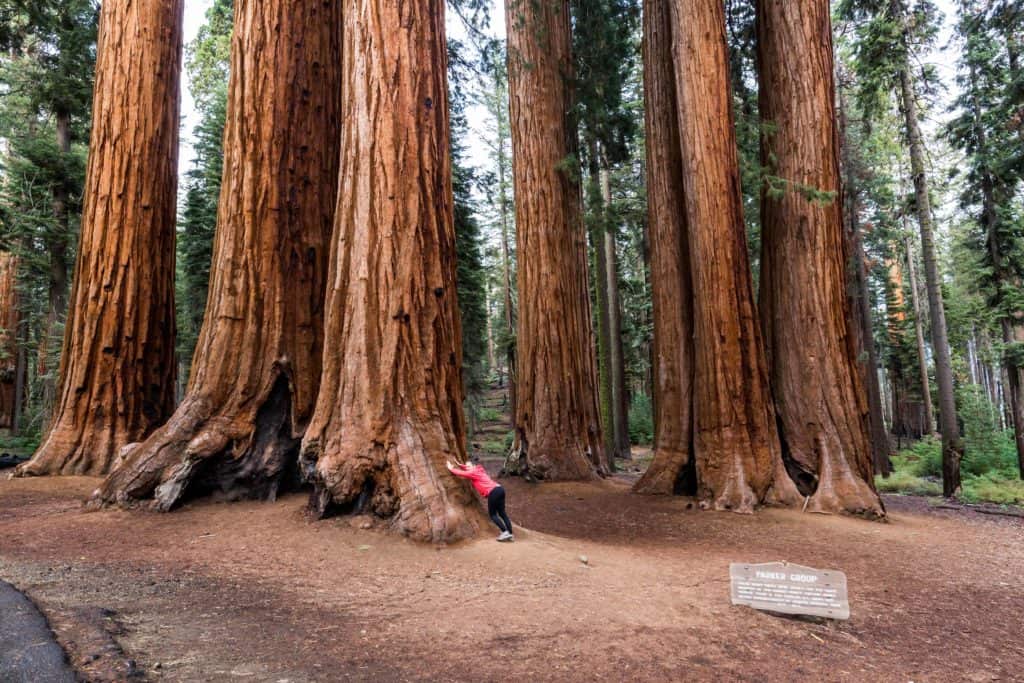 7. Float or Wade in the Merced River 
If you've got fish for kids, taking advantage of the Merced River is a must-do while in Yosemite. Depending on how comfortable your family is in the water, you've got a couple of options.
I love renting rafts at Half Dome Village and floating down the stretch of river from Stoneman Bridge to Sentinel Beach Picnic Area. If you have your own tubes or rafts, you're welcome to bring them as well.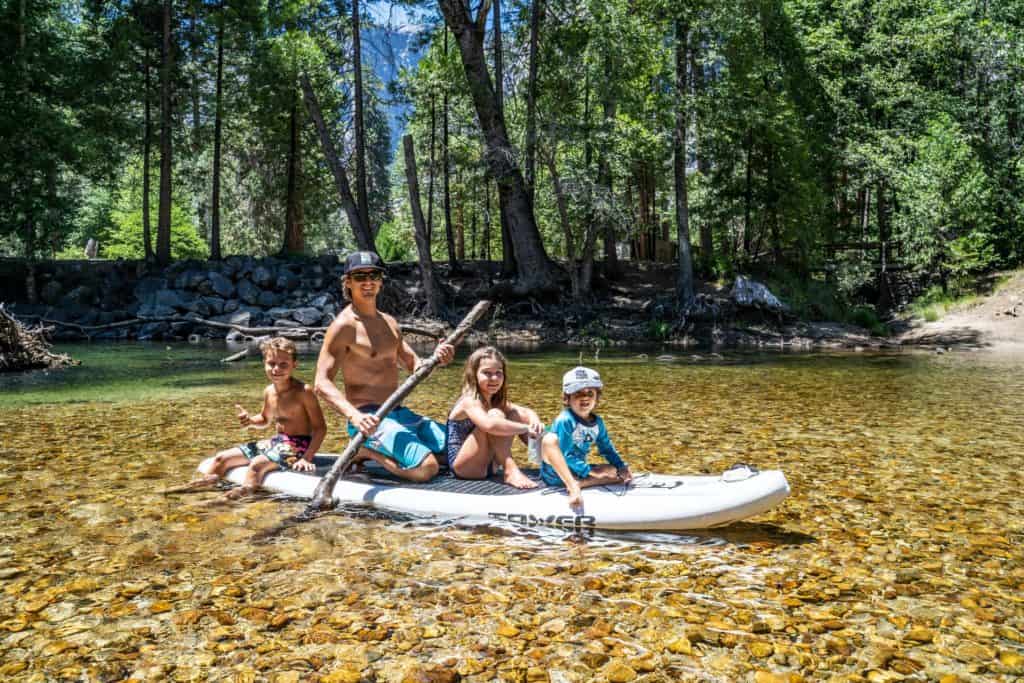 Just keep in mind that the combined water and air temperature have to exceed 100 degrees and the water level at Sentinel Bridge has to be under 6.5 feet. Other than that, you're set to enjoy a hot day cruising the river.
If you're not quite keen to hop on a raft, wading and swimming is a low-key way to enjoy the water. There are a few different places you can swim in Yosemite, but I recommend North Pines Campground, Cathedral Beach, or Tenaya Lake. Throw out some towels, put the lifejackets on, and enjoy the afternoon!
8. Cruise in a Shuttle
If you want sightseeing without all the driving, hopping on one of the park shuttles is a great way to spend part of the day. Shuttles service nearly every corner of the park, from El Capitan to trailheads to the Valley.
You can also use shuttles to access sequoia groves or trailheads that have limited parking or jump on shuttles that offer tours along the way. Remember to check when each shuttle runs throughout the year, but otherwise, all you have to do is get comfortable and get that Animal Bingo ready.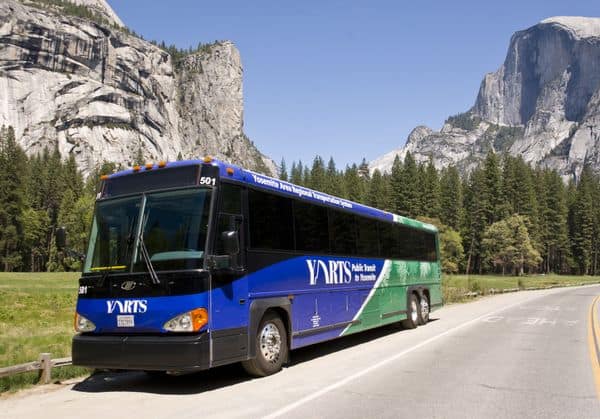 With 8 exciting ways to explore Yosemite National Park with the whole family, you've got plenty of fun-filled days ahead. From hiking to swimming and everything in between, this incredible park is the perfect place to involve the entire family with some of the most outstanding nature in the United States. So, will it be the sequoias or rafting first?
Lukas Saville is a travel writer who's main focus is adventure travel. His passion for wildlife and nature has carried him to many countries of the world. He loves hiking the best trails on earth and sharing his experiences through writing. He hopes his experiences will help more people to start their own adventures and appreciate the world surrounding them a little bit more.
You Might Also Like
Pin This For Later