Highlights of visits to New York City with kids.
Our family has been to New York City on three separate occasions over the past four years and we still show no signs of growing tired of it. Each visit we have combined favourite activities with some new experiences and never managed to do everything we had planned to. We could travel to The Big Apple many, many more times and still not come close to experiencing everything there is to see and do in this vibrant city that never sleeps.
(UPDATE: We returned to New York City again in April of 2013, February 2015, September 2015 and September 2016, September 2017, December 2017, September 2018, September 2019 and December 2019 and posts relating to those visits can be found under the Destinations tab – New York City.)
Hotels in New York City
Our first visit was over the New Year's holiday December '06 – January '07 when Katie was 10 years old and Emma was 3. We spent four nights at the legendary Waldorf-Astoria on Park Avenue (between 49th and 50th) in mid-town Manhattan and the location was ideal for a first-time visit. 
Our second trip to New York City was in January 2010 arriving on New Year's Day when Katie was 13 and Emma was 6. We stayed for three nights at the I.M. Pei-designed Four Seasons Hotel on East 57th between Park and Madison which was just a little further uptown but still a great base for shopping and attending the theatre.
Visit number three occurred during spring break March 2011 when we stayed for 5 nights at Hotel Beacon on the Upper West Side. At the time, Katie was 14 years old and Emma was 7 (and a half!). We quite enjoyed staying in a more residential location and still found the Beacon very convenient for everything that we wanted to do.
(UPDATE: On our fourth and fifth family trips to New York, we stayed at the JW Marriott Essex House which I reviewed in My Goldilocks Weekend at the JW Marriott Essex House. We have subsequently stayed at the New York Hilton Midtown, the Intercontinental New York Times Square and multiple times at The Benjamin Hotel.)
Broadway Theatre
Our family loves the theatre so attending Broadway theatre is always a central part of our plans for New York. We have all attended performances of Mary Poppins (December '06), Shrek the Musical (January '10), and Mamma Mia (March '11). This past trip we also split up and J.A. and Emma went to a matinee performance of Wicked while Katie and I attended a preview of How to Succeed in Business Without Really Trying starring Daniel Radcliffe. (UPDATE: In April 2013 we saw Newsies and Annie and we have seen many more performances in New York over the years since.)
Read my article on New York City for Theatre Lovers
American Girl Place
When visiting New York City it seems to be mandatory to take young girls to American Girl Place. Girls just can't seem to get enough of this little slice of girl heaven full of dolls, clothes, accessories and books. Girls can buy outfits that match their dolls, take their dolls to the salon for a new hairdo, participate in some craft activities and even have their picture put on an American Girl magazine cover.
Nourishment can be found at the cute-as-can-be American Girl Cafe where dolls have special seats so that they can join the family at the table. Each and every time that we have traveled to New York City (and to Chicago for that matter) we have spent a fair bit of time at American Girl Place oohing and aahing over the merchandise and dining in the cafe. Katie is now too old for dolls and I am starting to realize that I will miss our AG Place visits when Emma has outgrown it as well.
Holiday Visit – 2006/07
Our first trip to NYC was over the New Year's holiday and the city was extremely busy. We couldn't get close to Rockefeller Plaza to see the skating, we lined up to get into American Girl Place and 5th Avenue was so crowded with shoppers that Emma had to be carried so that we wouldn't lose her. Times Square was packed with tourists but we did get into the flagship Toys R Us store and rode the famous ferris wheel.
On New Year's Eve we decided to take a double-decker bus tour around Manhattan which was fun, albeit a bit chilly. One of the stops was the Empire State Building and we had a quick look around the lobby but the wait time was way too long to subject kids to, particularly a three year old, so we never did make it to the top. We also stopped and played in Battery Park for awhile and could see the Statue of Liberty off in the distance.
We rode through Times Square and saw the preparations for the evening's festivities, however, we spent New Year's Eve in our hotel room far from the celebrating crowds. I'm not sure that I could wait the hours required for spending New Year's Eve in Times Square so it is certainly not an experience that I would subject young children to.
On New Year's Day everyone visiting the city seemed to pack up and head for home so it became a lot easier to get around and take in some of the sights. Despite the chilly weather we decided that we had to have the quintessential tourist experience of taking a carriage ride in Central Park wrapped in wool blankets.
Having skipped the Empire State Building, we also decided on the last morning to go to The Top of the Rock – the observation deck at The Rockefeller Center – as the line ups are minimal there due to their timed entry system. The views of Central Park and the rest of Manhattan (including the Empire State Building) are incredible.
We had a wonderful time on our first trip to New York but I vowed that we would not return over the New Year's holiday any time soon as the crowds made it difficult to thoroughly enjoy the experience.
New Year's 2010
Our second visit to NYC was for only 3 nights, arriving on New Year's Day January 2010 (in order to avoid the New Year's Eve crowds). It was bitterly cold which meant that there was not much opportunity for outdoor activities – even just walking to shop on Fifth Avenue was too cold to be pleasant. Fortunately, it was nice and cozy inside American Girl Place so the girls didn't mind spending time there. The world-famous toy store FAO Schwarz was also a fun place to browse and get in out of the cold as were many of the other 5th Avenue shops.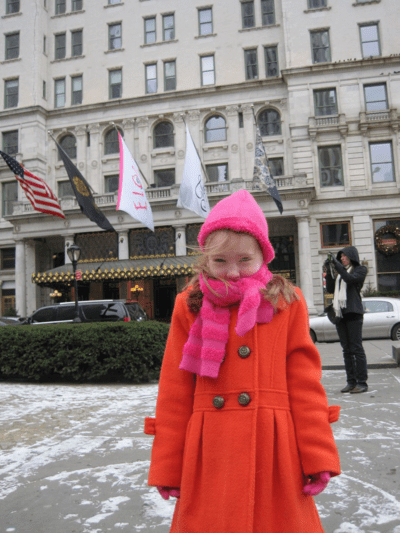 Baby It's Cold Outside (Emma outside The Plaza Hotel, home of Eloise)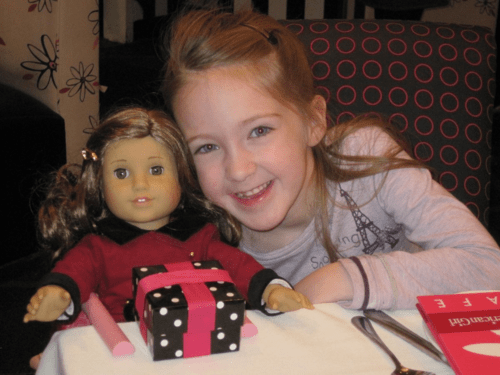 Emma at American Girl Place Cafe
As we hadn't had the opportunity to visit any museums or art galleries our first time in New York City we decided that our priority on this trip was the American Museum of Natural History. We had watched The Night at the Museum over the Christmas holidays and Emma was quite keen to find everything that she could remember from the movie.
We searched and searched for Sacagawea and eventually went to an Information Booth to ask her whereabouts. We were informed, rather testily, that despite her prominent role in the movie, Sacagawea is actually not in the museum. Emma was devastated and it very nearly ruined our day at the museum but after some coaxing she was able to recover her good mood. Despite the disappointment we managed to enjoy most of a day there – the dinosaurs were a big hit as was Dum Dum, the Easter Island statue portrayed in The Night at the Museum.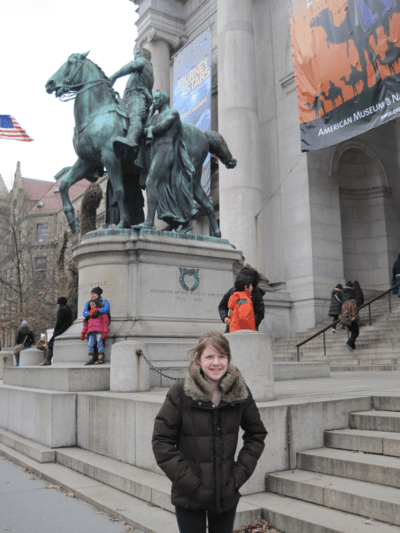 Katie at The American Museum of Natural History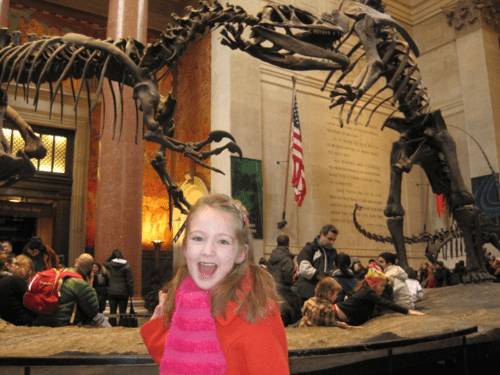 Emma at The American Museum of Natural History
Spring Break – March 2011
Our most recent trip was a five night visit for spring break in March 2011. We were hoping that the weather would be spring-like and that we would have more opportunities for partaking of New York's outdoor activities but, alas, Mother Nature decided not to cooperate with my itinerary. We were expecting to arrive in the city around lunch time the first day of our visit and spend the rest of the afternoon walking around the Upper West Side and exploring Central Park.
The weather was spectacular that day but our flight was delayed by four hours and we didn't get to the hotel until about 5pm, exhausted and in no mood for anything but dinner. Winter decided to return to New York City that night and stay for the rest of the week but we still managed to do most everything we had planned – we were just a bit cold while doing it.
When planning for our trip to New York I had decided that a visit to one of the city's world-class art galleries was in order but I was having trouble deciding between the Guggenheim, the Museum of Modern Art (MOMA) or the Metropolitan Museum of Art (The Met). I was leaning toward The Guggenheim for the sole reason that Katie was familiar with it from art classes at school and had expressed some interest in seeing it.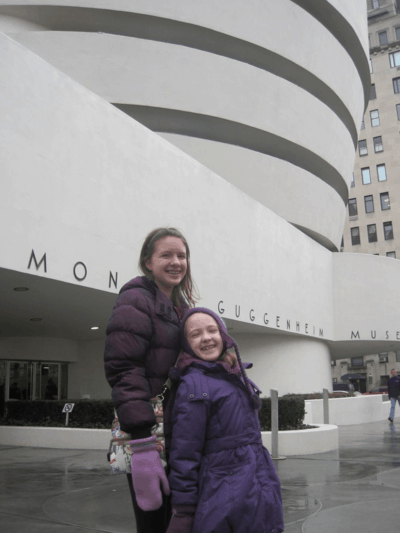 Outside The Guggenheim
We got up Wednesday morning for our first full day in NYC to a miserable, cold mix of rain and snow. We were going to the theatre that afternoon so we decided that it was the perfect morning for an indoor diversion. We thought we might have another opportunity the next day and a quick on-line search informed us that The Guggenheim was closed on Thursdays so we decided that it would be our Wednesday morning activity. We headed to the Upper East Side to the Guggenheim Museum on 5th Avenue at 89th.
This New York City landmark was designed by American architect Frank Lloyd Wright and now houses one of the world's finest collections of modern and contemporary art. Ascending the rotunda toward the dome was a very cool experience. Emma quite enjoyed the artwork while Katie thought the building was cool but was way too distracted by the prospect of seeing Daniel Radcliffe that afternoon to actually enjoy the experience.
We never did make it to another art gallery the following day as our visit to the United Nations Headquarters ate up a substantial chunk of time. Touring the UN Headquarters  was a priority for me on this trip to New York. I studied International Relations as an undergraduate student and have always been an idealistic believer in the role of the United Nations. On previous trips to NYC I thought that the girls were too young for a UN tour so I had waited for the right opportunity. 
When we arrived at UN Headquarters by the river (at 1st and E. 46th) the flags of the member nations were flying and Emma was quite impressed as she is fascinated by, and recognizes a large number of, flags. Our 45 minute tour was conducted by a well-informed young guide but was curtailed somewhat by the fact that many of the rooms were off-limits due to the extensive renovation which was underway.
Most of the information provided was an introductory lesson in the role and operation of the UN but I thought that it was worth it just for the opportunity to stand in the General Assembly Hall. I was satisfied with the tour and it was brief enough that the kids didn't get bored. In fact, Emma was quite interested in the information about how the UN helps to get food to kids that are living in extreme poverty and how they are helping to ensure that girls are given access to education.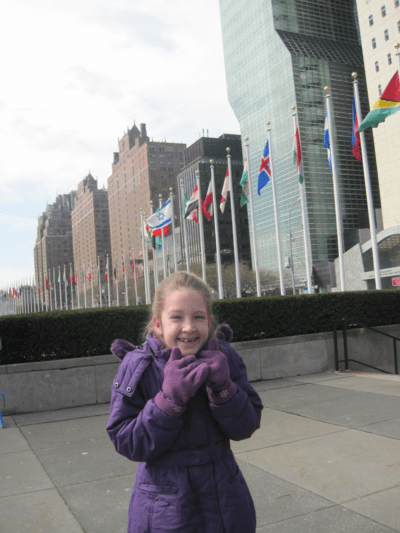 Admiring the many flags at United Nations Headquarters

Katie in the UN General Assembly Hall
Our next to last day we set out for Battery Park to take the ferry to Liberty Island and Ellis Island, however, we got a later start than we intended and by the time we reached the park the line ups were discouragingly long. I was determined to see the Statue of Liberty up close so we purchased our tickets and lined up for more than two hours in the bitter cold before finally boarding the 1:30pm ferry to Liberty Island. Access to the monument and the crown had sold out long before we arrived at the ticket offices but we still decided to disembark and see the monument up close and take some photos.
So glad that we did – the monument, which is officially entitled "Liberty Enlightening the World", is an awe-inspiring sculpture. By the time we were finished it was getting quite late and we decided that we didn't have time to do justice to the Ellis Island Immigration Museum. It will have to wait for another visit and we will, without a doubt, be heading out earlier when that visit happens.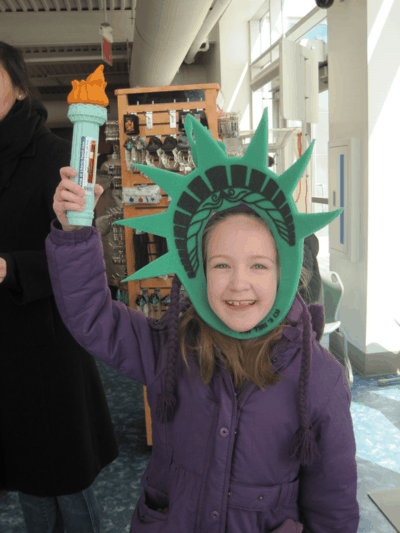 Emma messing around in the gift shop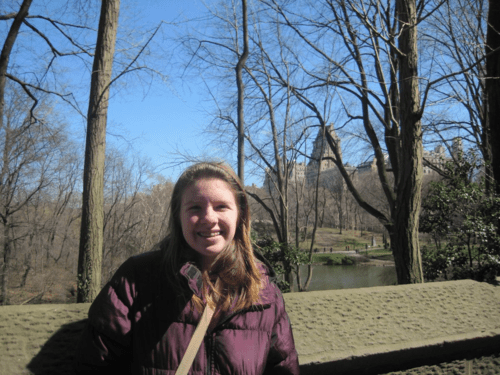 Walking alongside Central Park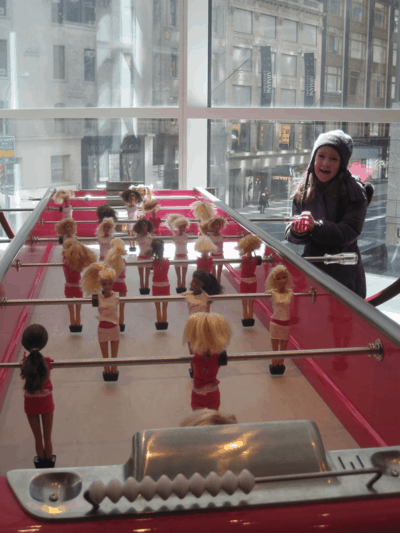 Barbie Foosball table at FAO Schwarz (value priced at $24,999.00)
New York is an incredible city and one that families should not hesitate to visit as it is actually one of the most child-friendly cities in the world. Kids love New York City! The city has an energy that makes it exciting just to walk the streets and see all the familiar sights from television and movies.
There is so much to do in the city that families can stay busy day and night and no one could ever claim to be bored. New York has everything – beautiful parks, world-class museums and art galleries, theatre, shopping, diverse restaurants, sporting events and multicultural neighbourhoods. It's no wonder New York claims to be the center of the universe and it really is a perfect place for a family vacation.
Related Articles
25 Fun Things To Do With Teens in NYC
New York City for Theatre Lovers
Visiting United Nations Headquarters with Kids
Shopping in New York City: Emma Style
My Goldilocks Weekend at the JW Marriott Essex House