Memories of Prince Edward Island and Anne of Green Gables.
With all of the recent news coverage of the upcoming visit of Prince William and Duchess Catherine to Canada I find myself daydreaming about a return trip to Prince Edward Island.  One of the stops on the royal tour will be Prince Edward Island – reportedly because Anne of Green Gables was a childhood favourite of the Duchess.  The island is one of Canada's most family-friendly destinations and our family visited there 6 times beginning in the summer of 1998 when my older daughter was not yet 2 years of age.  The last time that we visited was the summer of 2006 when my younger daughter was 3.  After that we started venturing farther on our travels and PEI didn't enter our thoughts until now when I'm starting to feel a bit nostalgic about returning to such a familiar destination.
Anything related to Anne of Green Gables was very popular with my girls (and me, to tell the truth) so we made repeated visits to the Anne of Green Gables Museum in Cavendish, Cavendish Figurines in Gateway Village, The Village of Avonlea in Cavendish and to Charlottetown to see the annual production of Anne of Green Gables: The Musical at the Confederation Centre of the Arts.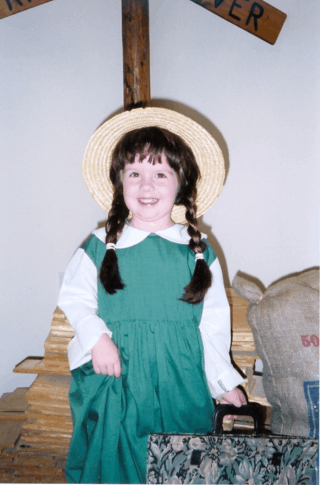 Katie dressed as Anne of Green Gables in August 2000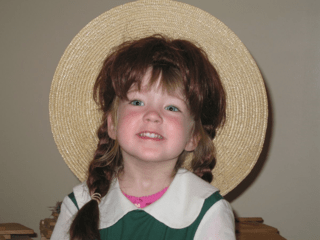 Emma dressed as Anne of Green Gables in August 2006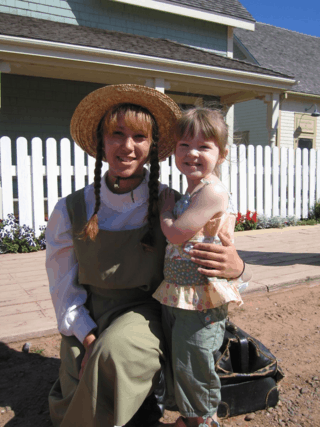 Emma with "Anne" at the Village of Avonlea, 2006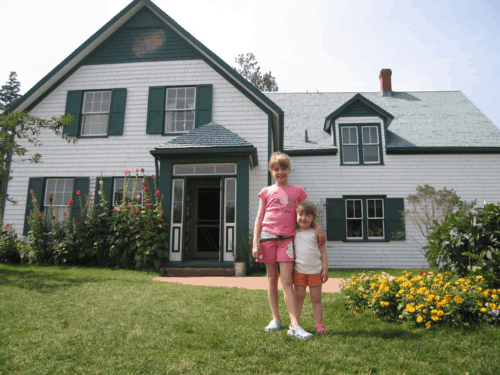 Katie and Emma at Green Gables Museum, 2006
Our second most popular activity would be playing on the red sand beaches that Prince Edward Island is known for.  The Cavendish beach in the Prince Edward Island National Park is quite close to the cottage that we rented and is a great beach for kids to play in the sand and surf.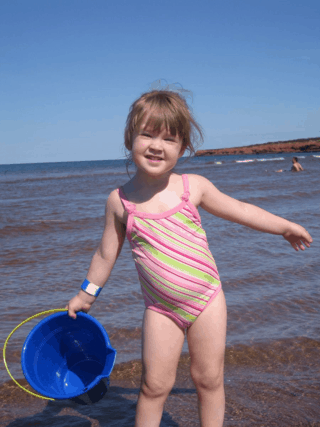 Emma on the Cavendish Beach, 2006
No visit to Prince Edward Island would ever be complete without our daily dose of homemade ice cream at COWS.   COWS Ice Cream is an island institution that serves up delicious ice cream with clever names like Moo Crunch and Wowie Cowie (two of my personal favourites). 
Prince Edward Island is like an old friend that we haven't visited in far too long and today I'm dreaming about reconnecting in the not too distant future.
Related Links
Cavendish, Prince Edward Island with Kids
Prince Edward Island Trip Report
Have you liked our Facebook page yet? I post articles from the blog there as well as photo albums from our travels and other travel news. Or, if you prefer, you can subscribe to the free RSS feed or sign up for an email subscription to keep up-to-date on our travel adventures.