Highlights of family travels to Prince Edward Island, Canada.
Prince Edward Island is one of Canada's most family-friendly destinations. Over the past 13 years, our family has visited the island six times beginning in the summer of 1998 when my older daughter, Katie, was not yet 2 years of age. The last time that we visited was the summer of 2006 when Katie was 9 and my younger daughter, Emma, was 3 years old.
Kindred Spirits Country Inn & Cottages
Prior to our first visit I researched accommodations on line and happened upon the family-owned and operated Kindred Spirits Country Inn & Cottages located in the Cavendish resort area next door to Green Gables. We loved this resort property so much that we returned here each and every visit. The current owners have been operating this property since 1986 and it is very much a family affair. The Inn is a Victorian style country home decorated with antiques and crafts and contains a range of rooms and styles as does the nearby Gatehouse. We have always rented a 2 bedroom Executive Cottage for our stays. There are 1, 2, and 3 bedroom cottages available and all have daily housekeeping, air conditioning, full kitchens, barbecues etc. The resort has a heated swimming pool and hot tub, a playground, laundry facilities and a games room as well. One of our favourite activities at Kindred Spirits was always the campfires which were held 2 or 3 times over the course of a week and included marshmallow roasting and a singalong. Kindred Spirits was so much a part of our summer holidays for my older daughter, Katie, in particular that I honestly do not think that we would even consider staying anywhere else on a return visit to PEI.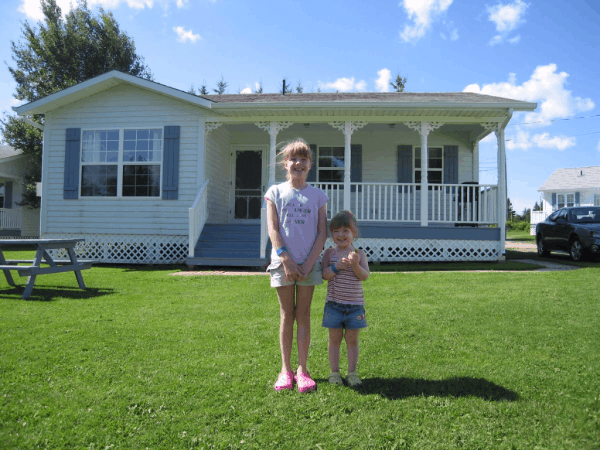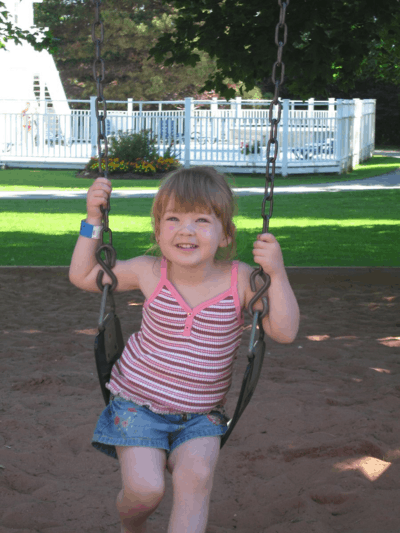 Emma playing in the playground at Kindred Spirits
Kindred Spirits is located in the Cavendish resort area which is along the north shore of Prince Edward Island and is very popular with families. The red sand beaches, sand dunes and ocean waters that are warmed by the Gulf Stream attract thousands of visitors to the north shore of PEI each year and once there visitors will find no shortage of activities to keep them busy. World-class championship golf courses, deep sea fishing, sea kayaking, and amusement parks are among the activities to choose from. Cavendish is also famed as the home of Anne of Green Gables so visitors can explore the many sites and attractions relating to the heroine of L.M. Montgomery's books. Cavendish is surrounded by farming communities and small fishing villages which give more of a flavour of authentic PEI and visitors can spend many hours shopping for antiques and crafts made by local artisans and enjoying local restaurants if a more relaxing holiday is desired.
Amusement Parks
There are a number of amusement parks in the area which keep families with kids of all ages quite busy. A favourite of both of my girls when they were little was the Sandspit Amusement Park – a small-scale, traditional-style park which has over 18 attractions including a large roller coaster called "The Cyclone",a ferris wheel, go-karts, miniature golf, bumper boats and other classic family rides as well as carnival-style games. Tickets can be purchased for individual rides or an all-day bracelet allows for unlimited rides. There is also now an option for a "Slide and Ride" pass which combines entrance to Sandspit with entrance to Shining Waters Family Fun Park.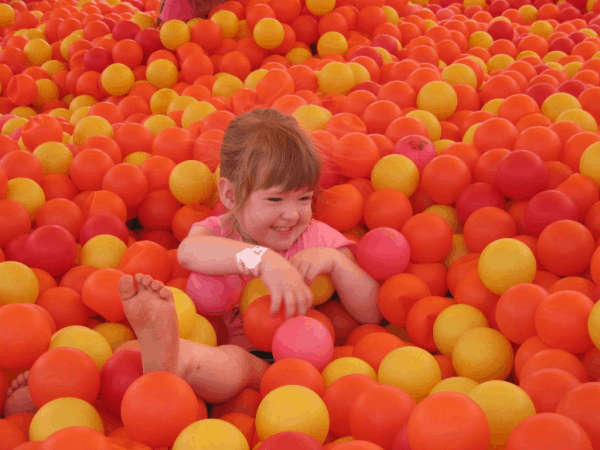 Emma at Sandspit Amusement Park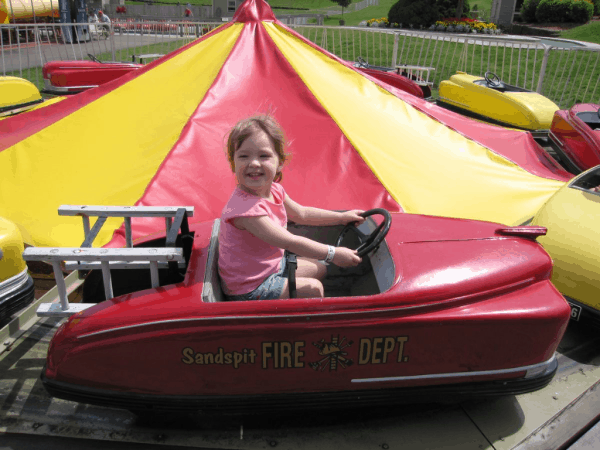 Emma at Sandspit Amusement Park
Shining Waters Family Fun Park is another amusement park located in the Cavendish area. It has 36 acres of family fun with over 30 wet and dry attractions including large water slides, a splash pool with junior water slides, Bucaneer Bay, Storybook Land for young visitors and live barnyard animals.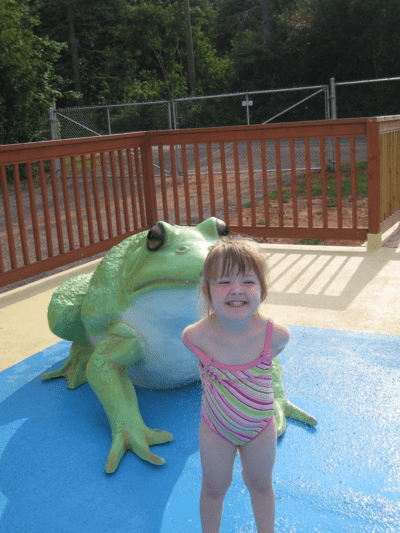 Emma at Shining Waters Park, Cavendish
Burlington Amusement Park is a go-kart facility which also has batting cages, bumper cars/boats, miniature golf and much more. It is located just minutes from the Cavendish resort area. Our family has never visited this amusement park, however, I expect that it would be quite popular with families with boys, particularly if they need to be bribed into taking part in some Anne of Green Gables activities.
Most of the Cavendish area attractions are open seasonally, from June through September. Other amusement park-type attractions in Cavendish include:
Black Magic Indoor Blacklight Mini Golf

Jurassic Bart's Dinosaur Museum and Petting Zoo

The Fan-taz-ma-goric Musem (popular for its full-size walk-through reconstruction of King Tut's Tomb)

Ripley's Believe it or Not

Stanley Bridge Marine Aquarium
Cows Ice Cream
The Cavendish Boardwalk offers a number of shopping opportunities as well as dining outlets. Most importantly to our family, it is where you can visit the COWS outlet for delicious ice cream and unique souvenirs. COWS began making ice cream in 1983 using an old-fashioned recipe that originated in Cavendish. Some of our favourite flavours are Moo Crunch, Gooey Mooey, and Wowie Cowie. Two years later they began introducing a line of clothing and cow-themed novelty souvenirs. For example, the most recent design depicts two cows dressed like Prince William and Catherine, Duchess of Cambridge with the tag line "Royals HoneyMOOning on Prince Edward Island". There are also COWS outlets on PEI at Gateway Village (at the Confederation Bridge) and in Charlottetown.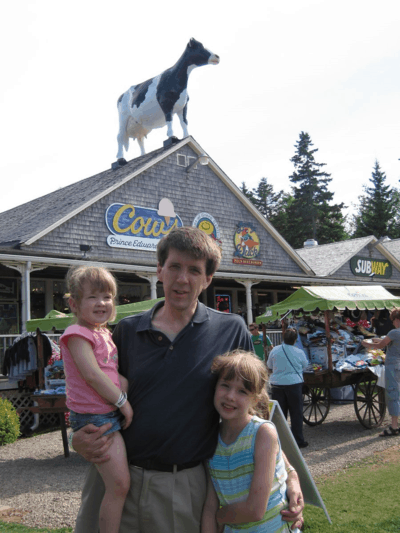 Cows Ice Cream at the Cavendish Boardwalk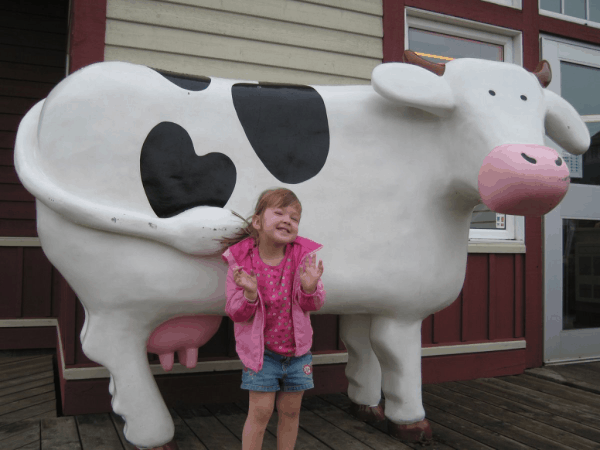 Emma outside Cows Ice Cream at Gateway Village
Anne of Green Gables
If you are visiting Prince Edward Island to pay homage to Anne of Green Gables then you will not find a shortage of attractions relating to the world-famous literary orphan. Lucy Maud Montgomery was inspired to write her classic novel, Anne of Green Gables, after spending time in the Cavendish region of Prince Edward Island and today visitors from around the world travel to PEI to explore the locale that she immortalized in her books.
The Green Gables Heritage Place, L.M. Montgomery's Cavendish National Historic Site provides a great introduction to visitors who want to learn more about the area that inspired Ms. Montgomery to write her Anne novels. We visited each time that we were in PEI as it is located adjacent to Kindred Spirits Country Inn & Cottages. The Green Gables site boasts the original house and farmyard that belonged to L.M. Montgomery's relatives as well as gardens, walking trails, family fun and games, a cafe, and a gift shop. Green Gables is open 9:00am – 5:00pm seven days a week from May 1st through October 31st.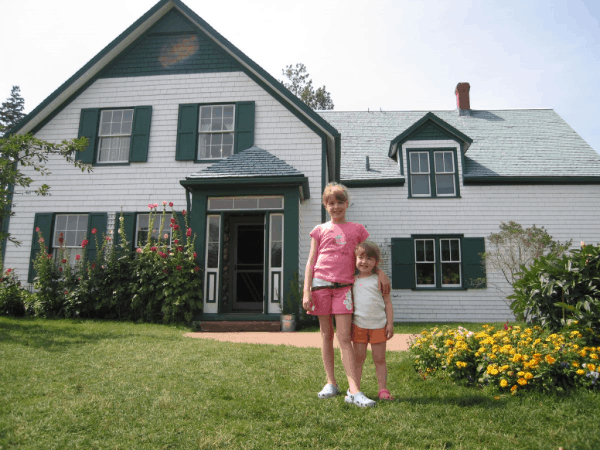 Katie and Emma at Green Gables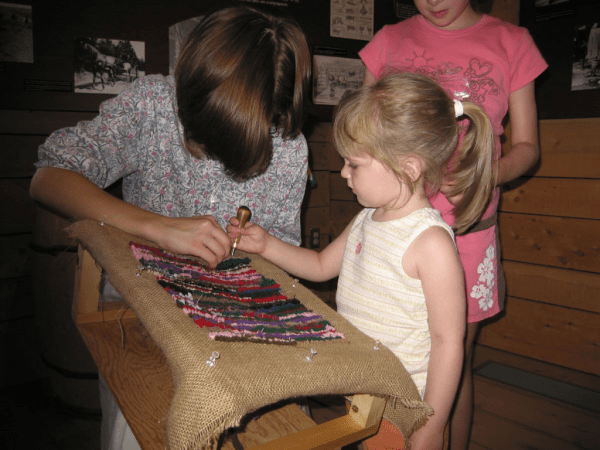 Emma learns rug hooking at Green Gables
Many visitors to the island arrive by crossing the Confederation Bridge which opened to traffic in the spring of 1997. The bridge was constructed after a great deal of debate about whether a fixed link between Prince Edward Island and the mainland was a good idea. The bridge spans the Abegweit Passage of the Northumberland Strait crossing from the province of New Brunswick to PEI. At 12.9km long the bridge is the world's largest bridge over ice-covered water and takes approximately ten minutes to cross at the posted speed limit of 80km/hr. An interesting fact about the toll on the bridge is that payment is for leaving the island only – no toll is charged to drive onto the island. At the foot of the Confederation Bridge on the PEI side is Gateway Village. At Gateway Village you can make use of the visitor information centre as well as visit a number of retail and food outlets. There is even a park where kids can burn off some energy if they have been sitting in the car for awhile. Many of the visitors to Gateway Village are either arriving on or departing from the island but we have also gone there for something to do when the weather wasn't cooperating. If this is your first stop upon arrival on the island then you may also have your first exposure to Anne at Cavendish Figurines. Here you can take a factory tour to see how the earthenware figurines of The Anne Collection are made, purchase a figurine if you are so inclined and dress up like Anne of Green Gables for the perfect photo souvenir.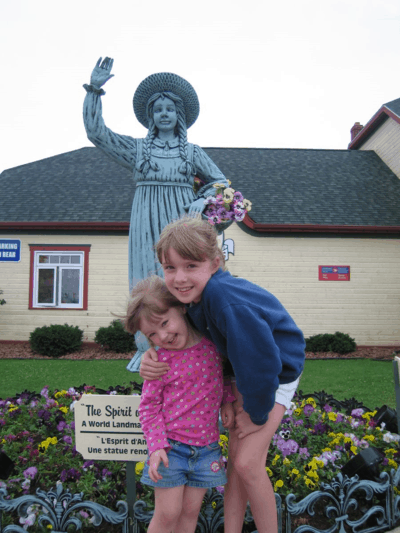 "The Spirit of Anne" outside Cavendish Figurines, Gateway Village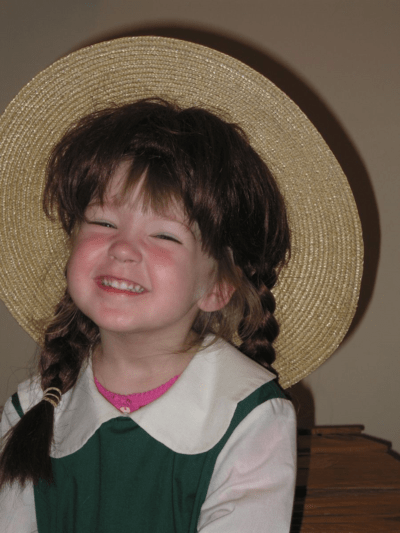 Emma dressing up like Anne of Green Gables, Cavendish Figurines, Gateway Village
"Avonlea – the Village of Anne of Green Gables" is a theme park type attraction located in Cavendish that revolves around the character and the fictional village where she resided. A full program of activities is available from mid-June until the end of August and a reduced schedule for part of September before the village closes for the winter. Guests enter Avonlea through the train station and immediately become immersed in this recreation of an early 20th century Canadian village. Costumed characters from the books roam the streets interacting with guests and dramatizing scenes from the book much to the delight of the children and many of the adult visitors. There are barnyard animals to meet, horse and wagon rides, musical shows, children's games, attending school with Miss Stacy and shopping for crafts or sipping raspberry cordial. The last time we visited we were attending the variety show at the end of the day and "Charlie Sloane" chose me to be his square dance partner. It was the highlight of the day for my kids. Purists may not approve of turning their beloved Anne into a theme park but kids absolutely love it.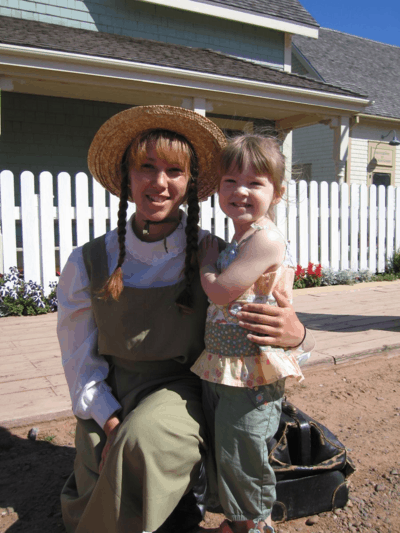 Emma with "Anne" at the Village of Avonlea in Cavendish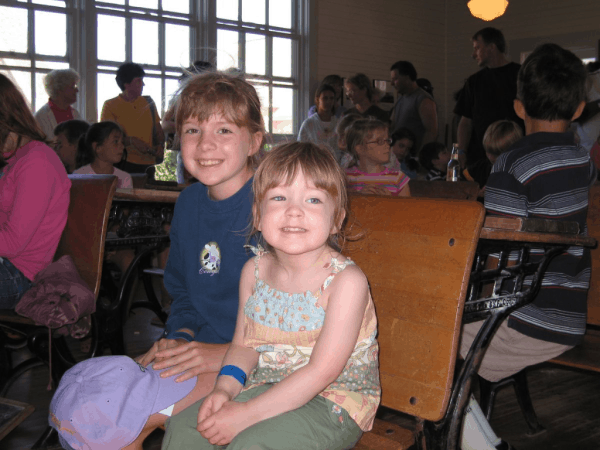 Katie and Emma attending school in The Village of Avonlea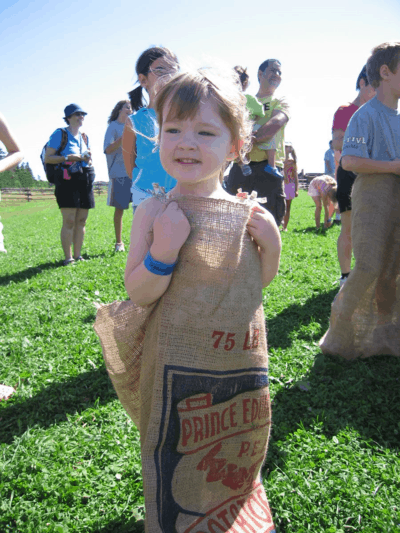 Potato sack races at Village of Avonlea, Cavendish
Additionally, there is the birthplace of Lucy Maud Montgomery which is nearby in New London overlooking the harbour and takes only a short time to visit. Montgomery was born here in 1874 and today it is decorated with authentic Victorian period pieces and contains special exhibits relating to Montgomery's life including personal scrapbooks and a replica of her wedding dress. Another brief stop can be made at The Anne of Green Gables Museum at Silver Bush, Park Corner where one can browse in the museum, enjoy a walk in the beautiful flower gardens, view the Lake of Shining Waters, take a Carriage Ride with Matthew, or shop for Anne of Green Gables products.
We have also enjoyed visiting Dalvay-by-the-Sea which is familiar to Anne fans as the White Sands Hotel from the Road to Avonlea series and the Anne of Green Gables movies. The summer resort hotel is located on the east end of the Prince Edward Island National Park and has been named a National Historic Site of Canada. The Inn is open from June through September for accommodations and dining. Each of our trips to PEI we have gone once to Dalvay-by-the-Sea to enjoy a special dinner.
One of our family's favourite activities is attending Anne of Green Gables – The Musical which is the original musical adapted from the novel. The musical has been running for 46 consecutive seasons at the Charlottetown Confederation Centre of the Arts (since 1965) and tells the story of the spunky redheaded orphan who comes to Prince Edward Island hoping to find a home. Anne and Gilbert – The Musical which started playing at The Harbourfront Theatre in Summerside the summer of 2005 continues Anne's story as an independent young woman about to embark on a teaching career and explores her romantic involvement with childhood sweetheart, Gilbert Blythe. I would love to see a performance on a return trip to PEI.
Charlottetown
Charlottetown is a lovely, centrally located, city which many people use as a home base to explore PEI. It is also a popular port of call for cruise ships on cruises of the Eastern United States and Canada. We have never stayed in the city, however, we have visited on many day trips over the course of our vacations on the island. While in Charlottetown to attend a performance of the musical there are a number of other attractions worth a visit depending on your interests.
Charlottetown is the provincial capital and is known as "The Birthplace of Confederation" because the first gathering of statesman took place at the Charlottetown Conference here in 1864 to debate the proposed Canadian Confederation. Visitors can take guided tours at Province House which has been the home of the provincial legislature since 1847 and is now a National Historic Site of Canada. Founder's Hall: Canada's Birthplace Pavilion (Editor's Note: Founder's Hall closed permanently in May 2016) which is located on Charlottetown's waterfront uses multi-media technology to engage visitors in the history of Canada from the Charlottetown Conference of 1864 to the creation of the territory of Nunavut in 1999. While at Founder's Hall you can also book a walking tour with the Confederation Players who are guides dressed in period costume that lead tours through historic downtown Charlottetown. The Confederation Players also perform historical re-enactments outside Province House during the summer months.
Historic Charlottetown is an area that can be enjoyed very easily on foot. There is a 2.5km boardwalk along the shoreline that can be followed from the shops of Peake's Wharf to the lovely green space of Victoria Park. Peake's Wharf is one of the most scenic areas along the waterfront of Charlottetown where visitors can stroll and visit the shops and restaurants. For a pleasant evening in the summer stop in to COWS Ice Cream for a cone and then enjoy the free outdoor concerts by local musicians that are held, weather permitting, in Peake's Wharf. While down by the waterfront you can also hop on one of the Harbour Hippo's amphibious vehicles for a 55 minute Surf n' Turf tour that combines a drive along Charlottetown's beautiful historic streets with a cruise of the harbour. A number of other boat tours can also be taken from the wharf in Charlottetown including seal watching tours with Peakes Wharf Boat Tours.
Prince Edward Island National Park
The beautiful landscape of Prince Edward Island is one of the main attractions for visitors. Some of the most beautiful spots can be found in Prince Edward Island National Park which is located along the central north shore of the island and is open to visitors 365 days a year. The park is home to red sandstone cliffs, beaches, sand dunes, wetlands, forests and diverse plants and animals including the endangered Piping Plover. The National Park also features both Green Gables and Dalvay-by-the-Sea. Our family has spent many an afternoon digging in the sand and playing in the surf on the supervised Cavendish beach. The pleasant ocean waters are warmed by the Gulf Stream and are some of the warmest north of the Carolinas. A stroll along the boardwalk through the sand dunes is also a very pleasant activity – just be sure to stay on the designated pathways in order to avoid damaging the dunes.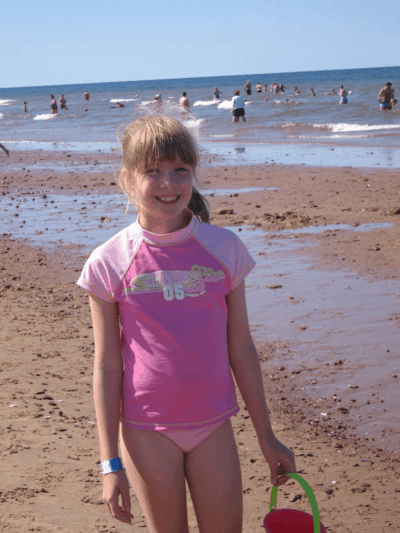 Playing on Cavendish Beach, PEI National Park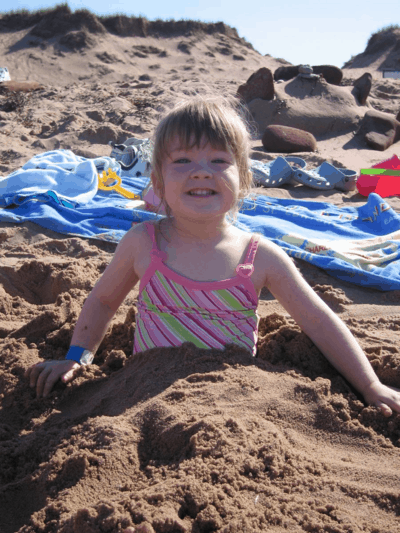 Emma playing on Cavendish Beach
Other Activities
There are numerous other activities that visitors to Prince Edward Island can enjoy including cycling, kayaking, hiking, bird watching, sport fishing and trail riding. Katie tried trail riding on our last visit to PEI but the girls were still too young for many of the more active pursuits available. On our next visit we will have the opportunity to try some more adventurous activities.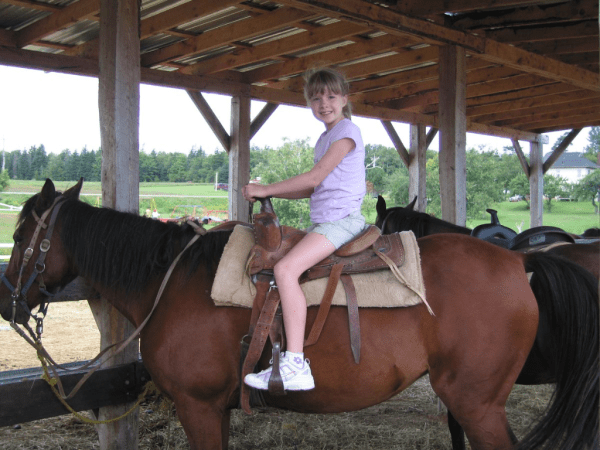 Horseback riding at Millstream Trailriding Stables
Prince Edward Island is one of Canada's best destinations for families with children of all ages because there truly is something for everyone. Whether you want to admire the beautiful landscape or the architectural masterpiece that is The Confederation Bridge, play on beaches or play at amusement parks, cycle the 357km of the Confederation Trail or glide in a sea kayak past the island's red cliffs, eat lobster or ice cream cones, shop for local art or Anne of Green Gables souvenirs you will not be disappointed with the time that you spend on the island. Friendly islanders will welcome you with open arms and in the midst of all the fun you will realize that you have already started dreaming about the next time you vacation on PEI.
Related Articles
9 Beautiful Must-See Lighthouses on Prince Edward Island
Kindred Spirits – Our Home Away From Home on PEI
Prince Edward Island National Park in Photos
Family Memories and Prince Edward Island
Cavendish, Prince Edward Island with Kids
Old-Fashioned Fun at Avonlea Village
Cows – Yummy Ice Cream and So Much More
Prince Edward Island on Instagram
Dreaming About Red Sand Beaches and Red-Headed Orphans