The United Kingdom has no shortage of spots for romantic breaks. Whether you prefer cozy countryside retreats, historic city breaks, luxurious hotels and spas, wild untouched beaches, ancient crumbling castles, or hiking surrounded by dramatic scenery, you'll find all these and more.
The following places are all perfect for a couples getaway in the UK.  So, pack your bags and prepare for a memorable escape with your other half.
This post may contain affiliate links. If you click an affiliate link and make a purchase then we receive a small commission at no additional cost to you.
1. The Yorkshire Dales
Covering an area of over 840 square miles (2,175 square kilometres), the Yorkshire Dales National Park has some of the finest scenery in England.  
The iconic Yorkshire countryside is lush and unspoilt. It's a patchwork of green fields, dotted with sheep and criss-crossed with ancient dry stone walls. Among the rolling hills and nestled in the valleys are picture-postcard traditional villages and historic market towns.  
It's a perfect place for a romantic getaway, with something here for everybody: excellent restaurants, cozy pubs, family-owned B&Bs, self-catered cottages, luxurious country hotels and health spas.
At Bolton Abbey, you can explore the ruined 12th century monastery and enjoy one of the many pleasant walks along the banks of the river Wharfe. Nearby Strid Wood is equally tranquil, and home to otters, kingfishers and roe deer.
Other great places to explore in the Dales include Malham, with its iconic limestone pavement; and Gordale Scar, a steep ravine with tumbling waterfalls. Swaledale and Wensleydale are both popular for their many excellent walks and attractive scenery.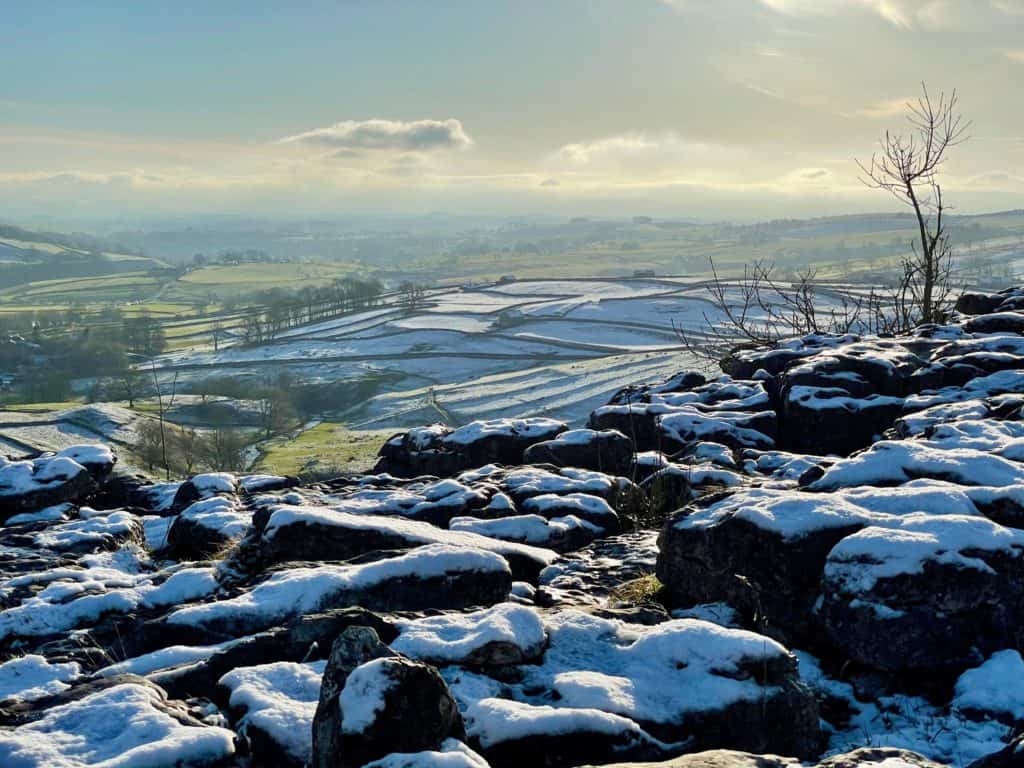 2. The Lake District
Considered by many to be the most romantic place in the UK, the Lake District, in north-west England, is a place of rugged beauty.  
Its spectacular and timeless landscapes inspired some of Britain's best-known romantic poets and writers, including William Wordsworth, Samuel Coleridge, and Beatrix Potter.
There are sixteen main lakes in the Lake District, as well as countless "tarns" (small mountain lakes). The largest and probably the best known of the lakes is Windermere. This is a popular place for sailing and other watersports, although it can become somewhat overcrowded during the summer months.  
For a romantic couples getaway, I recommend exploring some of the lesser-known lakes, such as Buttermere, Loweswater and Wast Water. These are much quieter and even more enchanting, with stunning landscapes, an abundance of local wildlife, and a fraction of the number of visitors.
You'll find no end of stunning walks and hikes in the Lake District, from easy flat walks around the lakes and through the valleys, to strenuous hikes traversing some of England's tallest mountains.
The Lake District is also known for its picturesque traditional villages, historic pubs and excellent restaurants. There's a large range of accommodation options, whether you prefer to stay in a luxurious high-end hotel or rent a cosy log cabin in the forest. At the end of a long day enjoying the great outdoors, you can cuddle up and unwind next to a roaring log fire. Perfect!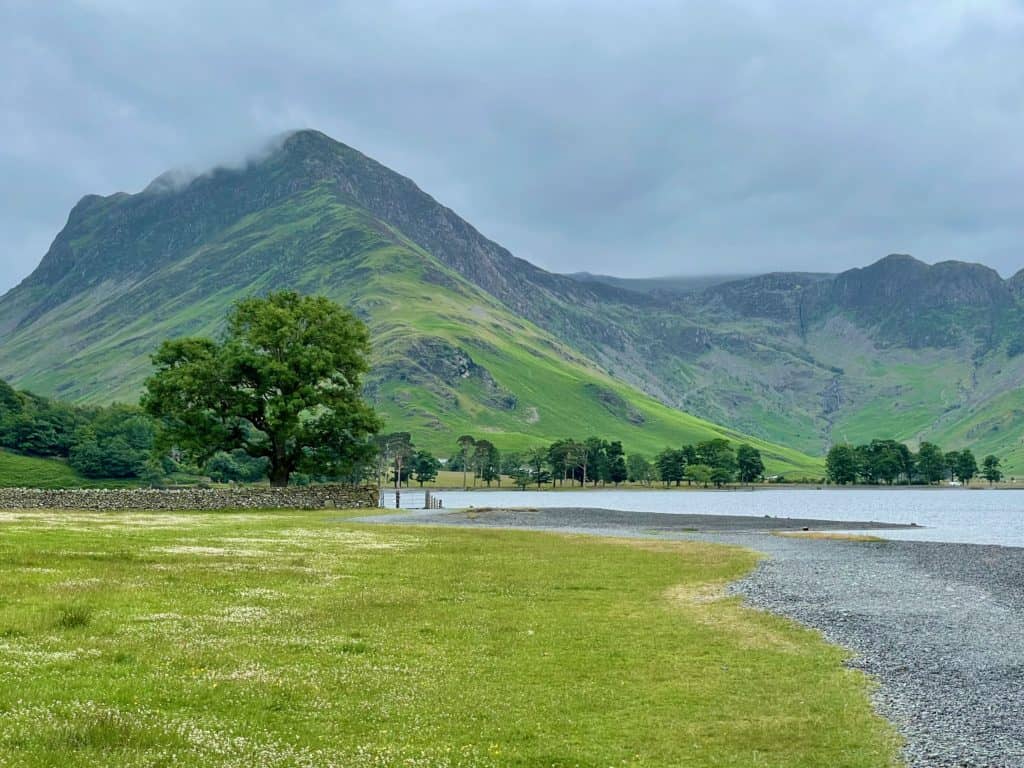 3. The Isle of Skye
The Isle of Skye is a place of ancient myths and folklore. It's also one of the most romantic of Scotland's many islands.
Known for its breathtaking scenery, the Isle of Skye has a wild coastline, rugged mountains, tranquil lakes (called "lochs" in Scotland), atmospheric castles, attractive little towns and traditional fishing villages.
Highlights include the colourful town of Portree – the island's "capital"; the Fairy Pools – beautiful crystal-clear rock pools and mini waterfalls fed by mountain springs; and the Old Man of Storr, a dramatic rocky outcrop offering fantastic views over the island and across to the mainland.
Fans of Scotch whisky can visit the Talisker distillery which offers tours and tastings throughout the year. The jagged Cuillin mountains offer some of the best and most challenging hiking trails and rock-climbing in all of the UK.
If you're looking for a real taste of wilderness, the Isle of Skye is one of the best places in Scotland for wild camping. For those who prefer their couples getaways a little more comfortable, you'll find no shortage of luxurious boutique hotels and cottages.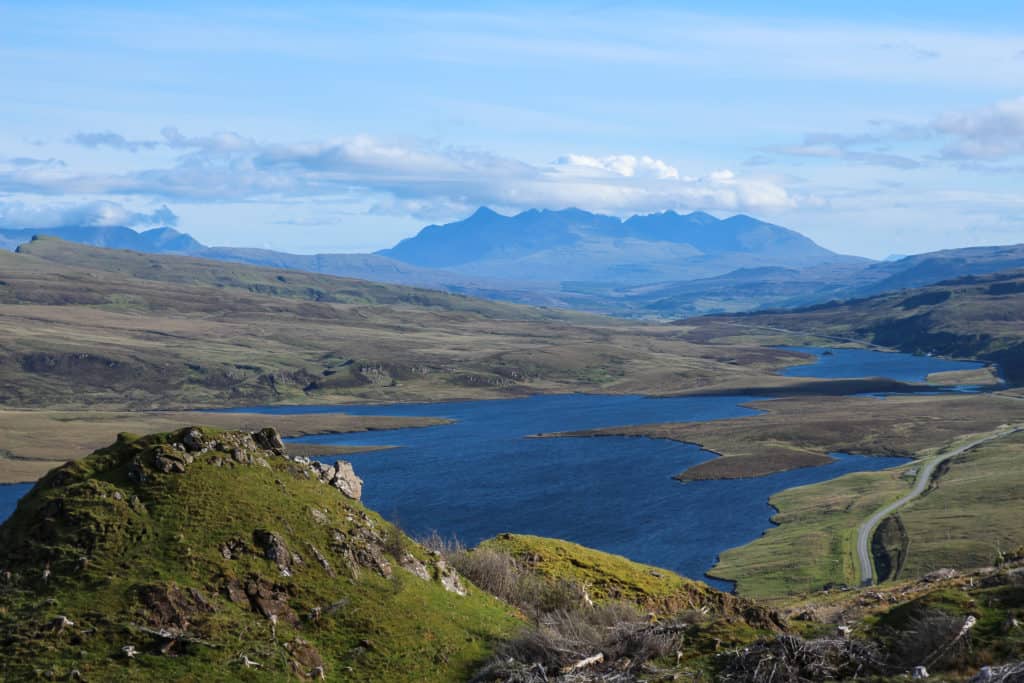 4. Oxford & Cambridge
The famous university towns of Oxford and Cambridge both have a lot to offer, despite their relatively small sizes.  
The two towns are about 100 miles (160 km) apart, but share many similarities. As well as their respective world-famous universities, both Oxford and Cambridge are easily walkable, with a labyrinth of old cobbled lanes at their heart. Both towns are full of beautiful medieval buildings, immaculately kept gardens and other green spaces. Both have a river where punting is a popular pastime, both have traditional olde-world pubs and cozy cafes, and both have world-class museums.
Oxford is the larger of the two. Known as the "City of Dreaming Spires", Oxford's beauty and unique atmosphere has inspired countless iconic writers, including JRR Tolkien, CS Lewis, and Philip Pullman.  
You may find a few places in Oxford strangely familiar. Several movies have been filmed here on account of the town's many picturesque locations. Fans of Harry Potter will recognise Christ Church College (the Great Hall, Bodley Staircase, and the Cloisters), the Bodleian Library, Divinity School, and New College.
There are many atmospheric old pubs in Oxford. The White Horse and the Turf Tavern are two of the best.
Other highlights in Oxford include the iconic Radcliffe Camera, Magdalen College, the Ashmolean and Pitt Rivers museums, Oxford Botanic Garden, and the Sheldonian Theatre.
In Cambridge, don't miss the stunning King's College Chapel, the Fitzwilliam Museum, the Bridge of Sighs and the Mathematical Bridge. The famous "Backs" is an impossibly picturesque stretch of land that runs alongside the river Cam between some of the university's colleges.
Punting is a timeless, quintessentially romantic thing to do in both Oxford and Cambridge. You can hire a punt (with or without a pilot) and spend an afternoon lazily floating up and down the sheltered waterways that wind their way through both towns.  For a romantic afternoon's activity, bring a picnic and a bottle of something nice.  Enjoy 🙂 
Both Oxford and Cambridge are easily accessible using public transport from London, making these excellent options if you prefer to travel without a car.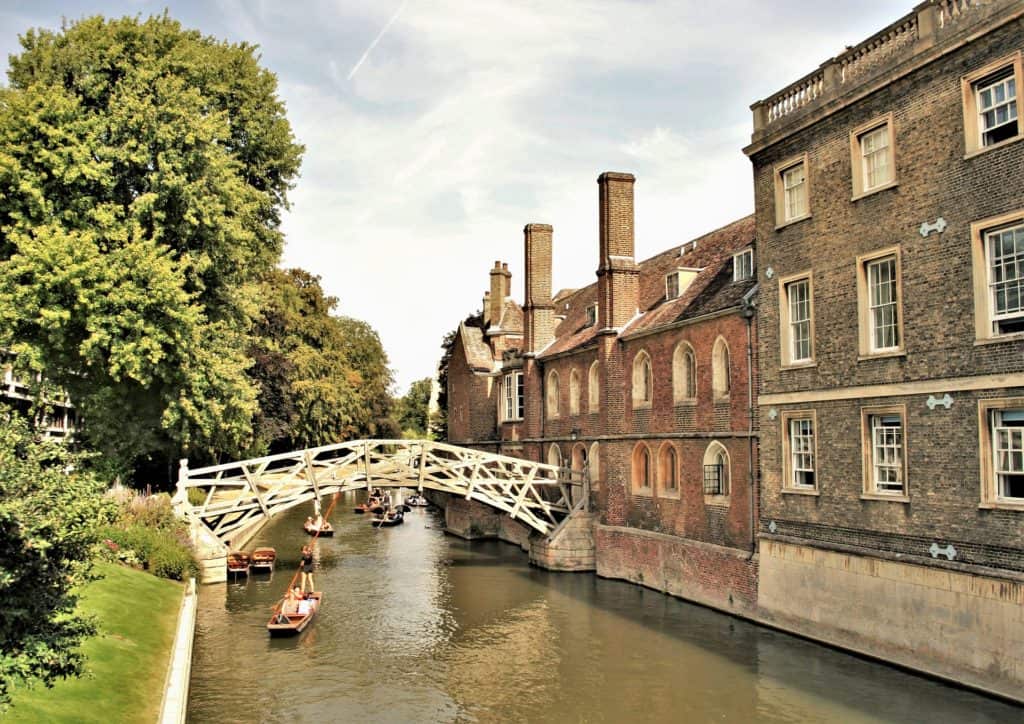 5. Brighton
Similarly easy to reach by train from London, the seaside town of Brighton is another great location for a couples getaway in the UK.
Get lost in the Lanes, a maze-like area of narrow winding streets and alleyways full of character and atmosphere. Here you'll find a wealth of independent shops, galleries, bars, restaurants and cafes spilling out into the street.
Brighton's beach may be pebbly not sandy, but when the sun is shining it feels like there's always a party here. Take a walk along the seafront, or (if you're feeling brave) a dip in the English Channel.
The Royal Pavilion is one of Brighton's more unique buildings. Built using a (slightly bizarre) blend of British Regency, Indian and Chinese architectural styles, the Pavilion was initially intended to be a luxurious seaside resort for King George IV. Today, it houses a museum, gallery and public gardens.
Some of the UK's best wine is produced close to Brighton. Many vineyards offer tours and tastings. If you like champagne, you should definitely try English sparkling wine.  Nyetimber and Ridgeview are both excellent, and both wineries are easily reachable from Brighton.
If you'd like to explore more of the picturesque Sussex countryside, the South Downs is an attractive range of hills located a few miles north of Brighton. There are many great walks here offering fantastic views of the surrounding area and along the coast. The "Devil's Dyke" is a famous beauty spot that's perfect for a picnic. Better still, bring a bottle of wine and enjoy the sunset.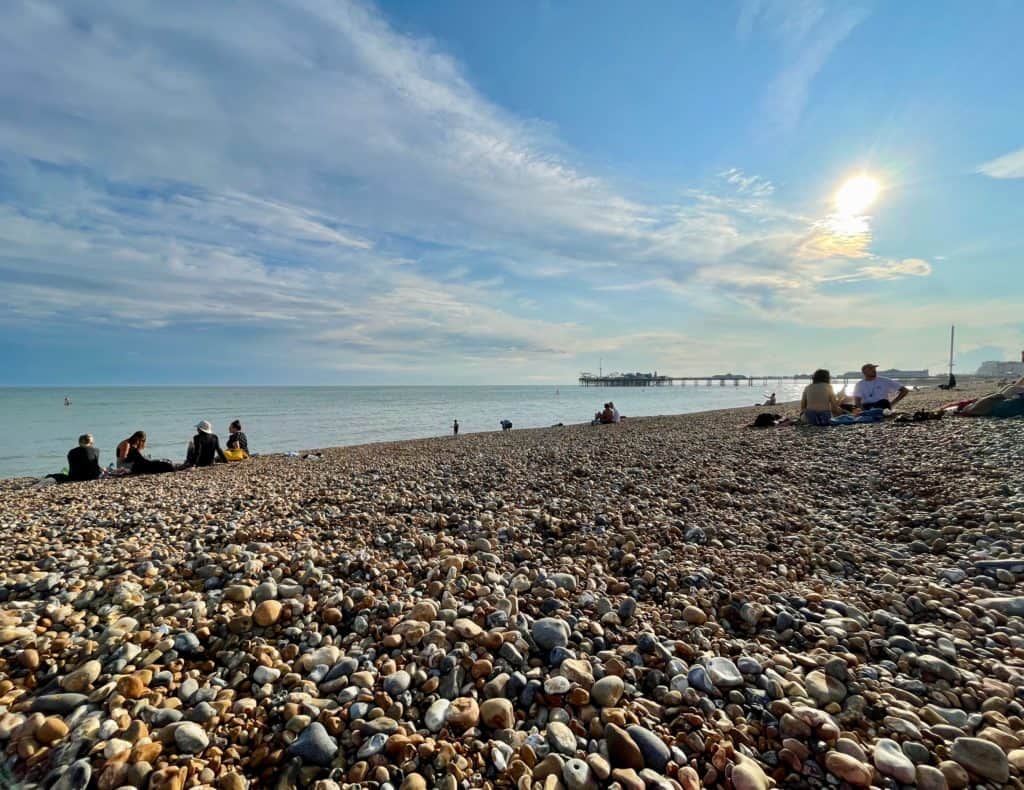 6. The Peak District
For a romantic UK getaway straight out of a Jane Austen novel, head to the Peak District in Derbyshire.
The Peak District's wild moorland and natural beauty famously inspired Austen when writing Pride and Prejudice. Today you can visit Chatsworth House, which served as the home of the fictional Mr. Darcy.
Explore the picturesque former spa towns of Matlock and Buxton, which both have a range of excellent restaurants, bars, and luxury boutique hotels.
Take a walk in the rolling countryside and open hills around the village of Edale. Climb Kinder Scout, the highest point in the Peak District, and enjoy stunning views out over the Kinder Plateau and the surrounding moors.
To experience some world-class stargazing, wrap up warm and head out to Surprise View, near the village of Hathersage in the beautiful Hope Valley. Hathersage is also home to one of the most romantic old hotels in the area, The George Hotel. This was one of Charlotte Bronte's favourite places to stay, and she based the novel Jane Eyre on the area around Hathersage.

7. Norfolk
For a slightly alternative UK couples getaway, hire a boat and explore the Norfolk Broads.  
The Broads National Park is a 125 mile (200 km) navigable network of rivers, lakes and man-made canals located in the far east of England. It's a quiet, relaxing place of untouched countryside, big skies, vivid sunsets, characterful windmills, and charming villages.
Much of the Broads is inaccessible by car, so hiring a boat really is the best way to see this stunning part of the country. It's the perfect place for a romantic adventure.
Many boats have cabins on board, allowing you to moor up in a secluded, tranquil spot and fall asleep to the gentle lapping of water and the rustling of trees. Alternatively, there are plenty of riverside pubs and inns offering accommodation if you'd rather spend the night on dry land.
Norfolk is also known for its stunning coastline. Holkham beach is one of the best in the UK, with miles of untouched golden sand stretching as far as the eye can see. This fantastic beach is backed by dunes, sea lavender and a thick pine forest.  
Best of all, it's relatively undiscovered, so you won't struggle to find your own private stretch of sand to enjoy. Although there's a chance you might bump into the Queen, whose Sandringham country estate is just up the road, and who apparently enjoys walking her dogs here.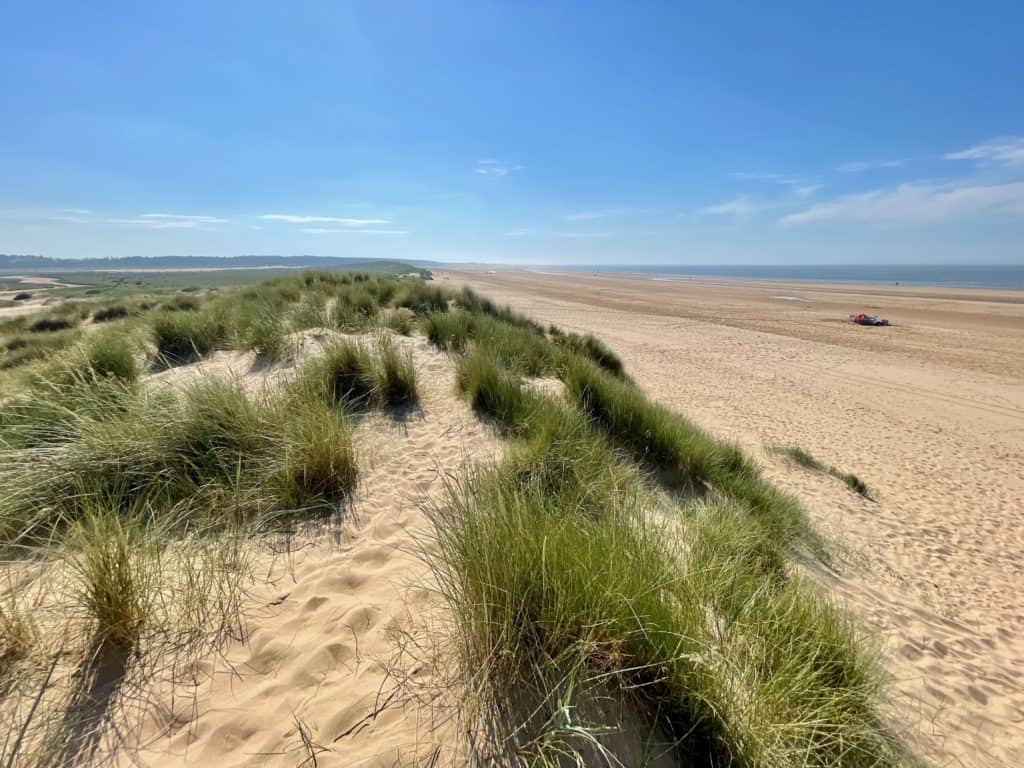 8. Northumberland Coast
Wild, rugged and windswept, the Northumberland coast – in the far north-east of England – is another perfect place to escape the stresses of daily life. This area offers countless secluded spots where you can enjoy a few days of peaceful escape with your other half.  
Take long walks along deserted golden beaches, stop off for a drink in a quaint old pub (the Ship Inn in Low Newton is excellent), climb sand dunes, explore secluded coves, and savour the spectacular sunsets. Nature lovers will appreciate the diverse abundance of local wildlife, including puffins, ospreys, seals and otters.
Northumberland's imposing medieval castles and fortresses are like something straight out of a fairytale. Dunstanburgh castle is one of the most atmospheric in the UK. Ruined, crumbling, and with a breathtaking natural setting at the end of a remote headland, the castle offers dramatic views along the coast.  
Take a trip out to the Holy Island of Lindisfarne. This tiny tidal island is accessible from the mainland at low tide via a causeway. The island is home to the Lindisfarne Priory, a now-ruined monastery founded by Saint Aidan in 634 AD; plus a beautiful and imposing castle perched on the top of a volcanic mound. Try some of the famous Lindisfarne mead, a fortified wine made on the island with a blend of grapes, honey and spices. At low tide, you can walk the Pilgrims' Way, an ancient route across the sands connecting the island to the mainland (although be sure to check the tide times beforehand).
Northumberland's wealth of local, high-quality fresh ingredients has contributed to its thriving restaurant scene. Specialities include oysters, crab, smoked kippers, beef and lamb. Reasonable prices, friendly service and cozy, candlelit restaurants and gastro-pubs make this a perfect place to enjoy an intimate meal for two.
Northumberland also has some of the darkest skies in England, making it one of the best places in the country for stargazing. What could be more romantic than a sunset stroll along your own private stretch of beach. Then cuddle up under a blanket of thousands of stars and enjoy a spectacular display of the vast constellations, meteor showers, and the Milky Way, as waves lap against the shore.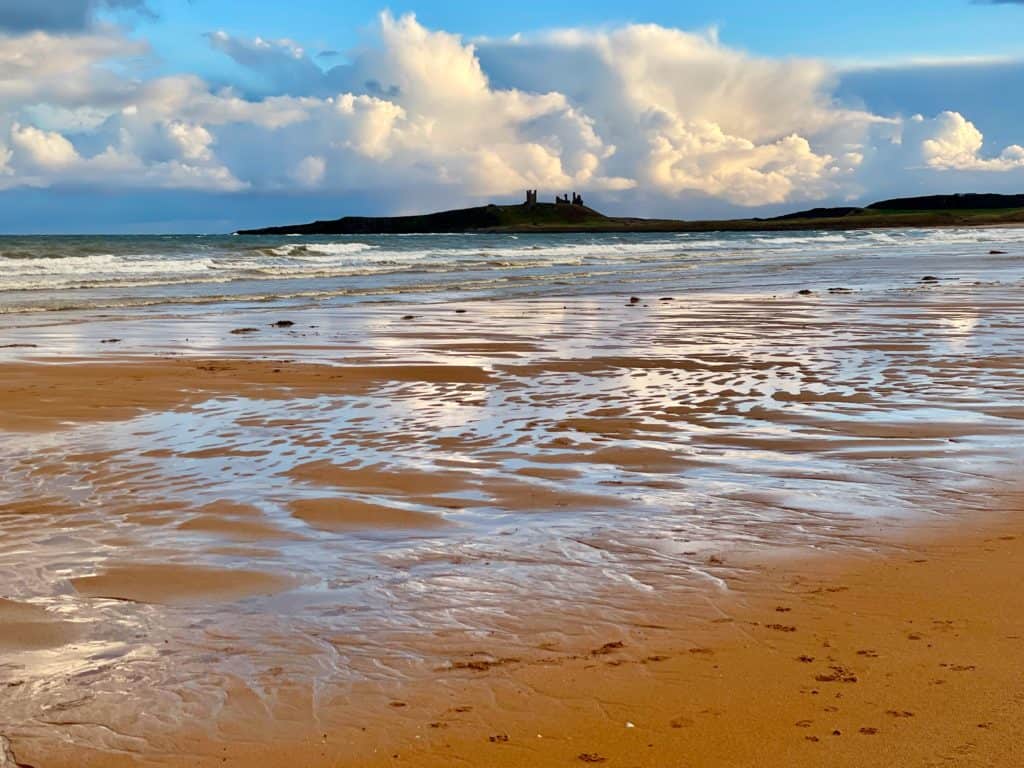 Do you have any additional suggestions for the best UK breaks for couples? Let us know in the comments below!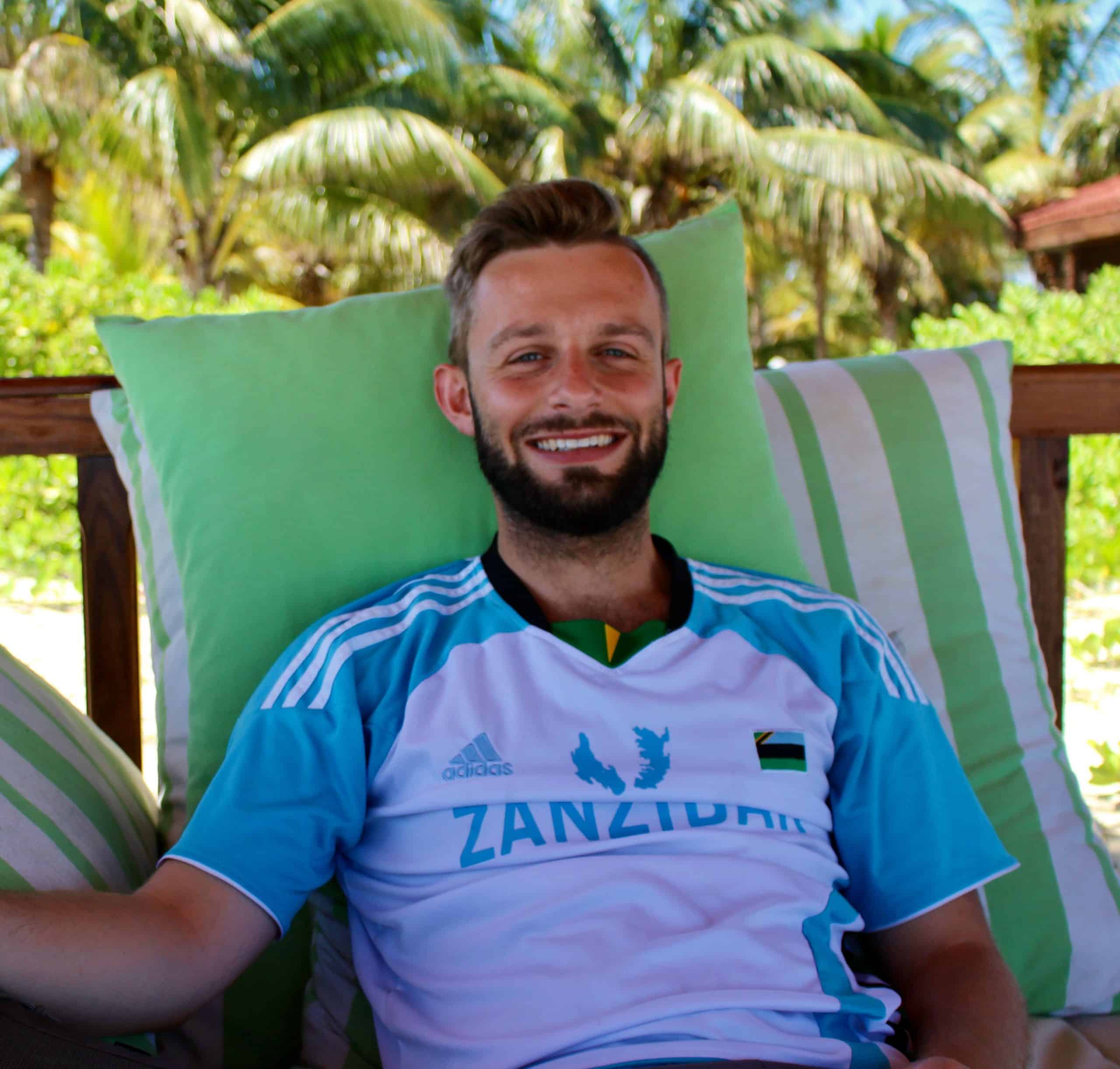 Alex Tiffany
Guest Author
Alex Tiffany is the founder of Just Go Exploring, the ultimate resource for adventure and off-the-beaten-track destinations.  When he is not exploring the hidden-away corners of our beautiful planet, Alex is a keen violinist, hiker, reader, and daydreamer. You can follow Alex on Instagram, Facebook and Pinterest.
Pin This For Later